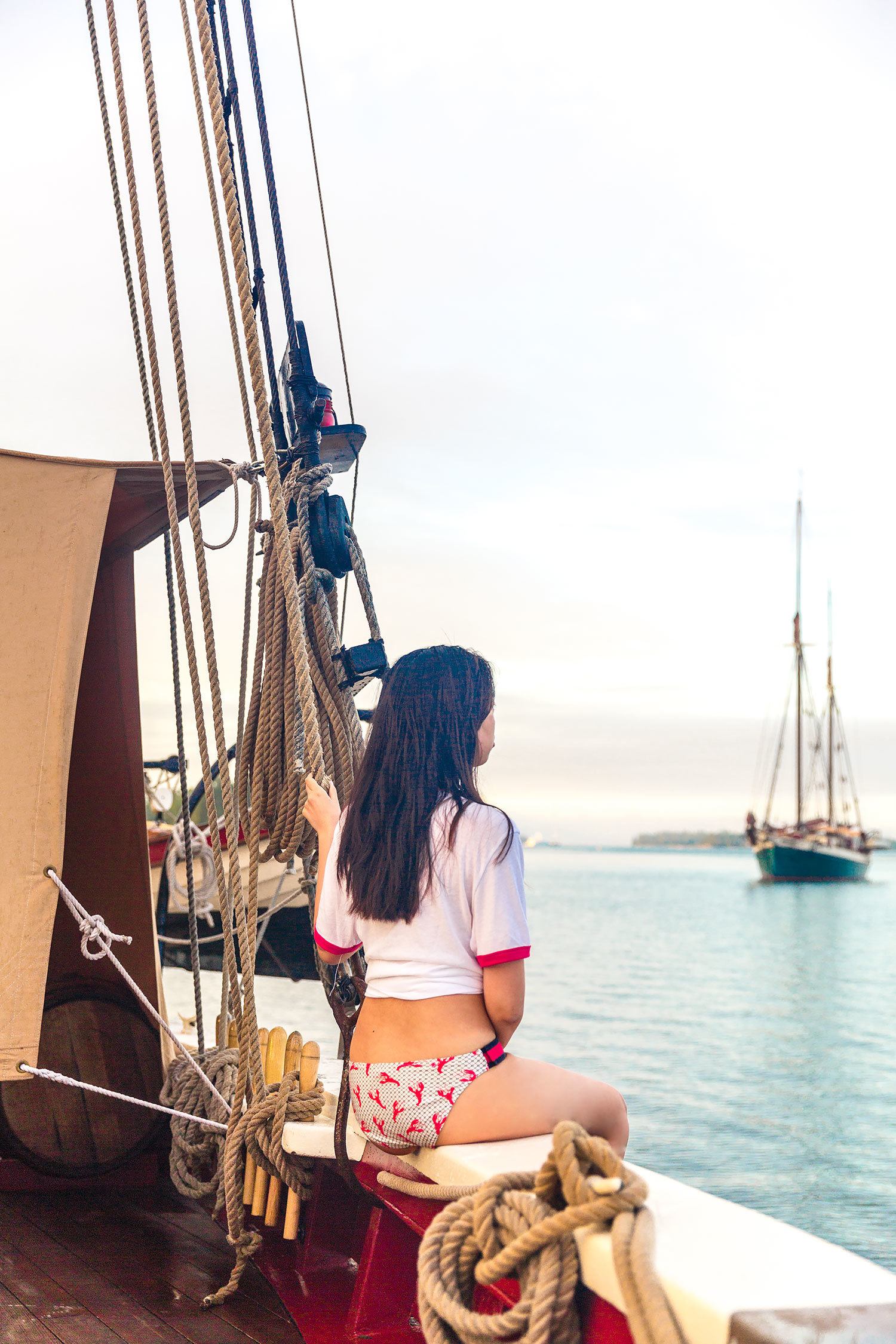 Maine Packing List
August kicked off with C and my first road trip together: NY to Maine!
We've always wanted to road trip New England and a coastal drive up to Maine seemed like the perfect summer getaway. We just got back home, are deeply tanned and covered in mosquito bites, but the trip was lots of fun!
Here are tips for what to pack for Maine and a quick recap of my favorite summer outfits throughout the trip!
Keep reading or save this article for later ⇟
ADVERTISEMENT
NYC to Maine Road Trip
We rented a Volvo XC60 for the trip and got upgraded to a hybrid car the morning of. Although we started off a little later than we had planned, it ended up being such a treat! I think this Volvo is the swankiest car I've ever been in. Now granted, living in NYC I don't drive around much but this car was so beautiful that it made both of us want to buy a car just to enjoy it more.
The interior was roomy (I could definitely buy all the furniture I like at Home Goods with this car!) and the front panel was entirely digitized. The car had parking assist, let you know speed limits as you drove, and even showed you all the songs on every radio channel.
You didn't even need to plug-in the key to drive it! When you locked the car it automatically turned in the side mirrors which is nice if you parallel park frequently.
Are all cars nowadays digitized like this? I am definitely out of the loop on cars but we were both really impressed by it. Plus, it's an electric-gas hybrid car, so we only had to fill up the tank twice in 10 days, after driving for 780+ miles. Not bad!
For our road trip, C handled 100% of the driving as I've never driven a car by myself and we made it without killing each other. I like to think I was a pretty good navigator. There was just this one incident where we drove off the road and needed a truck to tow us out… but it was pretty much smooth sailing :)
Read more:
Follow this Essential Maine Road Trip Itinerary!
ADVERTISEMENT
---
---
Visiting Maine
We wanted to explore as much of Maine as we could, so we hit up Kennebunkport, Scarborough, Portland and Rockland on our trip, and took a couple days to sail on a traditional Maine sailboat. Out of all the stops, Kennebunkport was hands down our favorite.
Not only is the town adorably charming, Kennebunkport offers the best of both worlds. For example, you can try glamping, pick a beautiful marina hotel or stay a charming bed & breakfast. For food, there are tons of great restaurants in town, from Michelin quality dining to tasty road side lobster shacks!
Read more:
Where to Stay in Portland, Maine
ADVERTISEMENT
---
---
Sailing on a Windjammer Cruise
Our of our entire Maine vacation, sailing on a windjammer cruise for 4 days was probably the most unique experience.
The best way to describe it would be "camping on a boat". It was a little unexpected, and we were definitely a bit of our comfort zones, but we had a lot of fun getting in touch with our adventurey-nature sides and the sunsets were beautiful.
Some days we sailed all day, others we disembarked into tiny local Maine towns and uninhabited islands. We even had a traditional lobster bake for dinner, cooked in seaweed!
Read more:
Everything You Should Know Before Sailing in Maine
ADVERTISEMENT
---
---
Maine Food
The specific itinerary we booked was called 'Lobsters & Lighthouses' and focused on a culinary experience for the week.
Once we got on board, we learned that the chef was actually the Captain's wife! They met on board a different schooner when they first started their careers (her as a mess cook and he as a deck hand) and gradually honed their skills until they got married and purchased their own windjammer. One of their daughters also helped out as part of the crew. It was nice to see the family business in operation.
Annie is an INSANE cook, with experience at the CIA and restaurants across Maine. She made 3 heavenly meals a day and if only for her cooking alone, you should book a trip on the J & E Riggin! What we really liked was that all the meals were different and filling, but had a ton of vegetables so it didn't feel too indulgent.
ADVERTISEMENT
---
---
Our Foodie Sailing Cruise
We took one of her cookbooks home with us (she has three!) and have already earmarked some recipes to try ourselves. The menu on board was really varied – unexpectedly so! For example, we tried everything from a traditional Lobster bake steamed with seaweed, to rustic smores over an island campfire, to Bibimbap bowls and pulled pork tacos.
The desserts? Don't even get me started. Annie whipped up espresso creme brule, shortbread peach cobbler and my hands down favorite, a dark chocolate tart in the flakiest crust (recipe is in her 2nd cookbook here)
On the last day, I peeked into the ship kitchen to watch her prep (she was making pop tarts from scratch) and I was shocked to see her cook up such a feast given how tiny the space is! It's about half the size of my NYC kitchen… and I thought I had it bad (ha)
To make things more complicated, the ship uses a vintage wood fired stove, so she wakes up every day around 4am just to build the fire. It's a long process to get the ancient stove up to the proper temperature – breakfast was usually served around ~7:30 am.
Grab A Copy:
At Home, At Sea: Recipes from a Maine Windjammer Cookbook
ADVERTISEMENT
---
---
Maine Packing List
Now for what to bring to Maine!
Definitely bug spray – I'm itching furiously as I type this. As a result of spending so much time in the outdoors, we're both riddled with mosquito bites and wish we had packed buy spray!
I recently heard about mosquito patches so I think I'll stock up on those along with those mosquito bracelets for my next trip into the woods.
Fun summer outfits aside, here's what you absolutely should pack for Maine. The state is famous for its natural beauty, beautiful coastline and great outdoors so lots of casual clothes and gear for all weather situations is key!
ADVERTISEMENT
---
---
1. Summer Clothes, But Bring a Windbreaker
We visited Maine in August, and found the days got HOT early. Sunrise was around 5:30am and it felt like mid afternoon by 6:45am. I lived in breathable cotton tops and dresses and definitely plan to get more of these super soft jersey shirts – they were sooo comfortable!
In the early mornings or late evenings, it can cool down quite a bit, so do pack a rain jacket and umbrella along with a pullover or sweatshirt. We had a full day of pouring rain and a couple foggy nights out on the open water. If you do a whale watching tour, those boats will sail far out from the coastline in order to spot whales so temperatures can be a little cooler.
2. Comfortable Shoes.
Comfortable shoes are a must for traveling anywhere, but especially in Maine. If you're visiting Acadia National Park or doing any camping, bring your hiking boots. We packed 'shower' flip flops and boat shoes for our sailing trip, which really came in handy for the 'heads', or bathrooms.
ADVERTISEMENT
---
---
Rye Triangle Top & High Waisted Full Coverage Bottom
3. Insect Repellent
This one is a must. Maine jokes that the mosquito is it's state animal and boy did I get eaten alive. Get OFF wipes, bug spray, mosquito repellent bracelets and even patches – those suckers are vicious! There were multiple times that we hit mosquitoes feasting on us and had streams of blood on our arms and legs.
4. Swimsuit
I packed like 5 bathing suits and barely got wet, ha. The Atlantic is pretty cold all year round, but in August the water warms up to a balmy 60 degrees.
Pack a swimsuit anyway! You never know if you'll stumble on a beautiful beach (we liked Higgins Beach in Scarborough) or if your hotel will have a gorgeous pool.
ADVERTISEMENT
---
---
Maine Windjammer Packing List
If you're going sailing on a Maine windjammer, you're in for a treat!
These narrow schooners are historic vessels and really unique to cruise with, but require a little extra packing assistance.
Read more:
7 Things to Know Before Booking a Windjammer Cruise
Here's what you should add to your packing list:
Duffel Bag – there's no space for rolling suitcase on board. I brought my Vera Bradley large duffel, which is super roomy but folds up to the size of an envelope when empty
Portable Chargers – it will be an unplugged getaway at sea, so pack extra camera batteries and chargers for your electronics. A solar charger is great!
Outdoor Chair – we didn't have this but another couple on board did and it really came in handy! there are limited seats on board so having your own outdoor chair is really nice.
Waterproof Bags – ships are always damp and if it rains, rain did get into some people's cabins. Pack your clothing in separate seal-able, re-usable waterproof bags.
ADVERTISEMENT
---
---
Lightweight Jacket – windjammers have a tugboat with a motor, but the best days are sailing days when the wind pushes you forward! It gets chilly as a result, and early morning / late evenings in Maine can also be quite cool. Pack at least 1 sweatshirt, preferably 2 as the tight quarters mean people don't shower frequently.
Boat Shoes – Maine's Penobscot Bay has hundreds of tiny islands and inlets to explore. Most don't have docks, so good shoes with grip are a must to easily get on and off the boat to shore.
Bathing Suit – the sea is a refreshing 60 degrees in the summer, so bring a swimsuit and your own quick drying towel if you want to take a dip! We went paddle boarding and sailing on the smaller row boat.
Ear Plugs – the cabin walls are quite thin, so we heard everything from our neighbors. If you're sensitive to noise, you might want ear plugs.
Flash Light – the small cabins can get dark at night, so if you have a flash light they're great to bring along.
ADVERTISEMENT
---
---
Australia Gold SPF 50 Spray / Drunk Elephant Tinted SPF 30 / Laura Mercier Oil Free Tinted Moisturizer with SPF 20 / PCA Skin SPF 45 Physical Sunscreen / Coola Makeup Setting Spray with SPF 30 / Australian Gold Tinted Sunscreen
Sunscreen – on a sail boat, you'll be totally exposed when the boat is moving. Get yourself some heavy duty SPF and check that it protects against both UVA and UVB! I recommend Biore or PCA Skin for face sunscreen. Lately I've been really liking tinted sunscreens that function as a tinted moisturizer and sunscreen – Australian Gold makes a great inexpensive one or Drunk Elephant has a nice thicker one.
Wet Wipes – these will really come in handy! Whether you just want to quickly clean yourself off or feel grimey after a day at sea, get yourself a pack.
Towel – the ship provides a body towel, but I always prefer to bring my own and these are a nice quick drying microfiber! Also doubles as a beach towel or camping towel.
Water Bottle – the schooner brings enough fresh water on board for the journey, but it's a good idea to bring a water bottle so you can refill. We also brought some rose and wine to enjoy on the journey – its BYOB
Binoculars – we spotted some ospreys and porpoises on the sailing cruise, and the seals were especially cute (one guy seemed to be holding a dinghy and leisurely floating on his back). They won't come too close to the sailing vessels, so bring a pair of portable binoculars like these if you want to see them up close!
ADVERTISEMENT
---
---
Maine Souvenirs
If you forget to pack a layer, don't worry – you can always pick up a fun tourist shirt in Kennebunkport! There's everything from presidential tees (the Bush clan vacations there) to "Kennebunkport" sweaters. We got a red "MAINE" sweatshirt on our last day so we could exit like proper tourists, ha.
Or, if you really love to shop, include a road stop in Freeport, where LL Bean is located. We drove through on our way up and saw tons of factory outlet stores from brands like Ralph Lauren, Patagonia, Brooks Brothers, Calvin Klein – you name it.
In the Maine town of Kittery, just over the New Hampshire border, you can visit the Kittery Trading Post if you want to load up on hunting / fishing / boating and outdoor gear.
ADVERTISEMENT
---
---
What's your favorite road trip that you've done?
You Might Also Enjoy:
Maine Vacation Planning Articles
A Classic Maine Road Trip: Lobsters, Lighthouses & Coastal Views
What to Wear in Maine: The Ultimate Packing List
Coastal Maine
Our Windjammer Cruise Sailing Experience: J&E Riggin Review
7 Things to Know Before Joining a Windjammer Cruise
Portland
Follow me @Sher She Goes on