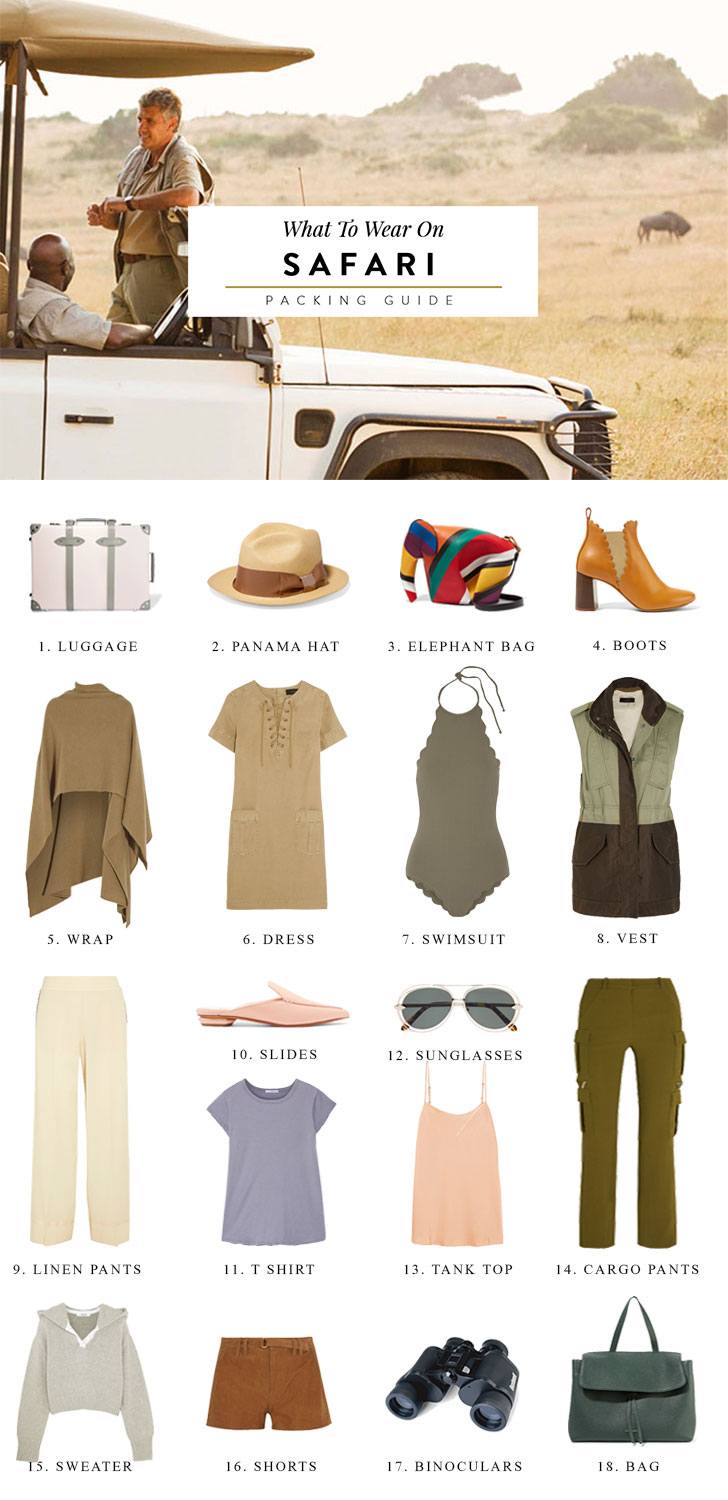 Safari Packing List
I visited Kruger National Park in South Africa and was so excited to see the big five animals. It was a once in a lifetime trip and so unique!
Because of the dusty roads and early morning / late evening game drives, there are some special things to keep in mind when packing. Today I'm covering all the essentials to bring on an African safari.
---
---
---
---
---
---
---
---
What to Wear on Safari
Safari attire should be breathable, neutral and adjustable for both sunny and chilly temperatures. I recommend packing a capsule wardrobe of neutrals, greens and browns and mixing and matching since there are strict luggage weight maximums. Here are some things about African safaris that you should keep in mind when packing:
Shifting Temperatures: You'd think that the African bush or savannah would be hot all the time but I found it to more closely resemble desert temperatures, where the early mornings and evenings can be chilly and cold while the afternoons are blazingly hot.
Safari game drives are typically timed to the natural lifestyle of the animals – there will be one early morning game drive to see the animals as active as possible before the lazy afternoon sun hits and another around sundown to see evening activity. Some safari reserves also linger on after dark to see night animals like hyenas. Because of this, you'll want to dress in layers.
I recommend packing a sweatshirt or light jacket for the morning drives and wearing tanks or tee shirts underneath. Luxury safari camps will include extra blankets on the jeep, which I used to cover my legs. For the evening drive, I brought along heavier layers as the safari I was on would extend for an additional hour at night and temperatures got cold.
Colors: Opt for neutrals, khaki and green colored clothing to 'blend in' with the bush. The key to spotting animals in their natural environment is to mimic the African bush colors, which tend to be drab.
Avoid red which predators identify as "wounded animal" and avoid black or dark blue, as you'll find yourself an attractive target for African Tsetse flies, which bite! Apparently lions in East Africa are known to shy away from people wearing red as they instinctively identify red as a Masai warrior.
White can easily get dusty and dirty in the bush and are the most noticeable to animals, so best to avoid if possible.
Casual: We stayed a gorgeous luxury resort but didn't feel the need for formal attire or fancy dress at dinner times. I'd recommend linen pants or a dressy blouse for evening meals and a wrap or extra large scarf for the cold at night. Leave the heels at home.
---
---
Clothes to Pack for Safari
5. Fleece Pullover / Rain Jacket
A cozy pullover will be good for the morning game drive.
6. Long Sleeved Tops & Comfortable Long Pants
Layers for chilly mornings and evenings.
7. Shorts & T Shirts
Lightweight summer clothes for the hot afternoons!
8. Swimsuit
Luxury safari camps will have a swimming pool so pack a swimsuit. At the camp we stayed at, local elephants and giraffes would use the pool as their watering hole, which was so fun to see. I wonder if they could taste the chlorine?
9. Comfortable Sneakers & Sandals
Within the jeep I wore both sneakers, boots and flip flops and it honestly didn't matter at all since you are required to stay in the vehicle for the drive. There will typically be short breaks – we stopped for hot chocolate and drinks – where you can get out to stretch your legs.
The bush can be slightly dusty so they recommend hiking boots or covered shoes but I felt fine in flip flops as well. One afternoon we also opted to do a bush walk. I would definitely pack a good pair of sneakers for that… just in case you need to run suddenly. Only kidding.
10.
Sunglasses, Hat & Light Scarf
If you bring a hat or sunglasses, make sure it has a string to tuck around your neck. The jeeps drive decently fast and my hat flew off at one point, oops.
11. Sunscreen
A must have wherever you go, I like to bring both a facial sunscreen and all over body sunscreen. For the face, this Japanese brand is my hands down favorite – it's non greasy, affordable and non-tacky without any scent. For the body, I love this broad spectrum sunscreen which smells like coconuts and leaves your legs nice and glowy.
I also recommend a great lip balm, since the bush is dusty and dry. My favorite day balm is Lanolips, and my heavy duty must have is by French brand Aquaphor.
12. Bug Spray
This depends on when you're going. I went on safari in South Africa in late August and early September during their winter time, so there was no rainfall and no mosquitoes or bugs. However, if you're going on safari during the summer season (perhaps to see the new baby animals or during the migration) you'll need bug spray. This is a great all natural brand.
Certain sections of South Africa, including Kruger National Park, are in the malaria zone and it's extremely important to protect yourself. There are also times of the year when the bugs are so bad they give you googles because the air will be so thick with flying bugs you'll inadvertently eat or get hit by one.
---
---
Other Safari Travel Necessities
Toiletry Bottles | If I know I'm going somewhere tropical, I prefer to pack my own hair products since my hair tends to dry out from the sun and chlorine. I currently like these for shampoo and conditioner.
Portable Charger | I currently use an iPhone 6S and this Anker portable charger to keep it fully charged at all times. This charger is small and sleek with enough life to fully charge an iPhone 2x. Also I really love Anker's products since they have great customer service. I once bought a product that ended up dying and they quickly sent me a replacement free of charge, so I highly recommend them!
Electric Converter | I have a global converter but for some reason it didn't work in South Africa and I ended up buying a South African specific converter. I definitely recommend you buy this before your trip as I paid $24 for the little plug! Also pick up a travel sized power strip so you can charge multiple devices in one go.
Medications | South Africa required a ton of shots and I went to see a travel doctor specifically for a complete list. One thing I hadn't expected was malaria pills – there are a couple different versions on the market.
You should talk to your doctor for the latest, accurate information but I remember that I took the kind which required consuming anti-malaria pills both before, during and after the trip (I think it was malarone). Consult with your doctor about potential side effects!
---
---
The Best Camera for an African Safari
I highly recommend a DSLR and a zoom lens. Safaris in Africa aren't cookie cutter so the lenses you'll want to bring will vary depending on the place.
For example, gorilla treks are popular in Rwanda and involve heavy hiking where you carry all your own gear to get close enough to the apes. In that case, you'll want light weight lenses with minimal zoom.
If you're headed on safari during the great migration, some of the best shots to get are panoramic views that capture the sheer amount of animals on the move – so bring a wide angle like a 35mm.
Jeep vehicles differ by country as well so in some cases open vehicles mean clamps and bean bags won't be of any use and you'll need a monopod.
Below are my gear recommendations for a typical South African safari in Kruger National Park:
Lenses
If you have two camera bodies, it's helpful to load one lens on each to avoid swapping lenses during the game drive. The African bush is extremely dusty and changing lenses can potentially ruin your gear with dust.
The 70-200mm was my go-to lens and worked well for about 70% of the shots. Sometimes the animals would appear right next to the safari vehicle in which case the 24-70mm would have worked better but I knew that in the time to swap, it would likely have moved on. An iPhone can be handy for these instances!
Camera Accessories
Along with the camera, I brought my spare battery, battery charger and extra SD and CF cards. I now shoot with just SD cards since I realized you can insert them in your laptop to easily offload, but I keep all my cards in this wallet to keep them organized and easily reachable. When I kept my SD cards loose, I would lose them all the time – even if they were in a zippered pocket. The memory card case fits both SD and CF cards and was under $7 so it's a no brainer purchase.
Other things you might want to bring include a monopod and extension tubes. A monopod is a tripod with just one leg and if you keep it between your legs you won't disrupt other passengers while still stabilizing your shots. I didn't bother bringing one since I was near the weight limit but this monopod is an affordable, solid choice.
If you are worried your lenses won't pack enough zoom, bring along extension tubes. I bought this set of 3 by kenko which essentially sits between your camera body and the lens and helps to magnify the power of your zoom.
If you have a crop body camera, this will further magnify. It can be slightly trickier to focus so just check the back of your camera to make sure your shots are coming out well. What I did was re-evaluate all my photos after each game drive so I could adjust my gear and camera equipment accordingly. In total, I spent 5 days on safari with 3 days of 2 drives so a total of 6 game drives.
---
---
Where to Sit on a Safari Game Drive
Most experienced game drive leaders are either photographers themselves or familiar with photographers on their drives and they'll do their best to position the vehicle to get the best shots, which is extremely helpful.
In South Africa, drive vehicles are predominantly open Landrovers with 10 passenger seats (1 next to the driver, then 3 rows which can seat 3 people each). Either of the two rows behind the driver are good for photography. I would avoid the last row which is above the jeep wheels, as it's quite high off the ground and can be a little too high for the best shots.
Our game driver was excellent at slowly moving the jeep forward or backward so that each "row" could get the "perfect" shot.
What should you not bring on safari to South Africa?
Well, chances are your vehicle will be an open land rover so stabilizers like a bean bag or tripod clamp won't have any ledge to sit on. Skip these. Unless you plan to shoot birds, a zoom over 400mm is not really necessary. If you do want to shoot birds, you'll need something like a 600mm lens which is not only extraordinary expensive but quite heavy.
If this all sounds excessive to you.. consider that you're already spending a small fortune to go on safari, so why not do your best to capture the glory? Going on safari and visiting Africa remains my all time favorite travel experience to date.
---
---
The Best Souvenirs from Africa and Safari
Africa has so many great things for sale that you'll want to bring home. For the interior design lover, there are faux animal printed hides, pillows and decorative wooden carvings. Ostrich eggs (usually painted or carved) are popular as are sculptures of giraffes in various heights.
Local markets will sell carvings, figurines, gems and jewelry. There are lots of kitschy tourist market places but you can ask your guide for an authentic marketplace in a local village if you want true unique souvenirs. A friend of mine brought back a really unique, hand made tree with amethyst gemstone leaves.
South Africa is also well known for its wines so I brought home bottles of red and after going wine tasting in the Cape Town winelands. If you fly South Africa Airways they give out mini bottles on the plane, even in coach! Always a nice treat.
If you like tea, make sure to try some rooibus!
You Might Also Enjoy:
South Africa Vacation Planning Articles
The Best Thing to Do in Colorful Bo-Kaap: Learn to Cook Cape Malay Food
The Complete Cape Town Beach Guide
The Best View Over Cape Town: Head to Table Mountain
Staying in Downtown Cape Town at the Cullinan Hotel
South Africa's Answer to Napa Valley: The Cape Town Winelands
Here's How You Can Swim with Penguins in a Cape Town sea kelp forest, no less!
The World's Most Scenic Road Trip: Cape Town, South Africa
The Most Adorable Way to Spend an Afternoon: Penguins at Boulder Beach
Don't forget to explore Johannesburg after your safari. It's a short flight from Kruger and chances are, you'll fly into Johannesburg first anyway since that is the city of South Africa's international airport. Love outdoor travel? Then make sure to check out this post for what to pack for Macchu Picchu!