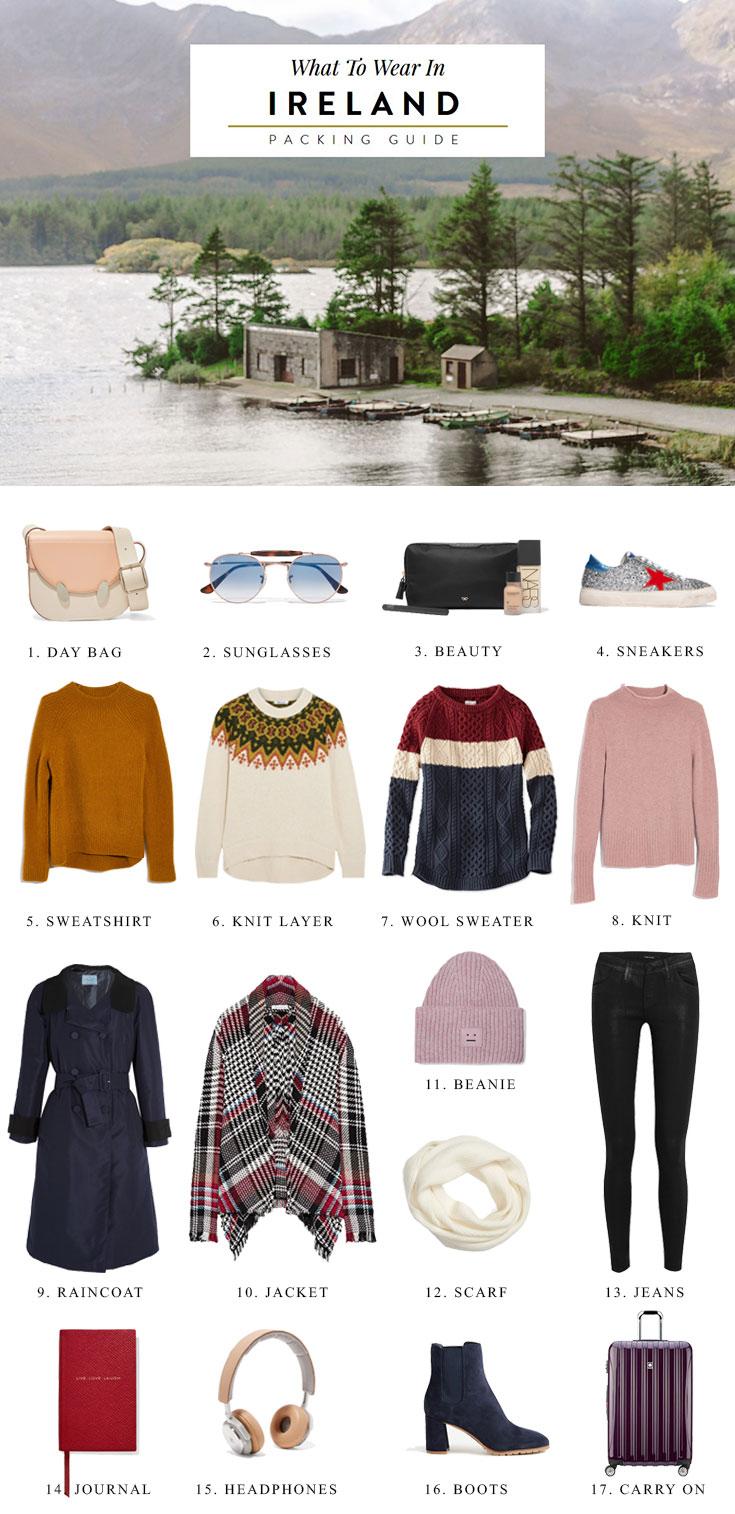 Ireland Packing Checklist
---
Click the icon next to each image to shop directly on the retailer page or browse via the links below. I've also linked affordable options throughout the post.
1. Day Bag | 2. Sunglasses | 3. Cosmetics Bag | 4. Sneakers | 5. Sweater | 6. Fair Isle Knit | 7. Wool Sweater | 8. Pink Sweater | 9. Raincoat | 10. Plaid Jacket (similar) | 11. Beanie (affordable version) | 12. Cashmere Infinity Scarf | 13. Jeans | 14. Journal (affordable version) | 15. Headphones | 16. Ankle Boots (affordable version) | 17. Carry On Luggage
This is What You Should Pack for Ireland!
Ireland is a country known to have four seasons… all in one day, so it pays to pack smart! With unpredictable weather, intermittent bouts of rain and beautiful rolling green hills, here are some ideas for what to wear in Ireland to look stylish but feel practical!
Read more:
Where to Stay in Galway
---
---
Ireland Clothing to Pack – Layers, Layers, Layers!
Sweaters | Make sure to pack layers. I'm currently loving Free People's cozy knits and underneath, I layer Uniqlo's heat tech thermals. I also packed a couple blazers to wear over thinner knits for colder days or evenings. J. Crew blazers are always well made and last me years.
I packed a couple different pairs of jeans, as once they get damp or too 'outdoorsy' I like a fresh pair. If you have any waterproof pants, bring those! Even in the summer, Dubliners wear long pants so leave the shorts at home.
Shoes | I would recommend packing a pair of comfortable sneakers for sightseeing around Dublin and the Irish cities as well as a pair of ankle boots. These are my favorite boots of the moment – they come in every color and material and are so stylish!
I also recommend bringing a light weight rain boot if you can fit it in your luggage. Ireland is blessed with tons of rain and there's nothing worse than wet feet.
Rain Jacket | Ireland is rainy and windy so a rain jacket will really come in handy. I borrowed C's Arc'Teryx rain jacket for most of the trip and it was a life saver.
For more on my favorite travel jackets for all conditions, click here.
---
---
Travel Bags, Necessities and Electronics for Your Iceland Vacation
Suitcase | I brought a large hard suitcase for the both of us and my favorite backpack of the moment for my trip to Ireland. We rented a car to self drive around the Emerald Isle and there definitely isn't much room in these mini cars for luggage so try to pack light!
I've reviewed all my favorite carry on luggage brands in this previous post here and am currently using my Delsey large suitcase or my Raden carry-on luggage for most international trips.
Packing Cubes | I like to group clothing by color or function and pack each group of items snugly in their own packing cube. These are a lifesaver for keeping your suitcase organized in your hotel room and are my number 1 secret to maximizing space in just a carry on suitcase. I typically reserve one packing cube for all my worn clothes to separate the dirty stuff from my fresh clothes!
Amazon has their own inexpensive 4 piece packing cube set and several travel blogger friends swear by this set from eBags. Personally I use a set from CalPak which I love. They're machine washable for easy cleaning and have a mesh panel so you can see easily what's inside.
Toiletry Bottles | Optional, but I currently like these for shampoo and conditioner. If I know I'm staying in nice hotels, I don't always bring shampoo but I always want my conditioner. I also pack extra ziplock bags to keep toiletries and wet clothes safely contained.
Portable Charger | Definitely a must! I currently use an iPhone 6S Plus and this Anker portable charger keeps my phone fully charged at all times. The charger is small and sleek enough to fully charge an iPhone twice. Anker has great customer service – I once bought a product off Amazon that ended up dying and they quickly sent me a replacement free of charge, so I highly recommend them!
Electric Converter | If you are abroad, you'll need a universal adapter and converter. Also pick up a travel sized power strip so you can charge your laptop, phone and everything in one go.
---
---
Photographing Your Ireland Vacation: Camera Packing Checklist
Camera and Lenses | When traveling in Ireland, you'll likely want to photograph the Emerald Isle's rolling green hills and dramatic ocean cliffs. I like the 16-35mm lens and recently picked up this Sony camera body as it's much lighter than my Canon!
I also bring along a GoPro to capture any action like bike riding or swimming. I recommend the GoPro Hero 6 which was just released! Dunmore East in southwest Ireland has a really fun water adventure center – if you like kayaking, SUP or water obstacle courses this place is for you. There are also great cycling opportunities throughout Ireland – from the first greenway opened in County Mayo to the longest greenway in County Waterford.
To capture waterfalls, sunsets and the like, you'll want a tripod so that your camera can remain steady enough for the long exposure. I use a carbon fiber Gitzo tripod but also bring along this much more affordable Mefoto for travel as it's much lighter.
Camera Accessories | Along with the camera, I recommend a spare battery, battery charger and extra SD and CF cards. Sony camera batteries drain really external battery charger and 2 spare batteries quickly so I purchased this so I wouldn't be stuck with a non working camera.
I shoot primarily with SD cards since you can insert them in your laptop to easily offload, but I keep all my cards in this wallet to keep them organized and easily reachable. This memory card case that I use fits both SD and CF cards and was under $7.
Lenovo Yoga Book | Recently, I've ditched my laptop on trips, in favor of this 10″ Lenovo Yoga Book for travel. It's all white, super lightweight and very chic. The best part is its design friendly and can easily switch from a drawing bad surface to take notes/draw and a keyboard for typing. The keyboard is a lightscreen, so there's no actual keys and grooves for dirt, dust, food, etc to get stuck in – perfect for travels in Europe!
Note – it doesn't fully replace a laptop though. The keyboard is quite sensitive and the storage is that of a mini book, so I still use my full size laptop on a day to day basis.
---
---
What to Buy in Ireland
Wool products are some of the best things to buy in Ireland. With more sheep than people, Irish wool is made into everything from cozy knit sweaters to throws to blankets!
Irish Souvenirs and Gifts | If you're looking to buy clothing in Ireland as a gift, Aran Woolen Mills and Quills are two stores you'll see all over Ireland that sell a huge assortment of wool sweaters in every price point, style and pattern. I loved the wool blankets and throws I saw – they can be extremely soft or thick & warm.
For gorgeous wool products, check out luxury Irish brands like McNutt, based in Donegal and Foxford, based in County Mayo. If you're stumped on what to buy in Ireland, I think their wool throws would make a great gift for anyone. They're dyed to practically any shade, from bright fuchsia pinks to muted greens and greys and come in checkered prints, stripes and solids.
Irish Fashion | Some global fashion brands that you can find in Ireland include Primarks, Pennys, T.K. Max, River Island for fast fashion. For high end, check out lifestyle stores like Brown Thomas and Carraig Donn.
---
Visiting Ireland – Travel Checklist
Aer Lingus, the national Irish airline, offers non-stop flights from select US cities. While we didn't enjoy our experience with them (flight attendants skipped us for meals multiple times and were rude) Aer Lingus is rapidly expanding their routes and offers low fares (some non stop) from many US cities. We found cheap flights to Ireland in October – you can check for flight deals and routes here.
When returning to the U.S., take advantage of the U.S. pre-clearance facilities at Dublin and Shannon airports, where you complete U.S. immigration, customs and agriculture controls before departure so that when you land in the U.S., you can just collect your bags.
I highly recommend staying at an Irish country house or family run hotel during your trip. Irish hospitality is truly something else. Check out Ireland's Blue Book for luxury, boutique accommodation with a focus on family-run properties and excellent food.
Lastly, be sure to visit Ireland with travel insurance. Whether you get injured and need to be hospitalized, or your phone gets stolen, or an injury forces you to cancel all or part of your vacation, travel insurance will help when you need it most. Hurricane Ophelia hit the country smack in the middle of our road trip! I use and recommend World Nomads travel insurance.
You Might Also Enjoy:
Ireland Vacation Planning Articles
Itinerary, Tips & Advice for How to Plan the Perfect Ireland Vacation
For Foodies: All the Best Food We Ate in Ireland
How to Master Driving in Ireland (as a tourist!)
7 Useful Tips for Renting a Car in Ireland
10 Enchanting Castles in Ireland – You Can Actually Stay In!
Packing Checklist: What to Wear in Ireland
Irish Sights, Activities & Tours We Especially Enjoyed:
20 Photos to Inspire You to Visit Kylemore Abbey
Co Kerry: 7 Can't Miss Sights in Killarney
Mingle in Dingle: The Best Things to Do in this Quaint Fishing Village
Co Waterford: 8 Reasons You'll Love Waterford, Ireland's Oldest City!
Visiting the House of Waterford Crystal
Is Mount Congreve Ireland's Best Garden?
Co Wexford: Don't Skip Wexford – Here's Why!
Co Kilkenny: Exploring Kilkenny Castle, in photos
Restaurant & Hotels We Loved:
County Clare: Gregans Castle Hotel
County Galway: Rosleague Manor Hotel, Where to Stay in Galway
County Wexford: The Strand Inn
County Waterford: The Cliff House Hotel, The Reg Pub
Follow Sher She Goes on
Bloglovin | Facebook | Twitter | Pinterest | Instagram
---