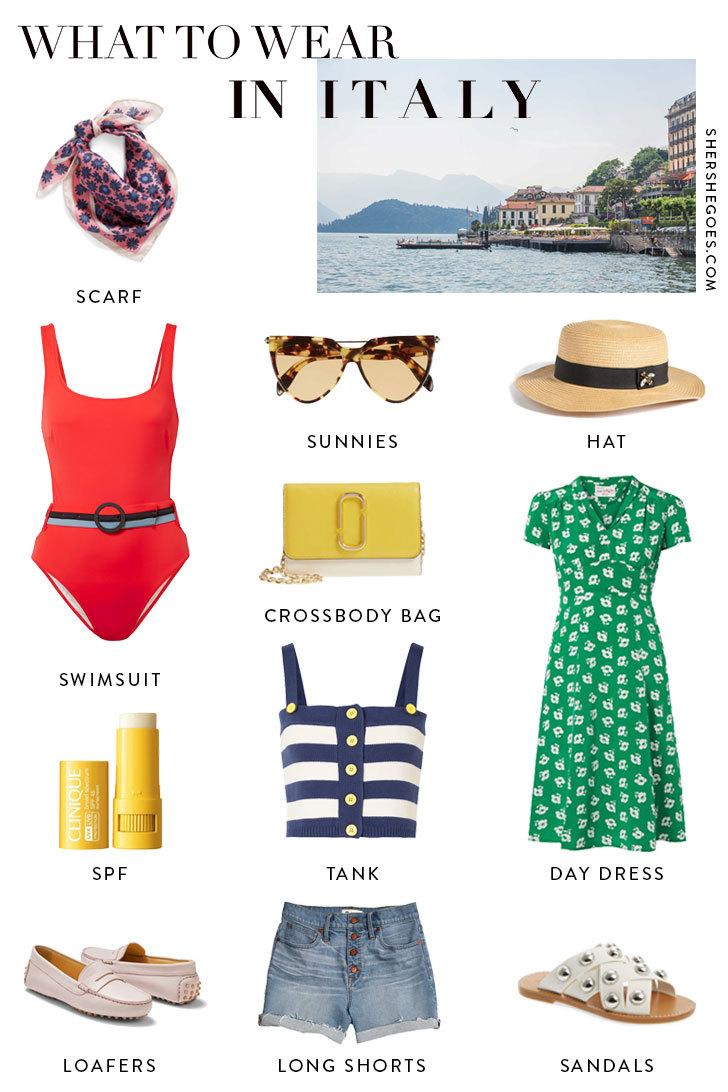 scarf / sunglasses / hat / sunscreen / crossbody bag / tank / day dress / loafers / shorts / sandals
What to Pack For Italy
Visiting Italy and don't want to stand out like a tourist? I've got you covered! Here are some travel outfit suggestions and tips for packing for Italy. I visit Italy again and again since the country has so many great places to explore and would highly recommend visiting in May, when the crowds and heat haven't quite gotten overwhelming!
For travel guides, check out my posts for Northern Italy, Cinque Terre and the Italian Lakes region. Or, plan your trip with this first timer's guide to the best of Italy!
Read more:
Italy for First Timers: 7, 10 & 14 Day Itineraries
---
---
Italy Packing List
1. Conservative Day Clothes
Breathable Fabric | I packed a mix of dresses, long shirts and breathable tops to visit Italy in summer. My favorite places to shop for summer clothes are Nordstrom, Shopbop, Revolve, H&M, Uniqlo and Mango.
People in Italy dress quite fashionably and conservatively, even wearing long pants in the summer heat! I didn't think I could do that so I packed long shorts and flowy skirts to breathe a little easier in Italy in June and July!
Cover Up | Make sure to pack a couple tops with sleeves and long skirts or capris – if you're visiting any churches or the Vatican, you'll need to cover up. If you forget, just bring a long scarf to tie around your waist or shoulders in a pinch!
Swimsuits | If you're visiting Positano or Cinque Terre, pack a bathing suit! My go-to stores for bathing suits (both one pieces and bikinis) are Revolve, Nordstrom, Everything But Water, Abercrombie and Shopbop.
They always carry the best range of colors and styles in every price range. I like to pack a mix of one piece swimsuits and bikinis that cover up but still have cut outs and color.
2. Comfortable Walking Shoes
The number one thing you should pack are comfortable shoes. I recommend a comfy sneaker for sightseeing days. Then I usually bring 2 extra pairs if I can fit them in my suitcase – a cushioned pair of flats / loafers to have something to wear to dinner and on casual days as well as a pair of supportive sandals. Some cities have lots of cobblestone streets so a great travel shoe is important.
For loafers & moccasins, you can't beat the quality of M.Gemi flats. I also love this pair from Jack Rogers. For a fashionable sneaker I love Golden Goose and Adidas while for slip on sneakers I like these Uggs and Dr. Scholl's.
Read more:
The Best Travel Shoes to Pack Now
3. Accessories
Hat | Bring a wide brimmed hat to protect yourself from the sun!
Sunscreen | Chances are, you'll be sunbathing in Italy or sightseeing in the strong afternoon sun. I like to bring both a facial sunscreen and all over body sunscreen.
For the face, this Japanese brand is my hands down favorite – its non greasy, affordable and non-tacky without any scent. For the body, I love this broad spectrum sunscreen which smells like coconuts and leaves your legs nice and glowy.
Water Bottle | Also bring a water bottle. Italians are a bit snobbish about their water – when eating out they order either sparkling or bottled water – drinking tap water is not really socially "done" like it is here in New York. You can save some money and be more environmentally conscious by filling up your water bottle.
Read more:
Our Favorite Water Bottles
---
---
4. Lightweight Luggage
Carry On Suitcase | Many hotels in Italy don't have elevators (or small, slow moving elevators) so I recommend a lightweight suitcase, preferably carry on only. Calpak is one of my favorite brands since their luggage sets are cute, affordable and durable.
If you're traveling Italy by train, try to pack as light as possible – 1 bag per person. Often train stations will have stairs so you'll climb up and down platforms.
Packing Cubes | I swear by packing cubes! Once you try them, you'll wonder how you ever did without. If you're visiting multiple cities in Italy, these cubes will keep your clothes organized and your suitcase tidy. I keep one pouch for undies, one for worn clothes and then group outfits in the other cubes.
This inexpensive 4 piece packing cube set has nearly 6,500 glowing reviews while several travel blogger friends swear by this set from eBags.
Personally I use a set from CalPak which I love. They're machine washable for easy cleaning and if you have CalPak luggage – they're perfectly sized for their carry on luggage pieces!
Toiletry Bottles | I use these bottles for shampoo and conditioner – you can use them to story anything, even skin care products. Hotels in Italy rarely offer great shampoo and conditioner so I do suggest bringing your own.
I also love this inexpensive yet stylish jewelry case to organize earrings, necklaces and any small items like bobby pins + hair ties! Finally, since you're packing light you might want to bring laundry detergent to be able to wash your clothes.
5. Camera, Chargers & Travel Gear
Camera & Lenses | I bring a professional DSLR camera and a couple lenses to shoot all the photos you see on this blog. I also bring my spare battery, battery charger and extra SD cards. To keep everything organized, I use a memory card case and a travel accessories case so the wires, chargers and small things don't get lost.
For underwater photos, I use a GoPro, backdoor floatie and dome. For video, I use a stabilizer and my iphone, along with an external battery. You can find all my gear here.
6. Souvenirs from Italy
If you're looking to bring home some fun Italian souvenirs for friends and family, here are some ideas:
Leather Sandals | Local artisans will make sandals on the spot for you, mostly in southern Italy. They're simple, cute and luxurious!
Olive Oil, Pesto, Balsamic Vinegar, Parmesan | Italy is known as one of the best culinary destinations in the world, so why not bring back some local specialties for those less fortunate friends and family members who stayed at home
Each regional town tends to have their own local souvenirs, so if you see something you like just buy it! You probably won't find it again. Rome, as the capital, is going to be a bit more expensive so if you start your trip in Rome then that would be the exception – you can likely hold off and find it elsewhere.
---
---
Shop Italy Outfits Here
---

---
And that's it! What will you bring to Italy?
Visiting Italy – Trip Planning Checklist
There's so much to see and do in Italy that you can visit again and again and still discover new sights. I recommend concentrating on the big 4 cities (Rome, Venice, Milan & Florence) if it's your first time and then coming back to explore either Northern Italy or Southern Italy in more depth.
Go | Flight prices from the US to Italy are highly seasonal. You can set a fare alert here to be notified of discounts. Every fall & winter, I've seen great deals to Milan. One word of caution: avoid Alitalia at all costs!
Getting Around | A convenient way to explore Italy is via high speed train. You can search train schedules and book online here. Buy your tickets in advance to save on fares. Make sure to validate your ticket on the platform!
It also helps to speak a little Italian. Brush up on your Italian language skills with Rosetta Stone. You can take 10% off with promo code CJBT10.
Stay | Book hotels in advance to save, or check here for last minute deals. Many hotels in Italy are older so don't be surprised if even 5 star accommodation feels slightly dated. Opt for a room with a view instead of breakfast, as Italians don't eat breakfast in the same way Americans do and you'll probably be disappointed with their offering.
Alternatively, groups or budget travelers can check out Airbnb. 
Protect | Lastly, be sure to visit Italy with travel insurance. Whether you get injured and need to be hospitalized, your phone gets stolen, or a flight delay leaves you with nothing but the clothes on your back, travel insurance will help when you need it most.
A rail strike occurred during our trip, unexpectedly shutting down transportation for an entire day. Get a quote for your Italy trip here.
You Might Also Enjoy:
Italy Vacation Planning Articles
The First Timer's Guide to Italy: A Classic Itinerary
THIS is the Best Time to Visit Italy
What to Wear in Italy: A Packing Checklist
Northern Italy
The Most Beautiful Places in Northern Italy (that are still a secret!)
Headed to Northern Italy? Here's the Perfect 7 Day Itinerary
Exploring Bologna: Travel Guide
Quick Guides to: Bologna Day Trips & The Best Bologna Restaurants
Visiting Parma: The Center of Parma Ham & Cheese
7 Reasons to Explore Medieval Bergamo
Visiting Ravenna's Mosaics
Test Driving Fast Cars & Touring Car Museums in Italy's Motor Valley
Cinque Terre
Plan Your Trip: Travel Guide
How to Choose Which Village to Stay
A Blissful 3 Day Cinque Terre Itinerary
The Best Cinque Terre Airbnbs for Large Groups
Quick Guides: The Best Restaurants & Popular Hiking Trails
Inspiration: Photo Diary of the 5 Villages
The Italian Lakes
Exploring Lake Como: Travel Guide & Where to Stay
Quick Guides to: Varenna, Bellagio & Villa del Babianello
Visiting Lake Maggiore
Quick Guides to: Isola Bella & Villa Taranto
Discovering Hidden Lake Orta
Follow me @Sher She Goes on