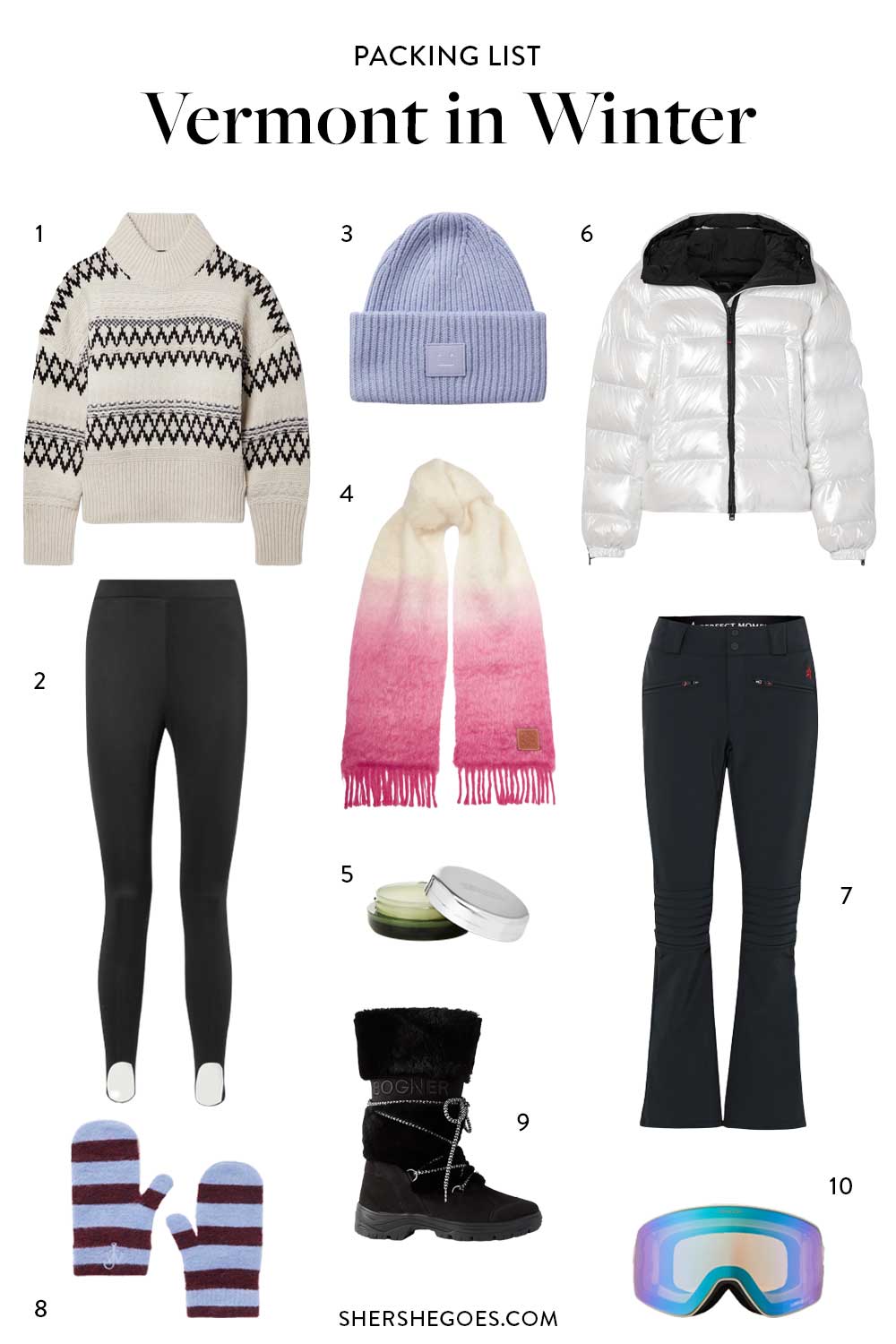 Vermont in Winter
Vermont in the winter can be freezing!
Temperatures can range from 0-20 degrees F, with frequent snow fall from December to March. So, if you're wondering what to pack for a winter trip to Vermont, we've got you covered!
ADVERTISEMENT
---
---
Keep reading, or pin this article to save it for later ⇟
What to Pack for Vermont in Winter
Sweaters
Sweaters are essential when packing for Vermont.
They're cute and comfy, and you can easily layer them for skiing, outdoor activities and relaxing at home. In addition to a few wool sweaters, I also recommend bringing at least one comfy sweatshirt for skiing and relaxing.
Shop cozy winter sweaters here.
ADVERTISEMENT
---
---
Fleece Lined Leggings
Ever since I stopped wearing jeans in the winter and switched to fleece lined leggings, I've been way more comfortable and warmer.
Highly recommend trying a pair if you've never worn one! They look like regular black leggings on the outside but inside they're lined with thick cozy fleece.
You can also get fleece lined jeans that look like jeans but are extra soft and insulated.
You can also easily layer them over thermal underwear for extra warmth.
Shop fleece lined leggings here.
Thermal Underwear
A good pair of top and bottom thermals makes all the difference. Wear these under chunky wool sweaters to ward off itch and to add an extra layer of warmth!
I usually buy heat tech or merino wool for the highest warmth protection.
Shop thermal underwear here.
ADVERTISEMENT
---
---
Insulated Snow Boots
Snow boots are a must in New England!
Look for tall winter boots that have soles with good tread. You don't want to slip and fall on ice! I personally love fleece lined snow boots because they're extra comfy and warm.
Shop snow boots here.
Wool Socks
The theme this winter is wool, wool and more wool.
While wool can be itchy, nothing keeps you warmer in freezing temperatures. Pack a pair of extra chunky wool socks to wear with your winter boots.
Shop wool socks here.
ADVERTISEMENT
---
---
Tech Gloves
I recommend a thin pair of tech gloves so you can keep your hands protected in the cold, but still use your phone!
These are a game changer in the winter.
Shop tech gloves here.
Insulated Water Bottle
Packing a reusable water bottle cuts down on plastic and helps you stay hydrated. I find that when I don't drink enough water, my nose and lips get dry faster.
Shop travel water bottles here.
ADVERTISEMENT
---
---
Lip Balm
My lips get so chapped in the winter! Pack a lip balm and lip oil to keep your lips hydrated.
My go-to is this Laneige lip balm that works great as an overnight lip mask.
Cozy Pajamas
There's nothing like slipping into cozy flannel pajamas in front of the fireplace in winter. Pack a pair of matching pjs so you can relax after a long day outdoors!
Shop winter pajamas here.
ADVERTISEMENT
---
---
Ski Packing List
Chances are, you've come to Vermont in winter to ski or snowboard! Here's what you should make sure to pack for a ski trip in Vermont.
Read more:
10 Things to Know Before Planning a Ski Trip to Stowe
Snow Pants
Snow pants are a must for any outdoor activity in Vermont during the winter.
A great pair of insulated snow pants will be fleece lined and waterproof, so your body will stay nice and warm all day in the cold.
Wear these to ski, snowboard, snowshoe or cross-country ski!
I also recommend wearing them for dog sledding, sleigh rides or even just a walk around town.
Your ski pants will take the brunt of any falls, so make sure they're made from a sleek waterproof fabric. Fun fact: every fabric that's waterproof is also windproof, but the reverse is not always true!
If you're in-between sizes, opt for a looser fit. You want your ski pants to comfortably fit over any base layers as well as the top of your ski boots, so consider sizing up one size!
Shop best selling ski pants here.
ADVERTISEMENT
---
---
Ski Bib
I'm also a big fan of ski bibs.
If you're skiing in powder or want to be extra warm, a one piece ski jumpsuit offers more protection than ski pants. Personally, I also think they're more stylish than bulky ski pants!
I've reviewed my favorite ski bib here, but one piece ski jumpsuits come in all different styles, colors and materials. You can look for Gore-tex, loose cargo bibs, or sleek neoprene style bibs.
There's also ski bibs that are crafted like overalls, to sit high up on your chest, and pants-with-suspender styles.
Shop best-selling ski bibs here.
ADVERTISEMENT
---
---
Base Layer
Base layers make a world of difference in keeping you warm!
They should be a thin, fitted layer (ideally made out of merino wool) that will help you retain heat while expelling moisture.
As you ski, snowboard or even just go for a walk, your body will start to sweat from the activity.
Cold sweat can easily chill your body, no matter how many layers you have on, so you want a high-quality base layer that will whisk away sweat and retain body heat.
We've written about our favorite base layers here. Don't skip these!
Shop best selling base layers here
ADVERTISEMENT
---
---
Mid Layer
The old saying, layers in winter, is key!
But wearing the right layers makes a big difference.
Pack wool sweaters (with at least 40% wool content), a cozy fleece, insulated vest or thin synthetic down jacket. A good mid-layer helps insulate your body and creates a cozy environment for more pockets of heat.
Some people who heat quickly like a sleeveless vest for layering.
Others who run cold like a thick chunky sweater. Some prefer a mid-layer that fully zips open, instead of one that needs to be pulled over the head.
No matter what you choose, make sure to stick to high quality materials like fleece, down and wool.
Browse best-selling mid-layers here
ADVERTISEMENT
---
---
Waterproof Jacket
A waterproof (or at least a water-resistant) jacket is a must for skiing and snowboarding!
Look for jackets that have lots of pockets, since usually you won't be carrying a backpack or purse while skiing.
I like ski jackets that have a slim pocket on the sleeve, to hold my RFID lift card, plus plenty of pockets on the torso (to hold my phone, hand warmers, tissues and chapstick!).
Also look for ski jackets with an inner snow guard.
It will look like drawstrings and an extra layer of fabric around the waist that prevents snow from flying up your torso when you fall!
Shop Ski Jackets here.
ADVERTISEMENT
---
---
Ski Goggles
I remember one of my most miserable winter days was when I was out all day on a walking tour in Antarctica and didn't pack winter sunglasses.
The snow nearly blinded me and I felt like my eyes were bleeding after just 30 minutes in the sun. Sun bounces off white snow and can really hurt your eyes, so ski goggles are a must.
Ski goggles typically come with interchangeable lenses, so you can protect your eyes no matter the conditions (heavy snow to sunny days, light flurries to sleeting rain).
When you're skiing downhill at high speed, even the lightest snow flurry hit your face like a bullet. Make sure to bring a pair of good goggles!
They don't need to be expensive, as long as they offer a tight seal and protect your eyes. Personally, I picked up these 'asian-fit' goggles which fit my flat face and nose bridge much better than regular goggles.
Shop best-selling ski goggles here.
ADVERTISEMENT
---
---
Helmet
A helmet is a must for skiing and snowboarding!
I've seen so many incidents where people come flying out of nowhere and crash into others and unfortunate accidents. Save yourself from potential injury and wear a helmet!
Most ski slopes have helmets for rent, but personally I think sharing is kind of gross. Save yourself potential head lice and grab a basic helmet (they don't have to cost a lot).
Just make sure to try it on both with and without a hat or beanie for a solid fit.
Browse ski helmets here
ADVERTISEMENT
---
---
Mittens
Your hands get so cold outside that you definitely want to pack gloves or mittens.
Personally, I like to bring two pairs. A thin pair of tech-friendly gloves so that I can use my phone, as well as a thicker pair of waterproof mittens.
Mittens keep your hands warmer because it allows heat pockets to form between your fingers. They're also more convenient to hold hand warmers!
Browse best-selling ski gloves on Zappos.
ADVERTISEMENT
---
---
Ski Socks
Ski socks are long thin socks that come up high on your shins.
I recommend buying ski-specific socks, as you want something different from a regular winter sock! Ski socks have padding built in along the foot and shin, to provide extra cushion against your legs as you ski.
They should also be made from at least 40% wool content.
Wool is not only warm – it's also anti-microbial and moisture wicking. Regular cotton or acrylic fabric traps moisture, so as your feet sweat during skiing, your toes will quickly become cold.
Ski socks should also be pretty thin. Since ski socks sit inside a tight ski boot, too thick socks will actually prevent warm air from circulating around your toes and make you colder.
Look for merino wool which will be warm, but not itchy!
Shop best selling ski socks here.
ADVERTISEMENT
---
---
Neck Gaiter
As you ski and snowboard, wind flies in to every exposed piece of skin.
Usually, there's a small triangle from your nose to your collarbone that sits exposed, no matter how high you zip up your ski jacket or wrap around a scarf.
To prevent cold from chilling you, pack a neck gaiter or balaclava!
They offer maximum face and neck coverage for the coldest days on the hill. Trust me, you'll see such a difference wearing these!
Browse gaiters and balaclavas here
ADVERTISEMENT
---
---
Hand Warmers
Finally, you might want to pack hand warmers in case it gets really cold.
These little pockets of warmth get nice and toasty. I like to stick them in my gloves, in my jacket pockets or in my boots, depending on how cold it gets!
They come in both disposable and rechargeable options and in all different sizes.
Plus, they're super portable and lightweight so they don't take up much room in your suitcase.
Shop hand warmers here.
ADVERTISEMENT
---
---
Things to Do in Vermont in Winter
Go Skiing and Snowboarding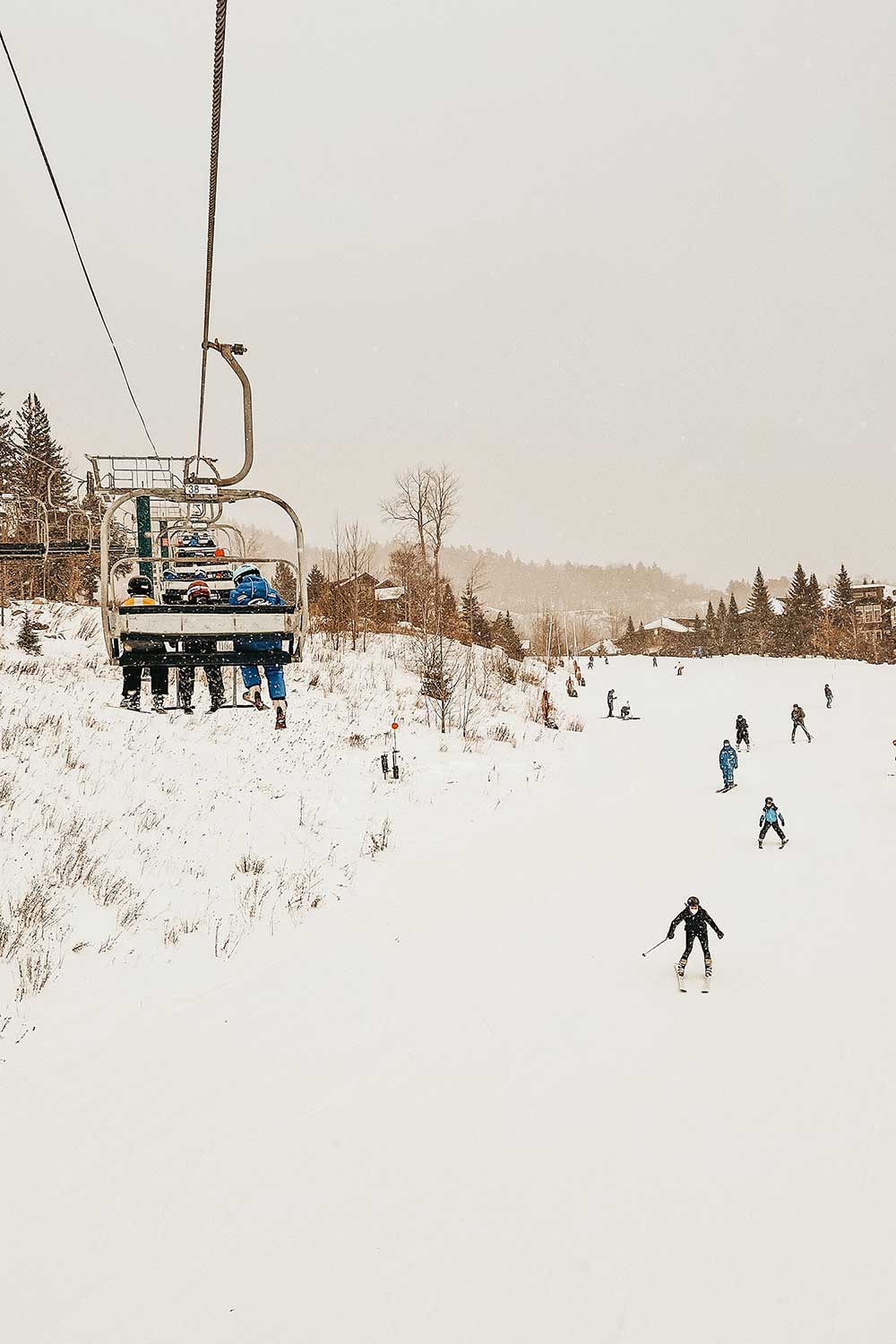 Vermont's nickname is the Ski Capital of the East, so it'd be a shame to travel there and not at least try to ski or snowboard!
The state has a number of famous ski resorts, from Stowe to Killington to Okemo and Smuggler's Notch.
We took an early season group ski trip to Stowe and had a blast.
You can read more about planning a Stowe ski trip here, or what it's like skiing at Stowe as a beginner here.
ADVERTISEMENT
---
---
Explore Vermont's Most Charming Small Towns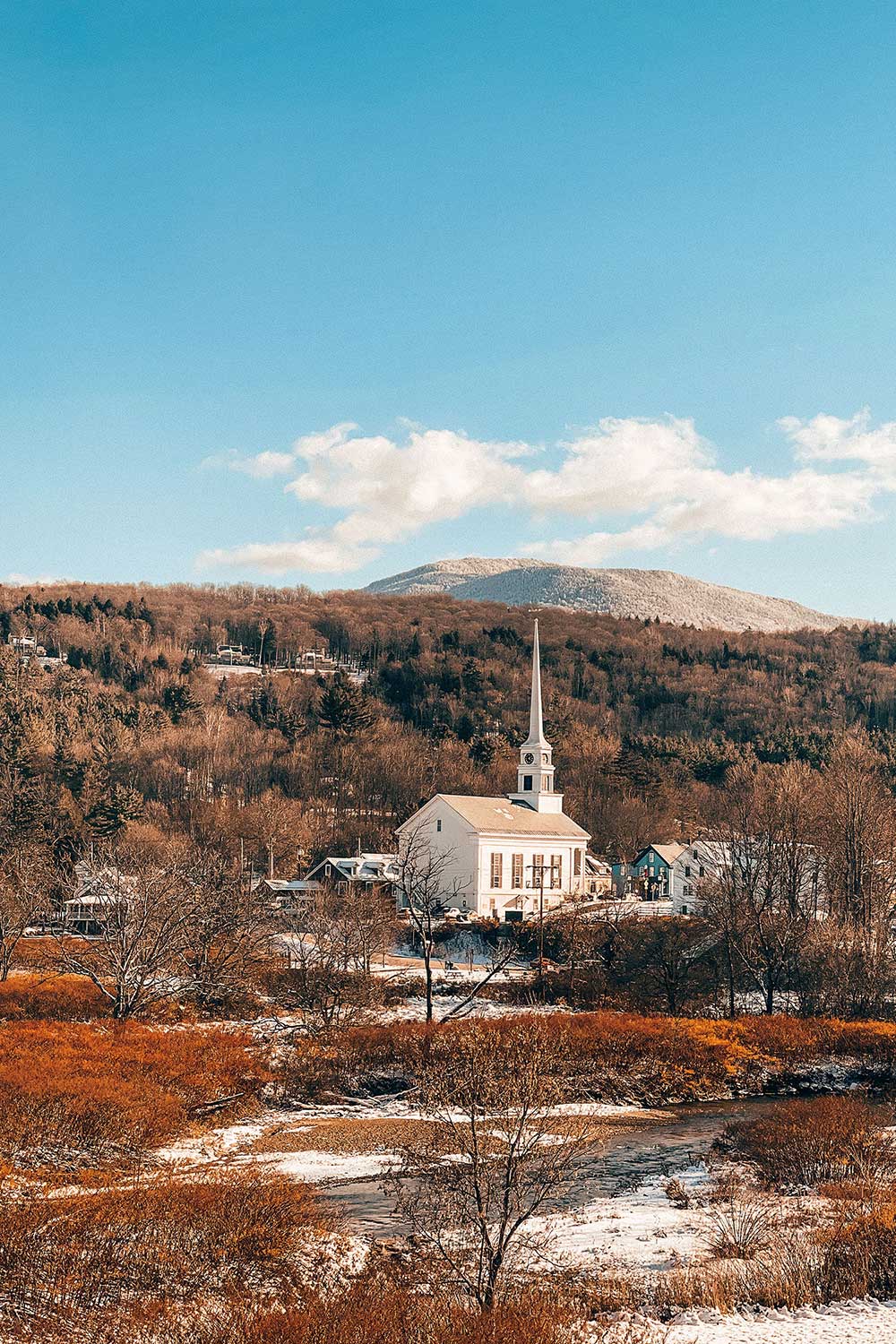 Vermont's charming small towns frequently top the list of Most Charming New England Towns and in winter, the towns are beautiful covered in snow.
We visited Waterbury and Stowe and both were really cute, with a Main Street of shops and restaurants.
If you visit Vermont in December, you'll see the towns all decorated for Christmas too!
ADVERTISEMENT
---
---
Take a Brewery Tour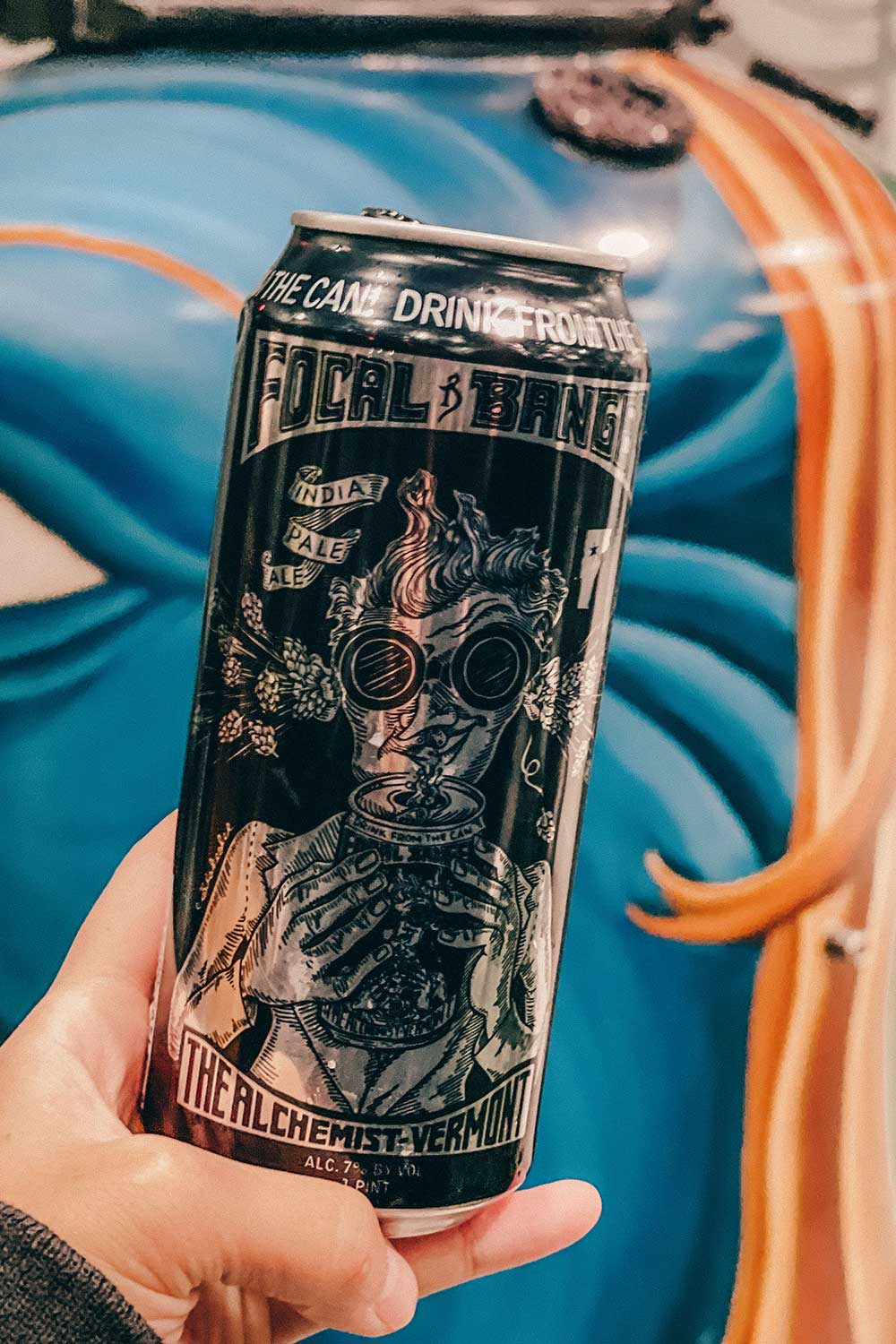 Vermont is famous for its beer, and there are great breweries all over the state!
You can take tours of small microbreweries, relax at a German style bierhall or sip different types of craft brews at a bar. There are so many options for beer lovers!
And even if you don't love beer, it's worth trying some of the local IPAs just to experience it.
ADVERTISEMENT
---
---
Vermont is so beautiful in the winter! You absolutely have to experience it at least once, whether you like to ski or not.
Read more:
All the Best Things to Do in Stowe, Vermont in Winter!
ADVERTISEMENT
---
---
Ski Wear Haul
I posted a couple try-on hauls of all the ski wear brands that I've tried. You can check them out on my Youtube channel here.
ADVERTISEMENT
---
---
ADVERTISEMENT
---
---
ADVERTISEMENT
---
---
Read More: in our ski style series:
Ski Trip Packing Essentials
What to Wear Skiing: Packing List Must Have's
The Best Ski Pants for Women (Stylish & Functional)
I Found the CUTEST Women's Ski Pants (Video)
Are Designer Ski Pants Worth It? (Try-On Haul)
The Best Ski Sweaters for Apres-Ski 
Planning the Perfect Ski Trip
What to Know Before Skiing in Vermont for the First Time
Ski Trip Recaps + Mountain Guides
Lake Tahoe, California: Heavenly, Kirkwood & Northstar
Montana: Big Sky
Vermont: Stowe
Catskills, New York: Belleayre Mountain
Quebec, Canada: Mont Tremblant
+ More Ski Vlogs on Youtube
Follow me @Sher She Goes on