Ski Camps
I just wrapped up my second season of skiing and feel like I hit a plateau.
I've taken a number of lessons at this point, at ski schools all over the US, but they've been a mixed bag. Some have been phenomenal, while others have been.. well, a straight up waste.
It's funny – my friends and I all have conflicting opinions on ski lessons.
I think when you're just starting out as a beginner, they can be incredibly helpful, but as you get more comfortable skiing all sorts of terrain, lessons can be hit or miss.
Sometimes a one off lesson doesn't get ingrained, some lessons are more of a guided tour of the mountain than actual technique or training, and instructors can often give conflicting advice.
So when I heard about ski camps, I was intrigued!
ADVERTISEMENT
---
---
I started doing research on immersive multi-day camps and got pretty excited.
Skiing and snowboarding can be a difficult sport to really excel at. Once you get to the advanced intermediate level, it's easy to hit a plateau and even pick up some bad habits that you don't know you're doing.
I can ski pretty much anything groomed at this point, but I really want to get comfortable with moguls, tree skiing, powder and steep terrain. So, I compiled a list of ski camps across North America and have my eye on one or two for next season!
I figured I'd share the info in case anyone else is interested in improving too.
ADVERTISEMENT
---
---
Adult Ski Camps
Skiing is something I picked up as an adult and I always thought there was no way I'd get 'good' after starting out late in life.
But, it turns out there are ski camps for adults (and even retirees) that specifically are geared to getting intermediate and advanced skiers to expert level!
There are ski camps all across the US and Canada.
Most are held at the largest ski resorts in the winter season. Large ski mountains with established ski schools tend to offer the best multi-day ski camps.
But, there are some independently run camps led by private instructors (usually former Olympians and world champions) where the locations change each year.
And if you're interested in freestyle skiing or snowboard, those typically take place on glaciers during the spring and summer months where fresh powder snow and warmer conditions make things more fun.
ADVERTISEMENT
---
---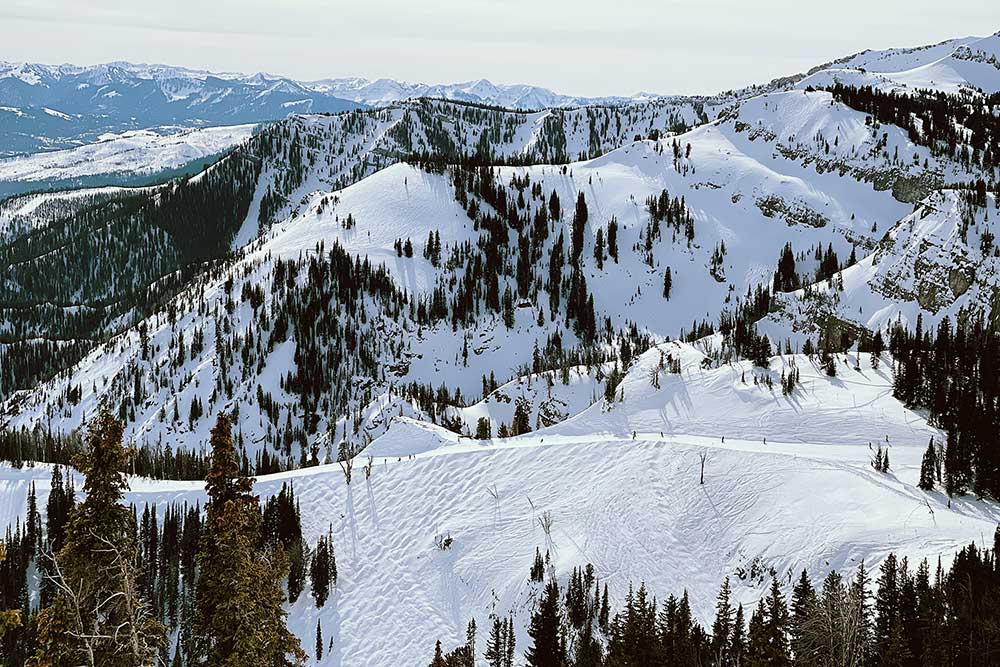 Who Should Take a Ski Camp
Most ski camps are geared towards intermediate and advanced skiers who want to improve their abilities on more extreme terrain.
So it's a great way to progress if you're already confident on blue + black groomers and want to progress towards more difficult ungroomed terrain.
If you're still a beginner (skiing in pizza or most comfortable on greens) I think it's best to stick with lessons and self practice until you're more comfortable on the mountain.
ADVERTISEMENT
---
---
What Happens at a Ski Camp
On average, ski camps tend to be 2 to 4 days long.
They typically include half day or full day coaching with video analysis and groups are kept small, so that each participant benefits from the coach.
Most camp fees don't include lodging or lift tickets, so you'll still likely want to pick up a season pass (Epic, Ikon or Mountain Collective). And camps can be pricey, so unfortunately this is still an expensive hobby!
If you're dead set on honing your abilities in one specific area (moguls, backcountry, cat skiing, etc) there are skills specific camps.
There are also women's only camps if you prefer women coaches and an all-female ski group. I've compiled a list of those in a separate post here.
Here are the top rated ski camps across the country:
ADVERTISEMENT
---
---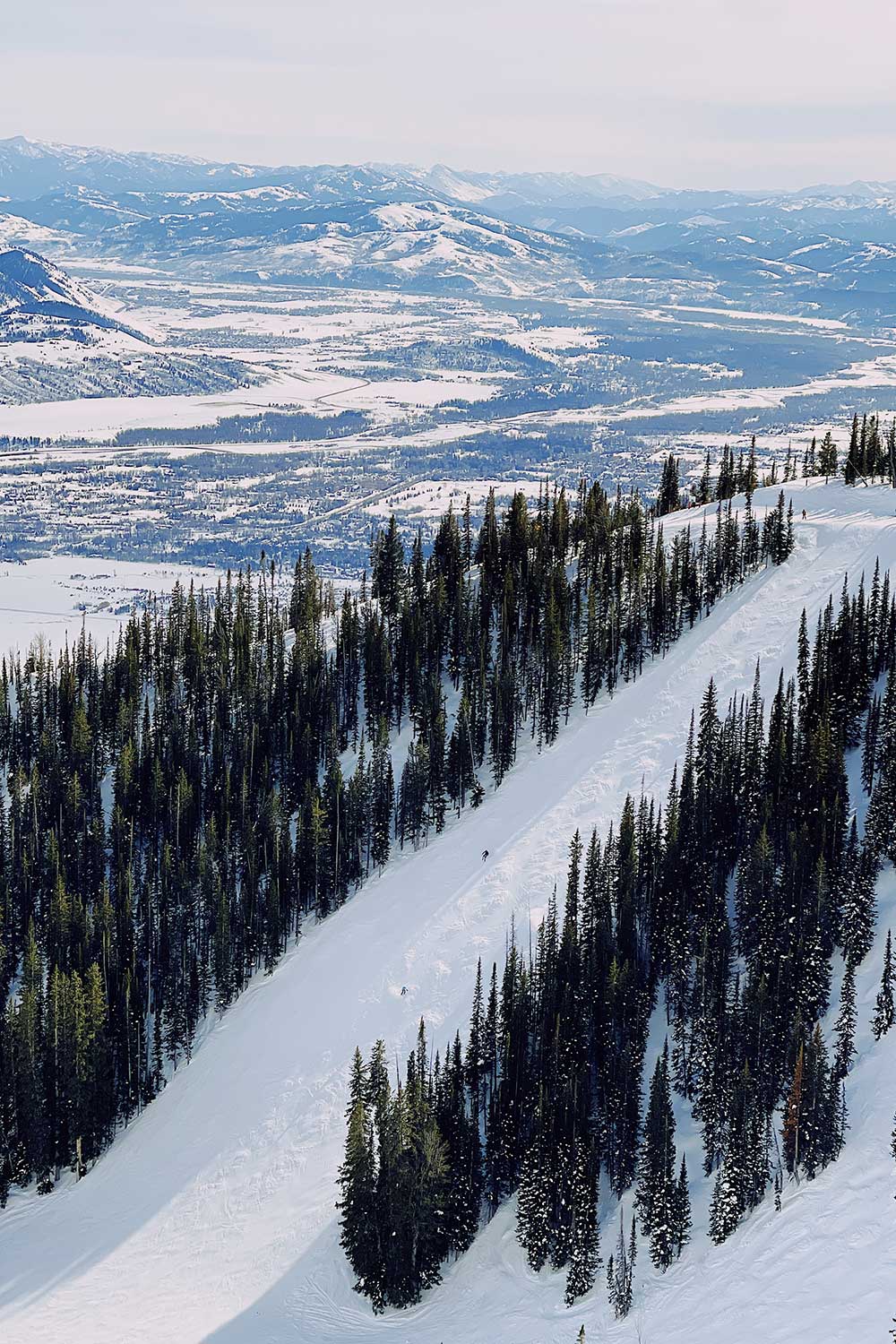 Jackson Hole
Wyoming, USA
Ikon Pass
Read my review Jackson Hole Mountain Resort here
Jackson Hole is one of the most famous ski resorts in the country – known for its extreme steep terrain.
So it's no surprise that they're also well known for offering a slate of exceptional camps, including their iconic Steep & Deep school.
The 4 day co-ed camp focuses on tackling the mountain's gnarly terrain. It's geared towards advanced and expert skiers and focuses on improving abilities on black and double black terrain – navigating chutes, cliffs and Jackson's side country.
The last day of the camp includes the option to tackle Jackson Hole's infamous Corbet's Couloir, a 20 foot drop onto a double black diamond chute. Steep & Deep camps are offered a couple times a year and there are even ski specific, snowboard specific, adaptive skiing camps and a GoPro camp.
But, if you're not into a machismo style camp, Jackson Hole also offers several women's-only camps.
Elevate is a 4 day women's camp aimed at intermediates who are looking to improve on advanced and expert terrain. Jackson also has race specific camps, backcountry camps, mindfulness camps and accessible camps.
Camp tuition typically includes all coaching, video analysis, lunch, some apres activities and/or dinner parties and a final banquet. Lift tickets and lodging are not included.
A great place to stay is Teton Mountain Lodge – it offers ski-in, ski-out, has a fantastic restaurant & bar (get the shrimp tacos!) and typically has a discount for camp goers.
Learn more: Jackson Hole Ski Camps
ADVERTISEMENT
---
---
Alta
Utah, USA
Ikon Pass
Alta is perhaps most well known for being a skiers-only mountain in Utah. Their ski school, the Alfa Engen Ski School, has a huge variety of multi-day camps taught by passionate ski veterans.
Their camps are unique in that they're a little longer (4 nights, 3 days) and include all meals + lodging in addition to coaching and video analysis.
They offer a wide variety of camps including:
Performance Ski Camp
Jump Start Camp
Powder Tracks Camp
Breakthrough Camp (for intermediates)
Women's Only Intermediate to Advanced Camp
Women's Expert Camp
Women's Early Season Skills Camp
Learn more: Alta Ski Camps
ADVERTISEMENT
---
---
Telluride
Colorado, USA
Epic Pass
Telluride is one of the prettiest ski towns in America.
It's located in Colorado in a slightly more remote location (6.5 hour drive from Denver) but it's known for an excellent ski school. They offer several camps throughout the season, including:
Ski Biomechanics (science based approach to efficient, effortless skiing)
Women's Weekend (the first women's only ski program in Colorado)
Making Friends with Moguls (exercises and progressions to get comfortable in blue level mogul runs)
Silver Skier Program (for skiers 50 years+)
Learn more: Telluride Ski Camps
ADVERTISEMENT
---
---
Taos
New Mexico, USA
Ikon Pass
Taos is the only ski area in the Northern Hemisphere to offer immersive week-long ski programs.
The mountain is known for its extreme terrain, much of it off piste. If you're looking to improve your ski and riding skills, their ski weeks are a great way to really focus and improve!
Taos' ski weeks run Sunday to Friday throughout the winter season, starting in mid December. Each day's programming is a half day session of coaching.
They offer both group and private group options as well as ski racing camps, women's only camps and a local's adult camp.
Learn more: Taos Ski Camps
ADVERTISEMENT
---
---
Palisades
California, USA
Ikon Pass
Palisades offers a number of more advanced programs for those who want to enjoy the best of Lake Tahoe's skiing and snowboarding.
Ikon Pass holders who are high intermediate to advanced/expert can buy a Thursday clinic pass for a discounted rate. The one day workshop focuses on giving quick tips for the conditions of the day and includes skipping the lift line privileges.
They also offer:
3 day All Mountain expert camp (for advanced/expert skiers)
3 day Women's camp (for intermediate/advanced women)
Women of Winter clinic (held Wednesdays and Sundays all season long)
adaptive ski + snowboard programs
backcountry + avalanche expedition courses
Learn more: Palisades Camps
ADVERTISEMENT
---
---
Whistler Blackcomb
British Columbia, Canada
Epic Pass
Whistler is one of the largest ski resorts in North America, spanning two mountains: Whistler and Blackcomb.
They're well known for their ski camps, started in 1994 by freeskier Peter Smart, which focus on tackling the steeps with more confidence.
Whistler has some of the most expansive camp programming, including
backcountry program
steeps skiing clinic
steeps snowboard camp
avalanche skills training camp
women's only ski camp
women's only snowboard camp
adapative ski camp (for those with cognitive disabilities)
senior ski team (for skiers 55+)
Club Linc (an 18 day friday or saturday program focused on high mileage adventure skiing)
Each camp focuses on a mix of technical instruction, steep skiing tactics and local knowledge of all mountain skiing.
They also have summer camps for freestyle skiing and snowboarding.
Learn more: Whistler Ski Camps
ADVERTISEMENT
---
---
Momentum Ski Camps
Blackcomb in British Columbia, Canada
Olympian John Smart has hosted a series of summer camps on the Blackcomb glacier since 1992. The original focus was on competitive freestyle skiing, but programming has expanded to recreational ski and snowboard enthusiasts.
Momentum's camps are unique in that they have diverse terrain, from small 5 foot progression jumps to intermediate and advanced jumps, as well as rails, moguls and airbags.
They have a number of camps, for all different skill focuses, including:
learn park
learn moguls
learn big mountain
learn snowboard
girl's week
winter mogul ski clinic
learn exposure + film camp (photo film camp)
Camps are offered in two packages: coaching only or full package. The all inclusive option includes luxury hotel accommodation in Whistler Village and all meals, as well as fun summer afternoon activities.
Learn more: Momentum Camps
ADVERTISEMENT
---
---
Killington
Vermont, USA
Ikon Pass
Most ski camps are based out west, which might be challenging for fellow East Coasters like myself. If you're looking for something more local, check out Killington, a famous racing hot spot in Vermont.
Killington offers a number of specialty camps, including:
mogul camp with Donna Weinbrecht (Olympic gold medalist)
Women's Camp with Donna Weinbrecht
Mogul weekend camp
Race camp
Each camp includes 2 full days of instruction, lunch and video analysis.
Learn more: Killington Ski Camps
ADVERTISEMENT
---
---
Ski Wear Haul
I posted a couple try-on hauls of all the ski wear brands that I've tried. You can check them out on my Youtube channel here.
ADVERTISEMENT
---
---
ADVERTISEMENT
---
---
ADVERTISEMENT
---
---
Read More: in our ski style series:
Ski Trip Packing Essentials
What to Wear Skiing: Packing List Must Have's
The Best Ski Pants for Women (Stylish & Functional)
I Found the CUTEST Women's Ski Pants (Video)
Are Designer Ski Pants Worth It? (Try-On Haul)
The Best Ski Sweaters for Apres-Ski 
Planning the Perfect Ski Trip
What to Know Before Skiing in Vermont for the First Time
Ski Trip Recaps + Mountain Guides
Lake Tahoe, California: Heavenly, Kirkwood & Northstar
Montana: Big Sky
Vermont: Stowe
Catskills, New York: Belleayre Mountain
Quebec, Canada: Mont Tremblant
+ More Ski Vlogs on Youtube
Follow me @Sher She Goes on