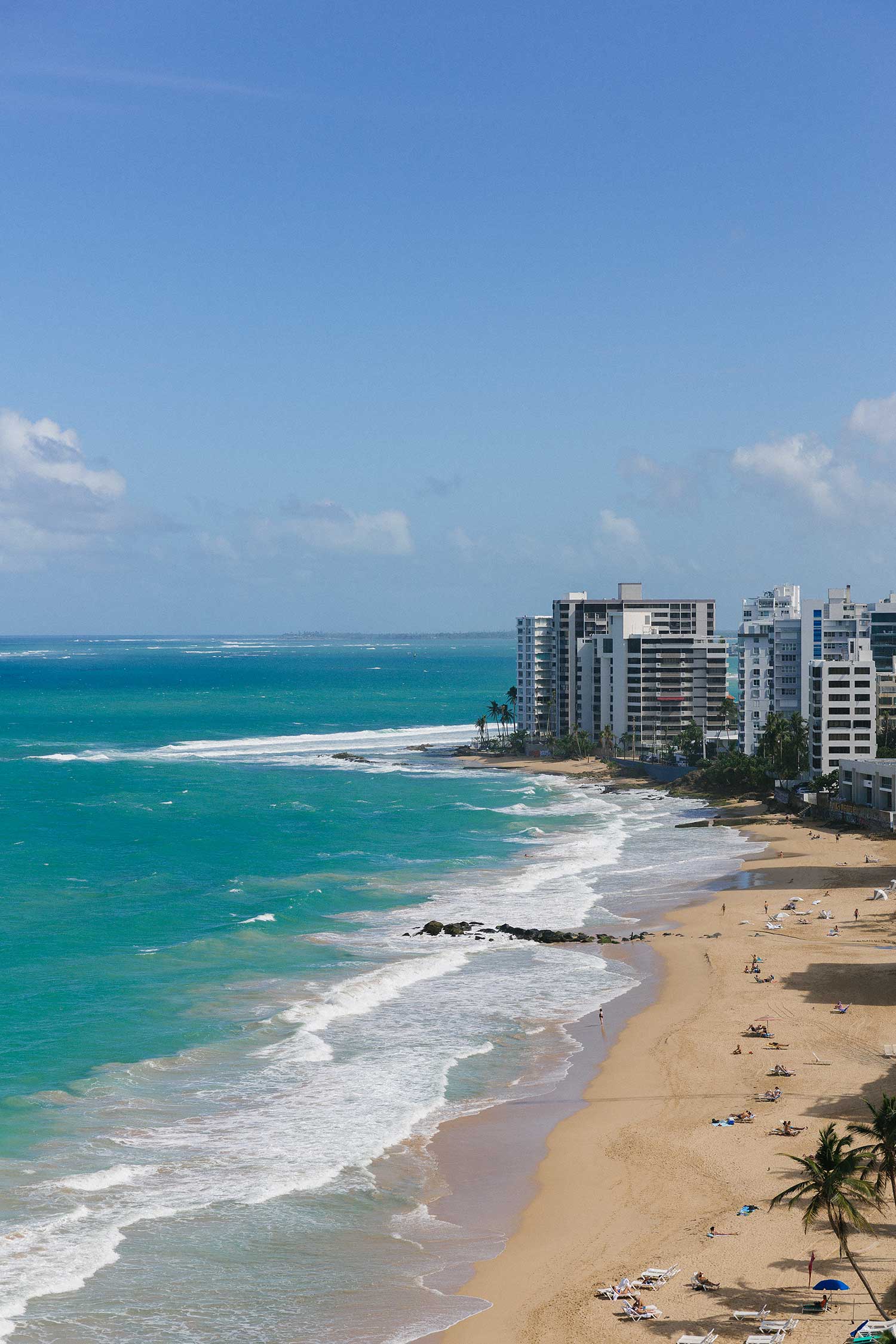 Where to Stay in San Juan
If you're visiting Puerto Rico for the first time, I'm here to help! Here's a mini guide to where to stay in Puerto Rico along with some of my favorite hotels and hot spots.
Quickly jump to each section:
Keep reading or save this article by pinning it ⇟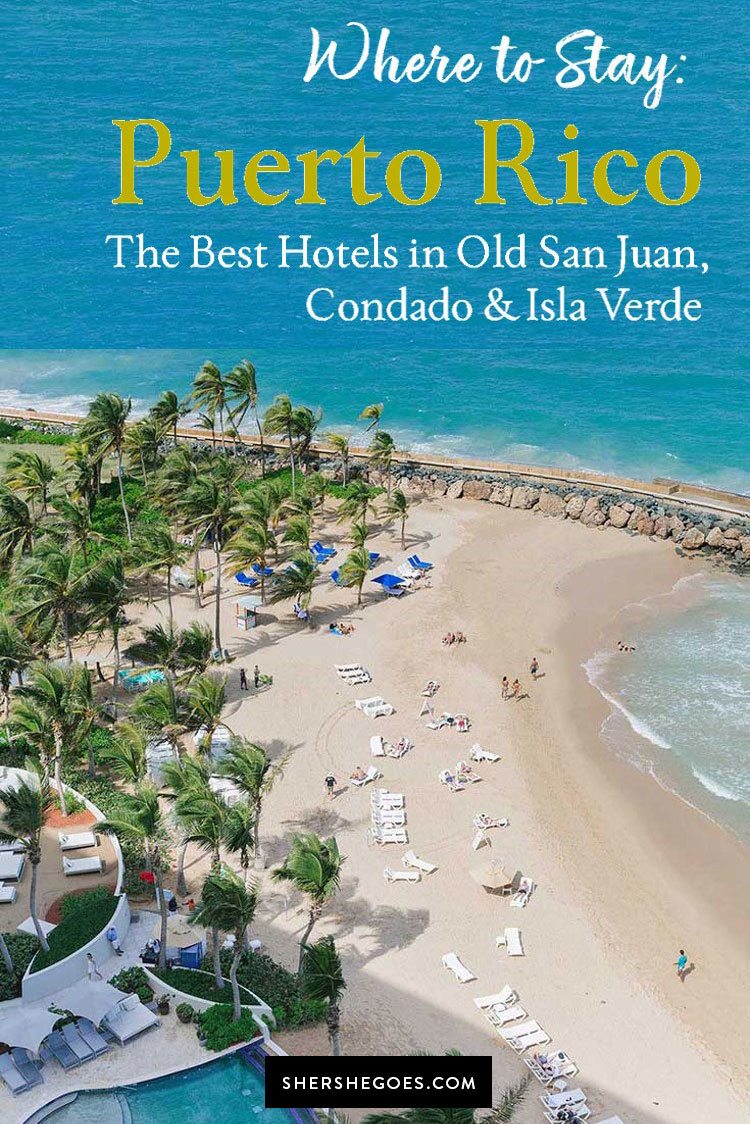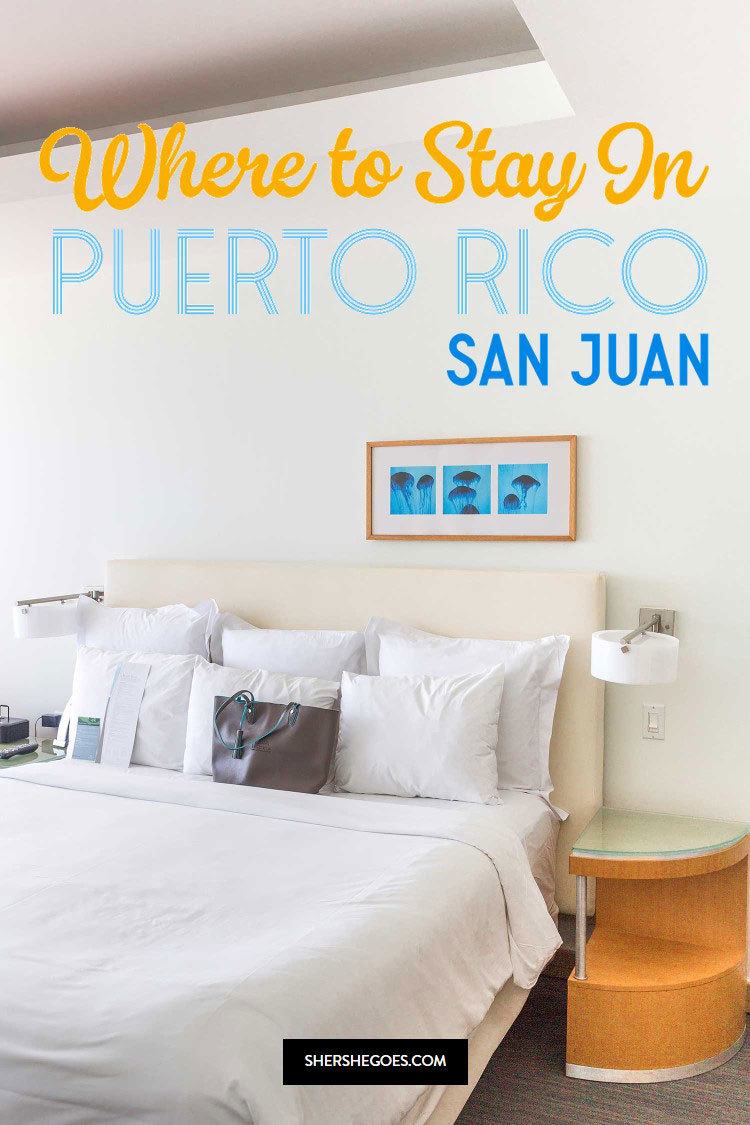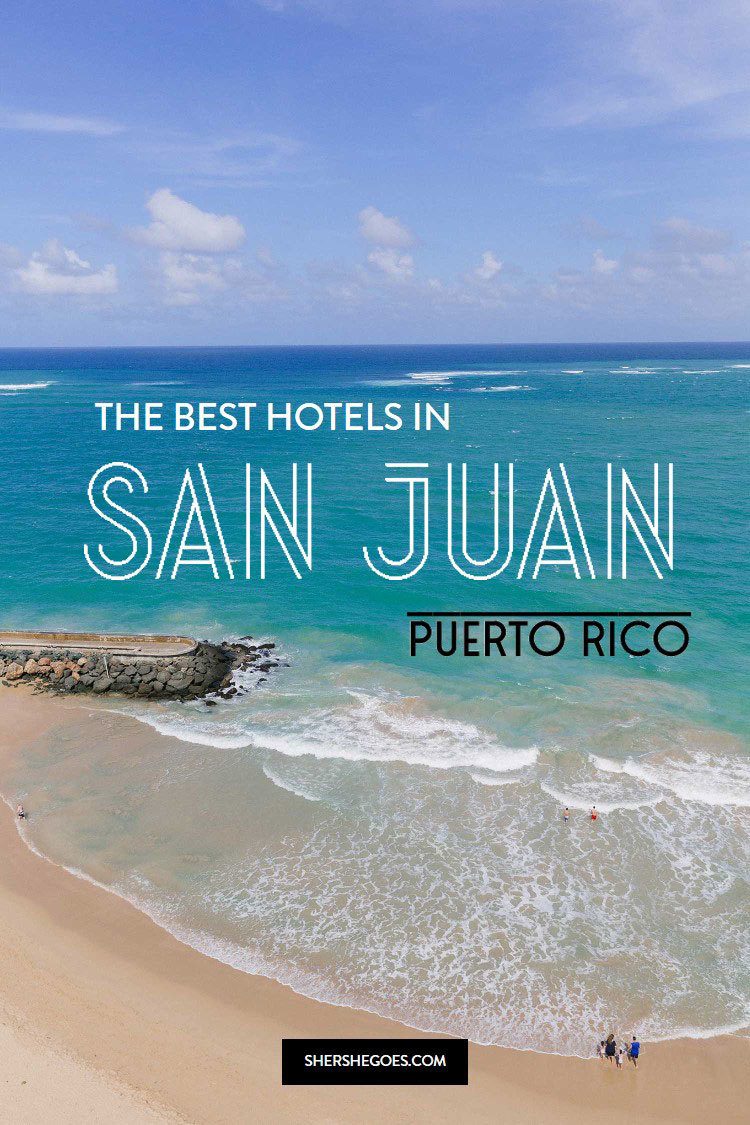 ADVERTISEMENT
---
---
Best Hotels in San Juan, Puerto Rico
Below I've listed some of my favorite hotels in San Juan, for different price points and budgets.
Not sure which location makes the most sense for your Puerto Rico vacation? Below is an overview of each neighborhood and what to expect.
Also, click on on each hotel name to read a full review of each hotel, with more info about why we recommend them! Below is more information about each neighborhood and why we love each of these hotels!
ADVERTISEMENT
---
---
The Best Area to Stay in Puerto Rico
Chances are, you're headed to Puerto Rico's capital of San Juan.
The entire island is quite compact, roughly the size of Rhode Island and can be driven in ~4 hours end to end. Despite its small size, Puerto Rico has incredibly diverse landscapes (think lakes, valleys, lagoons, mountains and even a rain forest)!
The main tourist areas of San Juan all line the Atlantic Ocean. From west to east, the neighborhoods are Old San Juan (called Viejo San Juan by the locals), Condado in the center and Isla Verde in the East.
Old San Juan

is the historic district, with cobblestone streets and colorful Old World architecture. If you're looking for a charming Puerto Rico hotel, you'll find them here – just note you won't have beach access.

Condado

is centrally located, pedestrian friendly and home to some fantastic shopping, restaurants and bars. Some of the best Puerto Rico resorts here include the Conrad, La Concha and Marriott.
Isla Verde has the nicest beaches in San Juan and many of the large hotel conglomerates here like the Intercontinental, Marriott Courtyard, The Ritz etc are right on the beach.
ADVERTISEMENT
---
---
Getting Around San Juan
It's approximately a 15 minute drive from Old San Juan to Condado and about another 15 minutes to Isla Verde, assuming no traffic. We took taxis instead of renting a car and found them to be inexpensive and reliable.
All Inclusive Resorts in San Juan
There are hotels of all budgets in San Juan but few all inclusive hotels – it's not really an all inclusive place like say, Cancun or Cabo. Instead, you'll find trendy boutique hotels, family friendly properties and luxury waterfront hotels.
---
---
Where to Stay in Old San Juan
1. El Convento
El Convento is located in a beautiful square in Old San Juan in a building which once was a convent (hence the name). With a gorgeous interior courtyard restaurant, a rooftop lounge and pretty archways, this is a one of a kind hotel in Old San Juan with authentic charm.
El Convento makes for a perfect base if you plan to spend most of your time in the Old City, walking the cobblestone streets and nearby restaurants. The hotel also has a relationship with the Courtyard Marriott in Isla Verde so if you're craving some beach time you can hop over to enjoy the pool and sun chairs.
Check rates: Booking.com, Hotels.com
Read reviews: TripAdvisor
2. Sheraton Old San Juan
With spacious, clean rooms and beautiful bay views, the Sheraton is a luxury resort in Old San Juan. Choose this hotel if you're extending your Caribbean cruise as it's conveniently located right near the Carnival Cruise docks.
It's also within walking distance to nearby attractions, great restaurants and lots of shopping.
Check rates: Booking.com, Hotels.com
Read reviews: TripAdvisor
---
---
Where to Stay in Condado
3. La Concha Resort
The La Concha hotel is a Puerto Rico institution which was famous back in the day for its nightclubs and vibrant atmosphere. Today, the hotel is a wonderful indoor outdoor space with comfortable rooms, beach access and many on site restaurants.
Perhaps the best part is the inviting lobby, which is always bustling with locals and visitors alike. If you're looking for a great location and lots of entertainment, La Concha is one of the best places to stay in Puerto Rico.
Check rates: Booking.com, Hotels.com
Read reviews: TripAdvisor
4. Condado Vanderbilt Hotel
A beautiful stately hotel in Condado, the Vanderbilt has a pool, beach access, buffet restaurant and gym on site. With ocean views and a gorgeous marble lobby, this is one of the few 5 star hotels in Condado that are open for business.
Check rates: Booking.com, Hotels.com
Read Reviews: TripAdvisor
---
---
Where to Stay in Isla Verde
5. Intercontinental San Juan
Warm, friendly staff make the Intercontinental a must stay. Located near some of Isla Verde's best beaches, the hotel grounds have hot tubs, lots of restaurants, pools and bars. Rooms are large with king size beds and fantastic ocean views!
We particularly enjoyed dinner at SAKI, the asian fusion restaurant on site.
Check rates: Booking.com, Hotels.com
Read Reviews: TripAdvisor
6. Courtyard by Marriott Isla Verde
This is a great family friendly hotel located on part of San Juan's best beach strip. Soft white sand, soothing waves and no sharp rocks! The Courtyard Marriott has great hardworking staff and a delicious breakfast bar.
Check rates: Booking.com, Hotels.com
Read reviews: TripAdvisor
7. Water & Beach Club San Juan
If you prefer boutique hotels, Water & Beach Club is the perfect choice. A trendy white lobby, rooftop pools with brilliant daylight views of the city and a hip terrace restaurant are all part of Water & Beach Club's recent renovation. The hotel is right on the beach too!
Make sure to have dinner at Zest, the first floor restaurant. The cocktails and food were amazing.
Check rates: Booking.com, Hotels.com
Read reviews: TripAdvisor
8. TRYP by Wyndham Isla Verde
This funky chic hotel is close to the airport and near the beach. A great budget hotel in Puerto Rico, TRYP by Wyndham has small but clean rooms with an on site pool and lots to recommend nearby, including grocery stores, casinos, shopping and restaurants.
Check rates: Booking.com, Hotels.com
Read reviews: TripAdvisor
ADVERTISEMENT
---
---
Have a great vacation in Puerto Rico!
Visiting Puerto Rico – Travel Checklist
Many U.S. airlines offer daily, direct flights from select US cities. We flew Jet Blue from New York City's JFK airport. Puerto Rico is offering cheap flights to encourage visitors to the island – you can set an alert flight deals here.
Traveling to Puerto Rico as an American citizen is incredibly convenient. All you need is your license, no passport required, as the island is a U.S. territory. Likewise, no need to bring a travel adapter, exchange currency or purchase a SIM card. American phones, dollars and plugs work just fine throughout the island.
As a result of Hurricane Maria, life in Puerto Rico has changed. We visited in mid January 2018 and found that electricity was up and running throughout the capital of San Juan. Select hotels and restaurants are open; we've listed the hotels we visited and used here. Check here for great deals on accommodation.
Lastly, be sure to visit Puerto Rico with travel insurance. Whether you get injured and need to be hospitalized, your phone gets stolen, or a flight delay leaves you with nothing but the clothes on your back, travel insurance will help when you need it most. Get a quote for your trip here.
You Might Also Enjoy:
Puerto Rico Vacation Planning Articles
Planning a Trip to San Juan: 1 Week Puerto Rico Itinerary
A Neighborhood Guide to Where to Stay in Puerto Rico
THIS is the Best Time to Visit Puerto Rico
Packing Checklist: What to Wear in Puerto Rico
Puerto Rican Sights, Activities & Tours We Especially Enjoyed:
9 Incredible Sights in San Juan You Simply Can't Miss
Puerto Rico Day Trips You Need to Take!
Where to Eat in Puerto Rico: 6 Restaurants to Try!
Follow me @Sher She Goes on