Visiting Portland, Jamaica
When Jamaica invited us to visit, we were ecstatic.
Caribbean sun in the dead of winter? Sign us up!
Then we realized the itinerary would focus not on all inclusive resorts in Montego Bay, but a more unplugged, natural getaway in the parish of Portland, on Jamaica's northeast coast.
We arrived knowing practically nothing about the area and admittedly were slightly concerned about flying into Kingston. We left refreshed, tanned and reinvigorated. If you're looking for simple, sandy beaches with crystal clear waters and a more authentic, local experience, you'll love Portland, Jamaica!
Here's a travel guide to Portland covering the best things to do, when to go and what to eat!
Keep reading or save this article by pinning it ⇟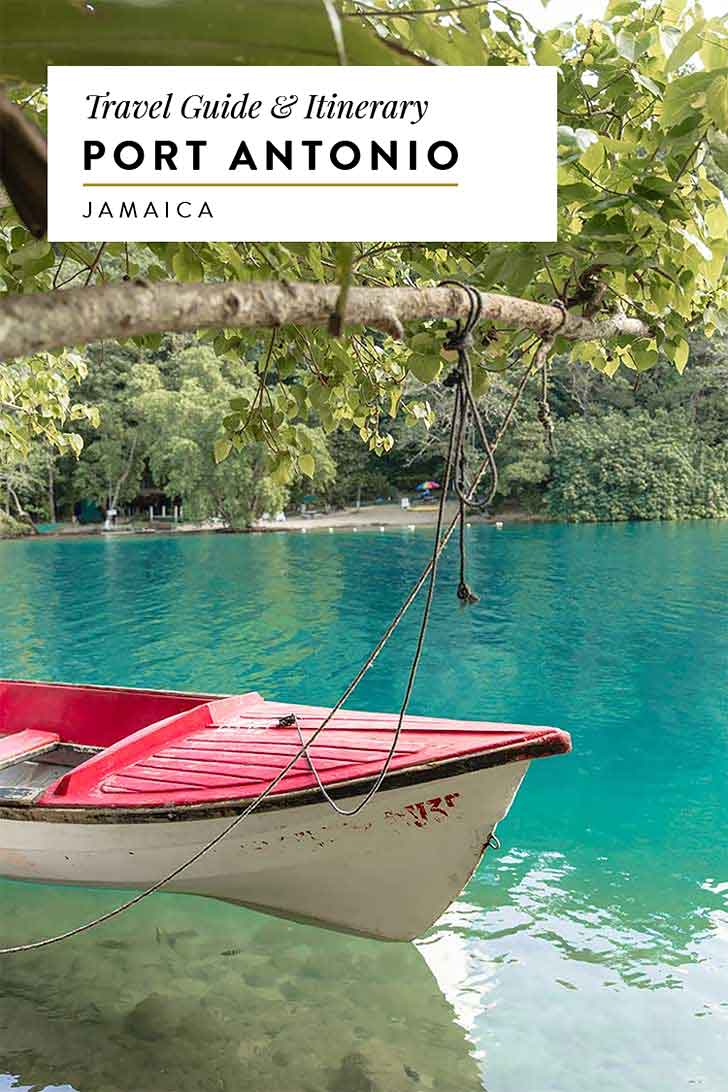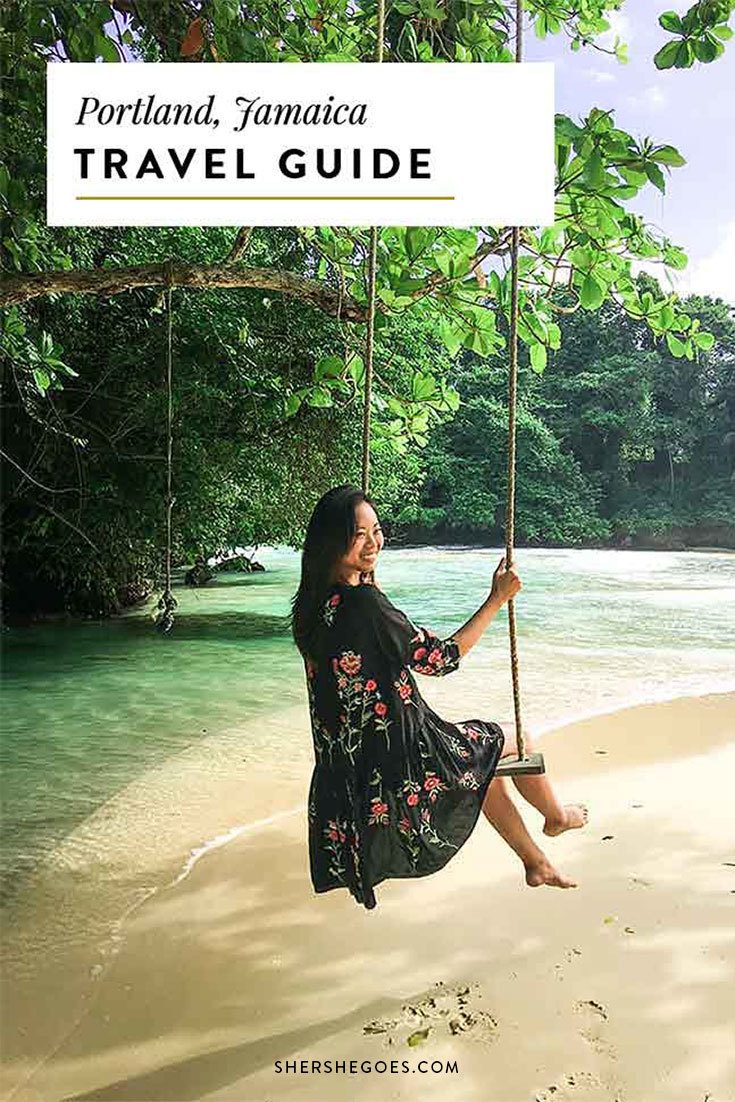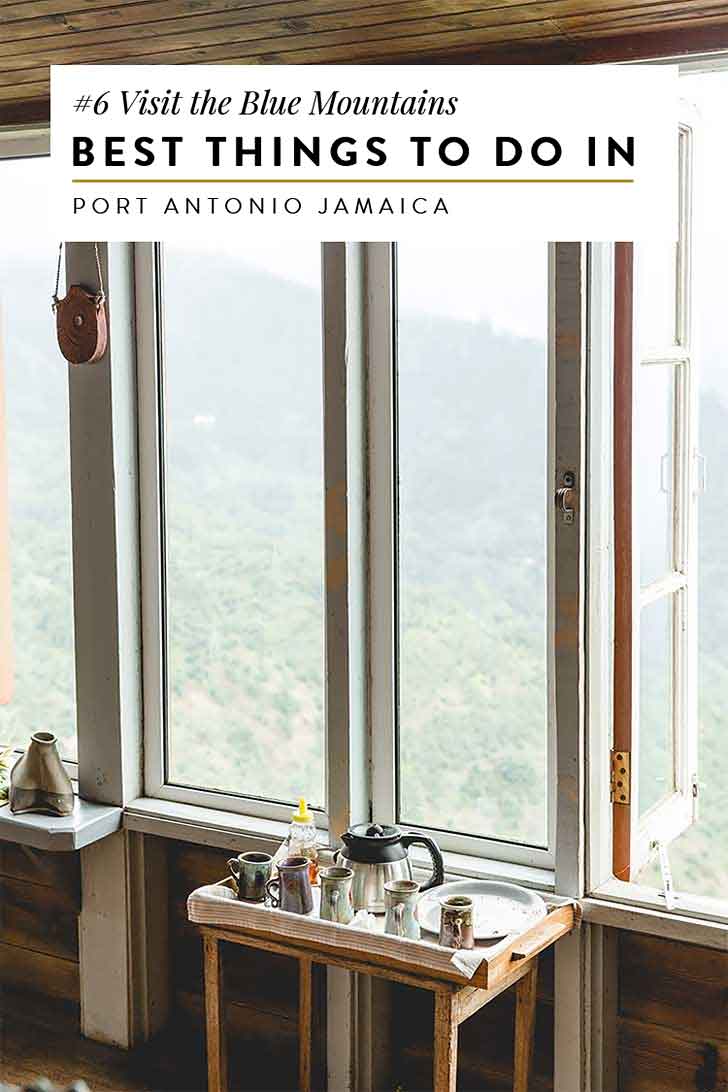 ADVERTISEMENT
---
---
Why Portland?
Most travelers to Jamaica head to the tourist hub in Montego Bay. Repeat visitors might even venture to Negril or Ocho Rios.
But few venture farther east to the coastal parish of Portland… and they're missing out!
Portland offers the ultimate relaxing getaway, with stunning natural lagoons, fantastic Jamaican cuisine and the simple life: sandy beaches, ice cold Red Caps and relaxers of the plant variety too (if that's what you're looking for!)
Kingston
Whereas a visit to Montego Bay will have you comfortably holed up in your 5 star resort, exploring Portland is much more freeing. Portland is near Jamaica's capital, Kingston, and is home to Port Antonio, once a thriving banana town, and the lush Blue Mountains.
The beaches here are mostly public, not private, so you can explore as you will. Few places in Jamaica are as beautiful as Portland. With its lush countryside, white sand beaches and gentle lagoons, Portland is one of the most relaxed and beautiful places to visit in Jamaica.
ADVERTISEMENT
---
---
How to Get There
From New York, we flew directly into Kingston Norman Manley International Airport on Jet Blue. Flights were inexpensive and best of all, direct! Set a flight alert here to be notified of upcoming deals.
We opted to head straight to Port Antonio, the parish capital, but you could also base yourself in Jamaica's capital for a few days, to explore the city and surrounding Blue Mountains.
We hired a driver for the duration of our week, to make getting around easy! Public transportation is possible, but can be slightly tricky as you'll need to switch buses and will want to stick to daytime hours.
Read more:
Our Essential Jamaica Packing List
ADVERTISEMENT
---
---
Where to Stay
The island of Jamaica is roughly the size of Connecticut, but it offers almost every kind of accommodation you can imagine. There are the massive luxury resorts and all inclusives in MoBay, family friendly hotels and cruise ships in Ocho Rios and even nudist properties for those who want to free themselves entirely.
Read more:
Here are the Best Hotels in Jamaica
In Portland, the atmosphere is much more rustic. Sleepy and lush, you'll find lots of great bed and breakfasts here (browse and book on Airbnb here) and for the first part of our trip, this is what we opted for.
But Port Antonio is also home to glitz and glamour. When Hollywood movie star Errol Flynn arrived to Jamaica in the 1940s, he fell in love with Port Antonio, declaring it 'more beautiful than any woman he had known.'
Two excellent, but very different accommodation options in Portland are:
1 | Trident Hotel – Once owned by Flynn, this is the most luxury villa in all of Jamaica. With just 13 villas, each not only faces the ocean but comes with a private pool. The property has a fantastic bar and restaurant, private movie theater, and can even arrange helicopter transfers.
Trident is for the design lovers, with sleek 50's and 60's mod style design. We loved it! And so do celebrities like Jay Z, Beyonce, Denzel Washington, Tom Cruise and Peter O'Toole… all of whom have stayed here!
Check rates: Booking.com, Hotels.com | Read reviews: TripAdvisor
2 | Mocking Bird Hill – Perched on the edge of a mountain, this lush hotel is surrounded by forest and garden. If you like wildlife, butterflies and birds flitting in and around, this bed and breakfast is for you! Breakfast is made fresh to order every day and our meals here were always excellent.
The Mocking Bird Hill is an eco friendly hotel, so just keep that in mind. While the rooms and bathrooms were slightly dated, it was an unforgettable experience.
Check rates: Booking.com, Hotels.com | Read reviews: TripAdvisor
ADVERTISEMENT
---
---
The Best Things to Do in Portland, Jamaica
If you're looking for an alternative to Montego Bay and prefer a relaxed, unplugged getaway, head to Portland on the northeast coast of Jamaica. This parish offers simplicity, sandy beaches and lots of fun!
We spent 1 week in Portland exploring a bit of downtown Kingston and Port Antonio, but also made plenty of time to explore Jamaica's wonderful waterfalls and beaches.
Here are all the must do activities and beautiful places in Portland, Jamaica!
1. Raft Down the Rio Grande
Rafting down the Rio Grande river is one of the most fun things to do in Port Antonio.
Slender bamboo rafts were once the only way to transport bananas from plantation to port. River rafting became a tourist attraction in the 1950s, when Hollywood star and Jamaica lover Errol Flynn saw farmers moving fruit down the river on bamboo rafts, and wanted to try it out.
Today, this is one of the most popular activities on Jamaica and we loved it! The rafts are made out of actual bamboo, which was a unique surprise. Each long raft sits 2 people, while a third raft captain (licensed and experienced) steers the ride.
Grab a friend, make liberal use of the floating raft bar that sells ice cold Red Cap beers and enjoy the afternoon! It's a leisurely ride (no grand rapids) and a relaxing way to enjoy Jamaica's lush beauty.
Sher's Tip:
The entire raft ride down the rio grande is about 2 hours long and there's little shade so make sure to put on
sunscreen
beforehand!
This one
is my all time favorite – non tacky, high spf protection and travel size friendly.
We didn't realize quite how hot it would be on the water and got pretty burned. But you can also dip your toes in the refreshingly cold water or even stop for a swim!
P.S. If you do want a turbo charged rafting experience, you'll want to head to Jamaica's Rio Bueno. Learn more here.
ADVERTISEMENT
---
---
2. Explore the Blue Lagoon
Equally beautiful is Jamaica's Blue Lagoon, where you can hire a local to sail you around the bay.
The Blue Lagoon is owned by local billionaire Michael Lee Chin and is free to the public. Rumor says the Blue Lagoon is bottomless and a dragon lives in its depths! In reality, the azure blue watering hole is fed by underground springs and is about 200 feet (60 meters) deep.
Don't miss swimming here, as the magical water is a unique mix of fresh and salt water. The temperature fluctuates between warm and cold and the teal shades vary throughout the day.
In the back of the lagoon, a pond nicknamed the fountain of youth is said to have magical healing powers that will keep you forever young. That was enough for us to want to visit!
You can tour the lagoon by boat, kayak, raft or just grab a tree vine and jump in! Don't miss visiting nearby Monkey Island as well by booking a combo Blue Lagoon and Rio Grande Jamaica tour here.
ADVERTISEMENT
---
---
3. Swim in Frenchman's Cove
Another Hollywood hotspot? Frenchman's Cove.
This is perhaps one of the most beautiful beaches in Jamaica, with lush gardens, warm clear waters and an isolated scenic cove with hanging branches that act as swings. A freshwater river bisects the beach, emptying ice cold water into the sea.
Frenchman's Cove is one of the most stunning sheltered beaches I've ever been to. The mouth of the cove has strong waves so kids will love it and meanwhile, parents can take shelter in the quiet bay.
We alternated between splashing on the swings and sunbathing on the beach. The water is a stunning blue green and refreshingly cold for a dip.
Frenchman's Cove is located on a 45 acre private estate. The property is popular with celebrities and famous guests (even Queen Elizabeth II has visited!) and there's a great restaurant right on the beach that serves jerk chicken, burgers, fries, etc.
Sher's Tip: Get here early to avoid the crowds. The water is generally calm in the inner section but certain areas can be deep with a strong current near some of the swings. Grab a Red Stripe, kick back and relax!
Because it's a private beach, you do have to pay admission and they have chairs and things for rent.
ADVERTISEMENT
---
---
4. Grab Drinks at the Trident Hotel
The Trident Hotel is a luxurious, 5 star property in Portland, Jamaica with modern suites, ocean front views and its own private movie theater.
But this isn't any old modern hotel. There's even a quirky 8 bedroom castle on site, with its own pool, helipad and private chapel!
We got drinks at the hotel, explored the property and then had an amazing dinner at Trident Castle. You might have seen on my Instagram that I was seriously swooning over the decor in this place!
Check rates: Booking.com
Read reviews: TripAdvisor
ADVERTISEMENT
---
---
5. Eat Dinner at the Mocking Bird
The Mockingbird Hotel is picturesque, and there's nothing better than watching the sunset from the rooftop terrace. We had dinner here one night and everything was outstanding!
The Mocking Bird Hill prides itself on fresh ingredients, with a daily changing dinner menu.
From coconut bread to saltfish, bammy, avocado, calaloo and plantains… all the dishes have great flavor, authentic Jamaican ingredients and colorful presentation! Don't say no if they're offering slow cooked pork or home made ice cream and mousse on your visit!
If you are looking for a true eco-resort experience, the Mocking Bird Hill has a unique ambiance all it's own.
Check rates: Booking.com, Hotels.com
Read reviews: TripAdvisor
ADVERTISEMENT
---
---
6. Head to the Blue Mountains
If you're a fellow coffee addict (you can find all my favorite NYC coffee shops here) then you absolutely have to visit the Blue Mountains
The Blue Mountains are the longest mountain range in Jamaica, with cool temperatures, great hiking and beautiful scenery. It's also where some of the world's most expensive coffee is grown!
From Kingston, we drove up the winding mountain paths and while the drive took forever (just an hour but it felt longer), once we stepped out of the car and breathed in the refreshing mountain air, it was all worth it.
We were fortunate to be invited into the home of a couple who produces coffee beans for Blue Mountain and got to learn all about the roasting and growing process.
Blue Mountain Estate produces some of the most famous beans in the world, and coffee lovers should absolutely book a day trip tour here!
Sher's Tip: We spent 2 nights in downtown Kingston after our visit to Portland. A great downtown Kingston property is the Spanish Court hotel. Comfy beds, spacious rooms and beautiful decor make it a relaxing stay. Plus, there's a great on site restaurant, fabulous drinks and even an outdoor pool!
Check rates: Booking.com
Read reviews: TripAdvisor
ADVERTISEMENT
---
---
7. Hike to Reach Falls
Reach Falls is one of of Portland's local secrets.
The majestic waterfalls has streams of water cascading over smooth limestone and the scenery is stunning. This is one of those places that has 2 prices for entry: the local rate and the tourist rate.
If you're adventurous, hire a local guide to show you some of Reach Falls' secrets. There are lots of natural holes in the limestock rocks that have been carved out over time by the force of the water streams. One secret cave, Mandingo Cave, is about a half mile upstream and has a beautiful natural waterfall inside.
There are other underwater caves too, that just the locals know about!
ADVERTISEMENT
---
---
8. Relax at Winnifred Beach
Looking for a beautiful public beach in Jamaica?
Head to Winnifred Beach for a relaxing beach bum day. This secluded beach in Fairy Hill is great for swimming, sun bathing and just all around relaxation. Locals often blast the latest reggae tunes while food shops serve up great authentic Jamaica fare: fresh fish, jerk, lobster and more.
For activities, Winnifred Beach has a pretty coral reef offshore, that's the perfect spot for snorkeling. Occasionally you can even take a boat ride to Monkey Island or horseback ride on the sand!
ADVERTISEMENT
---
---
9. Kayak to Monkey Island
If you have more time in Portland, take a day trip to Monkey Island!
The island itself is tiny, but a visit here is all about getting off the beaten path. You can kayak or raft over, and then hike through the tree canopy. There are swings dangling from the branches and a small sandy beach to relax. It's a great picture spots and the water is both warm and shallow.
During certain parts of the day, the tide is low enough that you can just wade over in waist high water! Don't linger too long or the tide will rise and you'll have to swim back :)
10. Bust Your Moves at a Dancehall
Ever since I learned about Dancehall in my freshman year World Cultures class, I've been wanting to see a proper Jamaican party for myself.
Kingston is home to lots of great dancehalls and promoters will often have dancehall kings and queens in town to promote a particular venue. We heard from locals that Atlantic is one of the most popular spots. Show up late, around 1am, if you want to see the real party start!
11. Explore Folly Ruins
This 2 story mansion is set on a 90 acre estate, but it's much more than just a historical home.
American millionaire visited Port Antonio in the early 1900s and built this beautiful mansion after falling in love with Port Antonio. Unfortunately, it started to crumble just years after it was built.
No one quite knows why but lots of local legends have different explanations! Some say he built the house for his wife and she broke his heart, so the 'love mansion' symbolically fell to pieces.
ADVERTISEMENT
---
---
Best Food in Portland
Portland has 2 famous foods you should try: jerk chicken and seafood!
Cynthia's Restaurant on Winnifred Beach is a local favorite. Stuff your face with seafood and don't skip their famous lobster special.
Jerk chicken was brought over from African Maroons who lived in Portland and is now one of Jamaica's most famous dishes. There are all types of jerk chicken stalls throughout the parish and most open all day, every day until late in the evening.
For the most famous spot, Boston Jerk Center is the place to go. It's a picturesque spot, since Boston Bay beach has great waves, powder soft sand and an overall scenic vibe. Grab some smokey jerk chicken or jerk pork and chow down. After your meal, you can try surfing, snorkeling and wind surfing! It's also a very family friendly beach.
ADVERTISEMENT
---
---
And that's it! How we spent a blissful week in Jamaica.
Visiting Jamaica – Travel Checklist
We flew Jet Blue from New York City's JFK airport. Jamaica often has great flight deals to both Montego Bay and Kingston. You can set an alert to be notified of flight deals here.
For our trip to Portland, we stayed in a couple different areas to explore the parish in full. We tried both rustic bed & breakfasts and stunningly modern luxury hotels. You can find almost whatever you wish in Portland, Jamaica! Check here for great deals on accommodation or try Airbnb.
Lastly, be sure to visit Jamaica with travel insurance. Whether you get injured and need to be hospitalized, or your phone gets stolen, or flight delay forces you to cancel all or part of your vacation, travel insurance will help when you need it most. Get a quote for your trip here.
You Might Also Enjoy:
Jamaica Travel Tips
The Best Resorts in Jamaica for Your Next Getaway
Visiting Portland, Jamaica's Scenic Parish
Follow Sher She Goes on
Bloglovin | Facebook | Twitter | Pinterest | Instagram
---
This post is written in partnership with the Jamaica Tourism Board. All opinions from the trip are my own.