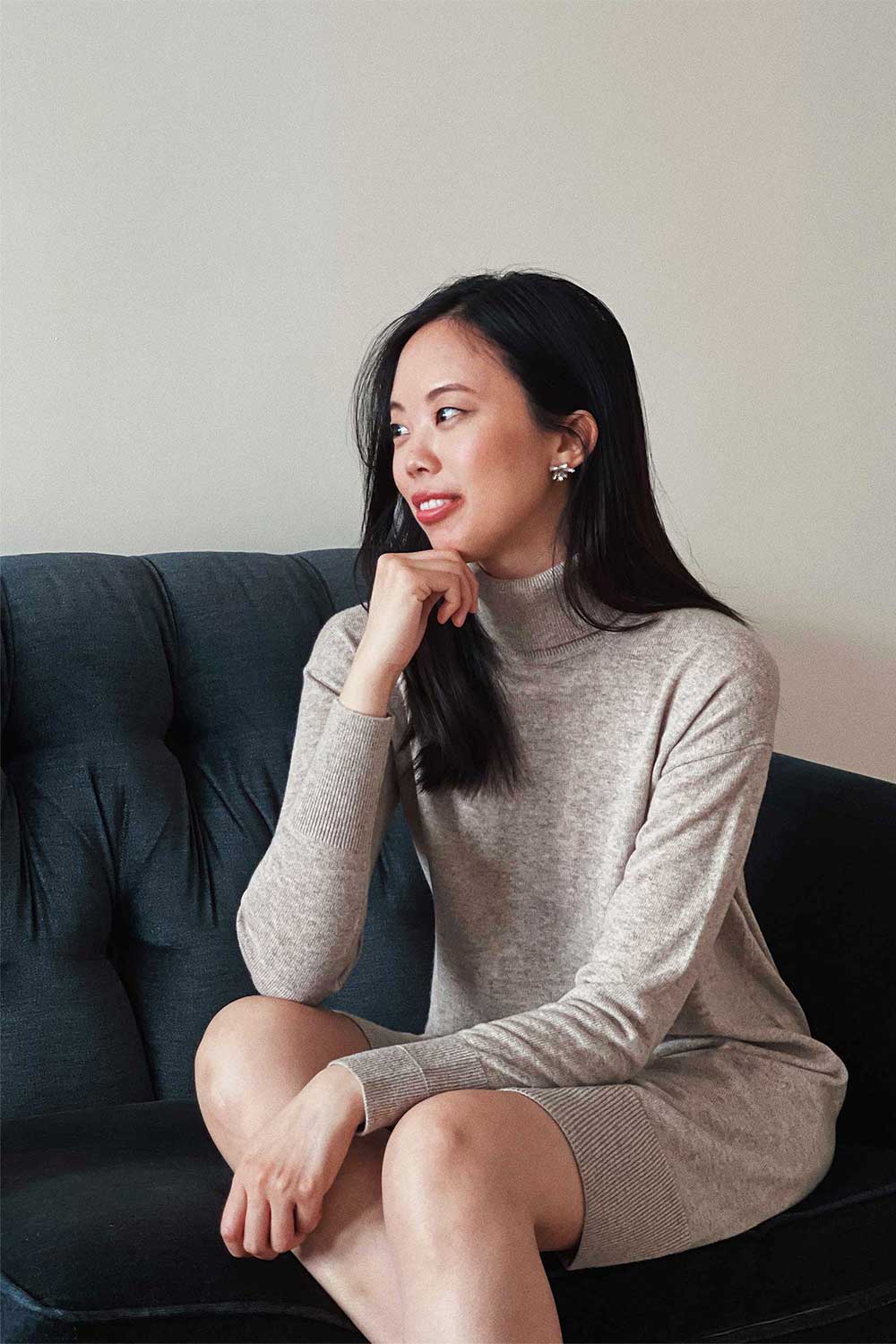 I'm back with a winter Everlane haul before 2020 ends!
Today's video is a mix of new in and favorite Everlane knitwear, from cashmere to wool to alpaca. If you've been curious about Everlane's affordable cashmere, then keep reading!
Everlane Sweater Review
I filmed a quick try on video of each of the Everlane sweaters, which you can watch below or on Youtube here.
Winter Everlane Haul 2020: Cozy Cashmere, Alpaca + Knitwear Review (2020)
---
---
Everlane Felted Merino Half-Zip Sweater
in Antler, size small
Everlane Half Zip Sweater Review
Before it arrived, I debated getting this sweater. It seemed a little pricey for such a simple design.
Now that I have it, and have worn it to death, I think it's one of the best sweaters Everlane has ever made.
I like the thick heavy weight of the sweater and how the sleeves balloon just slightly before tapering at the wrist. I'm especially impressed by the material – this sweater is made from 100% wool, which is extremely rare to find these days, much less at this price point.
The half zip has a slightly oversized fit and is extra soft and warm. It's super cozy and in fact, feels almost as soft as cashmere.
For a luxurious but well made sweater, you can't go wrong with Everlane's merino wool half zip!
Available on Everlane here (4 colors)
---
---
Everlane Cashmere Polo
in Canvas, size small
Everlane Cashmere Polo Review
Normally I wouldn't say I'm much of a polo shirt kind of girl.. but this long sleeve, open collar sweater looks so simple and chic.
Made from 100% cashmere, it features a button-less plunge collar and relaxed shape.
It's the perfect top to throw on with jeans or sweatpants for that effortless, 'just threw it on' vibe – which is exactly what Everlane intended.
Available on Everlane here (4 colors)
---
---
Everlane Belgian Waffle Henley in ReCashmere
in Canvas, size small
Everlane Cashmere Henley Review
I always love a good henley.
Usually I'll get them from the men's section but this time, Everlane made the perfect slouchy, oversized henley for women!
I'm obsessed with the round collar, chunky buttons and boxy fit. It's the perfect kind of top to lounge around in, but also looks cute to wear to brunch.
Finally, the good quality cashmere and waffle knit texture add just a little something extra!
If there's just one negative, it's that the recycled cashmere isn't as soft as true cashmere. I usually layer a cotton base layer or turtleneck underneath though, so that there's no hint of itch!
Available on Everlane here (4 colors)
---
---
Everlane Cashmere Dress
in Oatmeal, size xs
Everlane Cashmere Dress Review
Everlane's made this cashmere dress for a couple years now and I finally tested it out.
It's a breezy, relaxed turtleneck dress with a very comfortable loose fit. I like how you can definitely eat in this dress, but at the same time, it's not entirely shapeless.
Throw a blazer over, add a belt and some flats and you can wear this to work! Or, layer a long shacket and knee high boots for a cool, comfortable winter look.
Available on Everlane here (4 colors)
---
---
Everlane Cashmere Sweater Tee
in Black and Sky Blue, both size xs
Everlane Cashmere Sweater Tee Review
I have this cashmere tee in a number of colors, because they go with everything!
I wrote a more in-depth post here, but they're a dressier alternative to a simple tee. They're lightweight, but made from a fine grade A cashmere, so they'll keep you warm as a base layer in the winter.
I like the subtle rib detail on the sleeve and hemline and the sheer range of colors means anyone will find a version to like!
Available on Everlane here (8 colors)
---
---
Everlane Cashmere Square Turtleneck
in Camel, size small
Everlane Cashmere Turtleneck Review
I always go back and forth on turtlenecks.
On the one hand, they keep you warm in the winter. On the other hand, they can be really annoying to wear!
So I picked up this cashmere turtleneck not sure if I'd love it or hate it.
The neckline is sort of an in-between height, comfortable enough to wear up, but I like to roll it down a couple times anyway ha.
The fabric is soft, with a medium weight – very comfortable and flowy, especially with its extra boxy shape.
I think this would look great over leggings or skinny jeans since it has a bit of a longer, wider fit.
Available on Everlane here (8 colors)
---
---
Everlane Oversized Alpaca Crew
in Dark Copper / Almond, size small
Everlane Cashmere Turtleneck Review
I usually never wear stripes. Especially horizontal stripes.
There's a 'fashion rule' that wide stripes going across the body will make you appear wider. But when I saw this alpaca crew, I kind of liked the 'Where's Waldo' vibe and got it anyway.
Thanks to the crew neckline, oversized fit and balloon sleeves, I think the sweater offers a relaxed, casual vibe that's still flattering, stripes aside.
But – don't worry. It comes in a whopping 12 colors (most of which are solid) so there's plenty of options. If you like cozy, comfy and thinner knit sweaters, this alpaca crewneck is for you.
Available on Everlane here (12 colors)
---
---
Read More: Everlane reviews:
Everlane Reviews
Everlane Brand Review: Hits, Misses & Favorite Pieces
Everlane Flats - These 5 Pairs are Extra Comfortable
Everlane Denim: Thoughts on 3 of the Brand's Best Selling Jeans
Everlane Cashmere: Is It Worth It? (with Outfit Photos)
How do the Everlane Leggings Perform?
Everlane Underwear Review: Bra & Bralettes
Everlane Bodysuits: Reviewing a Wardrobe Staple
Everlane Outfits
10 Work from Home Outfits, featuring Everlane
Everlane Choose What You Pay Sale - Spring Try On Haul
Everlane Try On Haul Videos
Everlane Summer Basics Try On
Follow Sher She Goes on
Youtube | Instagram | Facebook | Twitter | Pinterest | Bloglovin