shop my favorite ski looks here
Big Sky Montana
Big Sky certainly lives up to its name.
With over 5,800 skiable acres and a 4,530 vertical drop, Big Sky is bigger than big. Composed of 3 mountains combined together to form one giant behemoth, Big Sky holds the distinction of being one of the largest in the US and one of the top 5 biggest in all of North America.
We spent 5 days visiting the mountain and on my first day, I was nearly overwhelmed with the number of trails and options on the ski map that I couldn't decide which area to tackle first.
And each day only got better.
Big Sky is blessed with over 400 inches of snowfall every year and luckily for us, the 2022 – 2023 season kicked off with a bang. We arrived right after an early season snowfall and had the time of our lives.
Here's what to expect skiing at Big Sky, Montana and everything you need to know to plan the perfect ski trip!
ADVERTISEMENT
---
---
Quickly jump to a section:
Keep reading, or pin this article to save it for later ⇟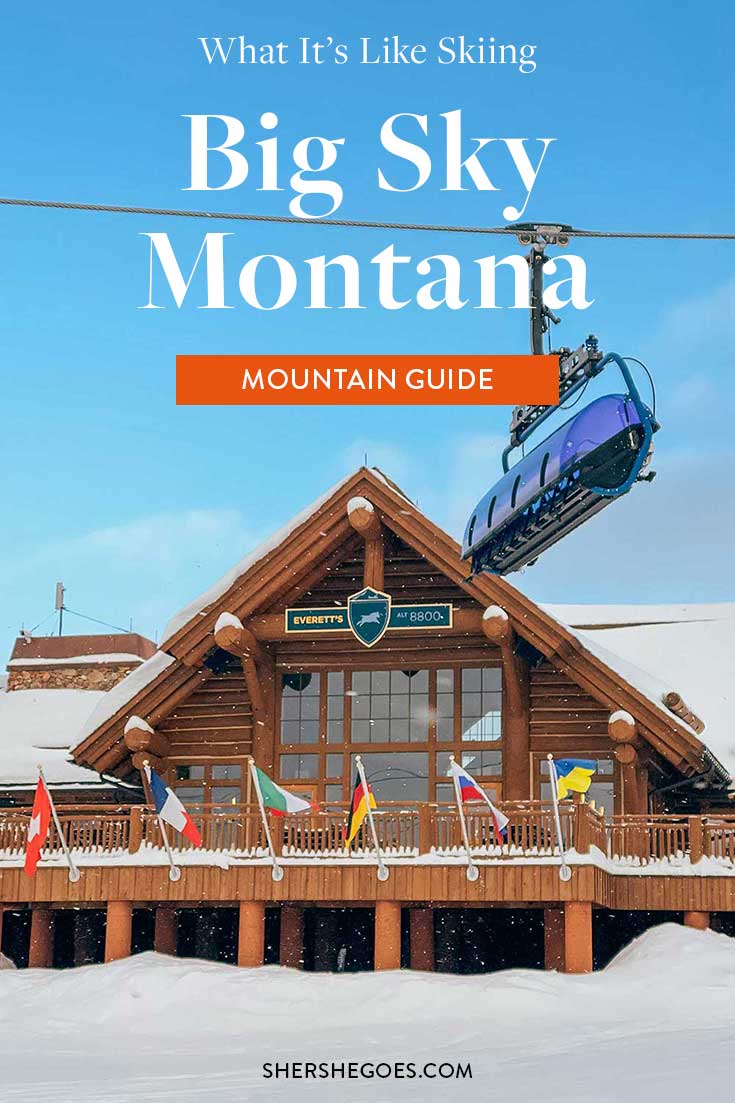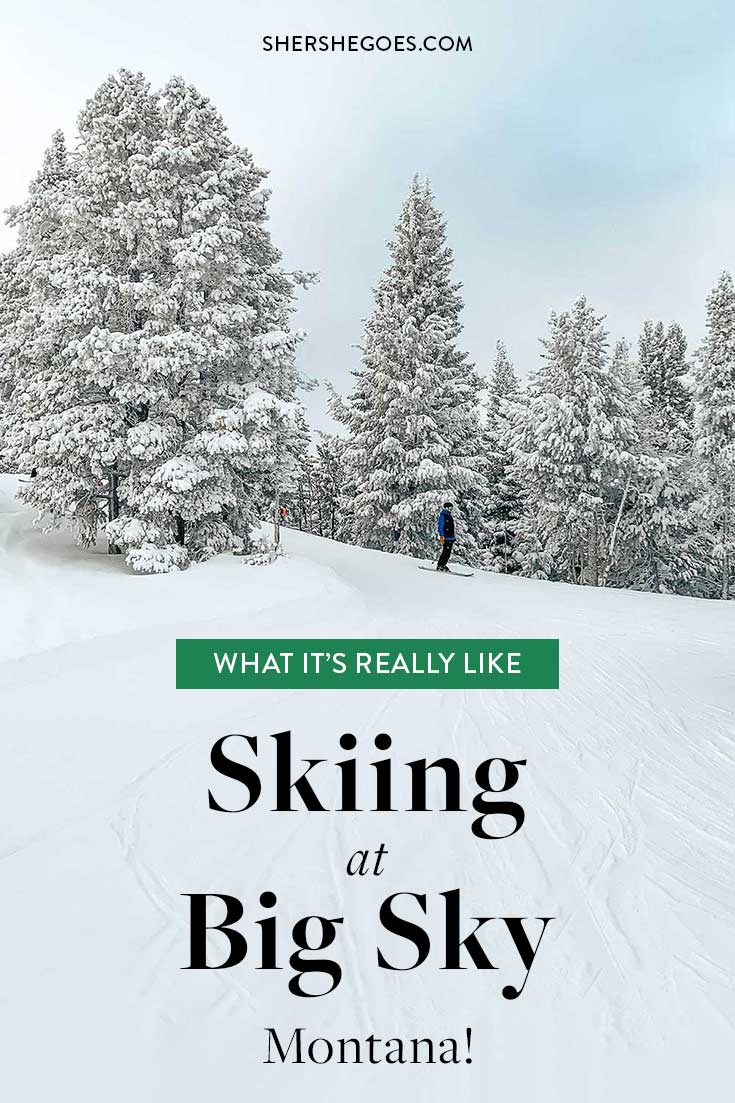 ADVERTISEMENT
---
---
.
Big Sky, Montana
Located in South Central Montana, Big Sky Resort is roughly equidistant from Bozeman and Yellowstone National Park.
The ski area itself is part of the Spanish Peaks, the rugged but beautiful mountain range that's among the highest in the state (and also home to the ritzy Yellowstone Club).
Skiing at Big Sky is unlike anywhere else in the country.
It offers fantastic downhill skiing, an enormous footprint and an average snowfall of more than 400 inches a year – more snow than any other ski area in Montana. Plus, lots of change has been happening in town.
ADVERTISEMENT
---
---
Big Sky has improved not only its base village accommodation and restaurants, but also its infrastructure.
Lifts all over the mountain have been swapped to modern, high speed options – the most modern in the country, with ultra fast speeds and heated seats!
I've heard that European ski resorts have modern chairs but this was my first time experiencing it in the US!
Plus, tons of new bars and unique dining experiences have been added to Big Sky to create a fun apres scene after the lifts close.
From dog sledding to fly fishing, to snowmobiling in Yellowstone, there's plenty of non-ski winter activities to keep everyone busy!
We found so much to see and do in the area that we wished we could have stayed longer.
ADVERTISEMENT
---
---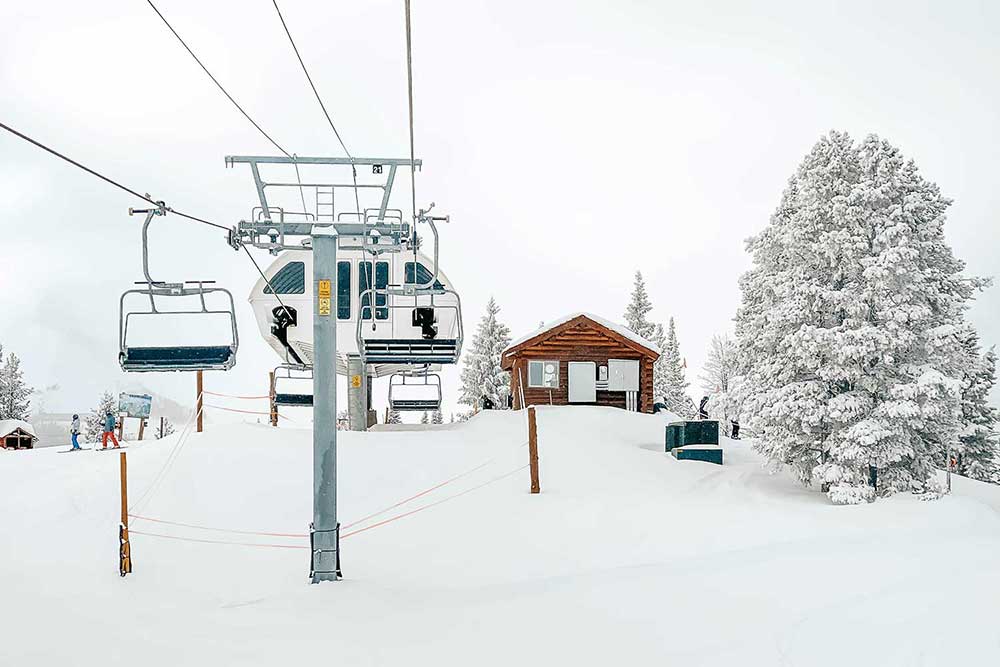 Things to Do in Big Sky
I've been on a couple ski trips now and it can be hit or miss in terms of activities off mountain. But Big Sky has so many fun activities that you just can't skip!!
Here were some of our favorites (I also have in-depth blog posts on each activity)
In my opinion, this is one of the things that makes Big Sky even more unique!
ADVERTISEMENT
---
---
.
Getting In
Flying to Big Sky
The closest major airport is Bozeman Yellowstone International Airport (BZN).
The airport hosts 9 carriers (with the most recent addition being Southwest in 2021) and 20 direct flights in the winter. Unfortunately from NYC, there aren't always many direct options, depending on the day of the week and time of year.
We had a layover both ways, which ended up adding a full day of travel getting there and back. So I recommend at least a 3-4 day trip to make the most of the mountain!
Big Sky is HUGE – you could easily explore just the mountain for a full week, plus there's tons of fun winter activities in and around Big Sky so honestly I could have even visited for two weeks.
Also, definitely set a flight alert as prices fluctuate all the time.
Check flights and set fare alerts for Bozeman here.
ADVERTISEMENT
---
---
Driving to Big Sky
From Bozeman, it's about an hour's drive to Big Sky.
The airport is small, so picking up your car rental is easy (no bus shuttles to get to the parking lot). We booked with Enterprise, but Alamo, Budget and Hertz all have booths in the main terminal.
I highly recommend renting a hatchback or SUV so that the car has room for all your ski and snowboard gear. Also, make sure to select a rental car with AWD or 4WD – you want the car to have enough power and control when it snows!
The roads are salted and plowed often, but as an extra safety precaution, buy snow chains for your trip.
There's also lots to see and do in the area around Big Sky, so a car really comes in handy to explore! We added a day trip to snowmobile in Yellowstone, went dog sledding and fly fishing and even had dinner in a yurt!
Check here for rental cars for your dates.
ADVERTISEMENT
---
---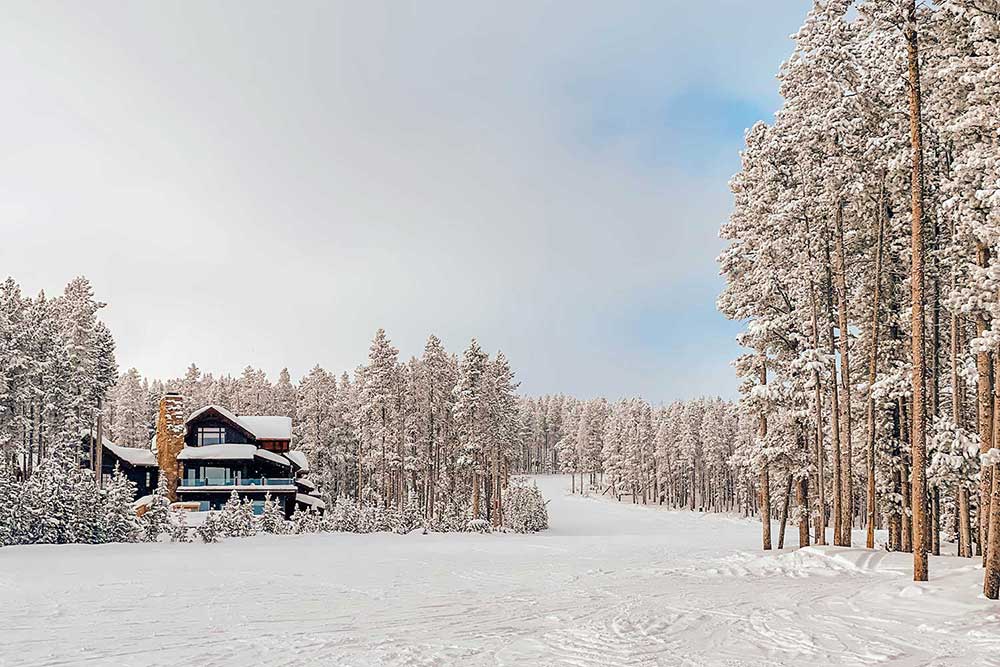 Montana in Winter
Lastly, be sure to visit Montana with travel insurance.
Whether your flight is delayed, you get injured and need to be hospitalized, or your phone gets stolen, travel insurance will help when you need it most!
Even though we're comfortable driving in the snow, we had an incident where the rental car tires skidded (lots of car rental companies keep 'all weather tires' on their cars even in snowy places like Montana).
Get a quote for your trip here.
ADVERTISEMENT
---
---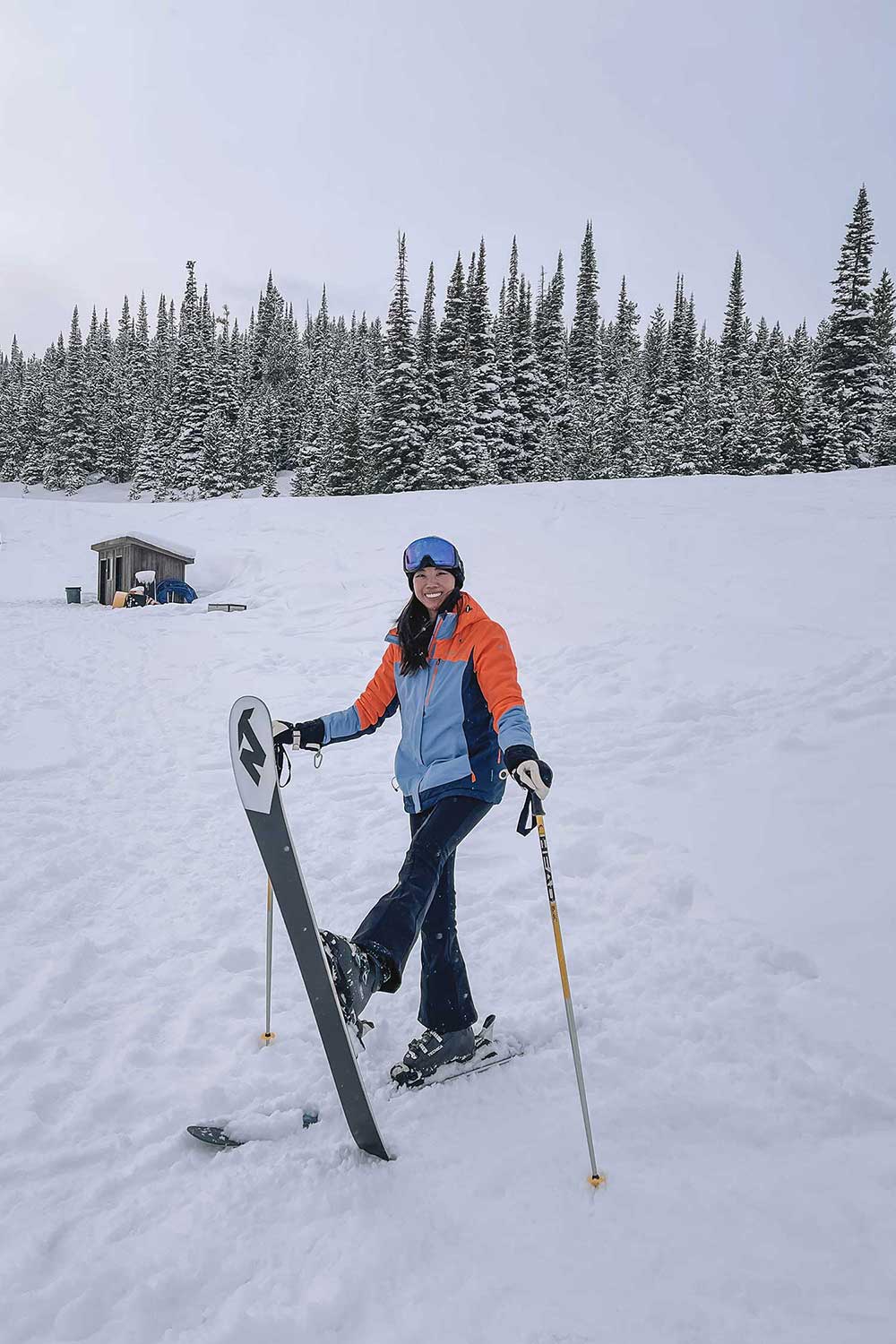 Read more:
The Best Ski Clothing Brands
ADVERTISEMENT
---
---
.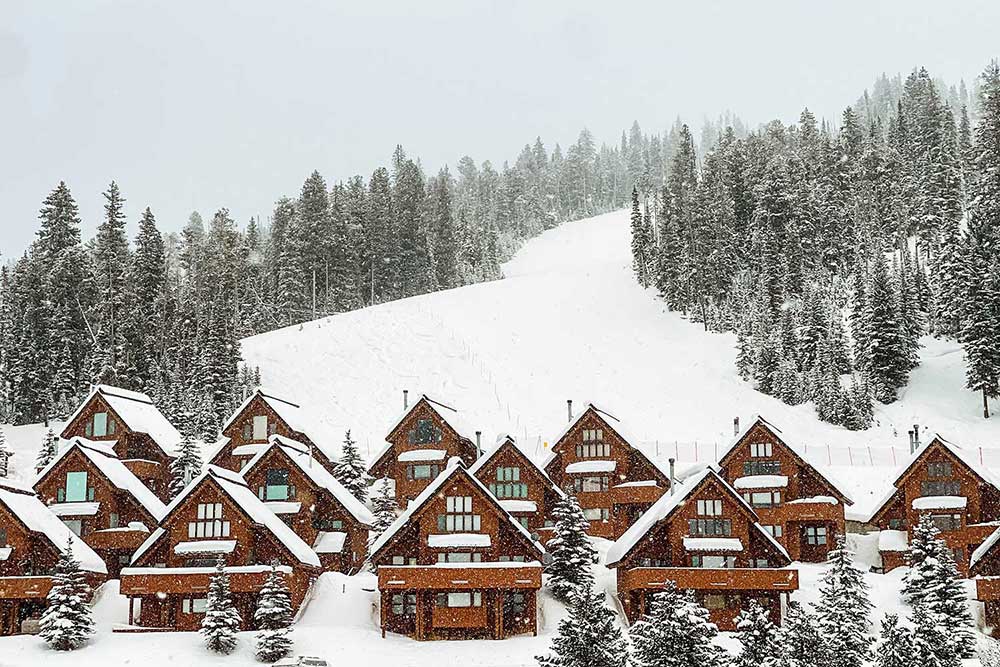 Where to Stay in Big Sky
The secret's out on Big Sky and accommodation in peak season gets booked up quickly, so make sure to book in advance.
As for where to stay, Big Sky Resort has 4 main areas:
If it's your first time visiting Big Sky, I recommend staying in Mountain Village!
If you want, you can also get ski gear delivered to your accommodation. This service allows you to skip the hassle and cost of transporting ski gear and includes a custom fitting within the comfort of your lodging.
ADVERTISEMENT
---
---
.
Mountain Village
Mountain Village is the main resort hub of Big Sky, with access to ski lifts, restaurants and activities. Most of the popular runs can be easily accessed from the Village.
There are lots of lodging options here, from condos to vacation rentals and hotels, and most are managed by Big Sky Resort. Here are some of the most popular options:
Huntley is one of the most affordable options on the mountain. It has comfy rooms with a fantastic location close to all the village's restaurants and shops.
Check rates: Booking.com, Hotels.com | Read reviews: TripAdvisor
If you prefer a little more room to spread out, stay here. The ski-in, ski-out condo sits at the base of Lone Peak mountain and is less than 100 yards from the ticket window!
It has both 1 and 2 bedroom options, all with full kitchens, sofa sleepers and comfy beds. You also get complimentary access to the fitness center, which has a heated outdoor pool and indoor hot tub.
We stayed here all week and had a great experience.
Check rates: Booking.com, Hotels.com | Read reviews: TripAdvisor
Recently renovated, this luxurious mountain hotel offers a breakfast buffet, heated pool and a theater with nightly showings of various ski and snowboard movies!
Check rates: Booking.com, Hotels.com | Read reviews: TripAdvisor
ADVERTISEMENT
---
---
.
Town Center
You can also stay a little farther away in Big Sky Town Center. It's about a 15 minute drive from the mountain and also has tons of hotels, condos and restaurants.
If you don't mind staying slightly farther away, in Big Sky's Town Center, stay at The Wilson. This hotel has a heated pool and offers a free mountain shuttle, and it's right next to tons of restaurants in Town.
Check rates: Booking.com, Hotels.com | Read reviews: TripAdvisor
.
Moonlight Basin
If you have a group, you can find more airbnb and guesthouse style options 15 minutes up the mountain at Moonlight Basin. Most of the accommodation here consists of large townhouses and mountain homes.
It's a quieter and less crowded area, and some offer ski-in, ski-out access!
Browse homes in Moonlight Basin: Booking.com and VRBO.
ADVERTISEMENT
---
---
.
Spanish Peaks
Spanish Peaks is the exclusive subset of Big Sky, with gorgeous mountain views and high end accommodation.
The newest and ultra luxurious hotel in town is located on the exclusive Spanish Peaks side of Big Sky. It has private slope side access, gorgeous rooms and a massive 11,000 square foot spa.
Check rates: Booking.com, Hotels.com | Read reviews: TripAdvisor
Bozeman
If you arrive late at night or have an early return flight, you can also stay the night at a hotel in Bozeman. Bozeman is a cute town with great restaurants and a nice downtown strip.
There's a Holiday Inn Express just 10 minutes from the airport, or Downtown Bozeman has lots of options, like:
All of these are 20 minutes from the airport but also within walking distance from Downtown Bozeman.
ADVERTISEMENT
---
---
.
Big Sky Resort Overview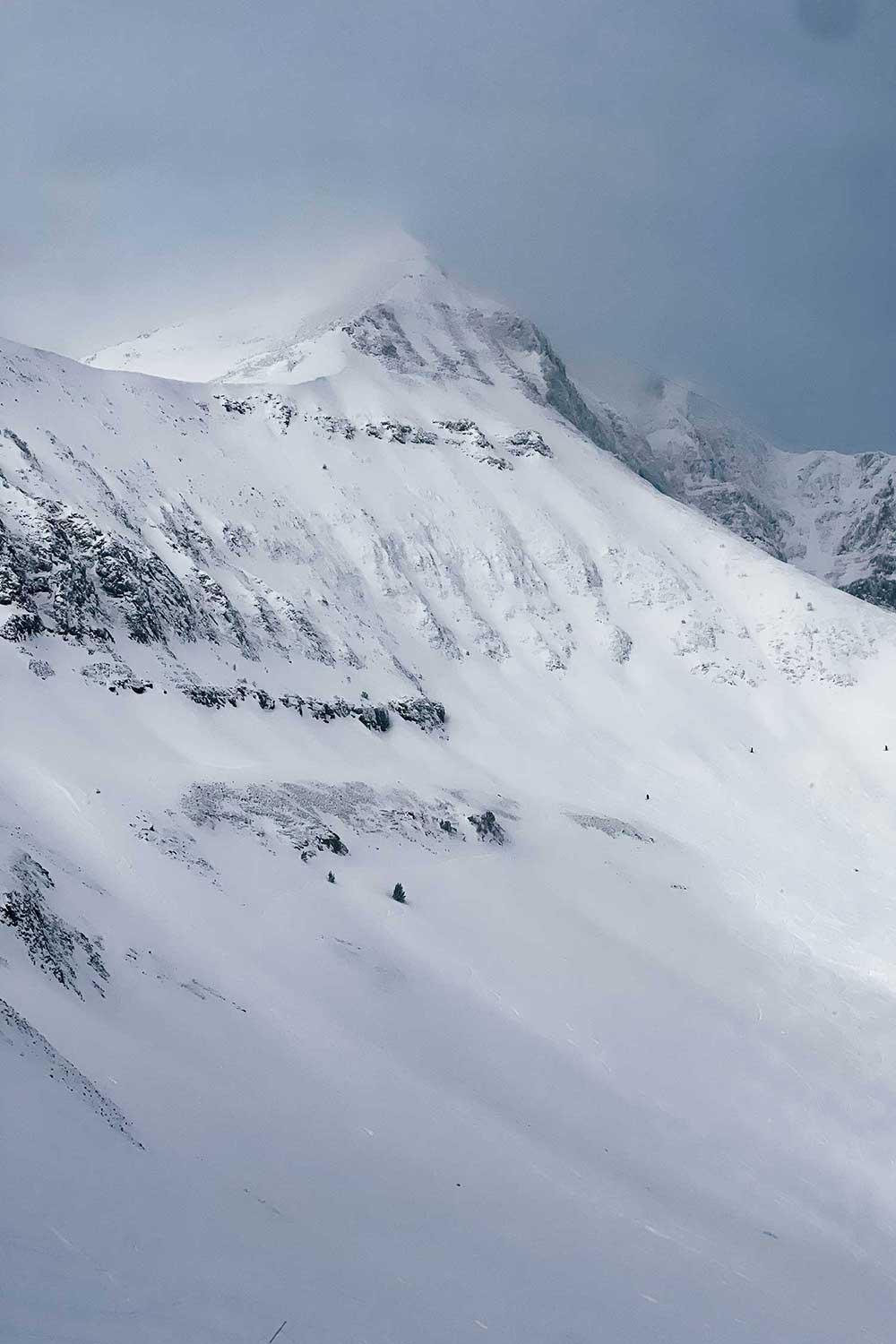 At a Glance
Base Elevation: 7,500 feet
Summit Elevation: 11,166 feet
Vertical Drop: 4,350 feet
Lifts: 36
Runs: 317
Skiable Acres: 5,850 acres
Terrain:

15% beginner
25% intermediate
42% advanced
18% expert
ADVERTISEMENT
---
---
.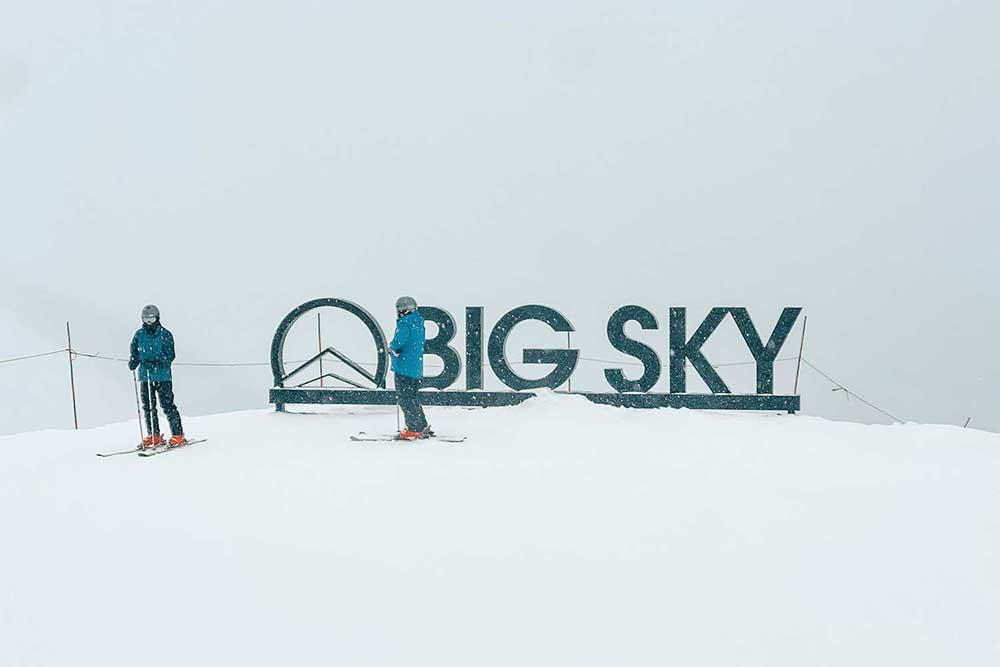 Skiing at Big Sky
You can easily spend a full week exploring all the terrain at Big Sky.
There're over 317 runs spread across 5,800 skiable acres. And, with 4,350 vertical feet, Big Sky has plenty of pitch to keep you on your toes!
I was really impressed by not only the sheer size of the resort, but also the scale of its infrastructure. Big Sky is investing heavily in its lift equipment, dining options and snowmaking capabilities and it all comes together for an incredible ski experience.
I had an amazing time skiing here. Not only did the mountain feel blissfully empty the entire time I was there, I felt like I could ski from first chair to last for days and still have more to explore.
It's definitely a place that leaves you wanting more!
Big Sky is roughly divided into 3 sections:
Here's a mini guide to each!
ADVERTISEMENT
---
---
.
Lone Peak
Lone Peak is the main draw to skiing at Big Sky. The top half of this 11,000 foot mountain has some of the best expert skiing in Montana, with narrow chutes that drop into expert bowls.
Meanwhile its lower section has a well rounded mix of beginner and intermediate runs.
If skiing the Big Couloir and accessing Lone Peak is the main reason you're visiting Big Sky, try to head there first thing in the morning.
You'll need to purchase a separate ticket for the 15-person tram. Make sure to bring avalanche safety gear and sign off with the safety team at the top of the mountain. You're also required to have a partner. The summit itself is small and narrow, so wait times can get backed up but you sign in to receive a time slot.
Even if you don't ski, it's worth heading up Lone Peak tram on a sunny day for clear views of Montana! Then you can just ride the tram back down. For the 2023 – 2024 season, Big Sky is unveiling a brand new tram that will have a panoramic, all glass viewing platform and glass floor.
There are tons of beginner and intermediate runs on Lone Peak to try as well.
Try the blue groomers off Swift Current lift, the tree runs by Shedhorn lift or the wide open Liberty Bowl off of Dakota lift.
ADVERTISEMENT
---
---
.

Andesite Mountain
Andesite Mountain has an elevation of 8,800 feet and is the main section that rises straight above Mountain Village base area.
It has plenty of groomed intermediate runs and a fast high speed quad called Ramcharger, which seats up to 8 people and has heated seats! There's both a north side and south side to Andesite, with plenty of variety in terrain.
I found it quite peaceful and uncrowded during my visit, especially by Thunder Wolf and Southern Comfort lifts.
ADVERTISEMENT
---
---
.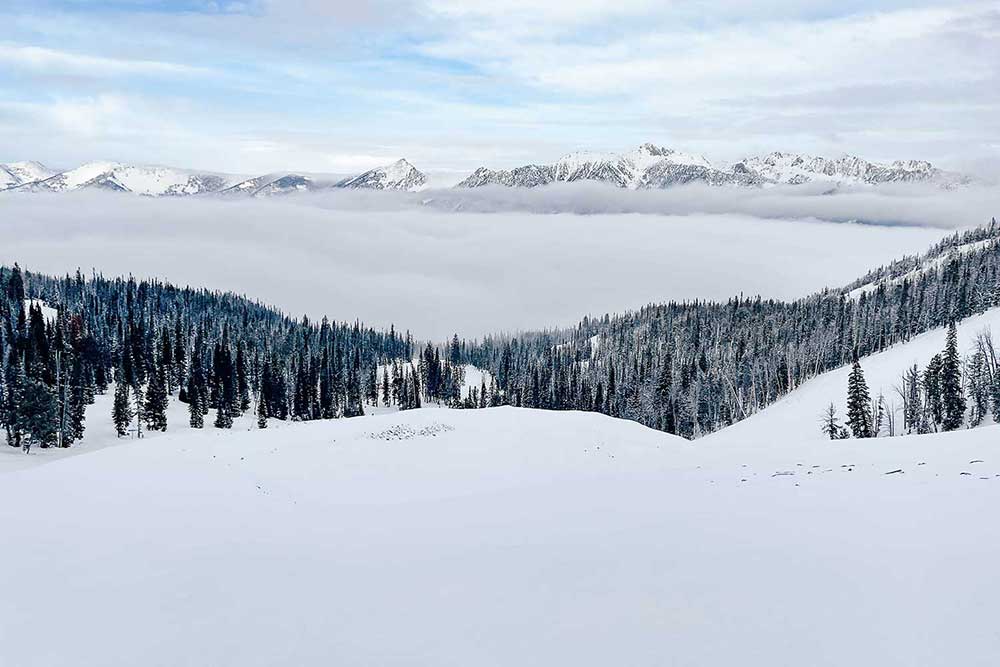 Moonlight Basin
Moonlight Basin is all the way to the east, near Madison base area.
It actually used to belong to a separate ski resort, but was acquired by Big Sky in October 2013. The addition added over 1,500 new acres to the resort and seems much more secluded than the other portions of the mountain.
When I skied here in the afternoons, I was often *the only one* on the trails, which was insane.
There's lots of variety here, from long groomers to tree runs and even some really nice, gentle beginner terrain.
ADVERTISEMENT
---
---
.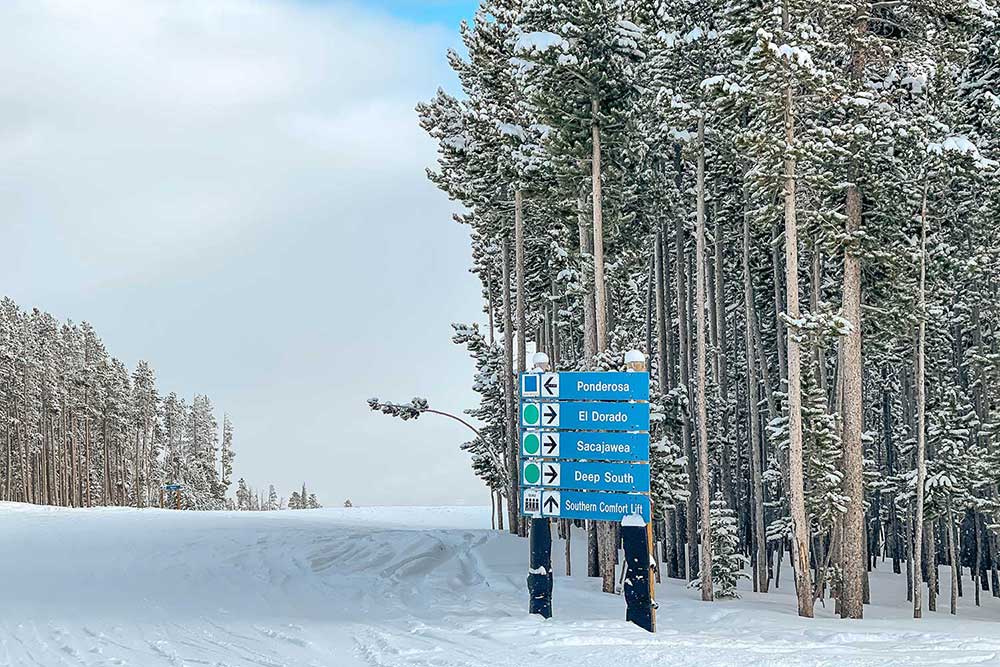 Best Runs at Big Sky
Beginner
Great Greens to try at Big Sky include:
Mr. K: a classic green off Swift Current chair that gives you a nice look at Lone Peak before winding back to Mountain Village
Lone Wolf: a mellow, lightly trafficed green by Explorer chair
Cinnabar: a really long gentle cruiser off Six Shooter chair that winds through ski homes, bridges, tree islands and eventually deposits you at Madison Base
Deep South: a long run off Southern Comfort lift. This one is on the border between Big Sky and the Yellowstone Club so there's a glimpse of some luxury mountain homes along this run
ADVERTISEMENT
---
---
Intermediate
Try the blues and blacks off Ramcharger and Swift Current for a thrill seeking day:
Calamity Jane: a fun blue to warm up your legs, by 'Swiftie' lift
Morningstar: take Powder Seeker chair and try this fun blue run
Congo, Hangman's and Ambush: classic blues right off Ramcharger lift. The 8 person high speed chair runs so fast you can try these runs over and over again
Lizette and Pomp: two south-facing tree runs on the Andesite Mountain side, off Southern Comfort lift
Africa: a bumpy blue run with easy moguls, off Ramcharger, that takes you back to Mountain Village
Whiskey, Horseshoe and Lookout Ridge: nice quiet groomed blues off Lone Tree chair, on the lesser-trafficked Moonlight Basin side
ADVERTISEMENT
---
---
Advanced
If you're an expert skier or rider, you'll want to check out Big Sky's claim to fame: Lone Peak.
Make sure you purchased a tram ticket for Lone Peak and have avalanche safety gear. After you sign in with ski patrol at the top, ski down the peak of Big Couloir! If any travelers in your group want to join you just to see the view (but not ski down), they can also take the tram with you and ride it back down.
And then right in the shadow of the Big Couloir, you have tons of triple black diamonds that lead into Stillwater Bowl and Deepwater Bowl.
For tree skiing, try some of the gladed runs on the south facing side of Lone Mountain.
To get there, you first take Swift Current lift then navigate to Shedhorn and Dakota lifts. Shedhorn is a new high speed chair and has glades like Bacon Rind, Pack Saddle and White Pine while Dakota is an older lift with Bavarian Forest and Aspen Meadows.
Look for the 'South Face Inset' map to guide you!
ADVERTISEMENT
---
---
.
Ikon Pass
Big Sky is independently opened, but has a partnership with Alterra and therefore is on the Ikon Pass. If you're using your Ikon Pass, make sure to reserve your ski days in advance.
You can also purchase a daily lift ticket. Do it online in advance for the best day rates!
Note: If you're wanting to access Lone Peak, you'll need to purchase a separate tram ticket.
The tram itself is a scenic ride above the mountain and is actually getting a new terminal for the 2023 season! The new version will have an all-glass viewing platform with a huge panoramic view… and even a glass floor so you can look right down the fall line of Lone Mountain.
I can't wait to come back and see it in person.
Lone Peak summit will also be significantly expanded with more food and beverage options and viewing platforms.
When it opens, Lone Peak tram will have the highest scenic overlook in Montana, and will be open during both winter and summer.
ADVERTISEMENT
---
---
.

Rentals
We rented our gear directly from the mountain at Big Sky Rentals.
It's super convenient since they're located in the center of Mountain Village and everyone was super helpful in fitting us for skis and equipment. I tried a Demo package, and it was nice testing out (new to me) skies!
Big Sky also offers ski valet, right near Swiftcurrent lift.
Store your skis overnight so you don't have to worry about lugging gear back and forth from the parking lot!
ADVERTISEMENT
---
---
.

Lessons at Big Sky
I always recommend taking lessons!
The Mountain Sports School has a couple locations:
Mountain Village Base Area: the main school is here, in the Snowcrest building. This is where I took my lesson.
Madison Base Area: another school is here, more geared towards families + beginners
Spanish Peaks: if you're staying at the Montage or in the Spanish Peaks area, you can book a private lesson and have your instructor meet you at the Montage Hotel
The beginner area at Mountain Village is a great place to learn.
There are two magic carpets where first time skiiers can practice in isolation before taking the lifts to join the masses on the mountain.
ADVERTISEMENT
---
---
.
Parking at Big Sky
Big Sky has free parking in Mountain Village.
The parking lot is a short walk from the base area, so free shuttles take you back and forth from opening to close.
Night Skiing
Big Sky also has the option to night ski!
Book a private guide to show you around Andesite Mountain at night. I haven't tried this, but it sounds incredible – you'll ski under the stars and hear the snowcats as they prepare the slopes after the sun sets.
The experience also includes headlamps to help you light the way as you ski. These are more powerful headlamps that shine as bright as car high beams, so you won't be skiing blind :)
ADVERTISEMENT
---
---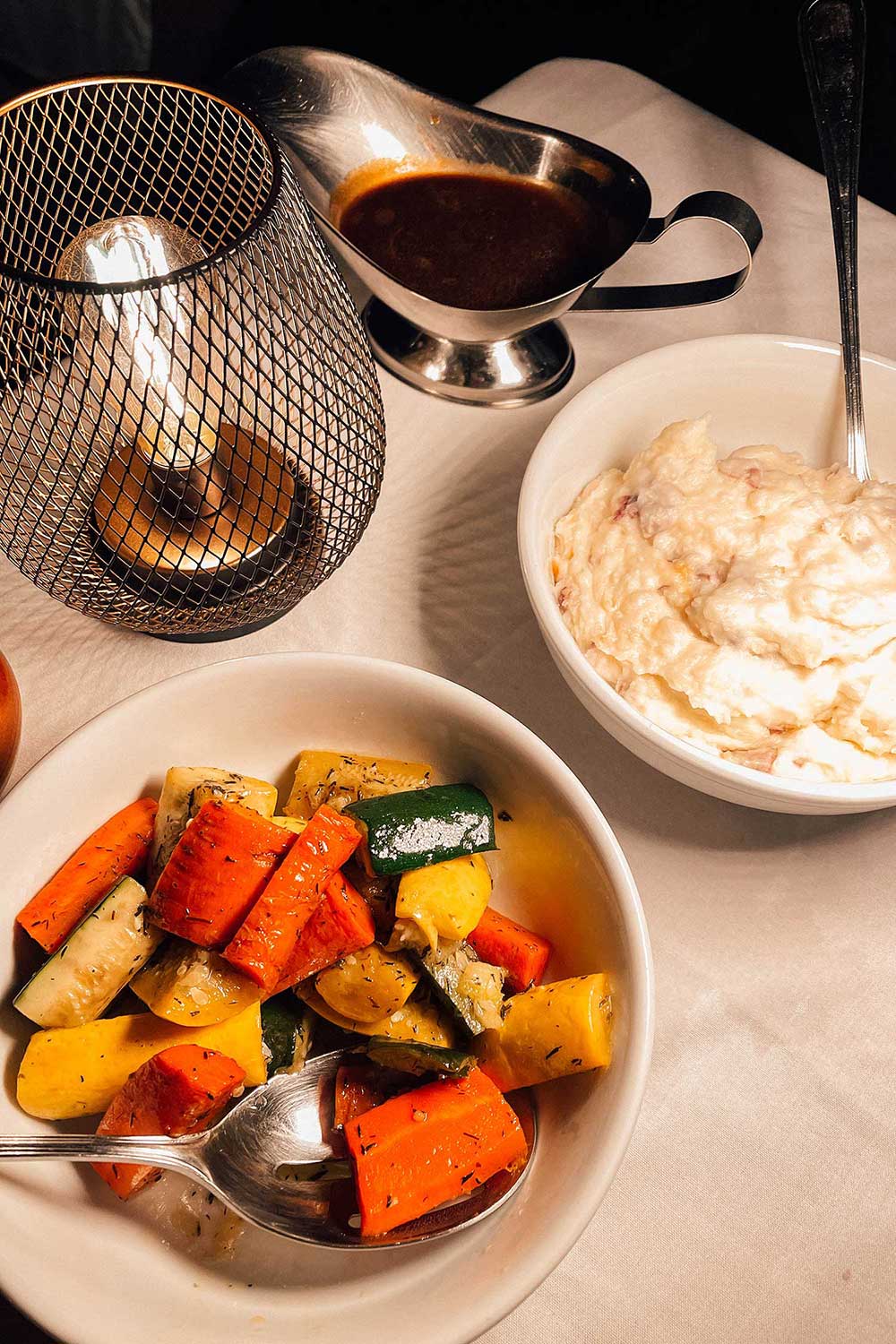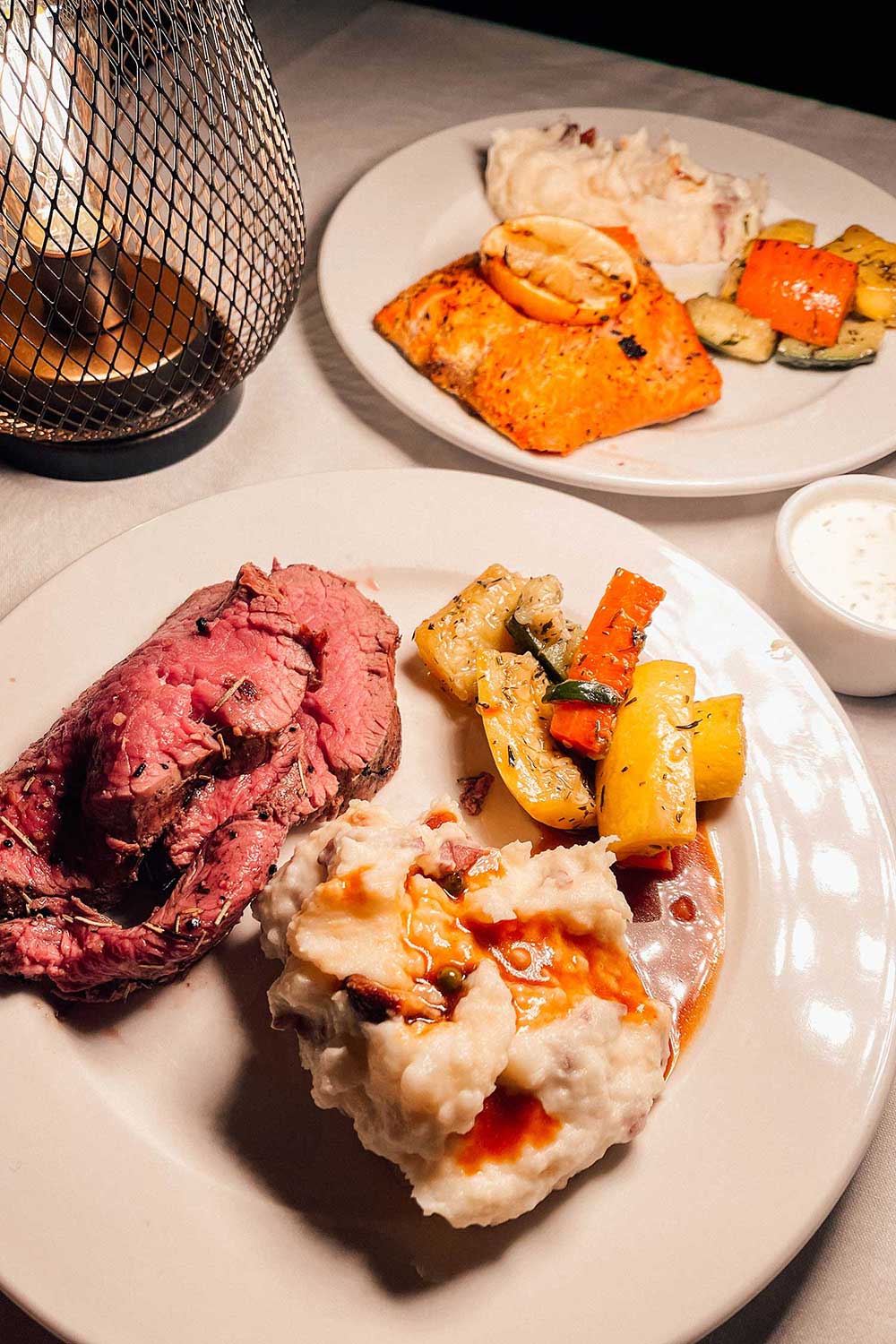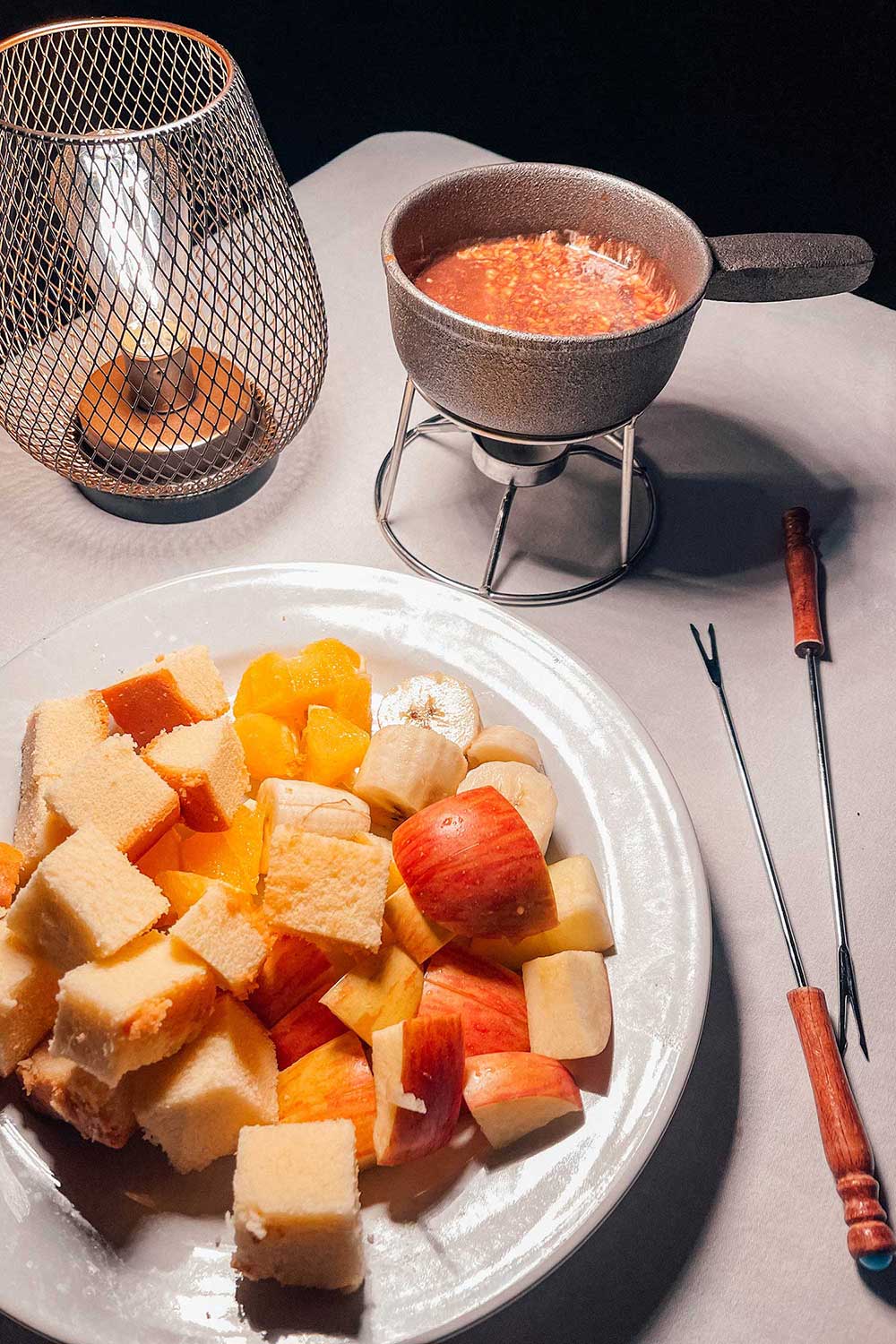 Montana Yurt Experience
You can also book a dinner experience on the mountain, where you ride a snowcat into the back woods of the resort and have dinner inside a giant round yurt. We did this on our trip and it was so much fun!
The meal is a 3 course dinner with steak or salmon, and you even have the chance to go sledding between courses!
Ice Skating
There's also a new ice skating rink in the Town Center. The lighted rink is open every day and is free!
Just bring your own skates or rent them from East Slope Outdoors shop across the street.
ADVERTISEMENT
---
---
.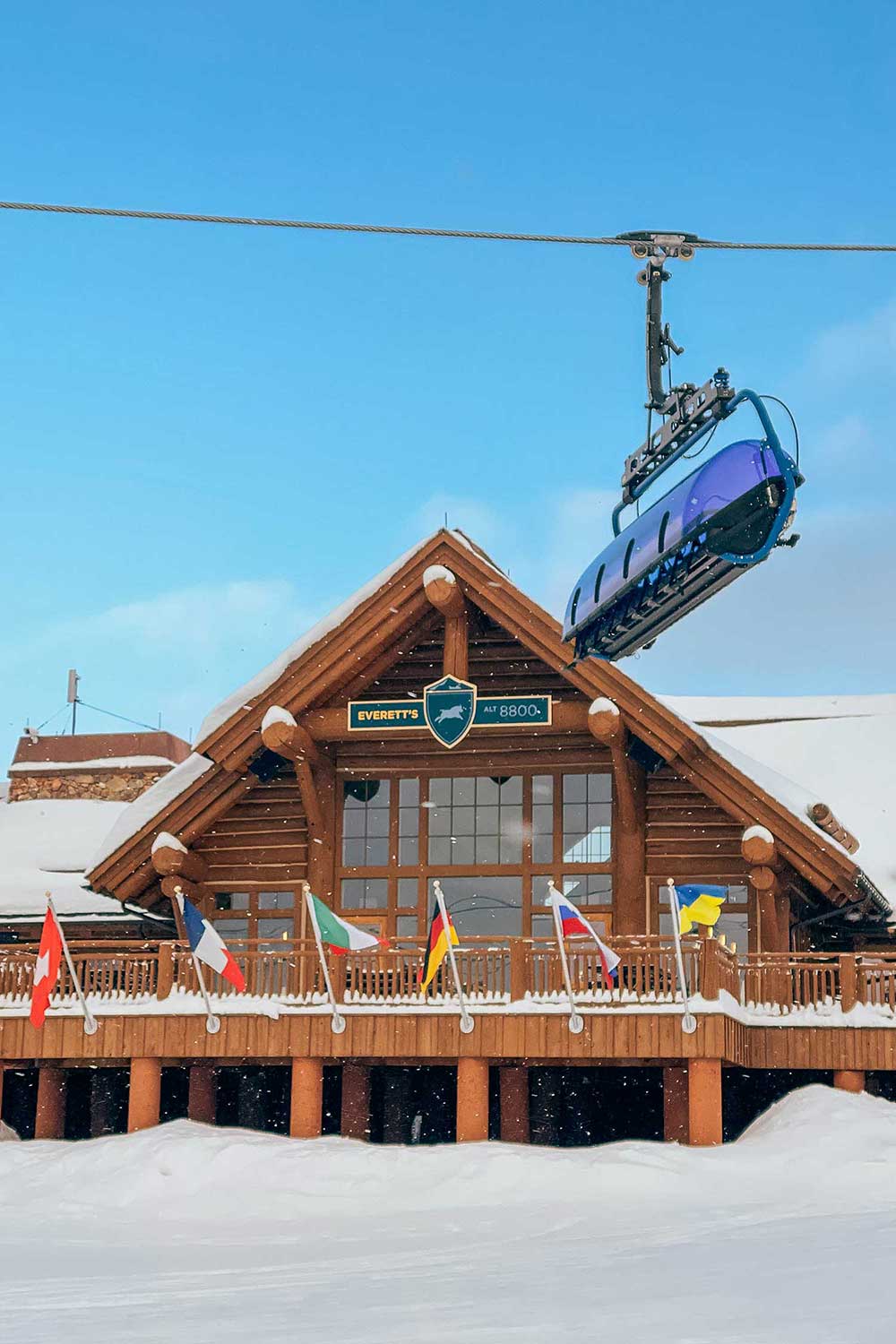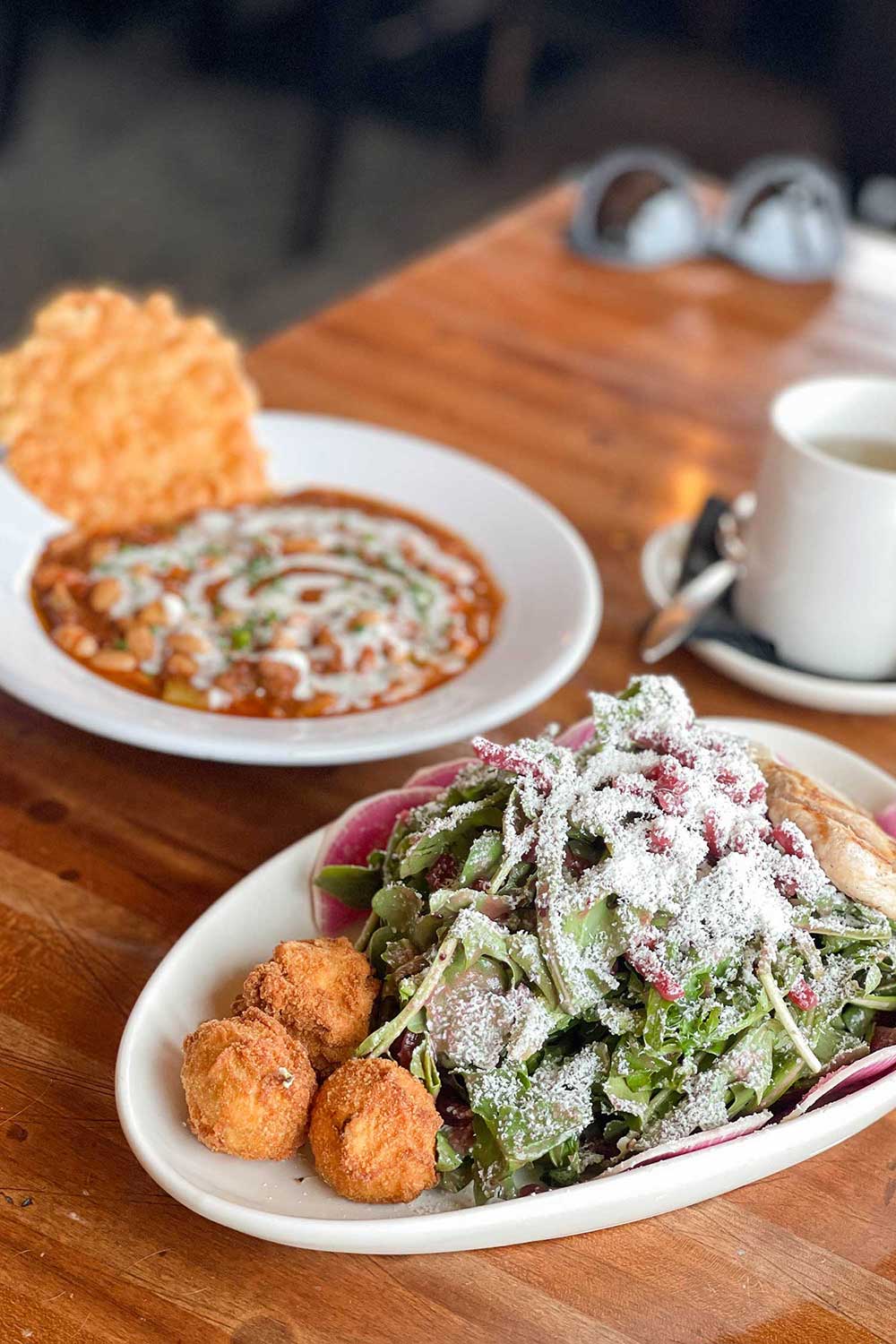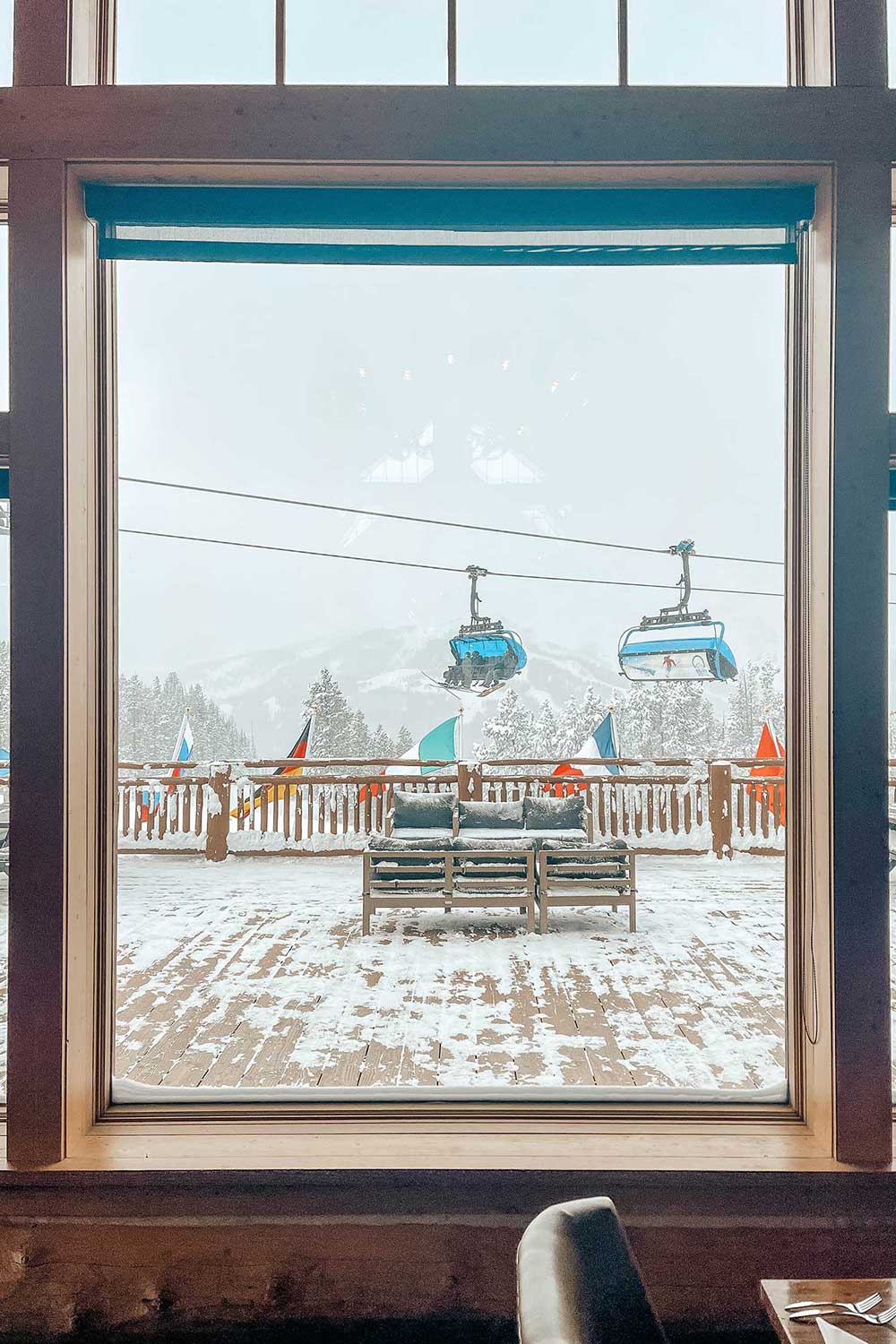 Après-Ski in Big Sky
Big Sky has transformed quite a bit. There are tons of restaurants in Mountain Village as well as Big Sky's Town Center area.
Here were some of our favorites!
Treeline Coffee: local coffee roaster in mountain village
Everett's 8800: a great place for lunch on the mountain, right off Ramcharger lift
Peaks Chophouse: steakhouse
Vista Lodge: food hall, with lots of options like tacos, sushi + stone fired pizza
Carabiners: lounge with an Asian inspired menu
Montana Yurt: a fun 3 course dinner experience that starts with a cat ride and includes sledding!
Lone Mountain Cabin: dinner inside an oil-lit cabin on Lone Mountain Ranch, with a horse drawn sleigh ride
Horn and Cantle: a more upscale restaurant at Lone Mountain Ranch
Lotus Pad: Thai food, with a focus on locally sourced ingredients!
Blue Buddha Sushi: a trendy spot for Japanese + great drinks
Copper: a whiskey bar and grill
Riverhouse BBQ: texas hill country style bbq, live music & outdoor fire pits by Gallatin river
Pinky Gs: pizza
Rainbow Ranch Lodge: a classy restaurant with a huge wine selection
ADVERTISEMENT
---
---
.
Big Sky Ski Trip VLOG
Here's a ski vlog of our trip to Big Sky Montana! Watch the video on Youtube here.
SKIING BIG SKY | best things to do in montana, winter activities + food!
ADVERTISEMENT
---
---
Is Big Sky worth the trip?
I loved skiing at Big Sky for the difficulty of the terrain and how uncrowded the mountain was.
Big Sky is huge – it actually is 3 mountains combined together. With over 5,800+ skiable acres, the resort could be filled with people and still not feel crowded.
Plus, Big Sky has some of the newest, most tech advanced lifts in the country. The two lifts right by Mountain Village base area are both high speed 6 to 8 person lifts so the line never feels long.
And over on the Moonlight Basin side, there's much less people. I had an entire afternoon where I was the only person on a huge, wide open trail, which felt surreal!
ADVERTISEMENT
---
---
Is Big Sky the biggest ski resort?
Yes. Big Sky is home to the biggest skiing in America (tied with Park City). It has over 5,800 acres of pristine terrain and a steep vertical drop of nearly 4,350 feet.
The resort is actually the result of 4 mountains merged to form one giant resort (Andesite, Lone Mountain, Spanish Peaks, Moonlight Basin), so it's massive!
ADVERTISEMENT
---
---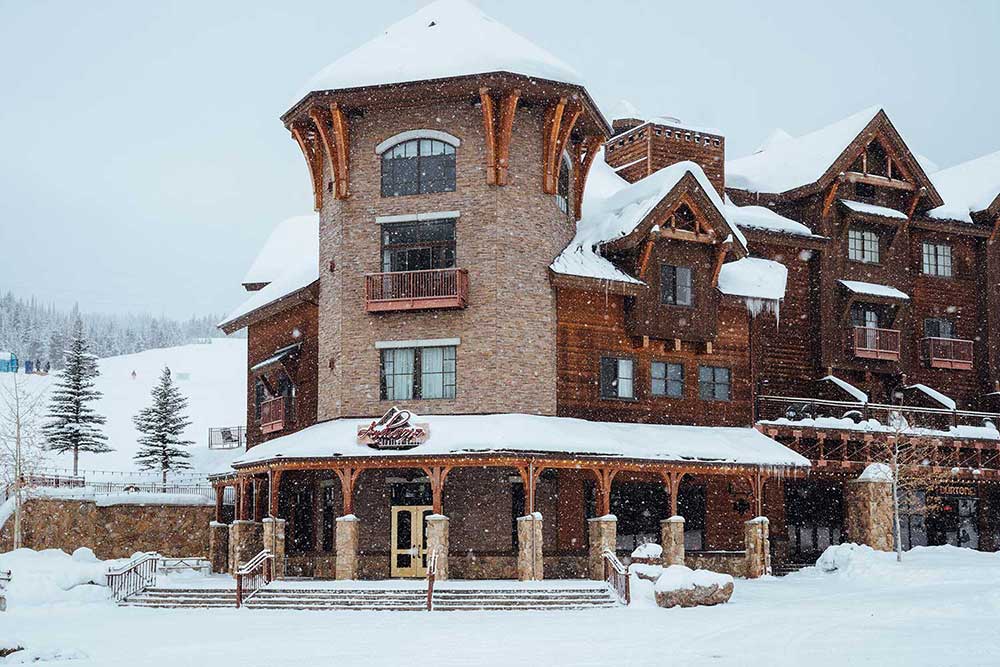 Does Big Sky have a town?
Big Sky has two main base areas, Mountain Village and Madison. Then about 15 minutes away by car you have Town Center, with more shops and restaurants.
And a little farther away, about a 60-90 minute drive, is the town of Bozeman, Montana. Bozeman also has a cute downtown area!
ADVERTISEMENT
---
---
How many days do you need in Big Sky?
Big Sky is a huge resort – you could easily ski for 4 or 5 days and still feel like there's more terrain to explore!
I'd recommend visiting for one week – that gives you enough time to ski the mountain but also fit in activities like dog sledding, fly fishing or snow tubing.
Yellowstone National Park is also a short drive away. You can add an extra day to explore the park in winter and go snowmobiling to see the wildlife.
Also, add an extra day of travel time depending on where you're flying in from.
We flew from NYC and found that nonstop flight options were limited (it depends on the day of the week and time of year).
ADVERTISEMENT
---
---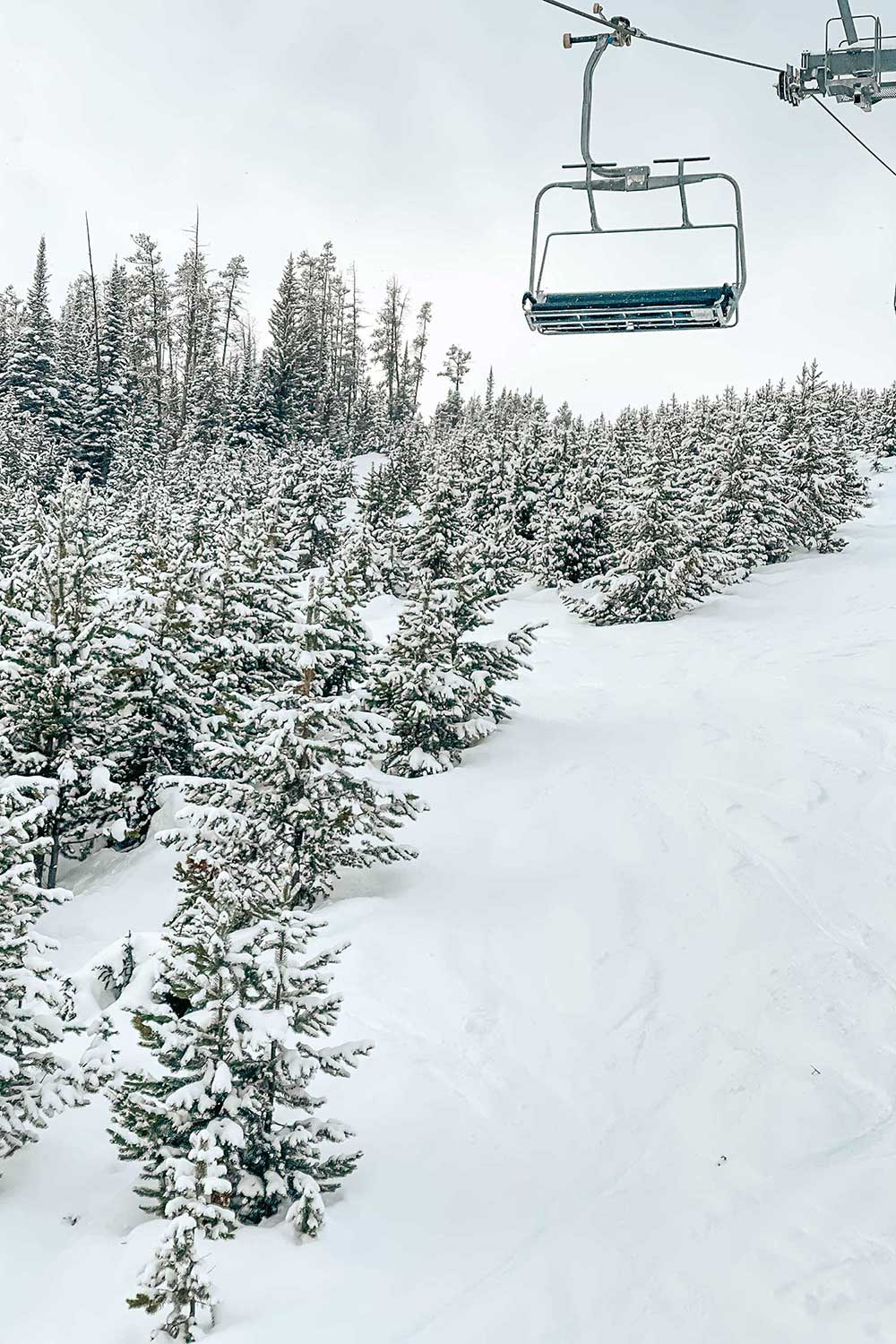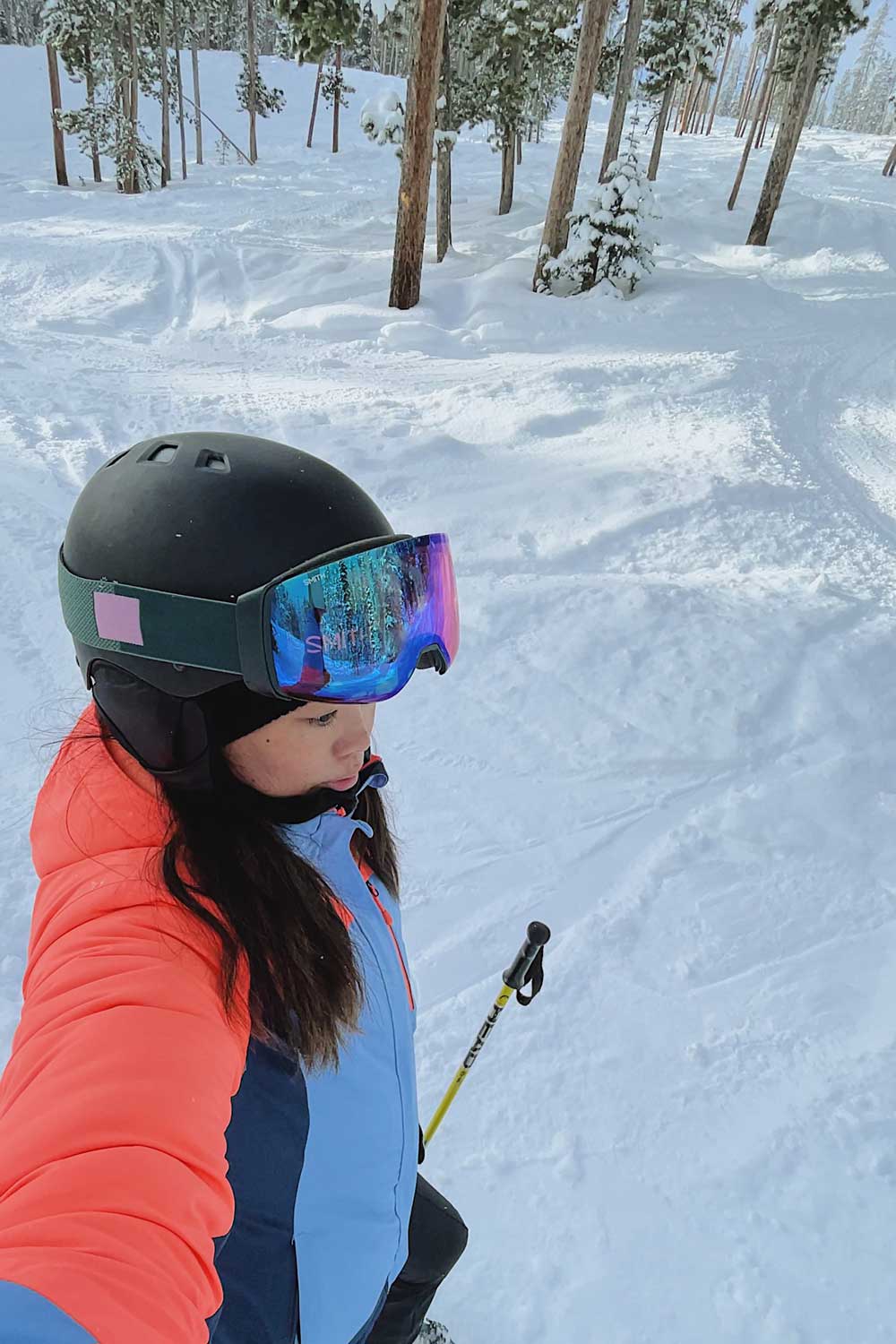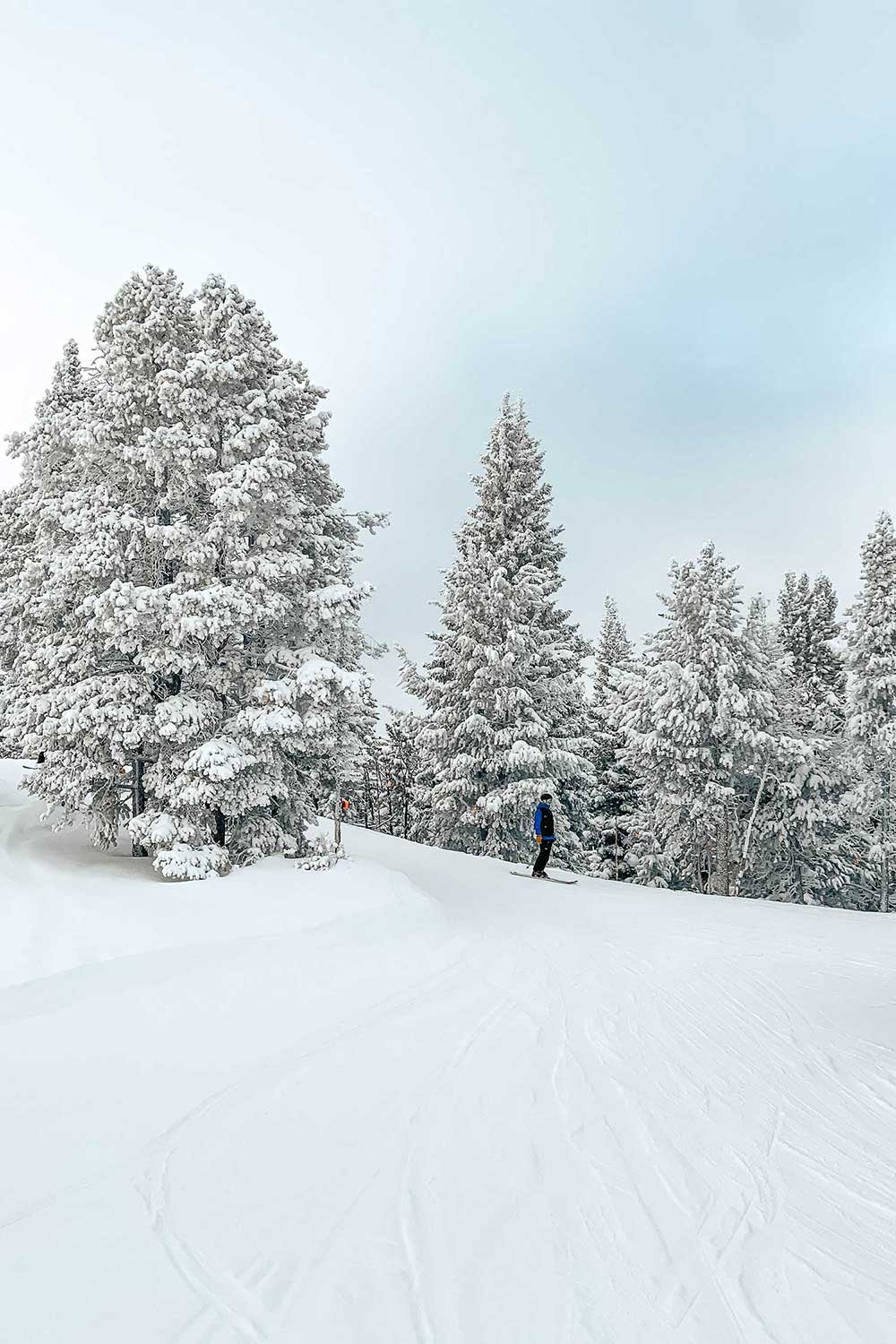 Is Big Sky OK for beginners?
Big Sky is a fantastic mountain.
Nearly 60% of the trails are rated advanced + expert level, and even the blues here are steeper than at most mountains in the US. With that being said, if you can comfortably ski blues I think you'll have a great time!
Even if you are a beginner, you can still make the most of a trip to Big Sky.
Two aspects make Big Sky unique for newbies.
First, the resort gets over 400 inches of snow a year which creates fluffy, light powder – the ideal type of conditions for beginner skiers. Second, the mountain is so huge that even a small proportion of beginner rated terrain here translates to a lot of acreage!
15% of the trails are rated 'Beginner' across a 5,850 skiable area, providing over 870 acres of easy terrain to learn on. That's more than some entire ski resorts!
So if travel time and cost aren't a barrier for you, Big Sky can be a great place to learn and improve.
ADVERTISEMENT
---
---
Ski Wear Haul
I posted a couple try-on hauls of all the ski wear brands that I've tried. You can check them out on my Youtube channel here.
ADVERTISEMENT
---
---
ADVERTISEMENT
---
---
ADVERTISEMENT
---
---
Read More: in our ski style series:
Ski Trip Packing Essentials
What to Wear Skiing: Packing List Must Have's
The Best Ski Pants for Women (Stylish & Functional)
I Found the CUTEST Women's Ski Pants (Video)
Are Designer Ski Pants Worth It? (Try-On Haul)
The Best Ski Sweaters for Apres-Ski 
Planning the Perfect Ski Trip
What to Know Before Skiing in Vermont for the First Time
Ski Trip Recaps + Mountain Guides
Lake Tahoe, California: Heavenly, Kirkwood & Northstar
Montana: Big Sky
Vermont: Stowe
Catskills, New York: Belleayre Mountain
Quebec, Canada: Mont Tremblant
+ More Ski Vlogs on Youtube
Follow me @Sher She Goes on