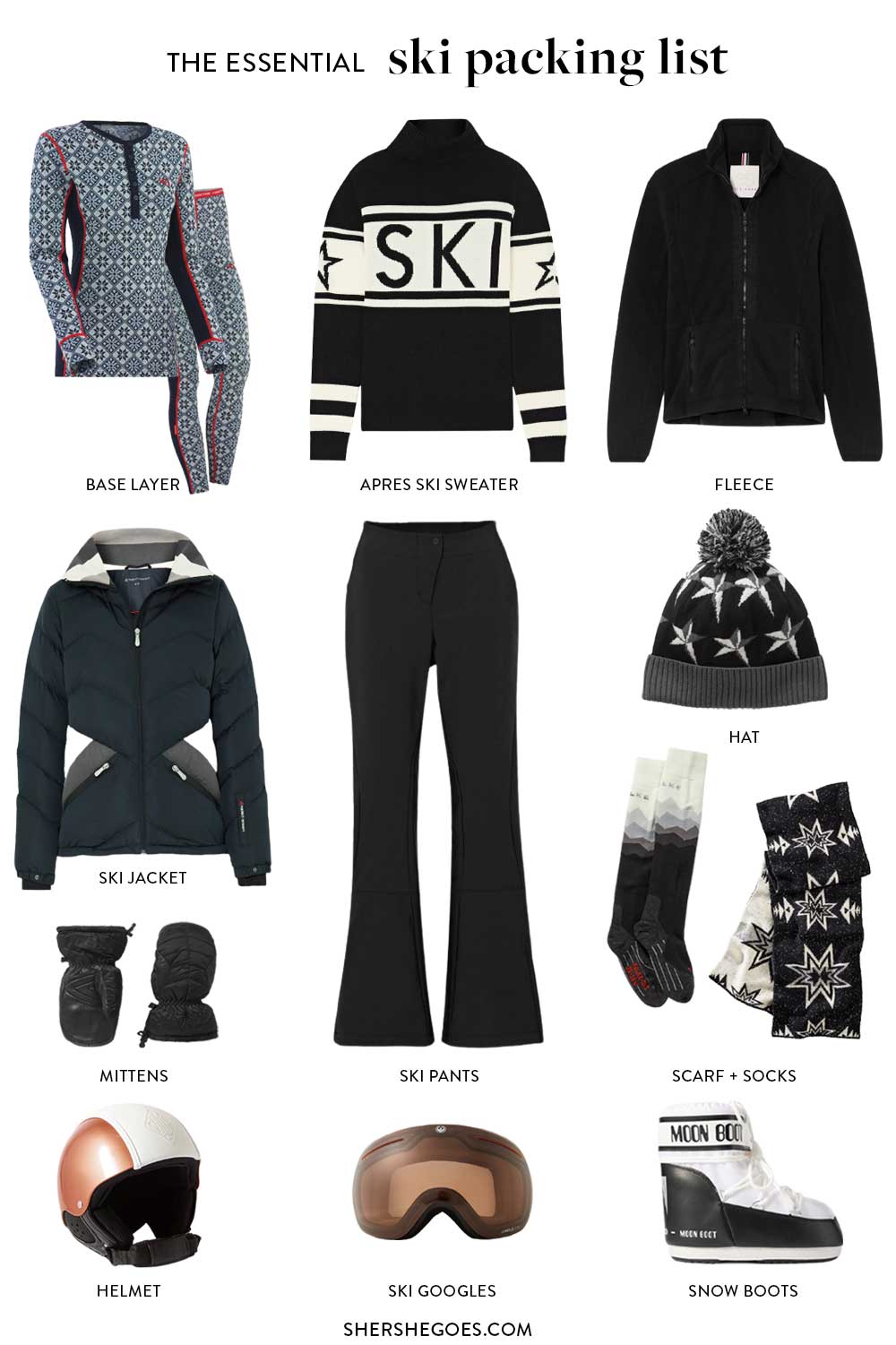 What to Wear Skiing and Snowboarding (2023)
Contrary to what some may think, what to wear skiing and snowboarding is not simply what you might wear on a normal winter day.
Everything from being outside for an extended period of time to, you know, the fact that you're traveling on snow lends itself to certain fashion tweaks to make sure you have the most comfortable time on the slopes!
ADVERTISEMENT
---
---
Keep reading, or pin this article to save it for later ⇟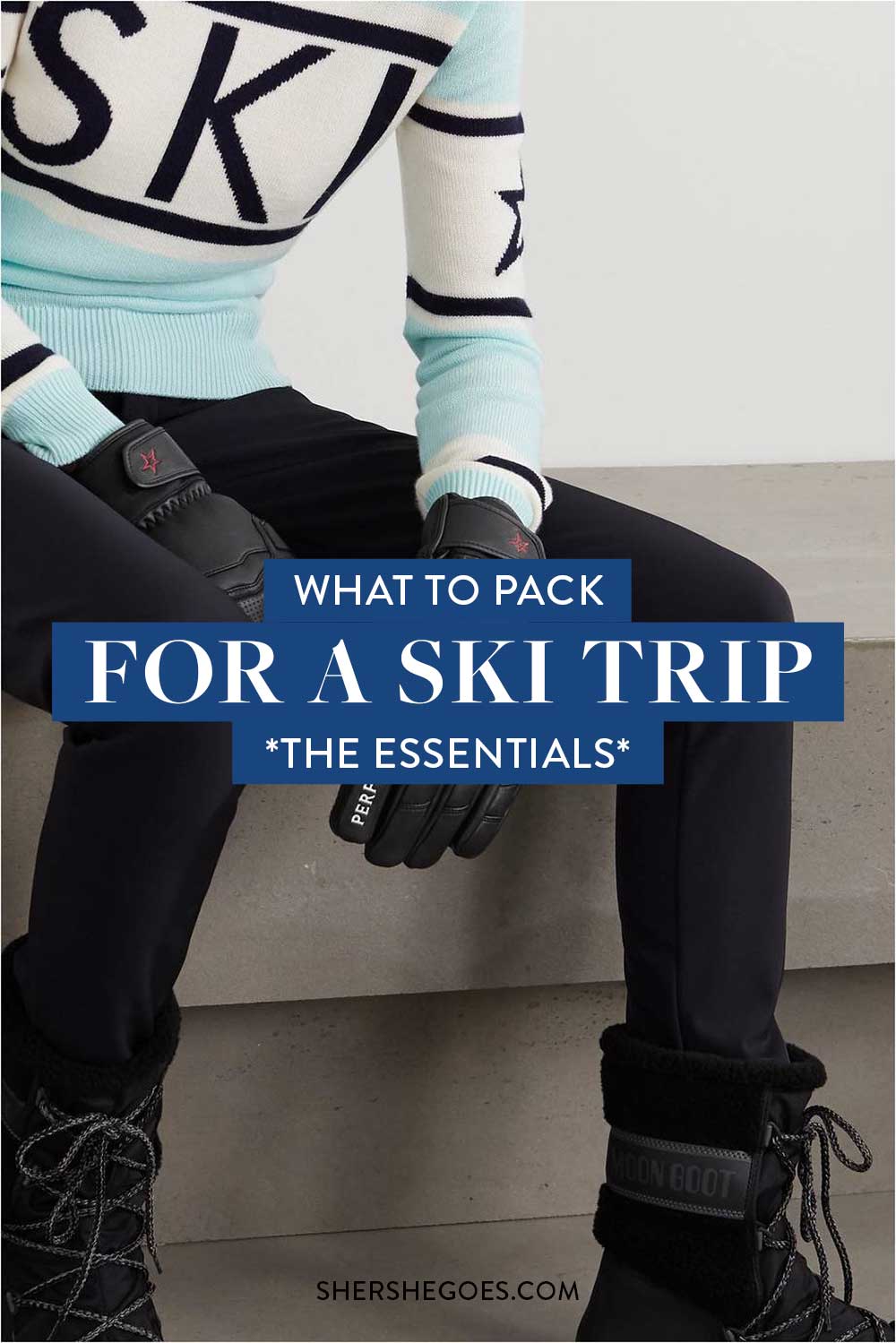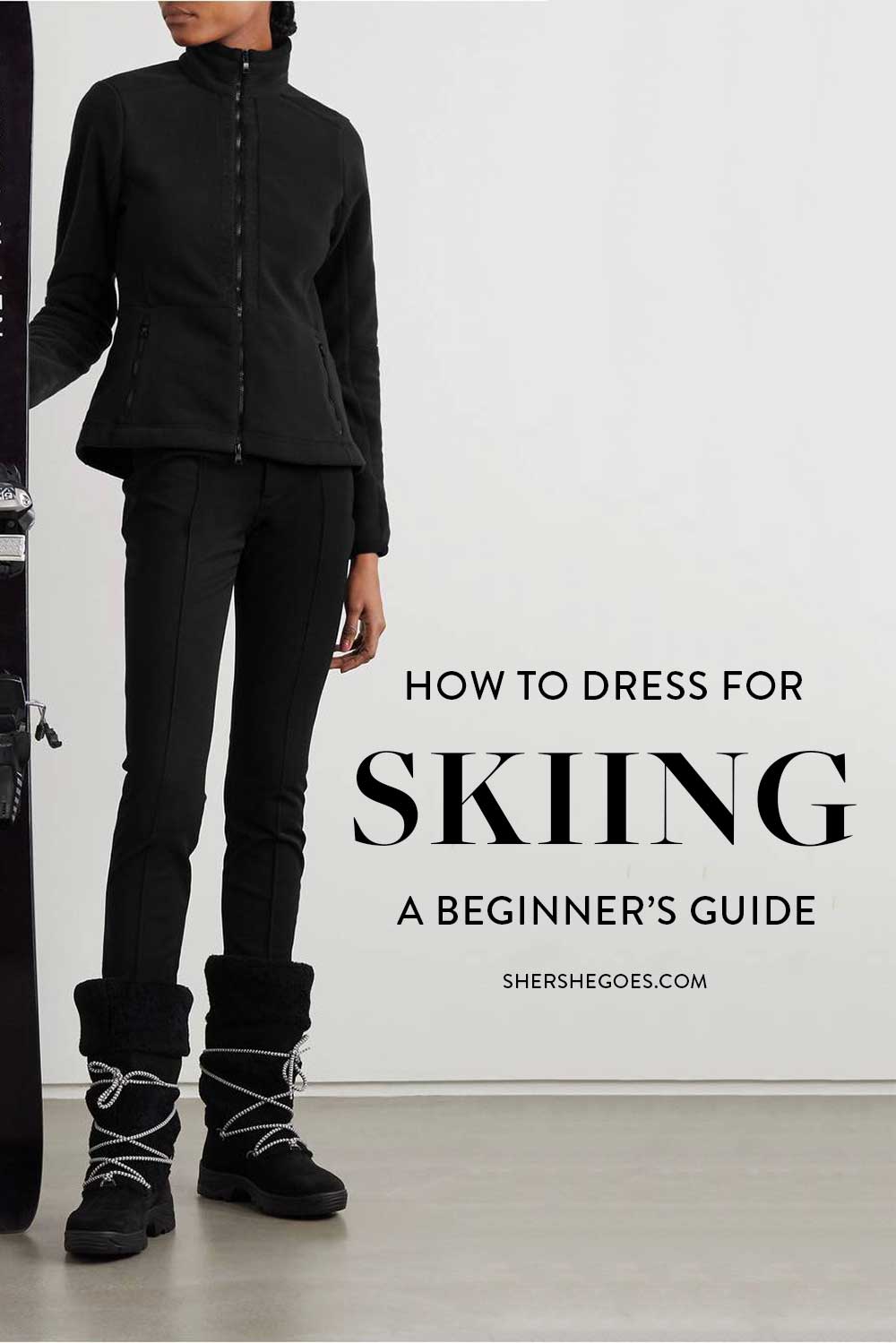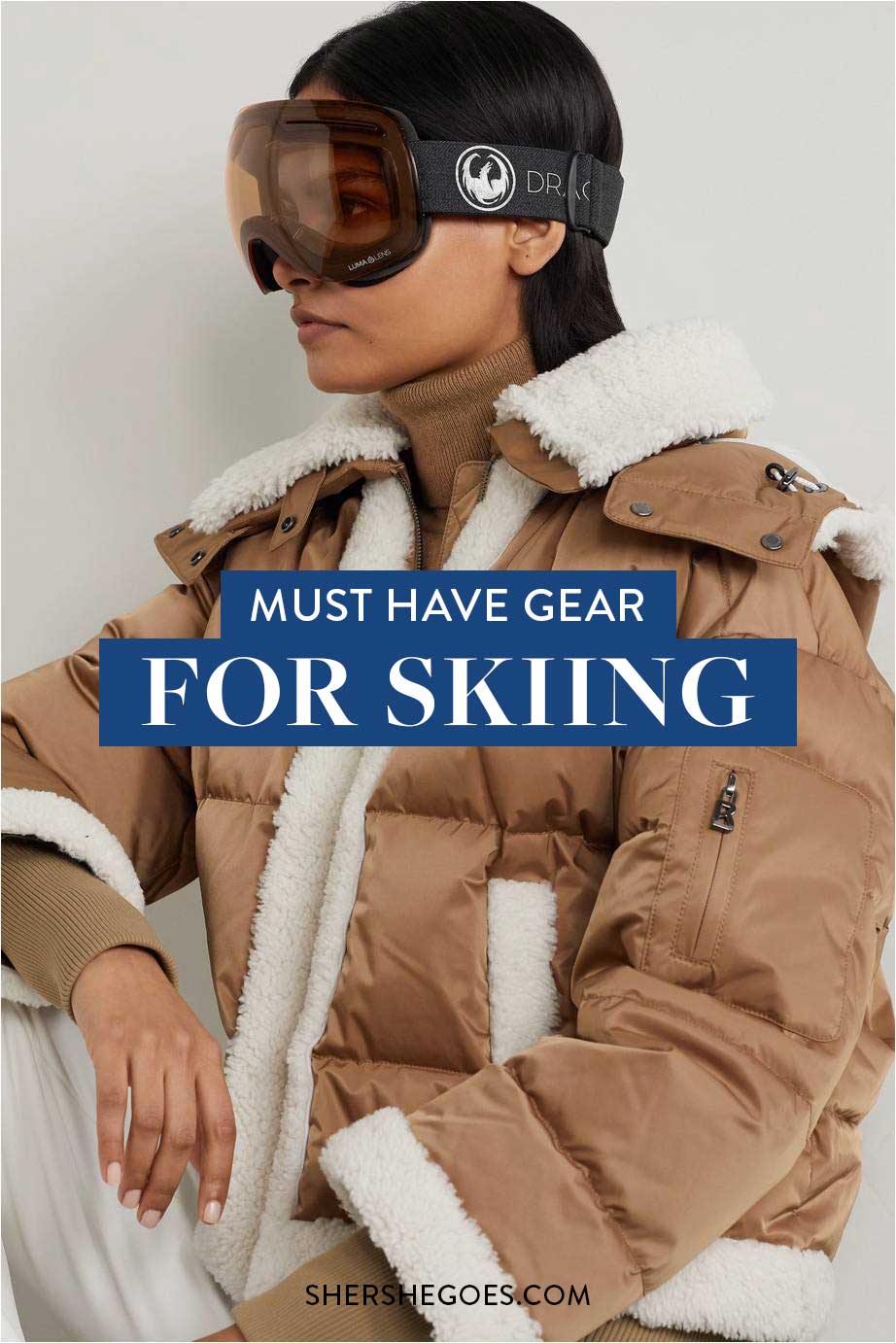 What's the Difference Between Skiing and Snowboarding Apparel?
In short, not much!
High-end skiing gear can tend to be a little more snug as its aerodynamically designed for racing and speed, but, largely, effective skiing gear is effective snowboarding gear and vice versa.
Read more:
How to Plan the Perfect Ski Trip
ADVERTISEMENT
---
---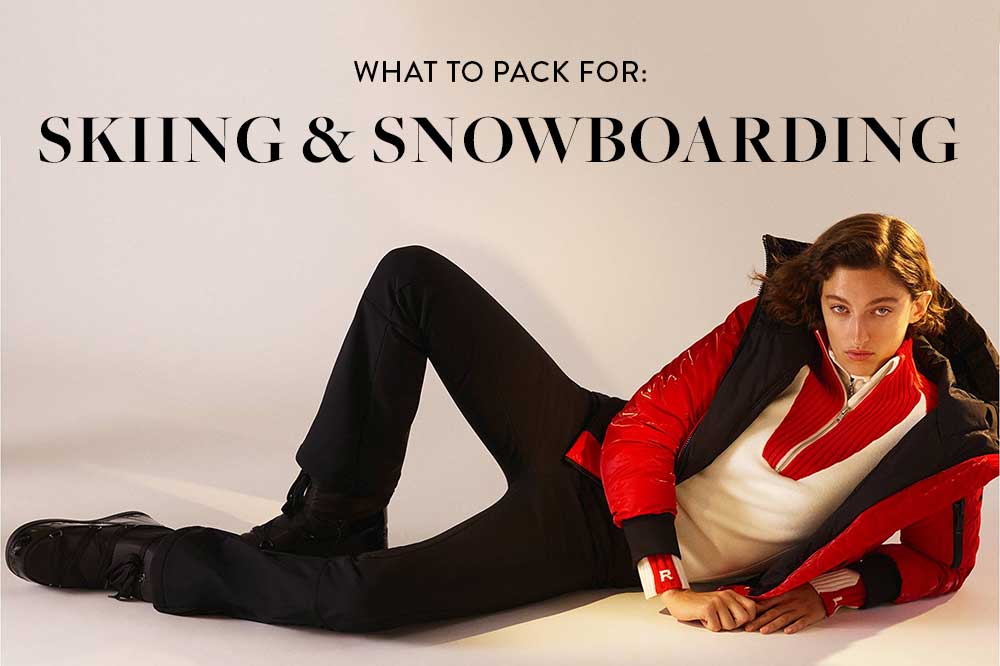 What to Wear When Skiing
Here's a handy checklist of what to wear when you are hitting the slopes!
Ski Packing Checklist
ADVERTISEMENT
---
---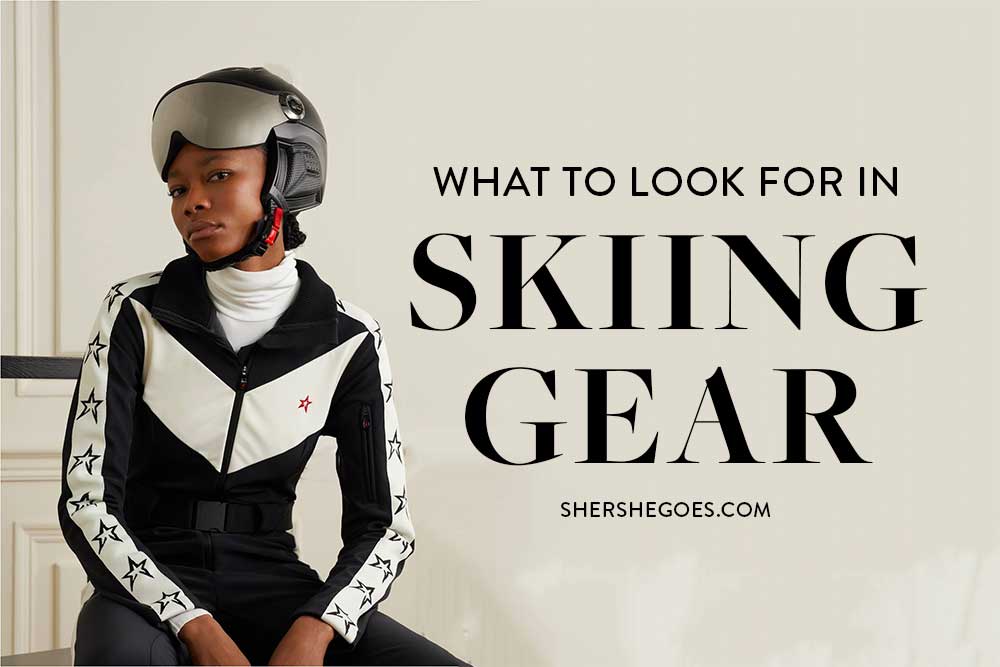 What to Look for in Skiing Gear
We will get to a specific packing list in a second, but here are some general tips that will help guide you to selecting the right gear for what to wear while skiing or snowboarding!
Windproof and Waterproof Protection
Even if you're hitting the slopes on a dry day, remember that you are not (most likely!) an Olympic skier and falls may happen – and that's okay!
Waterproof protection will help you stay comfortable after any falls, and windproof protection will blunt the impact of any high-elevation gusts!
ADVERTISEMENT
---
---
Breathability
Having apparel that's breathable underscores the biggest difference between skiing and simply wandering around on a cold winter day because skiing is active!
You WILL be working up a sweat, so finding the clothing and fabrics that will trap heat when you need it but allow that same heat to escape when you are working up a sweat is super important!
ADVERTISEMENT
---
---
Multiple Layers
Multiple layers dovetails with breathability, as the right layering system is conducive to trapping and managing the heat your body generates.
Beyond this, however, temperature and weather conditions can vary significantly throughout the day.
Having multiple layers ensures that you can adapt your outfit to the changing weather patterns of the mountain on any given day!
ADVERTISEMENT
---
---
Extremity Protection
In other words: hat, gloves, and socks.
And good ones, too. Even on a milder day, being outside for long stretches will impact your extremities first.
Making sure your hands, head, and feet are amply protected and insulated often makes the difference between a great day on the slopes or becoming downright frigid and miserable.
ADVERTISEMENT
---
---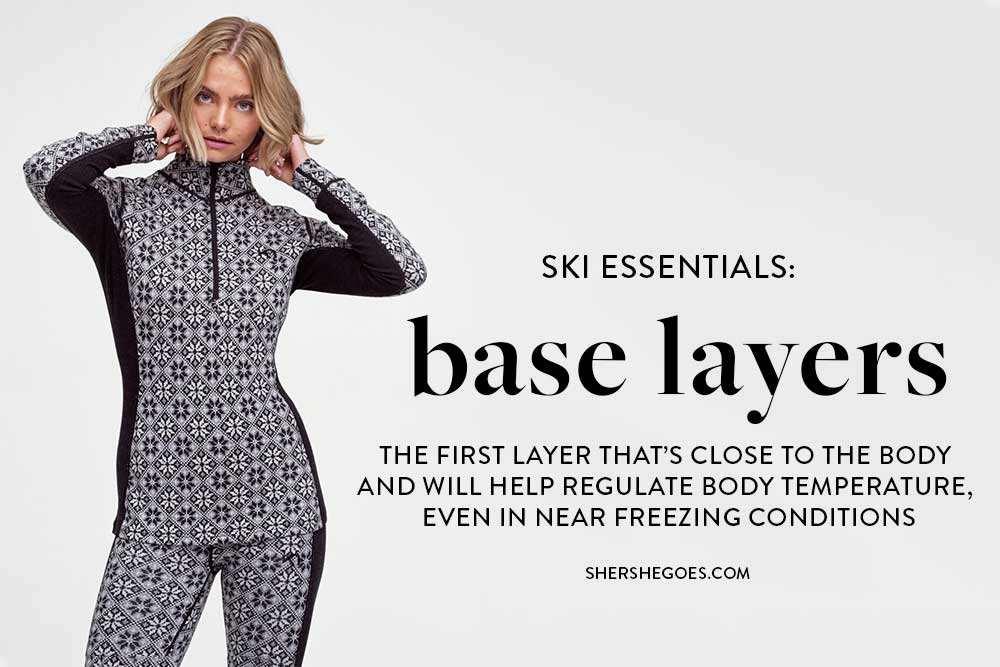 Base Layers
We've written about base layers before, but they are probably the most essential part of layering.
Base layers are the first line of defense against the cold, and the best base layers also feature highly breathable fabrics that allow excess heat to escape as you become more active!
Browse base layers: Zappos, Amazon, REI
ADVERTISEMENT
---
---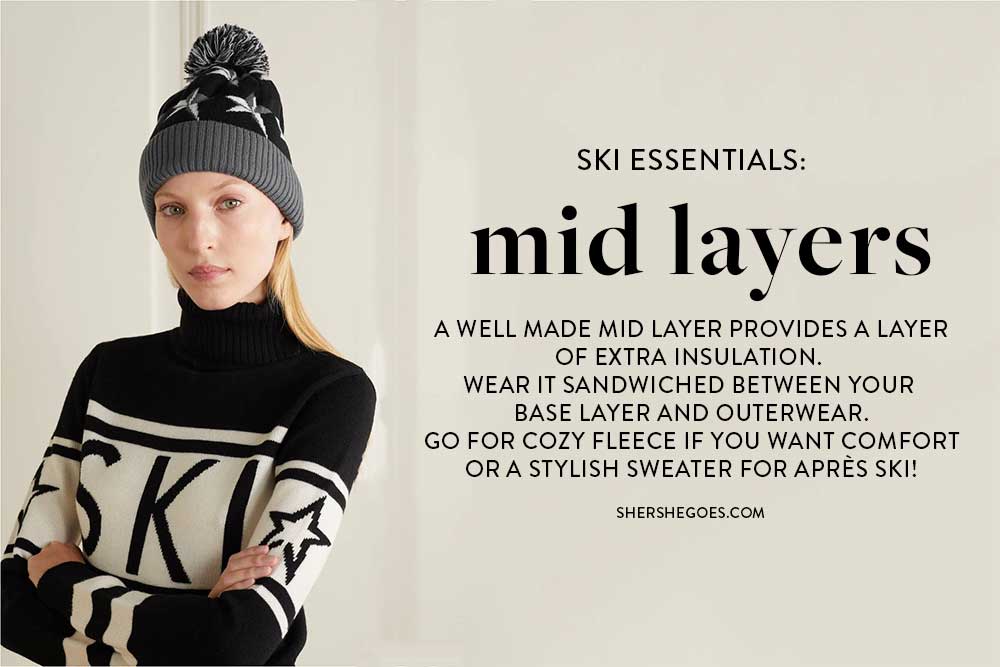 Fleece or Wool Mid-Layer
The mid-layer is where it gets a bit more customizable.
Some people like knit sweaters, others go with a cozy fleece and nowadays even thin synthetic jackets are also popular. Vests are great too, as they can easily be added on or shed, and they provide warmth without bulk.
Try to pay attention to fabric choice. The two most common mid layer fabrics are fleece and wool.
In my opinion fleece is a bit more comfortable than wool, but wool has two very germane advantages over fleece – better breathability and naturally anti-microbial properties.
Browse mid-layers: Zappos, Amazon, REI
ADVERTISEMENT
---
---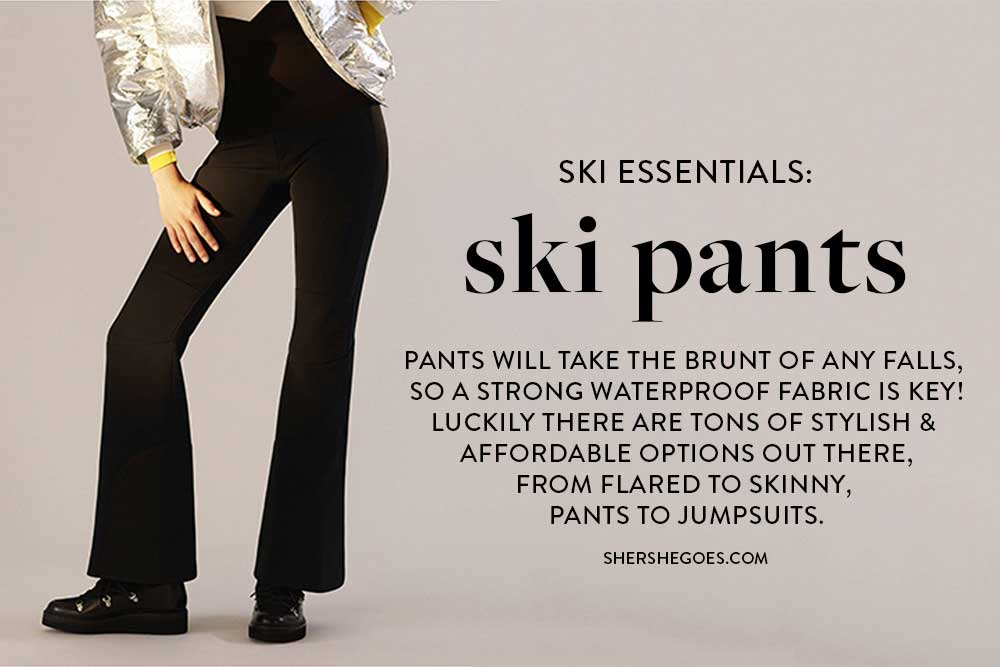 Ski Pants
Your ski pants will take the brunt of any falls, so definitely make sure they have a sleek waterproof fabric. Fun fact: every fabric that's waterproof is also windproof, but the reverse is not always true!
If you're in-between sizes, opt for a looser fit.
You want your ski pants to comfortably fit over any base layers as well as the top of your ski boots, so consider sizing up one size!
Browse ski pants: Zappos, Amazon, REI
ADVERTISEMENT
---
---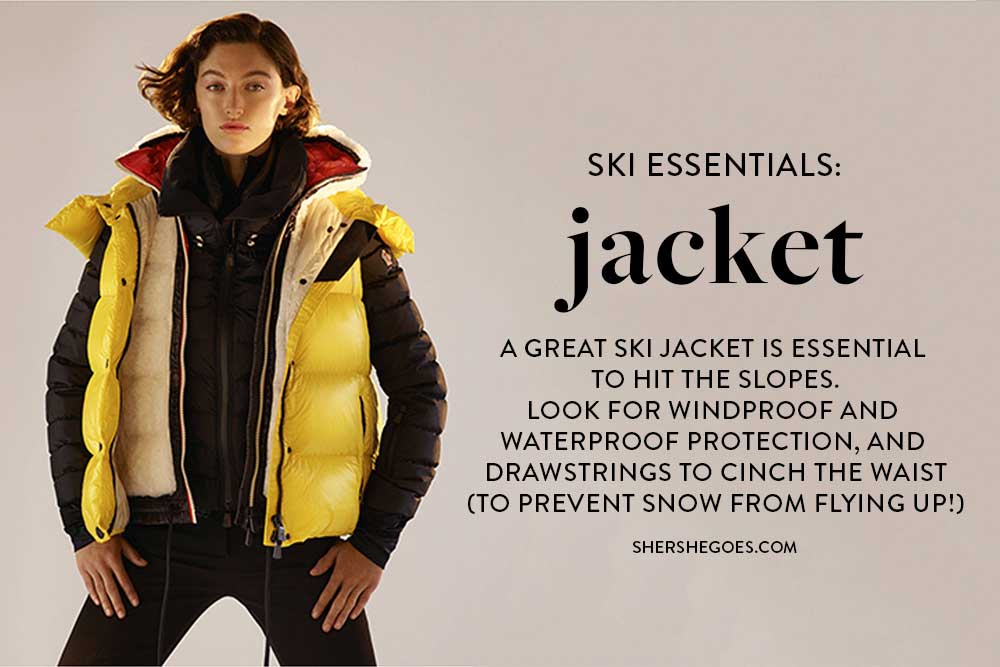 Ski Jacket
Easily the most expensive part of the what to wear when skiing packing list, we would recommend trying to find a ski jacket that can also work well in your everyday life too.
Windproof and waterproof protection are musts, and also look for ski jackets with drawstrings around the waist that prevent snow from flying up your shirt!
Browse ski jackets: Zappos, Amazon, REI
ADVERTISEMENT
---
---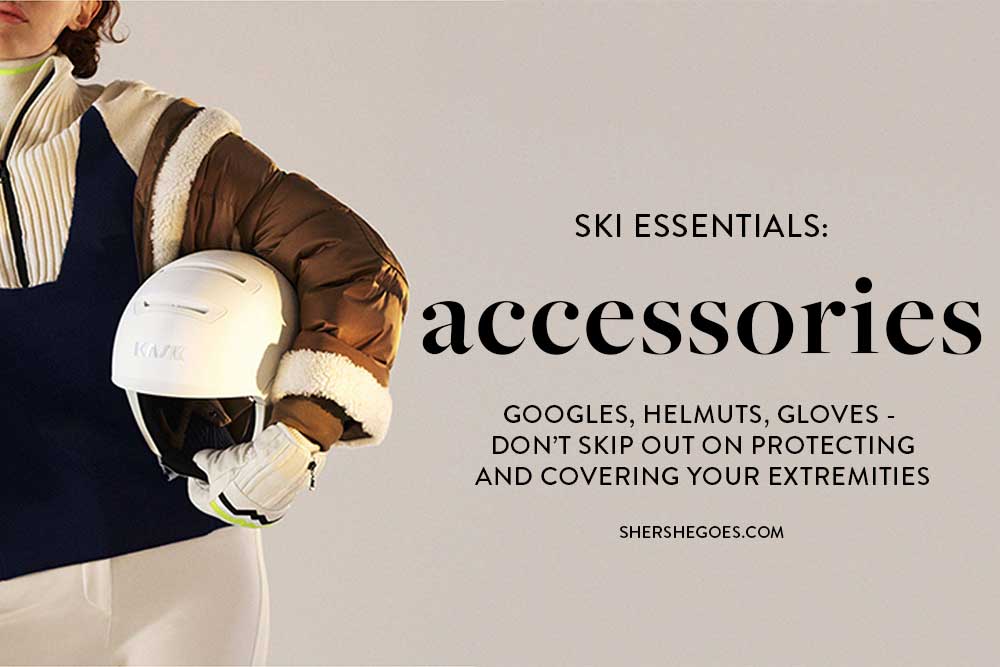 Helmet
It's a wonder that more ski slopes don't require helmets (some definitely do, but not all), when riding your bike without a helmet is tantamount to committing high crimes and misdemeanors.
Skiing and snowboarding is fun, but it comes with its obvious risks.
Protect your head with a helmet, and just make sure you get one that can fit over your hat!
If you're Asian, check out Smith – they make helmets designed to fit a little better on Asian heads.
Browse ski helmets: Zappos, Amazon, REI
ADVERTISEMENT
---
---
Ski Gloves
Like the other items mentioned before, wind and waterproof protection is mandatory to ensure you have comfort throughout your time on the mountain.
And, just like with ski socks, make sure you get a pair of gloves that has a snug but not circulation-restraining fit! Mittens will be warmer than gloves.
My favorite are Hestras – these are incredibly warm.
Browse ski gloves: Zappos, Amazon, REI
ADVERTISEMENT
---
---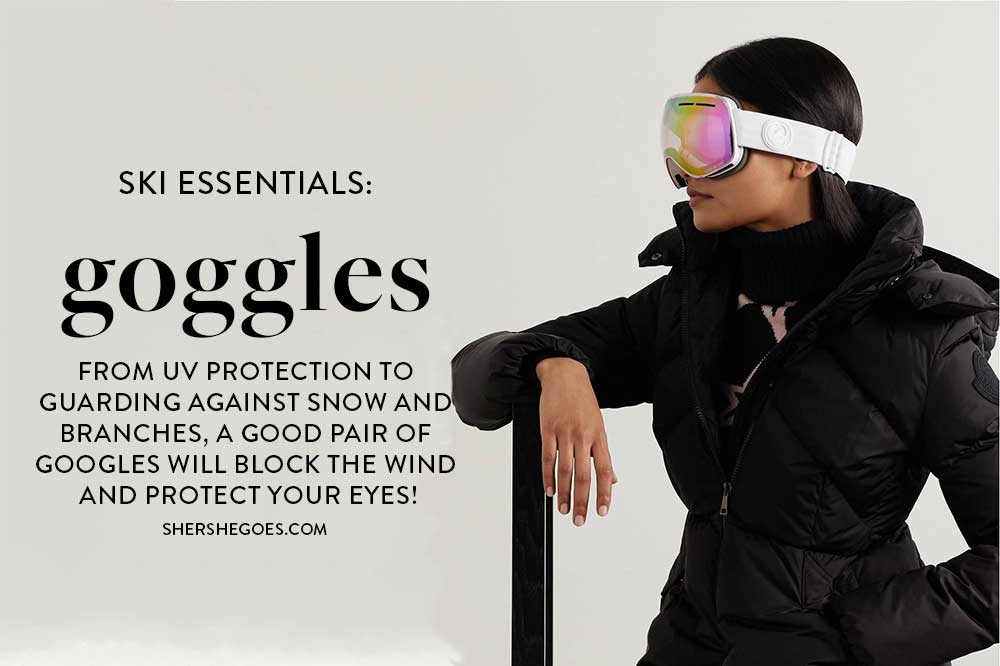 Ski Goggles
I remember one of my most miserable days skiing was when I decided to forgo goggles.
The lightest of snows started just a few minutes later, and when you're skiing down a hill at high speed, even the most whimsical flurries hit your face like bullets.
Plus, fresh snow can be blindingly white, so protect your eyes and wear reflective ski googles!
Again here I recommend Smith if you're Asian – they make a specific shape designed to better fit on low nose bridges.
Browse ski goggles: Zappos, Amazon, REI
ADVERTISEMENT
---
---
Balaclava or Neck Gaiter
If you are unfamiliar with the word "balaclava", I can guarantee you still know what they look like, because "balaclava" is what you call the mask someone wears to rob a bank when, rather than robbing a bank, they are actually just skiing instead.
All jokes aside, balaclavas offer maximum face coverage for the coldest of days on the hill!
Alternatively, a neck gaiter is another great option.
They look a bit like thin infinity scarves, and are designed as fabric to be worn around the neck to ward off any chill or exposure between your collar and chin.
I've written review on gaiters from my two favorite brands, Smartwool and Turtle Fur.
Browse balaclavas and gaiters: Zappos, Amazon, REI
ADVERTISEMENT
---
---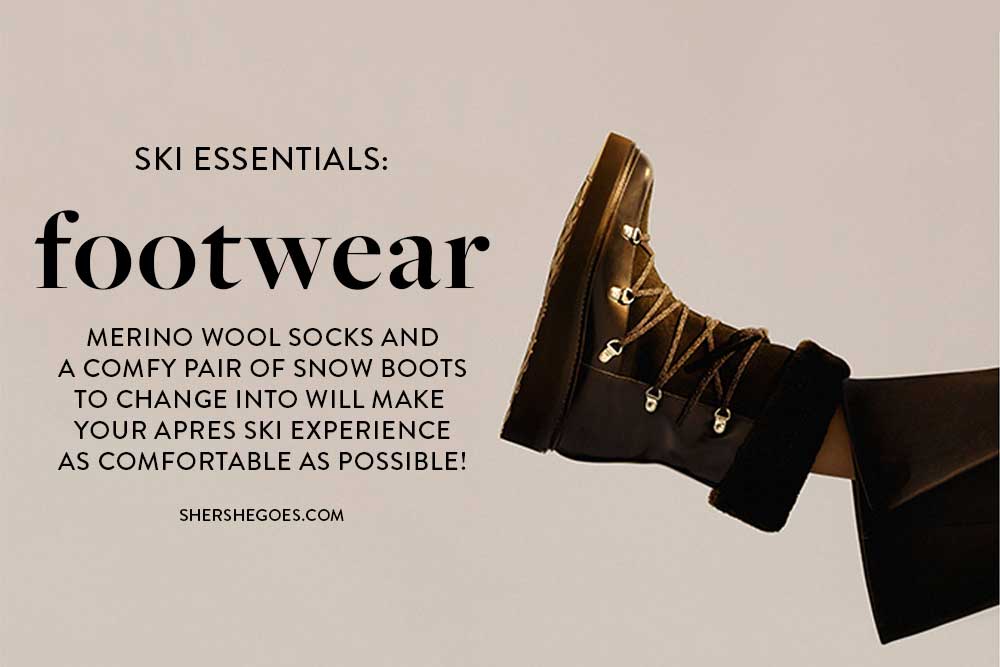 Ski Socks
Ski socks are more important than you think!
Since you're controlling the skis with your feet and boots, well-fitting ski socks make a big difference. When I was starting out, I wore thick but regular winter socks that I already had and they did not cut it.
In fact, I developed tons of blisters and even black toenails before I realized poor fitting socks and boots were the cause.
You'll want to wear long merino wool socks designed for skiing.
Merino wool is anti-microbial and wicks away moisture, preventing sweaty feat. Tall socks that go up to nearly your knees will protect your shins from the hard plastic of the boots.
And the socks should be thick enough to be warm but thin enough that they don't cut off circulation (which actually makes your feet colder).
Ski specific socks have extra padding in the areas along your foot and calf that rub against the boot, so they're more comfortable to wear!
Browse ski socks: Zappos, Amazon, REI
ADVERTISEMENT
---
---
My favorite brand has been CEP.
They make compression socks and sports apparel that help to improve performance, prevent injury and speed up recovery.
I have a couple pairs of their merino wool ski socks, ranging in thicknesses, and they keep my feet warm on a full day on the slopes, while still allowing blood flow and circulation.
They also fit really well!
There's no extra fabric bunching around the toes or heel, and they're quite compressive.
My personal favorite is their ultralight compression socks – they feel like nothing on the foot and they're easily packable!
Buy CEP ski socks.
ADVERTISEMENT
---
---
Snow Boots
After you're done on the mountains, you'll want to get out of those constricting ski boots and into some comfier snow boots.
From moon boots to Sorels, there's a comfortable pair of waterproof snow boots (and in all price ranges) to suit everyone!
Look for a thick sole with great traction and go up a size so you can still wear your thicker ski socks.
You may also want to bring a pair of cozy warm slippers to wear when lounging around the cabin or ski hotel.
We love these mahabis slippers. They're stylish, comfortable and lined with a foam footbed and hybrid sole. Plus, they have a classic and simple unisex design and are made from sweat wicking soft wool.
Browse snow boots: Zappos, Amazon, REI
ADVERTISEMENT
---
---
A Few Final Tips
Before you pack up, here are a few final tips when preparing to go skiing or snowboarding!
Rent or Buy?
Typically, ski lodges will rent skis, snowboards, poles, boots and helmets.
Of these, the only thing I would consider buying right away are helmets – they are relatively inexpensive and also touch your face (sanitation in the age of coronavirus!).
I'd also recommend buying goggles as most mountains won't rent these for sanitary reasons.
Everything else we feature on our packing list are going to be things you will have to buy…
ADVERTISEMENT
---
---
Prices Can Seem High
…which probably leads you to the natural question how much am I going to have spend on everything?
Well, to cut to the point, skiing and snowboarding isn't cheap.
Prices can seem high, even higher than what you think normal winter weather wardrobe items should cost.
Don't be thrown off by this entirely, as most ski gear reflects the latest (read: most expensive) in weatherproof technology!
ADVERTISEMENT
---
---
Don't Be Afraid to Buy the Same Brands as Everyone Else
While we all want to look good no matter what, the reality is that slopes are not exactly a catwalk.
The point?
Don't be afraid to buy the same, popular brands you see everyone else wearing.
Manufacturing skiing and snowboarding gear is often a highly specialized affair, so there's a pretty good reason you will likely see the same brands over and over again!
ADVERTISEMENT
---
---
Opt for Bright, Unique Colors
Where you can make a fashion statement, however, is by purchasing products in bright and unique colors.
Aside from making yourself stand out, this has the added, practical benefit of making it less likely that you will lose or misplace your gear around the lodge!
And, if you can, avoid an all-white outfit on the slopes.
While it might look chic for a picture, it can make it difficult for other skiiers and snowboarders (especially inexperienced ones) to see you against the white snow.
There's nothing worse than getting into an accident on the mountain!
ADVERTISEMENT
---
---
Shop Skiing and Snowboarding Gear
---

ADVERTISEMENT
---
---
Ski Wear Haul
I posted a couple try-on hauls of all the ski wear brands that I've tried. You can check them out on my Youtube channel here.
ADVERTISEMENT
---
---
ADVERTISEMENT
---
---
ADVERTISEMENT
---
---
Read More: in our ski style series:
Ski Trip Packing Essentials
What to Wear Skiing: Packing List Must Have's
The Best Ski Pants for Women (Stylish & Functional)
I Found the CUTEST Women's Ski Pants (Video)
Are Designer Ski Pants Worth It? (Try-On Haul)
The Best Ski Sweaters for Apres-Ski 
Planning the Perfect Ski Trip
What to Know Before Skiing in Vermont for the First Time
Ski Trip Recaps + Mountain Guides
Lake Tahoe, California: Heavenly, Kirkwood & Northstar
Montana: Big Sky
Vermont: Stowe
Catskills, New York: Belleayre Mountain
Quebec, Canada: Mont Tremblant
+ More Ski Vlogs on Youtube
Follow me @Sher She Goes on