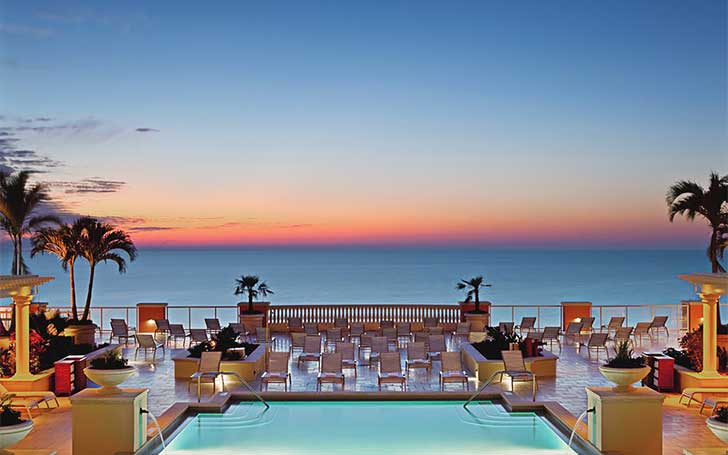 Where to Stay in Clearwater
Nestled on the northern tip of Florida's Tampa Bay, Clearwater is undoubtedly one of the premier beach destinations on either of Florida's coasts.
From the pristine water of Clearwater Beach to the almost blindingly white beaches on Caledesi Island, everything in Clearwater exudes pure paradise.
Keep reading for our favorite spots to stay in Clearwater, FL!
---
---
Best Hotels in Clearwater
To summarize, here's a handy chart of our recommended Clearwater hotels. All include free wifi and are known for comfort, good location and great customer service.
Best Clearwater, Florida Hotels – Summary Comparison Chart
Below is more information about each hotel and why we recommend it!
---
---
Coconut Cove All Suite Resort
Located directly on Clearwater Beach, the Coconut Cove All Suite Resort offers fantastic oceanfront access – literally take just a few dozen steps and you will be gazing at the beautiful azure Gulf of Mexico waters that line all of Clearwater.
With plenty of Queen and King suite options, Coconut Cove Resort is a great choice for couples getaways or family vacations alike!
---
---
Barefoot Bay Resort & Marina
With brightly-painted pastel walls, creatively designed furniture, and Mexican tile bathrooms, the Barefoot Bay Resort & Marina definitely offers one of the most spunky stays anywhere in Clearwater.
All suites come with modern kitchenettes – a must when trying to save or simply have a great home-cooked meal – and with numerous oceanfront suites, the Barefoot Bay is a Clearwater Can't Miss!
---
---
Sheraton Sand Key Resort
Recently heralded by USA Today as Clearwater's best hotel, the Sheraton Sand Key Resort stands out for its luxurious accommodations in an already-luxurious part of Florida's Gulf Coast.
Whether sailing, golf, or swimming with Tampa Bay's stingrays or sea turtles floats your boat, there is something for everyone at the Sand Key Resort!
---
---
Hyatt Regency Clearwater Beach Resort & Spa
When it comes to total luxury, look no further than the Hyatt Regency Clearwater. With an oceanfront location right on Clearwater Beach, the only question I had when checking it out was whether the rooms or the beachside cabanas made me feel more in heaven!
Suites at the Hyatt Regency range from 600 to an incredible 1,600 square feet and offer full-service kitchens and balconies with gorgeous Gulf of Mexico views, while the cabanas are climate-controlled and offer a wet bar AND flat-screen TV. Need I say more!
---
---
Sandpearl Resort
Tucked in between Clearwater Beach and the beautiful Mandalay Bay Channel, the Sandpearl Resort has a deserved reputation as the standard-bearer for luxury accommodations in the greater Clearwater, Florida area.
With an unmistakable Floridian décor, Sandpearl Resort offers standard Queen and King guest rooms. For families or groups who want to stay in paradise a little longer, the Sandpearl also offers incredible oversized suites (honestly, they look like mansions!) complete with kitchens, furnished balconies, and separate dining rooms!
---
---
And that's it! Our guide to Clearwater's best hotels to make the most of your stay.
Whether you're looking for ultra-luxurious comfort, the best location in town, or no-frills budget cheap hotels, these top Florida hotels are sure to please.
Follow Sher She Goes on