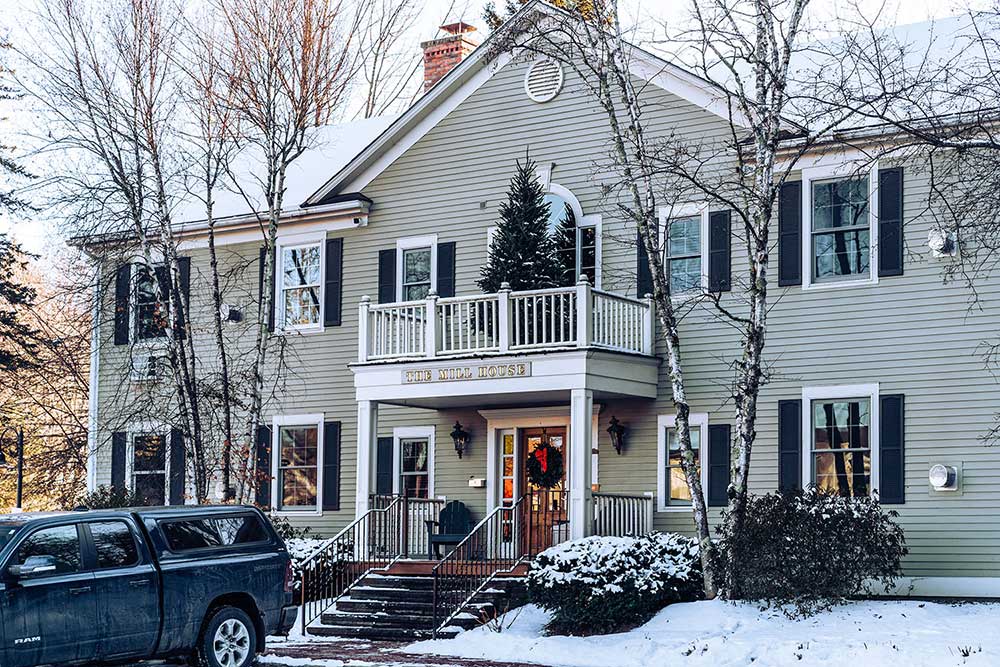 Stowe in Winter
Stowe claims a lot of 'firsts'.
It's home to the first cross-country ski resort in the country and has the oldest long-distance hike. Its charming downtown is marked by the oldest non-denominational church in the United States.
So when you think of ski resorts on the East Coast, chances are Stowe is on your list.
I recently visited the Vermont town with friends on a group ski trip. I spent a week learning how to ski, trying out local breweries and soaking in the wintery outdoors – and loved every minute!
Since I've been back, I've recommended a winter getaway to Vermont to all my friends – even the non skiers!
Stowe was such a gorgeous New England town, and absolutely beautiful blanketed in snow and all decked out for the holidays, that it makes for the perfect winter weekend trip.
Here's everything to know about visiting Stowe in winter!
ADVERTISEMENT
---
---
Keep reading, or pin this article to save it for later ⇟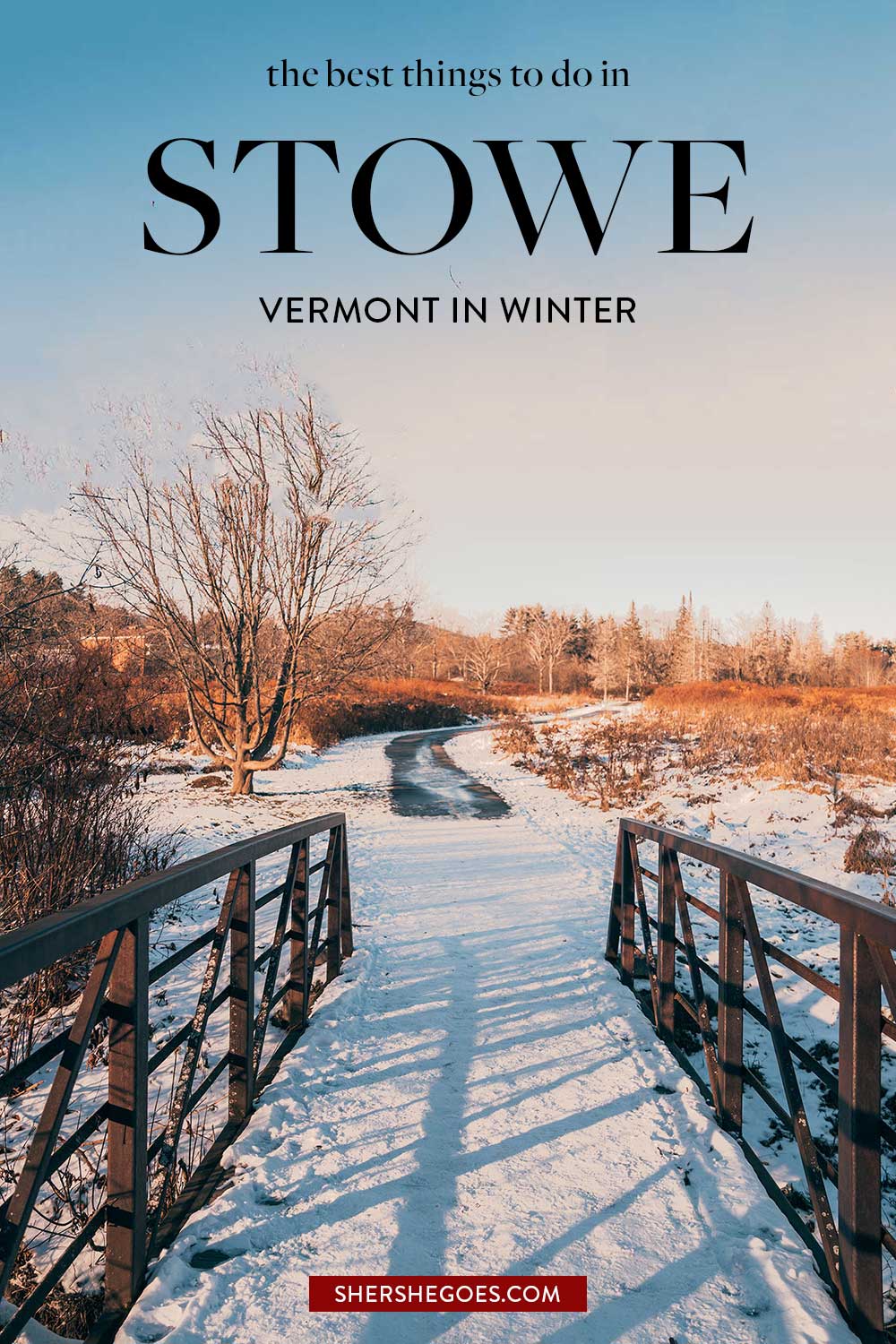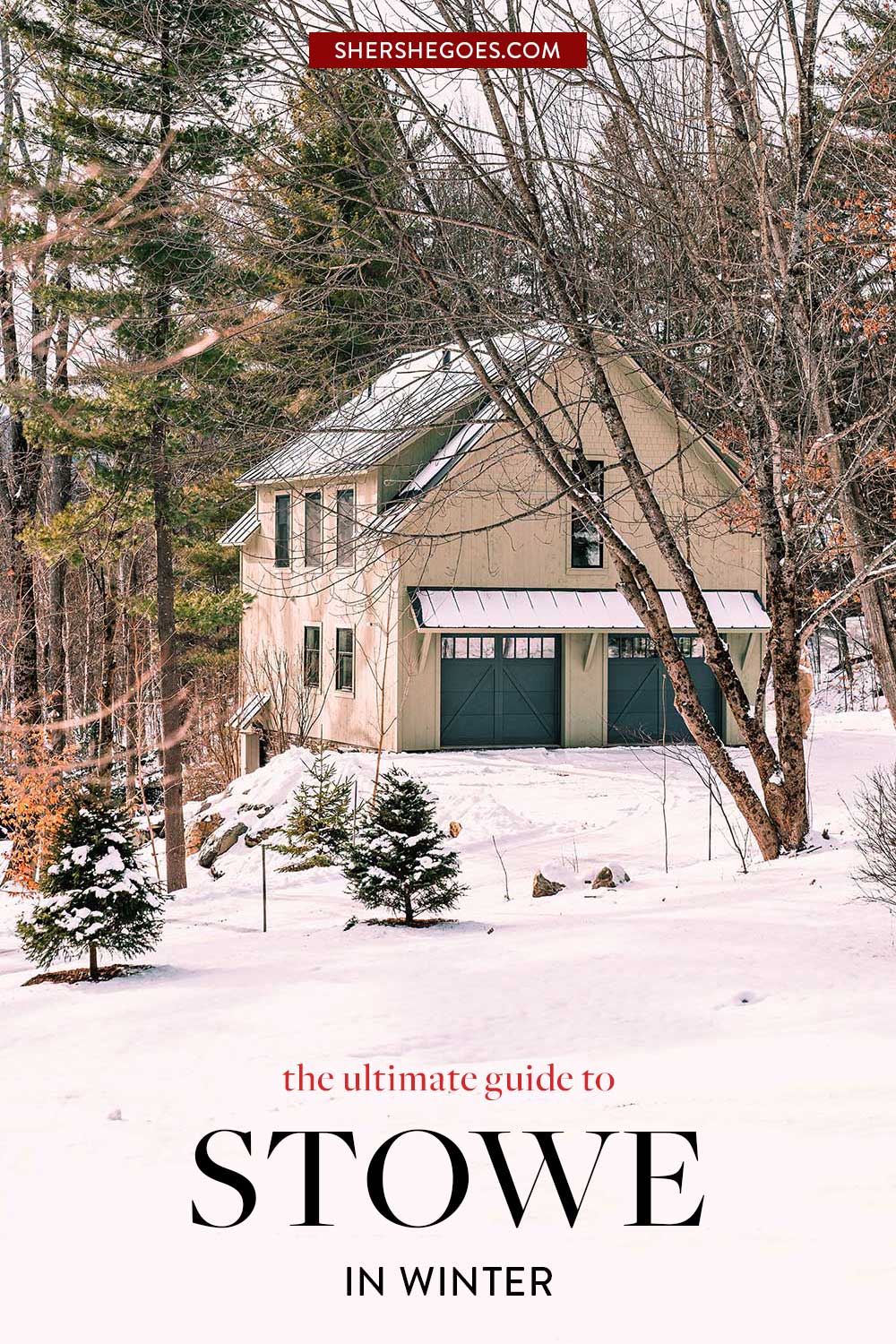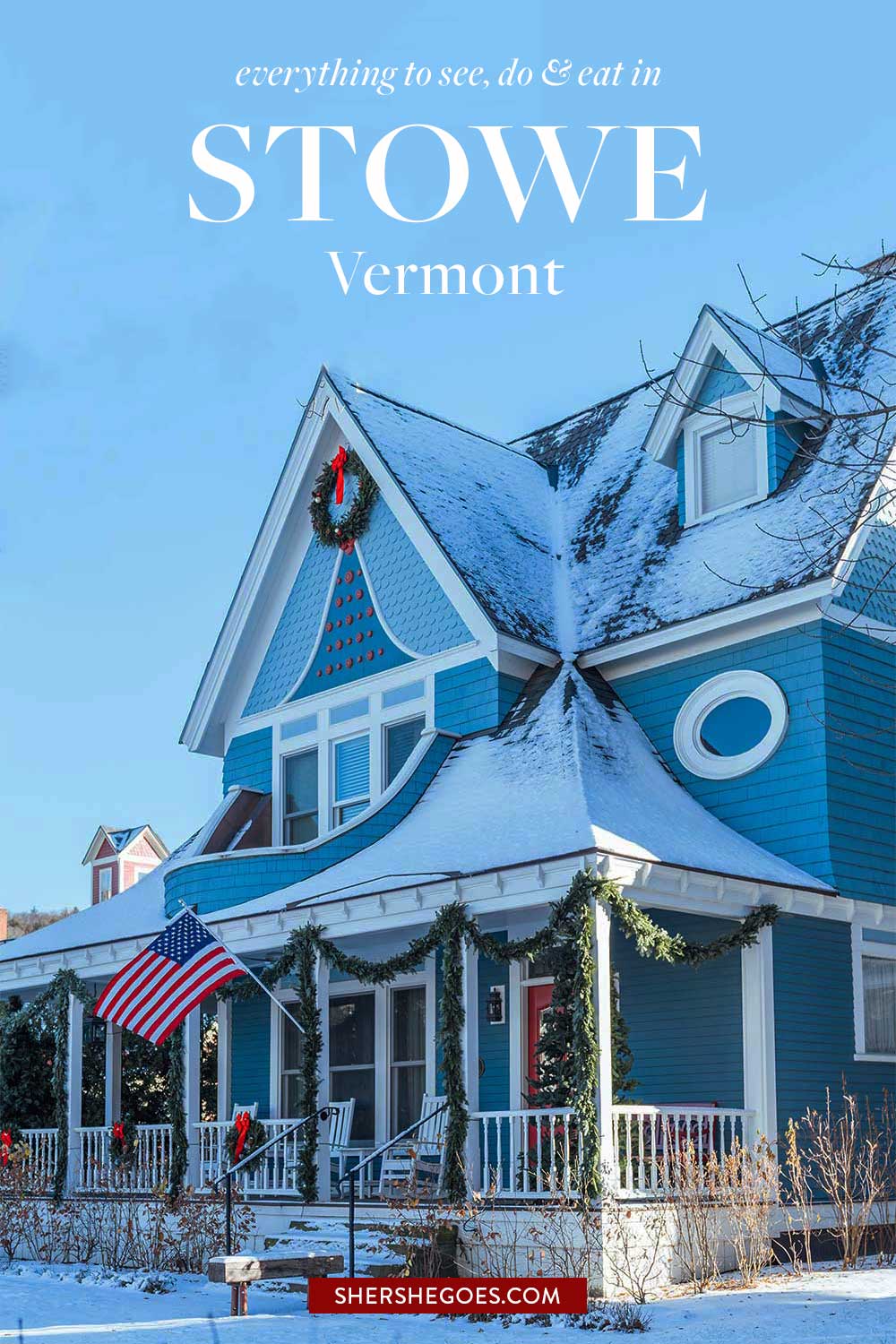 Stowe, Vermont
Stowe was settled in 1734 and originally a popular summer getaway spot in the 1800s.
City tourists, looking for a relaxing nature escape away from the urban heat, loved traveling to Stowe for its rolling hills and valleys. The Vermont town was famous for its wide green spaces and outdoor recreation.
But once skiing became popular in the 1930s, Stowe became a four season destination!
I think the town offers a little something for everyone.
ADVERTISEMENT
---
---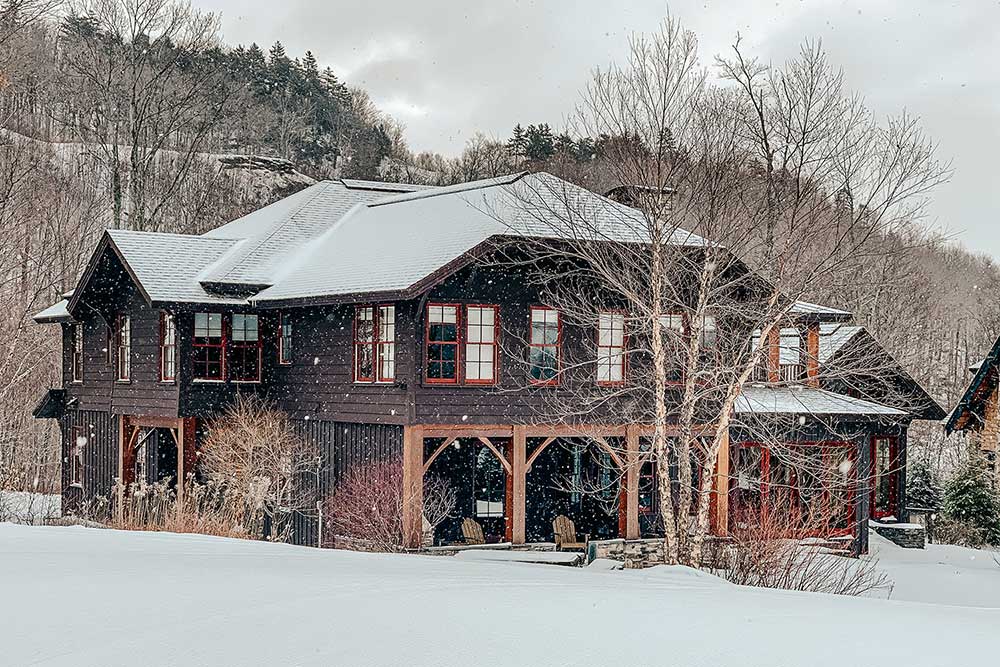 Whether you're just learning to ski or seeking black diamonds, Stowe's two mountains (Mt Mansfield and Spruce Peak) have you covered.
If your idea of skiing is three runs and calling it a day, well Stowe also has a great après-ski scene (probably one of the best on the East Coast)!
And if skiing isn't your thing at all, no worries.
Stowe has great restaurants, relaxing day spas, tons of local breweries, distilleries and wineries, and a charming downtown filled with quaint shops.
Right off the main road is a huge recreational park, where you can snowshoe, hike, mountain bike or rock (and ice) climb.
And best of all, if you visit in December, you'll find the holiday spirit alive and well!
ADVERTISEMENT
---
---
Getting to Stowe
Stowe is really popular for New Yorkers and Bostoners to visit. Coming from New York City, we had two options: drive or fly.
Driving to Stowe
I drove up with friends and it was about a 6 hour drive from NYC.
We left first thing in the morning on Friday and arrived around 3:30pm, which was great timing to check into our Stowe rental house and grab some dinner.
Check here for rental cars for your dates.
Flying to Stowe
On the way back, I flew home out of Burlington International Airport (BTV) on United.
Burlington is roughly a 45 minute drive from Stowe. We noticed it was tricky to find a cab or ride share from Stowe to Burlington, so I'd try to avoid early morning or really late night flights if you don't have your own rental car.
The airport itself was compact and easy to navigate, and had lots of direct flight options to NYC.
Check flights and set fare alerts for Stowe here.
ADVERTISEMENT
---
---
Where to Stay in Stowe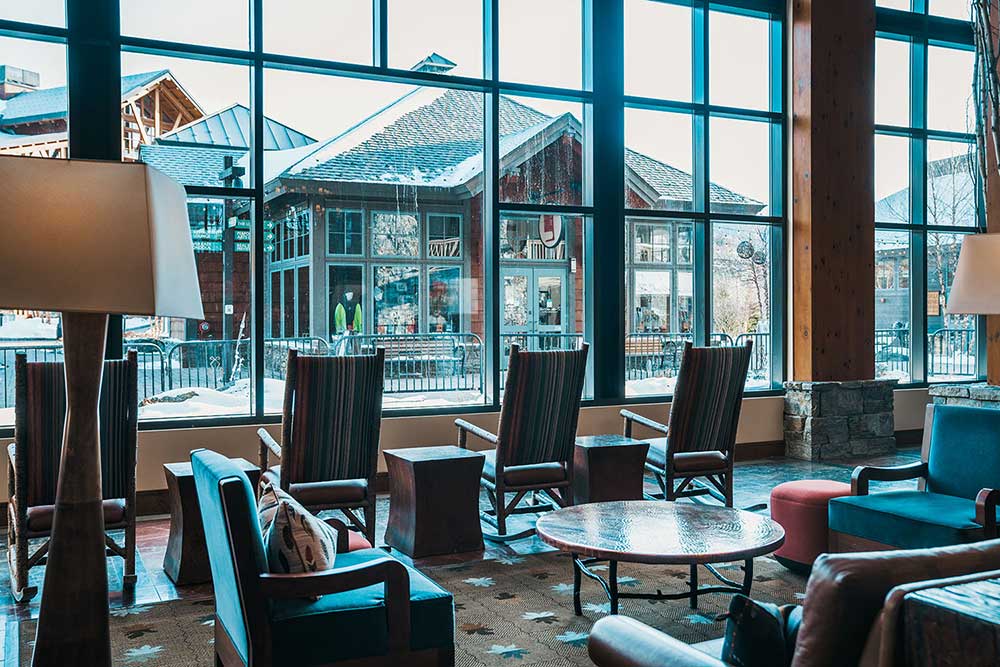 There are lots of great accommodation options in Stowe – it just depends what you're in town for!
Here's a quick overview of 4 hotels we recommend, but you can also check out our in-depth guide for where to stay in Stowe.
VRBO
For longer stays or group trips, your best bet is VRBO.
There are tons of gorgeous mountain cabins, roomy townhomes and modern condos in Stowe that you can rent. Most are within a 5 to 10 minute drive of the ski resort and downtown area, so they're really convenient and also affordable!
Browse VRBO rentals for your dates here.
ADVERTISEMENT
---
---
The Lodge at Spruce Peak
If you're visiting Stowe to ski or snowboard, stay here. It's a ski-in, ski-out hotel located right on the mountain, with both traditional hotel rooms and sites as well as multi-bedroom mountain cabins for groups.
It has multiple restaurants and dining options right on-site, from a coffee shop to the Whistlepig which serves fire-baked raclette cheese and great cocktails.
There's also lots of activities, like ice skating, snowshoeing, horseback riding and dog sledding!
Book rooms: Booking.com, Hotels.com | Check rates: TripAdvisor
ADVERTISEMENT
---
---
Trapp Family Lodge
Want to feel like you've been transported to Europe?
Check out the Trapp Family Lodge, an Austrian-inspired hotel located just outside of downtown Stowe. The famous Von Trapp family (from the Sound of Music) settled in remote Vermont after leaving Austria in World War II… and eventually opened this boutique hotel!
They have everything from traditional hotel rooms to 3 bedroom villas and pet-friendly lodging options as well.
Plus, the hotel has tons of on-site activities every day, from cross-country skiing to snowshoeing and backcountry skiing.
They even have a herd of Scotland cattle on their 2,500 acre property! I also recommend a visit to their Beerhall, where you can sip German beers and try schnitzel or a cheesy pretzel.
Book rooms: Booking.com, Hotels.com | Check rates: TripAdvisor
ADVERTISEMENT
---
---
The Best Things to Do in Stowe
The Green Mountain town of Stowe sits nestled in a cozy valley, where the West Branch River flows into the Little River.
Surrounded by mountains in all directions, the Vermont village is home to country inns, charming restaurants and some of the finest outdoor adventures to be had in New England. It's incredibly beautiful and a great place to get active in the cold winter months.
Here's everything to do in Stowe in winter!
Ski at Stowe Mountain Resort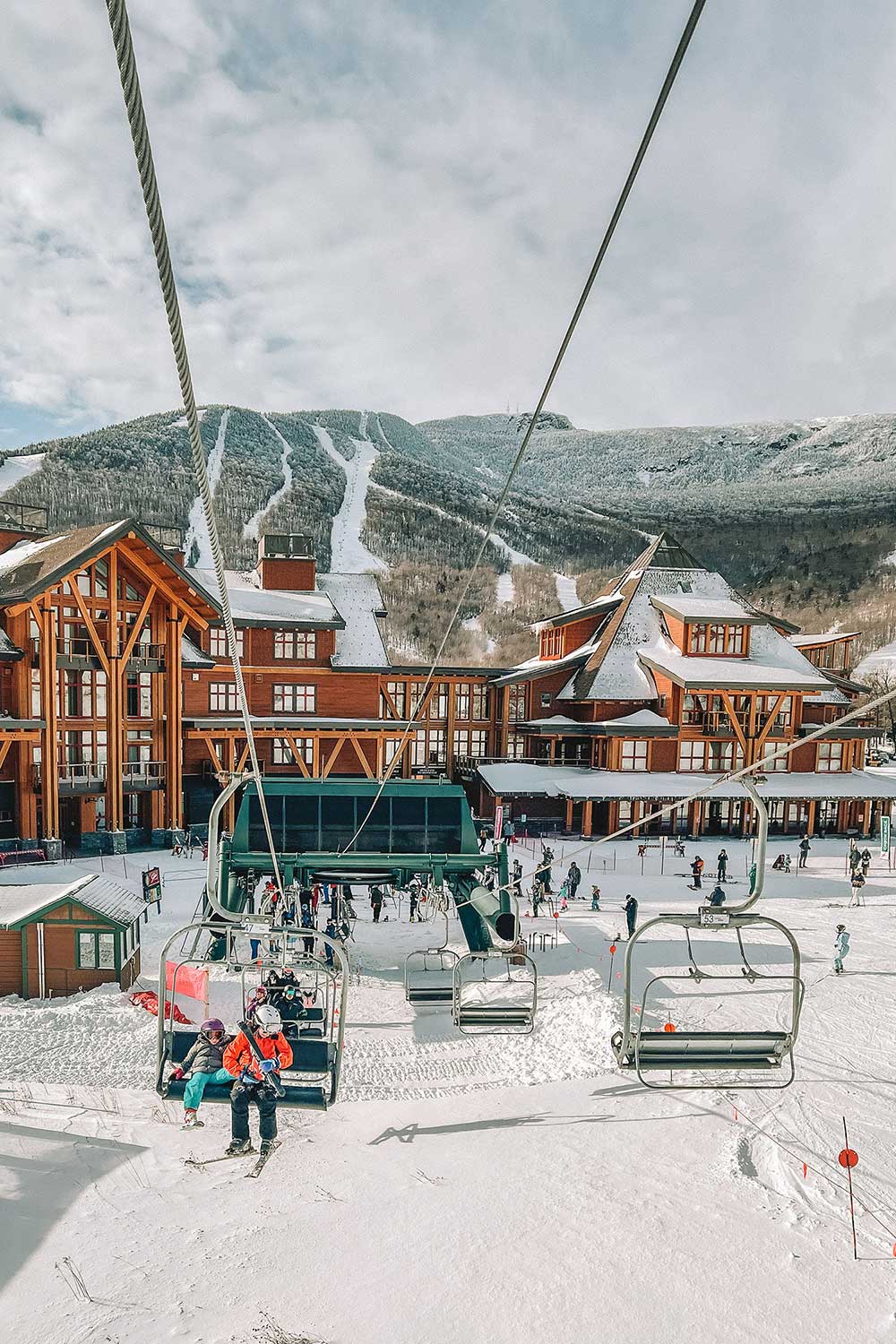 The obvious thing to do when visiting Stowe in winter?
Go skiing!
Home to the highest peak in Vermont, Mt Mansfield has a vertical drop of 2,360 feet and is most known for its adrenaline packed 'Front Four' runs: Starr, Goat, National and Liftline.
Skiing at Stowe Mountain Resort was the main reason we visited Stowe in December and it was a blast. There are 116 trails, backcountry ski options and a cute après-ski village.
Read more about planning a Stowe ski trip here, or what it's like skiing at Stowe as a beginner here.
ADVERTISEMENT
---
---
Stowe Ski Trip Video
I vlogged our Stowe ski trip!
If you want to see what it's really like visiting Stowe in December, around Christmas time, then check out the video on Youtube here, or watch below.
I included an overview of our house rental, taking lessons, downtown Stowe and all the restaurants we tried during our trip!
STOWE VERMONT VLOG: skiing for the first time, exploring downtown, restaurants + christmas decor
ADVERTISEMENT
---
---
Soak in the Apres Ski Scene at Spruce Village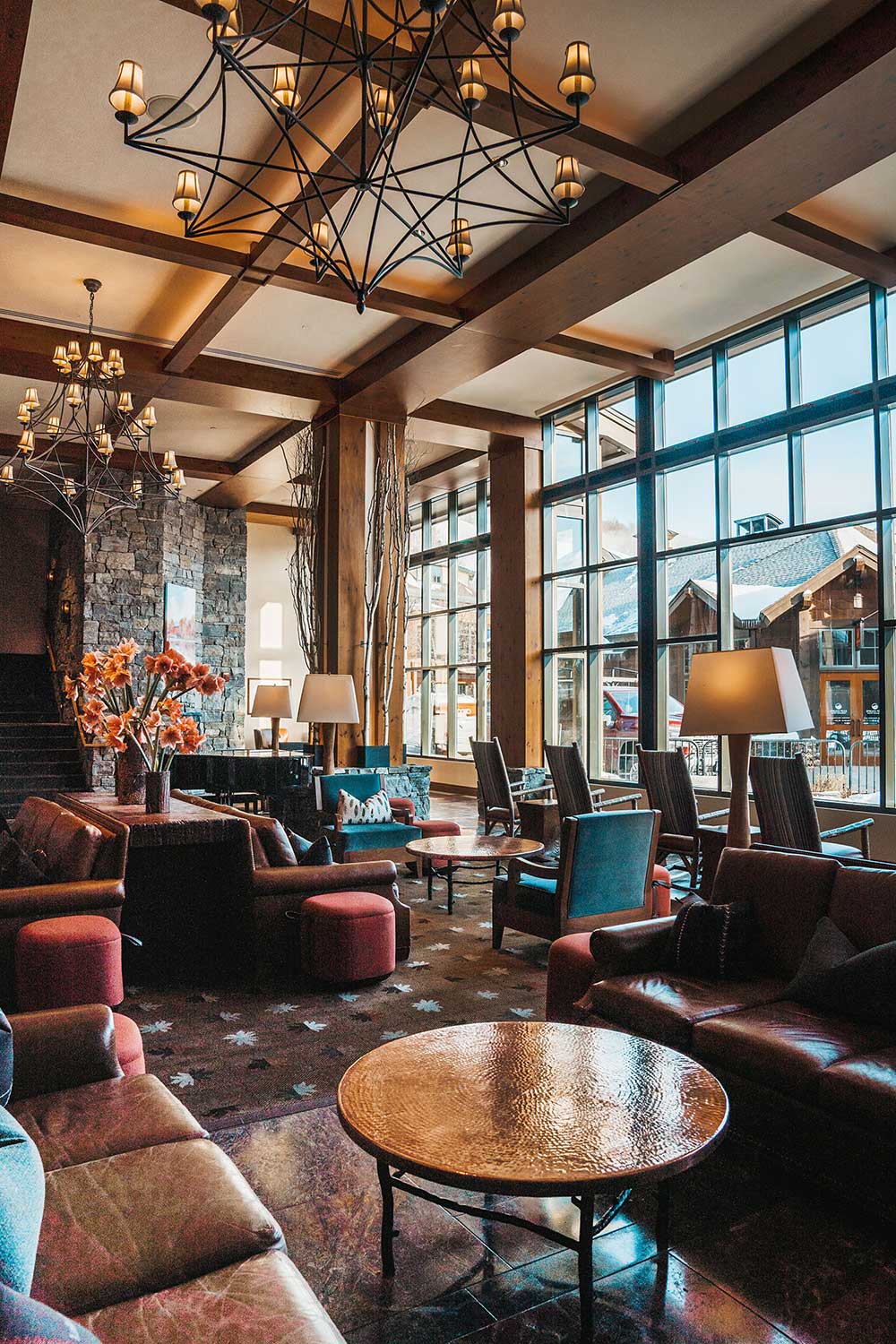 Enjoy skiing but love après-ski?
Then you'll love the cute après-ski scene at Spruce Village. Stowe Mountain Resort is composed of two mountains, Mt Mansfield (for the intermediate/advanced skiers) and Spruce Peak (for the beginner skiers).
The base of Spruce Peak is also home to one of the best après-ski options on the East Coast. It has tons of restaurants, bars and coffee shops to grab a bite after a long day on the slopes.
There's also the luxury ski-in, ski-out hotel The Lodge at Spruce Peak, a playground for kids and ice skating rink (free if you bring your own skates).
For shopping, there are a couple sportswear stores and even a wine cellar for wine tastings.
ADVERTISEMENT
---
---
Explore Downtown Stowe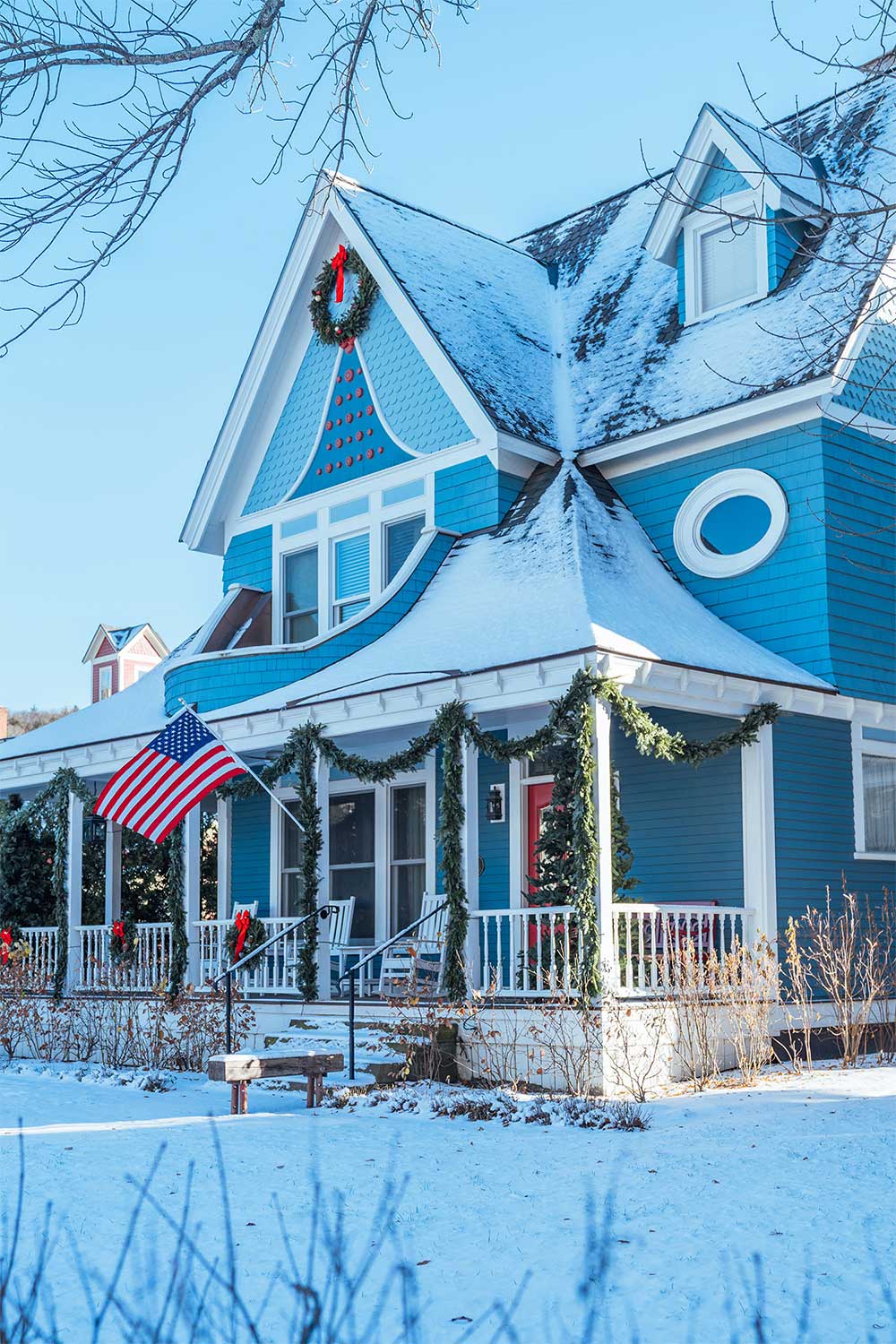 Downtown Stowe is really cute.
It frequently tops 'Best New England Town' lists and even in winter, is incredibly beautiful. Surrounded by a dense forest and set at the base of Mt Mansfield, downtown Stowe has a ton of cute shops, restaurants and hotels.
It's a pretty compact village too, with one main street. The houses here are painted in various pastel colors and look like storybook cottages straight out of a fairytale.
Look out for Stowe Community Church, a gorgeous white church in the center of downtown Stowe. You can't miss it – the church tower rises 175 feet high, serving as a guidepost for downtown's main strip.
The historic building is also one of the oldest non-denominational churches in the country and you can even stop by for Sunday service.
If you visit Stowe in December, you'll see the town all decorated for Christmas too!
ADVERTISEMENT
---
---
Go Shopping
Stowe's downtown center is home to a number of quaint boutiques. Here's a couple that I loved visiting: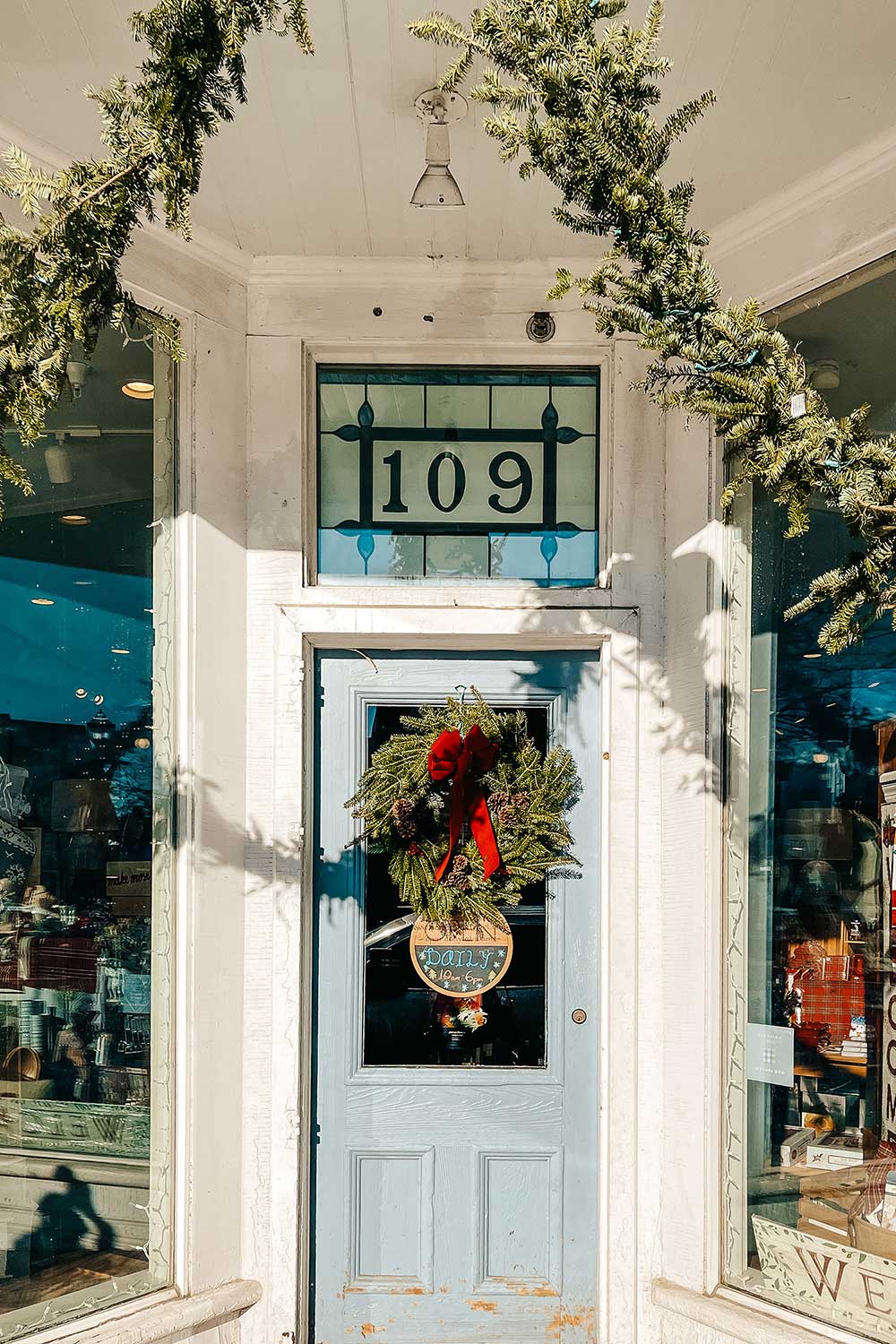 Stowe Mercantile – a cute trading post selling everything from old fashioned candy to toys and kitchen products.
Try grabbing some wine and cheese to enjoy in your hotel room or have a winter picnic!
Shaw's General Store – both touristy tees and sweatshirts and warm winter boots, sweaters, gloves and hats
Bear Pond Books – a cute bookstore inside an Old Depot, with tons of books (including Vermont focused ones!)
ADVERTISEMENT
---
---
Tour The Alchemist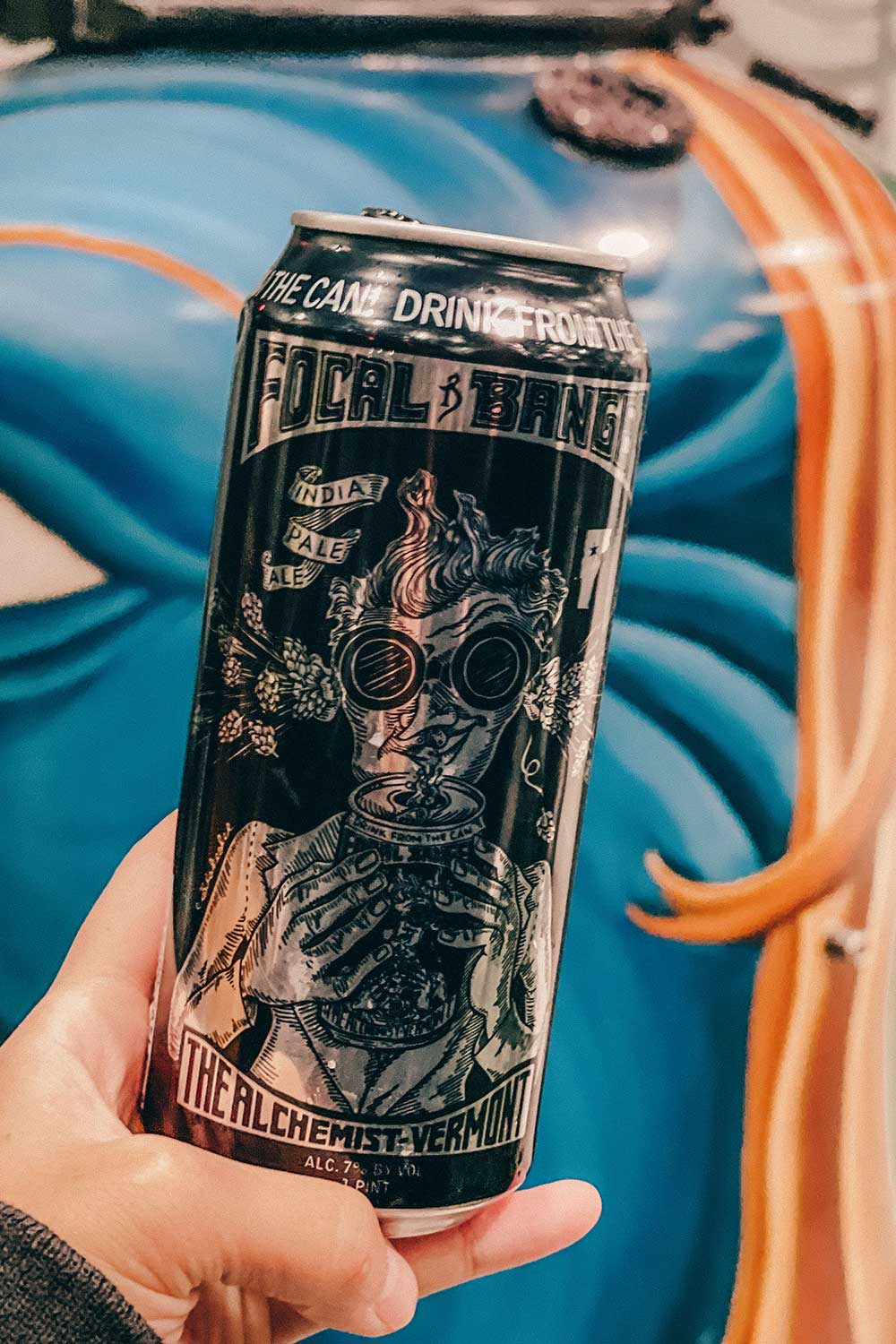 Vermont is famous for its breweries, and one of the state's most legendary beers was created in Stowe!
Local favorite The Alchemist is a microbrewery specializing in the Heady Topper, a double IPA. The brewery offers tours of its new solar-powered building, with an in-depth overview of their beer production process and tastings!
Personally I thought the Heady Topper was a bit bitter.. but they have a number of other brews that you can also try!
If you love craft beers, check out my post on Stowe's best breweries.
ADVERTISEMENT
---
---
Visit Von Trapp Brewery & Bierhall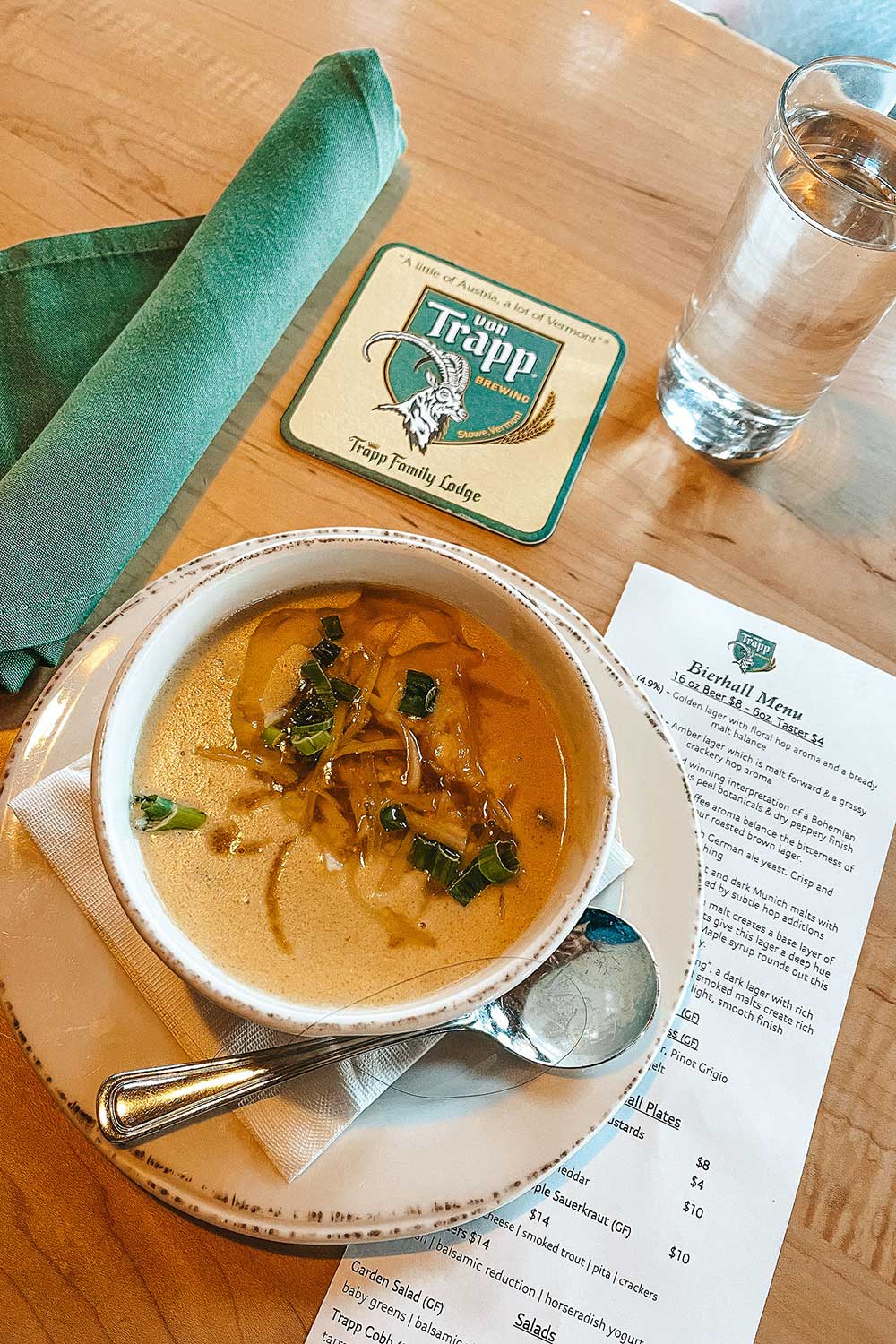 Another great brewery to check out while you're in Stowe is the Von Trapp Brewery!
Created by the Von Trapp family (made famous in the Sound of Music) and located right near the Von Trapp Family Lodge, the brewery is a beautiful space to sit back, relax and grab a bite.
The bierhall was inspired by the Augustiner-Brautheir Bierhall in Salzburg and bring a bit of Europe to Vermont. Instead of focusing on IPAs like most places in town, the Von Trapp Brewery offers a selection of Bavarian beers.
You can also buy beers to go!
Make sure to try one of their homemade German pretzels and beer cheese dip if you visit.
ADVERTISEMENT
---
---
Shop at Stowe Craft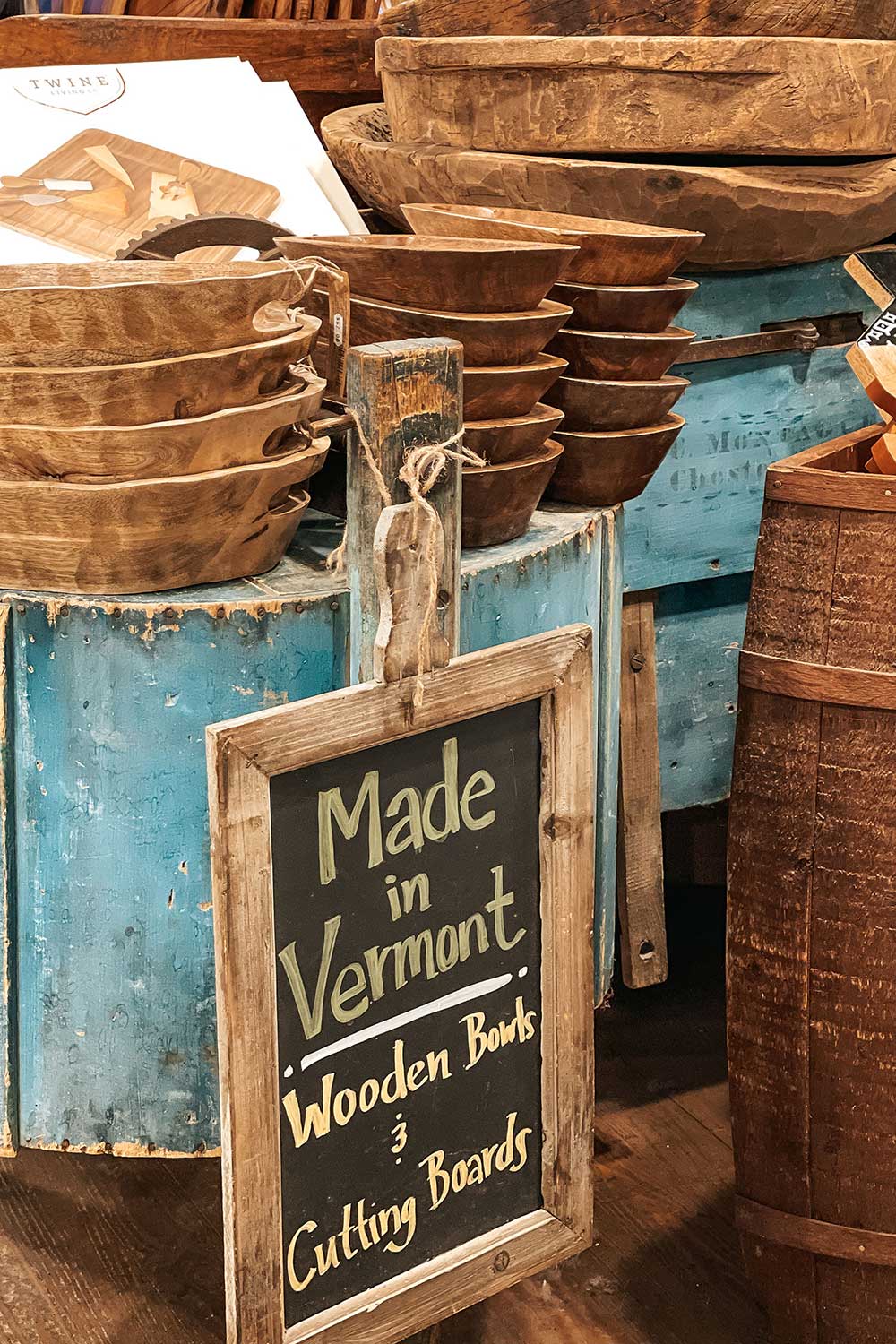 Downtown Stowe has a number of art galleries and craft shops, all featuring unique products made from local artists.
If you're looking for a unique gift, make sure to check these out!
ADVERTISEMENT
---
---
Have a Tasting at Stowe Cider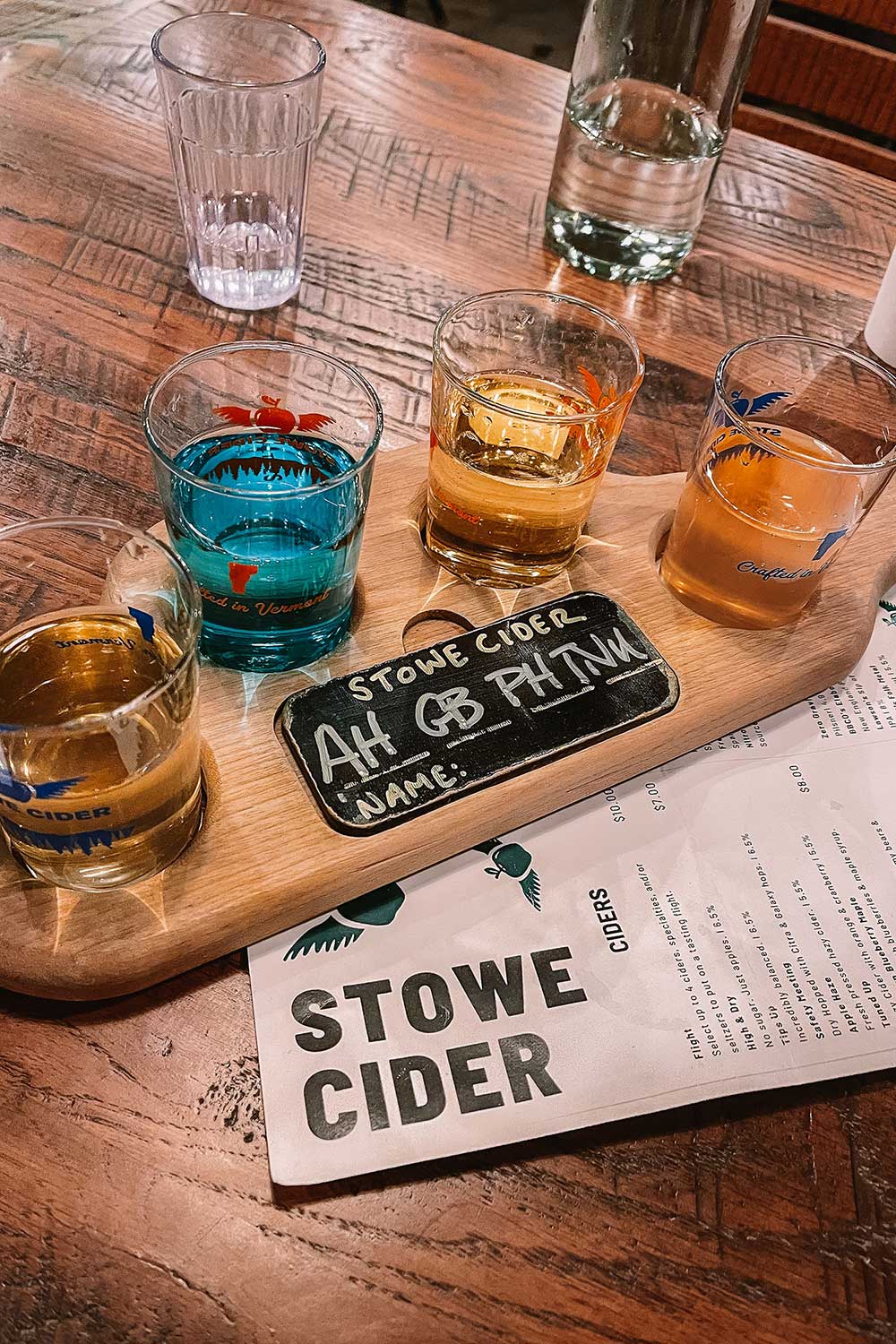 I prefer hard cider to beer, so one afternoon we went for a tasting at Stowe Cider.
The warehouse-like facility produces Stowe's homegrown cider and offers tons of options, with over 18 taps!
We grabbed a hard cider flight and sat back to enjoy a live band performing.
It's a great casual spot in town.
ADVERTISEMENT
---
---
Walk Through Stowe Recreation Path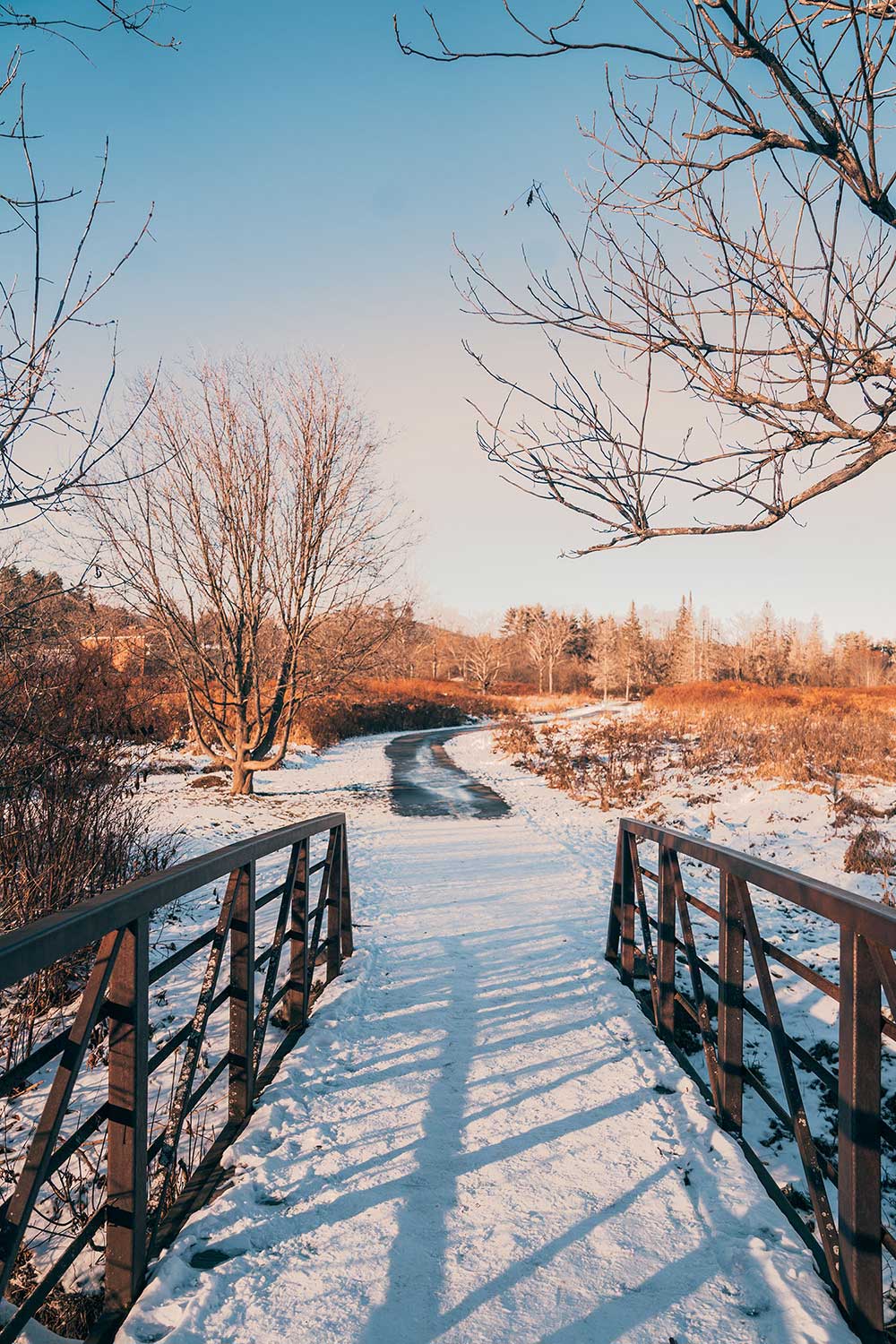 Looking to stretch your legs?
Go for a leisurely walk down Stowe Recreation Path, a 5.3 mile greenway that winds all through town. The public path is completely paved and easy to walk on, and quite convenient to get to.
It starts right in historic Stowe Village and ends at a beautiful covered bridge.
ADVERTISEMENT
---
---
Take a Day Trip to Waterbury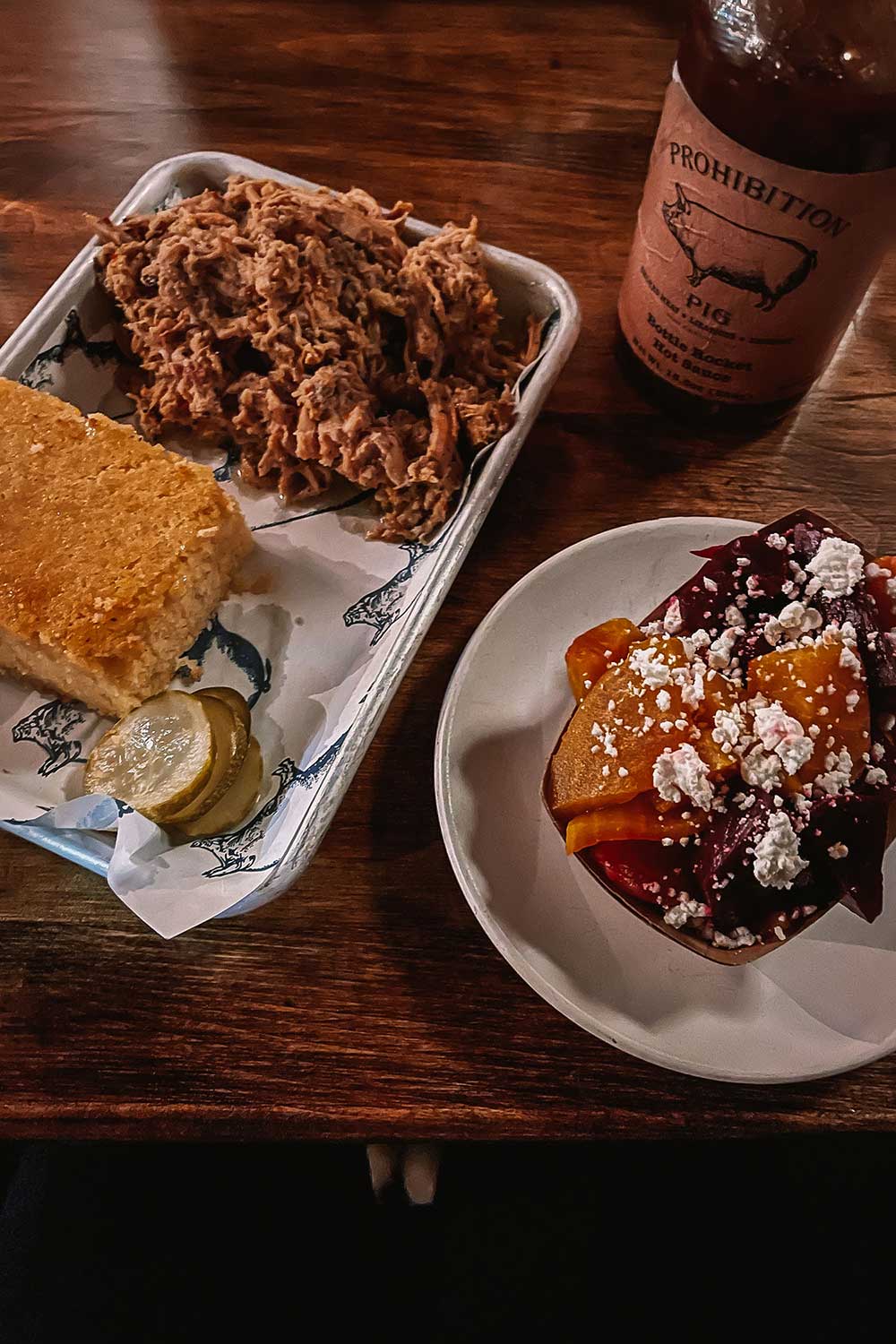 The nearby town of Waterbury is only a ~30 minute drive from downtown Stowe and has a similar, quaint downtown village filled with shops and restaurants.
Grab dinner at Prohibition Pig and walk through main street!
ADVERTISEMENT
---
---
Visit the Ben & Jerry Ice Cream Factory
While you're in Waterbury, also stop by the Ben & Jerry's Ice Cream Factory.
You can tour the factory and learn about how founders Ben Cohen and Jerry Greenfield created their eponymous ice cream company out of an abandon gas station in Burlington back in 1978.
Behind the factory, there's a cute mock cemetery holding the graves of flavors that have been discontinued and laid to rest.
Make sure to grab a few scoops at their scoop shop too! It's never too cold out for ice cream ;)
ADVERTISEMENT
---
---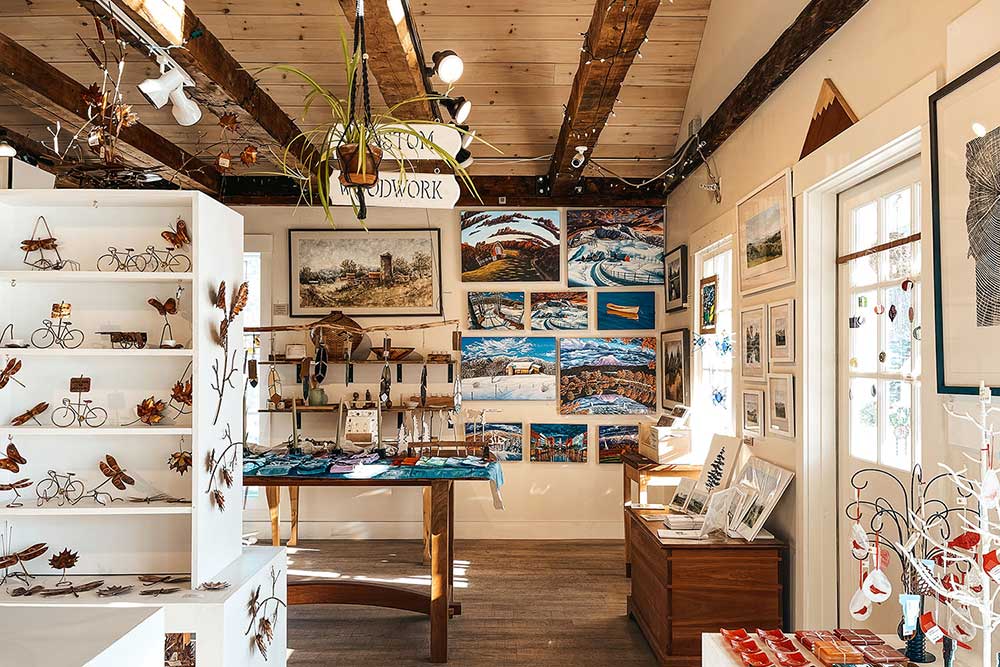 Explore Helen Day Art Center
If you love art, check out this community art center in the heart of Stowe village. It has a rotating mix of both traditional and avant-garde work.
Ride the Stowe Gondola
Looking for a great view?
Ride the famous Stowe Gondola, which takes you to the top of Mount Mansfield! The gondola rises 3,625 feet above elevation to the top of Vermont's highest view. And while you're there, you can stop for lunch at Cliff House restaurant or grab dessert at The Waffle.
The gondola is open from December 24th to April 3rd when weather permits.
ADVERTISEMENT
---
---
Spend an Afternoon at the Vermont Ski & Snowboard Museum
Get a better understanding of the history of downhill and cross-country skiing and the birth of snowboarding at this quaint museum.
Located in the 1818 Old Town Hall, the Vermont Ski & Snowboard museum chronicles the evolution of winter sports in Vermont through vintage skis, snowboards, memorabilia, art and photographs.
It also hosts the Hall of Fame Induction each year!
ADVERTISEMENT
---
---
What to Pack for Stowe in Winter
Vermont can get pretty cold in winter. During our trip, the temperature ranged from 5 to 30 degrees and it snowed frequently.
So make sure to pack warm winter clothes, like well-insulated snow boots, wool sweaters (with at least 40% wool content) and top + bottom base layers.
Amazon Winter Fashion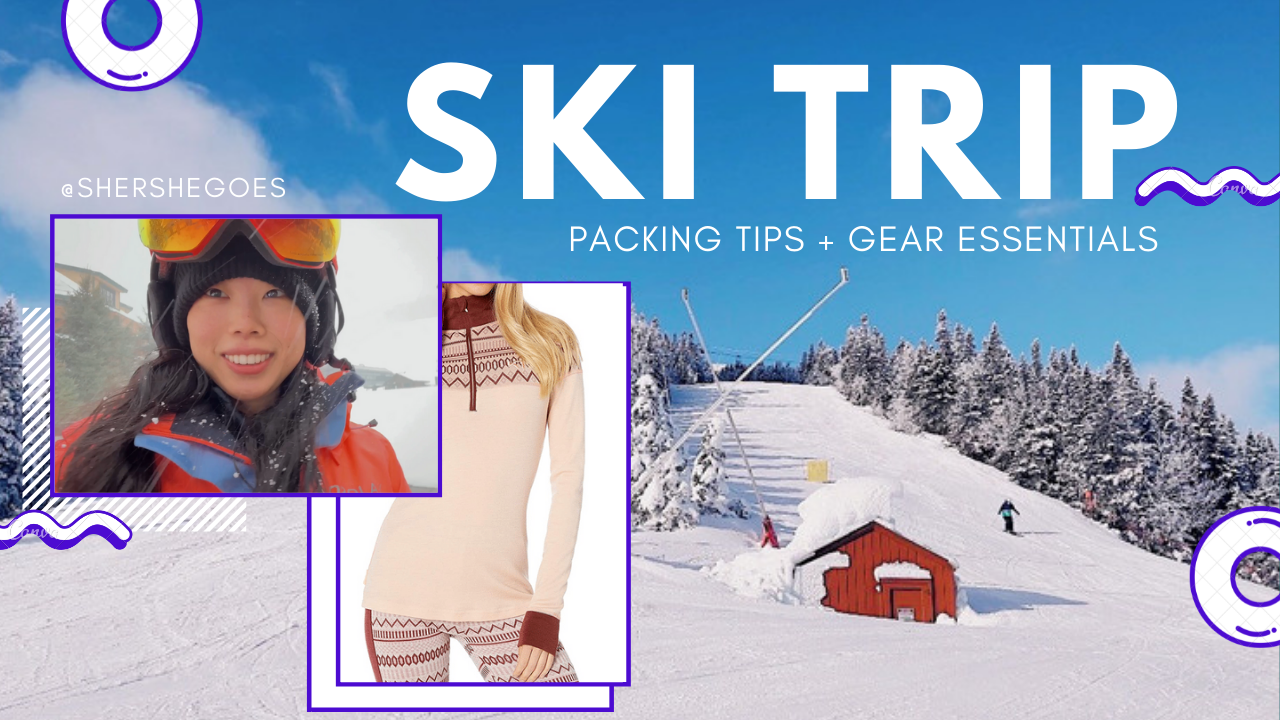 I also did a livestream on Amazon Live chatting all about dressing for the cold.
I talk about winter fashion essentials, ski gear and cute (but affordable) ski clothes that you can shop on Amazon! Watch a recap of the video here.
Make sure to follow my Amazon shop page to join future livestreams!
ADVERTISEMENT
---
---
Our winter getaway to Stowe was so much fun! It snowed several times on our trip, blanketing the Green Mountain town in a carpet of powdery white snow.
Have you visited Stowe in winter? Let me know your tips and favorite spots in the comments!
Read More: in our vermont travel series:
Stowe, Vermont
The Best Things to Do in Stowe
Where to Stay in Stowe: Boutique Hotels, Charming Inns + B&Bs!
Where to Eat in Stowe
A Guide to Shopping in Stowe
The Best Breweries in Stowe
Skiing in Stowe
10 Tips to Plan the Ultimate Ski Trip to Stowe
Skiing in Stowe, Vermont (Youtube Vlog)
My First Time Skiing in Vermont
The Best Stowe Ski Resorts
Ski Trip Packing Tips
What to Wear Skiing: Packing List Must Have's
The Best Ski Pants for Women (Stylish & Functional)
The Best Ski Clothes on Amazon (Livestream)
Follow me @Sher She Goes on