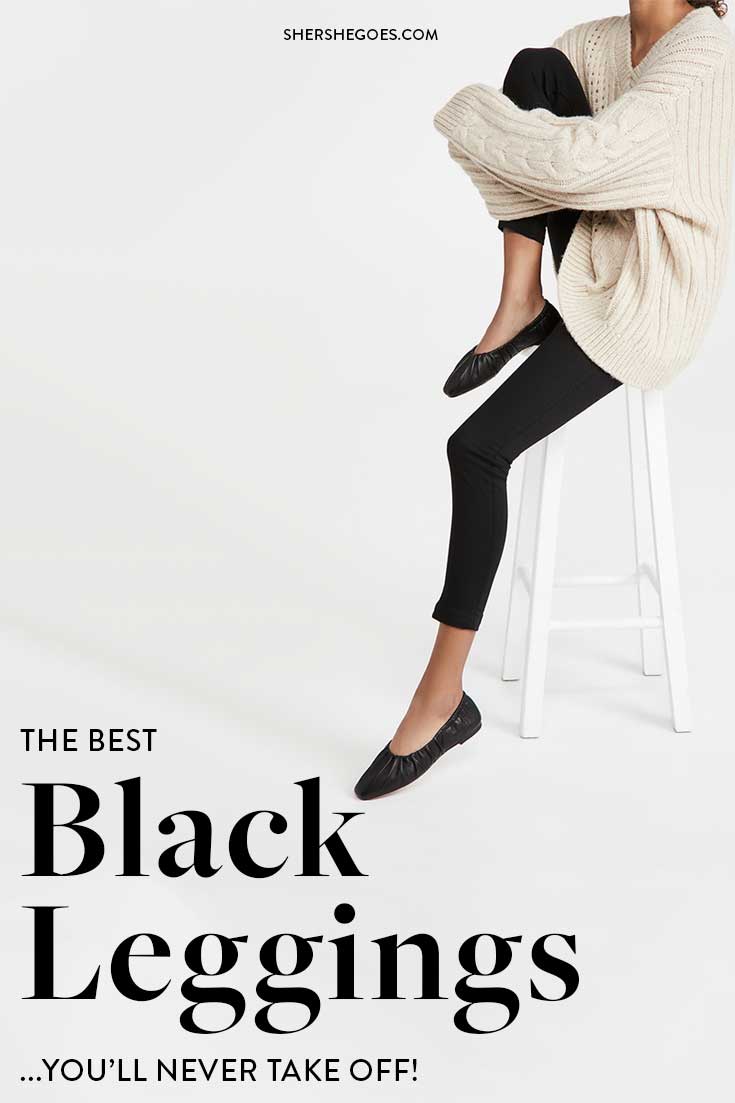 Thank you to Zappos for sponsoring this post.
Best Black Leggings
If you're like me, the global pandemic has restricted your daily activities to mastering Zoom, redesigning your bedroom for the millionth time, actually making sourdough bread for real this time, and working out.
For me, working out is by far the most rewarding of these activities! Unfortunately with all that working out comes the need for more and more cute workout clothes.
Well.
Technically I've been working out at home, so no one can see me….but I still love the extra motivation that comes with buying cute activewear.
And what better place to start shopping for cute activewear than black leggings? Reliably stylish, low-maintenance, and versatile, the best black leggings perfectly punctuate any casual outfit!
Keep reading for our 4 favorite black leggings for women!
Keep reading, or pin this article to save it for later ⇟
The Best Black Leggings
Check out the best black leggings to bolster your wardrobe with the time's safest, sleekest, and most stylish fashion staple!
Best Black Leggings for Women
---
---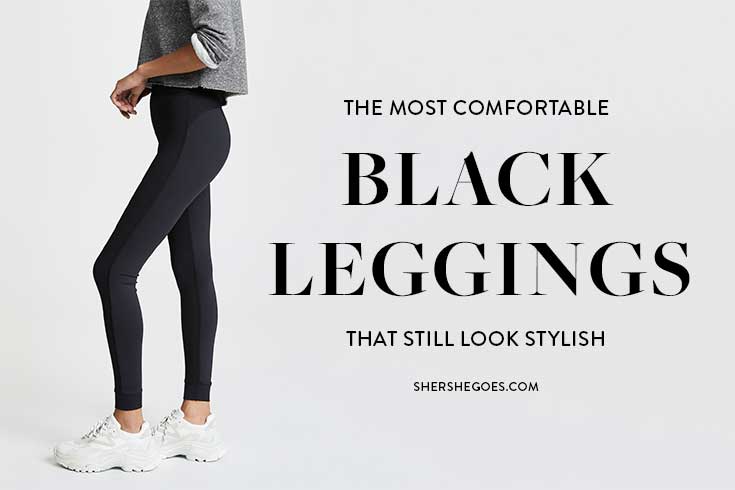 Black Leggings for Women
Best Cotton Black Leggings: Yummie
Most hardcore workout leggings should heavily or entirely feature synthetic fabrics as these are generally breathable, odor-resistant, and highly durable.
However.
For the best black leggings that are simply masquerading as workout clothes, definitely prioritize comfort and opt for cotton.
Featuring a super comfortable cotton fabric, these black leggings from Yummie are made even better by the subtle shaping that slims everything between your tummy and ankles!
---
---
Best Performing Black Leggings: ALO
As your workout regimen becomes more serious so, too, should your investment in high-performing workout gear!
Easily among the best black leggings for working out, the ALO pants feature everything a fitness freak needs including anti-bacterial and breathable synthetic fabric, enhanced 4-way stretching for maximum comfort, and a sleek matte pattern that will look great whether you're running laps or errands!
---
---
Most Comfortable Black Leggings: Spanx
If you have the confidence to name your black leggings the "Perfect Black Pant", you must be certain that the black leggings you've created are, like, at least decent.
Well, as it turns out, Spanx may just have perfectly christened these amazing black leggings for women.
Combining the comfortable pull-on fit of workout leggings with the smoothing fabric and booty-lift cut of normal pants, the Spanx black leggings provide an uncommon amount of versatility to your workout wardrobe!
---
---
Most Fashionable Black Leggings: Commando
It would be easy to believe the best black leggings are limited to workout clothes. Sadly, believing this would overlook an incredibly diverse range of black, skin-tight pants.
Chief among traditional black leggings' most overlooked cousin is the faux leather legging. More durable, comfortable, and environmentally friendly than its full leather variant, faux leather leggings are the classic athleisure pant that makes everyone wonder whether you are coming off an intense workout, simply going out for coffee, or getting dressed for the nightclub.
Featuring a simple but striking design, the Commando pants are the perfect launchpad for your faux leather leggings collection!
---
---
Read More in my favorite Comfy Shoe series:
Most Comfortable Shoes
The Most Comfortable Flats EVER
The Most Comfortable Sandals for Summer
The Most Comfortable Heels (you can actually walk in)
Everlane Flats - These 5 Pairs are Extra Comfortable
OluKai Shoes: Sneaker & Sandal Review
Best Sneakers
The Best White Sneakers that Go with EVERYTHING
Cute Casual Sneakers to Wear Anywhere
Cozy At Home Shoes
Travel Packing List
The Essential Business Packing List
The Best Packing Cubes for a Perfectly Organized Bag
The Best Carry on Luggage for 2020
Designer Inspired
The Best Cap Toe Ballet Flats to Get the Chanel Look, for Less
Classic Chanel Inspired Slingbacks (Two Toned)
The Best Chanel Inspired Espadrilles to Rock All Summer
The Best Manolo Blahnik Lookalikes
The Best Over the Knee Boots that Rival Stuart Weitzman Lowlands!
Follow Sher She Goes on
Youtube | Instagram | Facebook | Twitter | Pinterest | Bloglovin