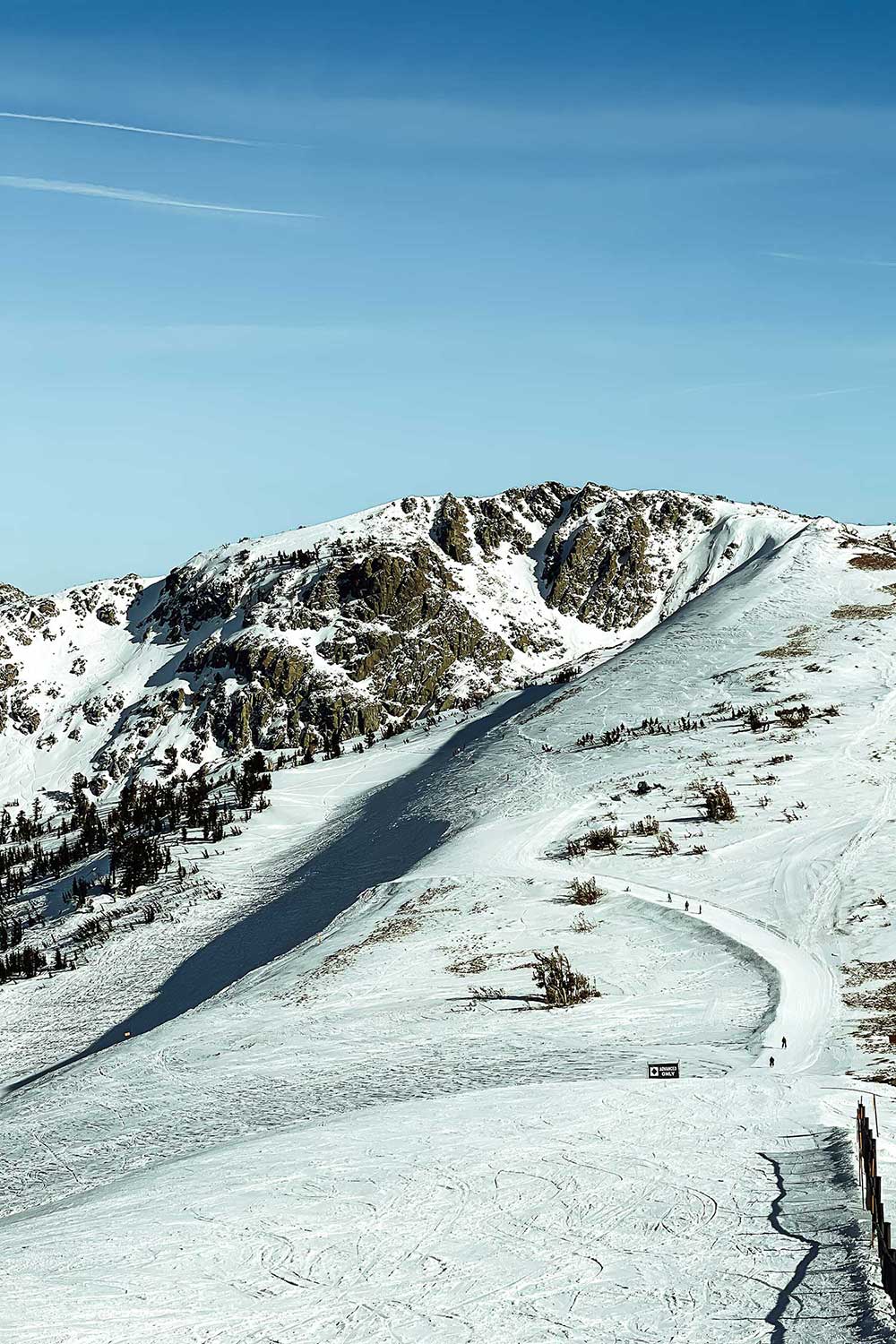 shop my favorite ski looks here
Kirkwood California
After I got back from nearly 3 weeks in Lake Tahoe, I couldn't be happier with how our ski trip turned out!
I don't think I can ever go back to East Coast skiing now, ha.
Since we had the Epic Pass and plenty of time on our hands, we bopped around between Vail's 3 ski resorts surrounding Lake Tahoe – Heavenly, Northstar and Kirkwood.
I've written recaps of the first two ski resorts here and here (and vlogged everything as well!) so today's post will focus on Kirkwood.
Every mountain has its own charm and Kirkwood is the place to go for those who like a challenge!
Perched atop the Sierra Crest at a base elevation of 7,800 feet, Kirkwood is the highest ski resort in the region and has the ideal snow conditions to match.
Tucked away from the crowds of Lake Tahoe, only those in the know tend to ski at Kirkwood. And the resort you've probably never heard of has a lot to offer – light, dry powder, 2,300 skiable acres and challenging terrain.
If you're an expert skier or snowboarder, you'll find lots to love at Kirkwood!
ADVERTISEMENT
---
---
Quickly jump to a section:
Keep reading, or pin this article to save it for later ⇟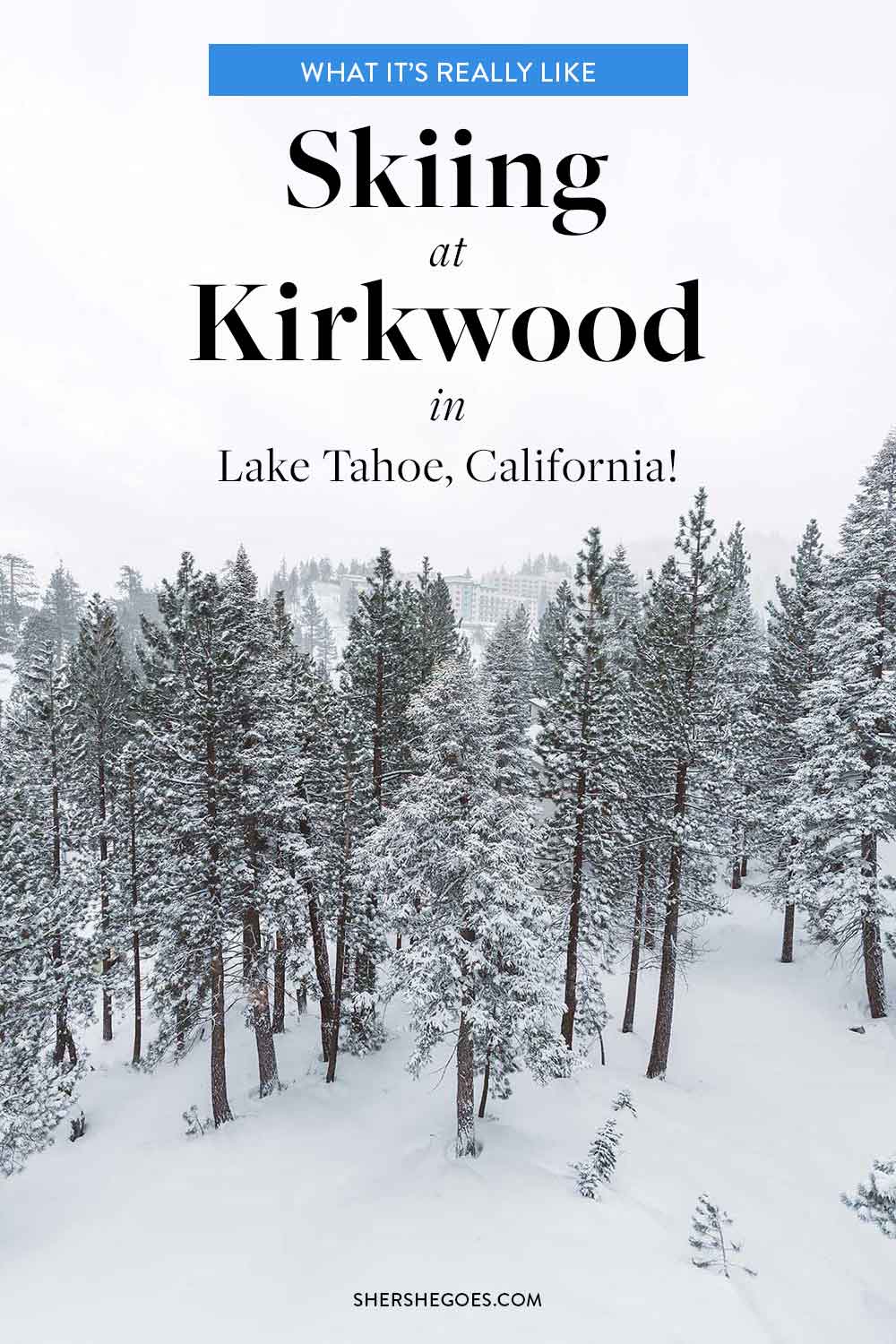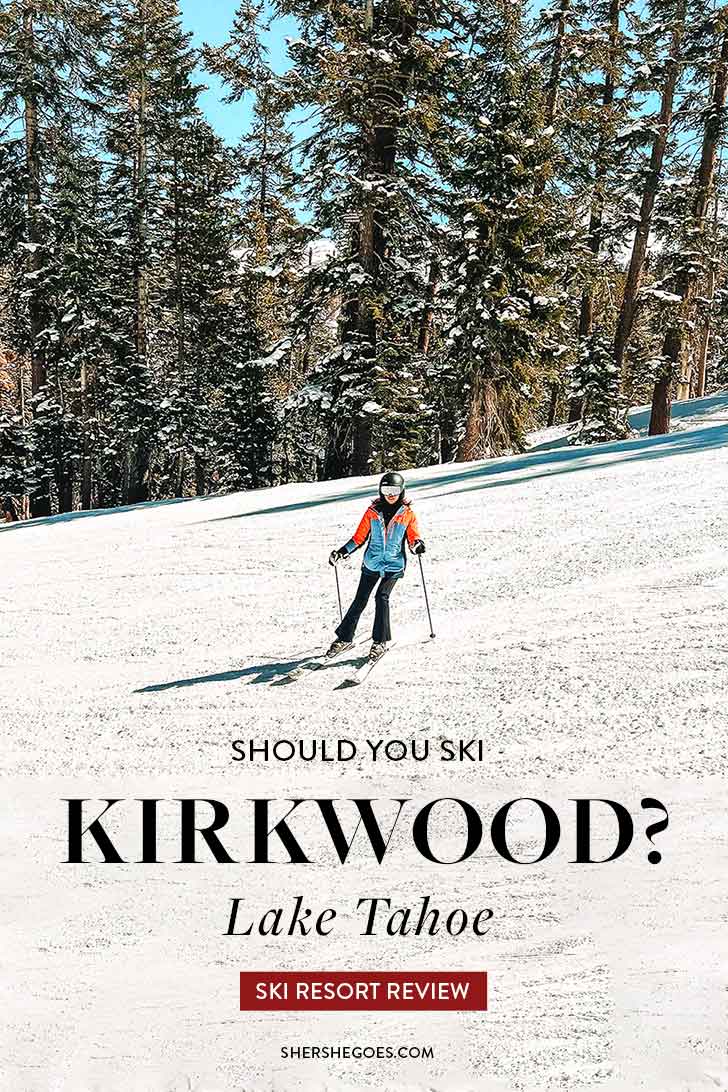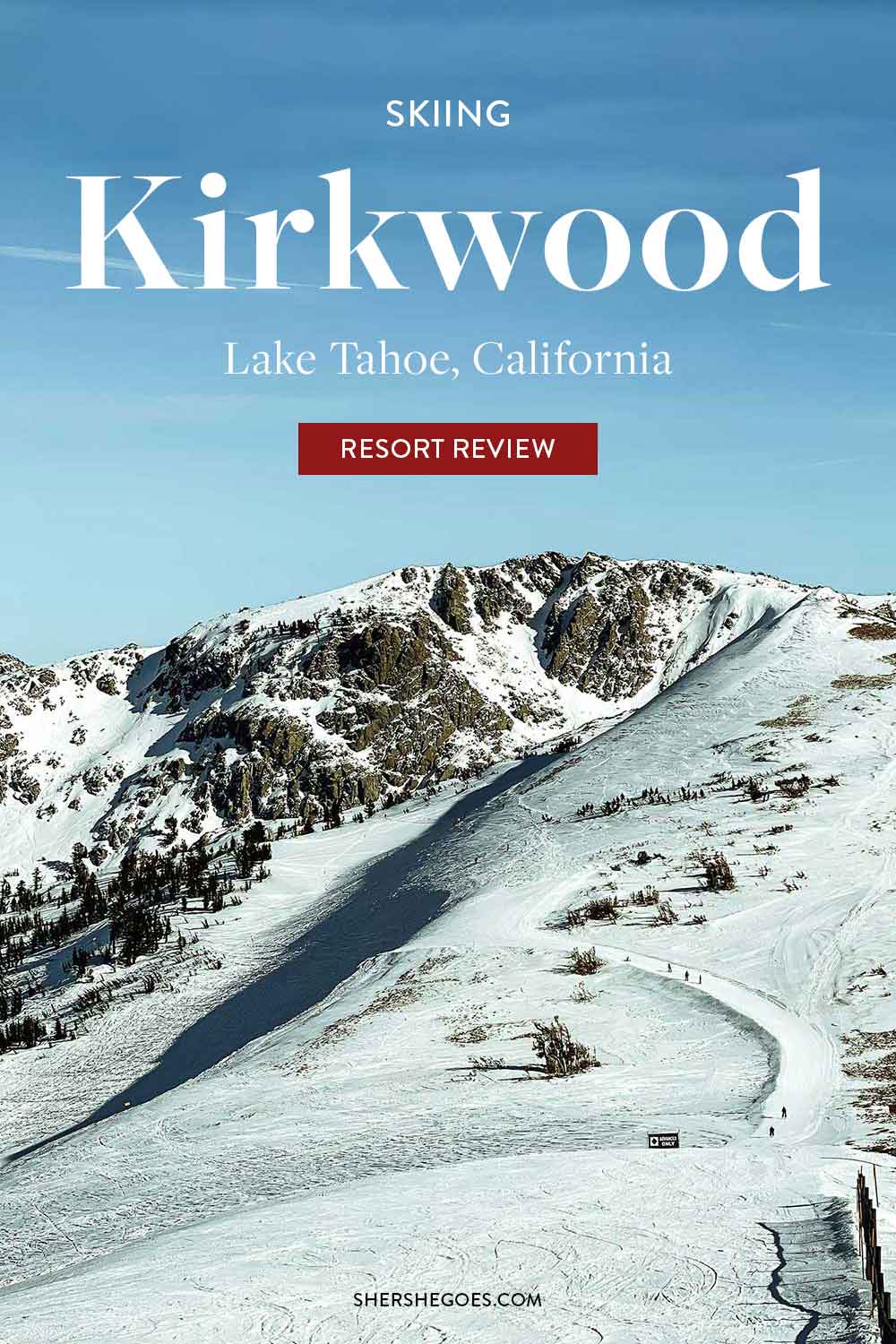 ADVERTISEMENT
---
---
.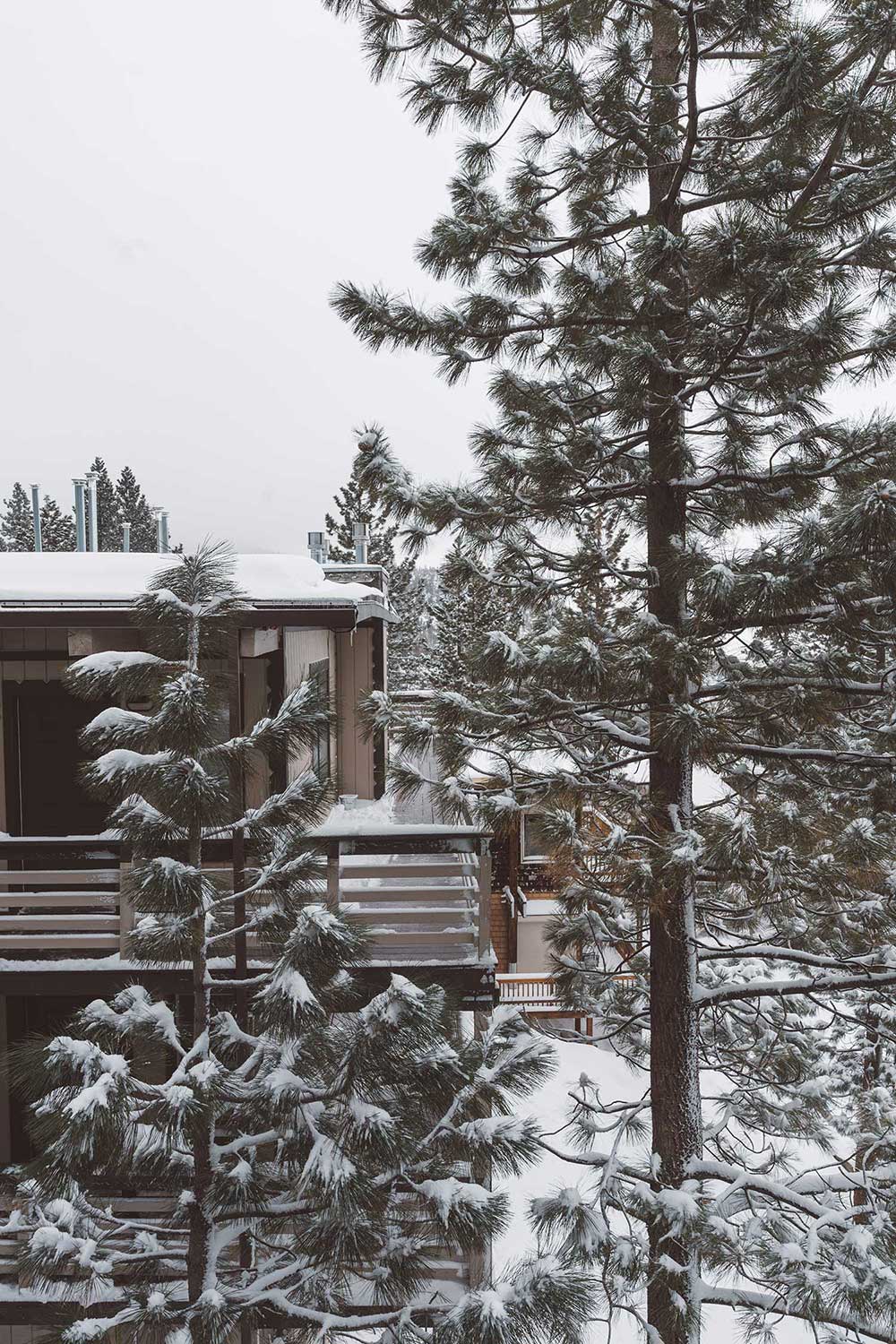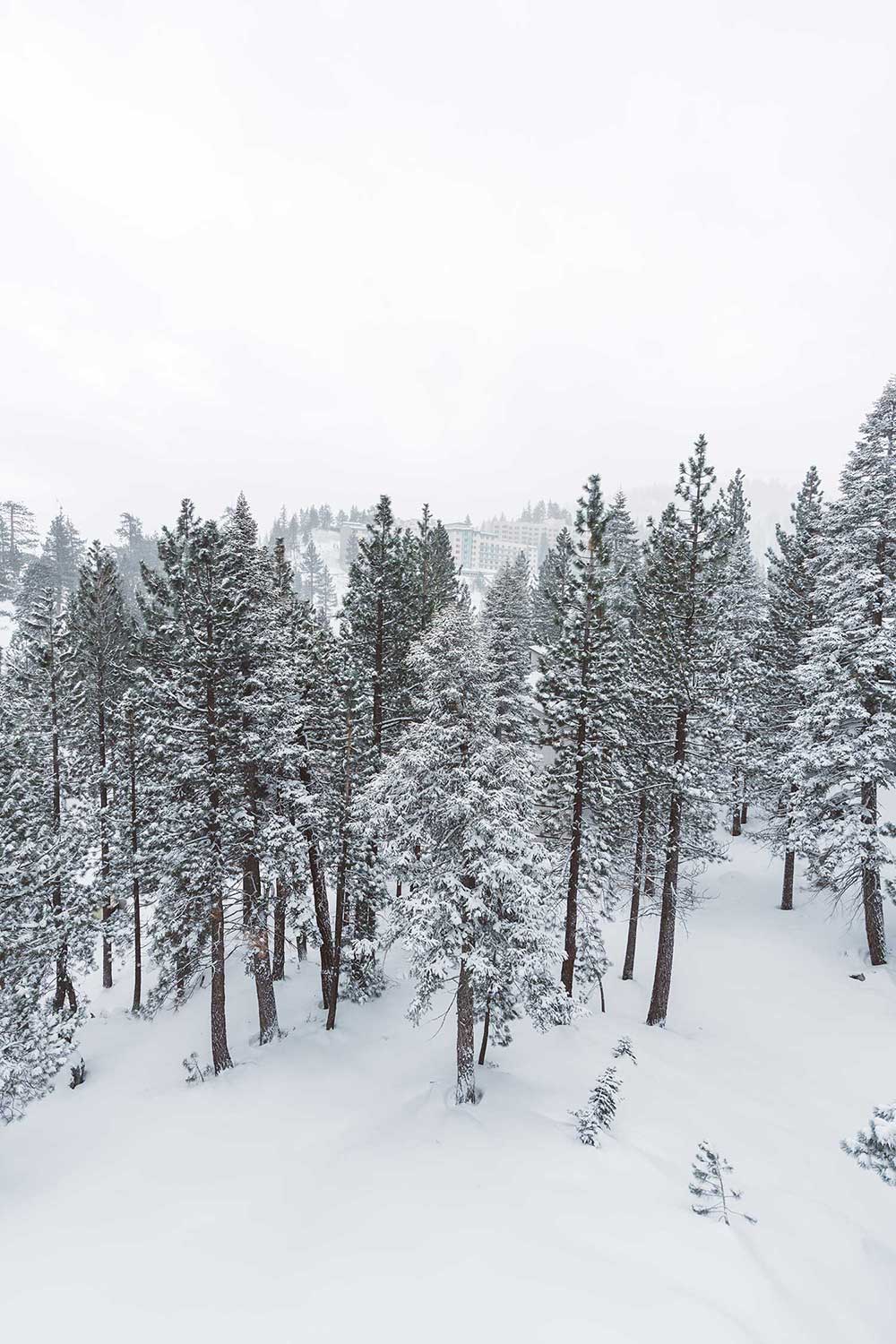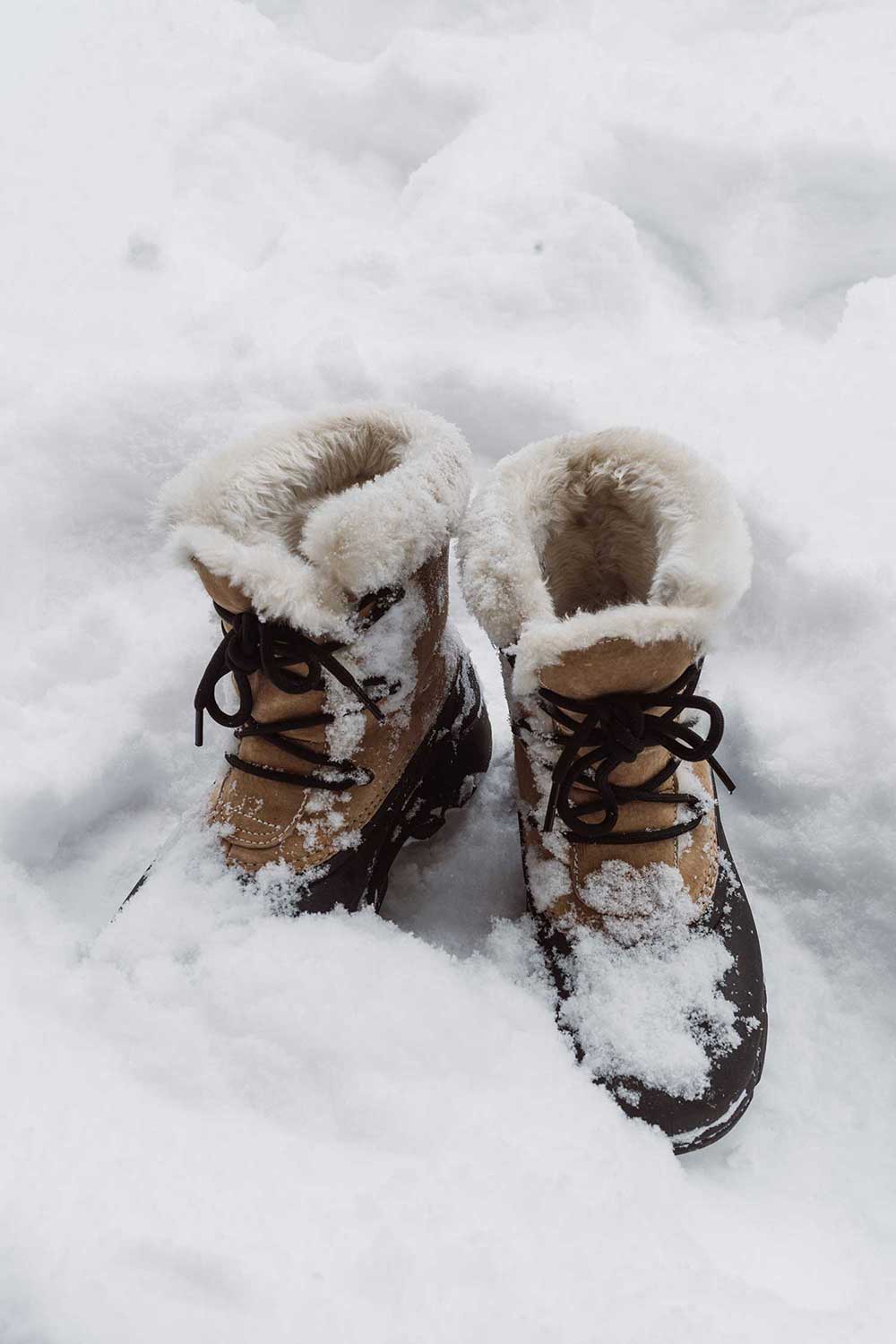 Lake Tahoe in Winter
Lake Tahoe is beautiful in the winter.
Nestled 6,000 feet above sea level in the Sierra Nevada mountains, the turquoise blue lake never freezes, despite receiving an average 215 inches of snowfall each year!
In fact, the lake receives so much snow that it's often measured in feet, not inches!
At the same time, Lake Tahoe averages 300 days of sunshine a year. So skiing and snowboarding around Lake Tahoe is often a surreal combination of deep powder and sunny blue skies!
Due to its geography, Kirkwood has some of the best conditions among all the ski resorts in and around Tahoe. With the highest elevation and record levels of snowfall every year, Kirkwood has earned a reputation for light, dry powder and fun challenging terrain.
ADVERTISEMENT
---
---
.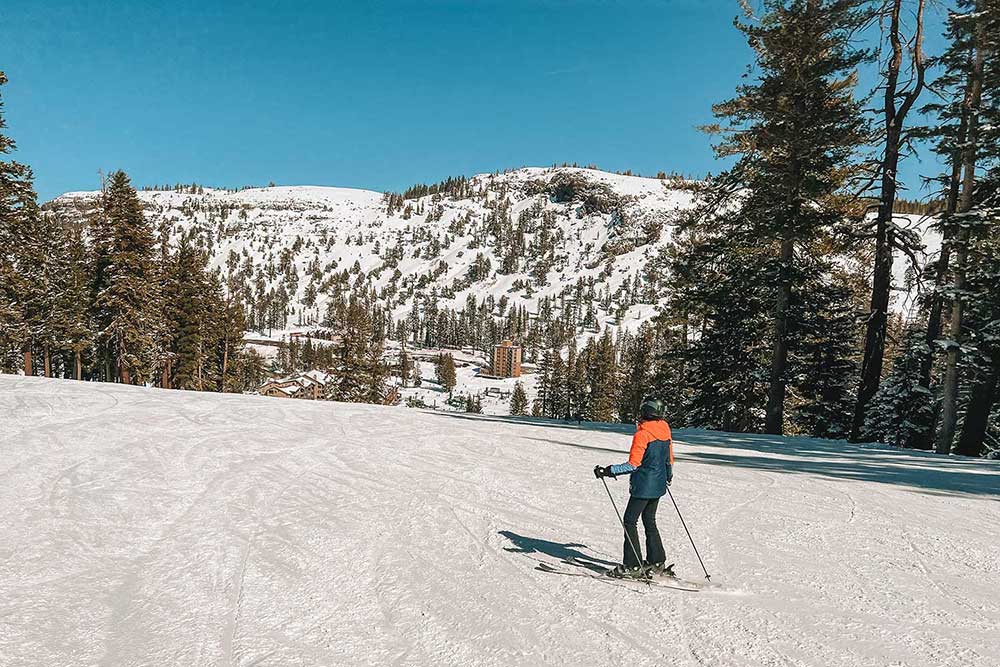 Skiing in Lake Tahoe
Lake Tahoe is home to the most concentrated number of ski resorts in America (a whopping 11!).
There's Palisades Tahoe (formerly known as Squaw Valley and host of the 1960 Winter Olympics), Sugar Bowl (a picturesque resort located on Donner Summit), Mt. Rose (a great place for advanced skiers) and many more.
It's hard to narrow down which ski resort to visit first, but if you have the Epic Pass, there are 3 Vail-owned resorts around the lake that you can hop between.
Vail's Tahoe trifecta includes:
Heavenly: famous for its two state skiable terrain and views of Lake Tahoe
Northstar: the most luxurious ski resort in the area, with a quaint village at the base, great for families
Kirkwood: a favorite mountain for locals, due to its more challenging terrain and back bowls
Each resort offers something slightly different!
ADVERTISEMENT
---
---
.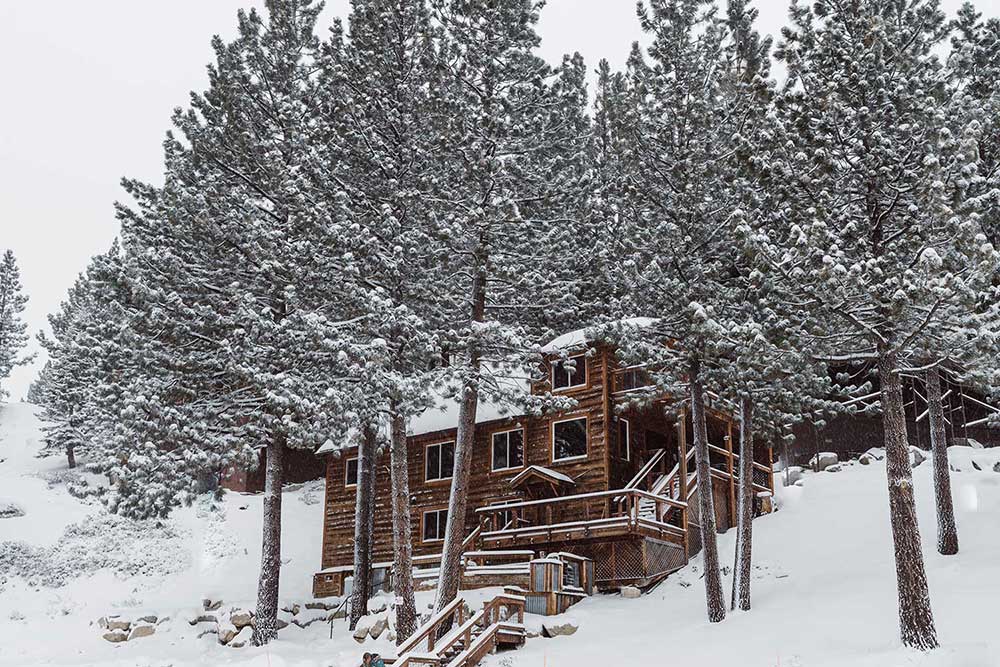 Getting In
Kirkwood is located an hour's drive south of Lake Tahoe. It's a popular ski resort for people living in the Bay Area, since the mountain is about a 3-4 hour drive from San Francisco.
Flying to Tahoe
Lake Tahoe spans two states – California and Nevada.
The two closest major airports are San Francisco International (SFO) and Reno-Tahoe International Airport (RNO). Coming from NYC, we flew in to SF and then flew out of Reno.
Since Kirkwood is about 55 miles south of Lake Tahoe, another airport option is Sacramento International Airport (SMF) about a 2 hour drive.
ADVERTISEMENT
---
---
All are convenient options and have their pros and cons!
San Francisco tends to have a lot more flight options and cheaper fares. But, you'll need to rent a car and drive about 4 hours to reach Tahoe. Reno is much closer to Kirkwood, about a 90 minute drive, and also is an hour shorter flight route back to New York.
But, Reno is quite a small compact airport.
During our trip, there was only one nonstop flight option each day, a red-eye on Jet Blue that departed at midnight. We noticed Reno airfare is also a bit more expensive.
I recommend setting a flight alert and comparing your options!
Check flights and set fare alerts for Tahoe here.
ADVERTISEMENT
---
---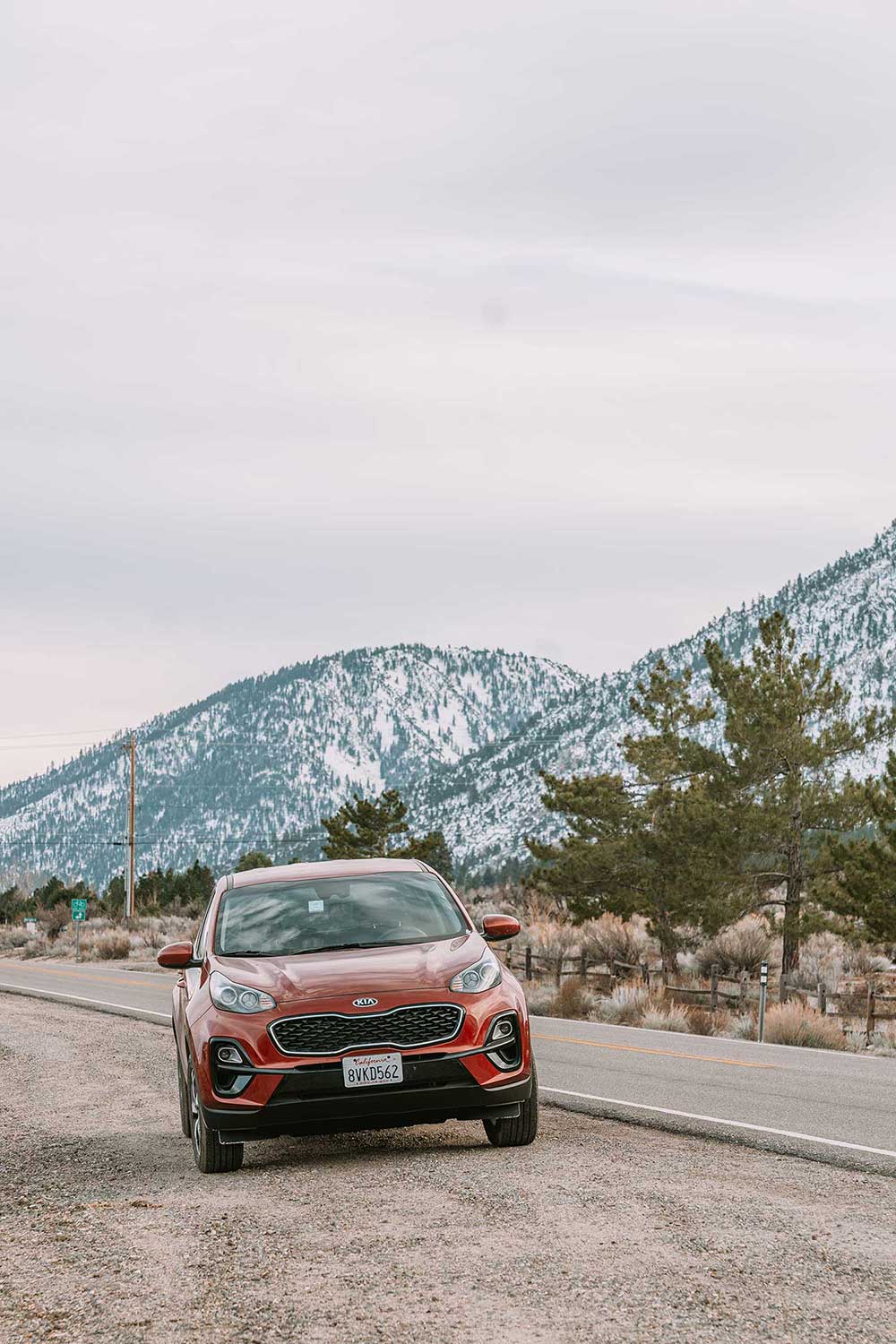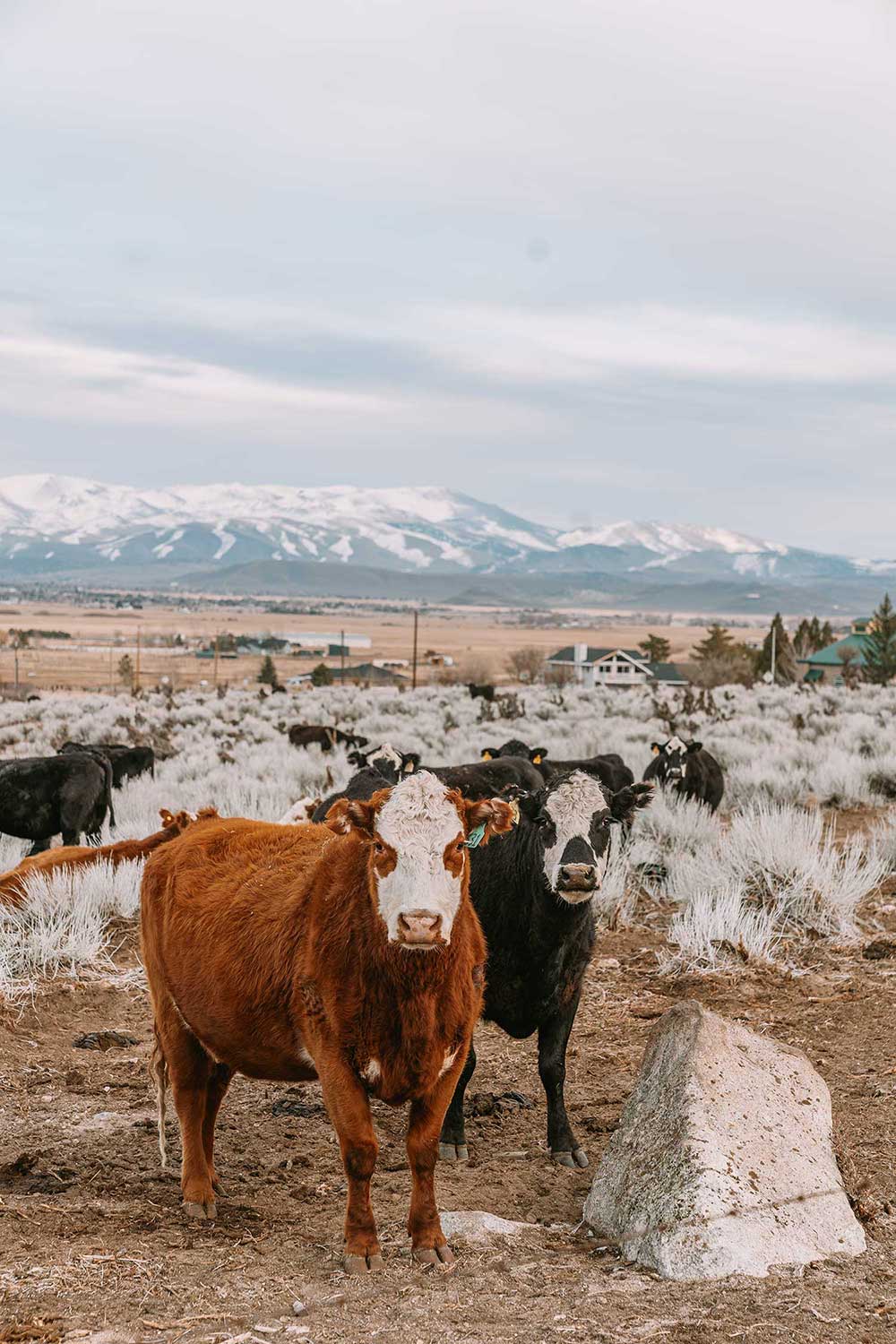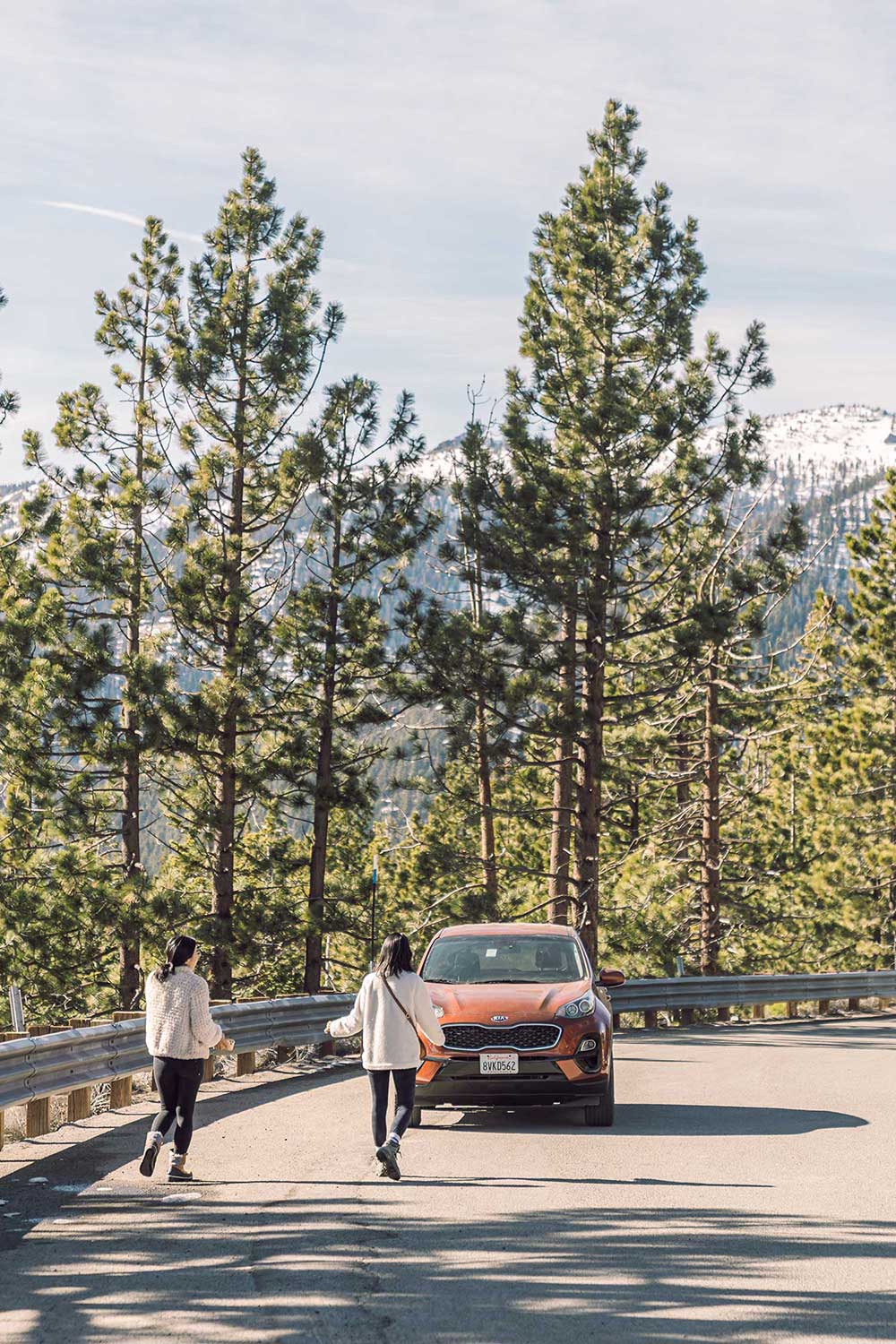 Driving to Tahoe
You definitely need a car to visit Kirkwood.
I highly recommend renting a hatchback or SUV so that the car has room for all your ski and snowboard gear. Also, make sure to select a rental car with AWD or 4WD – you want the car to have enough power and control when it snows!
As an extra safety precaution, buy snow chains for your trip. Tahoe does a great job of clearing snow from roads quickly, but we did have one instance where the car skid on ice!
We rented an SUV in downtown San Francisco and it took us about 4 hours to drive to South Lake Tahoe, without traffic. On the way home, we dropped off the car at Reno Airport (thankfully the car rental company stays open late!) and flew out of Nevada.
On weekends in peak season, traffic can be insane so plan ahead!
The last two hours or so around Lake Tahoe are primarily a local two lane road, so traffic can easily get backed up. Try to avoid traveling from San Francisco to Tahoe on Friday to skip the crowds.
There's also lots to see and do in the villages around Lake Tahoe, so a car really comes in handy to explore!
Check here for rental cars for your dates.
ADVERTISEMENT
---
---
.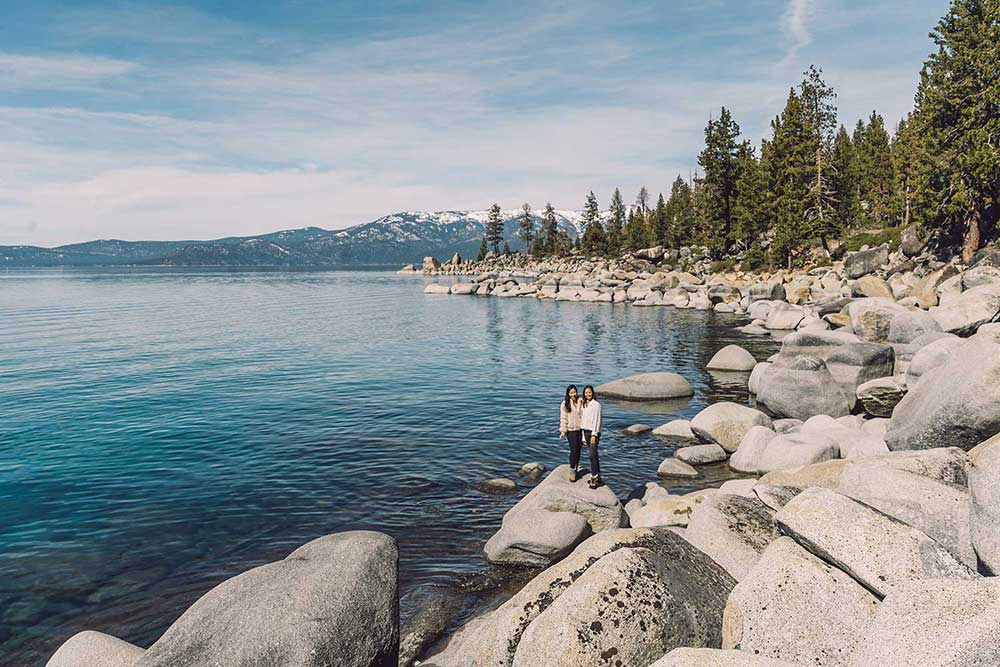 Where to Stay in Tahoe
Kirkwood is in a secluded location about an hour's drive south of South Lake Tahoe. Before picking your accommodation, figure out what kind of ski trip you want to have.
If you're planning to exclusively ski at Kirkwood and want to maximize your time on the mountain, stay on site in Kirkwood, California.
Kirkwood is a great place to focus on skiing and snowboarding and to get away from all the crowds.
Browse hotels in Kirkwood.
Browse house rentals in Kirkwood.
If you're planning to hop between Vail's 3 Tahoe resorts, I'd recommend staying at Heavenly instead, in South Lake Tahoe. The drive from Heavenly to Kirkwood is just under an hour and very doable.
Plus, Kirkwood is a very quiet area with not much to do, whereas Heavenly is located right in town with lots of restaurants, bars, casinos and the winter village.
The south side also has a huge variety in hotels. You'll find everything from budget options to casinos to boutique properties.
Browse hotels in South Lake Tahoe.
Browse house rentals in South Lake Tahoe.
If you're like us and it's your first time skiing in Lake Tahoe, I recommend staying near Heavenly.
That way, you're in town, have lots of options for things to do, and are an hour's drive away from both Northstar (in North Lake Tahoe) and Kirkwood (south of Lake Tahoe).
ADVERTISEMENT
---
---
Kirkwood Ski Resort Overview
If you're looking to get away from it all, Kirkwood is your mountain.
Tucked about 35 miles southwest of South Lake Tahoe, Kirkwood is out of the way of the well-trodden Tahoe ski crowd. That's good or bad, depending on who you talk to.
One thing was made clear to me after our trip to Kirkwood. The mountain's popular with locals and diehards for its 'K factor' – light, dry fistfuls of snow that pour onto Kirkwood after a storm, thanks to the resort's prime geographic location and 9,800 elevation high atop the Sierra Crest.
It doesn't have the views of Heavenly or the glitz of Northstar, but Kirkwood's claim to fame is its terrain.
The mountain is no frills and all powder. There's tons of diverse and challenging terrain to keep you busy here!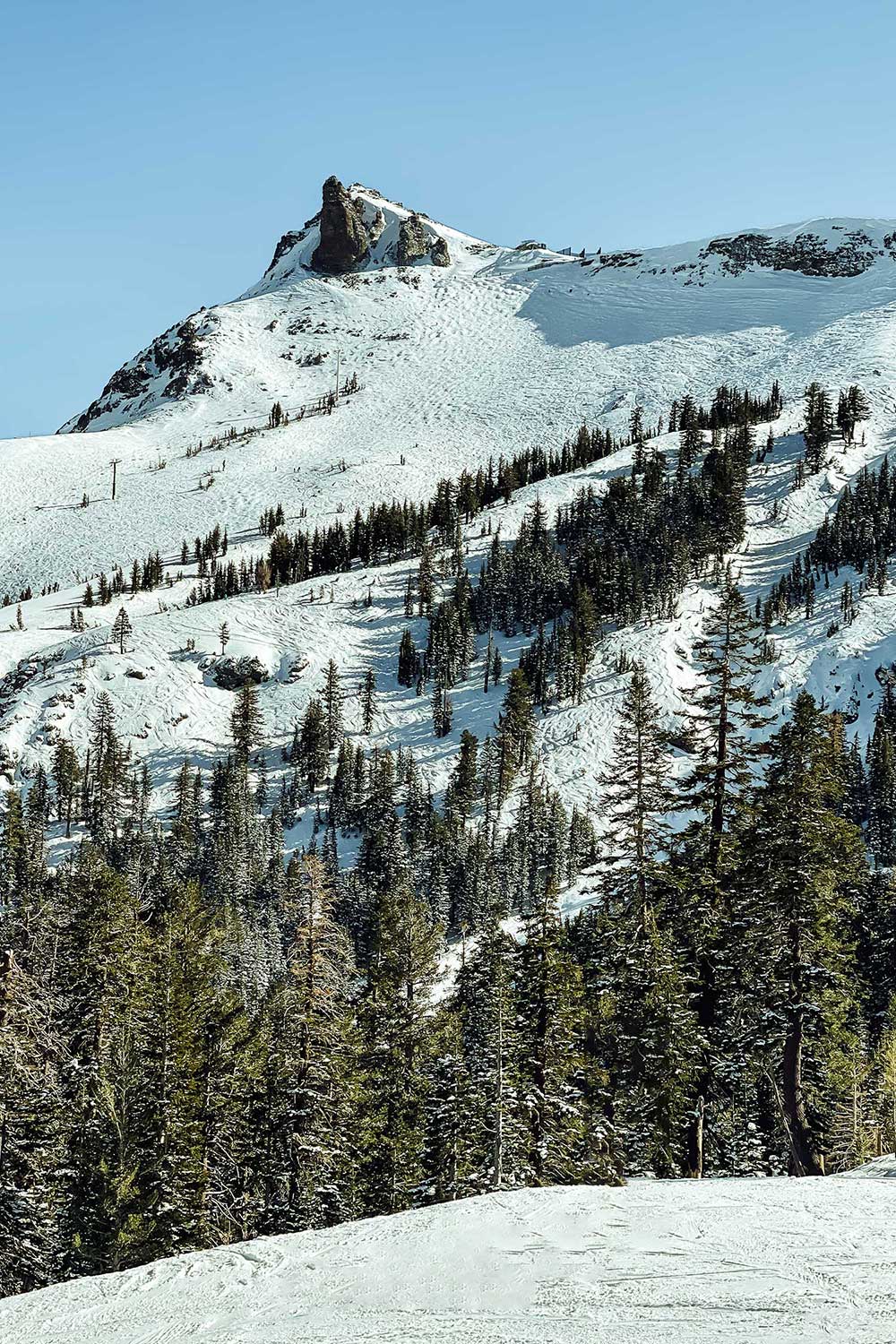 At a Glance
Base Elevation: 7,800 feet
Summit Elevation: 9,800 feet
Vertical Drop: 2,000 feet
Lifts: 13
Runs: 90
Skiable Acres: 2,300 acres
Terrain:

12% beginner
30% intermediate
38% advanced
20% expert
ADVERTISEMENT
---
---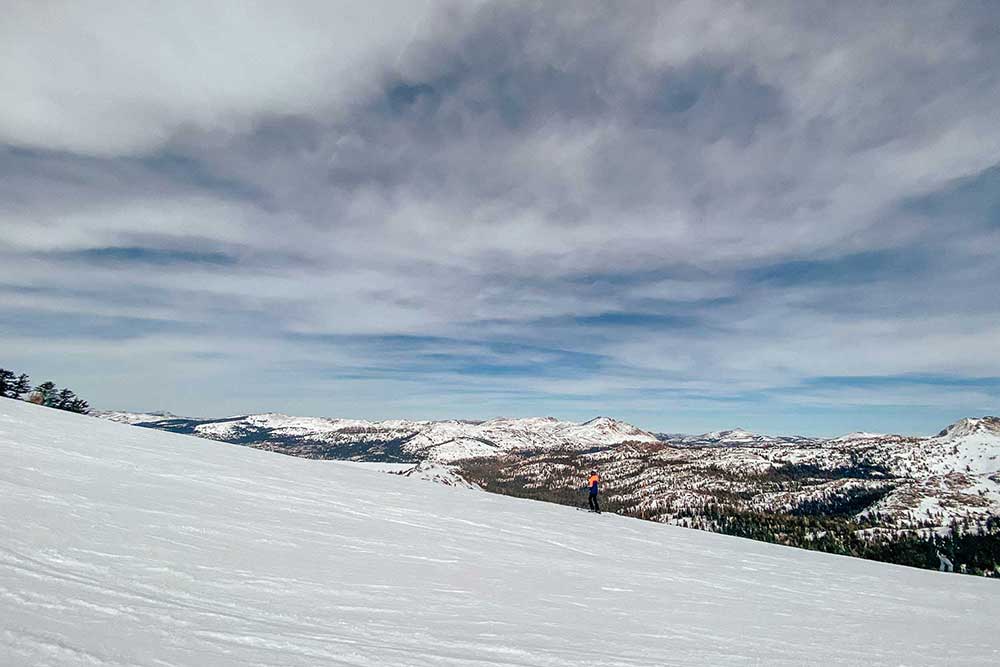 Skiing at Kirkwood
Kirkwood's terrain is stunningly beautiful and has a lot of variety.
It's known for 4 powder bowls across the top of the front side of the mountain that offer interesting terrain like cornices, chutes, gullies and tree skiing.
Because it's slightly outside of Lake Tahoe itself, and has relatively older infrastructure (the chair lifts can feel slightly slow), Kirkwood tends to be popular with locals and diehards – and therefore feels very uncrowded.
The mountain is split into a front and backside, with most of the terrain rated advanced to expert. If you're a beginner, stick to the horseshoe shaped front side and try your skills on the mellow terrain towards the base.
If you're up for a challenge, try The Wall and north facing slopes towards the peak. It takes a bit of traversing to make it to the top, but you'll be rewarded with some fun terrain!
ADVERTISEMENT
---
---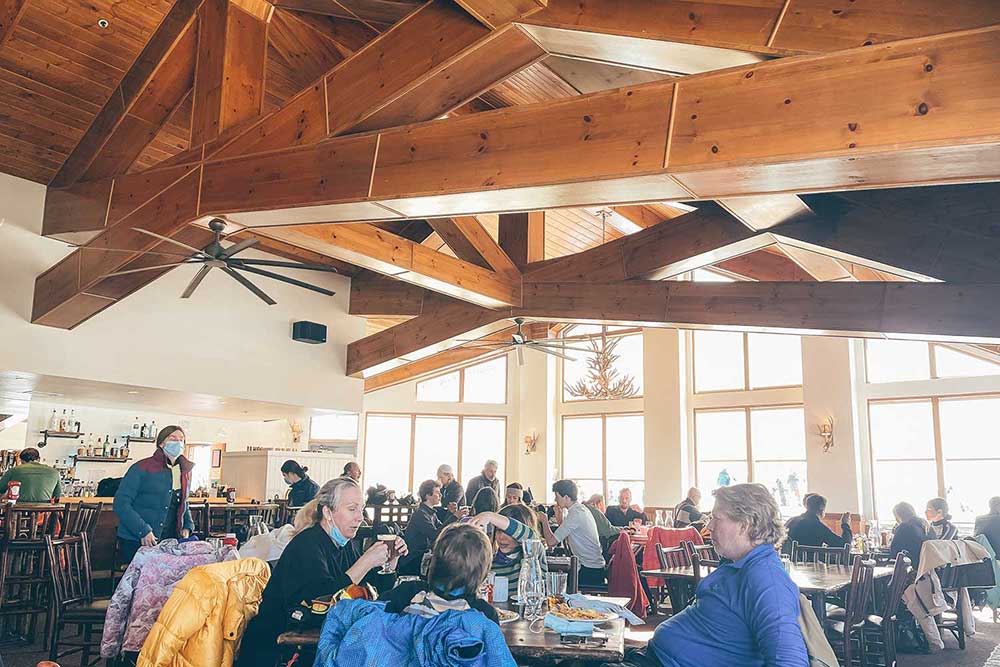 Kirkwood Base Areas
Kirkwood has 2 main base areas on the mountain:
Timber Creek: the first parking lot and home to the ski and ride school. Park here if you're a beginner or are taking lessons. Most of the green runs are here.
Mountain Village: the main base area, where the lifts will take you to the intermediate and advanced sections of the mountain
ADVERTISEMENT
---
---
Epic Pass
Kirkwood is part of Vail Resorts and is one of 3 Vail-operated mountains around Lake Tahoe. If you have the Epic Pass or Epic Tahoe Local Pass, you can ski at Kirkwood as well as Heavenly and Northstar!
Out of the three Vail locations, Kirkwood's lift tickets and lessons are the least expensive.
Rentals
I rented my skis and equipment at Heavenly and used the same equipment for my visit to all 3 mountains.
The nice thing about skiing at Vail's resorts in Tahoe is that you can rent your equipment for your trip, pick them up at one resort and drop them off at another.
So you don't have to double back and make an extra hour long drive, which is really handy!
ADVERTISEMENT
---
---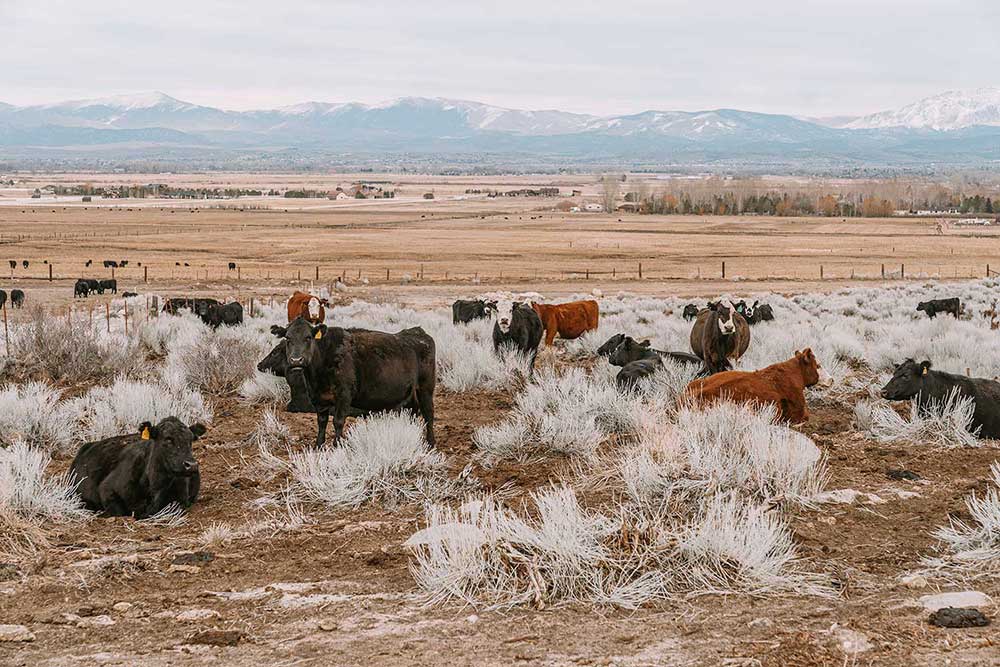 Parking at Kirkwood
I found parking at Kirkwood really easy and straightforward.
On the days I had lessons, I would park in the first parking lot area by Timber Creek, where the ski and ride school is.
On other days when I skied with friends, I would park by the Mountain Village area to be closer to the lifts. Parking was free and as long as you arrive early, not too crowded!
Lessons at Kirkwood
I always take a lesson – I think they're the fastest way to get better and refine your technique.
Kirkwood offers a mix of group and private lessons and you can give them an idea of your level so they match you with the right instructor.
If you can, I recommend booking lessons during the weekdays!
Sometimes you get lucky and have smaller class sizes that way. Plus the mountain tends to be quieter and less crowded on weekdays, which is helpful if you're a beginner.
ADVERTISEMENT
---
---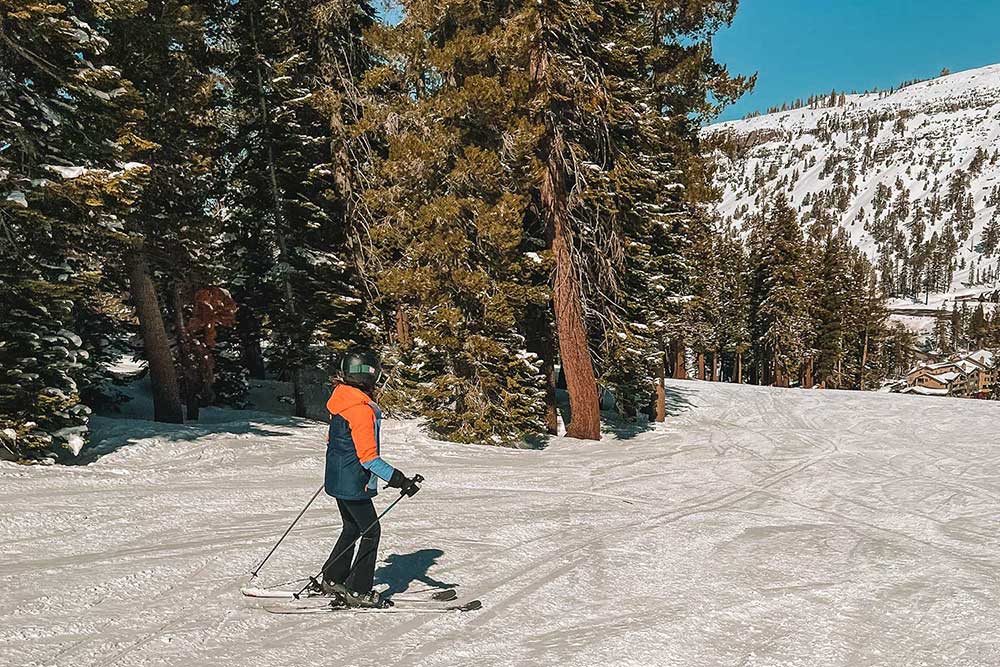 Best Runs at Kirkwood
Kirkwood, in my opinion, is not a beginner mountain.
It's really known for its extreme terrain and best suited for thrill seekers who want a challenge. You can definitely still have a great time if you're a beginner though – I did!
Beginners: There's just a few green runs and they're located by the Timber Creek base area.
Intermediates: About 20% of the runs at Kirkwood are blue, so there isn't that much terrain for intermediates. They're all shorter style runs in the lower part of the mountains, but they are nice and wide and pretty uncrowded.
For an easy blue, try Lower Zachery which is wide and well groomed.
ADVERTISEMENT
---
---
Then, take Chair 1 to Chair 2 so you can access the backside at Chairs 3 and 4 which are slightly more challenging.
While Kirkwood doesn't have the lake views that Heavenly has, it still has stunning scenery – just in a different way. The Sierra Nevada mountains are really breathtaking!
Advanced: Kirkwood is really for advanced skiers. There's lots of alpine bowls, tree clusters, rocky formations and little gullies. The top of Kirkwood mountain is a long ridge line and you can drop off of it into chutes, cornices and little cliffs.
The steep double black runs are at the top of the mountain, off of Cornice Express Lift. Another popular run is The Wall, off Chair 10. The Wall is a hair-raising double black diamond overlooking the village (with the famous skull and crossbones sign to match).
Kirkwood's 4 bowls are also quite popular. Sentinel Bowl is just off Chair 6 with lots of tree runs and interesting terrain.
If you're into backcountry skiing, Kirkwood offers snowcat skiing tours. My instructor was telling me about it and apparently Kirkwood offers great private guiding for backcountry tours and lots of backcountry awareness programs.
ADVERTISEMENT
---
---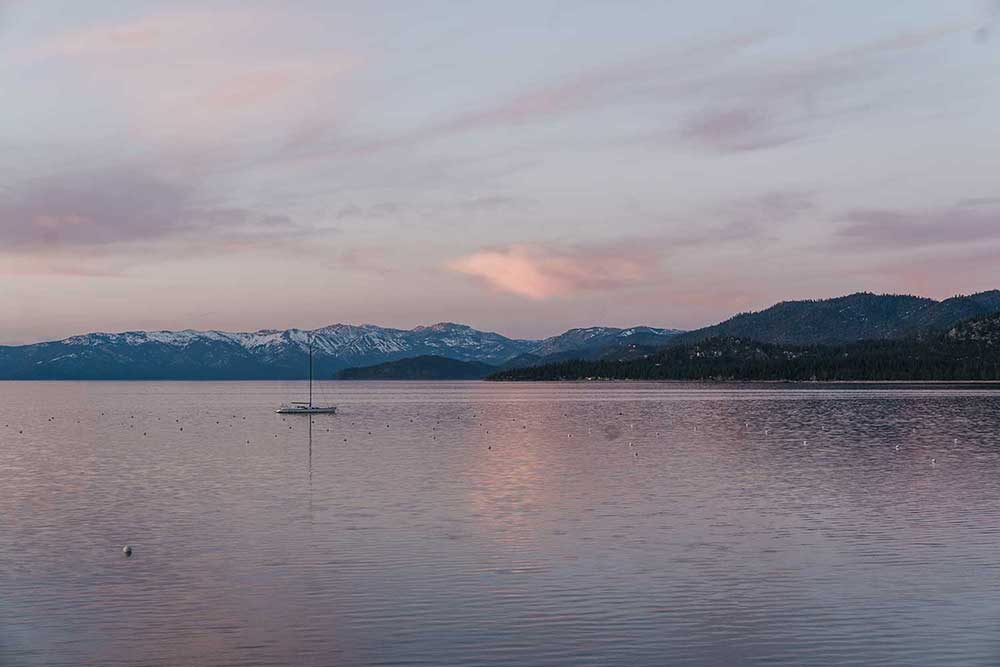 Après-Ski in North Lake Tahoe
Kirkwood isn't a glamorous, built up mountain. It feels quite rustic, and more of a local's mountain where you come primarily to ski or snowboard.
Skiing and snowboarding are the main attractions!
I wouldn't say there's much to do in the area afterwards, so we usually drove back to Lake Tahoe for dinner and drinks.
You can check out my restaurant and drink recommendations for South Lake Tahoe here and North Lake Tahoe here.
ADVERTISEMENT
---
---
Kirkwood Ski Trip VLOG
Here's a ski vlog of our trip to Kirkwood, California! Watch the video on Youtube here.
SKIING AT KIRKWOOD in Lake Tahoe: everything you need to know!
ADVERTISEMENT
---
---
Is Kirkwood Beginner Friendly?
The terrain at Kirkwood is geared towards advanced or expert skiers and snowboarders.
There is a designated beginners area, with a bunny hill and a couple green runs in the Timber Creek area. Mid mountain there are some fun intermediate trails.
But overall, Kirkwood's wide bowls, tree skiing and chutes are quite challenging and fun so advanced skiers would enjoy the mountain more.
How difficult is Kirkwood ski resort?
Over 58% of the trails at Kirkwood are marked advanced or expert.
There's only a couple Green trails in the beginners area and some decent blue options.
Most of the trails at Kirkwood are steep, ungroomed and gnarly. There's 4 bowls that offer ledges, chutes and drop ins if you like a challenge!
ADVERTISEMENT
---
---
Does Kirkwood get crowded?
Because Kirkwood is an hour's drive south of Lake Tahoe, it doesn't get as many visitors as some of the other ski resorts in the area.
When we visited, we found it blissfully quiet during the weekdays and only decently busy on weekends.
Lift infrastructure is a little older, and most of the terrain is advanced, so Kirkwood doesn't get as crowded!
Is Kirkwood owned by Vail?
Yes, Kirkwood was purchased by Vail in 2012. They are one of three Vail-owned resorts in the Lake Tahoe area, along with Heavenly and Northstar.
Ski Wear Haul
I posted a couple try-on hauls of all the ski wear brands that I've tried. You can check them out on my Youtube channel here.
ADVERTISEMENT
---
---
ADVERTISEMENT
---
---
ADVERTISEMENT
---
---
Read More: in our ski style series:
Ski Trip Packing Essentials
What to Wear Skiing: Packing List Must Have's
The Best Ski Pants for Women (Stylish & Functional)
I Found the CUTEST Women's Ski Pants (Video)
Are Designer Ski Pants Worth It? (Try-On Haul)
The Best Ski Sweaters for Apres-Ski 
Planning the Perfect Ski Trip
What to Know Before Skiing in Vermont for the First Time
Ski Trip Recaps + Mountain Guides
Lake Tahoe, California: Heavenly, Kirkwood & Northstar
Montana: Big Sky
Vermont: Stowe
Catskills, New York: Belleayre Mountain
Quebec, Canada: Mont Tremblant
+ More Ski Vlogs on Youtube
ADVERTISEMENT
---
---
Follow me @Sher She Goes on