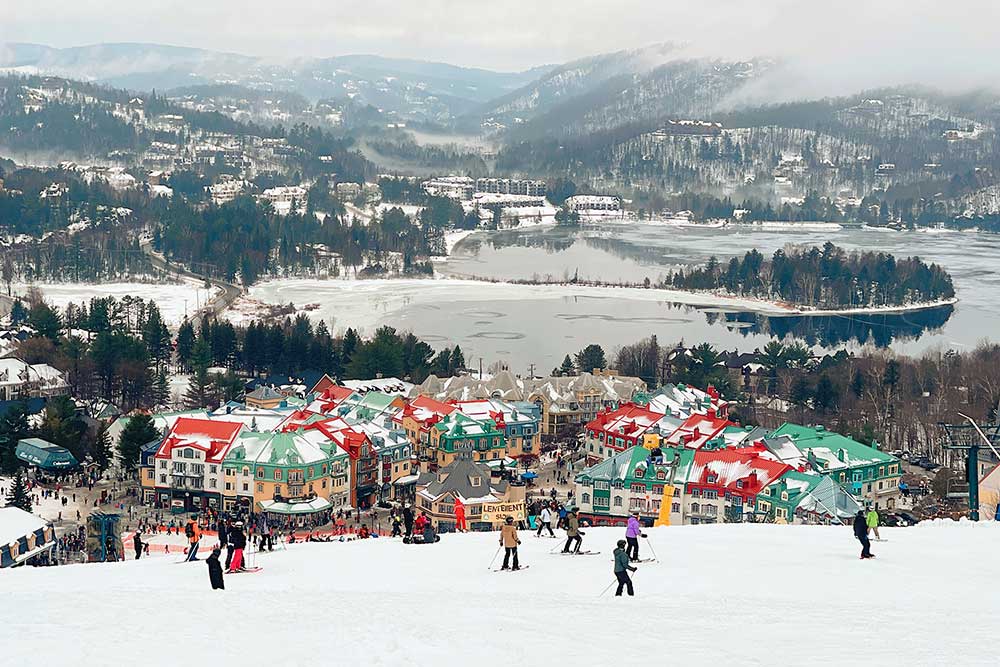 shop my favorite ski looks here
Mont Tremblant
I love skiing the midwest and West Coast, but living in New York City, it's not always convenient to travel so far.
So, when my friends and I were considering our next ski trip, we stumbled upon Mont Tremblant – a cute candy colored ski town in the Laurentian Alps of Eastern Canada.
Tremblant has an excellent reputation for it's European-style ski resort.
The multi-faceted mountain has a healthy variety of beginner and intermediate trails and its shining star is the pedestrian village at its base – filled with French fare and Quebecois flair.
Here's a recap of our trip and if I'd recommend skiing at Mont Tremblant!
ADVERTISEMENT
---
---
Quickly jump to a section:
Keep reading, or pin this article to save it for later ⇟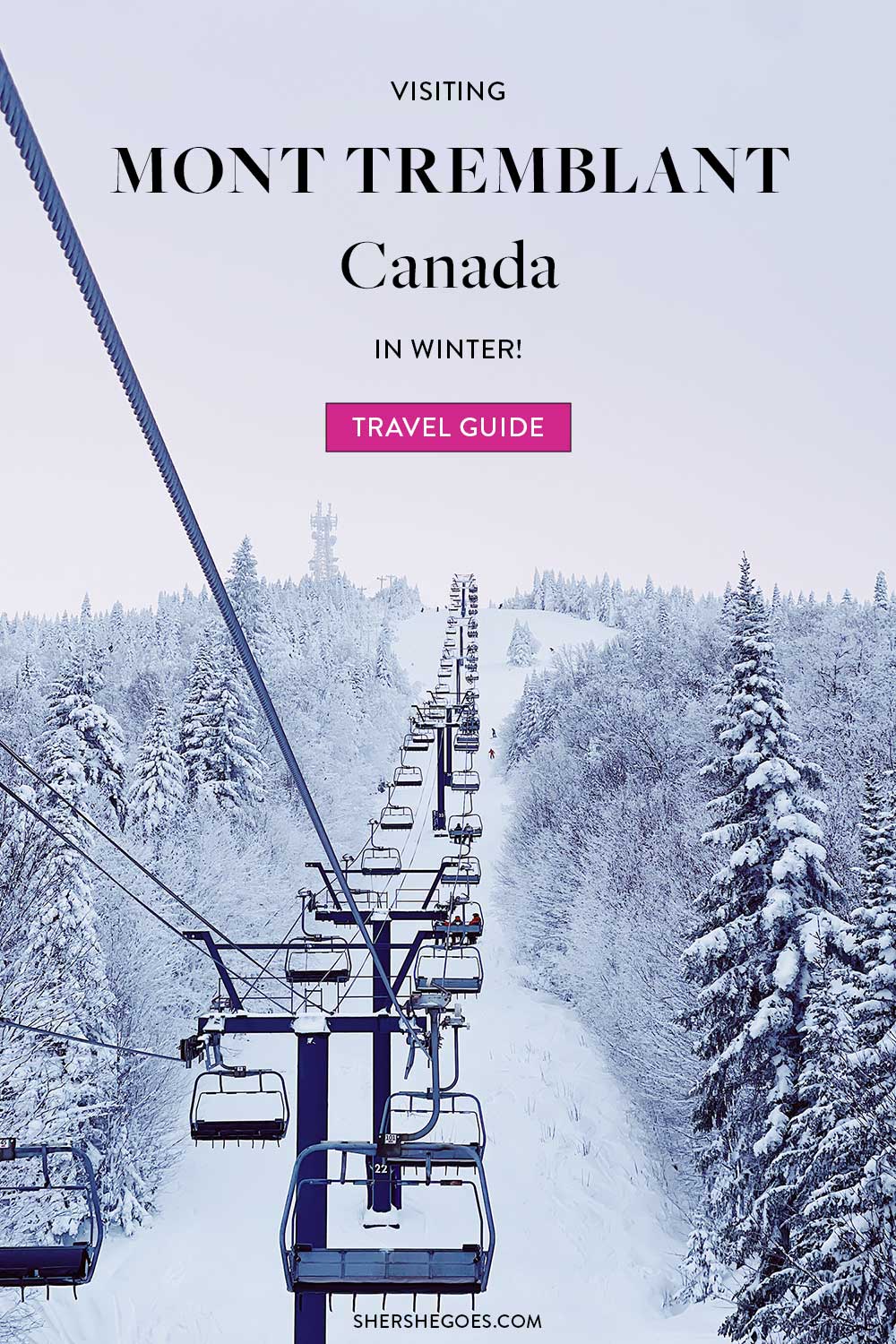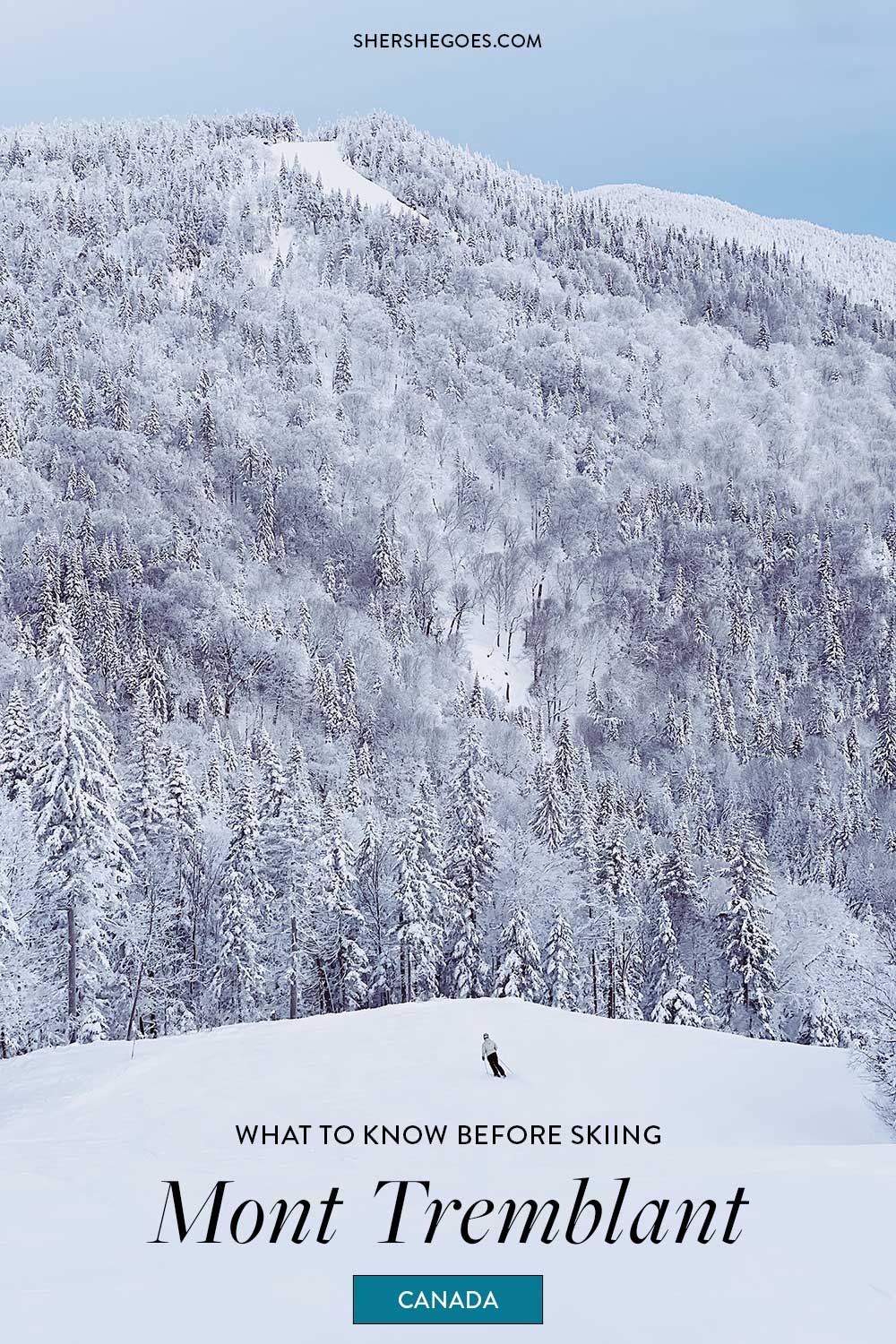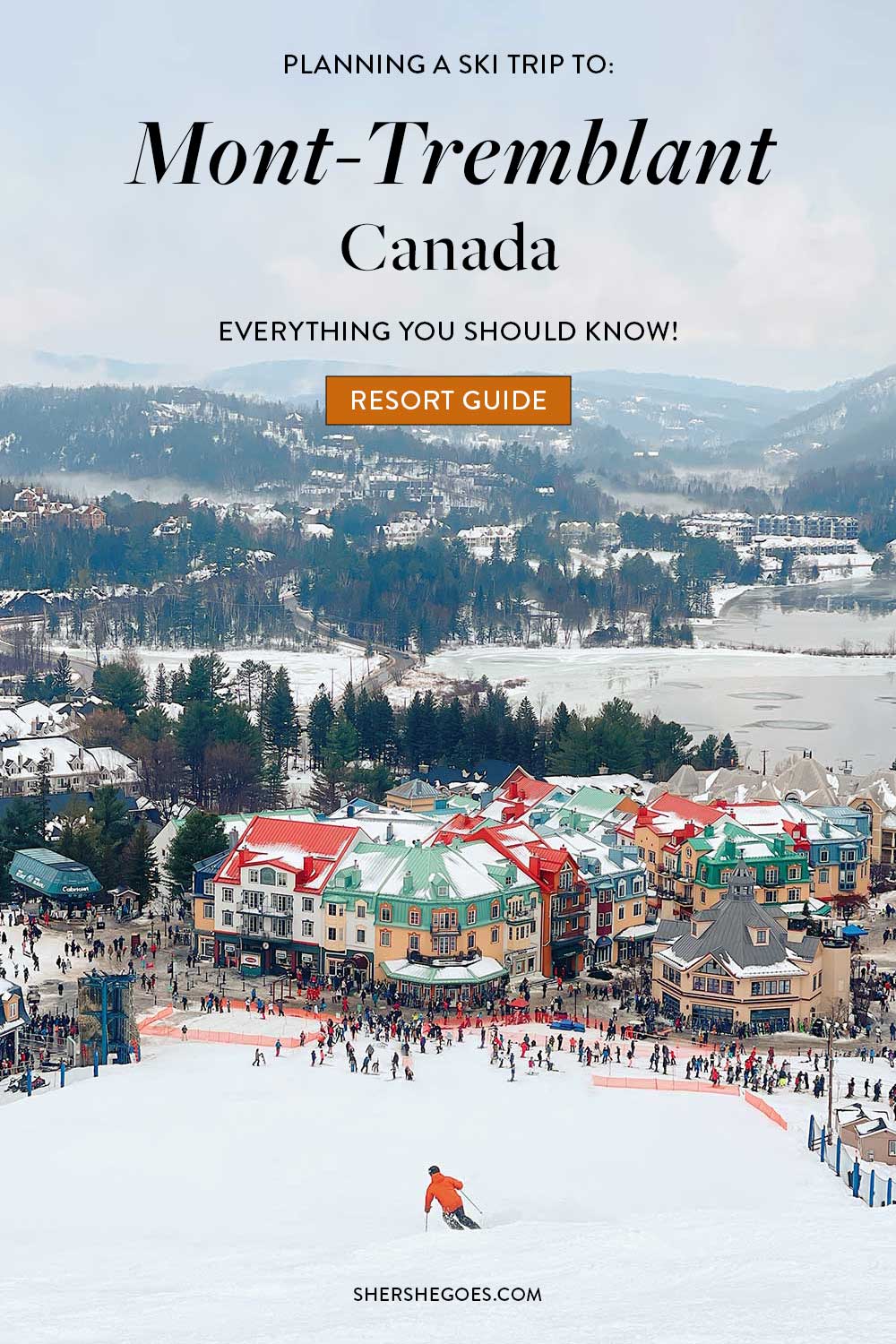 ADVERTISEMENT
---
---
.
History of Mont Tremblant
Mont Tremblant is located on the highest peak in the Laurentian mountains. Its name means 'trembling mountain' and comes from the Algonquin Indians, native to this region of Canada.
Tremblant became a ski resort when American explorers Joseph Ryan and Tom Wheeler came to Quebec looking for gold in the late 1930s. They were joined by journalist Lowell Thomas and after reaching Mont Tremblant's summit, found it one of the most beautiful sights in the world.
Ryan had the idea to build a ski resort and Thomas helped him market it. The first chair lift was installed on February 12, 1939 followed by Mont-Tremblant Lodge, which still exists in the village today.
Ryan and his wife ran the ski resort for 15 years until they sold it to a trio of Quebec entrepreneurs: André Charron, Jean-Louis Lévesque, and Roger Beauchemin. Tremblant gained popularity in the 70s and 80s, as skiing and travel increased.
ADVERTISEMENT
---
---
Then, in 1991, real estate investor Intrawest acquired Mont Tremblant, adding it to their existing collection of North American ski resorts (like Stratton in Vermont and Winter Park in Colorado).
Intrawest heavily invested in the resort, building out the European-style alpine village, creating the Casino in 2009 and adding additional lifts and gondolas.
Eventually, they sold the resort to Alterra in 2018, and today Mont-Tremblant is part of the Ikon Pass.
If you're looking for an East Coast mountain with varied terrain to suit all ability levels, Mont Tremblant is a great option! The runs are split pretty evenly, with nearly 50% of the slope suitable for beginners and intermediates.
It's a mid-size mountain laid out in a simple top-to-bottom orientation with most runs running from summit to peak. And, for the non-skiers and riders in your group, the Disney-esque village at the base of the mountain offers plenty to do, with surprisingly great food and drink options!
ADVERTISEMENT
---
---
Things to Do in Mont Tremblant
There's lots to do at Mont Tremblant in addition to skiing!
Check out the casino in the village, go ice skating or check out one of these bucket list winter activities!
ADVERTISEMENT
---
---
.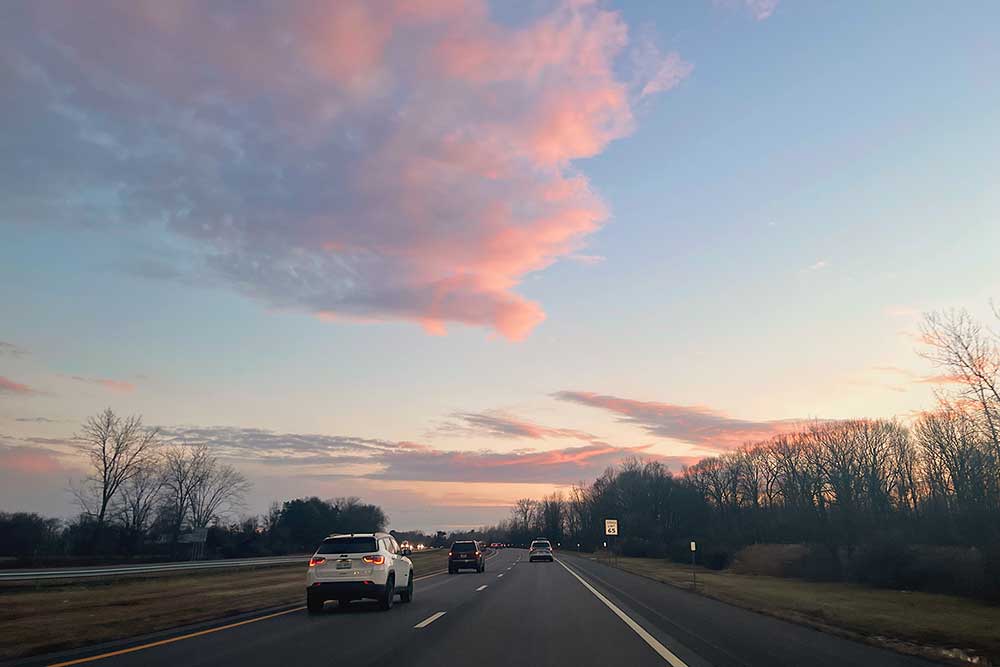 Getting In
Mont-Tremblant ski resort is just under a 2 hour drive from Montreal. From NYC, we opted to drive but you could also fly!
Flying to Mont Tremblant
The closest major airport is Montréal–Trudeau (YUL).
The international airport offers lots of direct flights from both downtown Toronto and the New York City area, and the flight itself is a short and efficient 2 hours.
We spent 5 days in Mont Tremblant in total, which was a great amount of time to fit in skiing, sightseeing and a side trip to Montreal.
Check flights and set fare alerts for Montreal here.
ADVERTISEMENT
---
---
Driving to Mont Tremblant
From Montreal, it's about a two hour's drive to Mont Tremblant ski resort in the Laurentian Mountains. You can either rent a car at the airport if you're flying in, or book a private airport transfer to take you to Tremblant village.
If you're staying directly slope side at Mont-Tremblant, you can get by without a car.
Book a car transfer from Montreal to Tremblant here.
But if you want the flexibility to explore Montreal, grocery shop, and see more of Tremblant, it's nice to have a car.
We opted to drive the entire distance from NYC to Mont Tremblant. It takes about 7.5 hours (which is long but doable) and we liked the freedom of having a car. Plus door-to-door, it's roughly the same as flying (once you factor in getting to the airport, going through security, and then driving from Montreal).
We booked with Enterprise but Alamo, Budget and Hertz all have car rental locations in the area.
I highly recommend renting a hatchback or SUV so that the car has room for all your ski and snowboard gear. Also, make sure to select a rental car with AWD or 4WD – you want the car to have enough power and control when it snows!
Check here for rental cars for your dates.
ADVERTISEMENT
---
---
The roads are salted and plowed often, but as an extra safety precaution, buy snow chains for your trip.
If you're staying in the Village, it's pedestrian friendly so a car isn't needed.
We stayed about 10 minutes from the North side of Mont Tremblant, on Lac Superieur, and found having a car was helpful to get around, get groceries and do activities in the area.
On the way back home, we also stopped in Montreal to check out some local restaurants and walk around.
If you arrive late at night or have an early return flight, you can also stay the night at a hotel in Montreal. There's lots to see and do in downtown Montreal and it has a great food scene.
Read more:
5 Incredible Montreal Hotels to Check Out
ADVERTISEMENT
---
---
.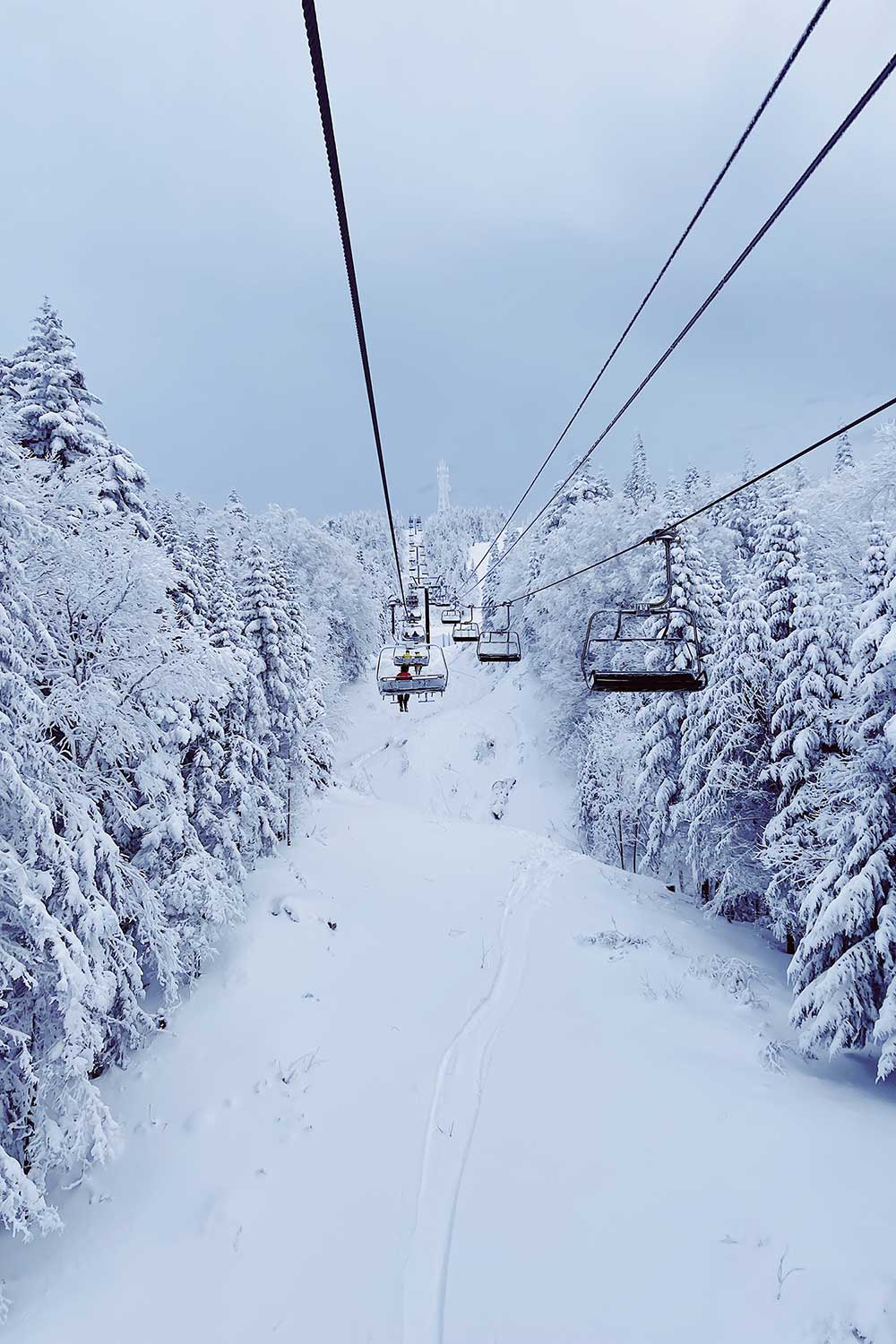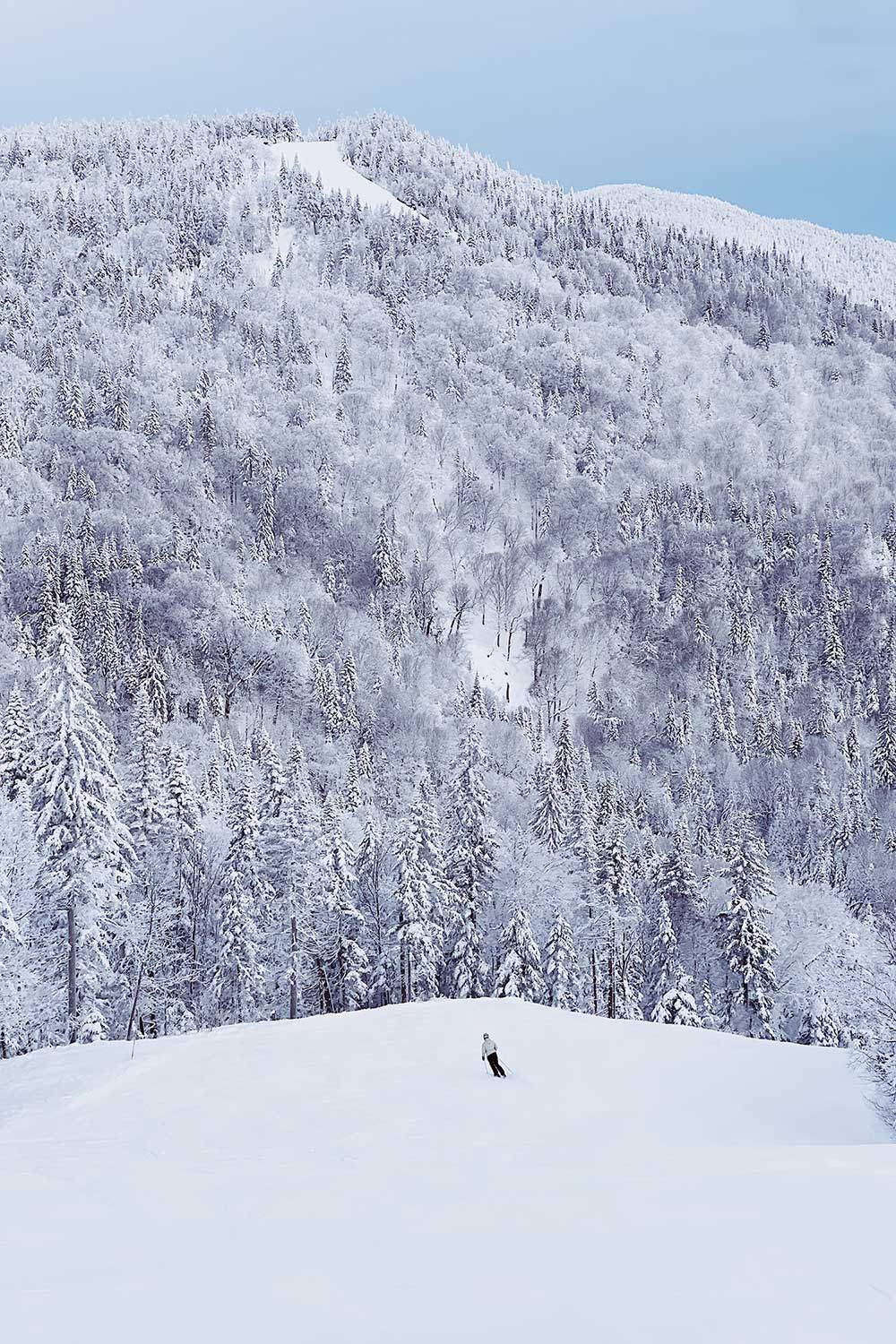 Where to Stay in Mont Tremblant
The main area to stay at Mont Tremblant is right on the South side of the mountain, in the pedestrian village. Most of the accommodation here is hotels.
Or, if you prefer a condo or airbnb, there are many surrounding Lac Superieur. This is what we did, and we liked the flexibility to be closer to the North side of Tremblant.
ADVERTISEMENT
---
---
Tremblant Village
Tremblant's base village is super charming.
There's tons of hotel options at all different price points if you want to stay on mountain. Most also offer pool and hot tub access, as well as first chair early access to the lifts before official opening at 8:30am. Typically, you'd have to pay ~$35 CAD extra to get early lift line access!
Some of the hotels are even ski-in, ski-out.
If you want to be directly on the slopes, I have an in-depth blog post on all the best ski-in, ski-out accommodations in Mont Tremblant.
A budget friendly option, the Holiday Inn Express is part of the IHG hotel family.
Rooms are comfortable and clean, and you can also choose the larger connecting suite rooms with a living room if you're traveling as a family or group. The hotel is located near the Cabriolet gondola, which takes you on a quick ride up to the ski trails at the top of the village.
Plus, the Holiday Inn has a sauna, outdoor whirlpool and free daily breakfast.
Check rates: IHG.com, Booking.com, Hotels.com
Read reviews: TripAdvisor
ADVERTISEMENT
---
---
For a luxurious option, you'll want to stay at the Fairmont.
It's the landmark hotel at Tremblant village, located right on the South side with ski-in, ski-out access. All the rooms are super spacious and some even have sofa beds and full kitchens if you're traveling as a larger group.
Plus, there's a gorgeous spa and fine dining restaurant on site!
Check rates: Booking.com, Hotels.com | Read reviews: TripAdvisor
ADVERTISEMENT
---
---
Lac-Supérieur
For groups or those looking to stay off-site, there are plenty of airbnbs and condos in the area.
We stayed at Lac Superieur, just an 8 minute drive from the North side of Mont Tremblant ski resort. The north side is more of the 'local's' side so it was less crowded and I liked the runs better!
It worked out staying closer to here, and meant a short 5-10 minute drive in the mornings.
You can find plenty of large homes for groups that come with fully stocked kitchens, laundry and fireplaces.
Browse homes: Booking.com, VRBO
ADVERTISEMENT
---
---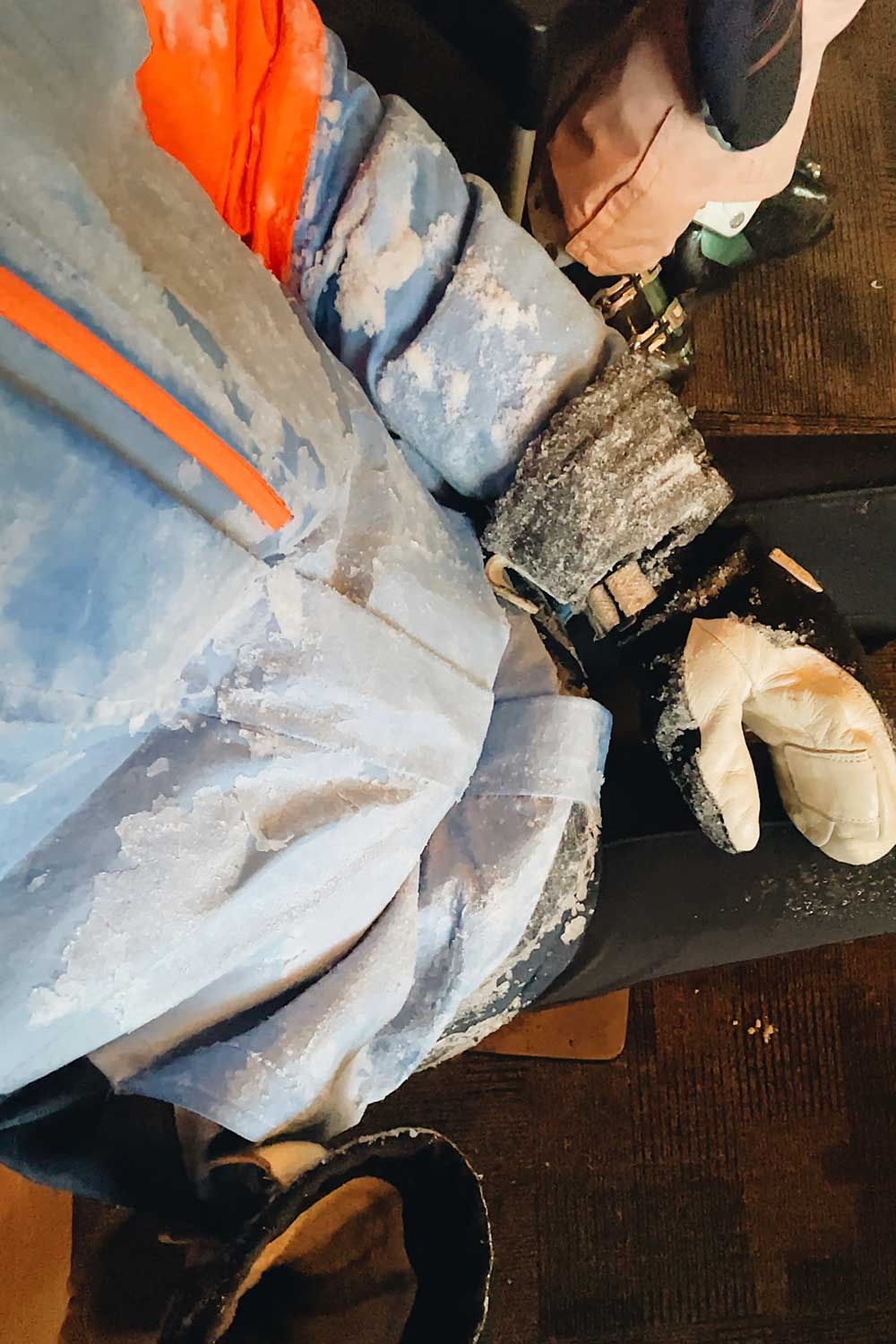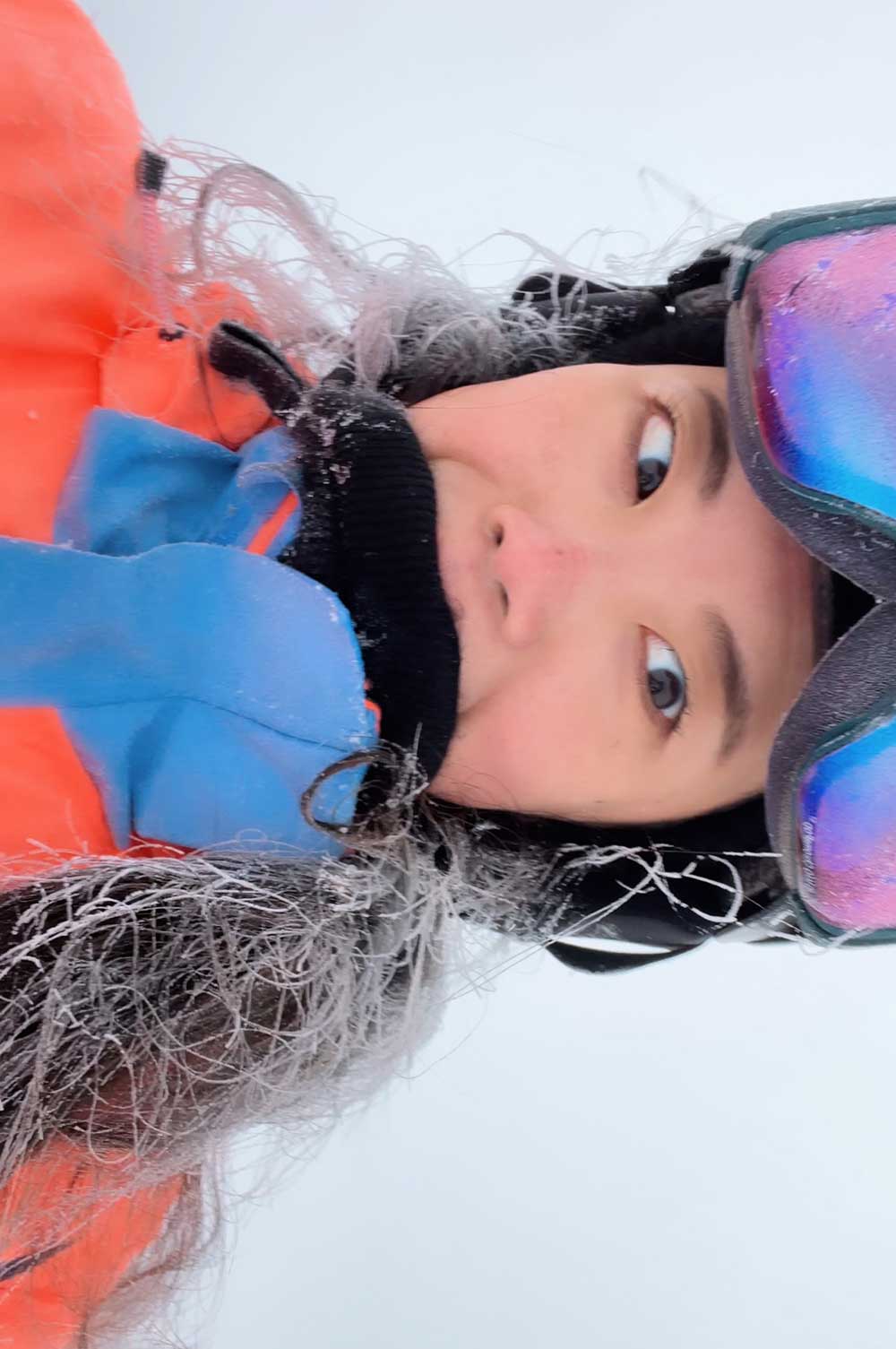 What to Pack for a Mont Tremblant Ski Trip
Tremblant can get pretty cold and windy – it's in northeastern Canada after all!
So definitely pack warm base layers and I'd recommend ski clothes with higher waterproof ratings.
During our visit, we got a little unlucky with the weather and it alternated between freezing icy rain and a constant wet drizzlze. I've never experienced having my goggles freeze up with sheets of ice like that!
And on the rainy days, my ski jacket and ski bib were soaked through by noon. I brought my Hestra leather gloves and they were so wet I could wring the water out, so I wished I had brought my more durable waterproof ski gloves.
Check the weather before you go, and pack accordingly.
I have a whole series of ski clothing reviews if you want more packing advice!
ADVERTISEMENT
---
---
.
Mont Tremblant Ski Resort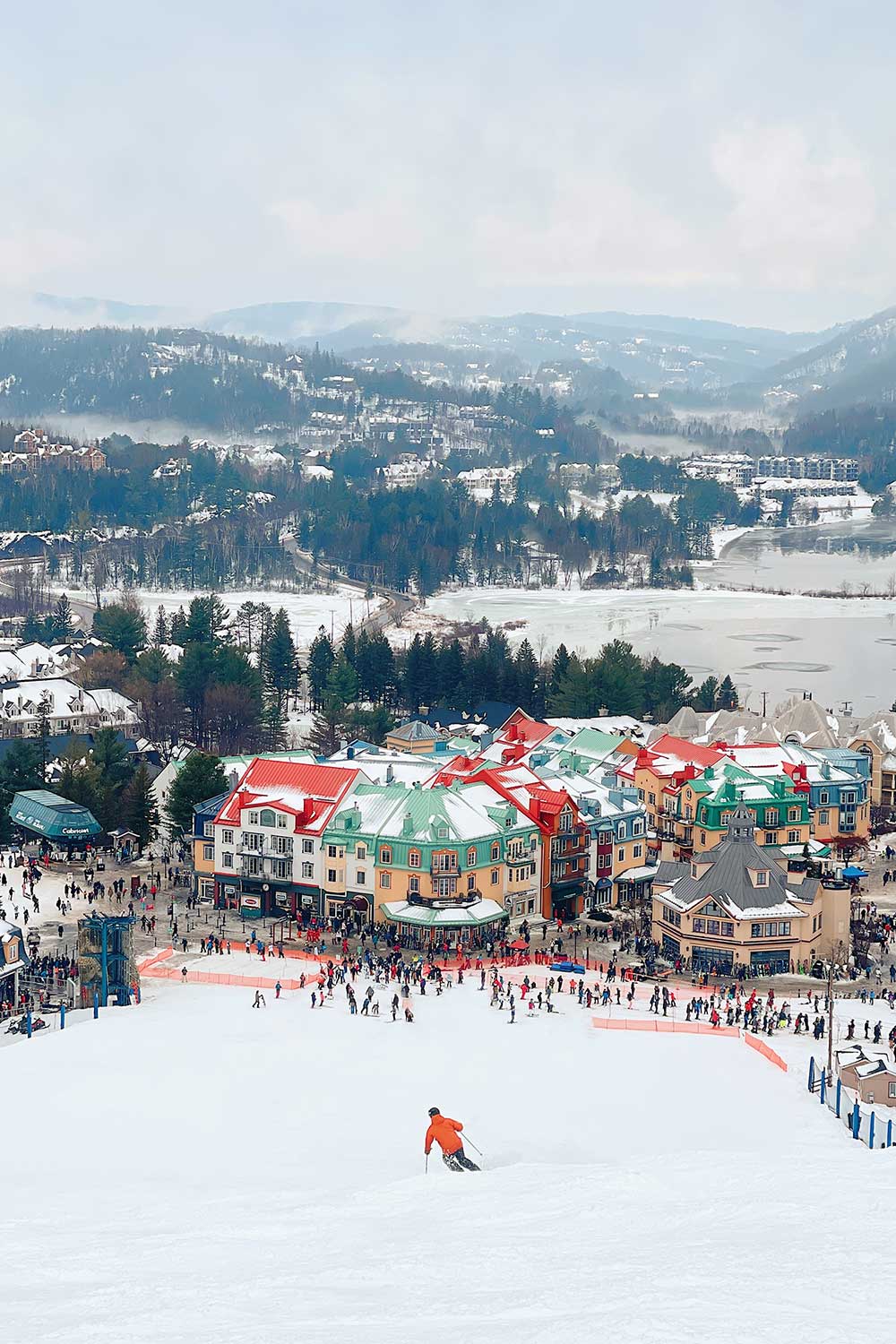 At a Glance
Base Elevation: 755 feet
Summit Elevation: 2,871 feet
Vertical Drop: 2,116 feet
Lifts: 14
Runs: 102
Skiable Acres: 754 acres
Terrain:

19% beginner
30% intermediate
37% advanced
13% expert
ADVERTISEMENT
---
---
Review
With a one-of-a-kind pedestrian village, Tremblant stands out among all the East Coast ski resorts.
The South side base village is like a mini Disneyland, full of cute decor, inviting shops, great restaurants and even fun activities like laser tag and ceramic making. Non-skiers can find lots to do while the diehards take the slopes.
Meanwhile, the mountain itself is medium sized, with a relatively short vertical drop, so it's perfect for beginners and intermediates looking to improve. The layout is also quite straightforward, with most lifts running from base to summit.
It's rare to be able to ski from a mountain's peak all the way down as a complete beginner, but Tremblant offers several green paths that extend from top to bottom!
The only downside?
The crowds.
ADVERTISEMENT
---
---
With lots to offer comes popularity. If you visit on a holiday or weekend, like I did, prepare to wait in long lift lines.
I definitely recommend skipping the week between Christmas and New Year's if you have a flexible schedule! Because the mountain layout deposits everyone at the summit, long lines can easily queue up at the gondola and lifts.
I also felt the infrastructure at Tremblant could use a little updating. The resort still relies on old-school printed paper tickets held by zip ties, and most of the lifts felt frustratingly slow – especially after coming here right from the ultra high speed lifts at Big Sky.
But overall, despite lines and poor weather, skiing at Tremblant was a blast!
Where else can a group of all different abilities ski the same lift with lots of different trail variety?
Add in the one-of-a-kind pedestrian village and Tremblant is not to be missed.
ADVERTISEMENT
---
---
.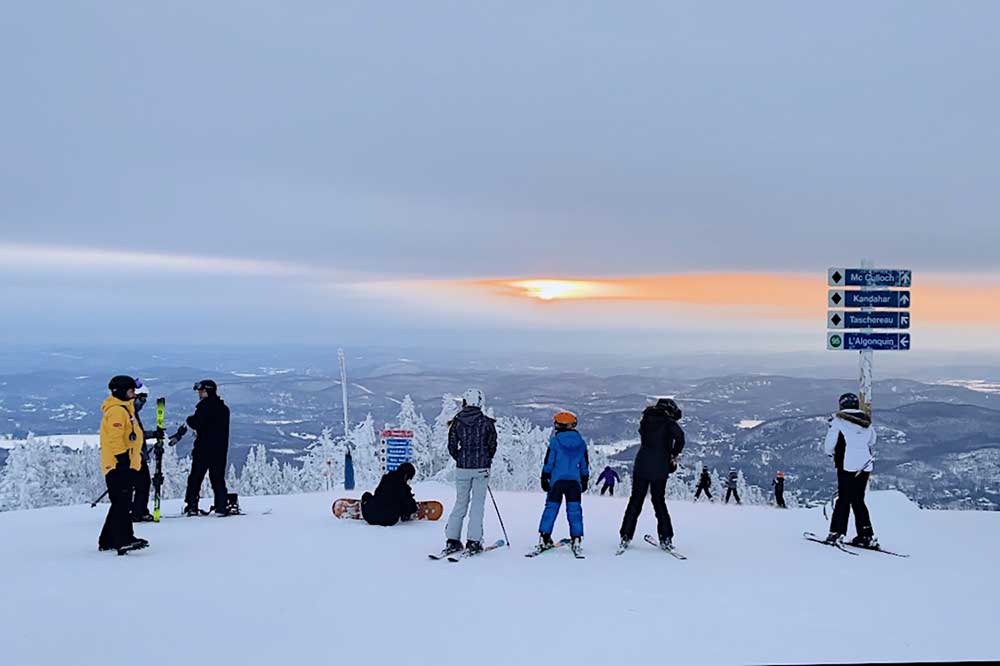 Skiing at Mont Tremblant
Mont Tremblant is pretty easy to navigate!
It's essentially one mountain with two main sides: South and North. The lifts all meet at the top, and most of the terrain is directly accessible from the summit.
On crowded days, this means lift lines can get really long at the base and summit.
ADVERTISEMENT
---
---
.
South Side
This is the main section of the mountain, because the pedestrian village and main parking lots are on the South side.
You can take the gondola straight to the top, or ride Flying Squirrel lift mid-mountain, and then traverse to TGV lift to reach the peak.
The South side has more beginner friendly terrain, so it's also slightly more crowded.
.
North Side
The North side has its own parking lot and a good variety of intermediate to advanced terrain.
It felt more like the local's side of the mountain, with a fun crew at Duncan lift blasting music and making little snow men.
I liked the runs off of the North side the best!
When you get to the top, the left most run (P'tit Bonheur) is the easiest. As you move skier's right, the runs get steeper and are a mix of blues and blacks.
ADVERTISEMENT
---
---
.
The Edge
All the way to the edge of the North section of the mountain, you have some great tree skiing at The Edge.
There's even green and blue tree runs, so it's a great spot to check out if you want to work on your tree skiing skills.
.
Terrain Parks
There are 2 terrain parks on the South side.
Higher on the mountain, off Alpine trail, there's a medium-level difficulty progression park. Adrenaline park is the most advanced option (but closed on our visit).
There's also a small park on the North side, off of Sissy.
It starts off with some curved bumps for people to practice turns, then has a small freestyle section.
We had a lot of fun trying those out for the first time, and then zooming along the hills on Fuddle Duddle.
ADVERTISEMENT
---
---
.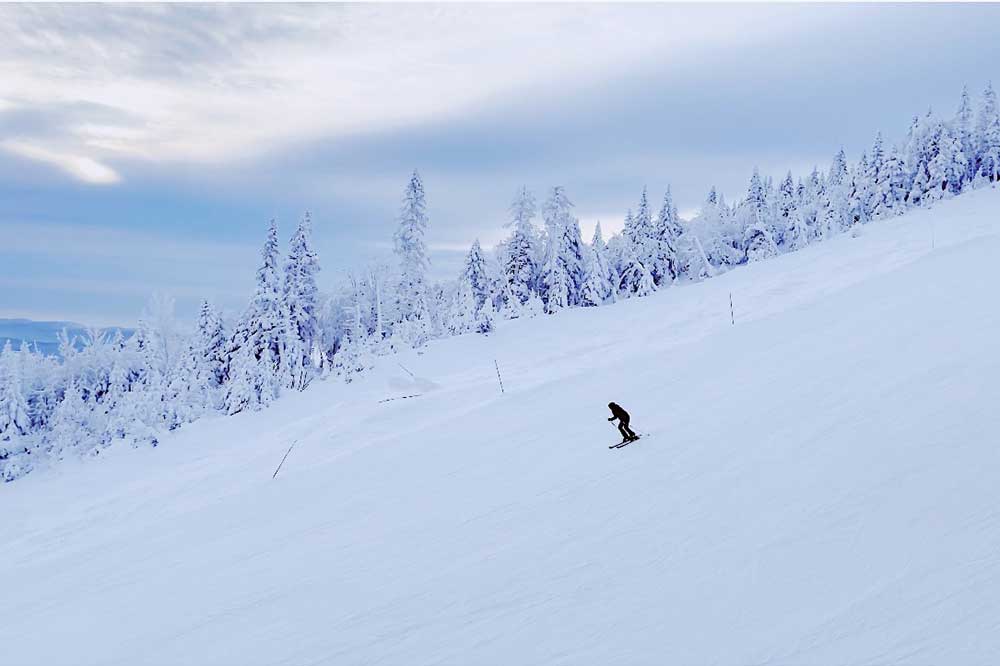 Best Runs at Mont Tremblant
Beginners
Both South and North have beginner friendly runs, although I'd argue the South has more greens to pick from.
Try La Crete all the way west, which splits into a variety of beginner-friendly greens and blues like Nansen, Bon Vivant, Alpine and Beauvallon.
ADVERTISEMENT
---
---
Intermediates
Warm up your legs with P'Tit Bonheur on the North side.
Then ski all the blues from left to right: Beauchemin Haut, Archipel Haut, Rope Tow and Lowell Thomas.
The upper portion of Lowell Thomas is kind of only accessible off Duncan Lift, so it tends to be less used and have great snow!
For easy blacks, try Jasey-Jay and Superieur on the North side, or McCulloch, Tascherau and Kandehar on the south side.
Advanced
The top-to-bottom lifts get quite crowded, due to the way the mountain is designed.
If you're an expert skier, skip the South side gondola and ski the glade runs off the Edge and blacks by Expo lift on the north side!
Some popular tree runs are Bon Vieux Temps and Brasse-Camarade off Toboggan, and Les Bouleaux off Ryan Haut. Ryan Bas is a popular double black, with a narrow and twisty run all the way down.
ADVERTISEMENT
---
---
.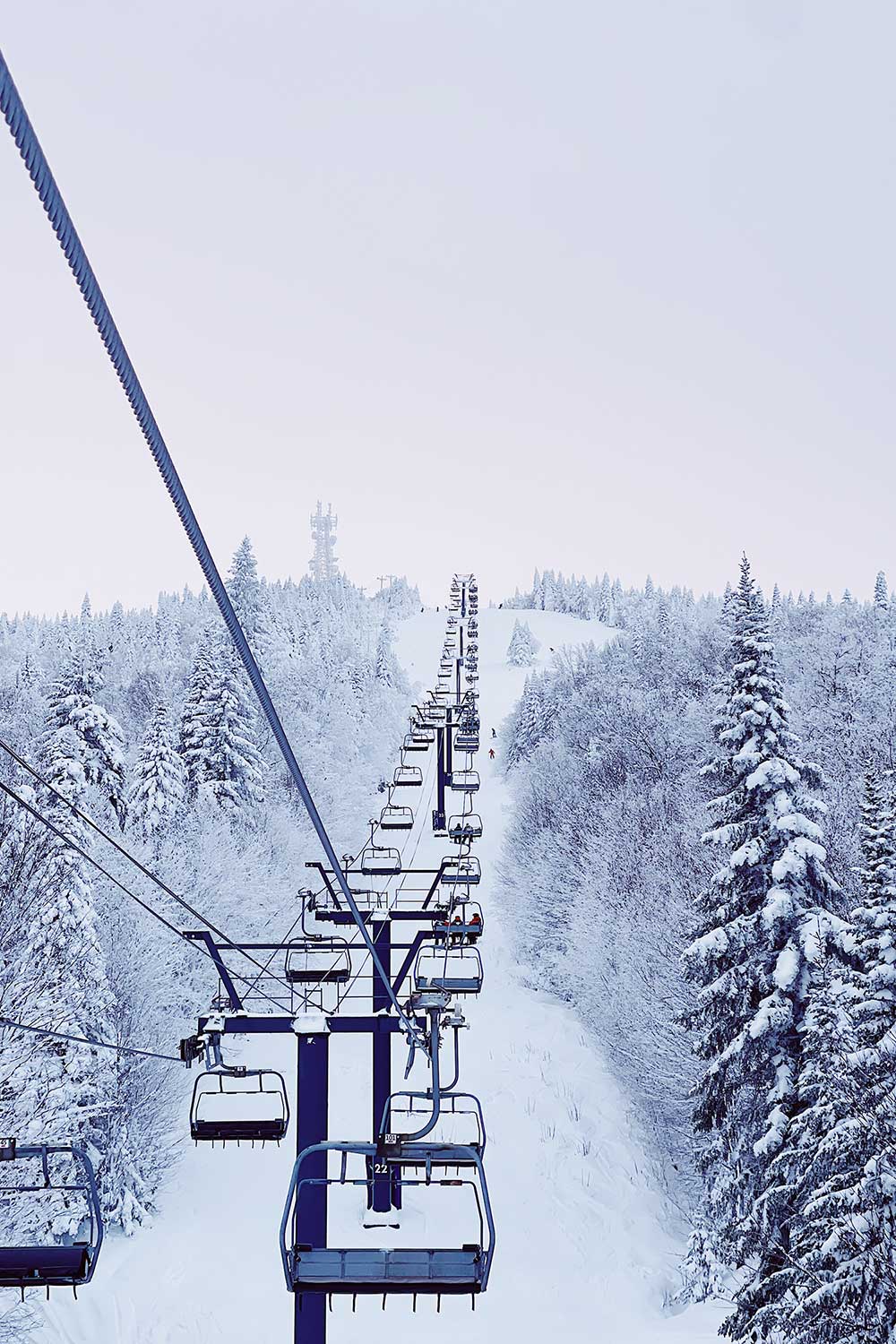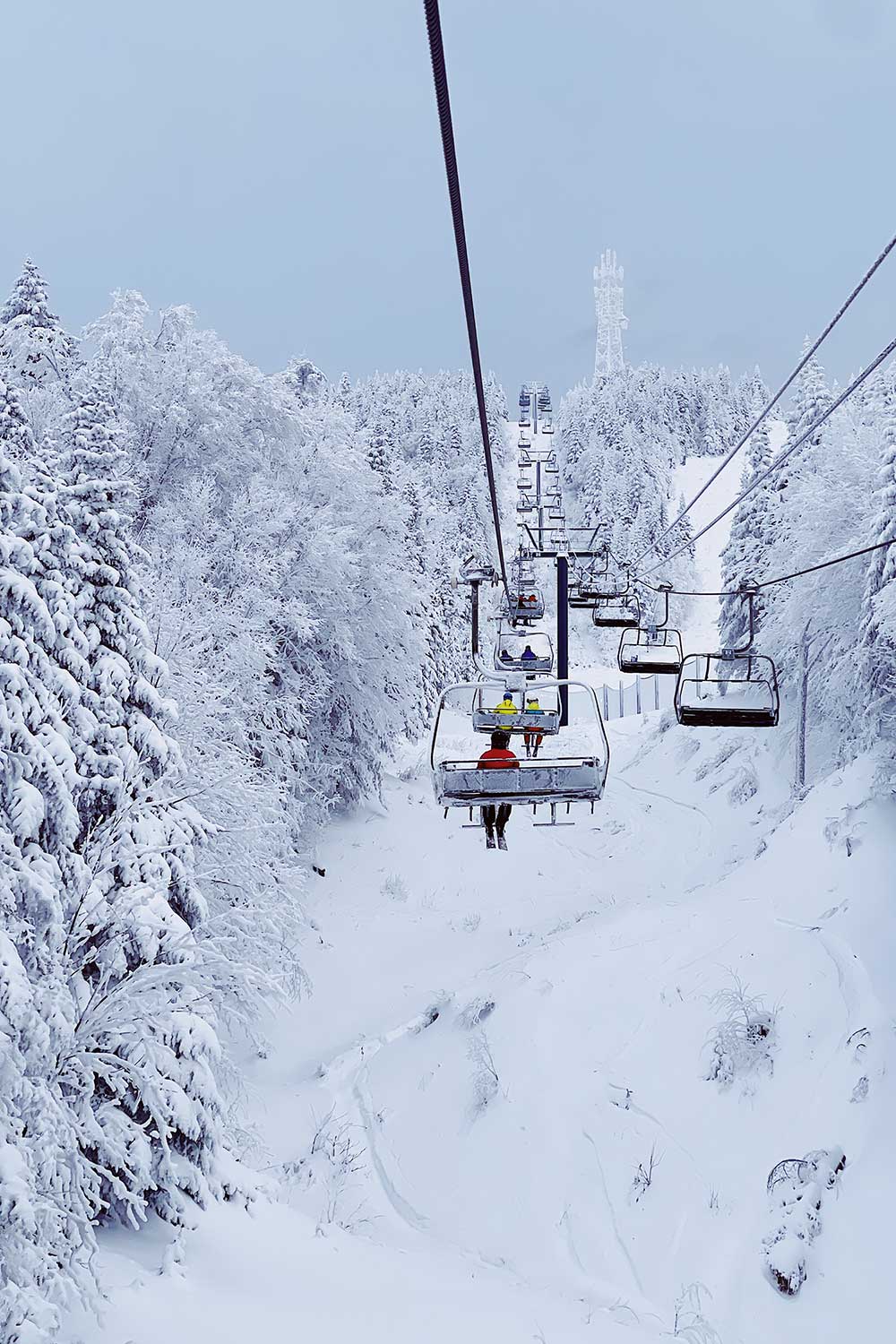 Tremblant Resort Guide
Ikon Pass
Mont Tremblant is on the Ikon Pass.
You can also purchase daily lift tickets. Make sure to do this online, in advance, for the best day rates.
Certain periods are considered 'peak' and cost more.
I recommend avoiding the week between Christmas and New Year's, which is by far the busiest week of the year at Mont Tremblant. You pay more and have to brave the crowds.
The mountain is open daily from 8:30am – 3:30pm.
ADVERTISEMENT
---
---
First Tracks
If you want to ski the freshest snow at the mountain, Tremblant sells 'First Track' access.
It's an additional add on fee (~$30) but allows you to ski the mountain first thing in the morning at 7:45am before the crowds have arrived.
As a nice bonus, Ikon pass holders get free First Tracks access a couple days a year!
Check the Mont Tremblant website for the latest dates, but during the season we visited, Ikon holders got First Track access on January 15th, February 5th and March 15th.
Pro Tip: If you're staying slopeside in Tremblant village, many of the hotels give you First Tracks access!
ADVERTISEMENT
---
---
.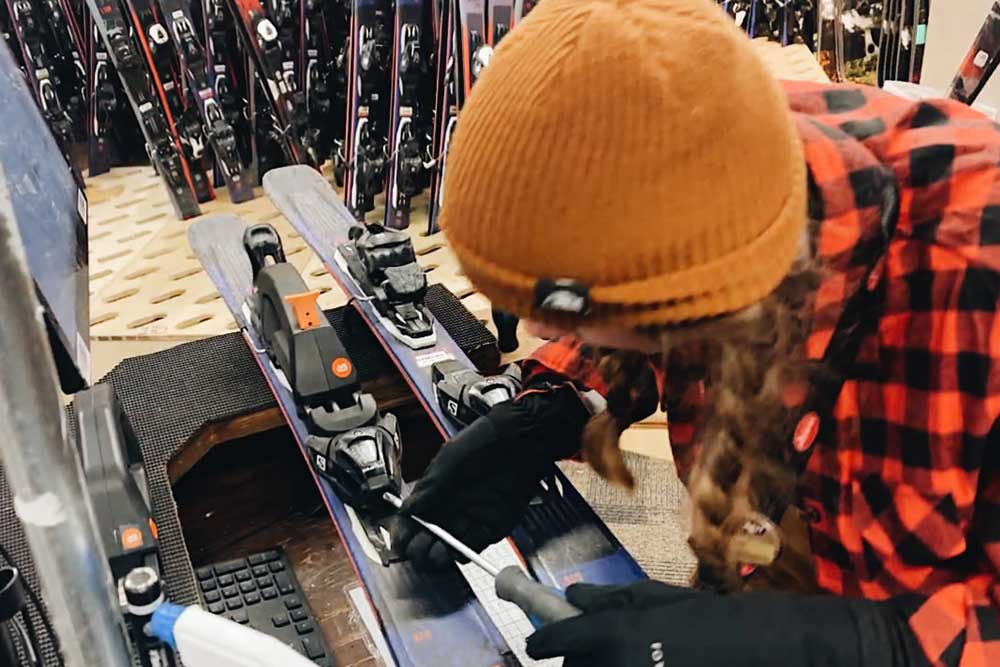 Rentals
We rented our gear directly from the mountain at the Adventure Center.
To get there, park on the South side and ride the small Cabriolet gondola up to the base area.
Renting on mountain is always the most convenient, since the shop is located right at the base of the mountain. But, it's also obviously more expensive!
To get the cheapest possible rate, book it at least 24 hours online, in advance of your trip.
Tremblant offers both equipment and clothing rental, which is nice (not all mountains rent clothing). You save about 10% on the daily rental rate by booking online ahead of time – which quickly adds up if you're skiing or snowboarding for multiple days!
I did not do this, and it was a bit of a pain to rent in person.
ADVERTISEMENT
---
---
First, head to the sales office (right opposite the Adventure Center).
Make a profile on the computers first, then wait in line to purchase and then head across the street to the Adventure Center where you'll wait in line again to actually pick up equipment.
Make sure that if you pre-booked online that your receipt contains a QR code. Otherwise, you'll need to have staff print you a QR-code receipt.
I found the staff very helpful in fitting us for skis and boots!
And on the first day, they'll store your snow boots for free in bins. There's also free ski valet on the mountain.
ADVERTISEMENT
---
---
.
Parking at Mont Tremblant
Parking was pretty convenient at Mont Tremblant.
If you arrive early (and I mean, early), you can nab a spot in the closest free parking lot, P1. There's also paid VIP parking in this area.
Overflow lots are at P2 (near Porte du Soleil lift) and then P3, 4, 5 and 6. A free shuttle bus connects all of the overflow lots to Tremblant village.
If you're staying at the village, any of these parking lots on the south side are convenient.
But, if you're staying in a condo or airbnb by Lac Superier, head to the North side parking lot. It's less crowded and lets you hop right on Duncan and Expo lifts to get skiing as soon as you arrive!
Just make sure to specifically put in 'North Side' on Google Maps. If you just type Mont Tremblant, most driving maps will direct you to the South side where Tremblant village is (they're about a 10-15 minute drive apart).
ADVERTISEMENT
---
---
.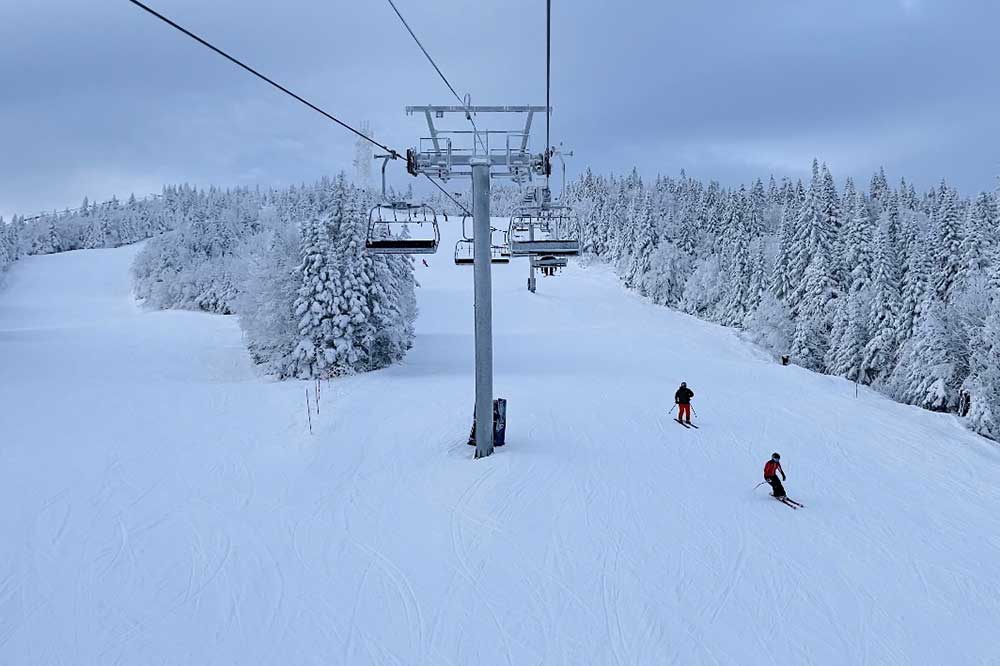 Lessons at Mont Tremblant
I didn't take any lessons on this ski trip, but my friends did!
Mont Tremblant has an Ecole de Neige (Snow School) offering both group and private options. You can choose from:
Morning (9am – 11:30am)
Afternoon (1pm – 3:30pm)
Full Day (9am – 11:30am, break, then 1pm – 3:30pm)
Morning lessons cost more, and when I asked why, the staff said with a smile "because they're more in demand" – so basically, because the mountain can, ha.
ADVERTISEMENT
---
---
Morning vs Afternoon
But I do still recommend taking a morning lesson over an afternoon, despite the extra cost.
That way, you can practice what you learn when it's still fresh in your mind!
Also, snow conditions are typically better in the morning than the afternoon. As more people ski and ride, trails get slushy and mogul-y and the afternoon sun can also create ice patches.
I skied Rope Tow and Lowell Thomas all morning in great conditions, only to find after lunch that there were huge moguls and icy patches. So try to wake up early and ski the mornings if you can!
ADVERTISEMENT
---
---
Learn to Ski / Ride
Mont Tremblant also offer a specific Learn to Ski and Learn to Ride program, for people who are complete beginners to skiing and snowboarding.
These are a great introduction to learning, and are also offered in morning and afternoon time slots. The 'Learn to Ski/Ride' lesson includes rental equipment (a regular group lesson does not).
Note: the Intro program is held in the Learner area by the magic carpet. You won't actually ride a lift, so if you want to access the mountain after your lesson you'll need to buy a separate lift ticket.
Read more:
Learning to Ski for the First Time? Here's Everything You Should Know!
Group vs Private Lessons
If you can swing it, I always recommend private lessons.
I think you get a lot more value despite the extra cost, because it can be hard to get tips and advice tailored to you in a group setting where everyone is at completely different levels.
ADVERTISEMENT
---
---
.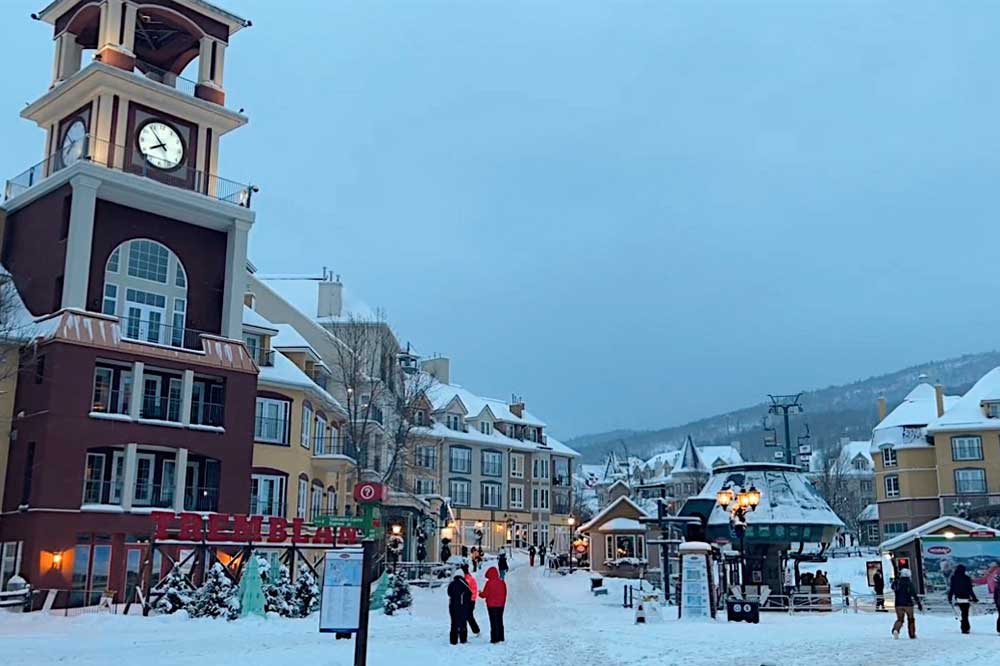 Après-Ski in Mont Tremblant
One of the highlights of visiting Mont Tremblant is its European-style village at the base of the mountain.
It's a colorful, albeit touristy, collection of shops, restaurants, lodging and activities.
When we visited over the holidays, the Village was decorated with lights, Christmas trees and tons of colorful decorations. There was a huge event calendar, plus live music for New Year's Eve.
If you want to have ski-in, ski-out access, definitely stay here. It's super convenient and that way you also won't really need a car. There are tons of restaurants, dessert shops and snack stands in Tremblant village.
ADVERTISEMENT
---
---
Where to Eat in Mont Tremblant
Here were some of our favorites! Also don't forget to try snow taffy – a sweet sticky hard candy made on the snow.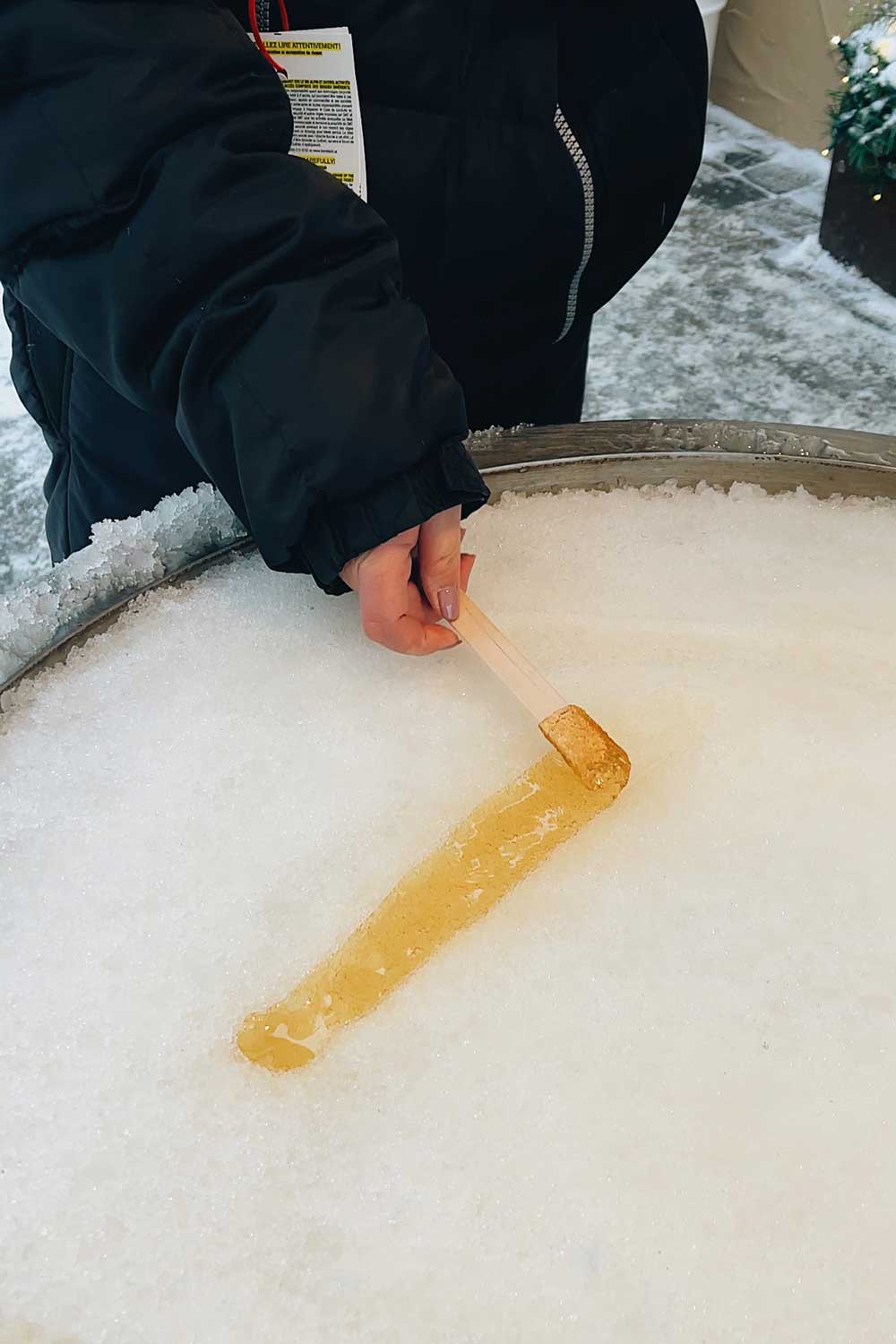 Beavertails: a fun beaver-shaped pastry with sweet toppings; they also have poutine!
La Maison de la Crepe: seated crepe shop
Microbrasserie La Diable: great lunch pub for burgers and beers
Beignes d'Antan: great dessert spot for beignets
La Quintessence: fancier spot for Laurentian-style food
Mille Pâtes: popular Italian / pasta spot
Seb Lartisan Culinaire: Quebecois cuisine
La Savoie: fondue + raclette
Café d'Epoque: for fun theme nights
P'tit Caribou: rustic ski bar with a huge dance floor
ADVERTISEMENT
---
---
.
Mont Tremblant Ski Trip VLOG
Here's a ski vlog of our trip to Mont Tremblant! Watch the video on Youtube here.
SKIING CANADA: Mont Tremblant Resort Guide, Lac Superieur + Montreal places to eat (ski vlog)
ADVERTISEMENT
---
---
Is Mont Tremblant worth the trip?
Mont Tremblant is one of the best-rated ski resorts on the East coast. It's not too big, with a great variety of terrain, so I think it's a nice destination for skiiers and snowboarders of all levels.
The pedestrian village at the base of the mountain is one of its most unique features, so Tremblant has a vibrant apres-ski scene, and for that reason I think it's worth the trip!
Is Mont Tremblant good for skiing?
I think the East Coast gets a bad reputation for icy conditions, and unfortunately the weather was pretty awful during our trip, ha, but we still had a blast.
Despite poor visibility, lots of fog and rain, we had a great time skiing Mont Tremblant!
ADVERTISEMENT
---
---
Is Mont Tremblant hard to ski?
No! Mont Tremblant has ~50% beginner and intermediate terrain, so it's a great place to learn to ski or to improve your ski skills.
A beginner can ski from the peak to summit on a gentle green trail which isn't usually so for most mountains! Nansen trail on the South side is a long 3.7 mile green that takes you all the way back to the pedestrian village.
Also, the blues and single black diamonds aren't as steep as some other resorts I've been to, and are typically groomed overnight. For example, a blue run at Big Sky felt similar to a single black diamond at Mont Tremblant.
But, there's plenty of advanced and expert terrain, including moguls, ungroomed double blacks and tree skiing on the Edge. So I felt it was a very balanced mountain for all different skill levels!
Can beginners ski at Mont Tremblant?
Yes. The mountain offers an extensive range of lessons, including a Learn to Ski and Learn to Ride option for complete beginners. There's a pretty extensive magic carpet and learner area at the base.
Also, compared to some larger resorts, pricing for lessons wasn't too expensive. Group half day options were about $150, while private half day lessons cost about $400.
---
Overall, Mont Tremblant has a little something for everyone!
It's not the steepest mountain, but for families and groups looking for a complete ski-weekend experience, Tremblant offers a bit of everything: well rounded terrain, easy navigation and an utterly charming village.
Ski Wear Haul
I posted a couple try-on hauls of all the ski wear brands that I've tried. You can check them out on my Youtube channel here.
ADVERTISEMENT
---
---
ADVERTISEMENT
---
---
ADVERTISEMENT
---
---
Read More: in our ski style series:
Ski Trip Packing Essentials
What to Wear Skiing: Packing List Must Have's
The Best Ski Pants for Women (Stylish & Functional)
I Found the CUTEST Women's Ski Pants (Video)
Are Designer Ski Pants Worth It? (Try-On Haul)
The Best Ski Sweaters for Apres-Ski 
Planning the Perfect Ski Trip
What to Know Before Skiing in Vermont for the First Time
Ski Trip Recaps + Mountain Guides
Lake Tahoe, California: Heavenly, Kirkwood & Northstar
Montana: Big Sky
Vermont: Stowe
Catskills, New York: Belleayre Mountain
Quebec, Canada: Mont Tremblant
+ More Ski Vlogs on Youtube
ADVERTISEMENT
---
---
Follow me @Sher She Goes on