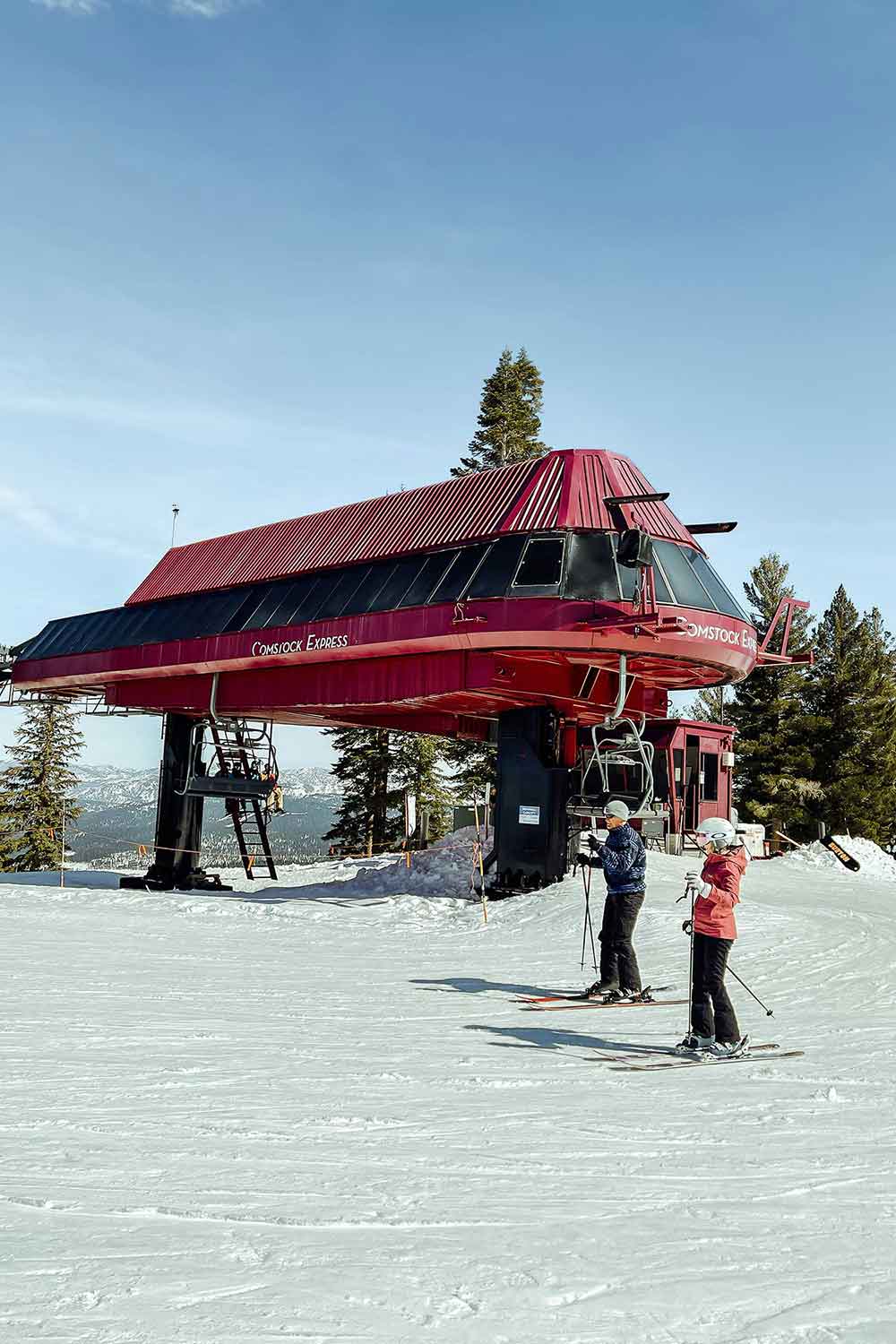 shop my favorite ski looks here
Northstar California
Lake Tahoe is home to the tightest concentration of ski resorts in the country, so you're literally spoiled for choice.
My friends and I spent 3 weeks in Tahoe to try out as many as we could, and focused on the 3 resorts on the Epic Pass. Out of them all… I think I liked Northstar the best!
Don't get me wrong – every ski resort around Lake Tahoe has its pros and cons.
Northstar California, nestled among the Martis Valley of North Lake Tahoe, is a bit more luxurious and groomed. It has a bustling winter village, impeccably groomed runs on the face of an extinct volcano, and a fun terrain park where you can really let loose.
Here's everything you need to know about planning a ski trip to Northstar California Resort!
ADVERTISEMENT
---
---
Quickly jump to a section:
Keep reading, or pin this article to save it for later ⇟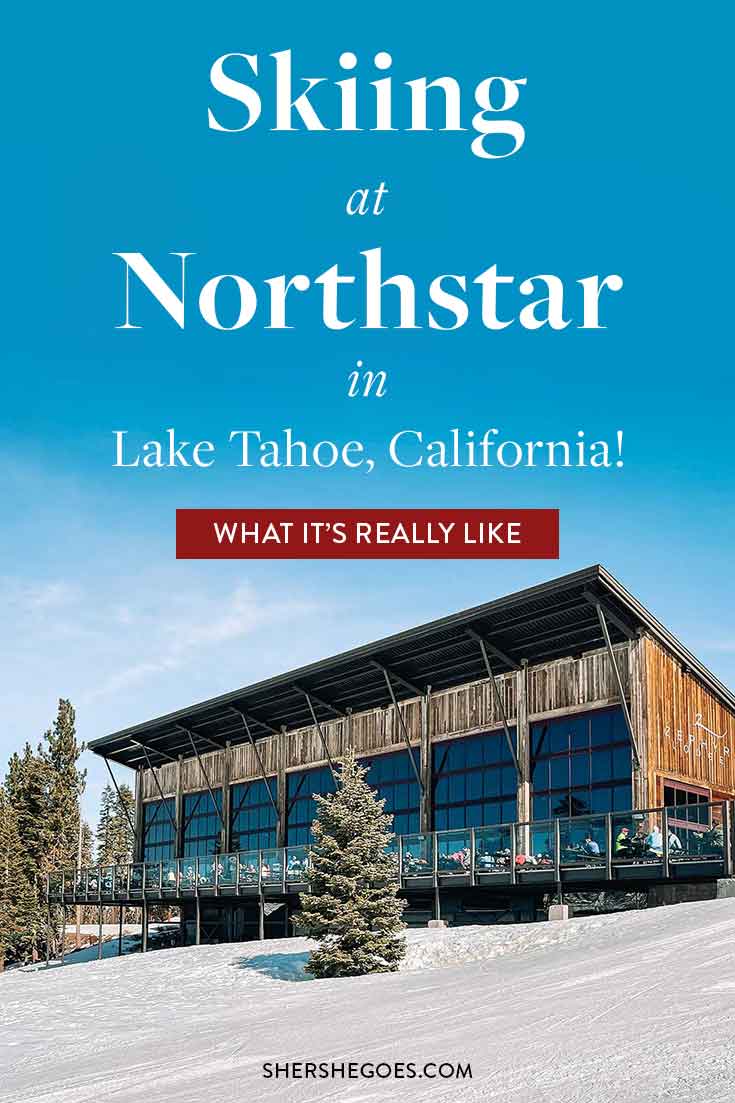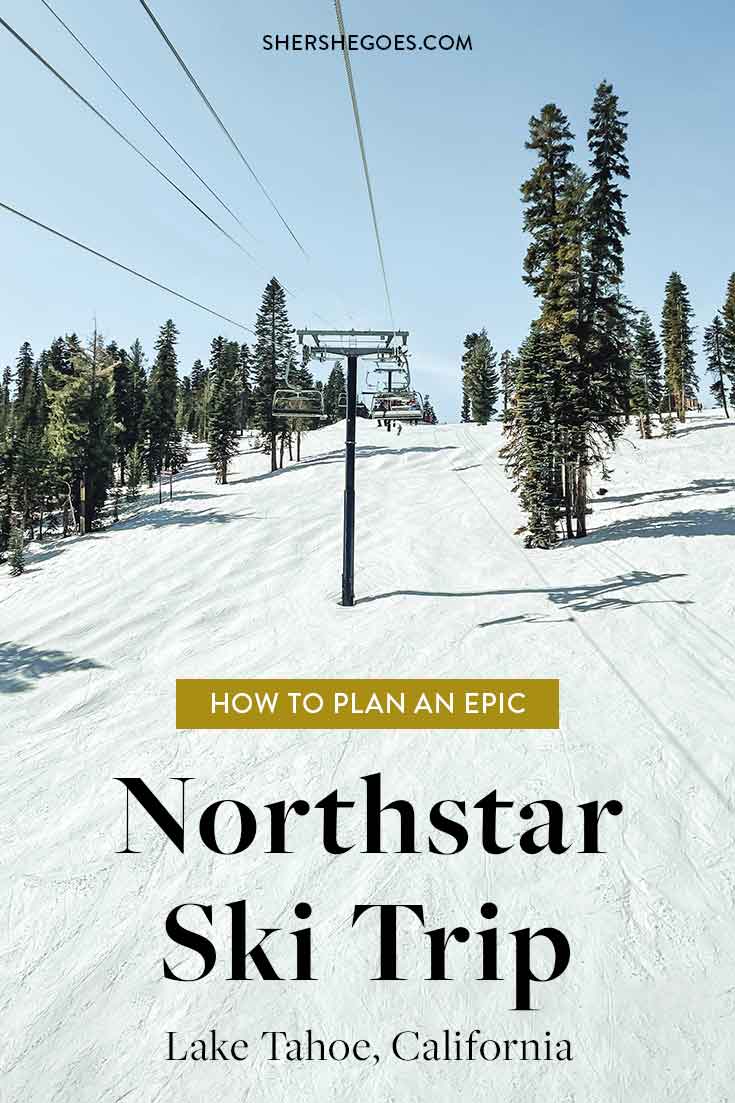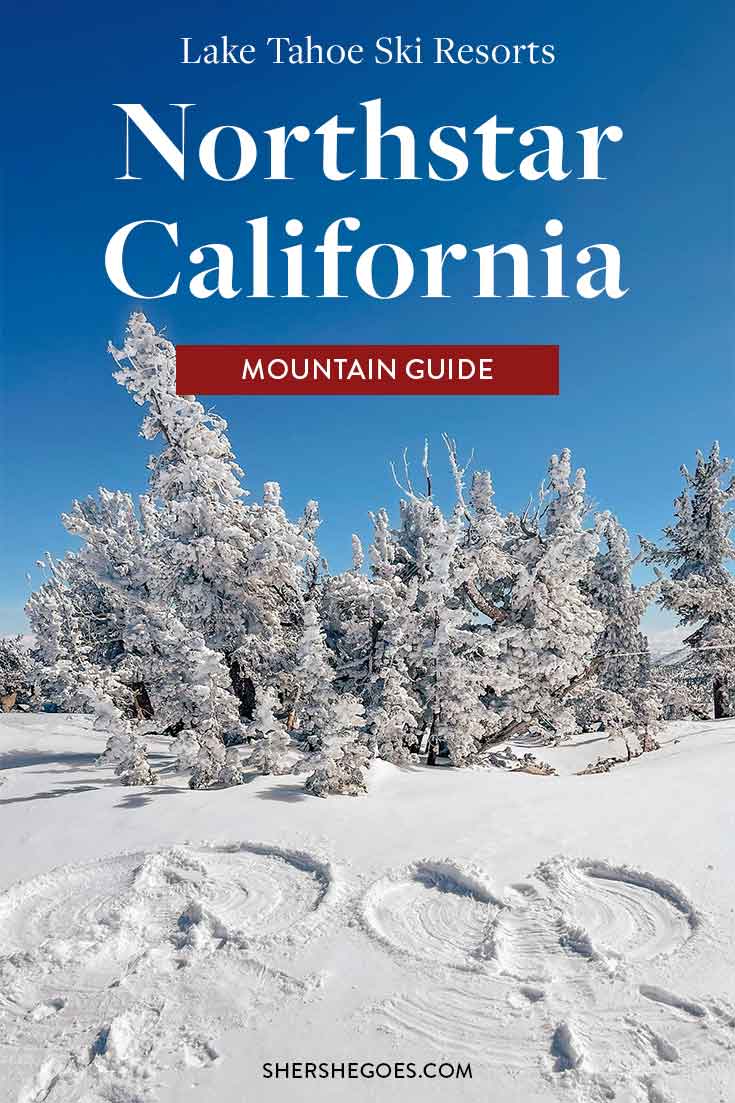 ADVERTISEMENT
---
---
.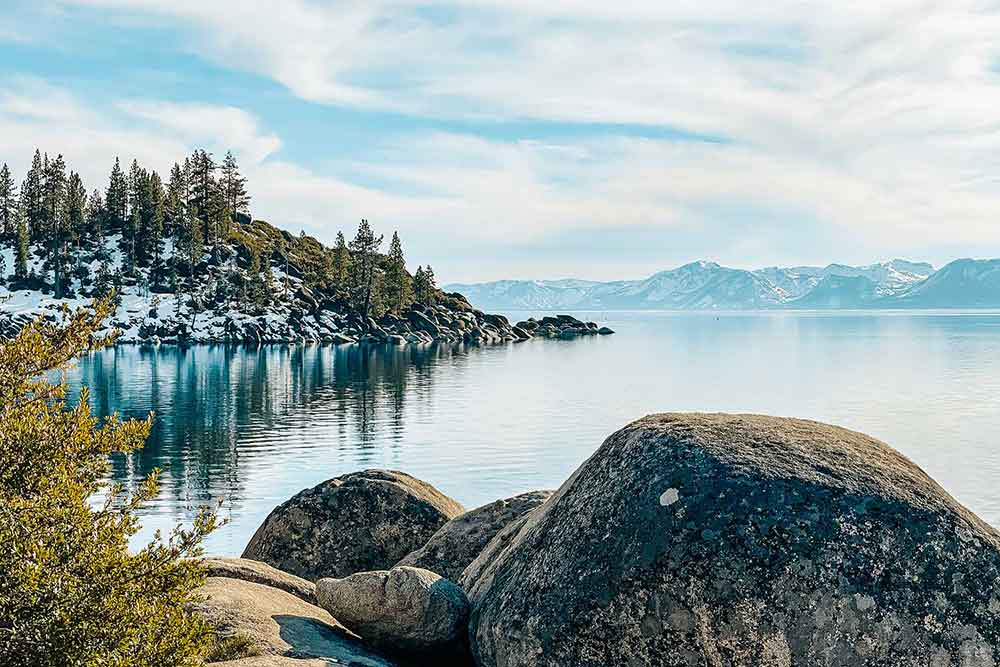 Lake Tahoe in Winter
Lake Tahoe is one of the most unique places in the country in every season, but especially in the winter.
The turquoise blue lake is as blue as all the postcards and seeing it in person was surreal. And in winter, the lake never freezes!
Thanks to its elevated position 6,000 feet above sea level, deep in the Sierra Nevada mountains, Lake Tahoe stays crystal clear but receives fistfuls of snow.
Well, more accurately, an average of 215 inches of snowfall every year.
And, it's quite a sunny destination!
I think that's what makes skiing at Lake Tahoe such a fun experience. There's deep powder, sunny blue skies and scenic views. It really does live up to all the hype.
ADVERTISEMENT
---
---
.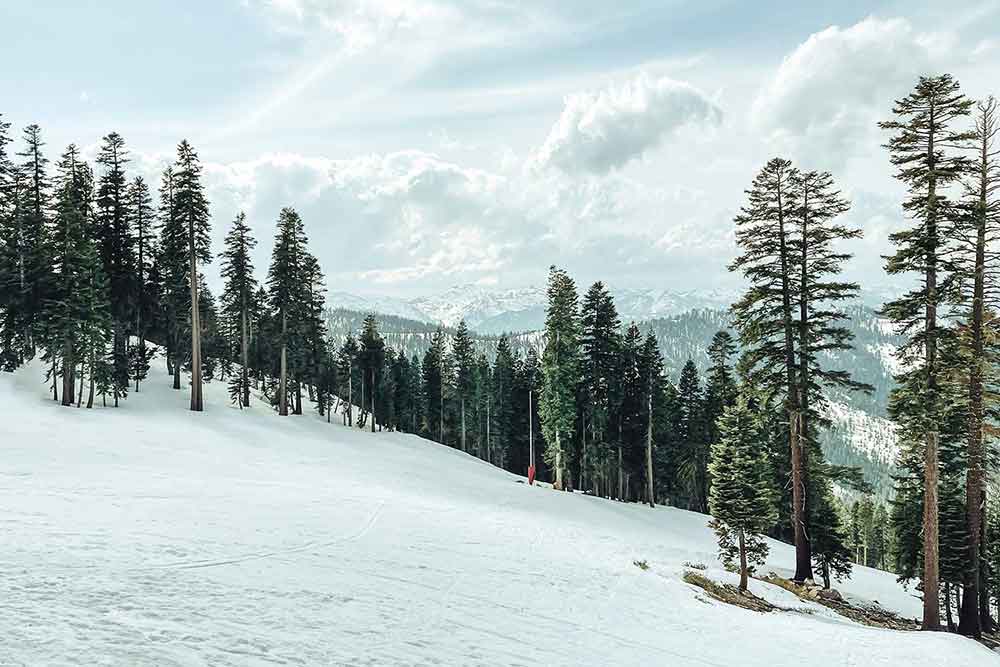 Skiing in Lake Tahoe
Lake Tahoe is home to the most concentrated number of ski resorts in America (a whopping 11!).
There's Palisades Tahoe (formerly known as Squaw Valley and host of the 1960 Winter Olympics), Sugar Bowl (a picturesque resort located on Donner Summit), Mt. Rose (a great place for advanced skiers) and many more.
It's hard to narrow down which ski resort to visit first, so I recommend going by the type of pass you have. If you have the Epic Pass, there are three Vail-owned resorts around the lake.
Vail's Tahoe trifecta includes:
Heavenly: famous for its two state skiable terrain and views of Lake Tahoe
Northstar: the most luxurious ski resort in the area, with a quaint village at the base, great for families
Kirkwood: a favorite mountain for locals, due to its more challenging terrain and back bowls
Each resort is unique and offers something slightly different – so I'm going to say you should try to visit all 3!
Since we live on the East Coast and it can be hard to get out west, we took advantage of remote work and spent a good 3 weeks out in the Bay Area so that we had enough time to see all 3.
Today's post is all about Northstar.
ADVERTISEMENT
---
---
.
Getting In
Northstar is located on the northwest portion of Lake Tahoe. It's a popular ski resort for people living in the Bay Area, since the mountain is about a 3-4 hour drive from San Francisco.
But, if you're flying in, the nearest airport is actually Reno, Nevada – about an hour's drive from the resort.
Flying to Tahoe
Lake Tahoe spans two states – California and Nevada.
The two closest major airports are San Francisco International (SFO) and Reno-Tahoe International Airport (RNO). Coming from NYC, we flew in to SF and then flew out of Reno.
Both are convenient options and have their pros and cons!
San Francisco tends to have a lot more flight options and cheaper fares. But, you'll need to rent a car and drive about 4 hours to reach Tahoe.
Reno is much closer to Northstar, about a 1 hour drive from West Lake Tahoe, and also is an hour shorter flight route back to New York. But, Reno is quite a small compact airport.
During our trip, there was only one nonstop flight option each day, a red-eye on Jet Blue that departed at midnight. We noticed Reno airfare is also a bit more expensive.
There's also the small local airport of Truckee, which is located about 15 minutes away in nearby Truckee, California.
I recommend setting a flight alert and comparing your options!
Check flights and set fare alerts for Tahoe here.
ADVERTISEMENT
---
---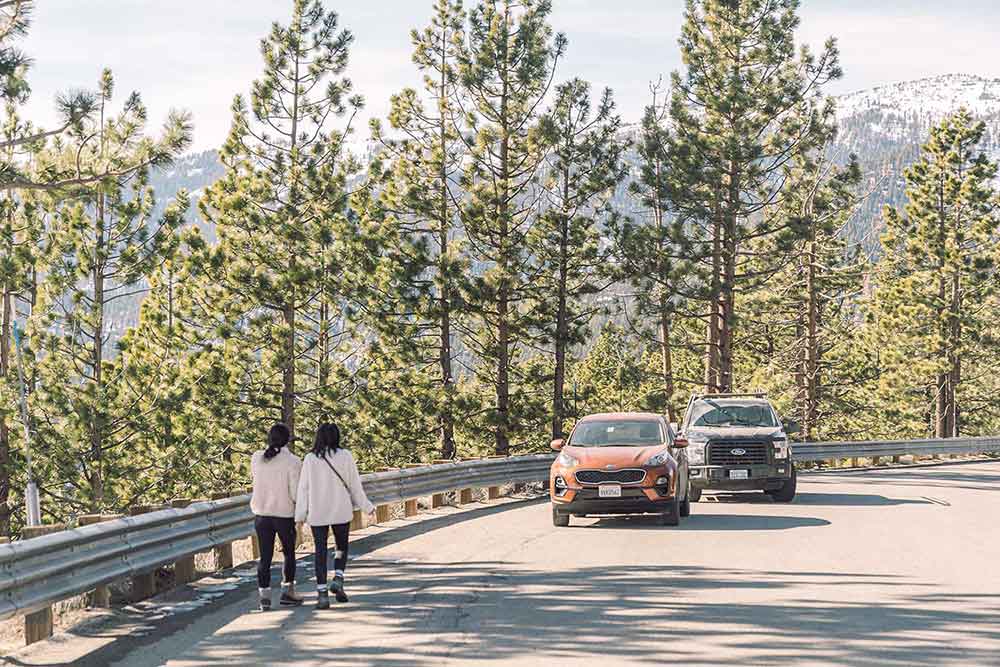 Driving to Tahoe
You definitely need a car to visit Northstar.
I highly recommend renting a hatchback or SUV so that the car has room for all your ski and snowboard gear. Also, make sure to select a rental car with AWD or 4WD – you want the car to have enough power and control when it snows!
As an extra safety precaution, buy snow chains for your trip. Tahoe does a great job of clearing snow from roads quickly, but we did have one instance where the car skid on ice!
We rented an SUV in downtown San Francisco and it took us about 4 hours to drive to South Lake Tahoe, without traffic. On the way home, we dropped off the car at Reno Airport (thankfully the car rental company stays open late!) and flew out of Nevada.
On weekends in peak season, traffic can be insane so plan ahead!
The last two hours or so around Lake Tahoe are primarily a local two lane road, so traffic can easily get backed up. Try to avoid traveling from San Francisco to Tahoe on Friday to skip the crowds.
There's also lots to see and do in the villages around Lake Tahoe, so a car really comes in handy to explore!
Check here for rental cars for your dates.
ADVERTISEMENT
---
---
.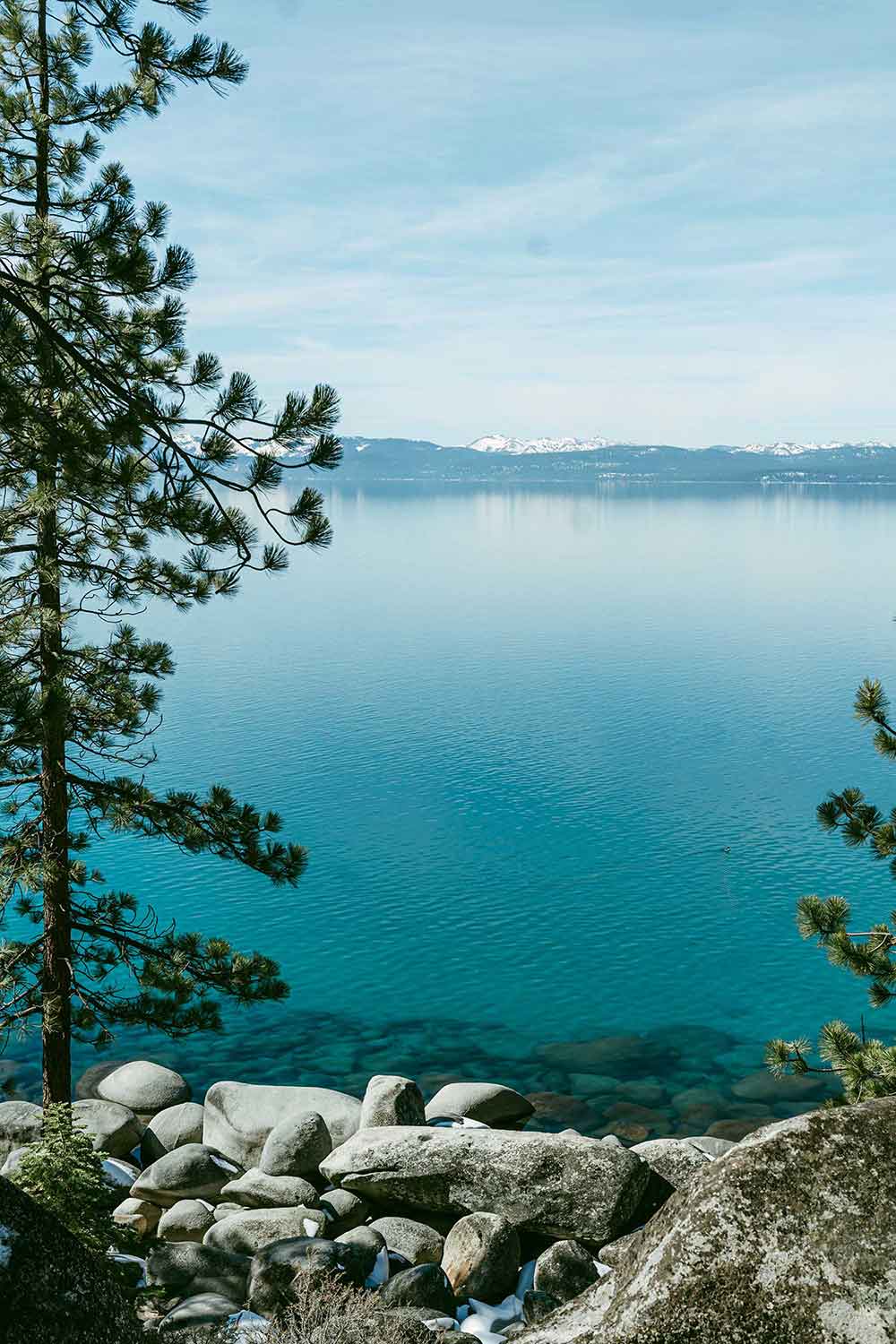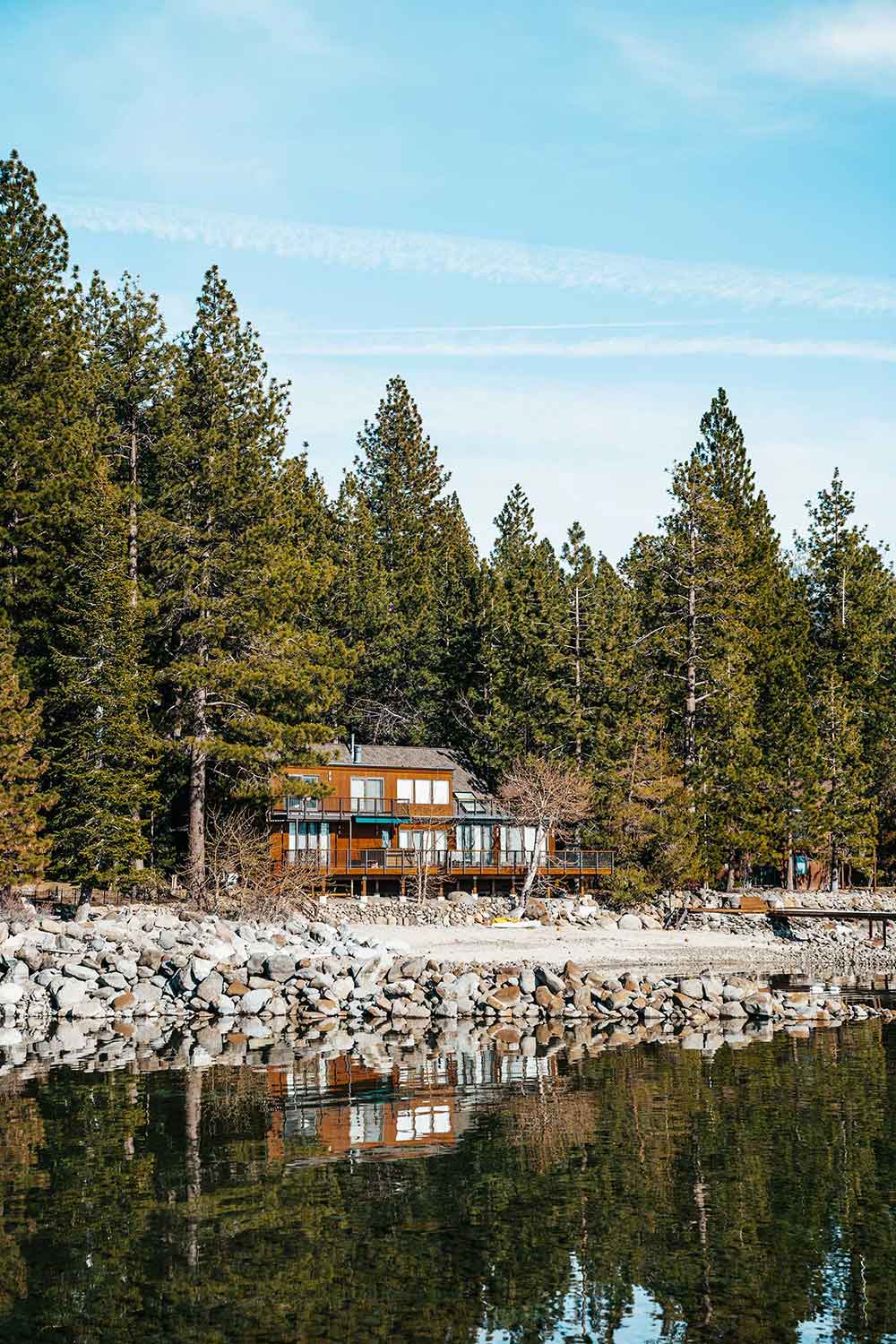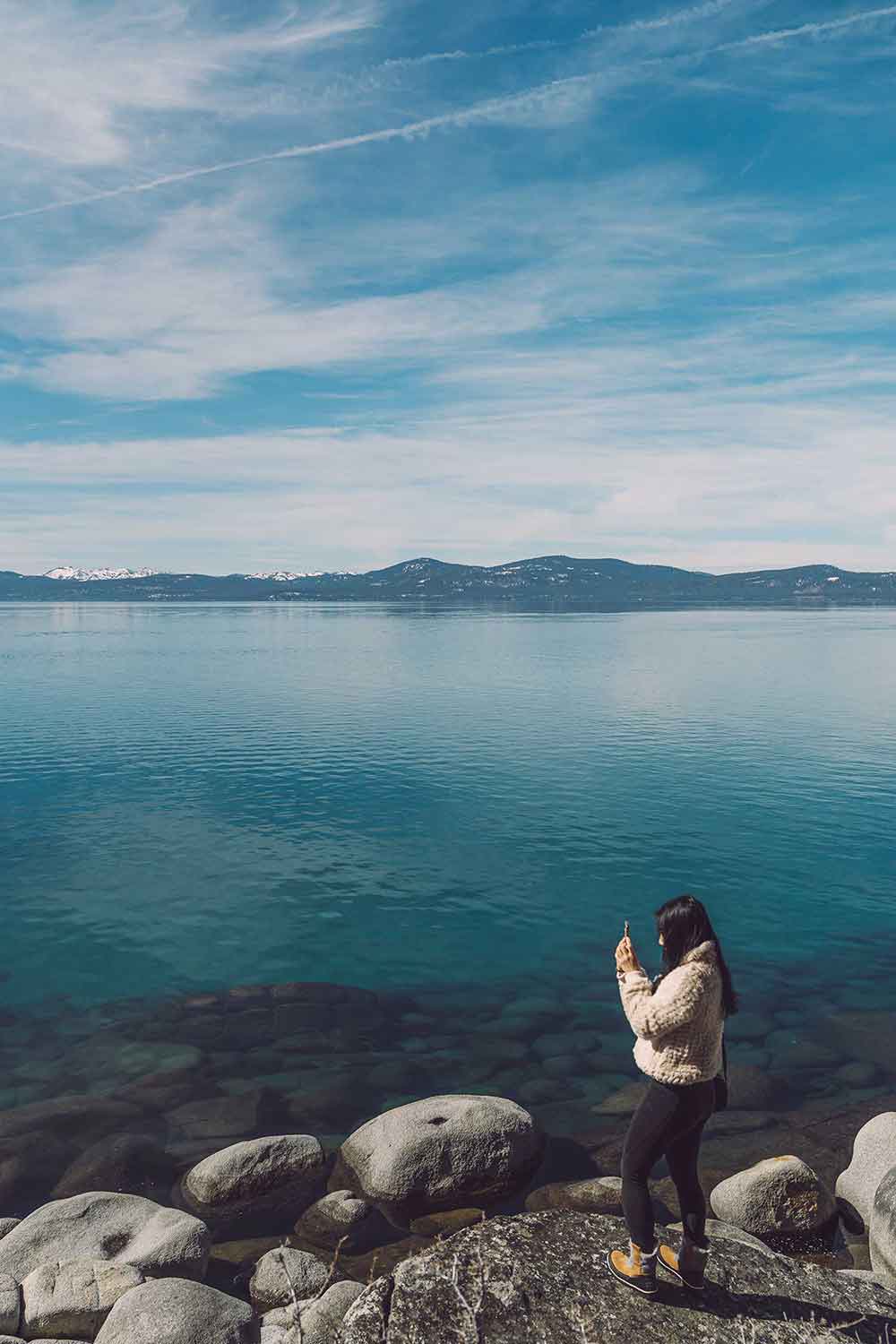 Where to Stay in Tahoe
The lake spans two states, California and Nevada, and is often divided into North and South Lake Tahoe. The two sides of the lake are as different as night and day.
North Lake Tahoe is quieter, with less people and less urban development. The vibe is a bit more rustic and relaxed!
North Lake Tahoe also has more ski areas compared to the south, so if you're a diehard skier looking for varied terrain you might prefer staying on the north side. If you primarily plan to ski at Northstar, stay in Truckee or any of the towns on the North side.
There's also some fantastic restaurants (both fine dining and hole in the wall spots) on the northern section of the lake! I cover some of our favorites in my Northstar vlog.
There are more limited hotels in the north, and most are more upscale. But, you'll find a variety of condos and house rentals.
Browse hotels in North Lake Tahoe.
South Lake Tahoe tends to be more popular, because it has all the nightlife, casinos and bars!
The south side is much more developed – with modern conveniences like grocery stores, gas stations and shopping here – so most people stay on this side.
You can find something to do at every hour, from hiking to skiing to shopping. If you plan to ski at Heavenly or love backcountry skiing, stay on the southern shore.
I cover some of our favorite South Lake Tahoe spots in my Heavenly vlog.
The south side also has a huge variety in hotels. You'll find everything from budget options to casinos to boutique properties.
Browse hotels in South Lake Tahoe.
ADVERTISEMENT
---
---
North Lake Tahoe Hotels
There's a Ritz Carlton within Northstar Village.
It offers ski-in, ski-out access, luxurious rooms and tons of amenities. The Ritz is located near the top of Big Easy chair lift, roughly mid mountain.
Check rates on: Booking.com, Hotels.com | Read reviews: TripAdvisor
On the more affordable spectrum, there's a Best Western Plus in the town of Truckee nearby. I believe they also offer a convenient bus shuttle between the hotel and ski resort.
Check rates on: Booking.com, Hotels.com | Read reviews: TripAdvisor
Other hotel options include:
Browse hotel deals in North Lake Tahoe.
ADVERTISEMENT
---
---
.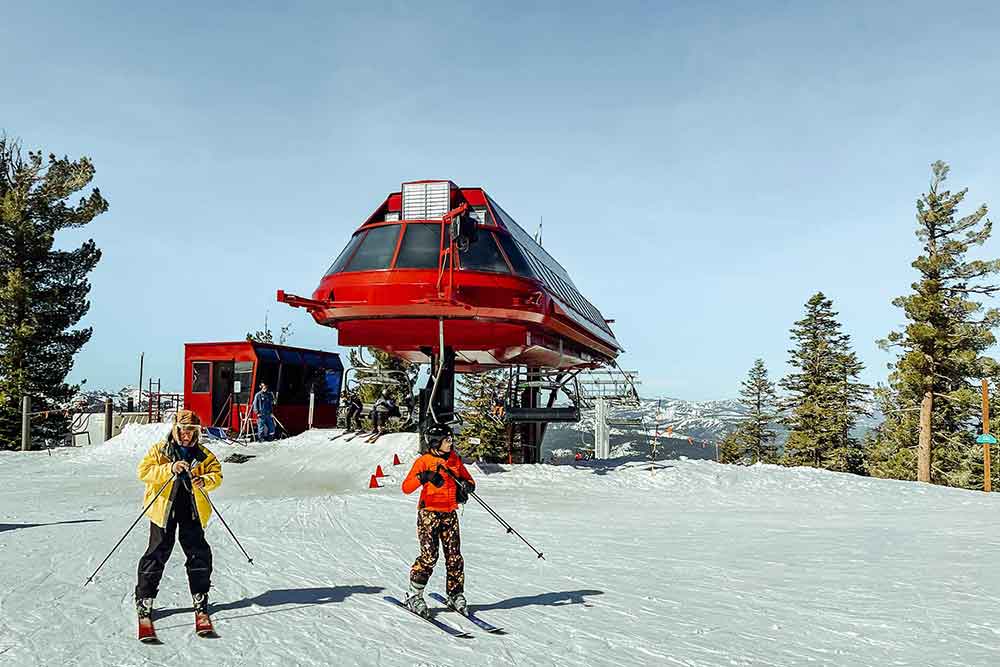 Northstar California Resort Overview
Northstar is located in northwest Lake Tahoe, on the site of Mt Pluto, an extinct volcano that erupted more than 2 million years ago.
Today, it's a moderately pitched mountain with wide open runs, a family-friendly winter village, and expansive scenic mountainscapes. Northstar calls itself 'California Comfort' but I'd argue it's one of the most luxurious ski resorts around the lake!
The mountain has over 100 trails spread across 3,000 acres, with much of it beginner to intermediate terrain.
The best part?
Its terrain park, where skiers and snowboarders of all levels can practice their jumps!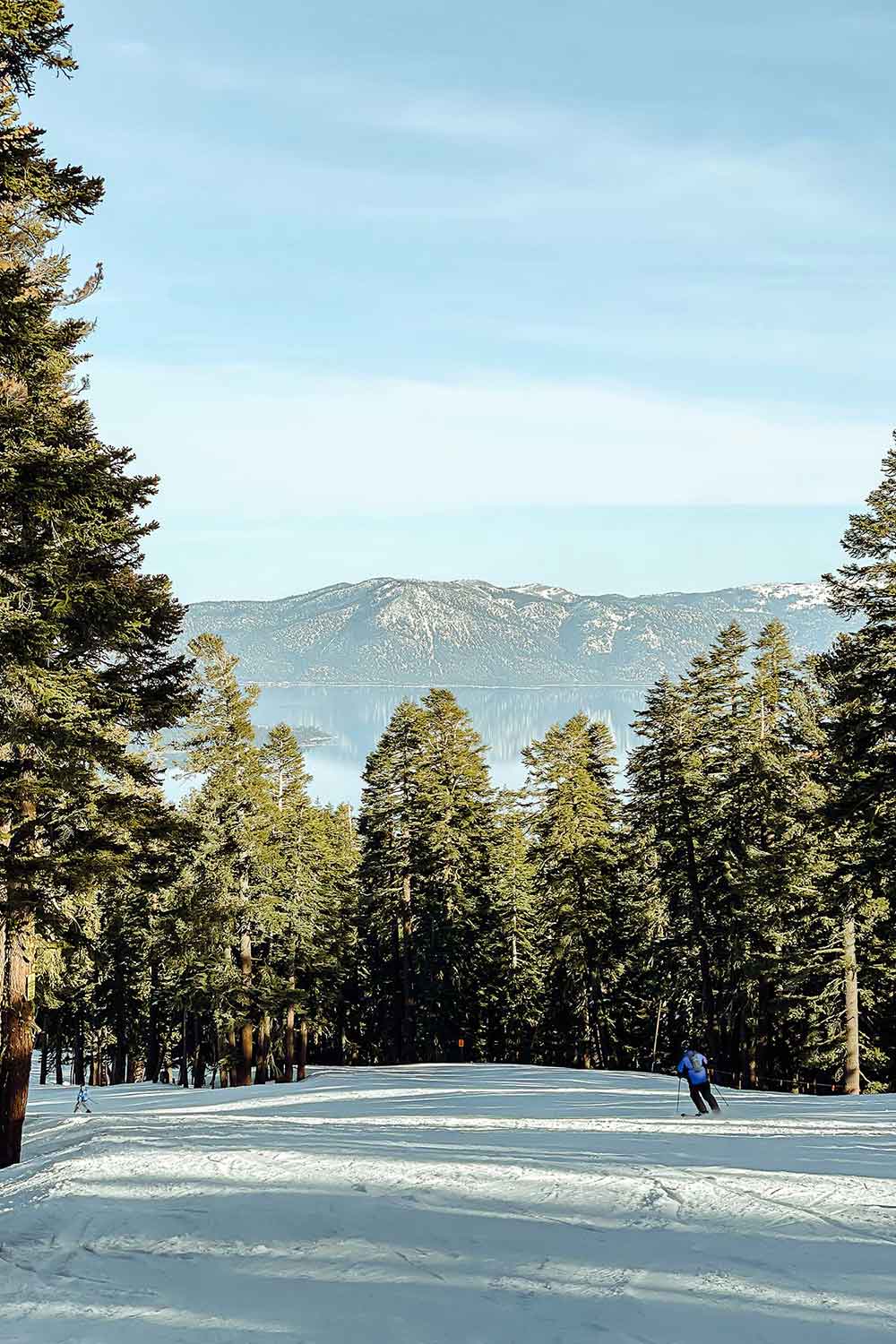 At a Glance
Base Elevation: 6,330 feet
Summit Elevation: 8,610 feet
Vertical Drop: 2,280 feet
Lifts: 20
Runs: 100
Skiable Acres: 3,170 acres
Terrain:

13% beginner
60% intermediate
27% advanced
ADVERTISEMENT
---
---
.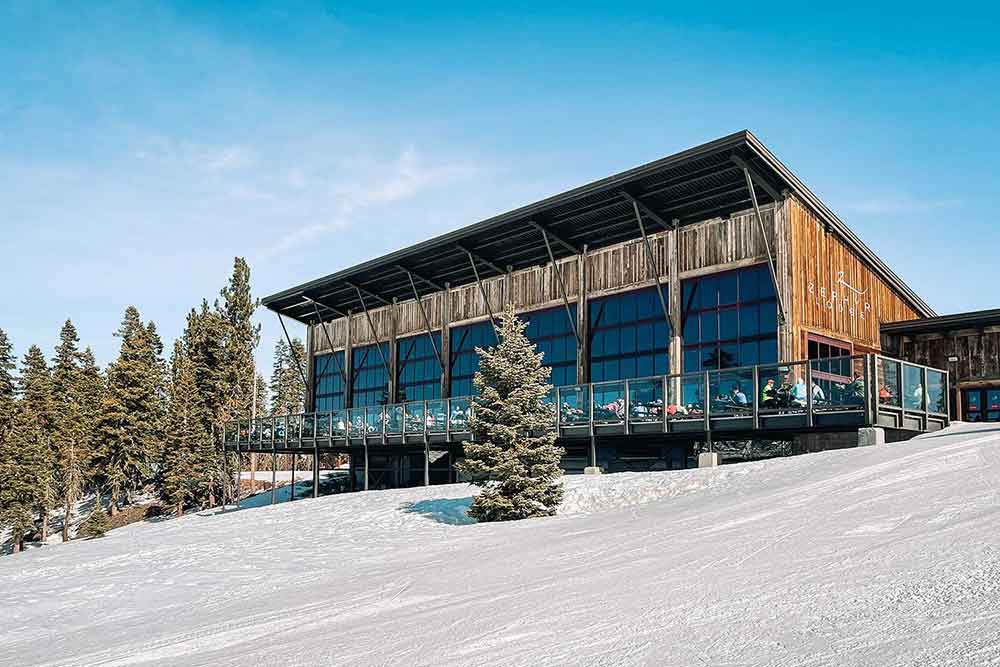 Skiing at Northstar
Northstar is formed on the banks of volcanic Mount Pluto.
Don't worry – it last erupted over 2 million years ago! At the time, lava and mudflows created a dam that today is Lake Tahoe.
There are 3 main sections to Northstar:
Mount Pluto: This section has a number of easy greens and gentle blues. The terrain park is also here! The blues are wide, groomed, and easy to ride if you're a beginner or intermediate.
Backside: For a challenge, head to the steeper terrain on Northstar's backside. Most all of the runs are groomed, so if you're an expert you might be underwhelmed by the limited un-groomed trails and sparse glades.
Lookout Mountain: I didn't check this out, but Lookout Mountain has a single black diamond trail and a long blue (Washoe) that runs all the way down to the base.
ADVERTISEMENT
---
---
While the mountain itself is pretty big (100 runs spread across ~3,000 acres) the pitch of the mountain is pretty modest (2,200 vertical drop), so it's a great place for beginners and intermediates.
In fact, a guy joked to me on the lift that locals call it 'Flatstar'.
When you arrive, you walk through Northstar Village, a well designed and expansive array of shops, cafes, and restaurants. You can pick up rental equipment or sign up for lessons here.
There's also a huge ice skating rink where everyone congregates at the end of the day (and Northstar hands out free s'mores!)
Within the village is also the gondola, which you'll ride to reach the base of the mountain by Vista Express and Zephyr Express. Most of the skiing is around these two lifts.
ADVERTISEMENT
---
---
.
Northstar Terrain Park
Northstar's best feature, in my opinion, is the terrain park!
There's a whole section on the mountain dedicated to freestyle, with progression jumps so skiers and snowboarders of all levels can try them out and have fun.
I'd revisit the resort just for the terrain park.
There's a mix of small jumps, hips and ride-on boxes at the Burton Progression Park. If you have some experience under your belt, check out Moonshine Park for some intermediate park terrain.
And if you're advanced, head to The Straits.
The end of the terrain parks funnels down to an 18 foot half pipe, where snowboarders are always practicing their tricks!
And if you just want to see it before attempting it, ride Vista lift. I nearly fell out of my chair craning my neck to watch everyone below ha.
ADVERTISEMENT
---
---
.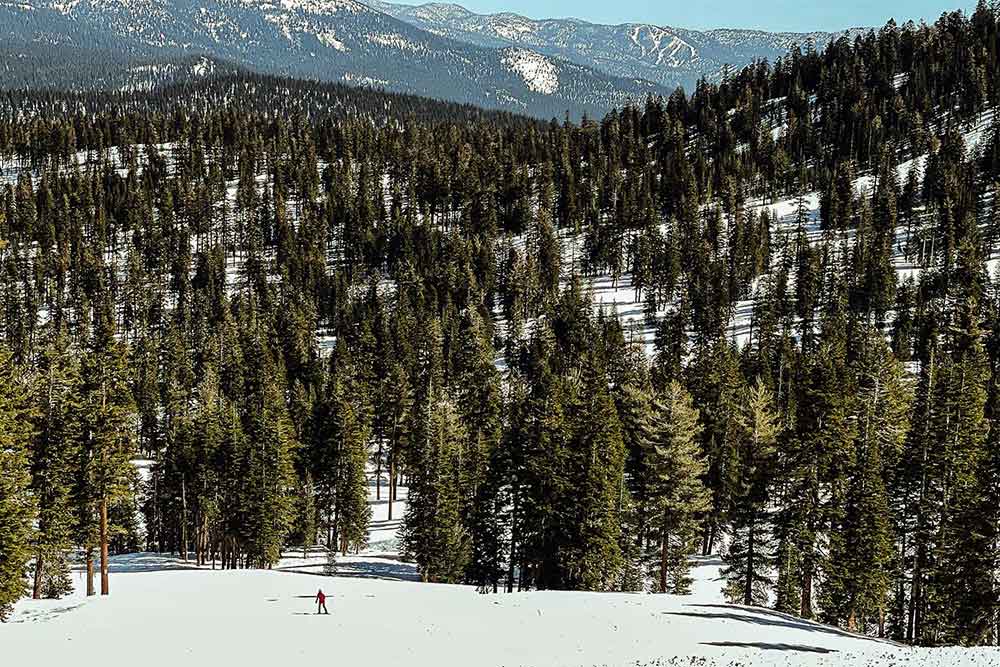 Best Runs at Northstar
60 percent of the runs at Northstar are blue, so this is a great mountain for intermediate skiers and snowboarders who are already somewhat comfortable and want to practice more.
Beginners: Most of the green runs are located near the gondola. Try village run to ski all the way back to the main village.
Intermediates: The frontside of Mount Pluto has lots of groomed blues off Comstock lift. Try the runs off West Ridge and then end the day with East Ridge, which has a nice view of the lake on clear days.
Advanced: The backside of Mount Pluto is for advanced skiers, with steep groomed trails and some tree skiing. You can also check out the terrain park if you're an advanced snowboarder!
Northstar also has one of the most extensive snow-making capabilities of all the ski resorts around Lake Tahoe, so conditions are usually pretty good. The season typically runs from mid-November to mid-April, with an average snowfall of 9 meters per season.
ADVERTISEMENT
---
---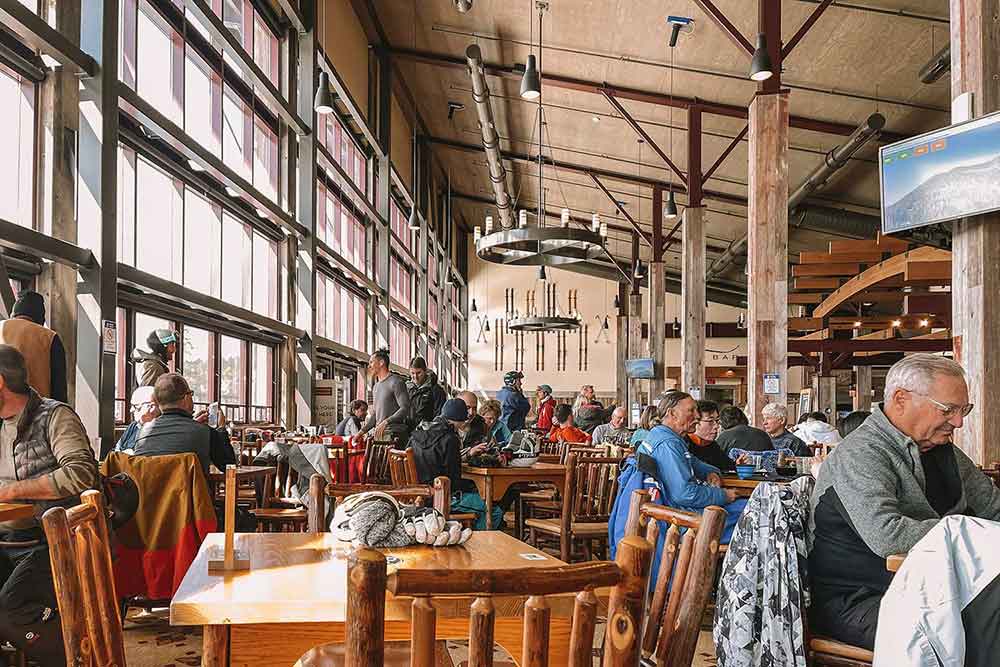 Northstar Lodges
Northstar has 3 main lodges on the mountain:
Big Springs Lodge: mid-mountain right at the top of the gondola, with casual options like burgers, chicken tenders, pizza and salads
Zephyr Lodge: located mid-mountain right near Zephyr lift. Similar casual options, with a nice outdoor deck that has a view of the mountain
Summit Smokehouse: the highest lodge located near Comstock lift with BBQ options
ADVERTISEMENT
---
---
.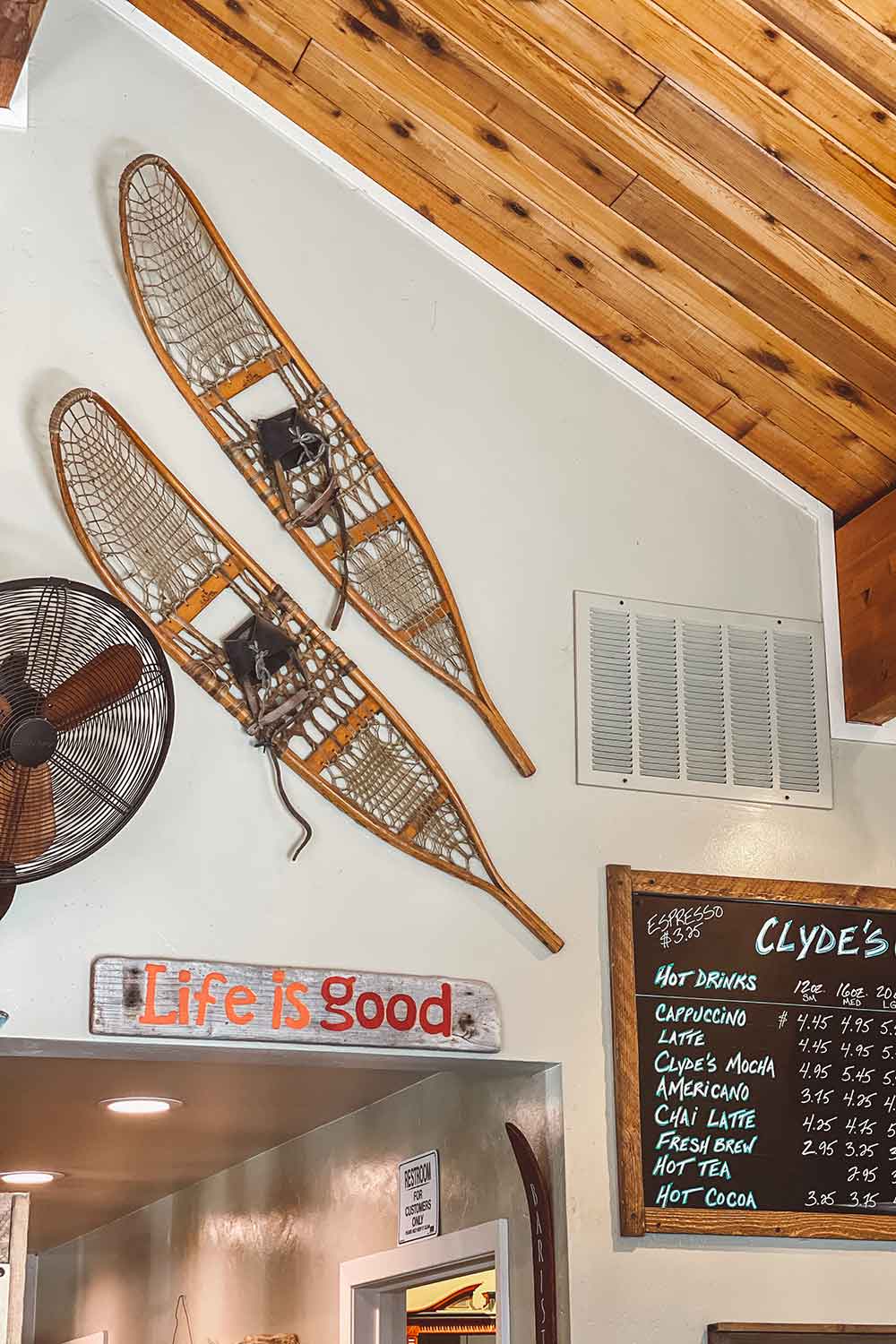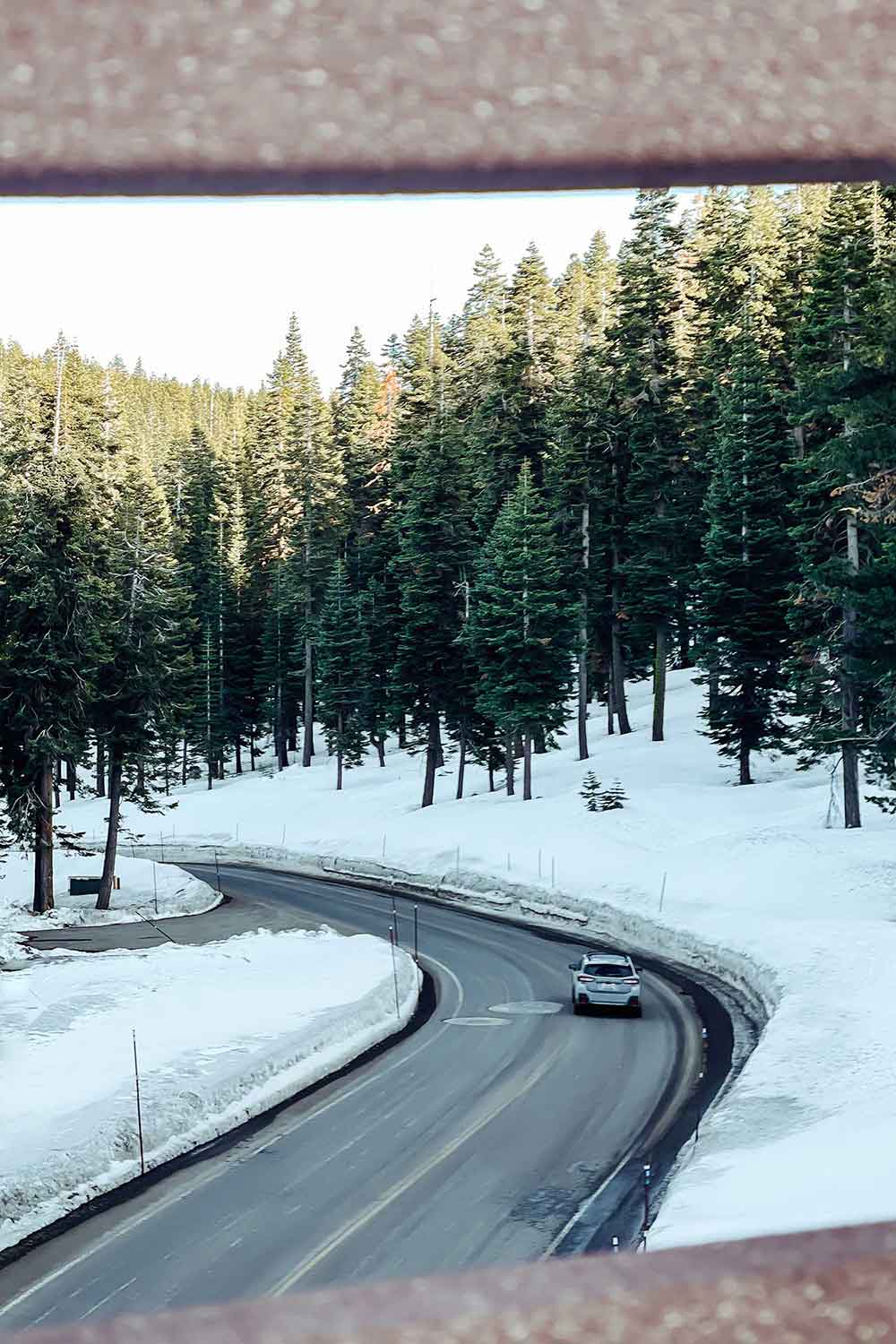 Epic Pass
Northstar is part of Vail Resorts and is one of 3 Vail-operated mountains around Lake Tahoe.
If you have the Epic Pass or Epic Tahoe Local Pass, you can ski at Northstar, Heavenly and Kirkwood!
Northstar is located on the northwestern section of Lake Tahoe and about an hour's drive from both Heavenly (down in the southwest section of the lake) and two hour's drive from Kirkwood (even farther south of the lake)
Each mountain is different, with its own unique features, so I do think it's worth skiing at all 3!
ADVERTISEMENT
---
---
.
Rentals
I rented my skis and equipment from Heavenly since we were staying on the south side of the lake.
Book your gear online, in advance, to save ~20%. You can also opt for slope-side pickup or free delivery to your hotel or condo.
And, the nice thing about skiing at Vail's resorts in Tahoe is that you can rent your equipment for your trip, pick them up at one resort and drop them off at another. So you don't have to double back and make an extra hour long drive, which is really handy!
.
Parking at Northstar
The immediate parking around Northstar village is paid parking. On our visit, it ranged from $20-40 per day.
But, there is plenty of free parking a little farther away. When we visited, there were plenty of staff guiding you to the overflow lots at Village View and Castle Peak, plus lots of signage to easily grab a spot.
After you park in the free section, you hop on the shuttle which takes you to the base of Northstar village. The shuttle is free, you just have to wait for the next bus and climb aboard with your gear, which can get slightly clunky.
From there, you walk through the village shops and make your way to Big Easy gondola, which brings you up to the base of the mountain!
There's only one road in and out of Northstar, so I highly recommend getting to the resort early, especially if you're visiting on a weekend!
ADVERTISEMENT
---
---
.
Lessons at Northstar
I always take a lesson and have found them super helpful in getting better!
My instructor at Northstar was fantastic – super patient and she helped improve my control. By the end of the day, I felt extremely comfortable on blues and it made my whole experience skiing in Tahoe so much better.
Northstar is also home to the Burton snowboard academy – I believe it's the only one in the country.
The Burton Academy teaches snowboarding specific lessons for all experience levels and they even offer freestyle teachers for aspiring park riders! If I went to Northstar again, I'd want to try snowboarding.
ADVERTISEMENT
---
---
.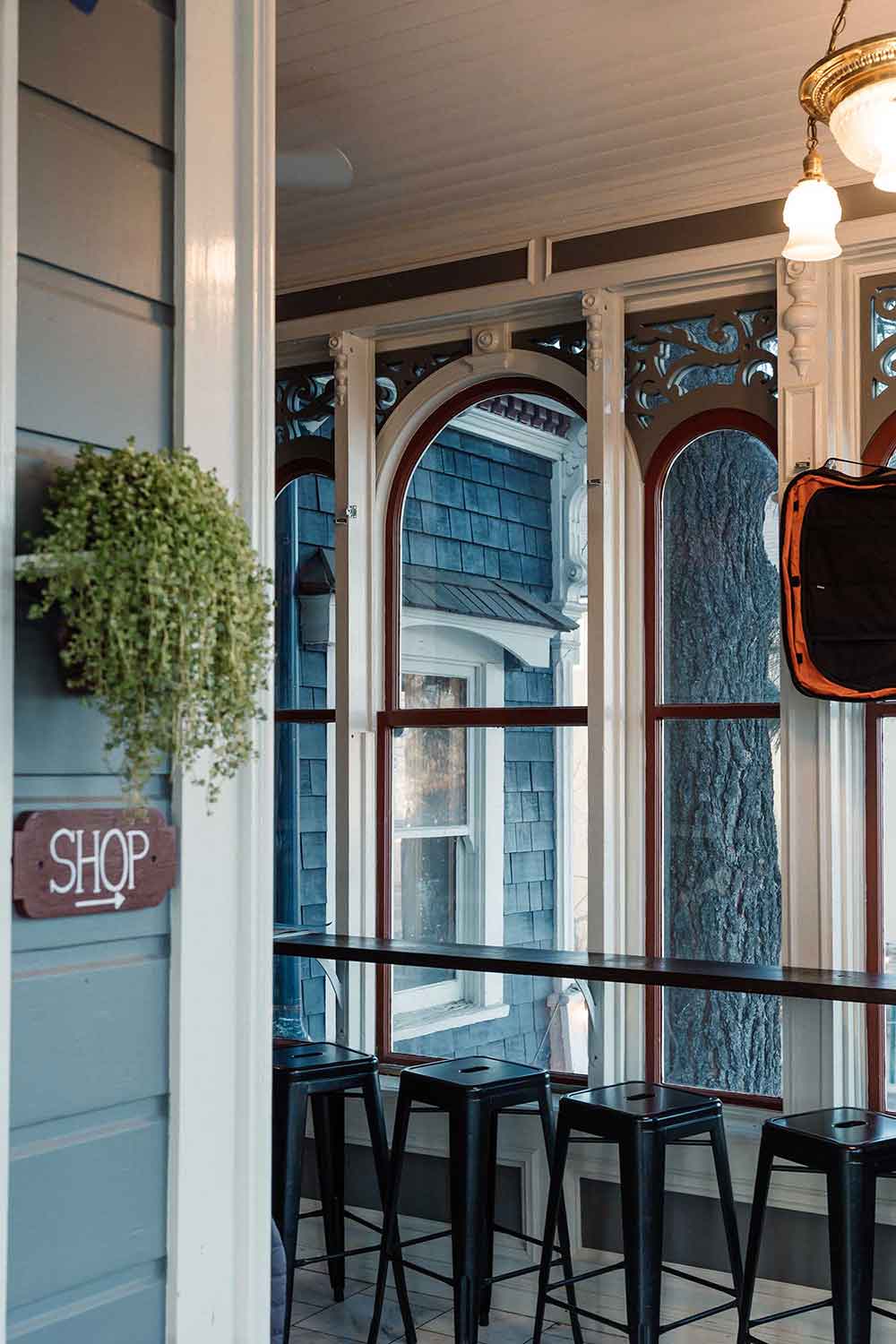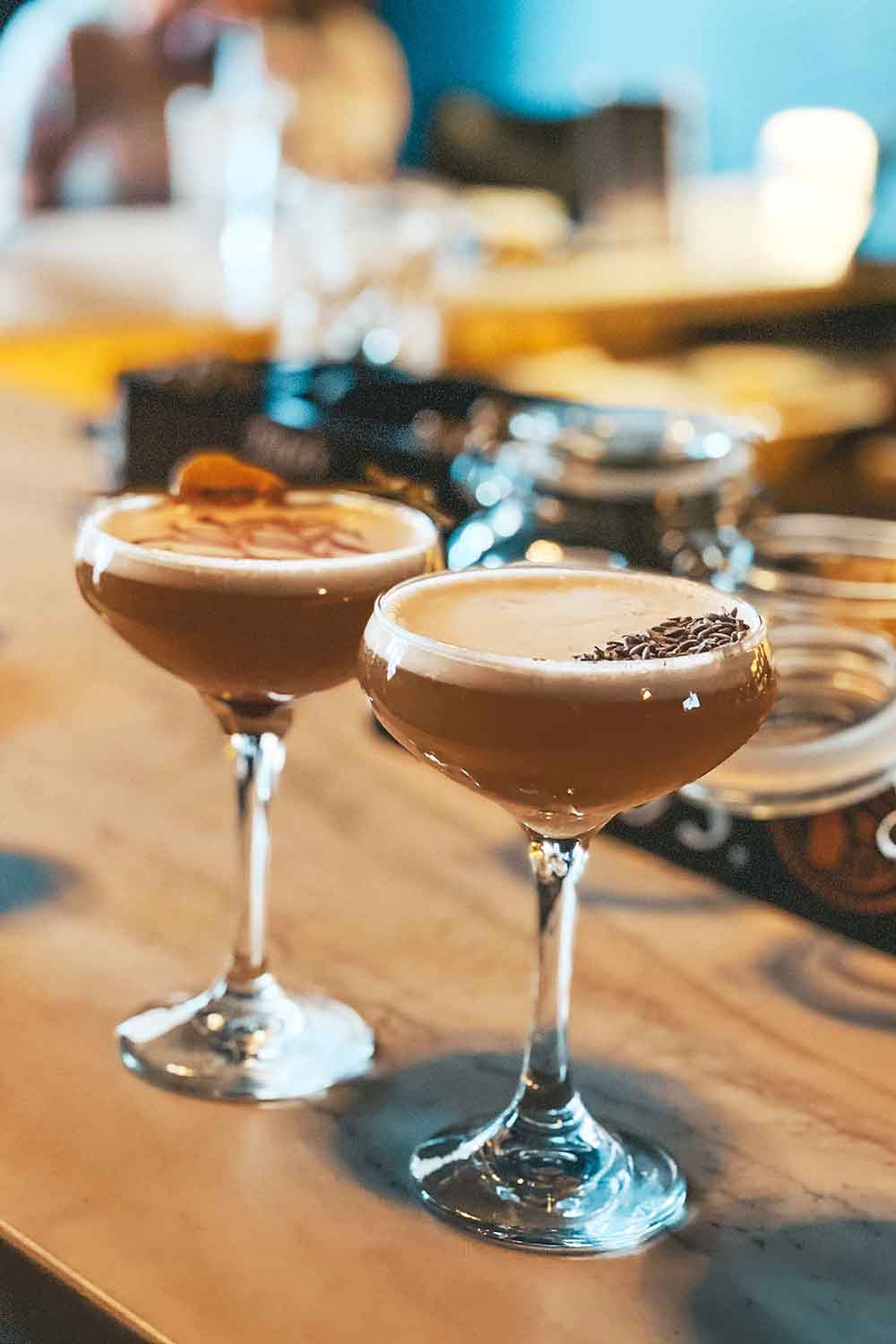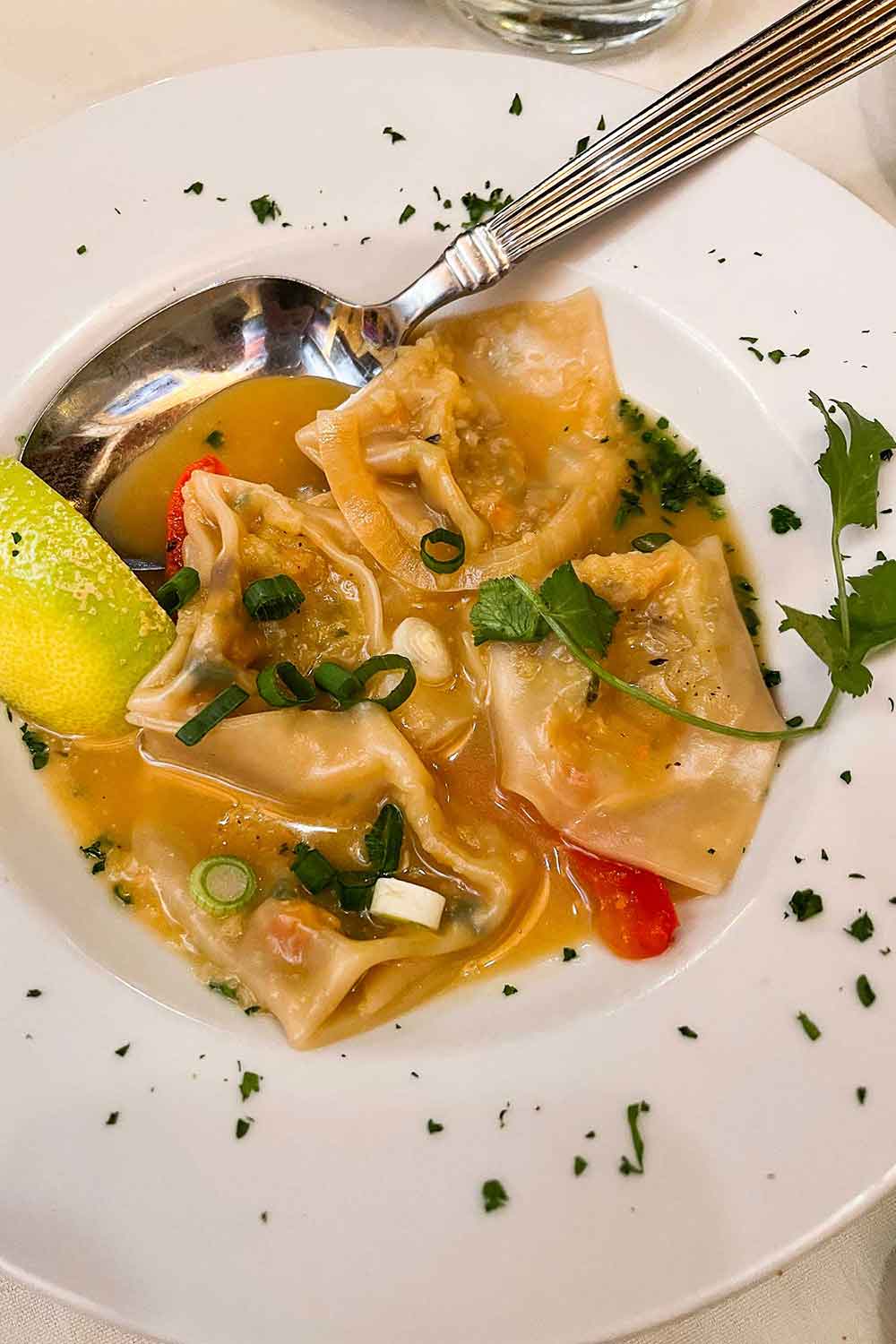 Après-Ski in North Lake Tahoe
Northstar is one of the most built up ski resorts around Lake Tahoe.
There's a huge village at the base of the mountain, centered around a large ice skating rink. There's plenty of shops, restaurants and activities to keep you busy at the end of the ski day!
We would usually sit around the fireplace, have an ice cream or hot chocolate and relax for a bit before dinner.
The towns of North Lake Tahoe are also great to visit. We tried a couple restaurants and bars which were fantastic:
RMU Truckee: great cocktails, bar-style food and ski shop in a historic mansion
Soule Domain: California cuisine with an asian influence, everything is sourced locally
Inclined Burgers & Brews: casual spot for hearty burgers, garlick fries and a huge selection of beer
ADVERTISEMENT
---
---
.
Northstar Ski Trip VLOG
Here's a ski vlog of our trip to Northstar California Resort! Watch the video on Youtube here.
SKIING AT NORTHSTAR CALIFORNIA: resort overview, best runs + things to do in north lake tahoe (vlog)
ADVERTISEMENT
---
---
Is Northstar Good for Beginners?
Northstar is a great mountain for beginner to intermediates.
Mount Pluto's frontside is almost entirely green and easy blues, with plenty of longer runs so you can really get practice in. I recommend taking lessons too! They've helped me a ton with my ski ability.
Which is Better, Heavenly or Northstar?
Heavenly and Northstar are two of the most popular ski resorts in Lake Tahoe. If you have the Epic Pass, I recommend skiing at both to see which you like better!
It comes down to personal preference.
Heavenly is a huge resort that spans two states, California and Nevada, with a lot more terrain. The California side is known for its fantastic views of Lake Tahoe on nearly every trail.
Northstar is a bit more mellow, and great for intermediate skiers.
The mountain isn't quite so spread out, and I'd say its very family friendly with the Village at the base that has tons of shops, restaurants and activities. Northstar also has a huge Terrain Park which is so fun to try!
It's one of the largest in the country and has options for all levels.
ADVERTISEMENT
---
---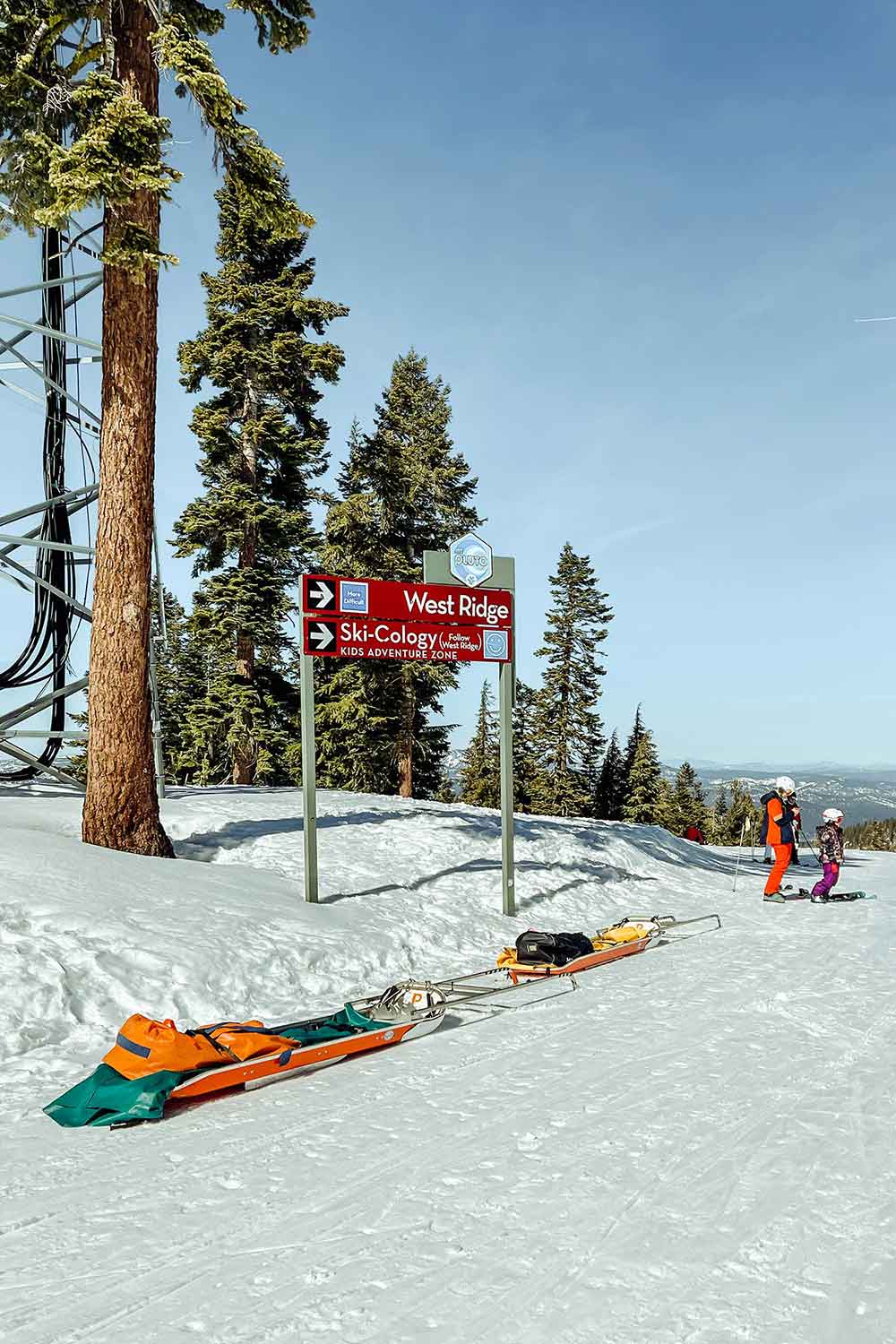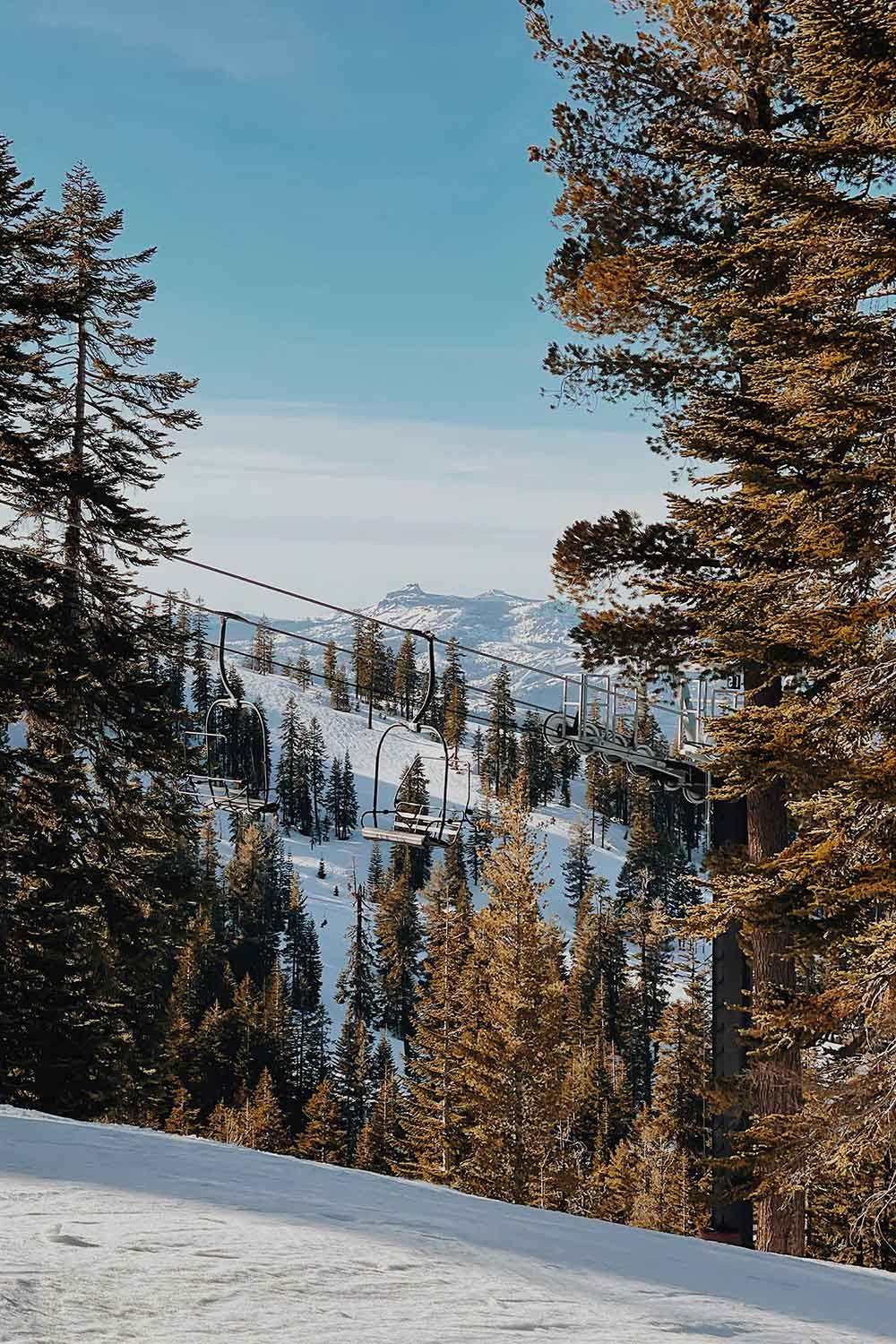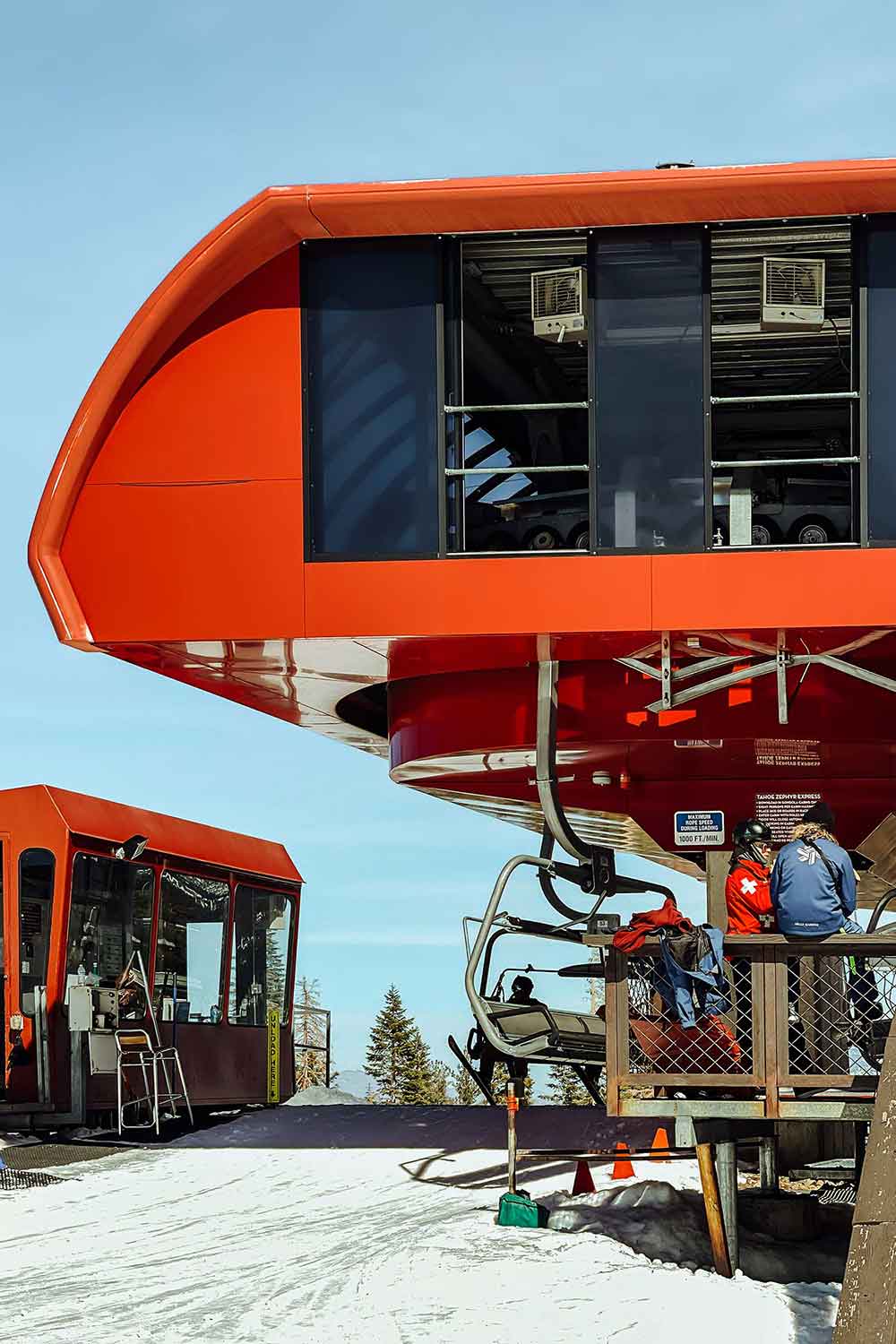 Is Heavenly or Northstar Better for Beginners?
Personally, I think beginners can ski at both.
But I'd say the setup of Northstar is a little better to navigate. The mountain isn't quite as spread out, there aren't huge flat cat tracks, and it's easier to get more practice on Mount Pluto's combination of green and blue runs.
With that being said, there are quieter sections at Heavenly that beginner to intermediates can enjoy. I especially liked the Nevada side – it has long mellow blue runs and intermediate-friendly tree skiing.
Ski Wear Haul
I posted a couple try-on hauls of all the ski wear brands that I've tried. You can check them out on my Youtube channel here.
ADVERTISEMENT
---
---
ADVERTISEMENT
---
---
ADVERTISEMENT
---
---
Read More: in our ski style series:
Ski Trip Packing Essentials
What to Wear Skiing: Packing List Must Have's
The Best Ski Pants for Women (Stylish & Functional)
I Found the CUTEST Women's Ski Pants (Video)
Are Designer Ski Pants Worth It? (Try-On Haul)
The Best Ski Sweaters for Apres-Ski 
Planning the Perfect Ski Trip
What to Know Before Skiing in Vermont for the First Time
Ski Trip Recaps + Mountain Guides
Lake Tahoe, California: Heavenly, Kirkwood & Northstar
Montana: Big Sky
Vermont: Stowe
Catskills, New York: Belleayre Mountain
Quebec, Canada: Mont Tremblant
+ More Ski Vlogs on Youtube
ADVERTISEMENT
---
---
Follow me @Sher She Goes on