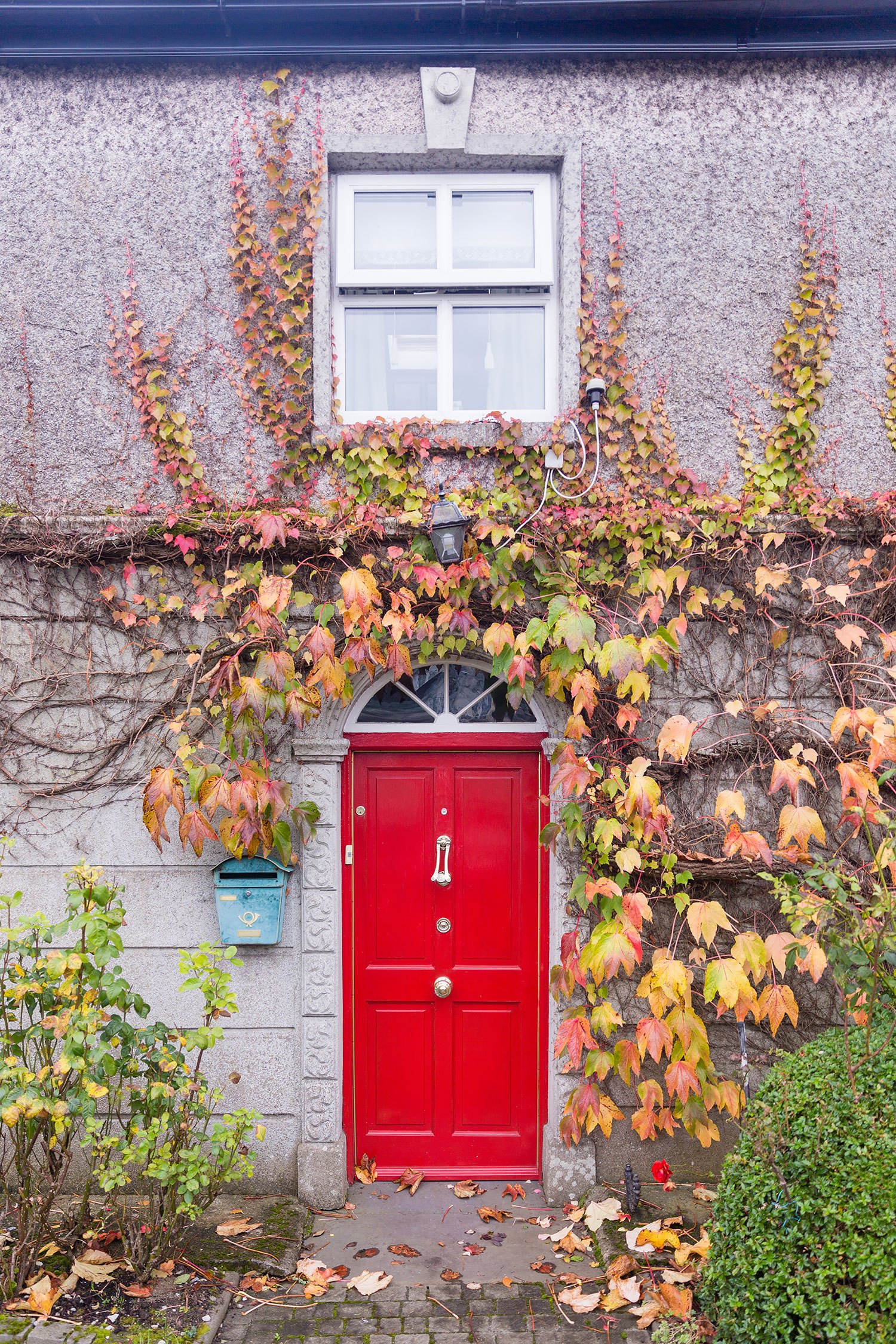 Visiting Ireland
I just got back from an amazing trip to Ireland. While the country wasn't necessarily at the top of my list, a work opportunity in Killarney popped up and I jumped at the chance to stick around after to explore the country.
I'm SO glad I did!
The natural scenery, food and hospitality of Ireland really stuck with me. While the entire country is beautiful and scenic, with lots of rolling green hills, each county and region of Ireland offers a slightly different look and feel.
We spent about 3 weeks in the Republic of Ireland, exploring the coastal Wild Atlantic Way and the cultural Ancient East on a self drive route. I thought I'd share some advice and helpful tips about planning a trip to Ireland in today's post.
Keep reading below for advice on how to plan the perfect trip to Ireland!
ADVERTISEMENT
Or save this article to read later by pinning it ⇟
ADVERTISEMENT
---
---
See more photos on my Instagram account, @shershegoes
Where Should You Go in Ireland?
The island of Ireland is politically divided in two.
The southern portion constitutes The Republic of Ireland while a section of the north, called Northern Ireland, belongs to the United Kingdom. Unless you have significant vacation time, I would recommend choosing one or the other for a first time visit.
The Republic of Ireland has 2 main regions that are popular for first time visitors:
On the western coast from north to south is the famous Wild Atlantic Way, a coastal driving route which offers dramatic views of the Atlantic ocean juxtaposed against cute hamlets and fishing villages.
Must-see attractions along this route include Kylemoore Abbey, the Cliffs of Moher and the Dingle Peninsula, to name a few!
On the eastern coast is Ireland's Ancient East, a region rich in 5,000 years of storytelling and legends as a result of the Viking invasion and subsequent Norman conquerors.
If you like museums, history and culture you'll love journeying back in time to visit places like Waterford, Wexford and Cork – sites which inspired epic battles and strange tales.
ADVERTISEMENT
---
---
Must See Cities and Destinations in Ireland
If you have:
A short trip, base yourself in Dublin, explore the city and do some nearby day trips.
If you have 1 week, I recommend checking out Western Ireland, where the lush countryside meets the Atlantic – small towns like Dingle, Adare and Killarney National Park in County Kerry offer dramatic, beautiful views!
With 2 weeks or more, you can make a circular loop and see Dublin, Western Ireland and explore Ireland's Ancient East to learn more about the country's Viking past. Explore harbor front cities like Wexford and Waterford, picturesque Cobh and kiss the Blarney Stone in Cork! The eastern section was my favorite part of visiting Ireland.
ADVERTISEMENT
---
---
3 Week Ireland Itinerary
ADVERTISEMENT
---
---
What's Not in the Itinerary Below: Northern Ireland.
I didn't have time to see everything and made the decision to skip Northern Ireland on this trip so it's not included in this article. Northern Ireland itineraries frequently include a tour of Giant's Causeway, the dark hedges and lots of the Game of Throne locations.
County Donegal, on the northwest, was recently voted by National Geographic as 'the coolest place on earth' and has gotten great recognition for outdoor adventure sports so that's high on our list of places in Ireland to visit.
Northern Ireland is geographically close to Scotland, with ferry options from Belfast and since we're hoping to road trip Scotland next year, we decided to save Northern Ireland for a later date!
Below is a suggested itinerary for visiting Ireland, which takes into account my personal favorite Irish cities and attractions. You can use it as a starting route planner!
Update: I visited Northern Ireland!
My Belfast travel guide is up here, and I'm working on more posts about Game of Thrones, the Giant's Causeway and other great experiences to have in Northern Ireland.
ADVERTISEMENT
---
---
The Best Ireland Itinerary
After spending 3 weeks in Ireland, I had an amazing time and felt like I covered a lot!
We slowed down in some areas and sped up in others so I wanted to offer some tips on Ireland itineraries of various lengths, since I know not everyone has the luxury of three weeks.
Below, I've featured 7 of the best Irish cities to visit, including notes on the places I loved most, to give you an idea of what there is to experience in Ireland.
I find that it helps to see a visual summary when mapping out my trip so modify your Ireland travel itinerary depending on your preferences!
ADVERTISEMENT
---
---
1. Dublin
---
ADVERTISEMENT
---
---
Best Things to Do in Dublin
Visit the Guinness Factory!
This is the #1 attraction in all of Ireland and for good reason, it's an entire experience. Learn about how Guinness is made, try new flavors and eat at their cafe for some hearty Guinness-made cuisine.
Even if you've been before, come again – they add new experiences constantly to keep things fresh. On our last trip, they added the option to 3D print your face into the beer foam!
2. See The Book of Kells, an illustrated Latin manuscript of the four Gospels.
Dating back the early 9th century, you can see a whole host of beautiful ornate manuscripts in Trinity College's Old Library.
3. Have a drink at Temple Bar, the colorful Dublin pub which inspired a whole area of pubs.
4. Relax in St Stephen's Green, a large park with a Victorian layout
5. Also visit the Jameson Whiskey factory to learn about whiskey production
ADVERTISEMENT
---
---
Where to Stay in Dublin
There's just no way around it, accommodation in Dublin is expensive.
Even in "low season" in mid to late October, all the Dublin hotels I searched for my trip were about $350-$500+ per night on a weekday – I'm talking even the airport hotels. Crazy, right?!
It turns out Dublin has a hotel bed shortage so the limited number of hotels can charge sky high prices. Enter a great affordable pick like Generator Hostel, part of the new wave of chic, "not so hostel" hostels.
ADVERTISEMENT
---
---
More Recommended Hotels in Dublin:
1 | Shelbourne Hotel – If you want historic, iconic and luxurious you'd best stay at Shelbourne. Lots of US presidents and anyone of importance has stayed here! Or just admire the splendor during afternoon tea in their gorgeous parlor overlooking St. Stephen's Green.
Book: Hotels.com, Booking.com | Check prices: TripAdvisor
2 | O'Callahan – This well priced chain of hotels offers a good location and breakfast. Trinity College often puts up its guests and visiting professors here so it's a solid, mid-range hotel!
Book: Hotels.com, Booking.com | Check prices: TripAdvisor
3 | Airbnb – Lots of locals are opening up rooms or entire apartments.
While these aren't cheap by any means (you're paying what you would for a hotel in another city!) it can be much more affordable than a Dublin hotel, so check out Dublin airbnb listings as well.
Browse Airbnb listings here.
ADVERTISEMENT
---
---
2. Galway & Connemara
---
ADVERTISEMENT
---
---
Best Things to Do in County Galway
Read more:
20 Photos to Inspire Your Visit to Kylemore Abbey
ADVERTISEMENT
---
---
Where to Stay in Connemara
ADVERTISEMENT
---
---
3. Cliffs of Moher & The Burren
---
ADVERTISEMENT
---
---
Fun Things to Do in County Clare
ADVERTISEMENT
---
---
Where to Stay in County Clare
ADVERTISEMENT
---
---
4. The Dingle Peninsula
---
ADVERTISEMENT
---
---
Fun Things to Do in Dingle:
Read more:
Mingle in Dingle! Fun Things to Do on the Dingle Peninsula
ADVERTISEMENT
---
---
5. Killarney and Kenmare
---
ADVERTISEMENT
---
---
Best Things to Do in Killarney
There's no shortage of things to do, excellent pubs and Irish food, and overall the charm of Killarney really won us over!
Kenmare is a similar twin to Killarney so if you have time, check out both towns. If not, pick whichever is more convenient to access on your road trip!
Read more:
7 Epic Things to Do in Killarney, Ireland
ADVERTISEMENT
---
---
Where to Stay in Killarney
More Recommended Hotels in Killarney:
1 | Old Weir Lodge – A cozy, family run hotel in between Killarney town and the Convention Center.
This is a great pick for families or business travelers! We also like their breakfast options, which include oatmeal with Baileys :)
Book: Hotels.com | Booking.com | Check prices: TripAdvisor
2 | The Brehon – If you want 5 star luxury, there's no place better in Killarney than the Brehon hotel. Just step into the lobby for a drink and you'll experience the glam firsthand!
We also had deep tissue massages at the Angsana Spa – such a treat! Their Thai masseuses really know how to work out any tension.
Book: Hotels.com | Booking.com | Check prices: TripAdvisor
ADVERTISEMENT
---
---
6. Wexford
---
ADVERTISEMENT
---
---
Best Things to Do in Wexford
Read more:
All the Best Things to Do in Wexford
ADVERTISEMENT
---
---
Where to Stay in Wexford
More Recommended Hotels in Wexford:
1 | The Clayton – Clayton Whites is located right in Wexford's city center and a great choice for sight seeing and shopping. It's within walking distance of the train and bus station and rooms are large and comfortable.
Book: Hotels.com, Booking.com | Check prices: TripAdvisor
2 | The Talbot Hotel – The Talbot Hotel is located in downtown Wexford, right on the harbor. With huge, apartment style rooms this is an ideal hotel for families visiting Wexford. Free parking and a pool on site!
Book: Hotels.com, Booking.com | Check prices: TripAdvisor
ADVERTISEMENT
---
---
7. Waterford
---
ADVERTISEMENT
---
---
Best Things to do in County Waterford
Read more:
8 Reasons to Fall in Love with Waterford
ADVERTISEMENT
---
---
Where to Stay in Waterford
ADVERTISEMENT
---
---
How to Plan a Trip to Ireland
Visiting Ireland
I planned my Ireland vacation itinerary quite quickly and relied heavily on Rick Steves Ireland and Lonely Planet.
The reason I used both guidebooks is that Rick Steves' tends to cover his favorite Irish cities and he omitted Killarney entirely. Lonely Planet covers more places but lacks Rick Steves' warm commentary and insightful suggestions.
P.S. Get a 30 day trial free of kindle unlimited here!
ADVERTISEMENT
---
---
If you're like me, you enjoy a healthy dose of travel inspiration through popular culture. I've always loved reading about the Celts and Irish folklore and in high school, Irish authors like James Joyce were part of our curriculum.
And of course, most people wanting to visit Ireland nowadays are hoping to see locations made famous from Game of Thrones! Below are some popular books and movies written about Ireland should you want some inspiration before your trip.
Recommended Books, Shows & Films About Ireland:
ADVERTISEMENT
---
---
Should You Plan a Self Drive Ireland Itinerary?
In my opinion, the best way to tour Ireland is by self driving.
Ideally, plan an Ireland itinerary for enough days to cover a full circularly loop around the island, so that you get to experience a bit of scenery from the Wild Atlantic Way and the rich culture of Ireland's Ancient East.
It's best to rent a car and self drive so you have the freedom to stop and go as you wish. If you're hesitant to drive on the left, I wrote about our experience driving in Ireland here.
Read more:
How to Master Driving on the Left
ADVERTISEMENT
---
---
Driving in Ireland
While Ireland is a small country, the roads are really curvy and narrow compared to driving in America.
Add the uncertainty and hesitation that comes with driving on the left, we found that it took a bit longer to get from place to place than Google Maps suggested. So if you want to self drive a Dublin to Dublin loop, I would budget at least 10 days and ideally 2 weeks.
We rented a small, 4-door sedan and extra collision insurance.
Most cars are manual, so specify if you need an automatic. You can also pick up and drop off in different cities.
I have an in-depth post here covering everything you need to know about renting a car in Ireland, with helpful information about costs, extra fees and advice so you can check out that post for more info!
Read more:
Useful Tips for Renting a Car in Ireland: Prepare for the Road Ahead
ADVERTISEMENT
---
---
Ireland in 1 Week
If you have less time of course, you can speed through and/or cut out towns.
We added the Dingle Peninsula and Connemara to our driving itinerary in Ireland, but both are geographically a bit west, so you can cut these out if you have just 7 days and keep to a tighter route.
Or, you can fly into Dublin and out of Shannon or Cork to save additional time.
Public Transportation in Ireland
Regarding public transportation, there isn't a wide spread bus or train network that covers the entire Irish countryside. Instead, you can take buses from city to city and book individual tours to day trip to popular sites.
For example, you can take the bus from Cork to Killarney and then book tours for the Gap of Dunloe, Killarney National Park, Muckross House etc. It's a little more piece meal this way and requires a bit of planning but Irish bus route schedules are available online.
ADVERTISEMENT
---
---
A third option is to book a package tour if you're not comfortable with driving and don't want the hassle of booking public transportation.
I saw loads of tour buses all over the entire journey, everything from Trafalgar to Globus. I'm always curious how self-planning trips compares to tour packaged itineraries so I looked online afterwards – they do hit all the popular cities and sights in their "best of Ireland" tours and so if you wanted to avoid driving on the left yourself, I think they would be a good option.
Or you can book individual day tours to popular places. I've included some of the most popular day tours below:
ADVERTISEMENT
---
---
Where to Stay in Ireland
Ireland of course offers 3, 4 and 5 star hotels, just like you would find anywhere else. Some glamorous, some bare bones – there's lots to choose from. You can browse current hotel deals for Ireland here.
If you want standout and unique accommodation in Ireland, look for one of the typically Irish bed & breakfasts and castles!
Read more:
Where to Stay in Galway, Ireland
ADVERTISEMENT
---
---
Country Houses & Historic Hotels
Ireland's Blue Book has a stunning portfolio of Irish country houses, historic hotels and manor houses.
All of them remain family run, with charming exteriors and brilliantly decorated interiors and for a romantic Ireland vacation, you will definitely want to stay in one of these!
Historic Ireland hotels also tend to have incredible chefs running their on site restaurants. I'm not typically one to eat at a hotel but in Ireland we ate dinner at so many hotel restaurants because they're excellent!
Then after, we would head over to the bar / pub area inside and there would be so many people, both locals and tourists, listening to live Irish music and having a great time.
Here are some of the charming hotels we experienced on our trip to Ireland:
Where to Stay in County Waterford: The Cliff House Hotel Review
Where to Stay in County Galway: Rosleague Manor Hotel Review
Where to Stay in County Clare: Gregans Castle Hotel Review
Where to Stay in County Kerry: The Killarney Royal and The Brehon
ADVERTISEMENT
---
---
Staying in an Irish Castle
Most of Ireland's castles lay in ruins and there aren't many castle attractions remaining in Ireland. Instead, the most dramatic castles are privately owned and have been restored into luxury 5 star hotels.
Most all the castle options are luxury hotels, given the cost of maintenance but even if you just splurge on 1, it's such a treat.
Staying in a castle in Ireland gives you an insider look at some really gorgeous architectural details and the grounds typically have masterpiece gardens to explore.
For kids, there's archery, falconry, horse back riding and other medieval pursuits to enjoy while parents can relax at the spa or play a round of golf.
Read more:
10 Epic Castle Hotels in Ireland – You Can Actually Book!
ADVERTISEMENT
---
---
And that's it! Hope this Ireland itinerary guide was helpful. Feel free to ask any questions in the comments!
You Might Also Enjoy:
Ireland Vacation Planning Articles
Ireland Travel Tips: Know Before You Go
The Most Beautiful Places in Ireland
How to Plan the Perfect Ireland Itinerary
Where to Stay: 10 Enchanting Irish Castle Hotels 
Packing Checklist: What to Wear in Ireland
For Foodies: All the Best Food We Ate in Ireland
Ireland Road Trips
The Best Stops on the Wild Atlantic Way (with map!)
7 Useful Tips for Renting a Car in Ireland
How to Master Driving in Ireland (as a tourist!)
Irish Sights, Activities & Tours We Especially Enjoyed:
Co Galway: Visiting Kylemore Abbey, Ireland's Most Beautiful Castle?
Co Kerry: Can't Miss Sights in Killarney & Dingle
Co Waterford: Waterford, Ireland's Oldest City, the House of Waterford Crystal & Mount Congreve Gardens
Co Wexford: Don't Skip Wexford - Here's Why!
Co Kilkenny: Exploring Kilkenny Castle, in photos
Restaurant & Hotels We Loved:
County Clare: Gregans Castle Hotel
County Galway: Rosleague Manor Hotel, Where to Stay in Galway
County Wexford: The Strand Inn
County Waterford: The Cliff House Hotel, The Reg Pub
Northern Ireland
Travel Guide: Belfast
Where to Stay in Belfast as a First Time Visitor
Follow me @Sher She Goes on