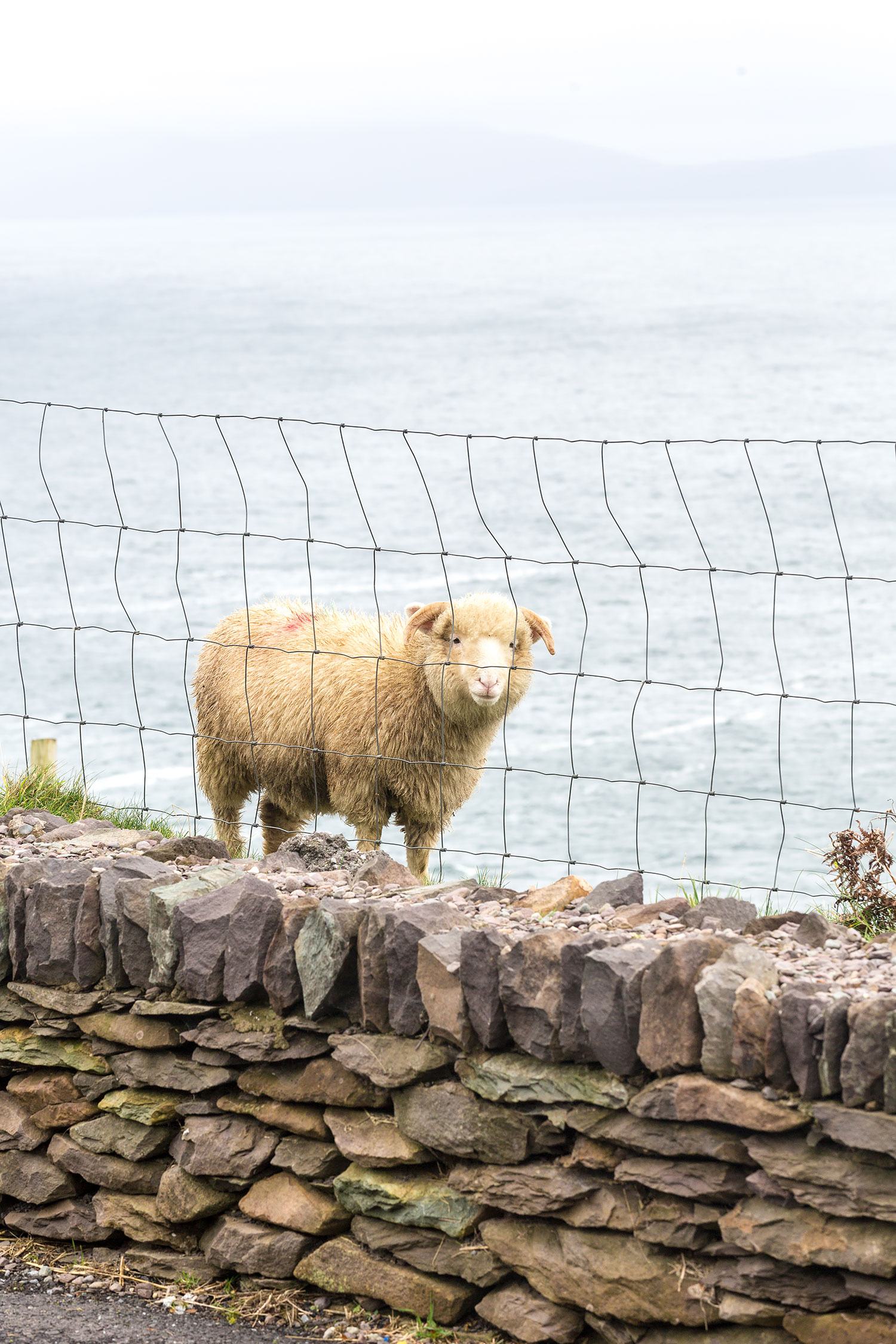 Dingle, Ireland
I heard so many great things about Dingle before my visit. Its colorful streets, lively pubs, thriving music scene – everyone I spoke to painted Dingle as a quaint seaside town on Ireland's western peninsula.
"The next town over is Boston" they chuckled.
ADVERTISEMENT
When we finally arrived to the Dingle Peninsula, the skies were gloomy, the rain had started to come down and Hurricane Ophelia was on its way. Needless to say, Dingle didn't look quite as picturesque as I had imagined.
But, we made the best of it and made it a mission to capture the best of Dingle in a short 2 days before driving further inland to escape the storm.
Keep reading for the best things to do in Dingle, Ireland!
ADVERTISEMENT
---
---
Where to Stay in Dingle
Dingle is the only town on the Dingle Peninsula and has a local population of under 2,000 Irish people – so it's quite rural!
There aren't a huge number of hotels in the area so your best bet is to pick a charming bed & breakfast. Below I've curated the best accommodations in Dingle from personal experience and recommendations from locals.
ADVERTISEMENT
---
---
Dingle Hotels
Here are 3 of the best hotels in Dingle:
1 | Dingle Skellig Hotel – This is a fabulous place to stay in Dingle with warm, friendly staff who go the extra mile. There's an on-site pool, amazing restaurant (Coastguard) and fitness center.
Book: Booking.com, Hotels.com | Check prices: TripAdvisor
2 | Dingle Brenners Hotel – This charming period hotel is located in the heart of Dingle, a short walk away from the waterfront. For a luxury hotel in Dingle, this is it. Comfy rooms, a stunning lobby and good sized breakfast spread complete the stay!
Book: Booking.com, Hotels.com | Check prices: TripAdvisor
3 | Dingle Harbour Lodge – About a 10 minute walk from Dingle's main streets, this budget friendly hotel has a huge parking lot (a plus for road trippers) and comfortable beds. Rates are very affordable and include wifi, but breakfast is extra.
Book: Booking.com, Hotels.com | Check prices: TripAdvisor
ADVERTISEMENT
---
---
The Dingle Peninsula
Dingle is part of Ireland's Gaeltacht region, where the local Irish language holds sway.
I found it interesting to learn that under England's rule, local Irish language, culture and customs were banned, so today the country predominantly speaks English as their first language. It's actually quite rare to hear Irish being spoken and the Irish language is considered by linguists to be in decline!
In a couple rare districts, you'll hear Irish spoken in day to day life. Most of the Gaeltacht regions lie on Ireland's west coast in scattered pockets. I assume these areas were geographically farther away so the English found it difficult to enforce their colonization efforts.
ADVERTISEMENT
---
---
Anyway, Dingle is one of these special rare regions and the main way you'll notice is that the road signs say "An Daingean" or "Daingean Uí Chúis," (meaning Ó Cúis' fort). Don't worry, right below this they spell out DINGLE for the tourists!
With its heavy fishing community, small population and colorful pubs, Dingle relies heavily on tourism and is popular with both local Irish seeking good fun as it is with out of towners.
Read more:
A Handy Packing Guide for Ireland
ADVERTISEMENT
---
---
Best Things to Do in Dingle
We spent 2 days in Dingle and quickly moved inland as Hurricane Ophelia was set to hit the island any day and we wanted to be cautious. The clouds were quite dark and stormy and we had nightmares of our tiny red rental car being blown into the ocean.
I imagine Dingle is absolutely beautiful in summer though!
Below I've listed some of the most popular points of interest below as well as some day trip options from the city.
1. Pub Crawl
In general, Irish pubs are a fantastic way to meet people. They're not just bars, but usually the social center of town, where you can try traditional Irish food and have some good craic (fun)! If you're lucky, you'll find a pub with live music.
In Dingle, the pubs are lit.
Despite being a small town, Dingle has over 50 pubs – that's for every 40 residents! The town also has a huge reputation for traditional Irish music and you absolutely have to experience the crowd, tunes and happy atmosphere when you visit.
ADVERTISEMENT
---
---
2. Slea Head Drive
Slea Head Drive is a magnificent circular route around the Dingle Peninsula and part of the Wild Atlantic Way. The drive both starts and ends in Dingle with clearly marked signs along the road. We plugged in 'Slea Head' into google maps and found it quite easy to navigate without maps or GPS!
Set aside about 1/2 the day to leisurely complete the route. There's a great lookout point to pull over, and hundreds of fluffy white sheep nestled on the cliffs.
Notable points along Slea Head Drive:
Brandon Creek, a small inlet from where St. Brendan famously sailed to America (ages before Columbus!)
Mount Brandon, the second highest mountain in Ireland
Archaeological ruins like Christian sites and beehive huts (clocháin)
Kids will like the petting zoos that locals have set up.
ADVERTISEMENT
---
---
3. Funghi the Dolphin
Dingle's waterfont port is home to a local dolphin named Fungie.
The story goes that he was released from Dingle's Oceanworld Aquarium in 1983 and comes to seek out friendly locals each summer. You can spot the bottlenose dolphin by taking a boat tour – he's known to be quite friendly and playful!
ADVERTISEMENT
---
---
4. Murphy's Ice Cream
Dingle has some great local foods, including Dingle Distillery where gin and vodka is produced, and my favorite – Murphy's Ice Cream.
The distinctive blue shops are found throughout Ireland and the flavors are incredible. Murphy's calls its dessert true artisan ice cream, without any additives or flavorings, and sources its ingredients locally.
My favorite flavors were the Irish coffee (with whisky), nutty crunchy peanut and caramelized brown bread.
They even have a Dingle Gin flavor! :)
ADVERTISEMENT
---
---
5. Minard Castle
Minard Castle is a pleasant day trip from Dingle, about 20 minutes away by driving.
The castle is really more of a ruin, perched on a hill overlooking the Irish sea on the Iveragh Peninsula. Depending on when you arrive, the beach may be completely submerged by the tide and you can hop on the giant boulders for a better view at the tower house.
In 1650, this small but sturdy castle held against Cromwell's Army.
ADVERTISEMENT
---
---
Fun Tours in Dingle
If you don't have a car, you can still take advantage of Dingle's sights by booking a tour to handle all the logistics. Here are some great tours to do in Dingle:
Dolphin and Whale Watching: This fun 4 hour cruise takes you all around Dingle Bay to encounter whales and dolphins up close! It's quite a scenic cruise and also takes you to Slea Head from a different vantage point than the road!
Dingle Peninsula Day Tour: This tour handles all the transportation and logistics from Cork. See some epic landscapes, learn about the region's background from a local guide and take lots of pictures on this full day trip.
Dingle Surfing Tour: This tour is a great option for travelers based in Killarney. It handles all transportation and takes you to Inch Beach to surf and then Dingle for lunch, shopping and views!
ADVERTISEMENT
---
---
Enjoy visiting the Dingle Peninsula in Ireland! Let me know if there are any restaurants or sights you think I missed in the comments.
Essential Tips for Visiting Ireland
Getting In | Aer Lingus, the national Irish airline, offers non-stop flights from select US cities. Two reasons to recommend Aer Lingus: low nonstop fares from many US cities and their pre-clearance facilities. We found cheap flights to Ireland in October – you can check for flight deals and routes here.
When returning to the U.S., take advantage of the U.S. pre-clearance facilities at Dublin and Shannon airports, where you complete U.S. immigration, customs and agriculture controls before departure so that when you land in the U.S., you can just collect your bags.
Getting Around | If there's one thing I can recommend, it's to rent a car and drive around Ireland. Not only is the Wild Atlantic Way coastal route one of the world's most scenic drives, transportation in Ireland is a bit difficult without your own vehicle. We were nervous about driving on the left but ultimately renting a car was the best decision! Check car rental prices for your dates here.
Where to Stay | I highly recommend staying at an Irish country house during your trip. Irish hospitality is truly something else. For unique luxury accommodation check out out Ireland's Blue Book. Or, take advantage of Airbnb for a local experience!
Protect | Lastly, be sure to visit Ireland with travel insurance. Whether you get injured and need to be hospitalized, your phone gets stolen, or a flight delay leaves you with nothing but the clothes on your back, travel insurance will help when you need it most. Hurricane Ophelia hit the country smack in the middle of our road trip! Get a quote for your trip here.
You Might Also Enjoy:
Ireland Vacation Planning Articles
Ireland Travel Tips: Know Before You Go
The Most Beautiful Places in Ireland
How to Plan the Perfect Ireland Itinerary
Where to Stay: 10 Enchanting Irish Castle Hotels 
Packing Checklist: What to Wear in Ireland
For Foodies: All the Best Food We Ate in Ireland
Ireland Road Trips
The Best Stops on the Wild Atlantic Way (with map!)
7 Useful Tips for Renting a Car in Ireland
How to Master Driving in Ireland (as a tourist!)
Irish Sights, Activities & Tours We Especially Enjoyed:
Co Galway: Visiting Kylemore Abbey, Ireland's Most Beautiful Castle?
Co Kerry: Can't Miss Sights in Killarney & Dingle
Co Waterford: Waterford, Ireland's Oldest City, the House of Waterford Crystal & Mount Congreve Gardens
Co Wexford: Don't Skip Wexford - Here's Why!
Co Kilkenny: Exploring Kilkenny Castle, in photos
Restaurant & Hotels We Loved:
County Clare: Gregans Castle Hotel
County Galway: Rosleague Manor Hotel, Where to Stay in Galway
County Wexford: The Strand Inn
County Waterford: The Cliff House Hotel, The Reg Pub
Northern Ireland
Travel Guide: Belfast
Where to Stay in Belfast as a First Time Visitor
Follow me @Sher She Goes on