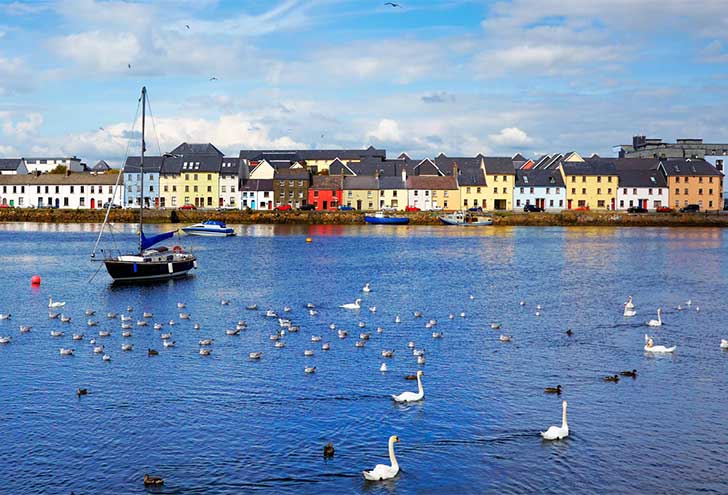 The Best Hotels in Galway
Located on Ireland's west coast, Galway is truly one of the Emerald Isle's hidden gems.
Whether you're checking out the famed 16th century Spanish Arch, headed to do some shopping and pub crawling in Eyre Square, or simply enjoying the gorgeous coastal scenery of this Irish harbor town, there's something for everyone to enjoy in Ireland's fourth largest city.
Keep reading for suggestions on where to stay in Galway, Ireland!
Read more:
You Can Stay in a Castle in Ireland! Here are the Best Ones
ADVERTISEMENT
Where to Stay in Galway
Here's a quick summary of our recommended Galway hotels. All include free wifi and are known for comfort, great locations and great customer service.
Best Galway Hotels – Summary Comparison Chart
Below is more information about each hotel and why we recommend it!
ADVERTISEMENT
---
---
1. Galmont Hotel & Spa
Located right along the Lough Atalia, the Galmont Hotel & Spa is one of Ireland's premier luxury hotels offering stunning panoramic views of Galway Bay. Formerly called the Radisson Blue, this gorgeous hotel has since rebranded as the Galmont!
With 261 suite-style rooms perfect for families or couples, multiple dining options, and a full-service spa integrating wellness treatments from around the globe, the Galmont has something to perfectly curate any vacation experience!
ADVERTISEMENT
---
---
2. The G Hotel & Spa
Designed by famed milliner Philip Treacy (I thought it would've been named after Kenny G at first, too!), the G Hotel & Spa has a well-deserved status as Galway's only five-star luxury hotel.
With 101 rooms, 3 lounges, daily afternoon tea, a full-service spa, and Restaurant gigi's, winner of the best hotel restaurant in the 2016 Irish Restaurant awards, the G Hotel & Spa is an amazing blend of Irish hospitality and luxury.
ADVERTISEMENT
---
---
3. Hotel Meyrick
Overlooking Eyre Square, the 165-year-old Hotel Meyrick offers its guests a classically Irish luxury experience.
The hotel's four room and suite options offer everything from shimmering silk linens and curtains, stately wallpaper, and antique wood furniture and poster beds all housed in a gorgeous Victorian building at the epicenter of Galway's social culture.
ADVERTISEMENT
---
---
4. Galway Bay Hotel
Overlooking the Clare hills on the shores of Galway Bay, the Galway Bay Hotel offers a luxuriously secluded hotel experience that's still conveniently located near all the excitement of Galway City.
With four room and suite options that include a range of stunning ocean views, gorgeous European architecture, the Galway Bay Hotel provides a fantastic all-around upscale Irish experience.
ADVERTISEMENT
---
---
5. Maldron Hotel Sandy Road Galway
Located just outside the city center, the Maldron Hotel Sandy Road is one of Galway's most picturesque hotels.
With myriad flowing riverbanks and numerous Irish castles just minutes away, the Maldron is the perfect escape into Ireland's treasured (and beautiful) history.
ADVERTISEMENT
---
---
And that's it! Our guide to the best Galway hotels to make the most of your stay.
Whether you're looking for a convenient hotel in Galways' city center, a boutique hotel by Galway bay for families with kids or a luxury hotel for spa and nature lovers, we hope our recommendations for top hotels in Galway will suit for your Ireland vacation!
You Might Also Enjoy:
Ireland Vacation Planning Articles
Ireland Travel Tips: Know Before You Go
The Most Beautiful Places in Ireland
How to Plan the Perfect Ireland Itinerary
Where to Stay: 10 Enchanting Irish Castle Hotels 
Packing Checklist: What to Wear in Ireland
For Foodies: All the Best Food We Ate in Ireland
Ireland Road Trips
The Best Stops on the Wild Atlantic Way (with map!)
7 Useful Tips for Renting a Car in Ireland
How to Master Driving in Ireland (as a tourist!)
Irish Sights, Activities & Tours We Especially Enjoyed:
Co Galway: Visiting Kylemore Abbey, Ireland's Most Beautiful Castle?
Co Kerry: Can't Miss Sights in Killarney & Dingle
Co Waterford: Waterford, Ireland's Oldest City, the House of Waterford Crystal & Mount Congreve Gardens
Co Wexford: Don't Skip Wexford - Here's Why!
Co Kilkenny: Exploring Kilkenny Castle, in photos
Restaurant & Hotels We Loved:
County Clare: Gregans Castle Hotel
County Galway: Rosleague Manor Hotel, Where to Stay in Galway
County Wexford: The Strand Inn
County Waterford: The Cliff House Hotel, The Reg Pub
Northern Ireland
Travel Guide: Belfast
Where to Stay in Belfast as a First Time Visitor
Follow me @Sher She Goes on