Ireland Castles You Can Stay In
There are so many choices for where to stay in Ireland… but nothing quite like staying in a castle!
Most Irish castles lay in ruins so the only way to see the medieval castles as they once were is to stay in a castel hotel. And trust me, an overnight stay in one of these historic Irish landmarks is an experience unlike any other.
Below are some of the best Irish castle hotels to stay in for an unforgettable vacation!
ADVERTISEMENT
Or pin this article to read it later ⇟
The Best Castles to Stay in Ireland
Here are 11 of our favorite Irish castle hotels around the country:
Not sure which to pick? Below is more info about each Irish castle hotel!
ADVERTISEMENT
---
---
The Best Irish Castle Hotels
Some castle hotels in Ireland have been meticulously restored and are gorgeous.
We've narrowed it down to the cream of the crop – everything from luxury castle hotels to off-the-grid self service castle hotels to smaller, boutique castle lodges!
Regardless, they are all located in Ireland's beautiful countryside and offer a one of a kind experience.
1. Adare Manor
Adare, County Limerick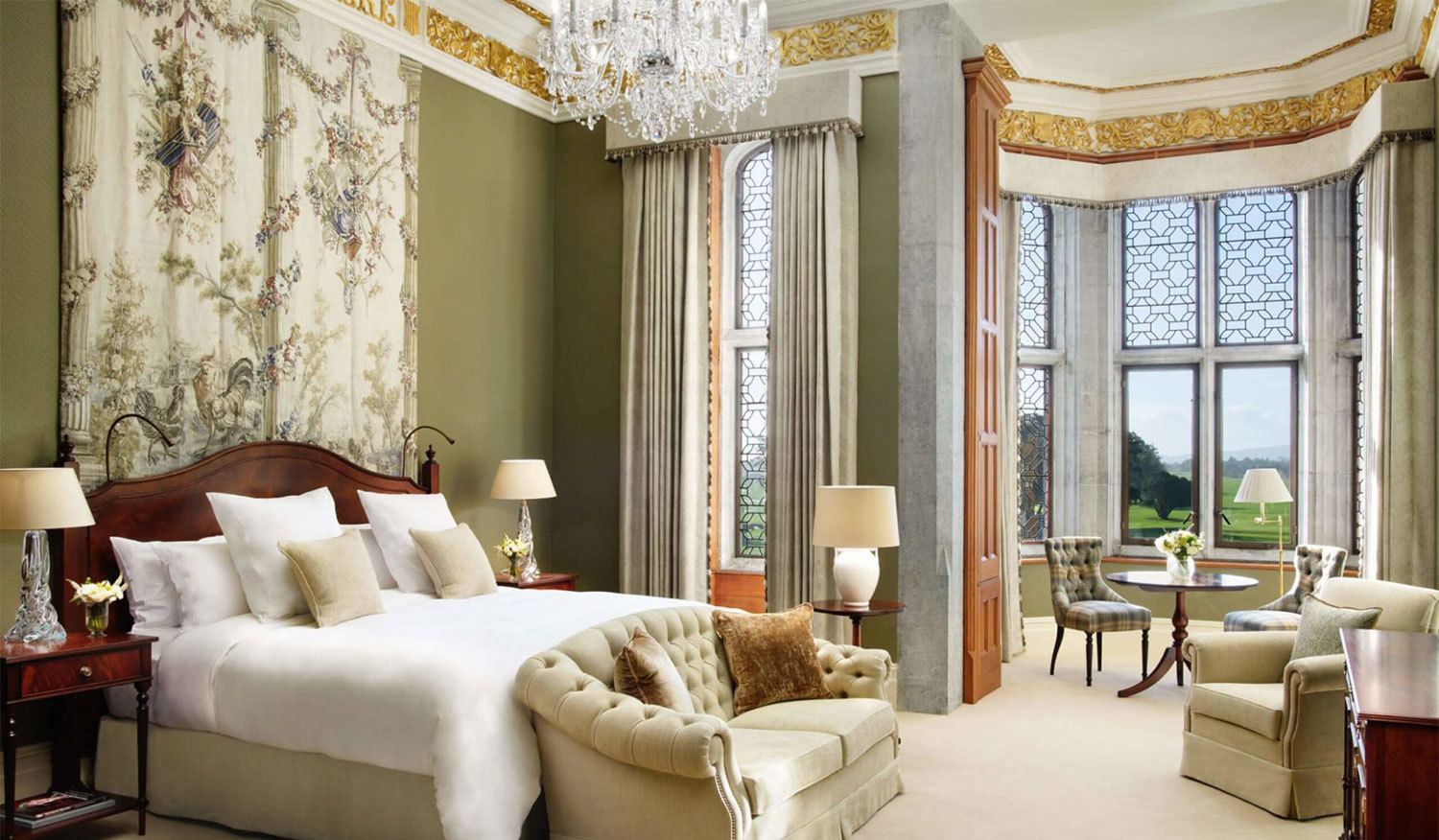 Adare Manor just re-opened a couple years ago, after the largest restoration project of its kind in Ireland. Now magnificently restored, it could easily top the cake for one of the best castles in the world – not just Ireland!
This is one of Ireland's most unique castle hotels! Built as a 'calendar house', there are 365 windows, 52 chimney stacks, 7 pillars and 4 tours (to represent the seasons).
Adare's been fully upgraded, complete with power lights which automatically turn off at bedtime; automatic dimmer lights in the bathroom should you get up in the middle of the night; rooms keyed to both card and phone entry, etc.
Meanwhile, the on site restaurants serve a huge range of Irish whiskeys and local craft beers and locally sourced, Irish cuisine. The fine dining option, The Oakroom is hoping to attract a Michelin star with its 5 course dinners!
Finally, Adare Manor's spa offers La Mer treatments for the ladies, and an extensive golf course for the men – the course has been upgraded with state of the art technology to enable play even on rainy days!
Book rooms: Hotels.com
Check rates: TripAdvisor
ADVERTISEMENT
---
---
2. Ashford Castle
Cong, County Mayo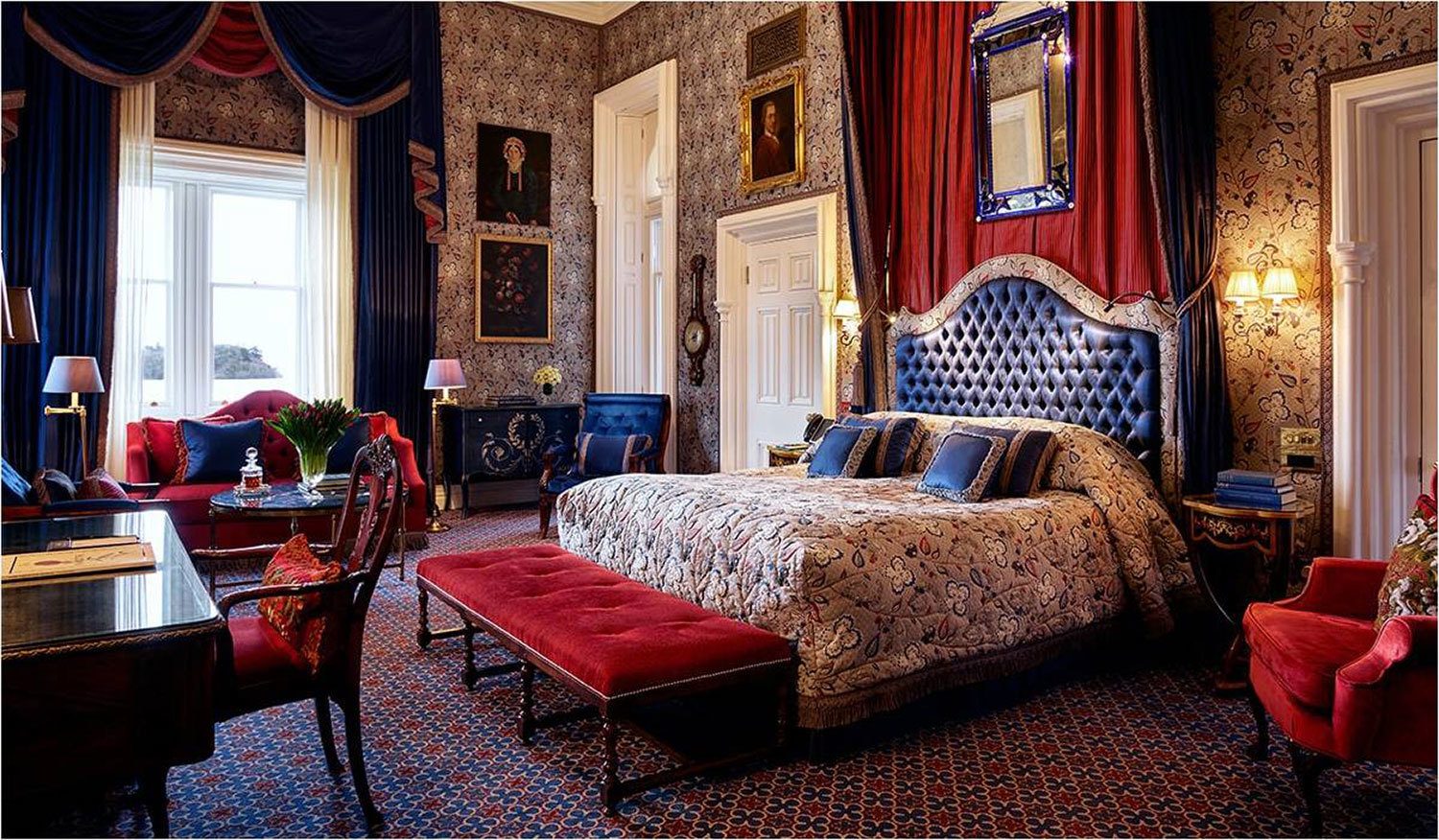 Ashford Castle is one of the oldest and most famous castles in Ireland.
Over 800 years old and lavishly decorated interiors along with a state of the art spa and delicious cuisine, Ashford Castle takes the cake as one of Ireland's most luxurious and most romantic castle accommodations.
You can go golfing, horseback riding or learn about falconry. There are multiple decadent restaurants and cocktail lounges on site and all the staff are incredibly warm and helpful.
It's also quite exclusive – although everyone wants a peak at the grounds only hotel guests are allowed to explore the extensive property.
If the castle is fully booked, you can also stay at the Lodge country house, which is on the estate overlooking beautiful lake.
If you want to stay in a castle in Ireland for that fairy-tale experience, this glorious hotel is it!
Book rooms: Hotels.com
Check rates: TripAdvisor
ADVERTISEMENT
---
---
4. Ballynahinch Castle
Galway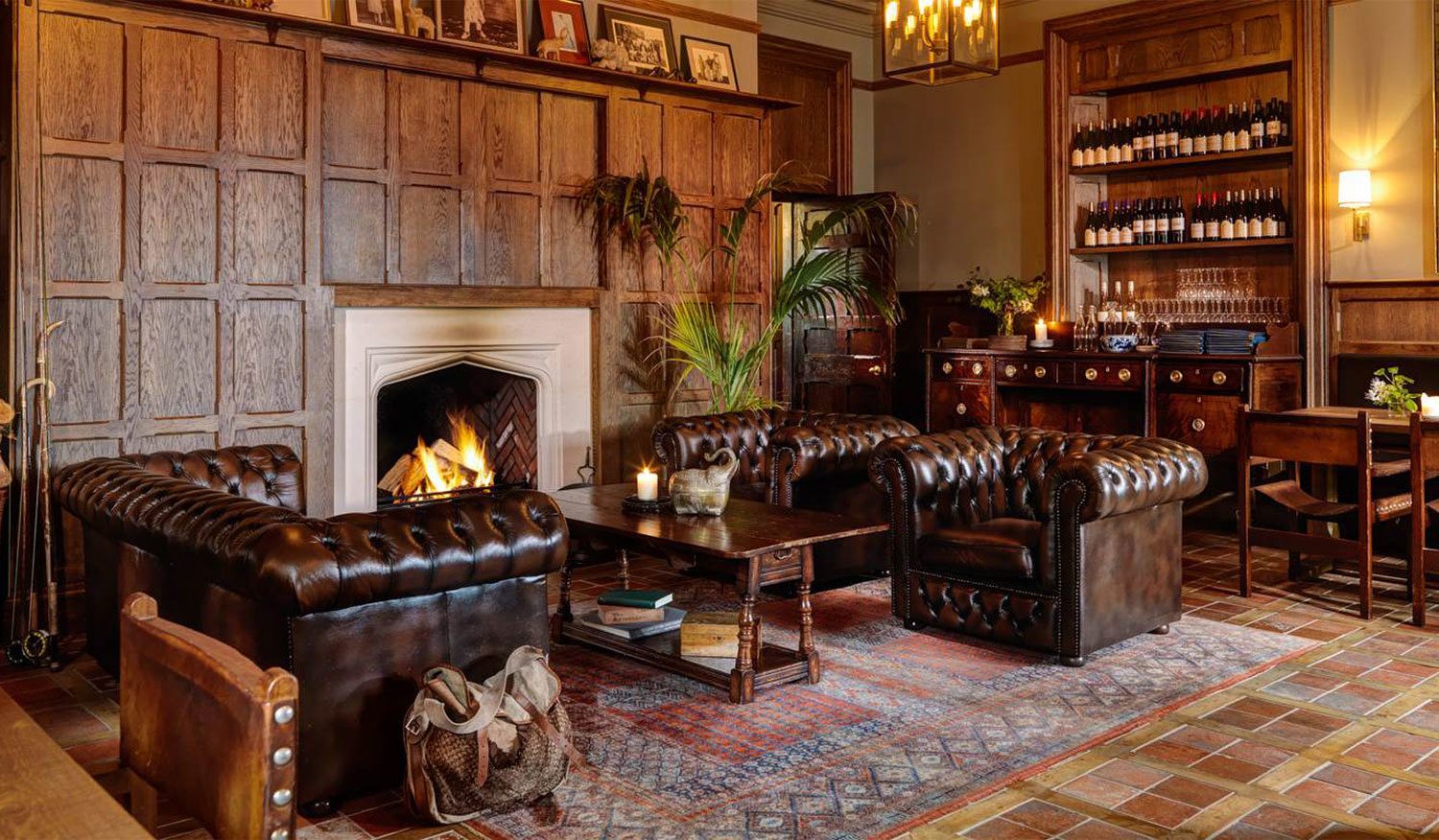 This amazing Galway Castle Hotel is located in magical Connemara.
Set on over 700 acres of woodland and rivers, the castle hotel is perfect for outdoorsy families. Whether you want to go fly fishing, hike surrounding Connemara, boat ride and lobster catch around Roundstone Bay, go clay shooting or cycling along the coast, guides and staff are on hand to make every adventure happen.
Bedrooms have wonderful views over a salmon fishery while the back is flanked by the stunning 12 Bends Mountain range. Best of all?
Ballynahinch Castle Hotel is located along the Wild Atlantic Way and easily accessible for visitors doing a self drive road trip.
Book rooms: Booking.com, Hotels.com
Check rates: TripAdvisor
ADVERTISEMENT
---
---
5. Ballyseede Castle
Tralee, County Kerry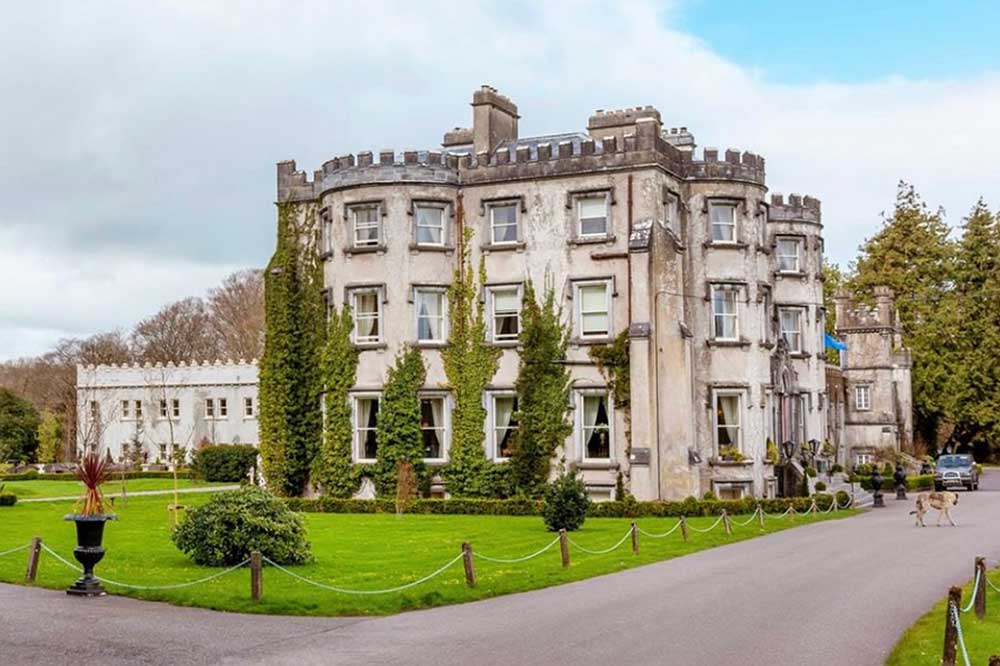 Ballyseede is the only castle hotel in County Kerry, Ireland.
Near Tralee on the Ring of Kerry, this Irish castle makes for the perfect place to stay if you love the outdoors or if you're planning a destination wedding.
Rooms are decorated in Old World elegance and the on site restaurant, O'Connell, has won several local Irish awards for its locally sourced ingredients, atmosphere and wine.
Kids will love the splash sports nearby.
Since Ballyseede is located along the Wild Atlantic Way, adventurous travelers can stand up paddle board, surf, canoe or try banana boat rides, water slides and water trampolines! There's also a surf school in Kerry.
Book rooms: Booking.com, Hotels.com
Check rates: TripAdvisor
ADVERTISEMENT
---
---
6. Gregans Castle
Ballyvaughan, County Clare
Despite the name, Gregans Castle isn't a castle in the traditional sense.
The luxurious hotel is actually located in a manor house that was built after the original castle across the road was left in ruins.
Located in the heart of the Burren, on Ireland's west coast, the 18th century manor house is a great place to stay if you're driving along the Wild Atlantic Way.
Inside, the home is beautifully decorated, with modern art, antique furniture, tons of fireplaces and a gorgeous exterior flower garden. The best part of staying here is the on-site restaurant, which offers fine dining and has won several awards for its cuisine.
We really enjoyed our stay at Gregans! The hospitality was excellent.
We have a more in-depth review of the hotel and dining experience here.
Book rooms: Hotels.com
Check rates: TripAdvisor
Read more:
How to Road Trip the Wild Atlantic Way (Itinerary + Map)
ADVERTISEMENT
---
---
7. Cabra Castle
County Cavan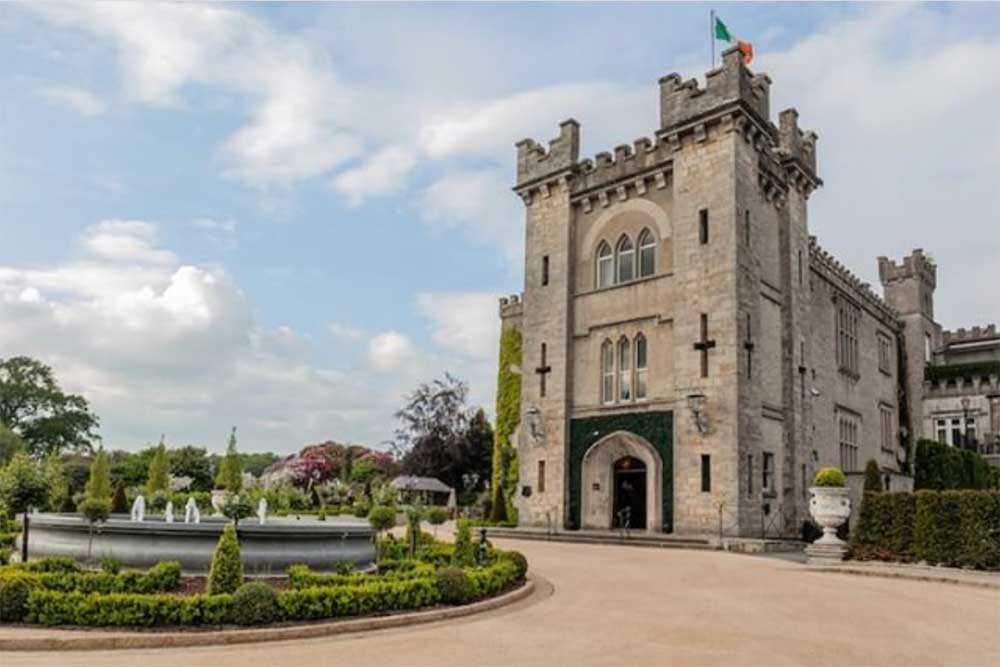 Cabra Castle is one of the most popular castle hotels in Ireland for weddings.
Set on over 100 acres in the idyllic location of County Cavan, Cabra Castle has all the classic nooks, crannies and grand reception rooms that you'd expect of a beautiful castle hotel.
There are just 24 bedrooms in the castle but there are also 6 adorable cottages built on the estate which guests can book.
One thing not to miss – dinner at the Courtroom Restaurant! The first floor restaurant has beautiful arched windows overlooking the gardens and is the most picturesque spot for a meal!
Book rooms: Booking.com, Hotels.com
Check rates: TripAdvisor
ADVERTISEMENT
---
---
8. Clontarf Castle
Dublin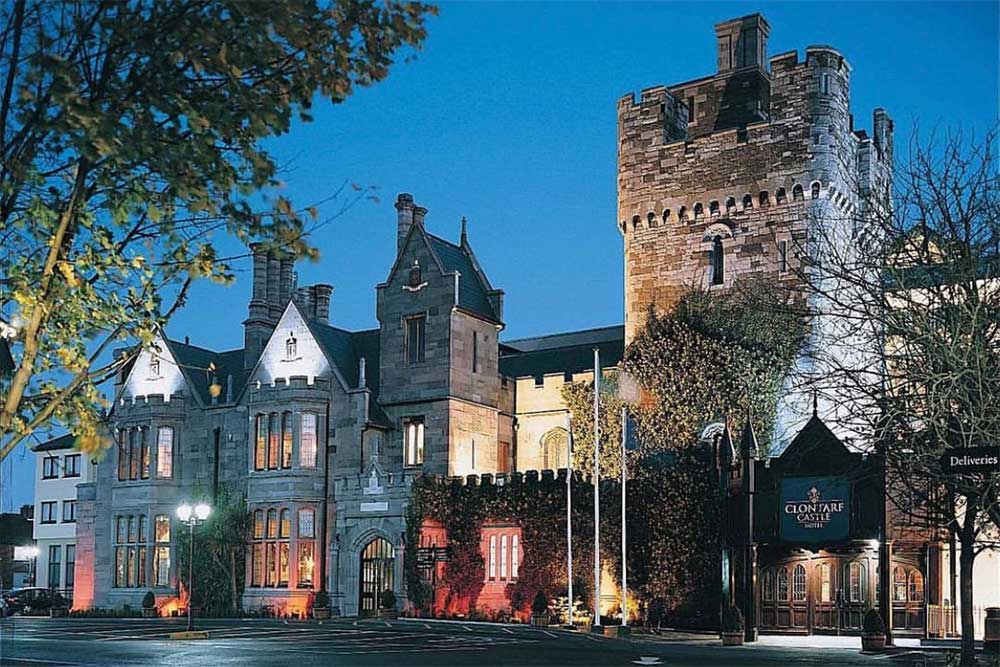 Did you know there's an ivy-clad Irish castle hotel, complete with grand turrets, just 10 minutes from Dublin's modern city center?
Clontarf Castle is a gorgeous, modern luxury hotel and the closest castle hotel near Dublin – the only one of its kind.
Suites feature fun, four poster beds and views of the Dublin mountains while the common areas have a complete collection of quirky, modern art.
There's the on site restaurant, Farenheit, which has its original arched timber ceilings and excellent contemporary Irish cuisine as well as a more modern lounge, Indigo, which has glamorous red chandeliers and a fun 'fusion' afternoon tea experience.
This is one Dublin hotel that can't be beat!
Book rooms: Booking.com, Hotels.com
Check rates: TripAdvisor
ADVERTISEMENT
---
---
9. Kilkea Castle
Castledermot, County Kildare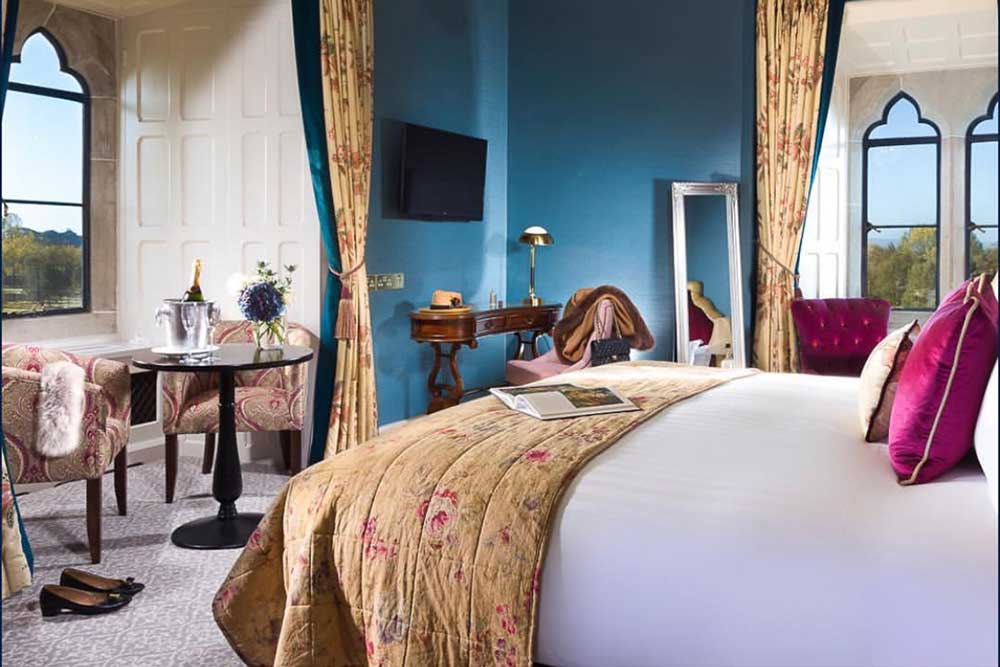 Kilkea Castle is located in county Kildare and first built in 1180.
It has quite an illustrious history, having been built by the Earl of Ulster and Chief Governor of Ireland as a reward for the Norman knights who invaded Ireland from the Vikings.
Rooms are luxurious and unique – guests can choose from rooms inside the castle, carriage rooms or in one of Kilkea Castle's cozy lodges. Most guests will want to try out the hotel's challenging 18-hole course while families can try archery lessons, horseback riding, fishing and falconry.
There's even a river and floaties for those who want to grab a glass of wine and float "lazy river" style in the afternoons!
Book rooms: Booking.com, Hotels.com
Check rates: TripAdvisor
ADVERTISEMENT
---
---
10. Wilton Castle
Bree, Enniscorthy, County Wexford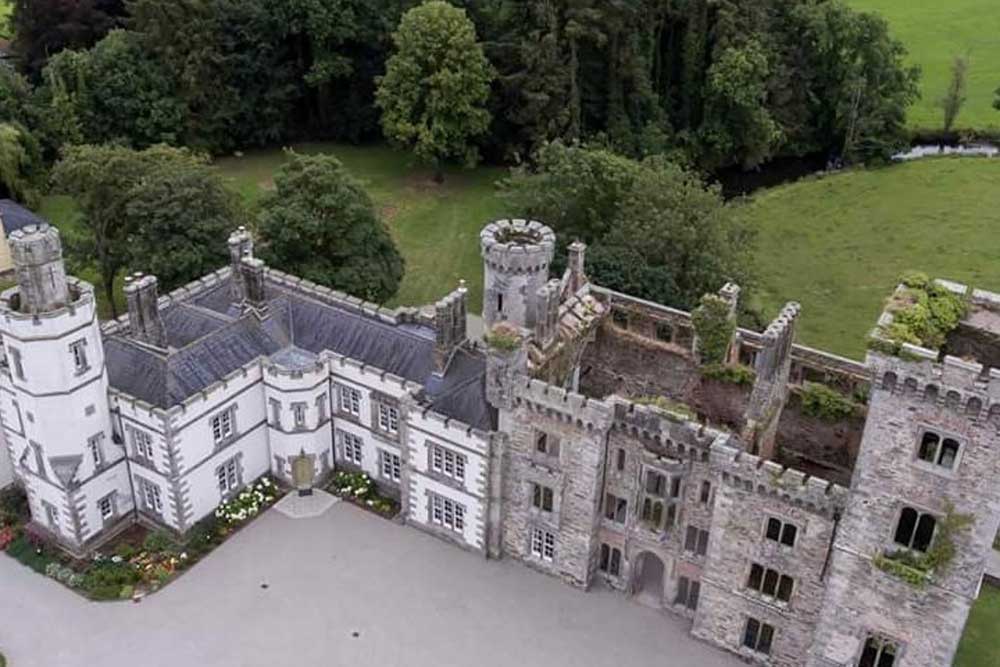 A beautiful castle with turrets, chimney stacks and two wings, Wilton Castle is located in the heart of County Wexford.
There are just 4 suites available for rent and can be a great option for groups. Each suite has its own kitchen and sitting room with fireplace but all are unique in size and furnishings.
This is a great castle accommodation option for those who like to get away to the countryside, have a long weekend off the grid and self cater (castle bed and breakfast options are also available).
Book rooms: Booking.com, Hotels.com
Check rates: TripAdvisor
Read more:
Don't Skip County Wexford, Here's Why!
ADVERTISEMENT
---
---
11. Markree Castle
Clooneenroe, Collooney, County Sligo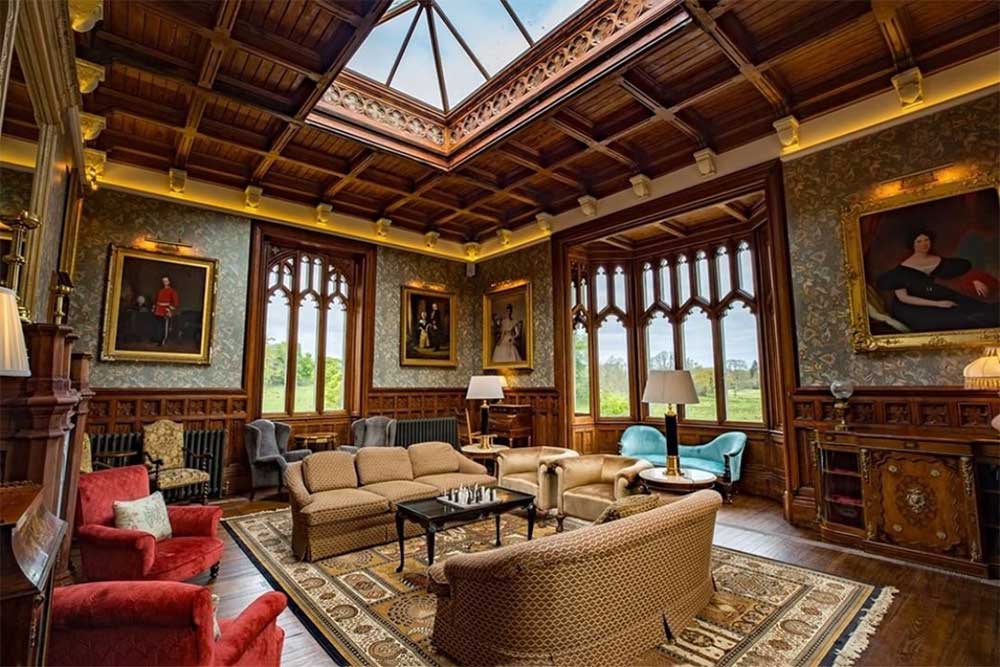 Located in County Sligo, Markree Castle is a stunning Irish castle hotel in the border region between the Republic of Ireland and Northern Ireland.
Recently renovated in March 2017, this Irish castle hotel offers a fairy-tale experience with its luxurious rooms and manicured grounds. It's also quite popular for weddings and events – just look at that unique chapel!
There are just 30 bedrooms in total, each with luxury en-suite bathrooms, flat screen TVs and modern luxury touches. Some suites even have gorgeous claw foot tubs by the window!
Book rooms: Hotels.com
Check rates: TripAdvisor
ADVERTISEMENT
---
---
12. Dromoland Castle
Newmarket-on-Fergus, County Clare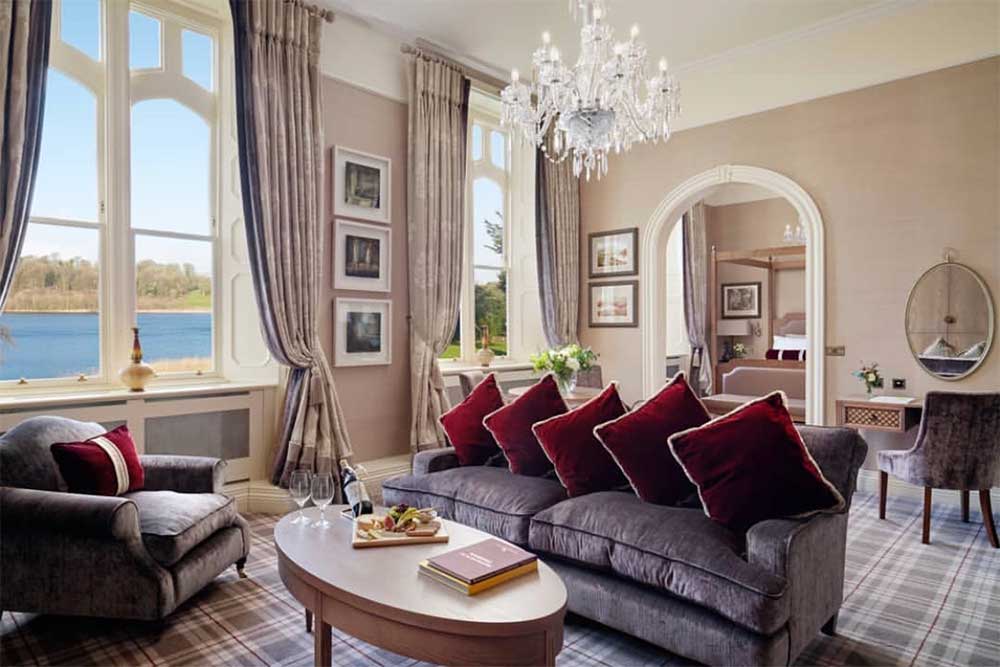 Dromoland is one of Ireland's most historic castles.
This was once the ancestral home of the Irish kings – the O'Briens of Dromoland who were the Kings of Thomond and descended from the Irish High King Brian Boru.
Grand staircases, antique chandeliers and beautifully furnished rooms make a stay here a truly luxury experience! From gourmet dining to outdoor pursuits, there's lots to do at Dromoland. Kids can try archery, families can row on the lake or feed the ducks and everyone can enjoy a falconry tour.
There's also a fantastic on site spa!
Dromoland is quite popular with travelers as it's located near the Wild Atlantic Way and popular sights like the Cliffs of Moher and the Burren, so make sure to book in advance.
Book rooms: Hotels.com
Check rates: TripAdvisor
ADVERTISEMENT
---
---
Which castle hotel in Ireland is your favorite? Let us know in the comments what your Irish castle accommodation was like!
Essential Tips for Visiting Ireland
Getting In | Aer Lingus, the national Irish airline, offers non-stop flights from select US cities. Two reasons to recommend Aer Lingus: low nonstop fares from many US cities and their pre-clearance facilities. We found cheap flights to Ireland in October – you can check for flight deals and routes here.
When returning to the U.S., take advantage of the U.S. pre-clearance facilities at Dublin and Shannon airports, where you complete U.S. immigration, customs and agriculture controls before departure so that when you land in the U.S., you can just collect your bags.
Getting Around | If there's one thing I can recommend, it's to rent a car and drive around Ireland. Not only is the Wild Atlantic Way coastal route one of the world's most scenic drives, transportation in Ireland is a bit difficult without your own vehicle. We were nervous about driving on the left but ultimately renting a car was the best decision! Check car rental prices for your dates here.
Where to Stay | I highly recommend staying at an Irish country house during your trip. Irish hospitality is truly something else. For unique luxury accommodation check out out Ireland's Blue Book. Or, take advantage of Airbnb for a local experience!
Protect | Lastly, be sure to visit Ireland with travel insurance. Whether you get injured and need to be hospitalized, your phone gets stolen, or a flight delay leaves you with nothing but the clothes on your back, travel insurance will help when you need it most. Hurricane Ophelia hit the country smack in the middle of our road trip! Get a quote for your trip here.
You Might Also Enjoy:
Ireland Vacation Planning Articles
Ireland Travel Tips: Know Before You Go
The Most Beautiful Places in Ireland
How to Plan the Perfect Ireland Itinerary
Where to Stay: 10 Enchanting Irish Castle Hotels 
Packing Checklist: What to Wear in Ireland
For Foodies: All the Best Food We Ate in Ireland
Ireland Road Trips
The Best Stops on the Wild Atlantic Way (with map!)
7 Useful Tips for Renting a Car in Ireland
How to Master Driving in Ireland (as a tourist!)
Irish Sights, Activities & Tours We Especially Enjoyed:
Co Galway: Visiting Kylemore Abbey, Ireland's Most Beautiful Castle?
Co Kerry: Can't Miss Sights in Killarney & Dingle
Co Waterford: Waterford, Ireland's Oldest City, the House of Waterford Crystal & Mount Congreve Gardens
Co Wexford: Don't Skip Wexford - Here's Why!
Co Kilkenny: Exploring Kilkenny Castle, in photos
Restaurant & Hotels We Loved:
County Clare: Gregans Castle Hotel
County Galway: Rosleague Manor Hotel, Where to Stay in Galway
County Wexford: The Strand Inn
County Waterford: The Cliff House Hotel, The Reg Pub
Northern Ireland
Travel Guide: Belfast
Where to Stay in Belfast as a First Time Visitor
Follow me @Sher She Goes on