Driving in Ireland
10 Essential Tips to Driving on the Left for Americans!
After nearly 3 weeks in Ireland driving all around the country, our road trip was complete! As an American, driving on the left in Ireland certainly took some getting used to and man, Irish roads are very unlike American roads so it was a bit of a challenge.
I decided to put together a quick recap of our entire experience, from hiring a rental car in Ireland to driving throughout our road trip.
Hopefully this will help you with your Ireland vacation planning!
ADVERTISEMENT
Keep reading or save this article for later ⇟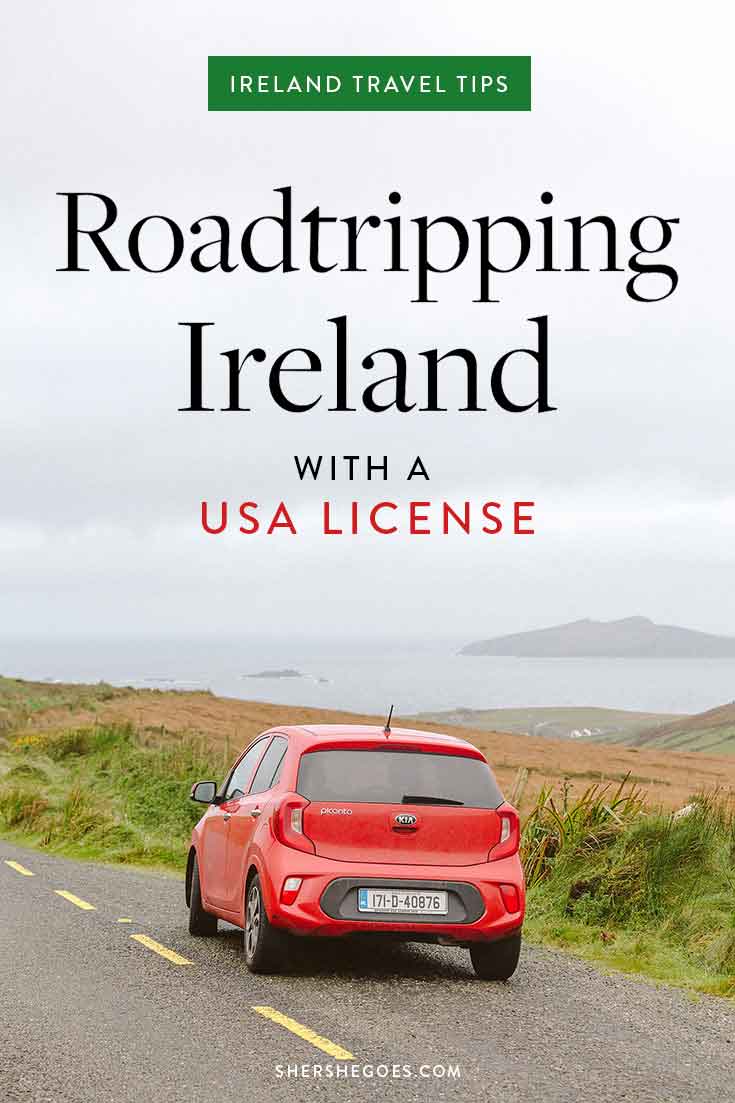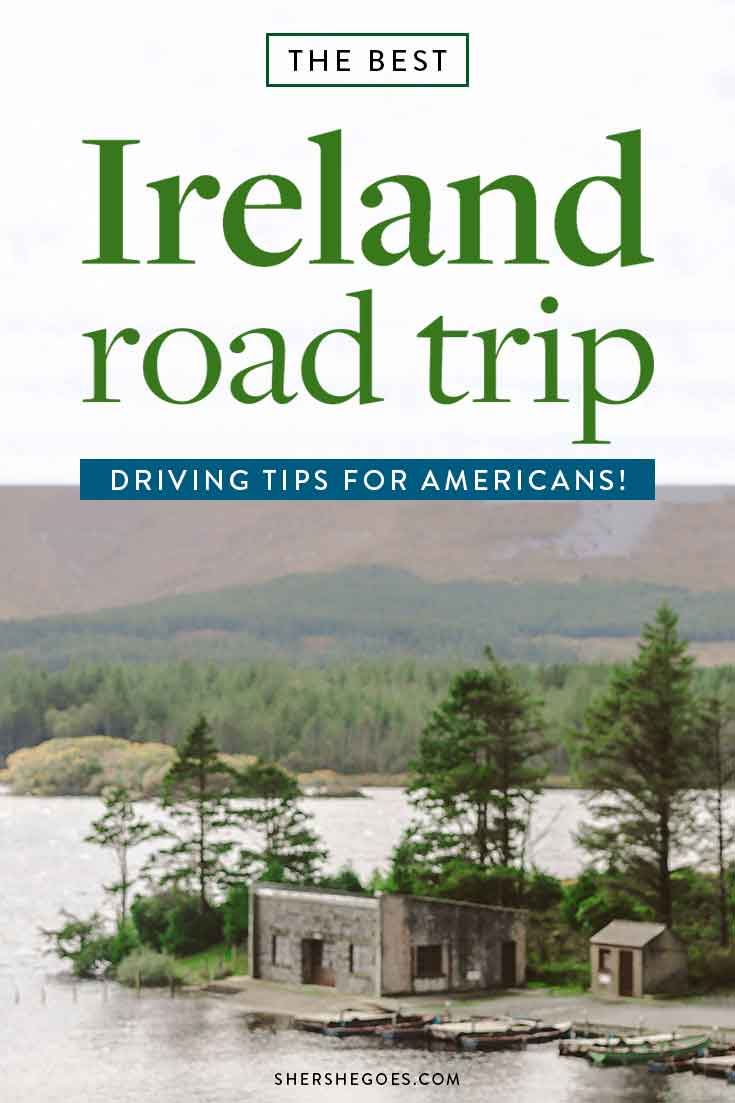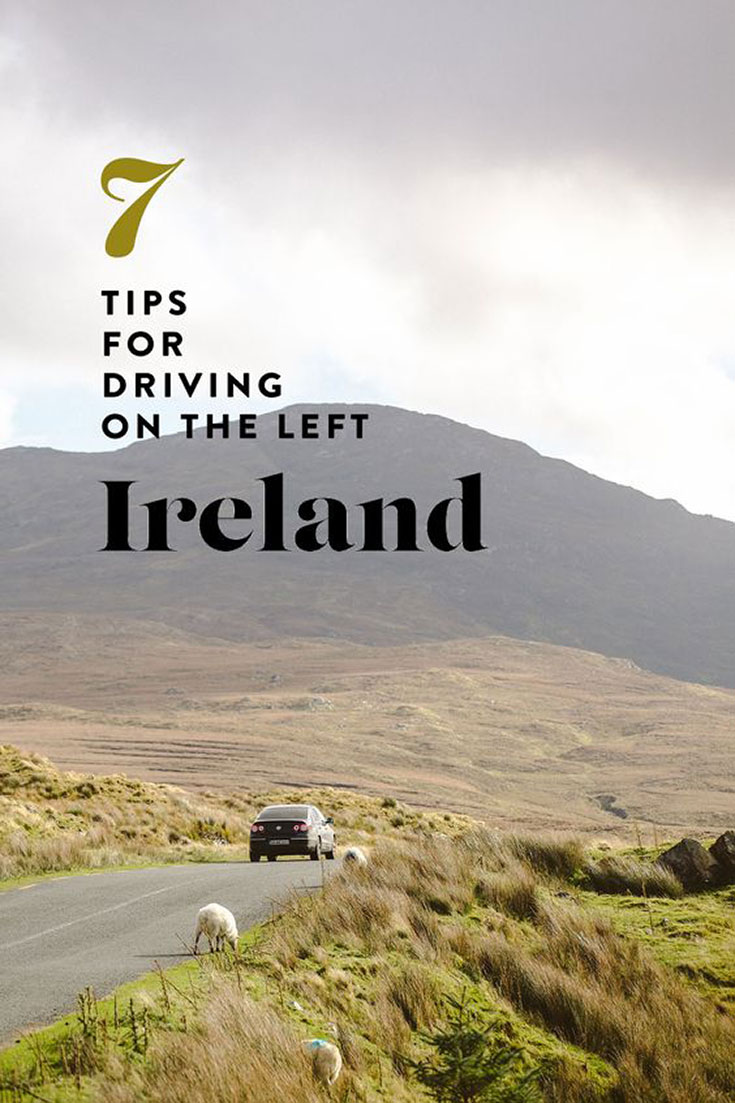 1. Do a Practice Run
Before you leave the parking garage, make sure you're comfortable with the wheel, gears and dials. Your rental car will probably be a different make and model from your own, plus the layout will be flipped, so you want to be completely comfortable before driving out on Irish roads!
The motorways surrounding Dublin are very hectic and getting in and out of Dublin was hands down the most nerve wracking part of driving in Ireland. We drove in the rain for about 2 hours exiting Dublin, manually turning on the windshield wipers because we couldn't figure out how to keep them on haha! We figured it out by hour 3…
ADVERTISEMENT
---
---
2. Have a designated navigator
It's very helpful to have one person navigate while the other drives.
Firstly because two pairs of eyes are better than one, but also because road signs are on the left while the driver sits on the right, so the driver can miss navigational signs.
You can either rent a GPS from the car rental company or use Google Maps on your smartphone. I talked about why I prefer the latter in this post about how to best rent a car in Ireland, which you can read here.
The one downside of using Google Maps is that if you are charging your phone, the app won't speak to you. For some reason it considers the charging cable to be occupying the audio jack, even though it isn't. So a friend or family member to help navigate is essential there.
Another reason navigators are helpful is for exiting on roundabouts!
Which brings me to my next point..
ADVERTISEMENT
---
---
3. Get Used to Roundabouts
Ireland uses roundabouts whenever roads meet at a crossroads. I heard this is because it's more economical and saves on the need for traffic lights / traffic direction. Whatever the reason, get used to lots of roundabouts… and I'm not referring to those large, spacious loops you see in Germany!
Irish roundabouts can be quite tight and the exit turns come quickly, sometimes before the driver even has a second to see the exit signs. It's really helpful to have google maps on your phone and a navigator to help you.
ADVERTISEMENT
---
---
4. HUG the curb on the LEFT, stay WIDE on the RIGHT
When turning, just remember to repeat "hug the curb" when driving left, "wide" when turning right.
After a shaky first day, we pretty much relaxed after that but I did hear from friends that it's when you get comfortable that accidents can happen, so stay vigilant! Constant vigilance! ha..
ADVERTISEMENT
---
---
5. Carry Cash and Coins for Tolls & Parking
I'm so used to using my credit card for everything that I had just 10 euros on me during my Ireland vacation. I realized that for some toll roads, you need cash!
Luckily compared to New York / New Jersey, Irish toll roads are a lot cheaper. It was 8 euros for the ring road toll outside Dublin airport but in the rest of the country, generally just 1-3 euros per toll.
Because I had KnowRoaming for my cellular service and relied on Google Maps, I had access to some other handy road trip features. Did you know you can tell Google Maps to avoid highways, avoid tolls and avoid ferries? If you're running low on cash, tell maps to avoid toll roads and you can breathe a little easier (but might have to drive locally or farther).
Ireland has a couple ferries that can cut down on driving time from peninsula to peninsula. These ferries can hold cars so you might want to consider utilizing them, if you're limited on time!
If visiting Irish cities, there's generally lots of street parking available by the meter. Most meters can take credit card but there were a couple that wanted cash only.
ADVERTISEMENT
---
---
6. Budget for Gas
Or petrol, as they call it in the rest of the world.
Our tiny car used petrol but the car rental counter guy tried to up-sell us on a larger car which used diesel, claiming the fuel savings would outweigh the hefty upgrade fee. Fresh off a trans-Atlantic flight, we weren't quite sure what to think but ended up going with our gut and keeping the smaller, petrol-guzzling car.
Just stay clear of last minute offers that salesman try to sell you at the counter..
Make sure you note which fuel your car utilizes, diesel or petrol, and then pay attention at the gas station. If you accidentally fill the rental car with the wrong type of fuel, it's a very hefty fee. The gas station will need to call a specialist to clean out the engine tank and it will really put a crimp in your vacation!
Read more:
7 Useful Tips for Renting a Car in Ireland
ADVERTISEMENT
---
---
7. Don't Wait Until the Last Minute to Fill Up
Our first day, we drove from Dublin to Galway (roughly 3 – 3.5 hours) and used up over half our tank. Gas stations in regional areas can be few and far between so try to fill up once you're halfway gone.
Gas stations in Ireland sell gas by the litre and unlike in America, you can't just "fill up" to the tip – you specify a euro amount of purchase. You also go inside the gas station to pay, which was the oddest thing to me. We would pull into gas stations and wonder why the cars were all parked in the tank spots but empty.. until we realized it's because the owners are inside lined up to pay, ha!
If you're traveling to Ireland on a budget, make sure to factor in gas. It was a bit of a shock to see how much more expensive gas is in Ireland versus back home. Luckily our car rental was quite cheap so overall I'm so glad we opted to self drive our itinerary in Ireland versus booking a tour.
Perhaps for a longer road trip a diesel car would offer a better buy, so try to estimate it all out for your own trip.
ADVERTISEMENT
---
---
8. Don't Drive in Dublin!
It feels more dangerous navigating the streets of Dublin than driving in NYC.. and Manhattan is bad enough!
Just don't do it.
Dublin is amazing and pedestrian friendly so spend some time in Dublin on your own, then head to the airport to pick up your rental car.
ADVERTISEMENT
---
---
9. Don't Feel Pressured to Go the Speed Limit
There are handy symbols designating the various road ways throughout Ireland:
M for motorway: these wide, multi-laned giant roads are equivalent to our highways. M50 is the main ring road leading in and out of Dublin and is governed by a toll. Car rentals will be set up with the Irish version of the e-z pass so the toll fare will be directly added to your rental bill, no need to stop.
N for national: primary and secondary roads connecting major cities. The general speed limit of 100 kmh is just over 60 mph, but man these roads are curvy. We stuck to a pace we were comfortable with and let all the experienced Irish drivers pass us
R for regional: these are small roads between small towns and villages and tight! Just know that even though it looks like a one-laned road, it's likely two so drive slow, watch the curves and be ready to pull to the side so cars in opposite directions can get through
L for local: same as the regional roads, these are tight, windy roads with a max speed of 80 kmh but I don't think we ever managed to go that fast
In general, given how narrow Irish roads are and how new we were to driving on the left, we rarely drove the speed limit. Irish drivers liberally passed us on the right and we felt much safer going a steady, slower pace.
Every local we talked to also made sure to tell us to just drive carefully and let others cars pass :)
ADVERTISEMENT
---
---
10. Create a Realistic Itinerary
Try to budget just 2 to 3 sights to see each day, any more and you'll feel like your entire Ireland vacation consists of endless driving!
We took it really easy and got up late each day to enjoy a leisurely breakfast at our hotel, saw one sight before a long lunch followed by a late afternoon sight before settling in for Irish food at a traditional pub with local bands. It's difficult to stay out on the road late, as most roads don't have street lamps so it can be a little tough to drive at night.
Part of the charm of visiting Ireland was relaxing and getting to know the locals. We stayed in some really lovely country houses and bed & breakfasts (check out Ireland's Blue Book for some of the best) and thoroughly enjoyed Irish cuisine and music.
Read more:
Staying in Rosleague Manor, Connemara
ADVERTISEMENT
---
---
For more advice on how to plan your trip to Ireland, check out all our Ireland travel guides.
Essential Tips for Visiting Ireland
Getting In | Aer Lingus, the national Irish airline, offers non-stop flights from select US cities. Two reasons to recommend Aer Lingus: low nonstop fares from many US cities and their pre-clearance facilities. We found cheap flights to Ireland in October – you can check for flight deals and routes here.
When returning to the U.S., take advantage of the U.S. pre-clearance facilities at Dublin and Shannon airports, where you complete U.S. immigration, customs and agriculture controls before departure so that when you land in the U.S., you can just collect your bags.
Getting Around | If there's one thing I can recommend, it's to rent a car and drive around Ireland. Not only is the Wild Atlantic Way coastal route one of the world's most scenic drives, transportation in Ireland is a bit difficult without your own vehicle. We were nervous about driving on the left but ultimately renting a car was the best decision! Check car rental prices for your dates here.
Where to Stay | I highly recommend staying at an Irish country house during your trip. Irish hospitality is truly something else. For unique luxury accommodation check out out Ireland's Blue Book. Or, take advantage of Airbnb for a local experience!
Protect | Lastly, be sure to visit Ireland with travel insurance. Whether you get injured and need to be hospitalized, your phone gets stolen, or a flight delay leaves you with nothing but the clothes on your back, travel insurance will help when you need it most. Hurricane Ophelia hit the country smack in the middle of our road trip! Get a quote for your trip here.
You Might Also Enjoy:
Ireland Vacation Planning Articles
Ireland Travel Tips: Know Before You Go
The Most Beautiful Places in Ireland
How to Plan the Perfect Ireland Itinerary
Where to Stay: 10 Enchanting Irish Castle Hotels 
Packing Checklist: What to Wear in Ireland
For Foodies: All the Best Food We Ate in Ireland
Ireland Road Trips
The Best Stops on the Wild Atlantic Way (with map!)
7 Useful Tips for Renting a Car in Ireland
How to Master Driving in Ireland (as a tourist!)
Irish Sights, Activities & Tours We Especially Enjoyed:
Co Galway: Visiting Kylemore Abbey, Ireland's Most Beautiful Castle?
Co Kerry: Can't Miss Sights in Killarney & Dingle
Co Waterford: Waterford, Ireland's Oldest City, the House of Waterford Crystal & Mount Congreve Gardens
Co Wexford: Don't Skip Wexford - Here's Why!
Co Kilkenny: Exploring Kilkenny Castle, in photos
Restaurant & Hotels We Loved:
County Clare: Gregans Castle Hotel
County Galway: Rosleague Manor Hotel, Where to Stay in Galway
County Wexford: The Strand Inn
County Waterford: The Cliff House Hotel, The Reg Pub
Northern Ireland
Travel Guide: Belfast
Where to Stay in Belfast as a First Time Visitor
Follow me @Sher She Goes on