Where to Stay in Belfast
You could spend a week in Belfast and find yourself with plenty to do. The compact capital of Northern Ireland has great bars and restaurants, a tangled past and a history of disasters – but that's what makes its present so fascinating.
Whether you're looking to or simply want an inexpensive weekend getaway, Belfast is perfect! Here's a guide to Belfast's different neighborhoods and the best hotels in each part of town.
ADVERTISEMENT
Best Hotels in Belfast
One of the best things about Belfast is how affordable it is. You can find world class dining, fantastic nightlife and modern hotels… at some incredibly inexpensive rates. Skip the hostel and 'splurge' on a beautiful room in a great location.
Here are some of the best hotels in Northern Ireland's capital.
Below is an overview of Belfast's different neighborhoods as well as reviews for each hotel!
Keep reading or save this article for later ⇟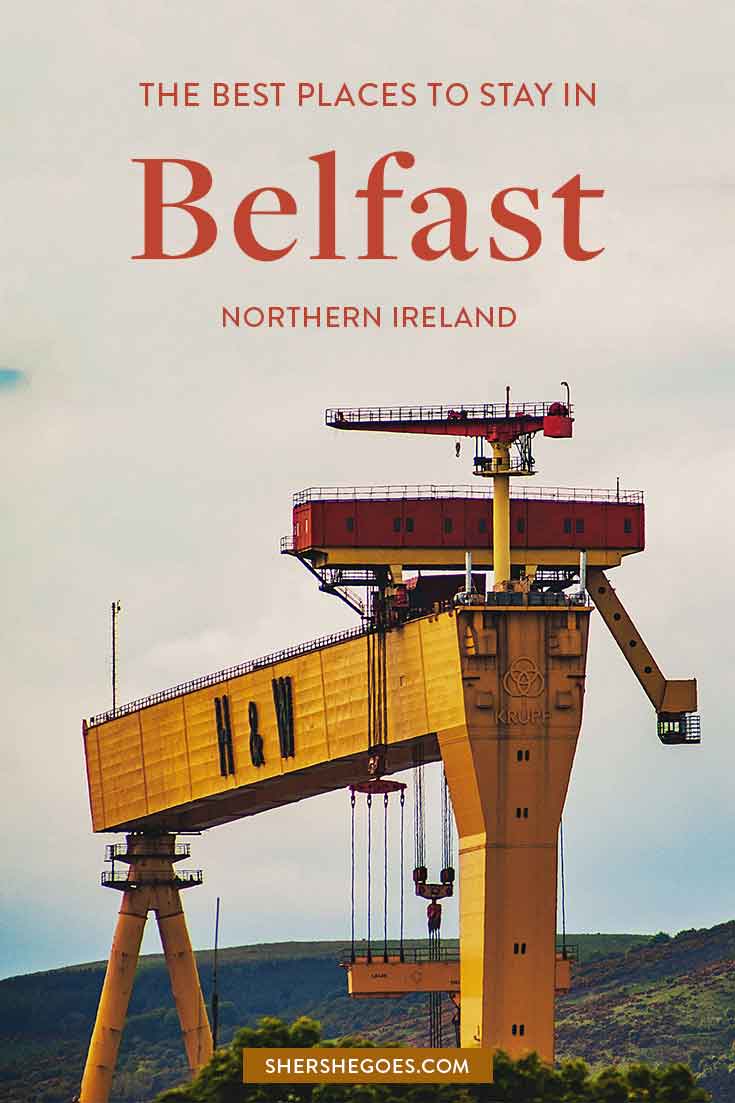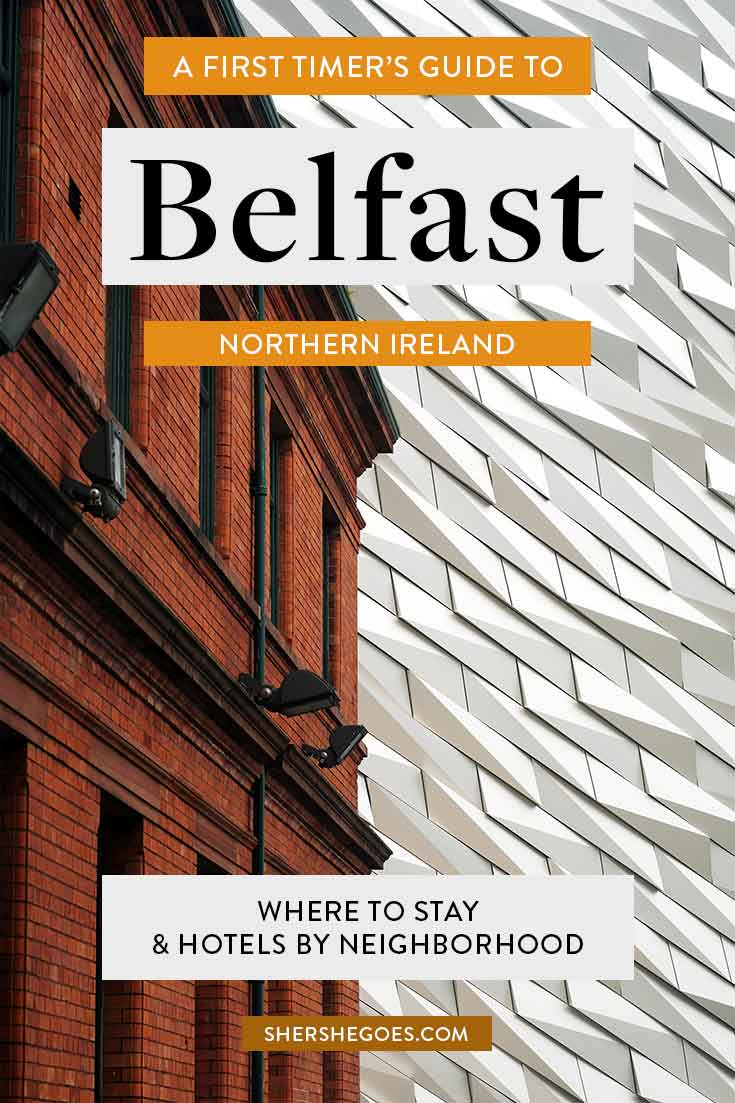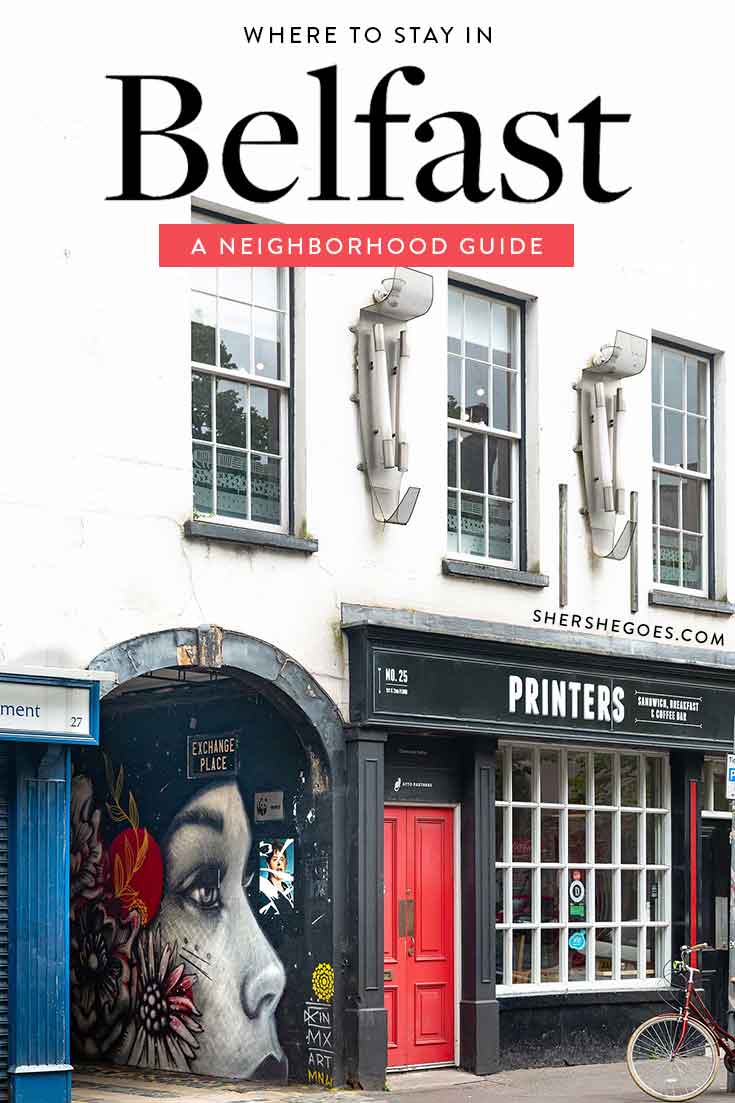 ADVERTISEMENT
---
---
Best Neighborhoods in Belfast
Belfast is a relatively small city. You can easily get around on foot, and even the farthest sights are just a short cab ride away.
For your first time, we recommend staying in the city center. From here, almost all the highlights are within a max 15 minute walking radius. There are great restaurants, a smattering of bars and all the corporate hotels.
Just north of the city center is this quirky section of town, known most for its nightlife. With great restaurants and colorful street art, this is the place to stay for those who want to have a good time wining and dining their way through Belfast.
ADVERTISEMENT
---
---
As Belfast's good fortunes have risen, the city has slowly focused on reviving different areas of town. The Titantic Quarter is located on the city's old shipyard, just past the waterfront harbor.
Belfast was once the preeminent shipping manufacturer in the world and it's here that the Titantic was built. Today you'll find the Titanic Museum, new hotels and the city's movie making studios (Game of Thrones anyone?).
Dominated by Queen's University, this student quarter is known for boutique shops, cafes, bookstores and restaurants. There's the architecturally stunning University, Ulster Museum and Botanic Gardens to explore as well.
Rates in Belfast are really quite affordable – you're looking at $105 – 200 for even the top end hotels. But if you are on a budget or prefer an apartment, Airbnb is also a solid option. All Airbnb properties need to be certified by the tourism authority, so you can feel comfortable that they're registered and of good standing.
Read more:
All the Best Things to Do in Belfast!
ADVERTISEMENT
---
---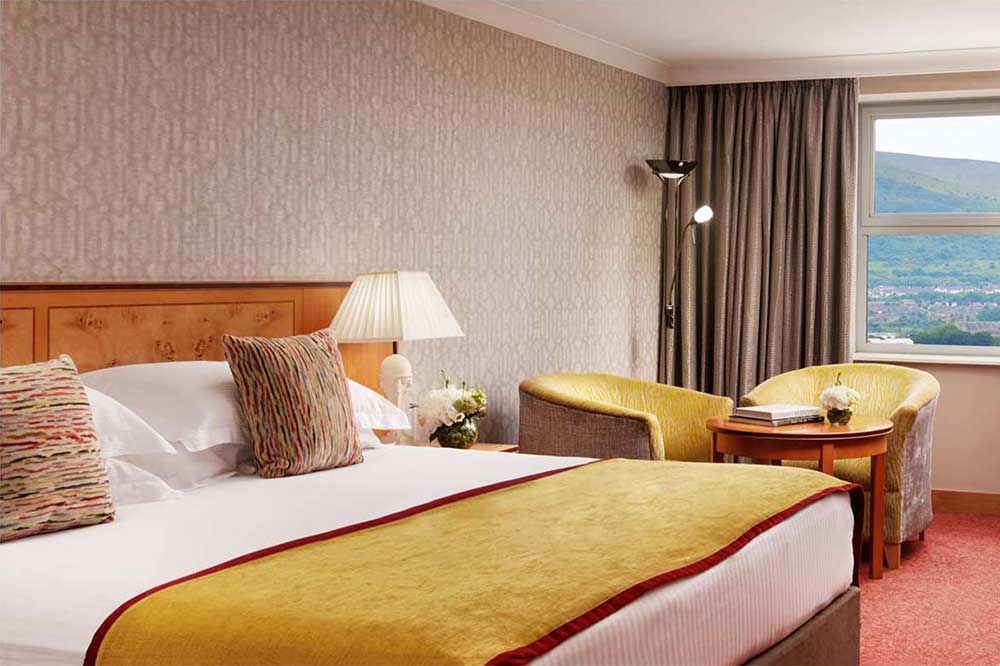 1. Europa Hotel
The Europa has the unique distinction of being the most bombed hotel in the world. World leaders and a who's who of visitors have stayed at this iconic property in the heart of central Belfast, but thankfully the Troubles are over and the interior has been modernly refurnished.
Legendery Crown Bar is across the street and the first floor Piano Bar is perfect for a drink. Breakfast is included as well!
What makes this one of the best hotels in Belfast?
Rooms are spacious and comfortable, but slightly dated. This is where we stayed and in our opinion, the best feature of the hotel is its location.
The Europa is just a quick walk from almost anywhere you're headed in town – great restaurants less than 2 blocks away, City Hall, the Opera is next door and the Jury's is 2 blocks away (if you're taking a Game of Thrones tour). Both the Cathedral and Queens districts are a short 10 minute walk too.
Book: Booking.com, Hotels.com
Check prices: TripAdvisor
ADVERTISEMENT
---
---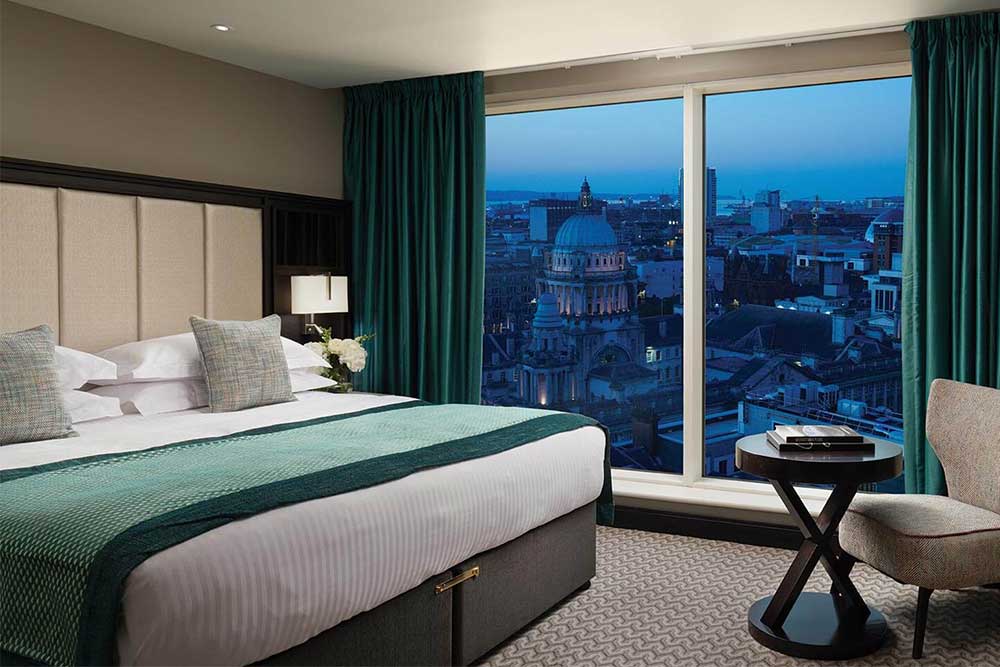 2. Grand Central Hotel
Belfast's newest and tallest hotel is owned by the same Hastings parent company as its neighbor Europa.
With a great location in the Linen Quarter, the Grand Central is just 2 minutes from City Hall and within walking distance to all the main city sights. Make sure to check out the 23rd floor Observatory bar, which has an unparalleled and unobstructed panoramic view of the city!
Why stay at this central Belfast hotel?
The hotel caters to business travelers, with its modern amenities and shimmering glass and steel structure. If you want comfortable and new, this is the hotel for you. Grand Central has a fantastic on-site bar and great restaurant for those who don't want to venture far.
Book: Booking.com, Hotels.com
Check prices: TripAdvisor
ADVERTISEMENT
---
---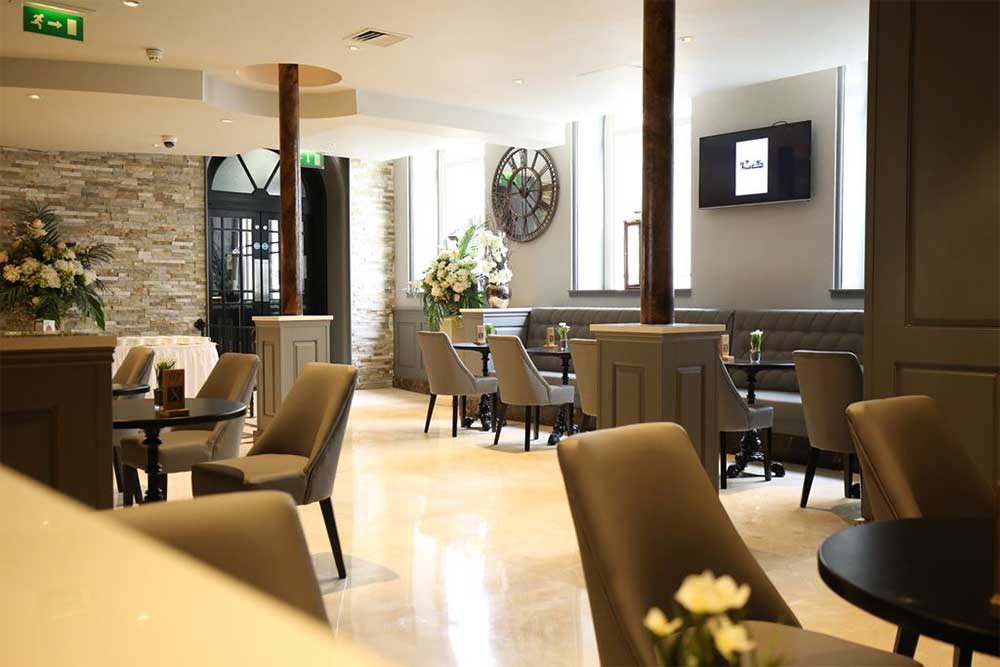 3. Ten Square
Want the closest location to central Belfast? Stay at the Ten Square Hotel, an affordable property right behind Belfast City Hall.
What makes this one of the best hotels in Belfast's city center?
Ten Square is in the Linen District, within walking distance of all the top sights. It's perfect for travelers on a budget who don't plan to spend too much time at the hotel and prioritize a central location.
Book: Booking.com, Hotels.com
Check prices: TripAdvisor
ADVERTISEMENT
---
---
4. Titanic Hotel
Design fanatics and history lovers should stay at the Titanic. This stunning luxury hotel is located in the former headquarters of Harland & Wolff, the Belfast based manufacturer that built and designed historic ships – including the Titanic, Olympic and Britannic.
If you plan to visit the Titanic Belfast Exhibition (the city's number one visitor attraction), the Titanic Hotel is perfect… as it's literally right next door. While the museum is a new building, constructed to mimic four ships' prows, the Titanic Hotel is the site of the original ship drawing offices.
Today, the ship design space has been converted into the hotel's grand ballroom and enormous lounge bar (pictured above). The soaring ceilings and beautiful windows were designed to let in light so that engineers could sketch the ship plans right on to the floor, while in the second gallery wing, the ship buyer could watch their progress!
If you're visiting Belfast as a family, the Titanic is a great hotel. In addition to the Titanic Belfast museum, nearby are the movie studios, HMS Caroline, Game of Thrones Temporary Exhibition and waterfront. However it is a bit outside the city center if you were planning to just walk.
If you have a car, the Titanic Hotel would be a great option. It's located right off the motorway so you can park easily and avoid driving through Belfast.
What makes this one of the best hotels in the Titantic Quarter?
If you appreciate history and want a modern, luxurious hotel, the Titantic Hotel is the perfect choice. From afternoon tea to cocktails to dinner, everything about the property is fantastic. Our particular favorite?
The 'Jack and Rose' cocktail, a fun play on the 1997 blockbuster film. The 'Jack' Daniels based drink is served with a shot of 'Rose' liquor on the side (…to keep her out of the water) and tastes like citrus and honey.
Book: Booking.com, Hotels.com
Check prices: TripAdvisor
ADVERTISEMENT
---
---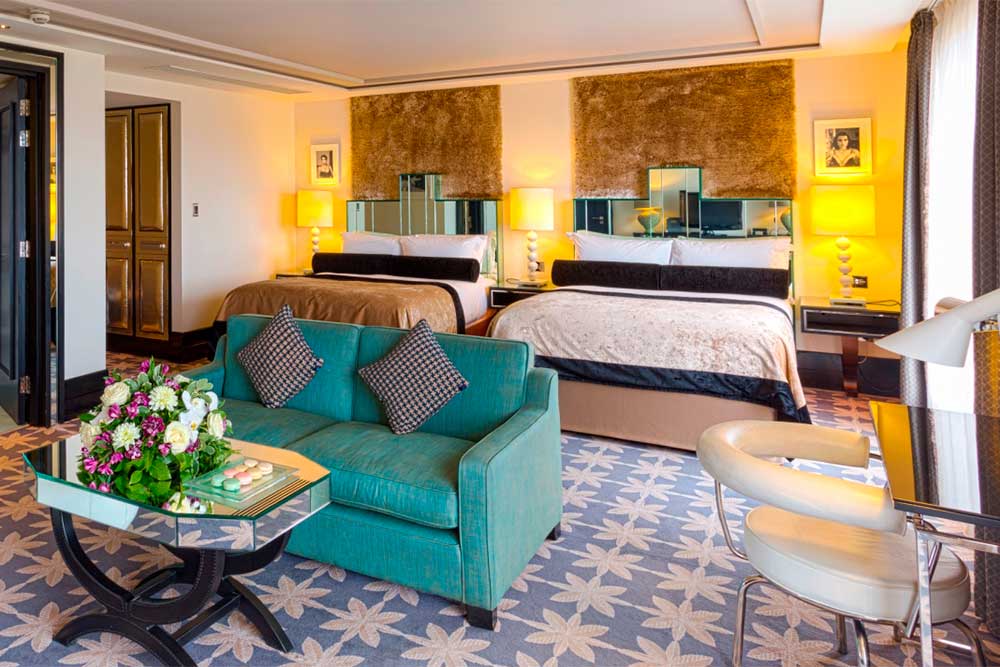 5. Merchant Hotel
Belfast's most luxurious hotel is located in the former Ulster Bank headquarters in the heart of the Cathedral Quarter.
The Merchant is known for its Victorian interiors and beautiful dining room, aptly named The Great Room. Don't be shy – peek in for a glance at the red couches, crystal chandelier and gilded columns.
If you're looking for the best hotel in the Cathedral Quarter
For those who want to treat themselves, there's no better 5 star hotel in Belfast than The Merchant. The on site restaurant has a 7 course tasting menu that rivals any Michelin star restaurant.
After the meal, you can pop over to the bars in the Cathedral Quarter. Some great options include The Spaniard and The Duke of York.
Book: Booking.com, Hotels.com
Check prices: TripAdvisor
ADVERTISEMENT
---
---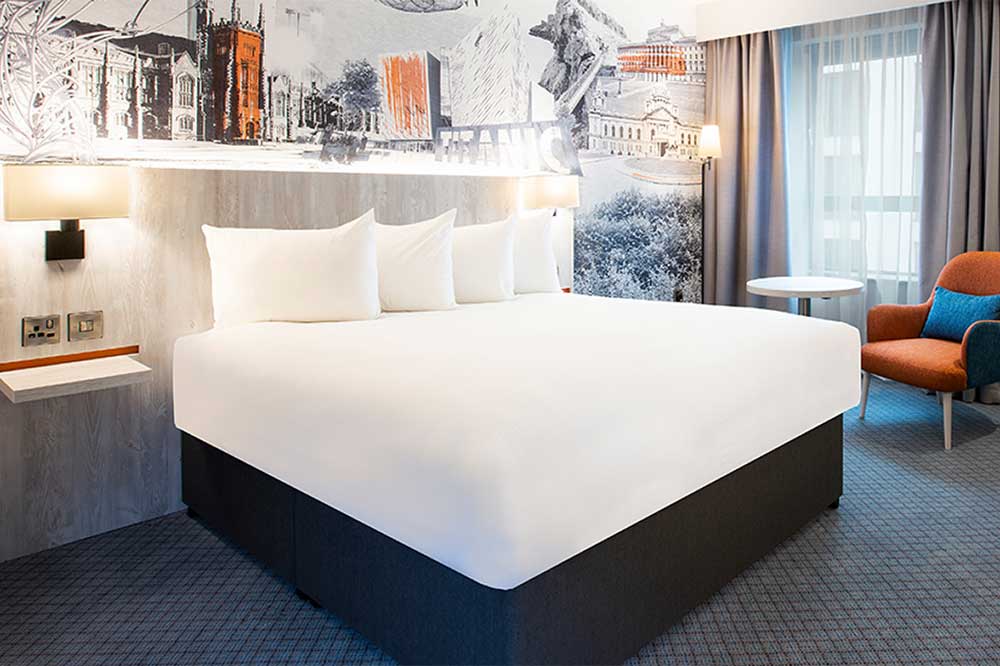 6. Jury's Inn
Jury's Inn is an affordable option for those who want to be in the city center and don't need added amenities like free breakfast, gyms or spas.
What makes this one of the best cheap hotels in Belfast?
Right next door to the Opera House and a 5 minute walk from the City Center, it offers clean functional rooms at great prices.
Jury's is 2 blocks down from the Europa so the two are conveniently next to each other. If you plan to book a Game of Thrones tour or catch the hop-on, hop-off city bus, both stop right outside Jury's so it can be quite convenient.
Book: Booking.com, Hotels.com
Check prices: TripAdvisor
ADVERTISEMENT
---
---
And that's it! Our guide to Belfast's best hotels to make the most of your stay.
Whether you're looking for a hotel in the historic district, a boutique hotel for couples or a family friendly hotel for kids, these top hotels in Belfast are sure to please.
Essential Tips for Visiting Northern Ireland
Getting In | Belfast is located in Northern Ireland, and part of the United Kingdom. Although there's no hard border between Ireland and Northern Ireland, they do have different governments and use different currencies. If you're in Europe, you could easily fly into Belfast. Set a fare alert and check flight routes here.
If you're already in Ireland or the UK, the train is a great option! We didn't feel like renting a car for this trip, so we took advantage of the comfortable and convenient 3 hour train from Dublin to Belfast. Just book train tickets ahead of time to save.
Where to Stay | Base yourself in Belfast for at least 2 nights to fully soak in the city. Stay downtown in the city center to be within walking distance of the major sights. Or, take advantage of Airbnb for a local experience!
Protect | Lastly, be sure to visit Ireland with travel insurance. Whether you get injured and need to be hospitalized, your phone gets stolen, or a flight delay leaves you with nothing but the clothes on your back, travel insurance will help when you need it most. 
The Emerald Isle is prone to storms – Hurricane Ophelia hit on our first trip to Ireland and Storm Hannah on our second trip so pack solid rain gear and get travel insurance. You can get a quote for your trip here.
You Might Also Enjoy:
Northern Ireland Vacation Planning Articles
Republic of Ireland
What to Know Before Visiting Ireland (+Travel Tips)
The Perfect Ireland Itinerary + Road Trip
The Most Beautiful Places in Ireland
How to Master Driving in Ireland (as a tourist!)
7 Useful Tips for Renting a Car in Ireland
Where to Stay: 10 Enchanting Irish Castle Hotels 
For Foodies: All the Best Food We Ate in Ireland
Follow me @Sher She Goes on