The Cliff House Hotel
If you visit County Waterford, you have to check out one of the most unique and breathtaking hotels in Ireland.
The Cliff House hotel is located right above the small fishing village of Ardmore, carved right into the Irish cliffs in a sea cove along southwest Waterford. From the sky, you can barely see the hotel, as the rooms are cleverly cut into the sheer rocks and terraced with greenery.
In the rooms themselves, you feel like a bird in the sky, with angled skylights letting in lots of clear natural light and balconies that open up to the crashing waves below.
The best part about this boutique 5 star hotel? Its Irish destination spa and Michelin-starred restaurant!
Book rooms: Hotels.com, Booking.com
Check prices: TripAdvisor
ADVERTISEMENT
Ardmore, County Waterford
The Cliff House offers seaweed baths in outdoor tubs which overlook the ocean.
I had a lot of interaction with seawood on this trip to Ireland (not something I thought I would be doing ha!) but I didn't get the chance to try the seaweed bath yet and have bookmarked it for my next trip to Ireland.
Seaweed is reputed to be quite good for the skin and apparently even in the dead of winter guests are happy to dunk in outside.
ADVERTISEMENT
---
---
Ireland's Most Unique Golf Hole
If you prefer golf instead, which Ireland is famous for, the Cliff Hotel has you covered there too!
A right turn from the spa and you'll find a quaint little sign proclaiming "Ireland's most unique golf hole"… and it is! We each grabbed a small club and a golf boll and stepped up to the plate, aiming for a tiny inflatable checkerboard raft floating in the ocean.
The balls made it a range of distances including 1 cm off the putting green, but no one really got close to the mark ha!
The golf balls are completely biodegradable and decompose into fish food, so don't worry about a beached whale (a la Seinfeld) to occur here. Instead, the local fish population and fisherman are quite happy ;)
ADVERTISEMENT
---
---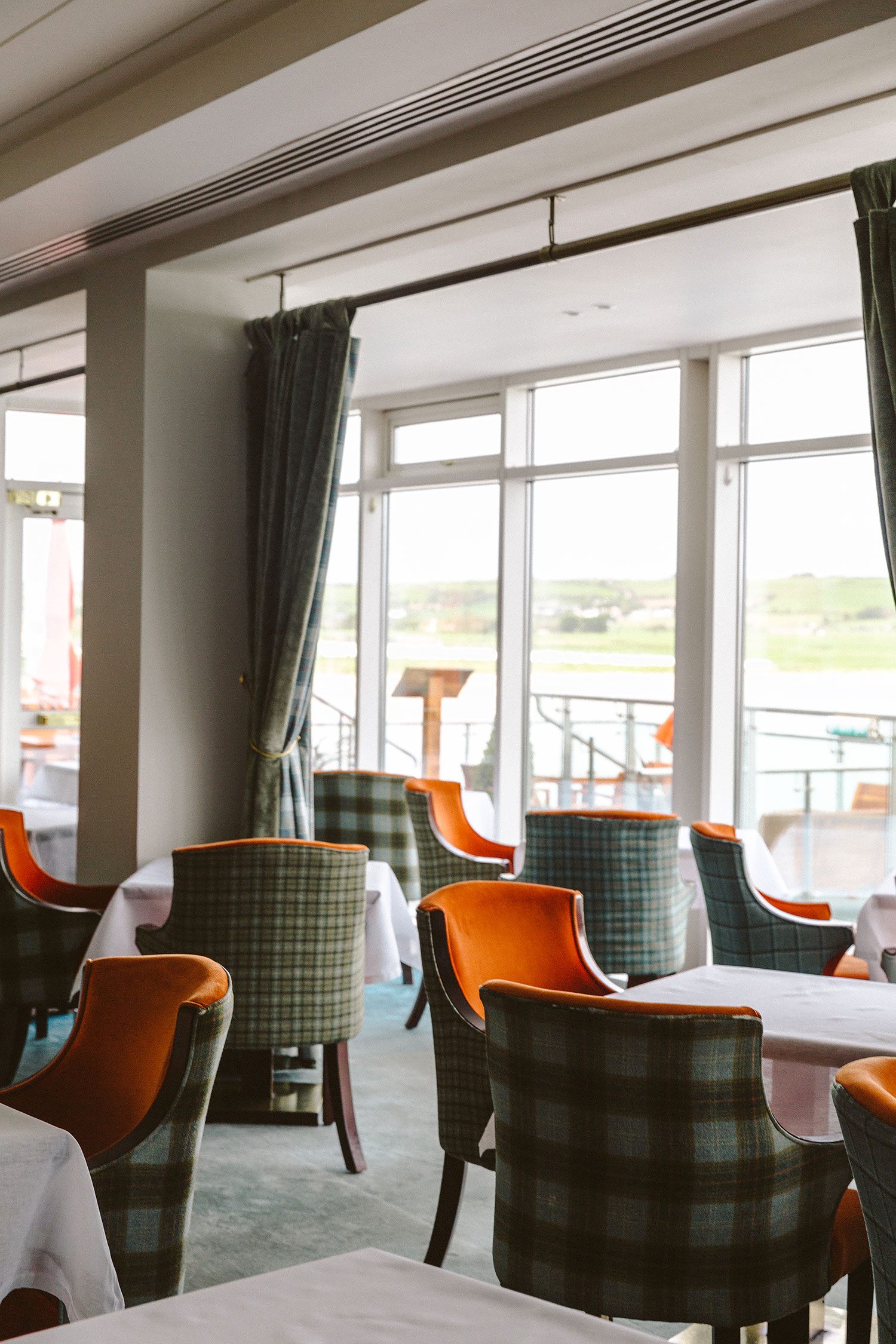 The Cliff House Restaurant
Now for the best part of the Cliff House: the restaurant!
Lunch here was simply amazing. The Cliff House's main House Restaurant is a stunning, unpretentious restaurant overlooking West Waterford. It's open for lunch and dinner on select days, so even if you're not staying at the hotel, I highly suggest stopping by for a meal!
Or, you can grab a drink at the Bar restaurant and enjoy the fresh sea air on the outdoor terrace.
ADVERTISEMENT
---
---
Lunch
Lunch was a leisurely affair. I started with the wild Irish mushroom casserole, liberally seasoned with mature cheddar over a buttery rich brioche. It was fresh, crunchy and savory in each bite.
I opted for the Comeragh lamb for my main, as lamb seems to be a local specialty. The lamb shoulder was rich and flavorful, slowly cooked in a romanesco sauce and lamb jus. Rosemary potatoes and red wine washed it all down!
ADVERTISEMENT
---
---
Hands down, the best part of eating at the Cliff House was dessert.
Three of us opted to each order a different dessert from the menu so that we could share and ooh, this was the first of many glorious desserts that we ate in Ireland.
It was also when I realized this was going to be a good group to eat with, since we all clearly love dessert and didn't mind sharing. Well, some of us didn't mind sharing haha.
Looking back on the trip, I remain very impressed with Irish cuisine and I especially miss all the amazing rich desserts they have!
Read more:
Where to Eat in Ireland
ADVERTISEMENT
---
---
These are the 3 desserts we shared at the Cliff House (in case you're headed in that direction)
Pavlova with blackberries and chantilly cream
Dark chocolate tart with candied orange and vanilla ice cream
Sticky toffee pudding with banana ice cream and caramel sauce.
Out of those three I originally wanted the dark chocolate tart, because I will always choose anything with chocolate, but as the last one to order I was compelled to choose the sticky toffee pudding.
Usually it's a shame when you don't have free will but in this case, I lucked out!
ADVERTISEMENT
---
---
I'm usually anti caramel, anti sticky-anything – I like my teeth to not be glued together, thank you – but this dessert was incredible. We all agreed it was the best of the 3 (but they were all seriously amazing)!
The banana was caramelized, the pudding was decadently rich and the banana ice cream had just the right amount of banana flavor without being overwhelming. You know when you mix a warm brownie right out of the oven with cold vanilla ice cream?
This was like that but 10x better. Definitely do yourself a favor and don't skip dessert here!
After that epic meal, I was ready for a nap.
ADVERTISEMENT
---
---
Instead, the group opted for the more invigorating post-lunch option: walking along the sea cliffs.
The Cliff House Hotel restaurant is run by Chef Martin Kajuiter, a Dutch man who was accustomed to foraging local produce from his days cooking in Amsterdam. When the hotel re-opened in 2007, he was brought in to run the restaurant and was rewarded with 1 Michelin star just two years later in 2010.
One of the fun things guests can do is join a foraging walk with Andrew, one of the local Irishman who uses his knowledge of local produce and mushrooms to supply Chef Martin and the House restaurant.
So, that's what we chose to do!
We had a fun walk along the sea, straining our necks looking for whales and dolphins.
It was unfortunately a bit too windy out and let's face it – I'm too blind to spot a whale miles away anyway – but with Andrew's help we discovered some edible shoots, plants and mushrooms in the area!
ADVERTISEMENT
---
---
About the Cliff House Hotel
Not headed to County Waterford?
The Cliff House has two sister properties! Check out the Cliff Townhouse Hotel in Dublin's city center and the Cliff at Lyons, a country retreat in Kildare.
Cliff House Hotel
Ardmore, County Waterford
Book rooms: Hotels.com, Booking.com
Check prices: TripAdvisor
Essential Tips for Visiting Ireland
Getting In | Aer Lingus, the national Irish airline, offers non-stop flights from select US cities. Two reasons to recommend Aer Lingus: low nonstop fares from many US cities and their pre-clearance facilities. We found cheap flights to Ireland in October – you can check for flight deals and routes here.
When returning to the U.S., take advantage of the U.S. pre-clearance facilities at Dublin and Shannon airports, where you complete U.S. immigration, customs and agriculture controls before departure so that when you land in the U.S., you can just collect your bags.
Getting Around | If there's one thing I can recommend, it's to rent a car and drive around Ireland. Not only is the Wild Atlantic Way coastal route one of the world's most scenic drives, transportation in Ireland is a bit difficult without your own vehicle. We were nervous about driving on the left but ultimately renting a car was the best decision! Check car rental prices for your dates here.
Where to Stay | I highly recommend staying at an Irish country house during your trip. Irish hospitality is truly something else. For unique luxury accommodation check out out Ireland's Blue Book. Or, take advantage of Airbnb for a local experience!
Protect | Lastly, be sure to visit Ireland with travel insurance. Whether you get injured and need to be hospitalized, your phone gets stolen, or a flight delay leaves you with nothing but the clothes on your back, travel insurance will help when you need it most. Hurricane Ophelia hit the country smack in the middle of our road trip! Get a quote for your trip here.
You Might Also Enjoy:
Ireland Vacation Planning Articles
Ireland Travel Tips: Know Before You Go
The Most Beautiful Places in Ireland
How to Plan the Perfect Ireland Itinerary
Where to Stay: 10 Enchanting Irish Castle Hotels 
Packing Checklist: What to Wear in Ireland
For Foodies: All the Best Food We Ate in Ireland
Ireland Road Trips
The Best Stops on the Wild Atlantic Way (with map!)
7 Useful Tips for Renting a Car in Ireland
How to Master Driving in Ireland (as a tourist!)
Irish Sights, Activities & Tours We Especially Enjoyed:
Co Galway: Visiting Kylemore Abbey, Ireland's Most Beautiful Castle?
Co Kerry: Can't Miss Sights in Killarney & Dingle
Co Waterford: Waterford, Ireland's Oldest City, the House of Waterford Crystal & Mount Congreve Gardens
Co Wexford: Don't Skip Wexford - Here's Why!
Co Kilkenny: Exploring Kilkenny Castle, in photos
Restaurant & Hotels We Loved:
County Clare: Gregans Castle Hotel
County Galway: Rosleague Manor Hotel, Where to Stay in Galway
County Wexford: The Strand Inn
County Waterford: The Cliff House Hotel, The Reg Pub
Northern Ireland
Travel Guide: Belfast
Where to Stay in Belfast as a First Time Visitor
Follow me @Sher She Goes on