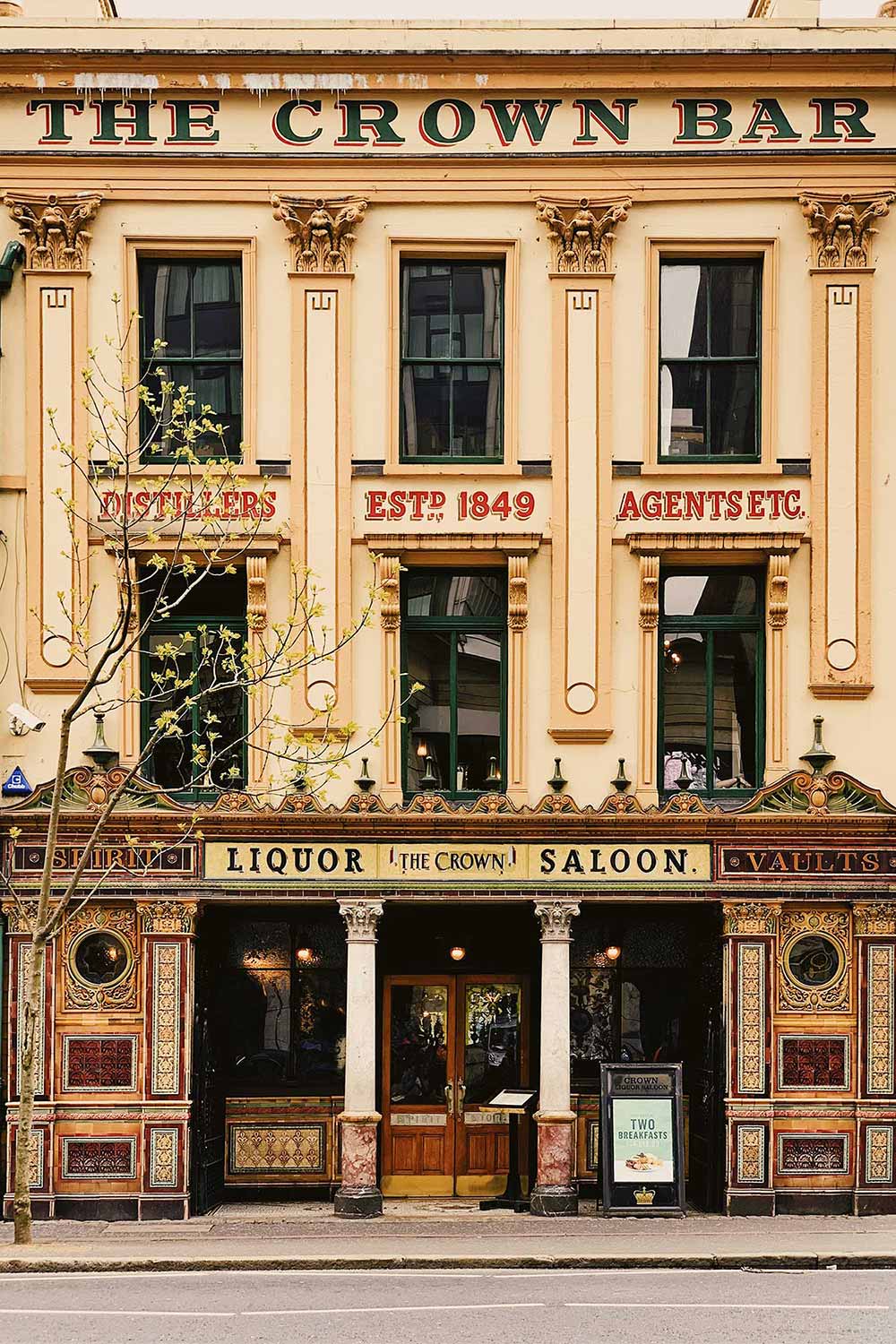 Visiting Belfast
"Everyone comes to see our disasters", our taxi driver said, with a bemused grin.
After 3 incredible days in Belfast, we were leaving Northern Ireland and recounting all the great sights and activities we had done with our driver. We paused, awkwardly laughed and didn't quite know what to say in response..
A second later we pulled up to Belfast Central Station and were off on our way. Still, his parting words stuck with us on the 3 hour ride back to Dublin.
ADVERTISEMENT
It's true – every city has its touristy sights, but nearly all of Belfast's revolve around troubled times and major conflicts. It's part of what makes the city quite so fascinating.
For thirty years, all people knew of Belfast were its Troubles. Images of hunger strikes, bombs and 'terrorists' were all that were broadcast to the international media.
Before that, Belfast withstood the rise and fall of the Industrial Revolution, the launch and sinking of the Titanic, the division of Ireland, the global depression of the 30s and the Nazi bomb blitz in the 40s. So the city hasn't had it easy.. to say the least.
But today, Belfast is booming. Large sections of the city have been re-developed, a burgeoning film industry (notably Game of Thrones) has changed the employment landscape and a swath of (affordable!) hip hotels and colorful bars have encouraged a sharp uptick in tourism numbers.
Personally, we couldn't believe how interesting and modern the city was. While yes, most of our visits were to districts, museums and areas made famous by Belfast's difficult past, it is the city's unique and remarkable history that make it such a compelling place to visit.
Today we're sharing a travel guide to Belfast, covering the top things to do in Northern Ireland's capital!
Keep reading or save this article for later ⇟
ADVERTISEMENT
---
---
Belfast, Northern Ireland
Belfast has an infectious atmosphere. It feels slightly grittier and more working class than Dublin, with a toughness and vibrancy that make it feel comfortingly similar to New York.
The first thing we noticed upon arrival?
The accents – and how difficult it was for us to understand them! Belfast speech is a unique dialect of English, characterized by two major developments in its history.
First, the Plantation of Ulster in the 17th century where large numbers of Scottish Lowlanders settled in Northern Ireland and Scots Gaelic influenced the vernacular.
Second, the Industrial Revolution of the 19th century when large rural communities from provincial mid-Ulster moved to the city for work and Irish infused the local dialect.
ADVERTISEMENT
---
---
Belfast Travel Guide
Despite our hearing issues, the people of Belfast are friendly and welcoming, happy to talk about the city's change and current character. If you're planning a trip to Belfast, we've got you covered. Today's travel guide will cover everything you need to know about visiting Belfast.
Planning a Trip to Belfast
Keep reading for highlights of Belfast's sights or jump right to a section below to start planning your trip.
ADVERTISEMENT
---
---
Best Things to Do in Belfast
The city's tourist sights are concentrated in a small area that make it easy to get around on foot, which I appreciated! No need to rent a car (unless you wish to) so it's incredibly easy to enjoy the growing number of fantastic places to eat, drink and be entertained in Belfast!
We've organized the top sights of the city by Belfast neighborhoods:
The Titanic Quarter
---
ADVERTISEMENT
---
---
ADVERTISEMENT
---
---
ADVERTISEMENT
---
---
ADVERTISEMENT
---
---
Belfast City Centre
---
ADVERTISEMENT
---
---
ADVERTISEMENT
---
---
The Troubles
---
ADVERTISEMENT
---
---
ADVERTISEMENT
---
---
ADVERTISEMENT
---
---
Game of Thrones
---
ADVERTISEMENT
---
---
ADVERTISEMENT
---
---
ADVERTISEMENT
---
---
ADVERTISEMENT
---
---
The Cathedral Quarter
---
ADVERTISEMENT
---
---
ADVERTISEMENT
---
---
21. See a Performance at the MAC
Right next to St Anne's square is the Metropolitan Arts Centre of Belfast.
This theater has three galleries with a rotating program of free exhibitions, including dramas, music, art, dance…and everything in between! Sometimes you'll even find roller disco and mind reading shows!
Culture lovers will definitely want to check out this wacky, weird and wonderful art center.
22. Buy Whiskey at The Friend at Hand
In the early 1900s, Belfast was a heavy industrial city – known for producing rope, ships, linen, tobacco…and whiskey.
At the height of the whiskey making boom, 10 of the largest distilleries were based around the city. While ship building and linen have largely disappeared, whiskey is kept alive at The Friend at Hand.
The whiskey shop doubles as a whiskey museum, with old whiskey paraphernalia, historic bottles of 100+ year old vintages…and over 200 whiskeys for sale!
The owners also sell their own label, a 13 year old single malt that's only available at the store. The Irish Whiskey comes in 8 unique bottles, each with a pun-y name that references Belfast's past (for example, Reconciliation and Pride Not Prejudice)
If you're looking for a fantastic souvenir, this is the place to get one!
ADVERTISEMENT
---
---
Queens Quarter
---
ADVERTISEMENT
---
---
ADVERTISEMENT
---
---
ADVERTISEMENT
---
---
ADVERTISEMENT
---
---
Those are our top recommendations for sights and attractions in Belfast! If you have more time, here are a couple other things to do that came recommended.
28. Explore Cave hill Country Park
29. Visit Belfast Castle
30. Spend a Day at Belfast Zoo
31. See an Opera at the Grand House Opera
32. Explore the Ulster Folk Musuem
ADVERTISEMENT
---
---
Getting In to Belfast
By Flight
Belfast has two airports, the International terminal 19 miles from the city center, and George Best city airport, 3 miles from the city center. Check flight routes and set fare alerts here.
By Ferry
Belfast is connected to Liverpool and Cairnryan by the ferry company Stena Line. Or, you can take the train from Belfast to Larne and then take one of the P&O ferries
By Train
Belfast has 2 train stations. Rail service connects Belfast to the major cities of Dublin, Larne and Londonderry, with some regional stops in between. Check routes and book train tickets here.
ADVERTISEMENT
---
---
Belfast to Dublin Train
Taking the train sounded easiest to us, so that's what we did! The comfortable ride took approximately 3 hours and dropped us into Belfast's Central Station, which was a short 10 minute cab ride from our hotel, the Europa.
Here are a couple tips for taking the train from Dublin to Belfast
Buy online in advance to save as fares go up with time. Round trip train fare ran us about 40 euro on our spring trip.
Hold on to your ticket since you will need the same piece of paper for each leg of the trip.
If you book in advance you can reserve seats. Most train cars have seats of 4 that face each other with a table in between and a smattering of seats of 2 without a table.
There's a luggage rack at one end that will fit even the largest suitcases and at the other end of the car, some empty space where you can also store bags.
A snack cart will ride through offering drinks and small food bites for sale. There's even free wifi on board and plenty of electrical outlets!
If you self drive, the route will be faster, but overall the train is a great comfortable and affordable ride for those who don't wish to rent a car.
ADVERTISEMENT
---
---
Renting a Car in Northern Ireland
You don't need a car to explore the city of Belfast itself. The downtown portion of the city is quite compact and walkable, and there's plenty of cabs if you need one.
But if you want to get out of the city, you'll need a car!
A popular road trip in Northern Ireland includes Belfast, the Antrim Coast, Londonderry, and Carrickfergus. It's the perfect road trip for those who love dramatic scenic landscapes and history, as there's some gorgeous rock formations and coastlines to see, plus other cities that were part of The Troubles.
We took a couple day trips to see the Giant's Causeway, which was fantastic!
I've found that car rental rates in Ireland depend on the season. In peak summer tourist season, rates can be incredibly expensive, but bottom out to very affordable rates in spring and fall.
I always recommend Auto Europe when searching for rental cars.
It not only has affordable rates, but it aggregates all the individual car rental companies like Alamo, Enterprise, Hertz, National, Dollar, Sixt, Thrifty and Budget together, so you can price compare. It saves a lot of time rather than searching them each individually!
Check car rental rates for your trip here.
ADVERTISEMENT
---
---
Getting Around
If you choose a hotel in the city center, you can easily get around to most sights in Belfast on foot. Or, you can hail a cab and even pre-arrange for a drive.
We took advantage of Uber on rainy days and spent one afternoon on a Black Cab tour of the city which was fantastic.
Currency
The Emerald Isle is split in two, with the south recognized as the independent Republic of Ireland. Meanwhile, Northern Ireland is part of the United Kingdom. Like England, Scotland and Wales, Northern Ireland uses the £ sterling so make sure to bring pounds to Belfast!
The city does not use the Euro and you'll find few stores willing to accept it. You can use credit cards however – bring Mastercard or Visa.
Don't forget to pick up a copy of Rick Steves' Ireland guide for your trip. I found his guidebook to be quite helpful for visiting Ireland!
ADVERTISEMENT
---
---
Where to Stay in Belfast
Choose a hotel in the City Center, to be within walking distance of all the main sites. For a breakdown of Belfast's different neighborhoods, read our guide to the city's best hotels here. Or, check last minute hotel deals here.
We recommend spending at least 2 nights in Belfast. If you want to explore some of the popular day trips outside the city, like exploring the Giant's Causeway, Carrick-a-Rede Bridge and Dunluce castle, then opt for 3 nights.
Read more:
The Best Hotels in Belfast (+ Neighborhood Guide)
ADVERTISEMENT
---
---
Day Trips from Belfast
We did a couple day trips from Belfast and LOVED them, so hopefully you have time to do the same! The Antrim coastline of Northern Ireland is incredibly scenic, with gorgeous beaches, romantic castle ruins and epic basalt cliffs.
There's also the town of Derry, or Londonderry, one of the walled cities of Northern Ireland, and the Causeway Coastal Route for those who want to take a road trip.
Don't have a car? No worries!
We didn't either and instead booked a couple day trips to see the highlights. Here are the ones we recommend:
Giant's Causeway & Game of Thrones
This incredibly popular tour is for Game of Thrones fans who also want to see the local sights. Think of it as part fandom, part 'best of' Northern Ireland.
On an exhaustive all day trip, it drives to all the top sights of the Antrim coast: Giant's Causeway, Carrick-A-Rede rope bridge, Dunluce Castle and the Dark Hedges! We loved it and felt like it checked all the highlights in a short amount of time!
Check availability here.
This phenomenal day trip is for those who are interested in The Troubles. Like Belfast, Londonderry was a city divided.
Take a day trip to learn about Bloody Sunday, see the old town walls and learn about both sides of the political conflict. Derry is also a very cute, compact city to explore!
Check availability here.
Northern Ireland Highlights Tour
If you want to see as much as possible in 1 day, book this excellent tour of the Antrim Coast. Unlike the more popular tours, this one is a private small group option, so you can see the scenic beauty of the coast…all to yourself.
Visit Carrickfergus Castle, Glenarm Castle, Carnlough Library, Glenariff Forest Park (which inspired CS Lewis to create Narnia) and more.
If we were to revisit Northern Ireland, we'd opt for this tour! It includes a ton of local sights that are off the beaten path, which most don't see.
Check availability here.
For die hard Game of Thrones fans, you won't want to skip this tour. Led by guides who were extras on the series, it takes you on an inside look at the production of the show.
It's an all-day tour, and includes filming locations like the Iron Islands – where you can even dress up in Greyjoy costumes!
Check availability here.
So many places throughout Northern Ireland were used as filming locations on the show. If you head west, you can see the Iron Islands, but if you head southeast, you'll visit Castle Ward, the location used as Winterfell in the early seasons of the show.
On this tour, you also get to dress up (but in Stark costumes), meet the dire wolves and hear about filming from guides who were extras on the series.
Check availability here.
ADVERTISEMENT
---
---
And that's our guide to Belfast! What are you most looking forward to doing?
You Might Also Enjoy:
Northern Ireland Vacation Planning Articles
Republic of Ireland
What to Know Before Visiting Ireland (+Travel Tips)
The Perfect Ireland Itinerary + Road Trip
The Most Beautiful Places in Ireland
How to Master Driving in Ireland (as a tourist!)
7 Useful Tips for Renting a Car in Ireland
Where to Stay: 10 Enchanting Irish Castle Hotels 
For Foodies: All the Best Food We Ate in Ireland
Follow me @Sher She Goes on