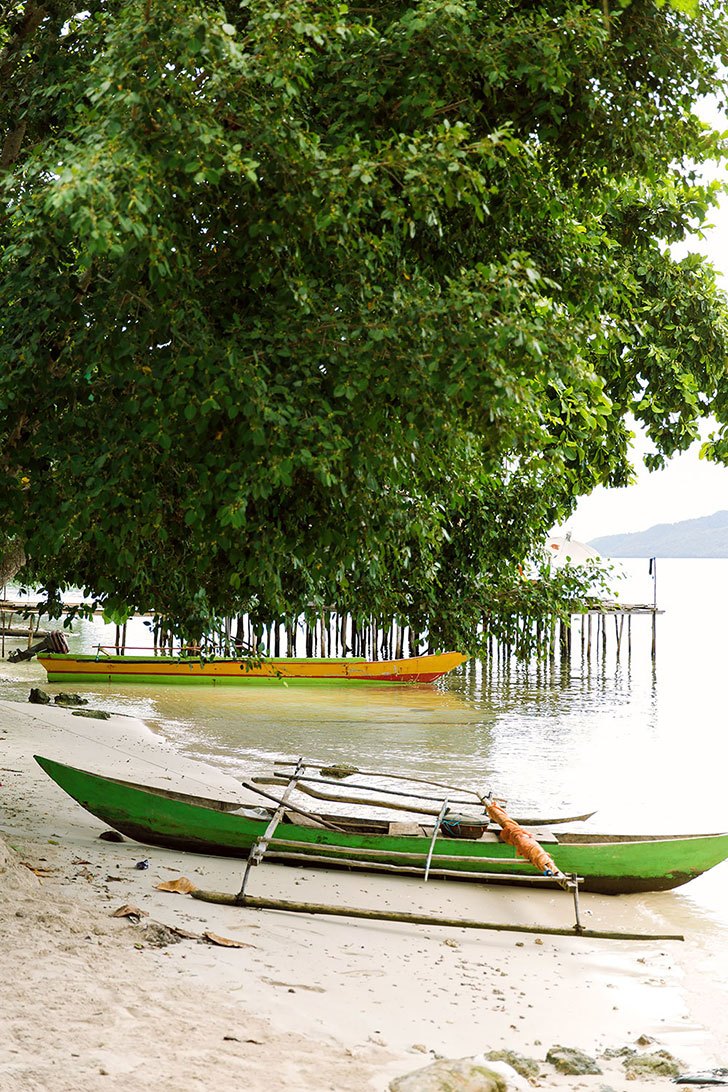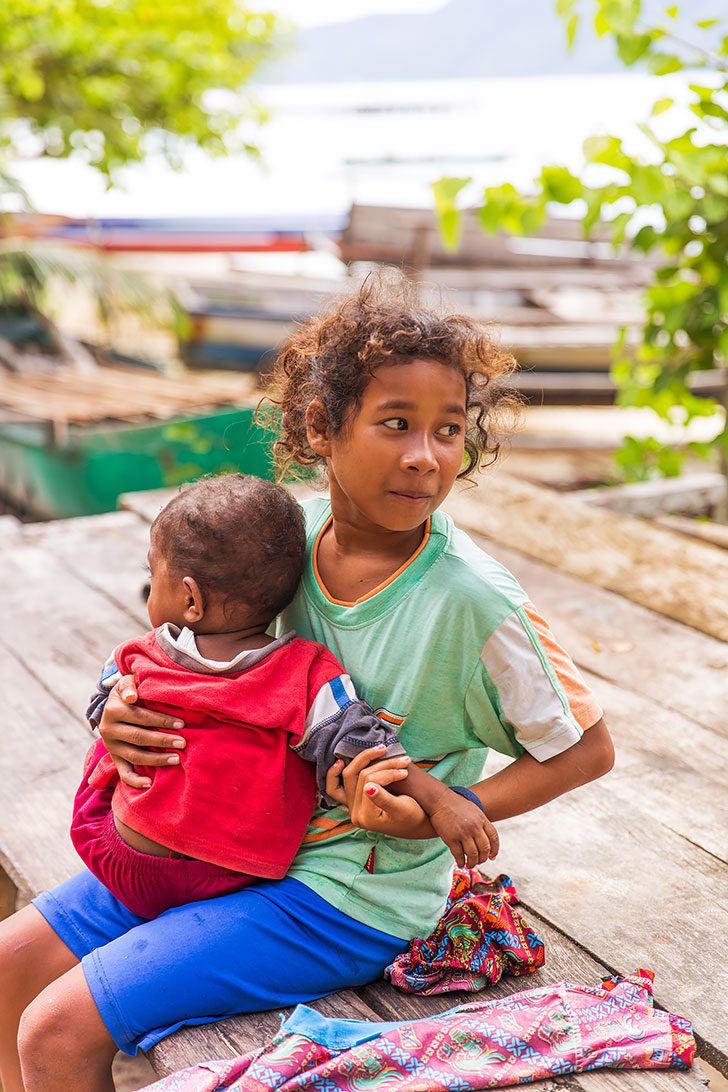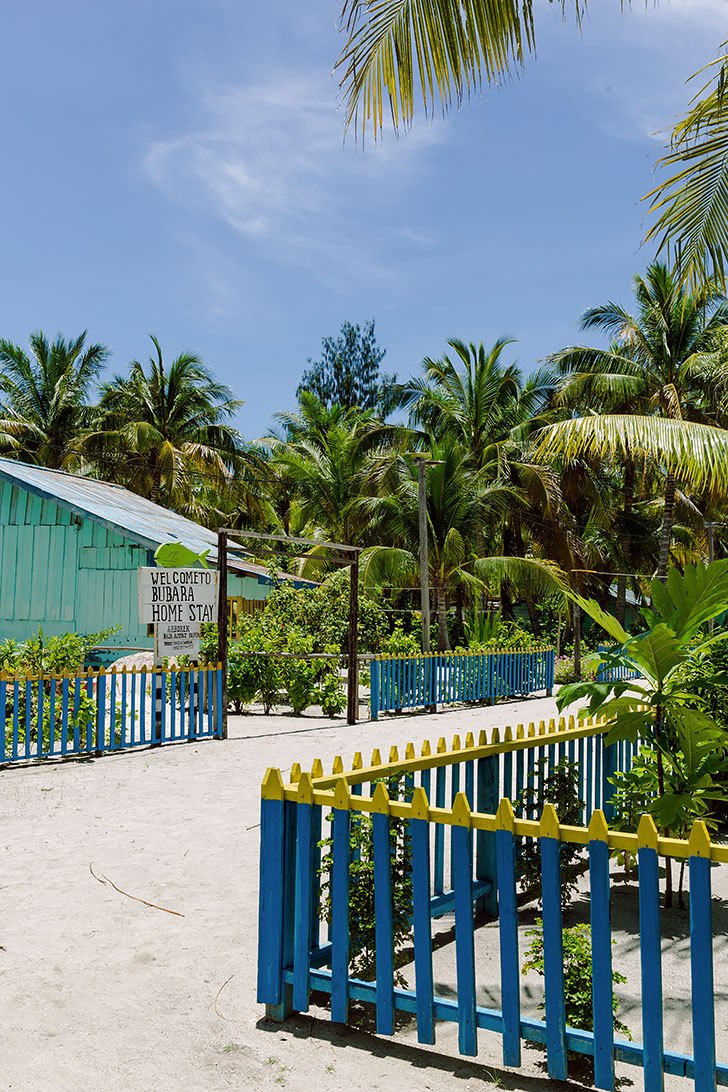 Raja Ampat Islands, Indonesia
Raja Ampat is one of the most beautiful places on earth. Most scuba divers know of the incredible underwater marine life in West Papua but the island itself remains less well known to international tourists, due to the expense and difficulty in getting there.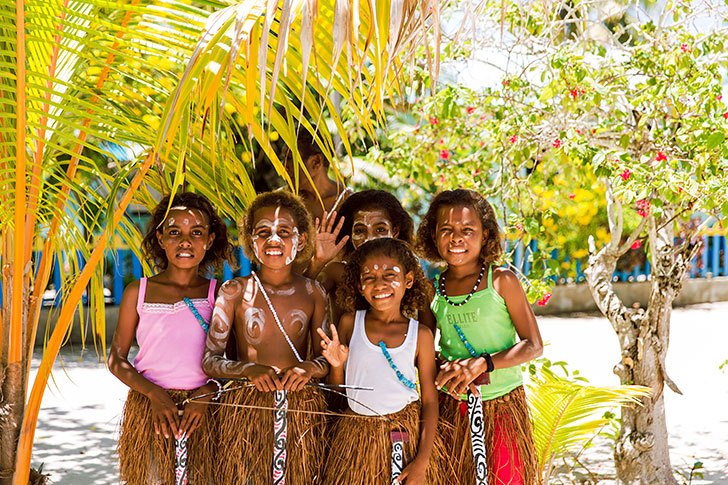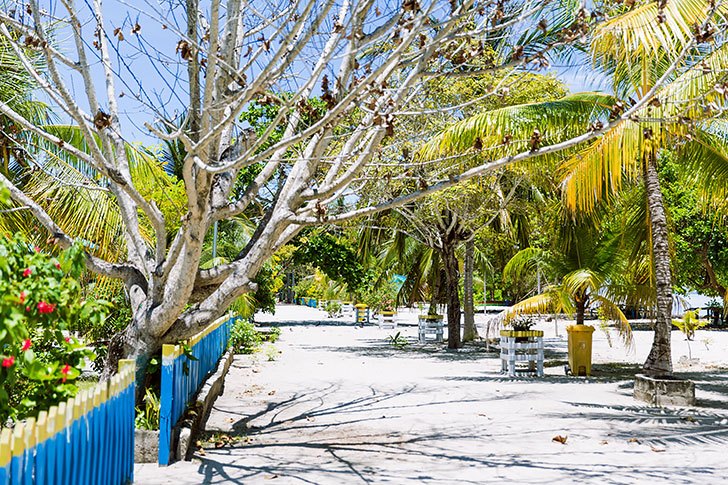 ---
---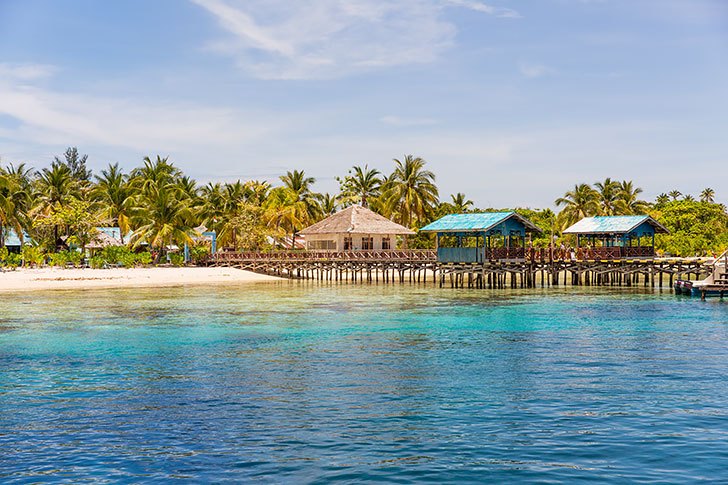 On the way there, I remember waiting in the airport on an 8-hour layover wondering if the wait was worth the journey. On the 2-hour ferry, after taking two flights and a brief shower at a pit stop, again I thought to myself – can Raja Ampat be anything better than the thousands of other beaches and islands out there? If you're wondering the same.. the answer is YES.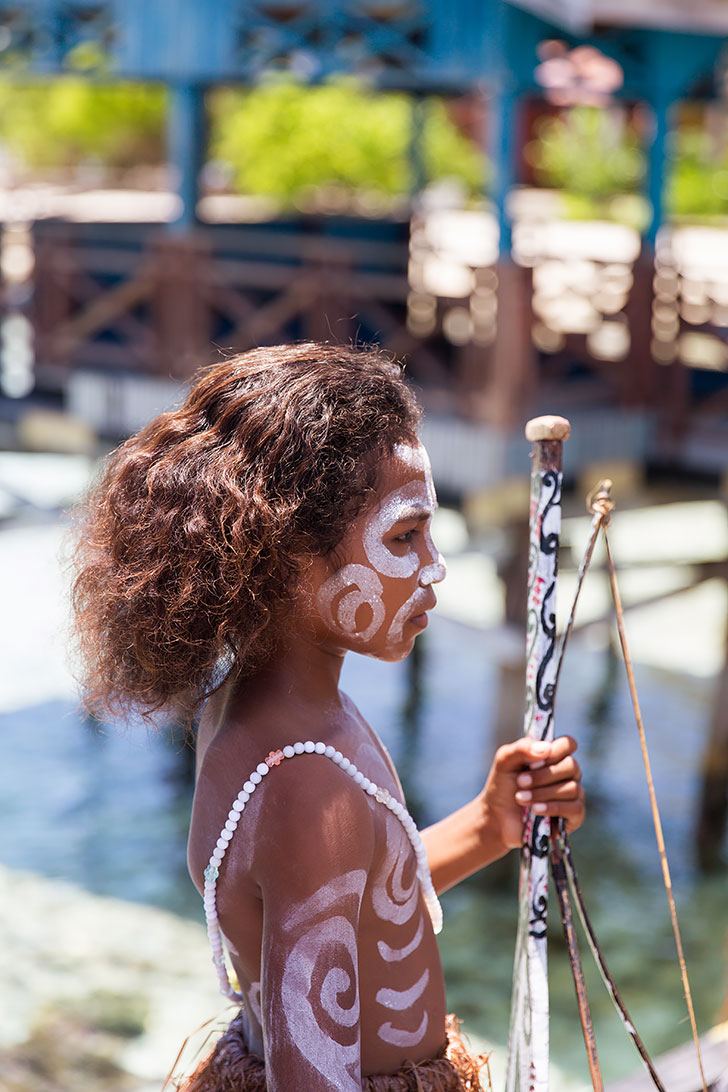 ---
---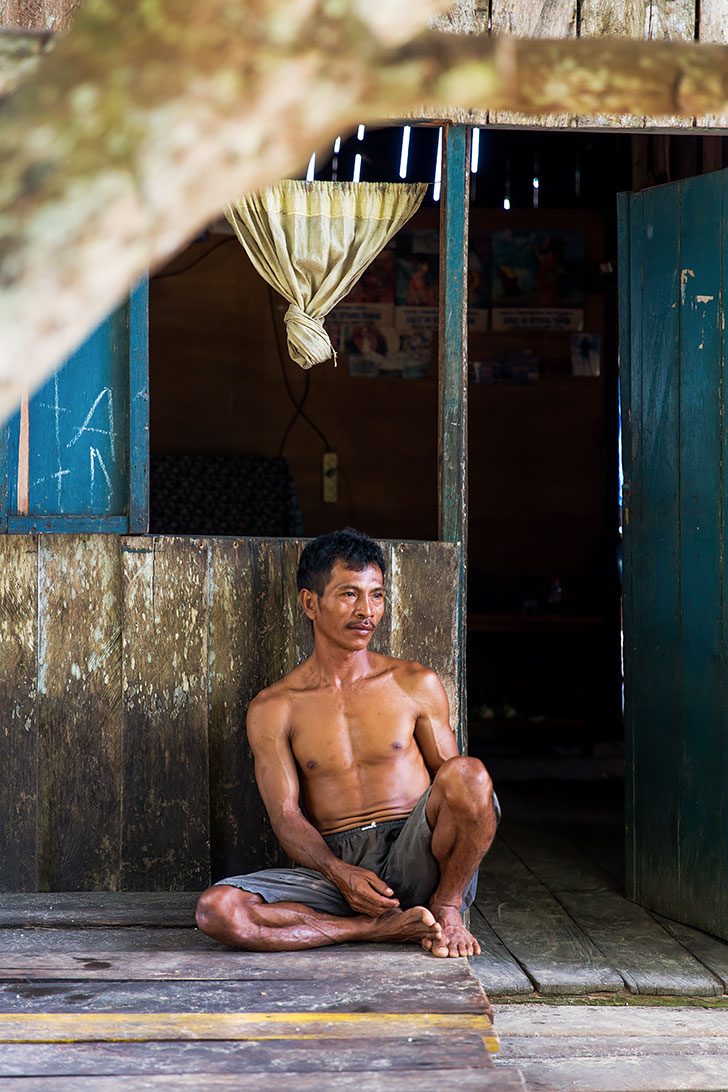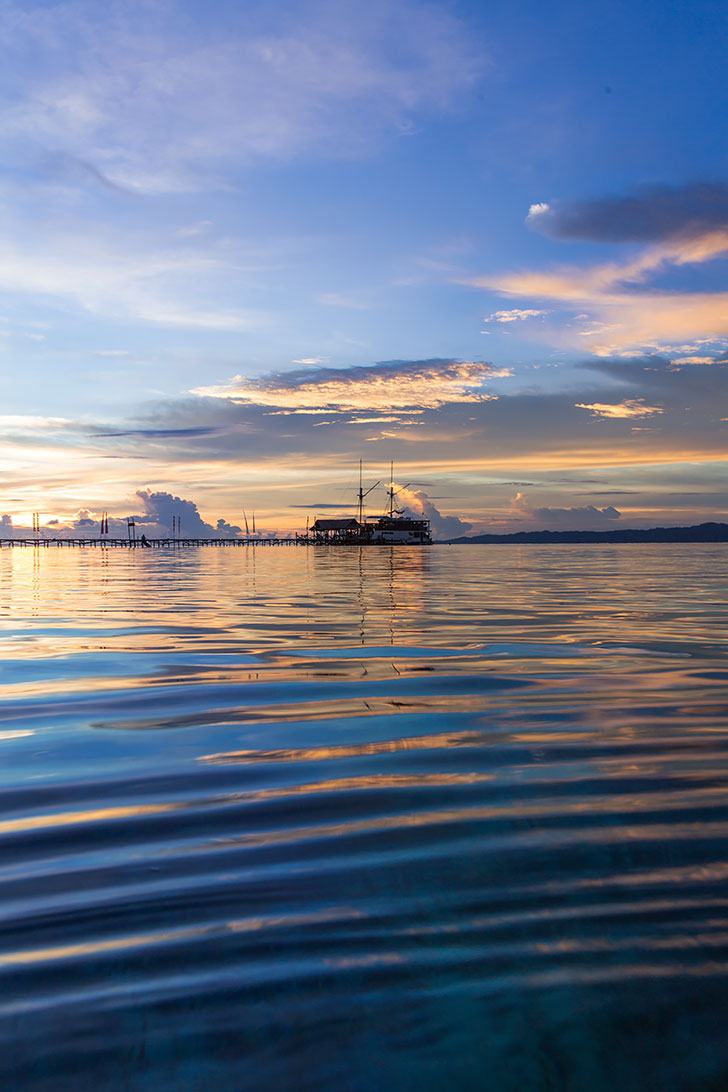 From glassy smooth waves to abundant darting fish below, the waters of Raja Ampat are unlike anywhere I've ever been and reported to be far more diverse and unique than anything Australia's Great Barrier Reef can lay claim to. The hot summer sun, the glow of the first rays of sunshine and the pinky-blue cotton candy sunsets are forever seared into my memories. But what was perhaps most intriguing about this series of small islands off the coast of Papua were the warm, welcoming smiles of the local people.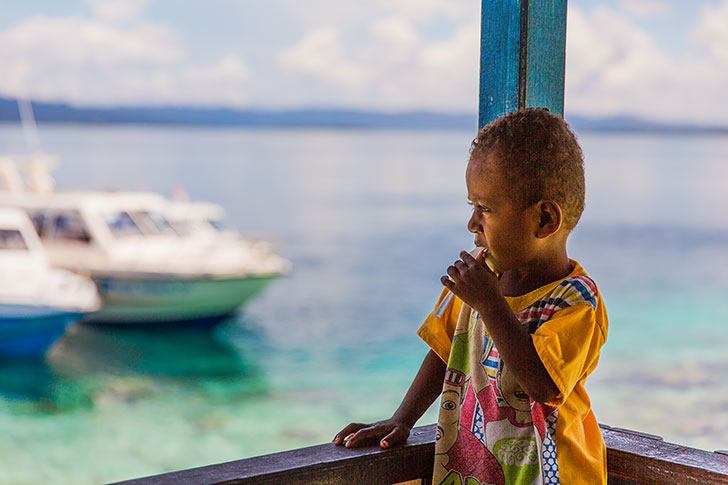 ---
---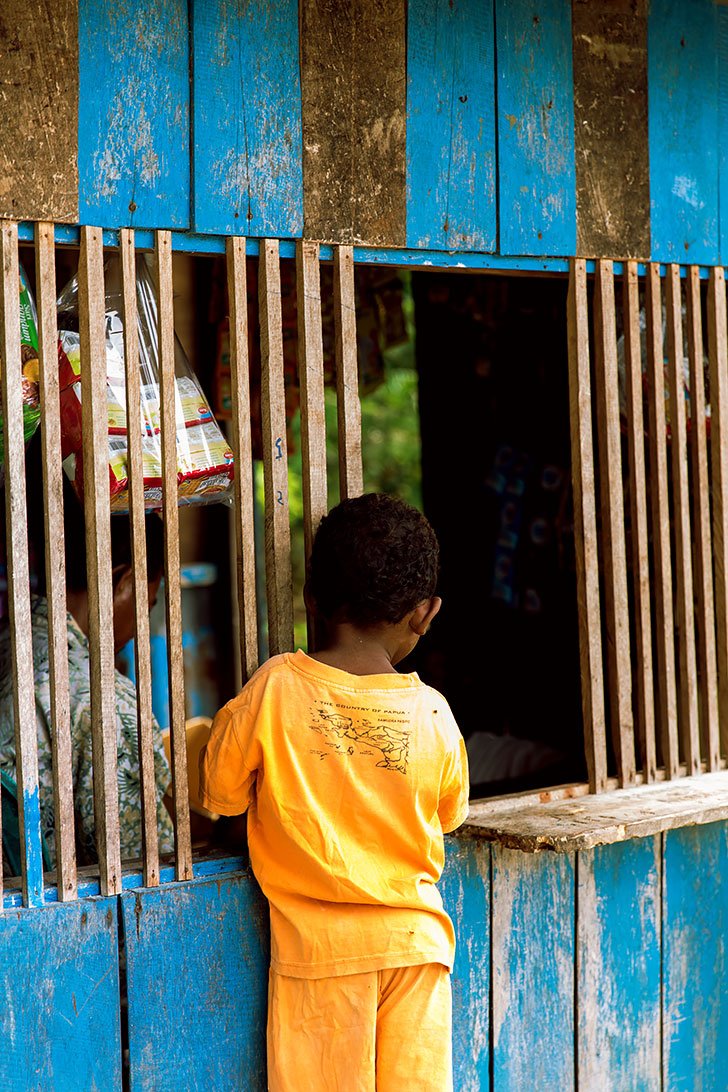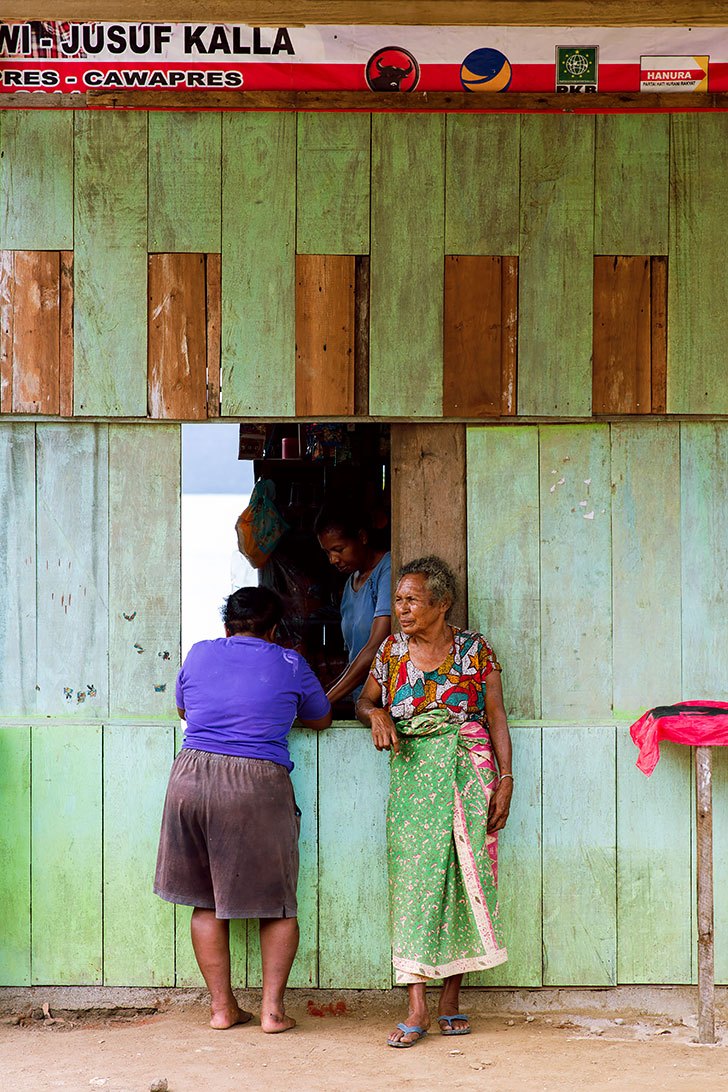 A word about the local customs – the people practice a sustainable method of food sourcing and only fish what they can eat. The waters are protected so as to keep the coral in good condition. A staple local carbohydrate is sago, a gummy sap made from the sago palm tree with a tapioca like consistency.
When I tried it, a local woman recommended putting it in a bowl of coconut curry fish stew. It was certainly.. interesting! My Indonesian friends tricked me at first, telling me it was jellyfish. It's not but it has a very similar consistency.
Many of the local communities are Christian so while exploring the area try not to ask for any tours or boat trips on Sundays and remain covered while walking through the villages (no swimsuits).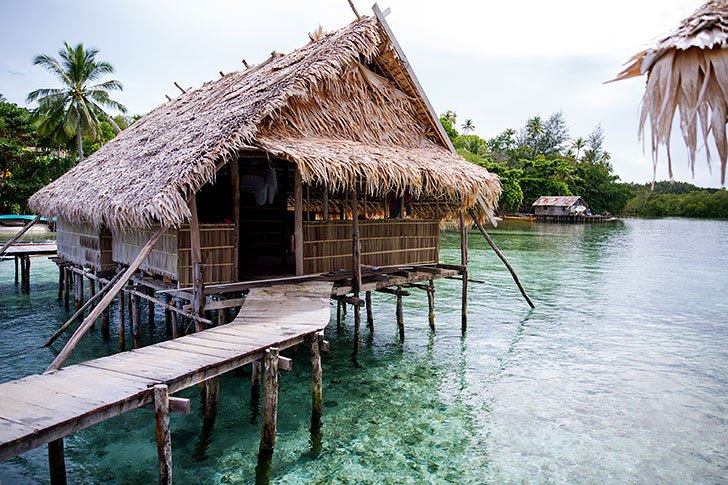 ---
---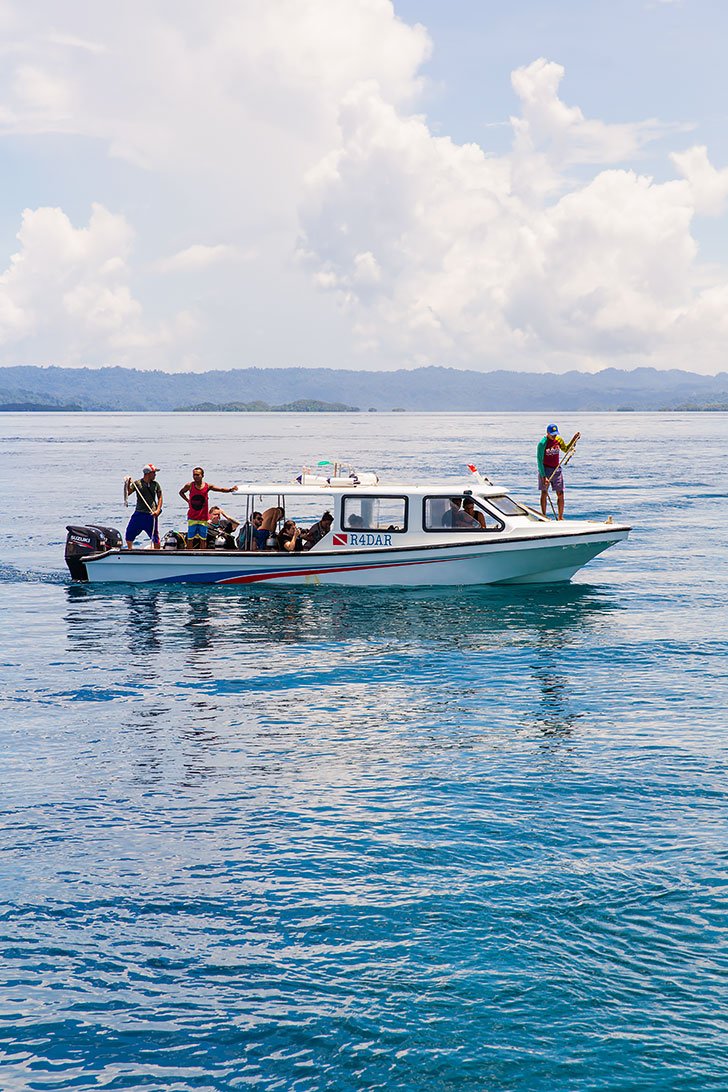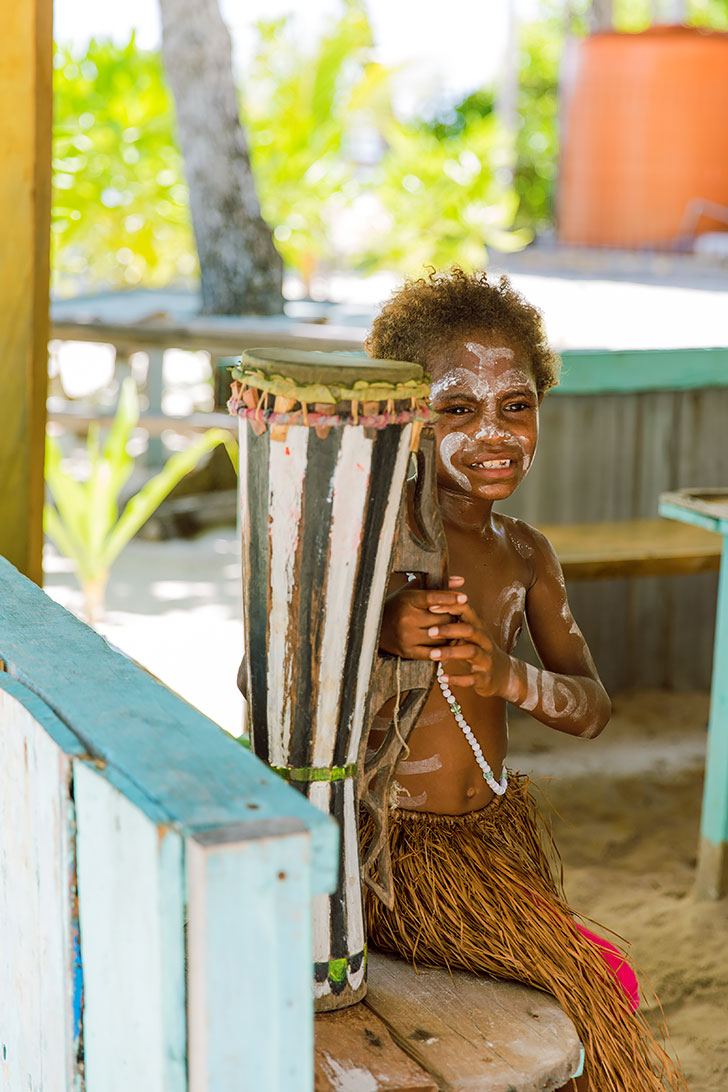 We visited Arborek island, where the entire village turned out to meet us, decked in ceremonial tribal finery, beating a musical beat to lead us through their community – a little girl grasped my hand and pulled me directly into the procession.
We photographed the endless smiling children, the adorable puppies and the local villagers about their everyday life – clicking nonstop with our cameras. Looking through my photos, I don't typically capture or post any portraits but the colorful neon houses, wide smiles and Papua people were too unforgettable to leave on a hard drive. I hope you enjoy these photos.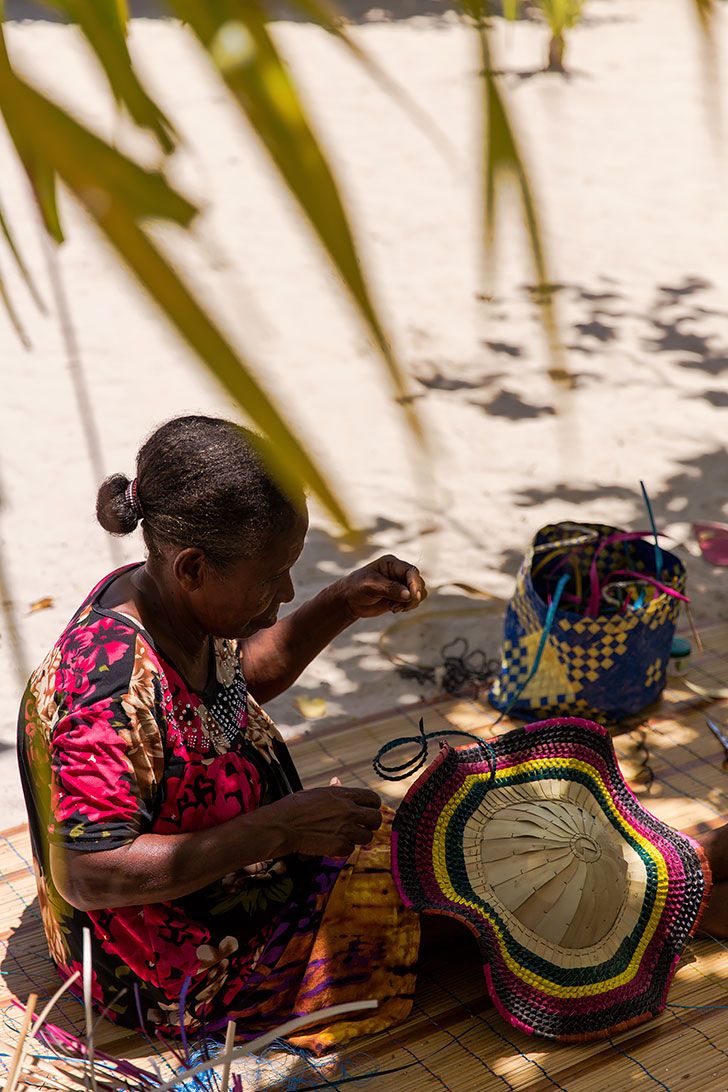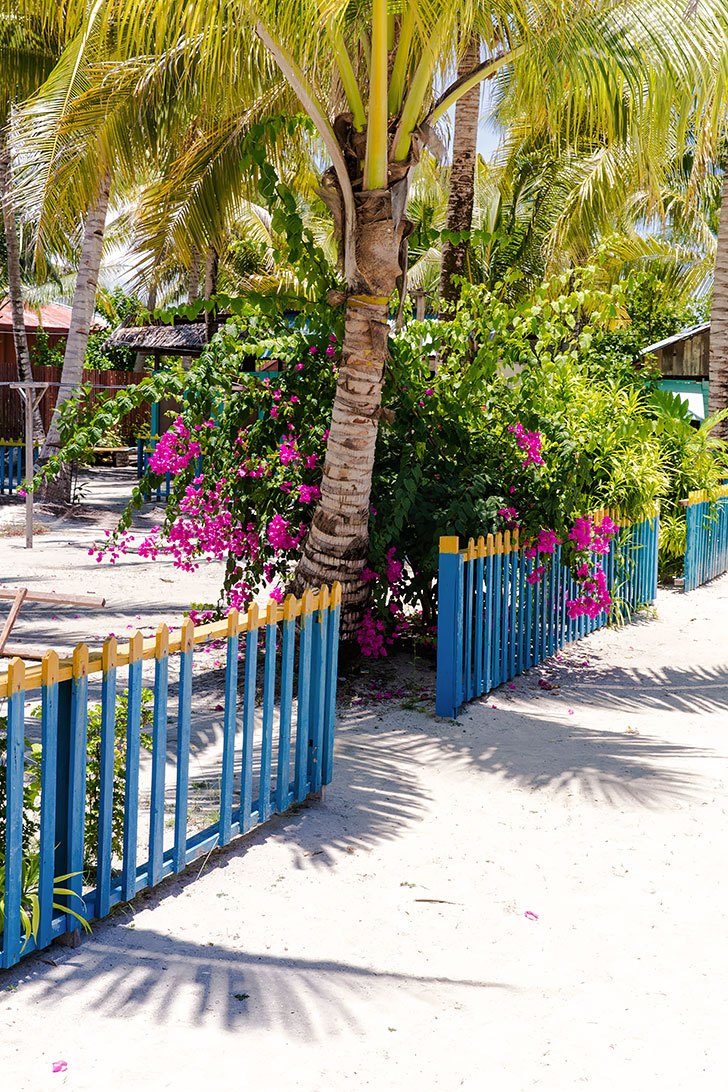 ---
---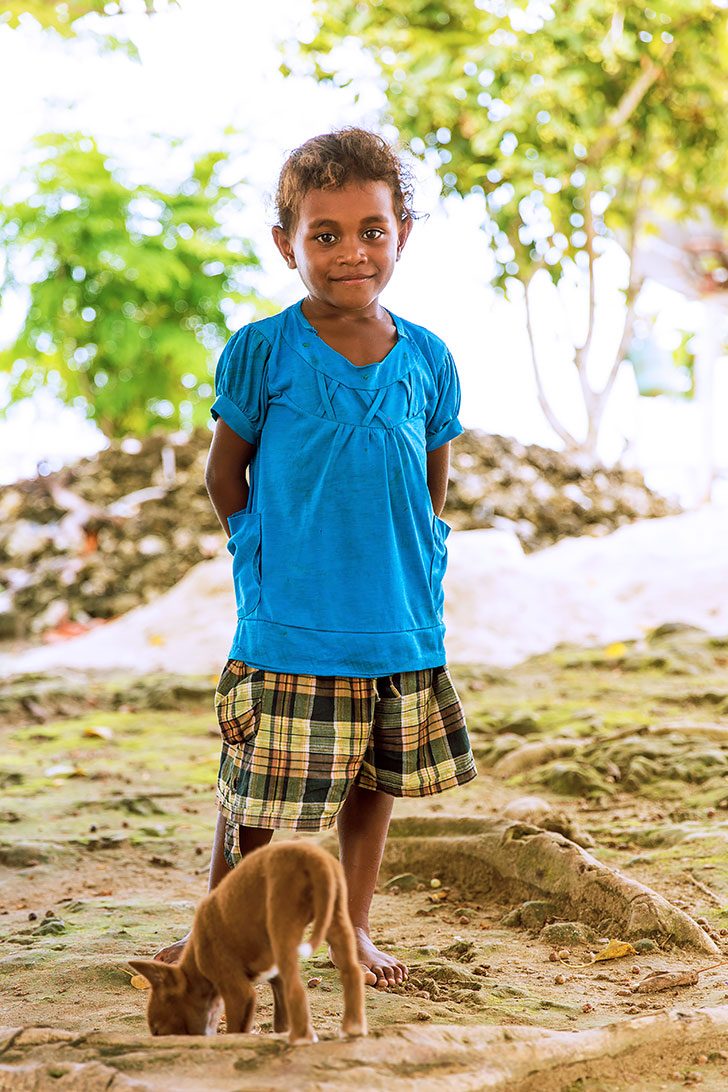 If you're looking to make the journey to Raja Ampat as well (of course I highly recommend it), I thought I'd share some logistical tips for how to get to the islands. I covered it briefly in my Raja Ampat travel guide and also in my Indonesia itinerary but below is the fully fleshed out series of steps for anyone else looking to make the trip.
How to Get to Raja Ampat Indonesia
---
1. First, fly to Sorong, the closest Indonesian city in West Papua and the gateway to Raja Ampat
The easiest way and the most common is via flight from Jakarta or Bali
Getting to Raja Ampat From Jakarta
From Jakarta's Soekarno–Hatta International Airport there is ONE daily nonstop flight per day (sometimes two flights per day in high season)
Jakarta (CGK) > Sorong (SOQ) departs 12:05am and arrives at 6:10am
Flight duration 4 hours but keep in mind that Papua is +2 time zones ahead of Jakarta
We came from Yogyakarta and had to first take a short flight from Jokja to Jakarta, further adding to the logistics.
Read more: The 10 Best Attractions of Yogyakarta
Getting to Raja Ampat From Bali
From Bali's Ngurah Rai (aka Denpasar) International Airport there is NO nonstop flight available, you must transfer at Makassar, the provincial capital on Sulawesi Island. There are approximately ~4 flights per day, all involving a long (8-10 hour) layover.
2. After landing in Sorong airport, transfer to Sorong harbor
If you have luggage, take a taxi from the airport to the harbor for about a 10-20 minute ride costing roughly 100k rupiah. If you are a backpacker without much luggage, you can try catching an ojek (Indonesian name for motorbike) for about 20k rupiah.
3. At Sorong harbor, take a ferry to Waisai, the capital city on the main Raja Ampat island of Waigeo.
Raja Ampat has four main islands: Misool, Salawati, Batanta, and Waigeo. Waigeo is the main island and its administrative center and capital city is called Waisai. You want to head to Waisai as this is the main jumping off point to Raja Ampat and all the homestays and hotels pick up travelers at Waisai.
To get to Waisai from Sorong, take one of the express ferries (i use the term lightly, its a 2 hour ride) which is scheduled for departure at 2pm each day. Express ferry tickets cost 130k rupiah for economy class and 220k for VIP class.
VIP or Express Boat
We booked the VIP class which is less crowded, has air conditioning and reclining seats as well as a very popular karaoke machine with pretty much all the classic American and Indonesia hits. You can buy a ticket directly at Sorong harbor. There is also a slow boat but I didn't take that and don't know much about it.
The Express ferry is a medium sized red boat. To get on, you'll board the deck of another boat and cross over. Check with either the Raja Ampat Tourism Office or Sorong Tourism Office for the latest up to date ferry schedules, as they are subject to change.
4. From Waisai to the islands
Finally, you've made it to Waisai. The city's harbor is not one to linger in – most locals get off and head straight to presumably their homes or workplaces and there's practically no infrastructure around for tourists so make sure to book your accommodation ahead of time and also arrange your speedboat transfer from Waisai to the islands in advance.
Hiring a Speedboat in Raja Ampat
I don't think there's a way to charter a speedboat on Waisai – it needs to be done before you arrive. Keep in mind speedboat prices will be quite high due to the cost of diesel fuel and the long distance from Waisai to the smaller islands. You can try to negotiate with your hotel or homestay though.
We stayed at Raja Ampat Dive Lodge, which is a luxury property in Papua situated on the coastline of a lush, uninhabited private island. Well, uninhabited by people – there was a gigantic snake one night on a fellow traveler's doorstep! I thought that after arriving in Waisai we had pretty much "made it" but the speedboat took at least an hour to get to Raja Ampat Dive Lodge. Check here for hotel availability and rates or read this post for a complete guide to where to stay in the Raja Ampat islands.
Read more: A Guide to Raja Ampat Hotels & Accommodation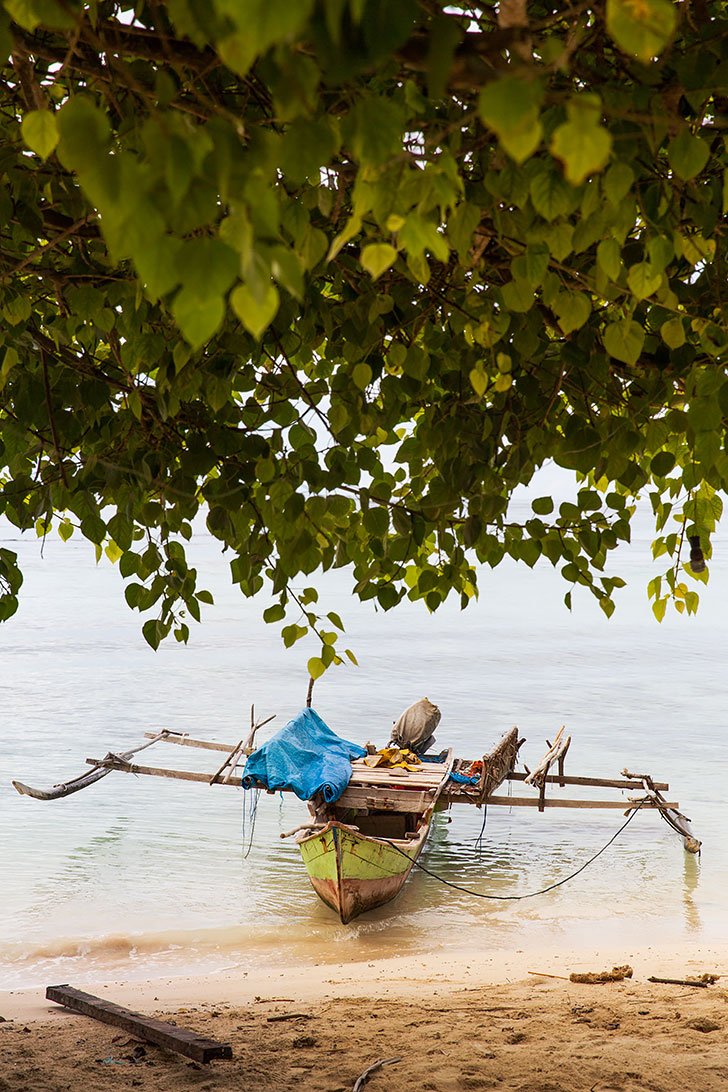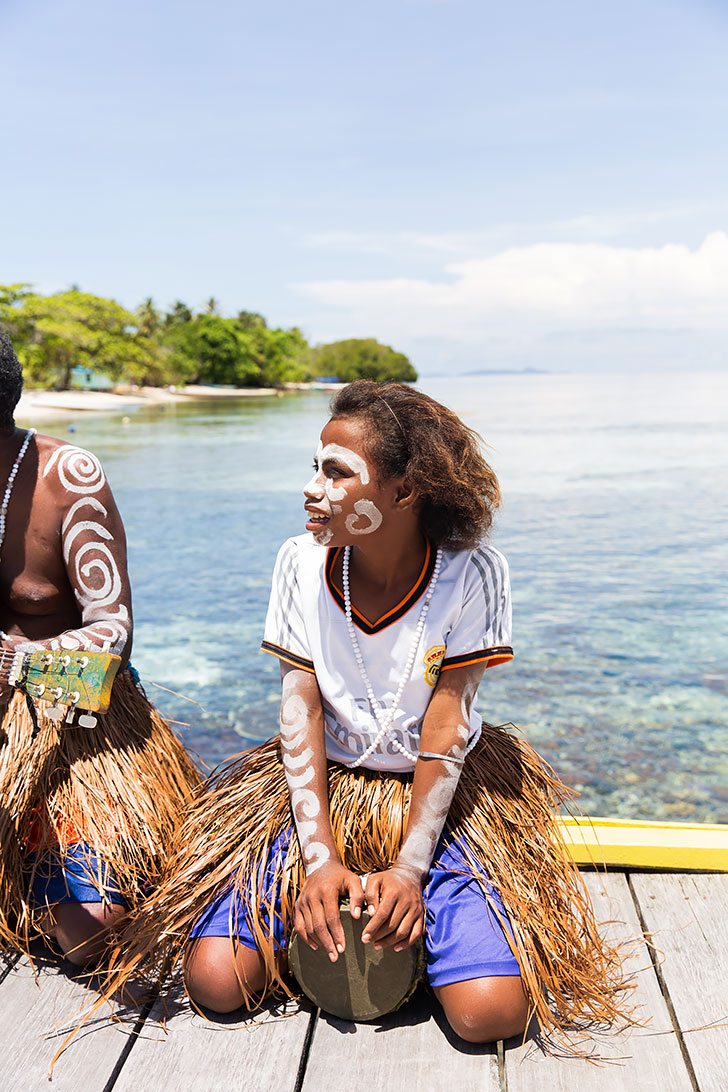 ---
---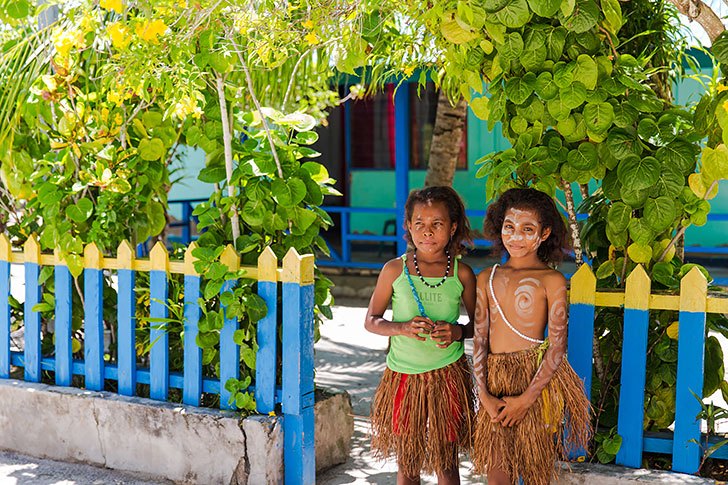 Altogether, just getting to Raja Ampat is a bit of a nightmare but once you arrive to your island, I promise it will be pure paradise and some of the best diving you've ever had!
Raja Ampat is also quite pricey, as the isolated location means that cost of living is 10% higher than the Indonesian national average. Speed boat transfers will be expensive, as fuel is scarce (five liters costs ~$12.50 USD) and the islands can be quite spread out.
The Easy Way to Get to Raja Ampat
Want to visit Raja Ampat, Indonesia but nervous about getting there? You can book a hotel package for Papua Paradise, which includes airport transfers, meals and overwater bungalow accommodation here.
Papua Paradise has 16 overwater villas and its reefs are home to the unique local species like the wobbegong shark and flamboyant cuttlefish. Divers can choose to the dive package option, which includes 4 scuba dives per day with a PADI certified scuba instructor from Gangga Divers. Check availability and more information here.
---
Hope that was helpful! Have you been to Raja Ampat? Let me know in the comments below.
Visiting Indonesia – Travel Checklist
Flights | From New York City, there are no direct flights to Indonesia but you can grab reasonably priced flights if you book early. Check often for routes and fares here. I've transferred in Doha and China and prefer Doha's modern airport via Qatar Airways.
If flying to Jakarta, fares will be slightly cheaper and from Indonesia's capital you can explore Bandung, Yogyakarta and Sumatra on short domestic flights. If your focus is Bali, note that flights from the USA will be slightly more expensive and typically will involve a 2nd stopover in Jakarta anyway.
Transportation | You can rent a motorized scooter to get around or book a tour to handle transportation if you're not comfortable. Taxis and Ubers will work in some areas, but not all. Bali especially has terrible gridlock traffic.
Accommodation | I highly recommend 'hotel hopping' Bali – the island is quite large and different neighborhoods have their own characteristics. Bali is also a fantastic place to splurge on a luxury resort – the options are endless, the views are unbeatable and the food is divine. We loved both Alila Villas Uluwatu and the Sofitel Nusa Dua.
Airbnb is a great way to stay in luxurious Balinese resorts for discounted rates – especially if traveling with a group.
Packing | Bring light fabrics and traditional summer wear for Bali along with mosquito spray. If you intend to visit Indonesia's other cities and famous temples, bring modest clothing. Indonesia is the world's largest Muslim country and can view short shorts and mini skirts as impolite. You can read my complete Bali packing list here.
Insurance // Lastly, be sure to visit Indonesia with travel insurance. Whether you get injured and need to be hospitalized, or your phone gets stolen, travel insurance will help when you need it most. I ended up getting seriously ill and visiting the hospital while in Solo, Indonesia and being taken care of was a lifesaver. Get a quote for your trip here.
You Might Also Enjoy:
Indonesia Vacation Planning Articles
Quick Guide: The Ultimate Indonesia Travel Guide
When is the Best Time to Visit Indonesia
At a Glance: 50 Incredible Things You Can Only Do in Indonesia
An Off the Beaten Path Itinerary: 2 Weeks in Indonesia
Indonesian Cities, Sights & Tours We Especially Enjoyed
Yogyakarta : 10 Highlights from Java's Cultural Center
Bandung Don't Leave Without Seeing These 7 Sights
A Raja Ampat Travel Guide: Scuba Diving, Hiking & How to Get There
Sun, Surf & Sea: Visiting Lombok & The Gili Islands
Bali, Indonesia Articles
Bali Packing List: What to Wear in the World's Largest Muslim Country
Where to Stay: Decoding Bali's Neighborhoods
Luxury Resorts in Bali with Epic Swimming Pools
Hotel Review: Alila Villas Uluwatu
Follow Sher She Goes on