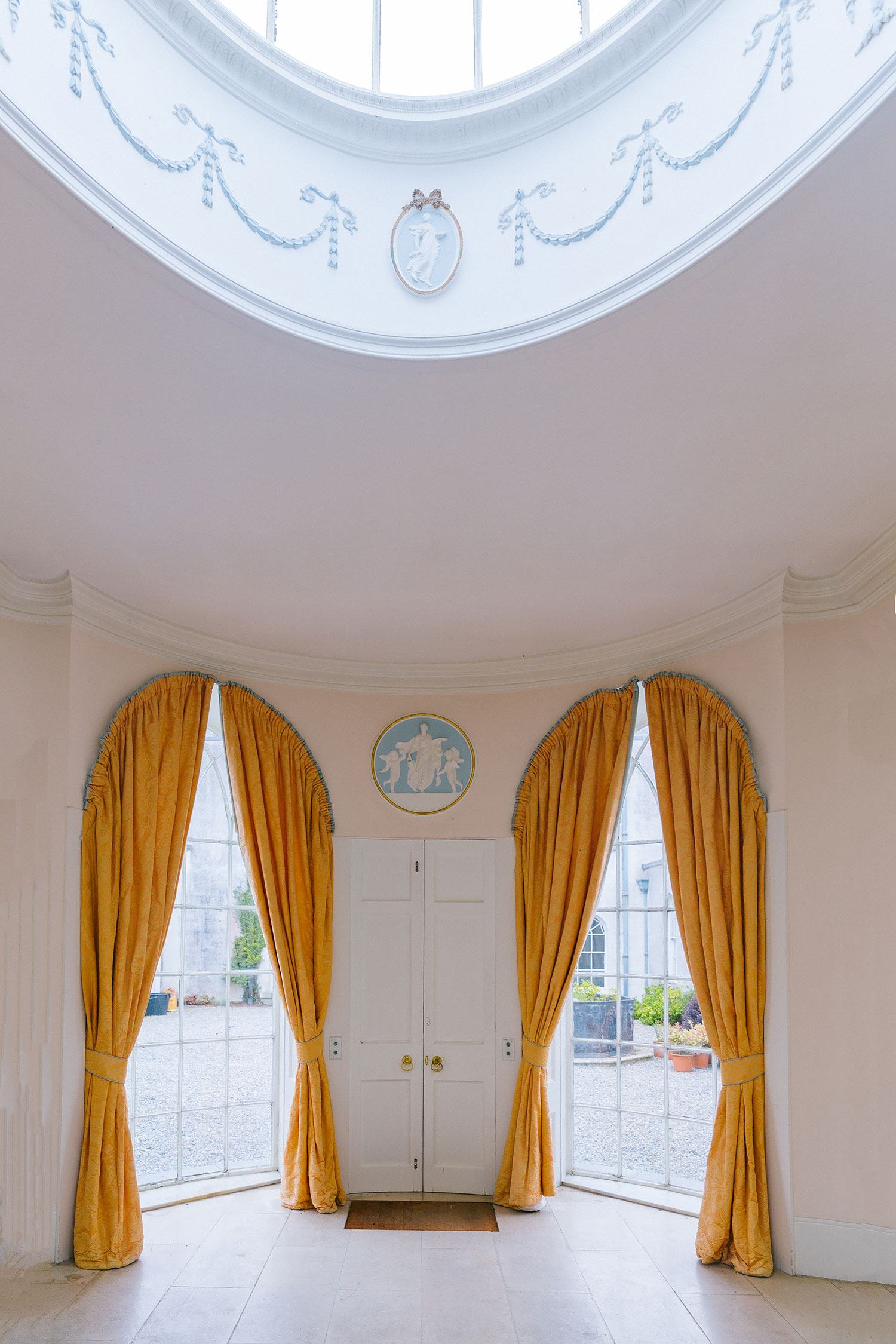 Mount Congreve House and Gardens
On day 3 of our visit to County Waterford, we had an outdoorsy day!
We started off with a cycle through Waterford's Greenway and then visited the Mount Congreve Estate, which is famous for its extensive gardens and recently renovated estate house.
If you like gardens, you have to visit Mount Congreve – it's known as one of the best gardens in the world and even in mid October, the house and estate were stunning.
Here's a bit about what we saw, learned and explored!
ADVERTISEMENT
Cycling along the Waterford Greenway
First we took a leisurely bike ride to check out the Waterford Greenway. Ireland has been experimenting recently with redeveloping old railroad track space into public walking and cycling trails, or greenways.
County Waterford is the second county in the country to give it a go (after County Mayo saw great success with their greenway) and the state created the Deise Greenway, a 46 km long trail connecting the two cities of Waterford and Dungarven.
For my New Yorkers, think of it as a longer, more outdoorsy version of the High Line!
ADVERTISEMENT
---
---
We rented bikes from a local, Donal Jacob at Greenway Waterford Bike Hire and started out on a leisurely 6 km bike ride along Suir Railway.
I left my big camera on our bus so unfortunately I don't have great photos but it's an incredibly tranquil route with woodlands on one side and the magnificent River Suir on the other.
At one point we rode through forest and had a peak at the fairies :)
ADVERTISEMENT
---
---
Kilmeadan
On the way, we passed the back entrance to Mount Congreve which looked huge.
Eventually we kept peddling and made it to Kilmeadan Station, a rail stop on the old railway line which was renovated and opened in March 2017.
ADVERTISEMENT
---
---
Vintage Train Rides
Kilmeaden station is an entirely community-run project, with volunteer conductors.
We had a little pit stop to enjoy the vintage Irish Rail Carriage and met some of the local volunteers. The vintage train car also doubles as a cafe with drinks and small bites for anyone that gets hungry.
During the holidays they run Halloween and Christmas train rides for kids, which sounded adorable. That holiday train ride runs a short 15 minutes into the woods and they put on a little winter wonderland for the children (so it sounds nicer than the NYC Holiday Train which is underground in a smelly old subway tube ha).
The NYC metro is so badly run that I'm always a bit intrigued to see how public transportation systems in other countries.
Anyway, after a quick rest, we cycled back about ~3 km from Kilmeadan Rail Station to visit Mount Congreve!
ADVERTISEMENT
---
---
Mount Congreve
I love gardens.
I think they're quite pretty and quite impressive, as I have the blackest thumbs. I remember visiting Lady Bird Johnson's garden in Texas and being amazed at how large it was.
Well, the Mount Congreve Estate is equally grand!
ADVERTISEMENT
---
---
Located just outside Waterford City, it was originally built by local County Waterford architect John Roberts. It has quite the reputation, and is known as one of the world's best gardens, with over 30 hectares of woodland.
I loved the lavender pathway, the pumpkin patch (although I don't think the Irish get quite so pumpkin crazed as we do) and the small lakes and archways.
I especially loved the conservatory garden! There were more colors and varieties of rhododendrons and dahlias than I've ever seen, and this was in cold October! I can only imagine how pretty it must be in spring and summer.
ADVERTISEMENT
---
---
Mount Congreve Gardens
The late owner Mr. Ambrose Congreve, was inspired to create the gardens after seeing Lionel de Rothschild's gardens at Exbury in Hampshire England.
He had actually become quite ill many years before and thinking he was about to pass, deeded the gardens and estate to the city.
Miraculously, he recovered so they decided to hold the estate in trust for the city until 2032. In the meantime, the grand house on the grounds is slowly being renovated.
ADVERTISEMENT
---
---
Afterwards we went back to Waterford to have lunch at The Reg! While you're in town, you can also visit the Waterford Crystal factory.
If you want a bit of fresh country air, definitely visit the Waterford Greenway (you can cycle it or just walk too) and stop by Mount Congreve Gardens. They grounds are beautiful and the tangled history about the owner was intriguing. I wonder what has happened to the property since.
ADVERTISEMENT
---
---
Visit Mount Congreve Gardens
Open Thursday to Sunday from 11am – 5.30pm, March to September.
Last entry to the gardens at 4.30pm.
Essential Tips for Visiting Ireland
Getting In | Aer Lingus, the national Irish airline, offers non-stop flights from select US cities. Two reasons to recommend Aer Lingus: low nonstop fares from many US cities and their pre-clearance facilities. We found cheap flights to Ireland in October – you can check for flight deals and routes here.
When returning to the U.S., take advantage of the U.S. pre-clearance facilities at Dublin and Shannon airports, where you complete U.S. immigration, customs and agriculture controls before departure so that when you land in the U.S., you can just collect your bags.
Getting Around | If there's one thing I can recommend, it's to rent a car and drive around Ireland. Not only is the Wild Atlantic Way coastal route one of the world's most scenic drives, transportation in Ireland is a bit difficult without your own vehicle. We were nervous about driving on the left but ultimately renting a car was the best decision! Check car rental prices for your dates here.
Where to Stay | I highly recommend staying at an Irish country house during your trip. Irish hospitality is truly something else. For unique luxury accommodation check out out Ireland's Blue Book. Or, take advantage of Airbnb for a local experience!
Protect | Lastly, be sure to visit Ireland with travel insurance. Whether you get injured and need to be hospitalized, your phone gets stolen, or a flight delay leaves you with nothing but the clothes on your back, travel insurance will help when you need it most. Hurricane Ophelia hit the country smack in the middle of our road trip! Get a quote for your trip here.
You Might Also Enjoy:
Ireland Vacation Planning Articles
Ireland Travel Tips: Know Before You Go
The Most Beautiful Places in Ireland
How to Plan the Perfect Ireland Itinerary
Where to Stay: 10 Enchanting Irish Castle Hotels 
Packing Checklist: What to Wear in Ireland
For Foodies: All the Best Food We Ate in Ireland
Ireland Road Trips
The Best Stops on the Wild Atlantic Way (with map!)
7 Useful Tips for Renting a Car in Ireland
How to Master Driving in Ireland (as a tourist!)
Irish Sights, Activities & Tours We Especially Enjoyed:
Co Galway: Visiting Kylemore Abbey, Ireland's Most Beautiful Castle?
Co Kerry: Can't Miss Sights in Killarney & Dingle
Co Waterford: Waterford, Ireland's Oldest City, the House of Waterford Crystal & Mount Congreve Gardens
Co Wexford: Don't Skip Wexford - Here's Why!
Co Kilkenny: Exploring Kilkenny Castle, in photos
Restaurant & Hotels We Loved:
County Clare: Gregans Castle Hotel
County Galway: Rosleague Manor Hotel, Where to Stay in Galway
County Wexford: The Strand Inn
County Waterford: The Cliff House Hotel, The Reg Pub
Northern Ireland
Travel Guide: Belfast
Where to Stay in Belfast as a First Time Visitor
Follow me @Sher She Goes on