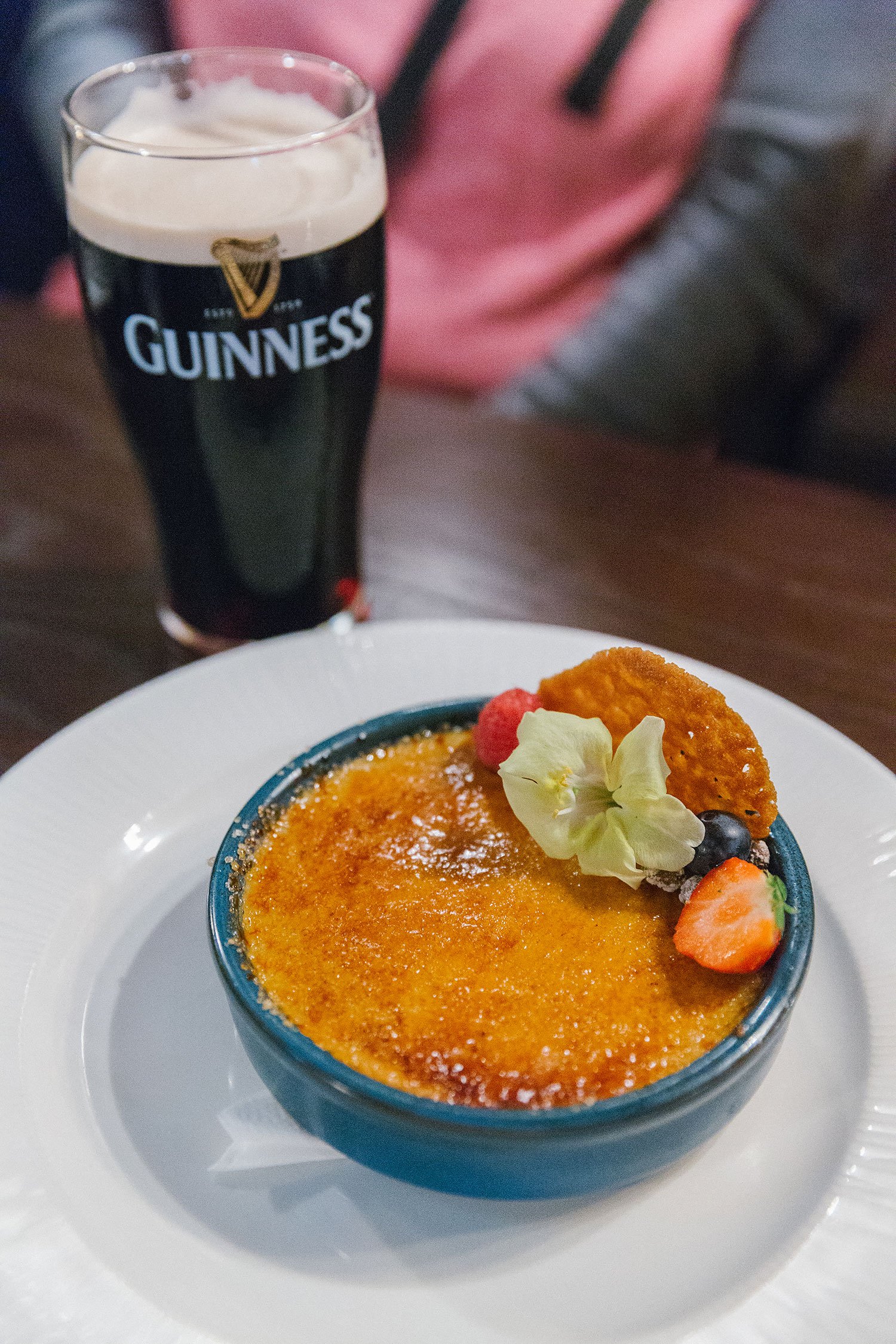 The Reg Waterford
We visited many pubs throughout our trip to Ireland but The Reg in County Waterford stands out as one of the best!
The restaurant has live music throughout the week, a club on certain nights and traditional Irish food every day. If you're looking for a quintessential Irish tavern, you have to stop here!
ADVERTISEMENT
Reginald's Tower
The Reg tavern sits right behind Reginald's Tower, a historic tower in Waterford on the eastern end of the city quay.
The tower was used for different purposes over the centuries and is one of the few remaining buildings left from the city's medieval defense system. It's the only urban monument in Ireland that retains a Norse / Viking name.
Inside The Reg you can actually see part of Waterford's original medieval wall (it's 900 years old!). It's since been transformed into a long bar with seating alcoves under the stone archways.
ADVERTISEMENT
---
---
We had a quick wander about The Reg and it's a much bigger Irish tavern from the inside than it appears on the outside. If I remember correctly, the owner slowly bought 5 adjoining buildings and combined them, so it's fun to wander the many rooms and see the different bars and spaces.
There's an upstairs roof deck for the summer time, various dining rooms, a club / live music room and of course, lots of bar rooms!
ADVERTISEMENT
---
---
We had lunch in the Strongbow Room, which has a giant painting depicting the marriage between Richard Strongbow and Aoife.
As we learned throughout our tour of Waterford City, this marriage between the English Normans and the Irish marked a turning point in Anglo Irish relations for the next 800 years.
Who knew lunch would also lead to a mini history lesson?
ADVERTISEMENT
---
---
Lunch
Lunch at The Reg is a must. It's more than just a regular Waterford bar, the place is also an excellent restaurant!
The first thing we wanted to try was Blaa bread, a bread brought to the area by French Huguenots when they landed in Ireland in the 17th century. It's a soft, doughy white roll and its chewy texture is quite delicious if liberally slathered with butter! But after trying it, I have to say I prefer Irish brown bread.
Blaa bread is actually "protected" by the European Union in that only bread made in Waterford can be called "Blaa bread" – kind of like how sparkling wine can only be called Champagne if produced in France's Champagne region.
Trying Blaa bread was nice but saying Blaa Blaa Blaa constantly was the highlight of the day.
ADVERTISEMENT
---
---
We ordered some platters of oysters to share and they were all gone in minutes.
I had the braised lamb shank for my main, over a bed of seasonal vegetables and mashed potatoes. It's slow cooked to perfection and the meat fell off the bone. You can't leave Ireland without trying local lamb at least once and the Reg is the place to have it!
We washed everything down with thick glasses of Guinness. Did you know the Irish word for cheers is "slainte"? It means "to good health" in Gaelic and is pronounced slan-che.
Read more:
A Guide to Eating in Ireland
ADVERTISEMENT
---
---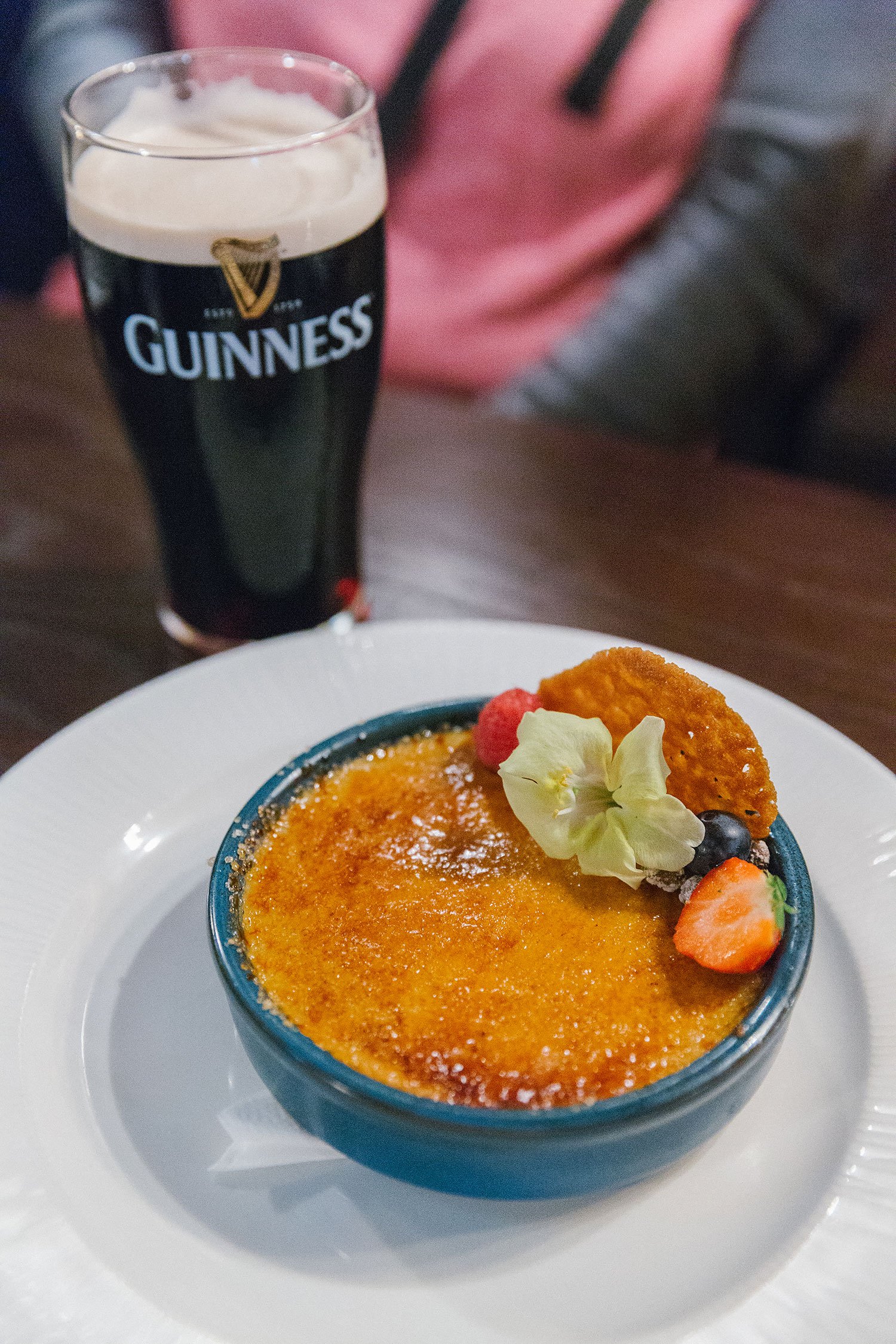 Dessert
We tried the creme brulee and it was incredible. I'm usually not a fan of custards but this one is a must order!
The Reg adds a twist to the classic dessert by adding in a shot of Muldoons, a coffee whiskey liquer. The creme brulee is topped with seasonal berries and candied espresso beans. For coffee lovers, this is heaven!
We also had a couple shots of Muldoons and I really liked the sweet twist!
The other desserts we tried were the chocolate cannonball, which they pour hot chocolate fudge over so that it melts right before your eyes, and the fudge chocolate cake. Both were good but the Irish coffee creme brulee was hands down my favorite.
ADVERTISEMENT
---
---
Essential Tips for Visiting Ireland
Getting In | Aer Lingus, the national Irish airline, offers non-stop flights from select US cities. Two reasons to recommend Aer Lingus: low nonstop fares from many US cities and their pre-clearance facilities. We found cheap flights to Ireland in October – you can check for flight deals and routes here.
When returning to the U.S., take advantage of the U.S. pre-clearance facilities at Dublin and Shannon airports, where you complete U.S. immigration, customs and agriculture controls before departure so that when you land in the U.S., you can just collect your bags.
Getting Around | If there's one thing I can recommend, it's to rent a car and drive around Ireland. Not only is the Wild Atlantic Way coastal route one of the world's most scenic drives, transportation in Ireland is a bit difficult without your own vehicle. We were nervous about driving on the left but ultimately renting a car was the best decision! Check car rental prices for your dates here.
Where to Stay | I highly recommend staying at an Irish country house during your trip. Irish hospitality is truly something else. For unique luxury accommodation check out out Ireland's Blue Book. Or, take advantage of Airbnb for a local experience!
Protect | Lastly, be sure to visit Ireland with travel insurance. Whether you get injured and need to be hospitalized, your phone gets stolen, or a flight delay leaves you with nothing but the clothes on your back, travel insurance will help when you need it most. Hurricane Ophelia hit the country smack in the middle of our road trip! Get a quote for your trip here.
You Might Also Enjoy:
Ireland Vacation Planning Articles
Ireland Travel Tips: Know Before You Go
The Most Beautiful Places in Ireland
How to Plan the Perfect Ireland Itinerary
Where to Stay: 10 Enchanting Irish Castle Hotels 
Packing Checklist: What to Wear in Ireland
For Foodies: All the Best Food We Ate in Ireland
Ireland Road Trips
The Best Stops on the Wild Atlantic Way (with map!)
7 Useful Tips for Renting a Car in Ireland
How to Master Driving in Ireland (as a tourist!)
Irish Sights, Activities & Tours We Especially Enjoyed:
Co Galway: Visiting Kylemore Abbey, Ireland's Most Beautiful Castle?
Co Kerry: Can't Miss Sights in Killarney & Dingle
Co Waterford: Waterford, Ireland's Oldest City, the House of Waterford Crystal & Mount Congreve Gardens
Co Wexford: Don't Skip Wexford - Here's Why!
Co Kilkenny: Exploring Kilkenny Castle, in photos
Restaurant & Hotels We Loved:
County Clare: Gregans Castle Hotel
County Galway: Rosleague Manor Hotel, Where to Stay in Galway
County Wexford: The Strand Inn
County Waterford: The Cliff House Hotel, The Reg Pub
Northern Ireland
Travel Guide: Belfast
Where to Stay in Belfast as a First Time Visitor
Follow me @Sher She Goes on