The Strand Inn, Dunmore East
Seafood by the Sea in County Waterford
After an adrenaline fueled morning at the Dunmore East Adventure Centre, we were really looking forward to lunch!
We swung around to the seaside village and stopped in to The Strand Inn for some seafood by the sea. The Strand is both a restaurant and bed & breakfast in the popular fishing village of Dunmore East.
ADVERTISEMENT
Lunch at The Strand
The family run restaurant and inn have built a local reputation for the best freshly caught seafood in the area. More and more Irish restaurants are focusing on using organic vegetables and in season fruits and The Strand Inn is no exception!
ADVERTISEMENT
---
---
Here are just some of the amazing dishes we tried:
Strand seafood pie
This came loaded with hake, john dory, prawns and mussels. All the seafood was cooked in a white wine and cream sauce and topped with a crusty oozy layer of Waterford cheddar.
It was deliciously heavy and comforting on the chilly day!
ADVERTISEMENT
---
---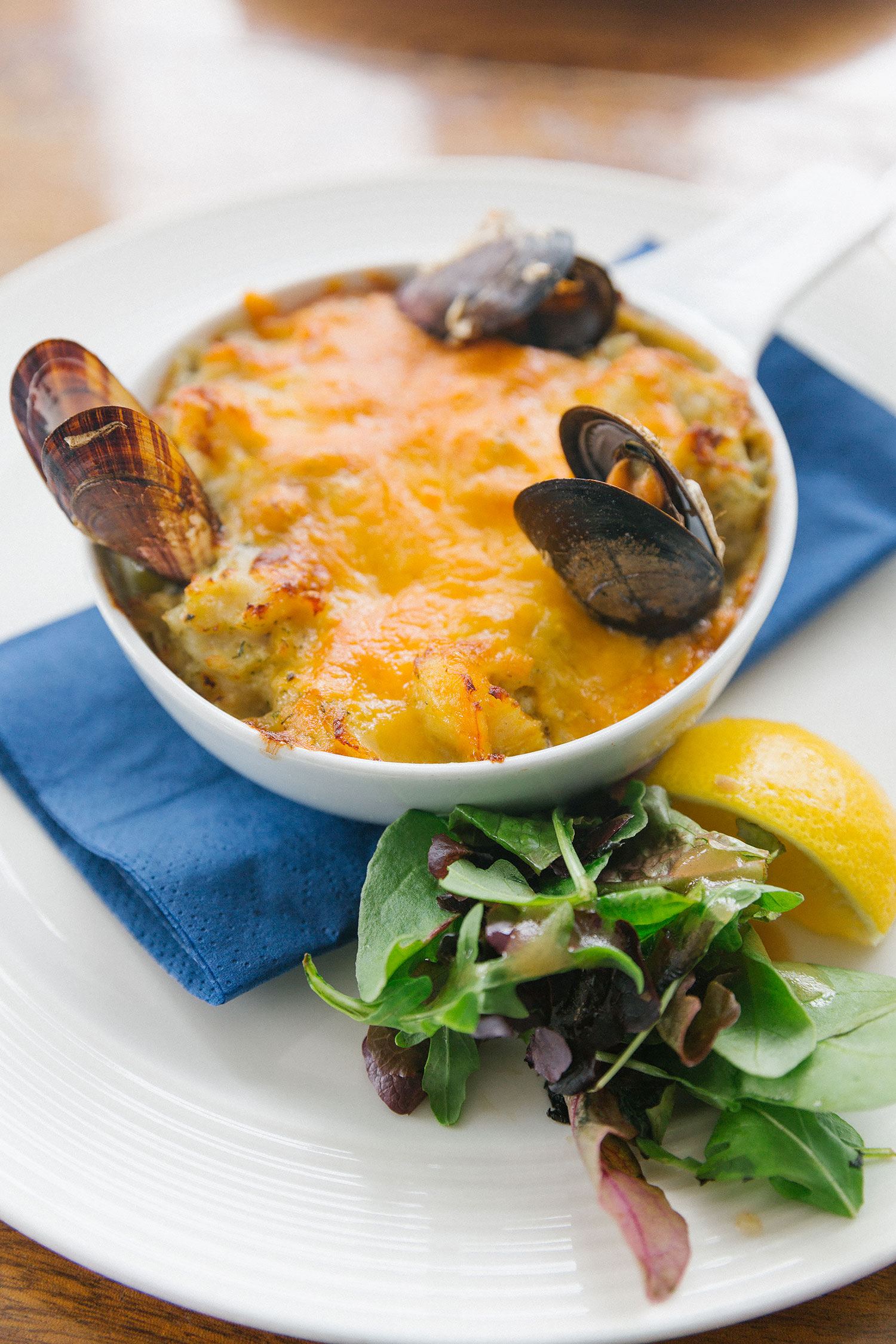 Duncannon Mussels
If you try anything on the menu, make it these.
Mussels in Ireland are unlike anything I've ever had in New York – much larger and fresher! We tried them every which way in Ireland, but The Strand prepared them the most uniquely, in a creamy black bean and ginger sauce.
They were addicting-ly good and, luckily for us, served in hefty portion sizes because everyone dived for them!
ADVERTISEMENT
---
---
For dessert, we tried both the chocolate cake and the berry crumble (if I remember correctly).
They were devoured on the spot so I don't remember the exact names… Even though we were stuffed from the meal, no one left a single crumb of dessert.
So make sure to save room to treat yourself!
Read more:
Where to Eat in Ireland for the Best Irish Cuisine
ADVERTISEMENT
---
---
Large, beautiful windows in the dining room so you can see the sea.
The Strand Inn
The Strand Inn is located in Dunmore East, County Waterford.
We were just passing through the town so we didn't stay overnight, but we asked the owner for a peek at the rooms. It's a very quaint hotel and even in mid October was almost fully booked.
Luckily he had one open room to show us!
ADVERTISEMENT
---
---
The hotel is literally right on the beach, so I can imagine it would be beautiful when the weather is warmer. The interior was loft like, with views of the crashing waves and crisp, white decor.
The house seems like it was expanded over time, as it was a bit of a maze. We found a nice roof terrace and lounge rooms as we were walking around. There are lots of stairs so hopefully you pack light ha!
ADVERTISEMENT
---
---
Dunmore East
Dunmore East is very popular in the summer months, since the area has great beaches and lots of water sports. Once it gets warmer, The Strand has live musicians every day in the restaurant bar, so if you like Irish music, you'll love this place!
Fresh seafood, cozy rooms, the beach just steps away and live Irish music? What more could you ask for :)
ADVERTISEMENT
---
---
The Strand Bed & Breakfast
The Strand is definitely one of Waterford's more charming hotels. As a plus, all the rooms have recently been renovated. Rates include breakfast and free wifi.
Book rooms: Booking.com
Check prices: TripAdvisor
ADVERTISEMENT
---
---
Essential Tips for Visiting Ireland
Getting In | Aer Lingus, the national Irish airline, offers non-stop flights from select US cities. Two reasons to recommend Aer Lingus: low nonstop fares from many US cities and their pre-clearance facilities. We found cheap flights to Ireland in October – you can check for flight deals and routes here.
When returning to the U.S., take advantage of the U.S. pre-clearance facilities at Dublin and Shannon airports, where you complete U.S. immigration, customs and agriculture controls before departure so that when you land in the U.S., you can just collect your bags.
Getting Around | If there's one thing I can recommend, it's to rent a car and drive around Ireland. Not only is the Wild Atlantic Way coastal route one of the world's most scenic drives, transportation in Ireland is a bit difficult without your own vehicle. We were nervous about driving on the left but ultimately renting a car was the best decision! Check car rental prices for your dates here.
Where to Stay | I highly recommend staying at an Irish country house during your trip. Irish hospitality is truly something else. For unique luxury accommodation check out out Ireland's Blue Book. Or, take advantage of Airbnb for a local experience!
Protect | Lastly, be sure to visit Ireland with travel insurance. Whether you get injured and need to be hospitalized, your phone gets stolen, or a flight delay leaves you with nothing but the clothes on your back, travel insurance will help when you need it most. Hurricane Ophelia hit the country smack in the middle of our road trip! Get a quote for your trip here.
You Might Also Enjoy:
Ireland Vacation Planning Articles
Ireland Travel Tips: Know Before You Go
The Most Beautiful Places in Ireland
How to Plan the Perfect Ireland Itinerary
Where to Stay: 10 Enchanting Irish Castle Hotels 
Packing Checklist: What to Wear in Ireland
For Foodies: All the Best Food We Ate in Ireland
Ireland Road Trips
The Best Stops on the Wild Atlantic Way (with map!)
7 Useful Tips for Renting a Car in Ireland
How to Master Driving in Ireland (as a tourist!)
Irish Sights, Activities & Tours We Especially Enjoyed:
Co Galway: Visiting Kylemore Abbey, Ireland's Most Beautiful Castle?
Co Kerry: Can't Miss Sights in Killarney & Dingle
Co Waterford: Waterford, Ireland's Oldest City, the House of Waterford Crystal & Mount Congreve Gardens
Co Wexford: Don't Skip Wexford - Here's Why!
Co Kilkenny: Exploring Kilkenny Castle, in photos
Restaurant & Hotels We Loved:
County Clare: Gregans Castle Hotel
County Galway: Rosleague Manor Hotel, Where to Stay in Galway
County Wexford: The Strand Inn
County Waterford: The Cliff House Hotel, The Reg Pub
Northern Ireland
Travel Guide: Belfast
Where to Stay in Belfast as a First Time Visitor
Follow me @Sher She Goes on