Wild Atlantic Way
I always thought it was best to travel somewhere new, rather than returning to the same place over and over.
And yet, somehow, I've been to Ireland twice in the last two years, looking for more of the wild landscapes, warm hospitality and foot tapping music that characterize this small European country.
One of the best parts of Ireland?
The Wild Atlantic Way, a coastal touring route that runs down Ireland's entire western seaboard, where the Atlantic waves crash against jagged rock.
ADVERTISEMENT
At nearly 1,600 miles long, from County Donegal in the north to West Cork in the South, it's not a road trip to be done in one visit – so we've done small sections in pieces, on various trips!
Whether you want adventure, culture, great food or incredible architecture, there's a piece of the Wild Atlantic Way for you. Today I wanted to share a bit more background on what it's like to road trip down the Wild Atlantic Way.
I'll cover the different sections of the route, the best towns to stop in and uniquely Irish activities to try along the way.
Keep reading or pin this article for later ⇟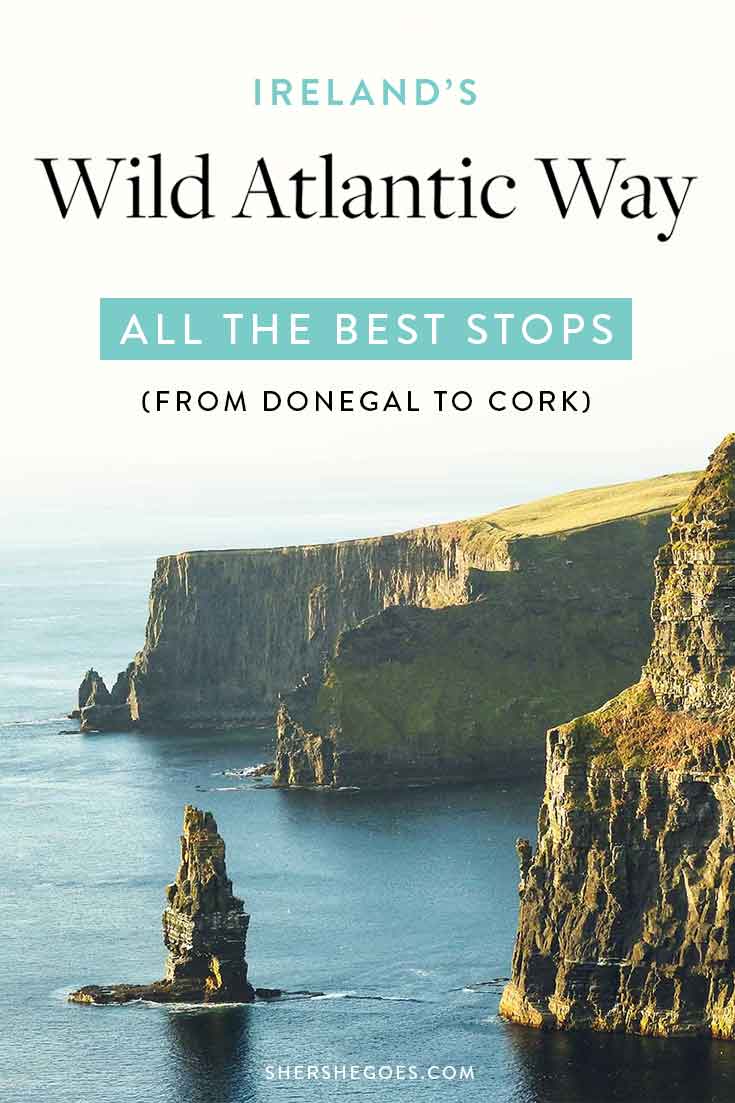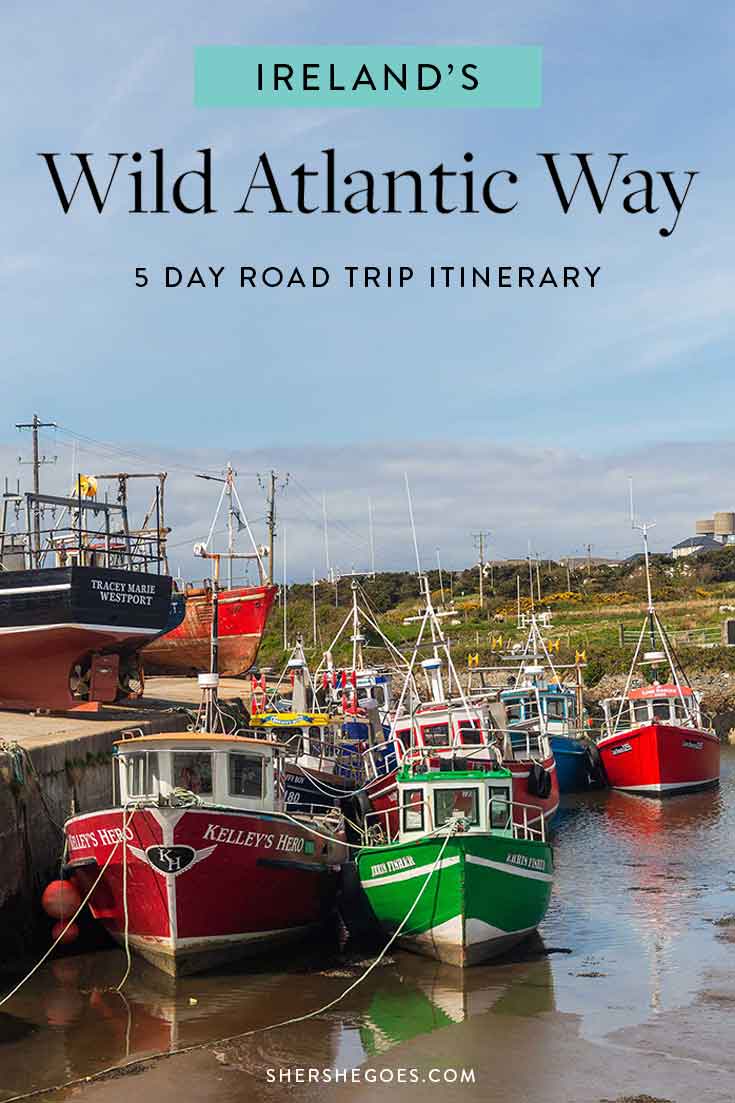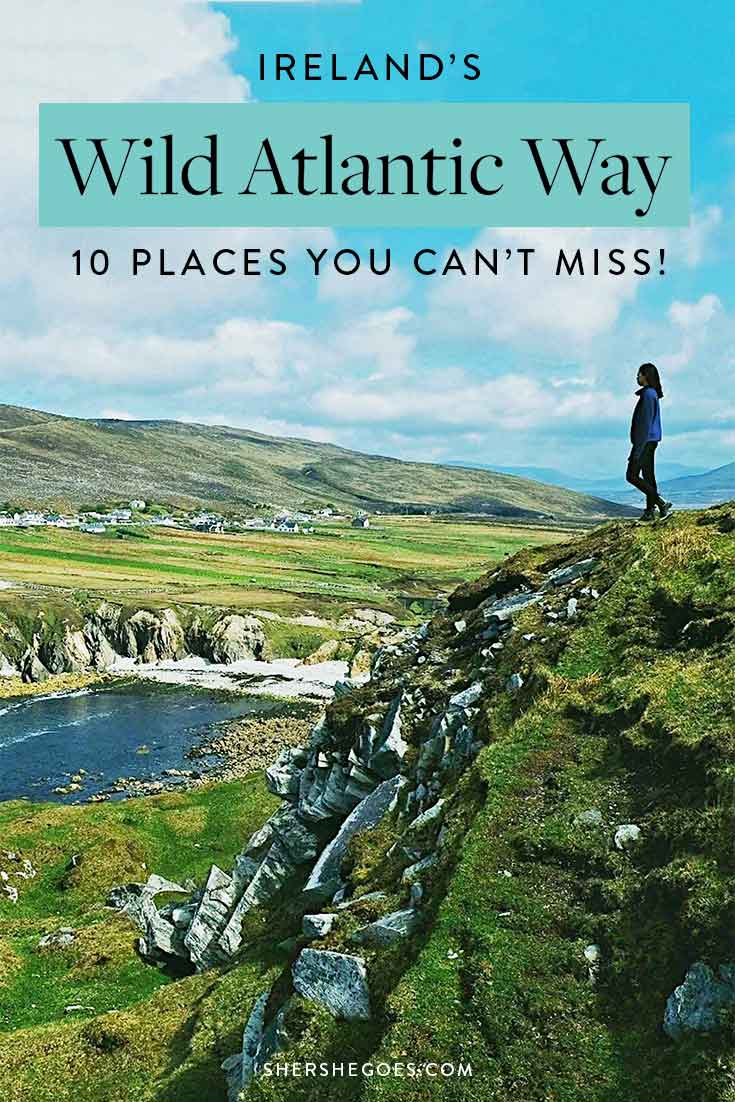 ADVERTISEMENT
---
---
What counties are in the Wild Atlantic Way?
9 counties are included in the Wild Atlantic Way coastal route, 7 of them are in the Republic of Ireland and 2 are in Northern Ireland.
We'll be focusing on the Republic of Ireland's portion, as it's the majority of the route. From North to South, these are Counties Donegal, Sligo, Mayo, Galway, Clare, Kerry and Cork.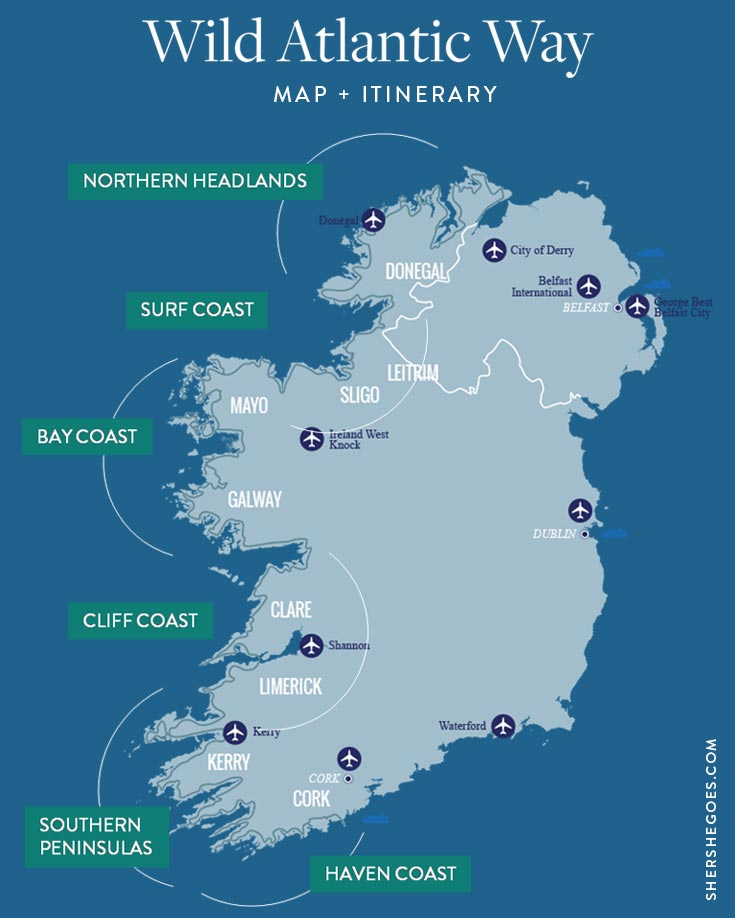 Wild Atlantic Way Map
But, the Wild Atlantic Way is more often discussed as six regions, based on the scenery of each section:
ADVERTISEMENT
---
---
Can you walk the Wild Atlantic Way?
Mhm…not really. It's primarily a driving route.
(There are some sections you could cycle though! Notably, the Westport Greenway in the north, County Mayo.)
Irish roads are narrow winding paths, hedged in on both sides by small stone fences. In many places there's barely enough room for 2 cars to pass, much less a foot path to comfortably walk for long periods of time.
If there's one thing I can recommend doing in Ireland, it's to rent a car. Driving in Ireland gives you the freedom to explore the entire country, see the popular sights at your own pace and go off the beaten path. There's not very much public transportation in Ireland in general, and even less so on the Wild Atlantic Way route.
You can browse car rental rates here to get an idea of costs for your trip.
Wild Atlantic Way Day Tours
If you don't want to drive, you can join a tour! We've driven a portion on our own as well as done group tours with Kerry Coaches and Vagabond Tours. We've also booked day trips using GetYourGuide and Viator.
There are a decent amount of options for those who don't want to rent a car – in particular for day tours from Galway and Dublin. Some of the most popular guided tours are below:
Whatever option you chose, you'll have a great time! But if you want the most freedom, I would recommend driving. You can check out my Ireland road trip guides below for more info about self-driving in Ireland.
Read more:
How to Master Driving on the Left (as an America)
Everything You Should Know about Renting a Car in Ireland
ADVERTISEMENT
---
---
When I shared our trip on Instagram (@shershegoes), I got a couple of the same questions over and over, so I thought they'd be helpful to also answer here. Here's everything to know about Ireland's Wild Atlantic Way.
How long does it take to do the Wild Atlantic Way?
At over 1,500 miles (2,750 kilometers) in length, the Wild Atlantic Way is the longest defined coastal touring road in the world. Ireland may be a small country, but it would take at least 4 to 5 days to properly see just a piece of the Wild Atlantic Way.
If you have 1.5 to 2 weeks, you really have a chance to soak in the magnificent views! Three weeks is probably recommended if you wanted to explore the length of the Wild Atlantic Way, from top to bottom.
Most people only drive a portion of the Wild Atlantic Way. Below is some guidance on how to pick a section. Or, you can read our Ireland Itineraries post to get more advice on planning a trip to Ireland.
ADVERTISEMENT
---
---
Where does the Wild Atlantic Way start and finish?
The drive stretches the entire western coast of Ireland, beginning in Malin Head in County Donegal and ending in Mizen Head in County Cork.
The nice thing about driving the Wild Atlantic Way is that it's very well sign posted and maintained. A couple of years ago, Fáilte Ireland, the Republic of Ireland's tourism authority, decided to officially market the route.
They installed maps, itineraries and info boards all along the driving route so it's very easy to follow even if you're self driving.
Look for a swiggly blue signpost to know you're on the right road! Notable stopping points and attractions (castles, viewpoints, etc) are marked by a brown pole with the w symbol (like in the picture above).
ADVERTISEMENT
---
---
Getting In & Where to Start
If you're already in Europe, you might like to fly into one of Ireland's 4 regional airports, which will get you started closer to the Wild Atlantic Way coastal route:
Shannon Airport: Ireland's second busiest airport just outside the city of Limerick. Perfect for exploring the Cliffs of Moher and the counties Galway, Clare, Limerick and Kerry.
Cork Airport: Just south of Cork city, this is the perfect airport to fly into if you want to start the Wild Atlantic Way at its southernmost point.
West Airport Knock: Located in the heart of west Ireland, between Galway and Sligo. Best if you plan to explore the North section as Donegal and Malin Head are (relatively) close.
Kerry Airport: This is a small hub, but places you directly in County Kerry – I think one of the most beautiful areas in Ireland.
You can also set a flight alert for different route options here so that you can jump on discount fares.
ADVERTISEMENT
---
---
Dublin International Airport
But if you're not already in the EU, most likely you'll be flying in to Dublin – this is what we did!
If you have the time, I'd recommend spending a day or two to explore Ireland's capital before heading west to the Wild Atlantic Way.
Start your rental car date after you're done exploring Dublin, then head to the airport to pick up your rental car. If you're short on time, you can skip Dublin and pick up the rental car when your flight lands.
Note: It's not worth the stress to drive in Dublin and you can easily get around the historical sights on foot, via cab or the hop-on, hop-off bus.
ADVERTISEMENT
---
---
Dublin to the Wild Atlantic Way
From Dublin, the most direct method to reach the Wild Atlantic Way is to drive west.
Most people will head straight across on the main highway to County Galway. The town of Galway is also the perfect stop to stretch your legs and have some lunch!
From Dublin to Galway it will take about 3-3.5 hours of driving, without stops. Make sure to have cash on hand for tolls! If you're hesitant to drive on the left, you can read more about what it's like renting a car in Ireland here and my driving tips for Ireland here.
ADVERTISEMENT
---
---
Galway
If you leave in the morning, you'll reach Galway just in time for lunch. We loved lunch at Ard Bia at Nimmos, a tiny (Michelin starred) restaurant on the water, under an old bridge. It's serves a delicious breakfast and lunch that's healthy but full of flavor.
Must try dishes?
The turmeric ginger shot, the elder flower cordial and their best selling fish cakes. I really liked the beet salad too!
After Galway, it's time to finally start on your Wild Atlantic Way road trip!
ADVERTISEMENT
---
---
Best Stops on the Wild Atlantic Way
Because the coastal route is so long, we're guessing you'll choose just a portion of the Wild Atlantic Way for your trip. I thought the easiest way to break down the Wild Atlantic Way drive would be by region.
There's activities for everyone along the route – we've done everything from visiting historic castles to exploring megalithic structures and stone tombs.
There's breathtaking coastal routes for those who want a scenic drive and lots of small islands off the coast perfect for day trips and stretching your legs.
If you want something more active, the Wild Atlantic Way is close to 3 of Ireland's national parks (Connemara, Ballycroy and Killarney) which have incredible hiking, scenic nature walks and lots of gorgeous terrain – mountains, lakes, bog, etc.
Finally, if you're hoping to see something traditionally Irish, there are tiny fishing hamlets, sheep herding farms and Gaeltacht regions where Irish is the predominant language. Many of the valleys and hills are still dotted with the ruins of famine huts and potato plots dating back to the Great Famine.
Keep reading for a breakdown of what to expect on each section of the route, from North to South
ADVERTISEMENT
---
---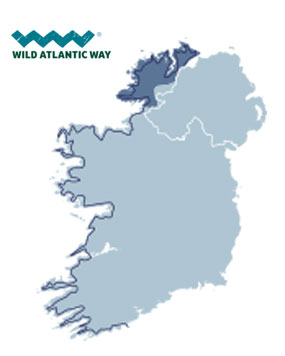 The Northern Headlands
From Malin Head to Donegal Town
In the remote northern tip of the Wild Atlantic Way, you'll find County Donegal.
This rugged, remote region is a bit of a wild child. It's located more north than Northern Ireland yet technically belongs to the 'south', the Republic of Ireland!
Donegal is a largely Catholic province (whereas Northern Ireland is mostly Protestant). Its rugged interior, labyrinth coastline and thick bog enabled it to resist the British more successfully than other regions, allowing Donegal to remain truly wild and isolated.
Over a third of the population here speaks Irish in their day to day – something you won't find in most other areas of Ireland (the British outlawed Irish culture and language as part of their efforts to subjugate the island).
If you're looking for the 'wild' in the Wild Atlantic Way, start in Donegal. Its steep cliffs, sublime scenery and beautiful beaches give testament to the county motto: "Up here, it's different"
ADVERTISEMENT
---
---
Here are some great driving stops along the Wild Atlantic Way in County Donegal:
Visit Fanad Head Lighthouse
Soak in the view at Malin Head
Stand on Sliabh Liag (Slieve League), Europe's highest sea cliffs
Explore Doe Castle by the sea
Where to Stay: Donegal Town
The capital of the county is the perfect place to base yourself. With great shopping (Donegal tweed is famous), a local castle (Donegal Castle) and lots of great restaurants, there's a lot to keep you busy.
For something unique, book a night at Solis Lough Eske, a stunning Irish castle hotel which was named the best in the country.
Find great hotel deals for Donegal Town here.
ADVERTISEMENT
---
---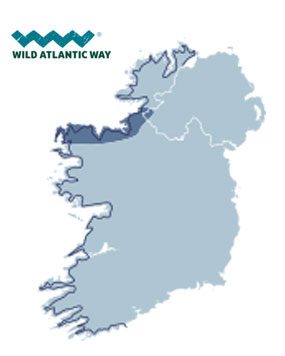 The Surf Coast
Donegal Town to Erris
Love to surf?
Visit the wave crashed coastline from Donegal to Erris to find freezing cold water and world class surf conditions. Or give snorkeling and kayaking a go!
Not too inclined to freeze our bones, we opted to explore the local castles, feast on delicious seafood (the crab claws here are the biggest we've ever seen) and check out some of the local historical sights.
If you want to soak in the view, visit Downpatrick Head, where a sea stack splits from the island into the ocean.
Local legend says that St. Patrick founded a church here. When a pagan chieftain refused to convert to Christianity, St. Patrick struck the ground and split a chunk of land into the sea, with the chieftain still on it!
ADVERTISEMENT
---
---
Here are some of the best stops along the Wild Atlantic Way's Surf Coast:
Go surfing at Streedagh Beach
Explore Donegal Castle and picturesque Lough Eske
Go salmon fishing in Ballina
Feast on local seafood in Sligo or Bellmullet
Ceide fields and Downpatrick Head
Where to Stay: Ballina
Right on the mouth of the River Moy, in County Mago, Ballina has fantastic restaurants, lots of local heritage and a famous annual Salmon Festival.
The town is just a 40 minute drive from West International Airport and in particular, we love Mount Falcon Estate hotel, a luxury Irish country house!
Find great hotel deals for Ballina here.
ADVERTISEMENT
---
---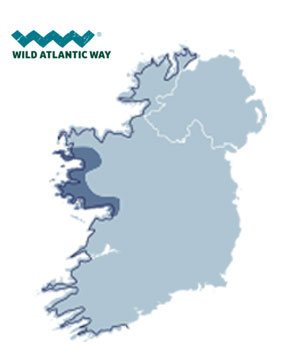 The Bay Coast
Erris to Galway Bay
We lingered for days along the Bay Coast – there's so much to see and do here! If you love getting active, this region is known for its savage, wild beauty and great outdoors.
Visit Connemara, home to the cute Connemara pony, Victorian Kylemore Abbey and expansive Connemara National Park. There's also Ballycroy National Park, with 15,000 hectares perfect for nature walks and stargazing.
The Great Western Greenway is a route from Westport to Achill that transformed an old railway into one of the most scenic cycling roots in the world. Even better, you can combine it with the Gourmet Greenway and stop at artisan food producers along the way! Clew Bay in particular is well known for its incredible seafood.
Prefer a scenic drive?
There's the Atlantic Drive on Achill Island, connected to Ireland by a bridge, and the breathtaking Sky Road in Clifden. The former has a ruined tower that once belonged to legendary pirate queen Grace O'Malley, while the latter has a panoramic view of the Connemara peninsula.
ADVERTISEMENT
---
---
Here are some fun things to do in the Bay Coast section of the Wild Atlantic Way
Explore Achill Island and Keem Bay, home to beautiful basking sharks
Explore the Lost Valley in Mayo
Walk the bog trail in Ballycroy National Park
Learn the art of sheep herding and try cutting peat
Get active in Delphi Mountain: ziplining, kayaking, archery
Visit beautiful Kylemore Abbey and its Victorian gardens
Hike through Connemara National Park
Drive the Sky Road in Clifden
Where to Stay
There's lots to do in this section of the Wild Atlantic Way so we've stayed in a number of different towns and hotels. We recommend:
Westport, a colorful small town home to Westport Manor. Have dinner at Cian's (everything's delicious!)
Clifden, a remote area near Kylemore Abbey and Connemara National Park, where we stayed at the cozy Rosleague Manor
Ballynahinch Castle, if unique and luxurious castle hotels are your thing!
Delphi Mountain if you are on a budget or traveling as a family, this historic mountain lodge offers tons of fun activities (we tried archery and ziplining) on over 1,000 acres of land. There are both family suites and hostel accommodation options.
ADVERTISEMENT
---
---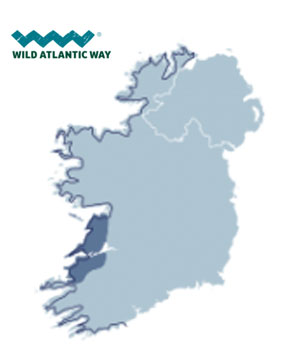 The Cliff Coast
Galway to Ballybunion
The Cliff Coast is home to Ireland's most well known and unique landscapes.
This route mixes sea cliffs like the Cliffs of Moher with the otherworldly karst landscapes of the Burren. Towns here are famous for their traditional pubs, live music and beautiful views. There's enough sights here to keep you busy for a week!
A great time of year to visit is in September, when Galway hosts its International Oyster and Seafood festival.
ADVERTISEMENT
---
---
Here are some fun things to do in the Cliff Coast section of the Wild Atlantic Way
Spend a day in colorful Galway
Walk along the majestic Cliffs of Moher
Explore the karst landscape of The Burren and visit Poulnabrone dolmen
Where to Stay
Galway is a colorful and charming harbor city on the west coast. The town square has plenty of pubs, great shopping and often live Irish music is performed in the streets!
Gregans Castle We stayed here and loved everything, from the luxurious yet comfy furniture to the fine dining restaurant. The location is also conveniently between The Burren, a remote karst region and hte Cliffs of Moher.
Doolin is a quaint village and the gateway town to the Aran Islands, which are just offshore.
Limerick is compact, yet also Ireland's third most populated city. There's a medieval town center, historic castles and cathedrals and a buzzing new food scene to explore.
ADVERTISEMENT
---
---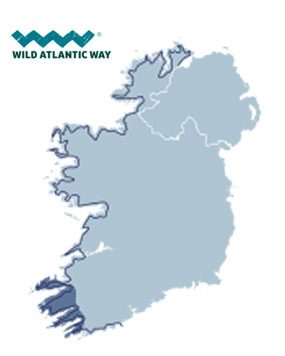 The Southern Peninsulas
South Kerry to West Cork
Now we've reached the beautiful South West.
County Kerry call's itself 'God's Kingdom' for its rolling green hills and serene lakes. There's beautiful Killarney National Park with its castle, hiking trails and waterfall. Off the coastline is Skellig Michael, an ancient monastery featured in Starwars, while a drive down to Dingle will have you in the pubs enjoying live music all night long.
The Dingle Peninsula is a drive worth going out of the way for. Locals joke the next town over is Boston and on this remote stretch, you'll find traditional pubs, great ice cream and local gin.
Finally, County Clare is known as the musical section of Ireland, with more musicians per square mile and music festivals than in any other county.
ADVERTISEMENT
---
---
Here are some fun things to do in the Cliff Coast section of the Wild Atlantic Way
Drive Loop Head Peninsula and climb the lighthouse
Explore the Ring of Kerry and visit Killarney
Ferry to the ancient stone monastery on Skellig Michael
Learn about the history of Ireland's independence movement in Caherdaniel
Enjoy the beach at Glenbeigh
Enjoy live music in Dingle's quaint pubs
Where to Stay
Killarney a colorful small town on the shores of Lough Leane. Killarney is a great base for day trips and the town also has fantastic hotels, spas, shopping and restaurants. You can read our in depth Killarney guide for more travel tips!
Dingle a cute port town known for its pubs, music and harbour resident..Fungie the dolphin. Dingle is great for everyone – couples, families with kids and millennials looking for a night out. You can read our in depth Dingle guide for more travel tips!
ADVERTISEMENT
---
---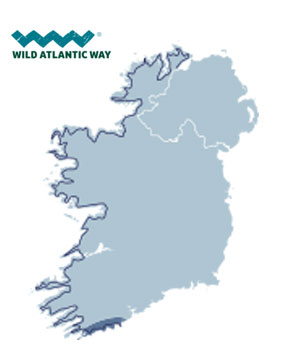 The Haven Coast
Bantry Bay to Kinsale
The southernmost stretch of the Wild Atlantic Way is perhaps the most peaceful section, cooled by the temperate Gulf Stream.
There's lush formal gardens with subtropical plants, calm waters that attract dolphins and whales and scores of festivals. Spend the days beachcombing, kayaking, fishing or island hopping. Visit ancient sites and coastal forts in West Cork and zig zag through Kinsale.
ADVERTISEMENT
---
---
Here are some fun things to do in the Cliff Coast section of the Wild Atlantic Way
Drive the Beara Peninsula
See the lighthouse at Kinsale's Old Head Kinsale's Old Head
Cross the iconic (and dizzying) footbridge at Mizen Head
Feast on the freshest seafood at Baltimore Harbor
Get away to relaxing Cape Clear
Where to Stay
Kenmare is a less crowded version of Killarney, with a triangle of shops, galleries and cafes. Stay here to explore the Beara Peninsula
Cork is Ireland's second largest city and nicknamed by locals the 'real capital' of Ireland. It has a beautiful waterfront, cosmopolitan atmosphere and great restaurants and pubs.
ADVERTISEMENT
---
---
Wild Atlantic Way Itinerary
Now of course there's no single best itinerary, but I'd say one of the most popular Wild Atlantic Way routes is to spend 5 days on a road trip from Galway to Killarney.
This route hits some of Ireland's most popular sights, like Kylemore Abbey, the Cliffs of Moher, Killarney National Park and Dingle.
I also had a chance to re-visit Ireland on a more off the beaten path itinerary, so I've incorporated those activities to present a couple different options…
| | |
| --- | --- |
| Wild Atlantic Way in 5 Days | Best For |
| Galway – Connemara – Cliffs of Moher – Killarney – Dingle | Classic |
| Sheep Herding – Lost Valley – the Burren – Adare – Dingle | Culture |
| Westport – Sligo – Donegal | Irish Traditions |
| Delphi Mountain – Connemara National Park – Galway | Hiking + Outdoorsy |
| Achill Island – Clifden Sky Drive – Cliffs of Moher – Killarney | Natural Scenery |
| Slieve League – Donegal – Mayo – Ballina – Clew Bay | Coastal Adventure |
ADVERTISEMENT
---
---
Tips for Self Driving in Ireland
Distances
One thing to keep in mind is the distance between towns and sights. What we found helpful was to research places that seemed interesting to us, create a list and then plug all the destinations into Google Maps and plot a straightforward driving route.
Driving Times
Google Maps is generally a great tool for planning trips. However for Ireland, we suggest adding 30-45 minutes to their driving time estimates.
Irish roads are narrow and if you're unused to driving on the left, chances are you won't be going full speed. If you plan to stop and take pictures, give yourself a lot more leeway.
Sunset
Finally, try not to pack too much in per day and do a quick google search for sunrise and sunset times in Ireland on your dates.
We found that Irish roads didn't have many street lamps, so we made sure to be at our hotel destination by the time the sun went down to avoid driving in the dark.
ADVERTISEMENT
---
---
What are you looking forward to the most along the Wild Atlantic Way?
Essential Tips for Visiting Ireland
Getting In | Aer Lingus, the national Irish airline, offers non-stop flights from select US cities. Two reasons to recommend Aer Lingus: low nonstop fares from many US cities and their pre-clearance facilities. We found cheap flights to Ireland in October – you can check for flight deals and routes here.
When returning to the U.S., take advantage of the U.S. pre-clearance facilities at Dublin and Shannon airports, where you complete U.S. immigration, customs and agriculture controls before departure so that when you land in the U.S., you can just collect your bags.
Getting Around | If there's one thing I can recommend, it's to rent a car and drive around Ireland. Not only is the Wild Atlantic Way coastal route one of the world's most scenic drives, transportation in Ireland is a bit difficult without your own vehicle. We were nervous about driving on the left but ultimately renting a car was the best decision! Check car rental prices for your dates here.
Where to Stay | I highly recommend staying at an Irish country house during your trip. Irish hospitality is truly something else. For unique luxury accommodation check out out Ireland's Blue Book. Or, take advantage of Airbnb for a local experience!
Protect | Lastly, be sure to visit Ireland with travel insurance. Whether you get injured and need to be hospitalized, your phone gets stolen, or a flight delay leaves you with nothing but the clothes on your back, travel insurance will help when you need it most. Hurricane Ophelia hit the country smack in the middle of our road trip! Get a quote for your trip here.
You Might Also Enjoy:
Ireland Vacation Planning Articles
Ireland Travel Tips: Know Before You Go
The Most Beautiful Places in Ireland
How to Plan the Perfect Ireland Itinerary
Where to Stay: 10 Enchanting Irish Castle Hotels 
Packing Checklist: What to Wear in Ireland
For Foodies: All the Best Food We Ate in Ireland
Ireland Road Trips
The Best Stops on the Wild Atlantic Way (with map!)
7 Useful Tips for Renting a Car in Ireland
How to Master Driving in Ireland (as a tourist!)
Irish Sights, Activities & Tours We Especially Enjoyed:
Co Galway: Visiting Kylemore Abbey, Ireland's Most Beautiful Castle?
Co Kerry: Can't Miss Sights in Killarney & Dingle
Co Waterford: Waterford, Ireland's Oldest City, the House of Waterford Crystal & Mount Congreve Gardens
Co Wexford: Don't Skip Wexford - Here's Why!
Co Kilkenny: Exploring Kilkenny Castle, in photos
Restaurant & Hotels We Loved:
County Clare: Gregans Castle Hotel
County Galway: Rosleague Manor Hotel, Where to Stay in Galway
County Wexford: The Strand Inn
County Waterford: The Cliff House Hotel, The Reg Pub
Northern Ireland
Travel Guide: Belfast
Where to Stay in Belfast as a First Time Visitor
Follow me @Sher She Goes on