Visiting the House of Waterford Crystal Factory
Waterford, Ireland
As part of our trip to Ireland exploring the country's Ancient East, we stopped in Waterford for a couple days.
I didn't know much about the city before visiting but I've definitely heard of Waterford Crystal so it was a fun surprise to discover the House of Waterford Crystal headquarters and crystal production factory in the center of town!
We took a guided visit of the factory and before going in, I really didn't have high expectations.
ADVERTISEMENT
Crystal was something I associated with my aunt who had lots of fine china and crystal pieces in this giant mahogany display cabinet. But I was really blown away by the tour!
It was definitely one of the highlights of visiting Waterford, Ireland and I wanted to share a little bit about our guided visit of the House of Waterford Crystal and some interesting facts we learned about Waterford Crystal production.
Keep reading to learn about what our tour entailed and some fun facts about Irish crystal production!
ADVERTISEMENT
---
---
The Waterford Crystal Factory Tour
Waterford Crystal is a centuries old tradition.
Waterford, a bustling port city even during ancient Ireland times, was a thriving commercial center for shipbuilding, ironworks and cotton factories.
There was a huge supply of timber from Ireland's thick, ancient forests and Irish crystal manufacturers were exempt from luxury taxes imposed by the English parliament. All of these conditions helped pave the rise of Waterford Crystal, beginning in 1783.
ADVERTISEMENT
---
---
The guided factory tour started off with a glitzy, unique film and a look at some of the most luxurious examples of Waterford Crystal.
There was this insane life size Waterford Crystal clock and blinged out trophies from almost every famous sports event you can imagine!
You can see a diagram of a Waterford crystal wine decanter and crystal vase below.
ADVERTISEMENT
---
---
Crystal Glass Production
Next, the factory tour showed a snippet of each step of traditional Waterford crystal production, from the development of wooden moulds to shape the glass, to a live demonstration of crystal blowing.
One of the most popular crystal gifts is to give a Waterford Crystal vase and so we saw 4 glass masters heating glass in giant furnaces and shaping the beginning of the round vase base.
ADVERTISEMENT
---
---
Because we were on a private media tour, we got to linger and watch the glass makers for a bit. A couple of us with strong lungs even gave blowing the glass a try!
Today, the furnaces run on electricity but in the past wood, oil and gas were used.
It takes up to 2 weeks to heat the furnaces high enough to meet the temperature for creating Waterford crystal. If there's a loss in power for over 20 minutes, it can throw havoc into the production schedule! I hope they survived Hurricane Ophelia all right..
ADVERTISEMENT
---
---
Waterford Crystal has made such a name for itself, not only in Ireland but worldwide, that no new patterns were introduced or advertising used throughout the 1970s.
It was only once Waterford acquired a new retail and distribution channel in the 1980s that they began introducing new crystal patterns such as the insanely popular Marquis by Waterford line.
ADVERTISEMENT
---
---
Some other fun facts about distinctive Waterford crystal patterns:
For the Year 2000 New Year's Countdown, Waterford Crystal launched their most successful crystal champagne flute ever.
The brand's logo is a seahorse today, but was originally a dolphin (after the Waterford city coat of arms animal). The dolphins tail was shaped backwards to create an Irish shamrock shape and then switched to a sea horse. You can see a glass version of it in the beginning photos of this post.
As part of the crystal apprenticeship, students must learn how to blow, cut, draw and engrave. Each year of instruction has a final test where each apprentice must create a Waterford crystal bowl with a defined crystal pattern. More advanced students learn more intricate crystal patterns!
ADVERTISEMENT
---
---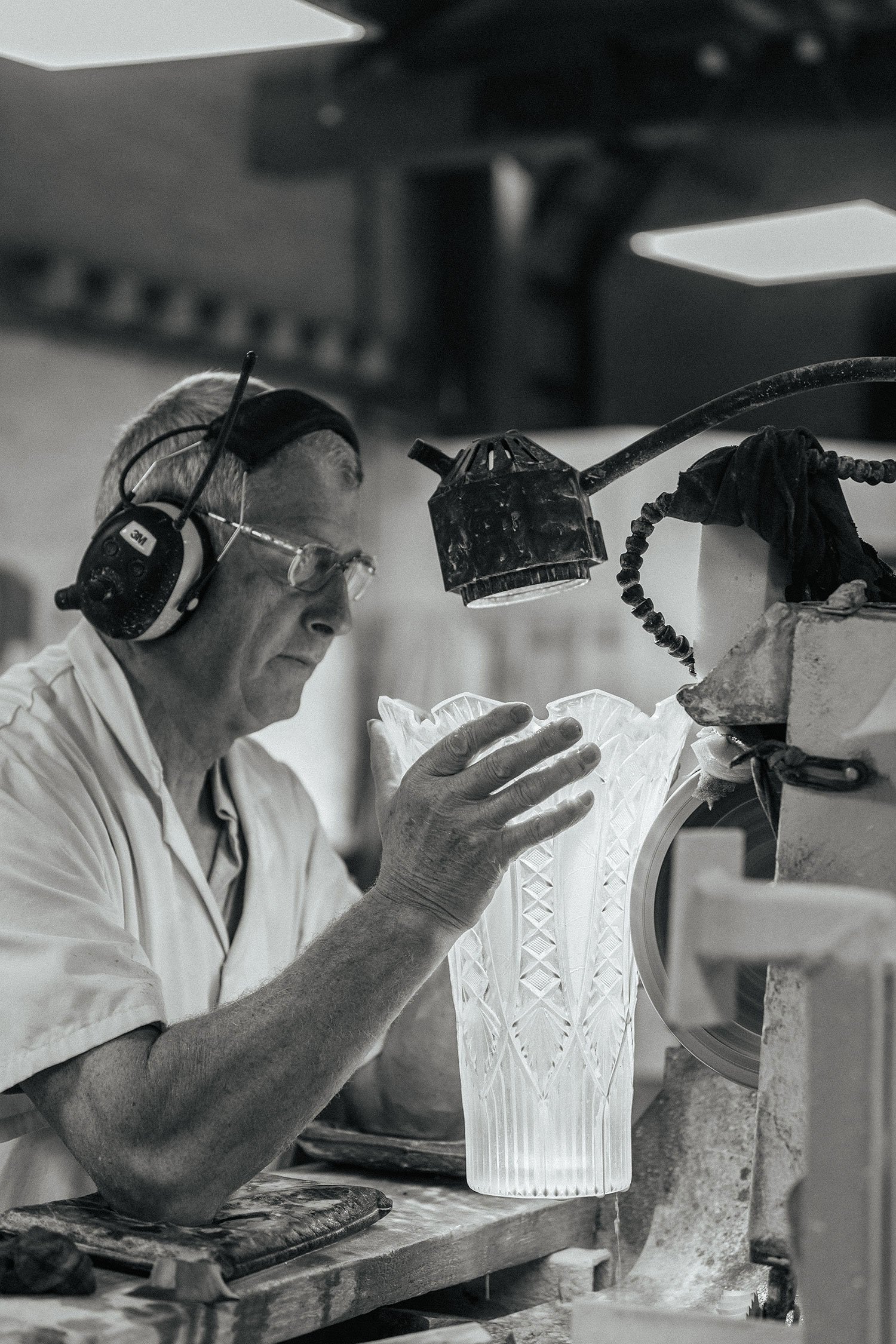 Cutting the Crystal
Next, we moved into the cutting room where Waterford's glass masters create the distinctive brand patterns.
Crystal vases are firmly pressed against the cutting machines to create slashes and multiple criss-crossing slashes can form pretty Waterford Crystal patterns when all added up!
ADVERTISEMENT
---
---
Definitely make sure to check out Waterford Crystal's exhibition shop and retail store when visiting Waterford, Ireland.
There's an on site coffee shop and car parking available and of course, a big highlight is seeing the largest collection of Waterford Crystal in the world, including sporting trophies and statement pieces!
Reserve tickets for the House of Waterford Crystal guided tour here.
ADVERTISEMENT
---
---
Essential Tips for Visiting Ireland
Getting In | Aer Lingus, the national Irish airline, offers non-stop flights from select US cities. Two reasons to recommend Aer Lingus: low nonstop fares from many US cities and their pre-clearance facilities. We found cheap flights to Ireland in October – you can check for flight deals and routes here.
When returning to the U.S., take advantage of the U.S. pre-clearance facilities at Dublin and Shannon airports, where you complete U.S. immigration, customs and agriculture controls before departure so that when you land in the U.S., you can just collect your bags.
Getting Around | If there's one thing I can recommend, it's to rent a car and drive around Ireland. Not only is the Wild Atlantic Way coastal route one of the world's most scenic drives, transportation in Ireland is a bit difficult without your own vehicle. We were nervous about driving on the left but ultimately renting a car was the best decision! Check car rental prices for your dates here.
Where to Stay | I highly recommend staying at an Irish country house during your trip. Irish hospitality is truly something else. For unique luxury accommodation check out out Ireland's Blue Book. Or, take advantage of Airbnb for a local experience!
Protect | Lastly, be sure to visit Ireland with travel insurance. Whether you get injured and need to be hospitalized, your phone gets stolen, or a flight delay leaves you with nothing but the clothes on your back, travel insurance will help when you need it most. Hurricane Ophelia hit the country smack in the middle of our road trip! Get a quote for your trip here.
You Might Also Enjoy:
Ireland Vacation Planning Articles
Ireland Travel Tips: Know Before You Go
The Most Beautiful Places in Ireland
How to Plan the Perfect Ireland Itinerary
Where to Stay: 10 Enchanting Irish Castle Hotels 
Packing Checklist: What to Wear in Ireland
For Foodies: All the Best Food We Ate in Ireland
Ireland Road Trips
The Best Stops on the Wild Atlantic Way (with map!)
7 Useful Tips for Renting a Car in Ireland
How to Master Driving in Ireland (as a tourist!)
Irish Sights, Activities & Tours We Especially Enjoyed:
Co Galway: Visiting Kylemore Abbey, Ireland's Most Beautiful Castle?
Co Kerry: Can't Miss Sights in Killarney & Dingle
Co Waterford: Waterford, Ireland's Oldest City, the House of Waterford Crystal & Mount Congreve Gardens
Co Wexford: Don't Skip Wexford - Here's Why!
Co Kilkenny: Exploring Kilkenny Castle, in photos
Restaurant & Hotels We Loved:
County Clare: Gregans Castle Hotel
County Galway: Rosleague Manor Hotel, Where to Stay in Galway
County Wexford: The Strand Inn
County Waterford: The Cliff House Hotel, The Reg Pub
Northern Ireland
Travel Guide: Belfast
Where to Stay in Belfast as a First Time Visitor
Follow me @Sher She Goes on