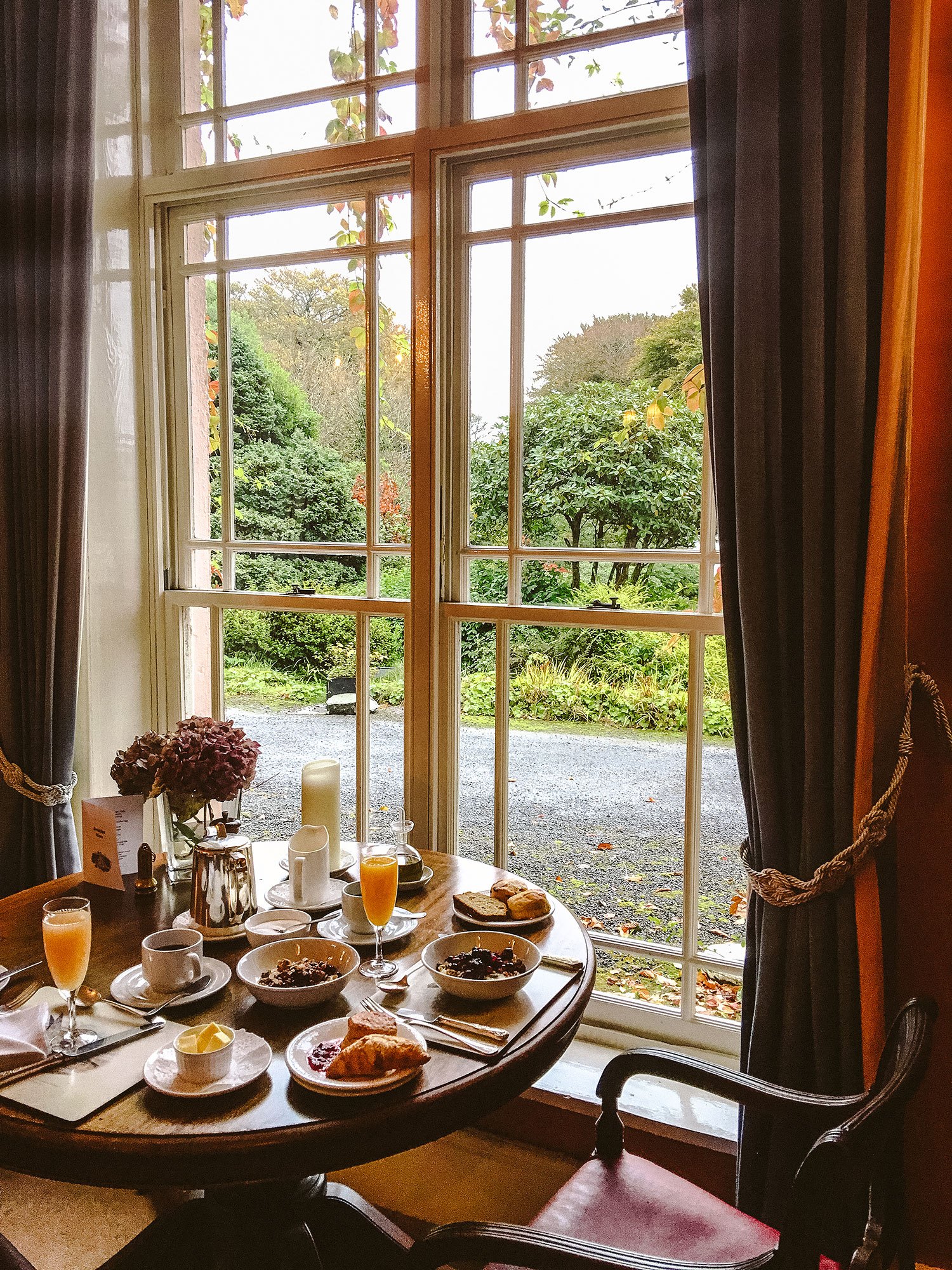 Rosleague Manor Hotel
Connemara, Ireland in County Galway
One of the most memorable hotels we stayed at in Ireland was Rosleague Manor, a traditional Irish country house in wild Connemara.
The charming family-run property, with its 19th century furnishings and cozy fireplaces, offers a beacon of warmth in mystic, desolate, romantic Connemara.
Book rooms: Booking.com
Check prices: TripAdvisor
ADVERTISEMENT
Connemara
We drove from Dublin straight west on a rainy morning at the start of our Irish road trip.
The congested highways leading out of Dublin eventually gave way to empty regional roads and after several hours, we arrived to the Connemara peninsula.
Connemara is a sparsely populated, unplugged, almost wild region of Ireland.
Oscar Wilde once dubbed this place "a savage beauty" and the sheets of rain which poured on and off on our visit, only to expose sunny blue skies and misty sheep-filled mountains, affirmed his words.
ADVERTISEMENT
---
---
The Lakes of Connemara
With hundreds of tiny coves, bays and fishing villages dotting the peninsula, Connemara is one of the most hauntingly beautiful districts in Ireland and remains one of my favorite places from our visit.
Perhaps its remote seclusion is one reason why Irish language, song and literature have maintained a foothold here – locals use Irish on a daily basis and Connemara is one of the largest Gaeltacht, or Irish-speaking, regions in the country.
ADVERTISEMENT
---
---
It seems the French are in on the secret – you'll find many French tourists in Connemara, drawn to the area for over 30 years after French singer Michel Sardou penned an evocative ballad called "Les Lacs du Connemara" (give it a listen here; there's also a music video version shot with French and Irish children here)
Many of the staff at Rosleague spoke French or were from France!
ADVERTISEMENT
---
---
Irish Manor House
After a rainy drive, we pulled up to the quaint pink and ivy house.
Rosleague Manor Hotel overlooks Ballinakill Bay on 30-acres of private woodland. The property was once a traditional Irish country house and has been converted to a hotel, but still retains its 19th Century charm and character.
ADVERTISEMENT
---
---
Our Room
Each room at Rosleague Manor House is unique in its layout and design.
All the rooms have been carefully updated while retaining their original antique furnishings.
Our first floor room was huge, with a giant king bed, a front sitting area and a huge bathroom that had both a shower and soaking tub.
Exhausted from the long drive, we sat down for a nap and didn't wake until dinner.
ADVERTISEMENT
---
---
Dinner at Rosleague Manor
Refreshed but ravenous, we made our way to the dining room for a relaxed, fine dining experience at Rosleague.
A friendly French waiter who was studying hospitality and getting 'real world' experience at Rosleague, cheerfully attended to us throughout our stay.
I loved the dining room itself – with its floor to ceiling windows, warm wood touches and historical paintings.
ADVERTISEMENT
---
---
The menu at Rosleague changes daily, as ingredients and produce are sourced locally as well as home grown.
For example, the Manor House keeps pigs in its wooded forest which it serves on the menu and maintains an herb garden. It also has re-established an orchard to provide bumper crops of apples and pears, which Rosleague uses in its in desserts, chutneys and relishes.
Each evening, guests can choose either a 2 course or 5 course menu where the focus is on fresh seafood and mountain lamb.
The menu varies according to what's in season, but below is our menu from the first night of our stay to give you an idea of what Rosleague offers:
Cleggan Bay Crab Claws sauteed with garlic & parsley butter
Lemon Sorbet with a dash of champagne (this was so good!)
Duo of Irish duck (roasted breast and confit leg) with orchard apple compote & blackberry sauce
Lemon & Pistachio roulade
Tea with petit fours
ADVERTISEMENT
---
---
P.S. There is a lovely fern walk through the woods which leads to the pigs.
Ask Tyson, the local canine resident, to lead you to them! He's the smartest dog I've ever met and has an uncanny nack for understanding you.
Say, "Hi Tyson, where are the pigs?" and follow him through the woods :)
Read more:
A List of the Best Irish Restaurants We Ate at!
ADVERTISEMENT
---
---
Afternoon Tea
Rosleague Manor is conveniently located to local sights, including the seaside village of Clifden, majestic Kylemoore Abbey, wild Connemara National Park and the remote Sky Drive.
We stopped by each but heavy rain on the second day of our visit had us drenched, so we decided to end our sightseeing and head back to the cozy warmth of the hotel.
Luckily for us, Rosleague offers guests afternoon tea with delicious warm biscuits.
Trust me when I say there's nothing better than jam and clotted cream drenched biscuits with hot tea in front of the fireplace!
Read more:
10 Photos to Inspire You to Visit Kylemore Abbey
ADVERTISEMENT
---
---
Rosleague Manor House is a member of Ireland's Blue Book.
Letterfrack, Co. Galway, Ireland
Check availability and rates here
Read reviews on TripAdvisor
Essential Tips for Visiting Ireland
Getting In | Aer Lingus, the national Irish airline, offers non-stop flights from select US cities. Two reasons to recommend Aer Lingus: low nonstop fares from many US cities and their pre-clearance facilities. We found cheap flights to Ireland in October – you can check for flight deals and routes here.
When returning to the U.S., take advantage of the U.S. pre-clearance facilities at Dublin and Shannon airports, where you complete U.S. immigration, customs and agriculture controls before departure so that when you land in the U.S., you can just collect your bags.
Getting Around | If there's one thing I can recommend, it's to rent a car and drive around Ireland. Not only is the Wild Atlantic Way coastal route one of the world's most scenic drives, transportation in Ireland is a bit difficult without your own vehicle. We were nervous about driving on the left but ultimately renting a car was the best decision! Check car rental prices for your dates here.
Where to Stay | I highly recommend staying at an Irish country house during your trip. Irish hospitality is truly something else. For unique luxury accommodation check out out Ireland's Blue Book. Or, take advantage of Airbnb for a local experience!
Protect | Lastly, be sure to visit Ireland with travel insurance. Whether you get injured and need to be hospitalized, your phone gets stolen, or a flight delay leaves you with nothing but the clothes on your back, travel insurance will help when you need it most. Hurricane Ophelia hit the country smack in the middle of our road trip! Get a quote for your trip here.
You Might Also Enjoy:
Ireland Vacation Planning Articles
Ireland Travel Tips: Know Before You Go
The Most Beautiful Places in Ireland
How to Plan the Perfect Ireland Itinerary
Where to Stay: 10 Enchanting Irish Castle Hotels 
Packing Checklist: What to Wear in Ireland
For Foodies: All the Best Food We Ate in Ireland
Ireland Road Trips
The Best Stops on the Wild Atlantic Way (with map!)
7 Useful Tips for Renting a Car in Ireland
How to Master Driving in Ireland (as a tourist!)
Irish Sights, Activities & Tours We Especially Enjoyed:
Co Galway: Visiting Kylemore Abbey, Ireland's Most Beautiful Castle?
Co Kerry: Can't Miss Sights in Killarney & Dingle
Co Waterford: Waterford, Ireland's Oldest City, the House of Waterford Crystal & Mount Congreve Gardens
Co Wexford: Don't Skip Wexford - Here's Why!
Co Kilkenny: Exploring Kilkenny Castle, in photos
Restaurant & Hotels We Loved:
County Clare: Gregans Castle Hotel
County Galway: Rosleague Manor Hotel, Where to Stay in Galway
County Wexford: The Strand Inn
County Waterford: The Cliff House Hotel, The Reg Pub
Northern Ireland
Travel Guide: Belfast
Where to Stay in Belfast as a First Time Visitor
Follow me @Sher She Goes on