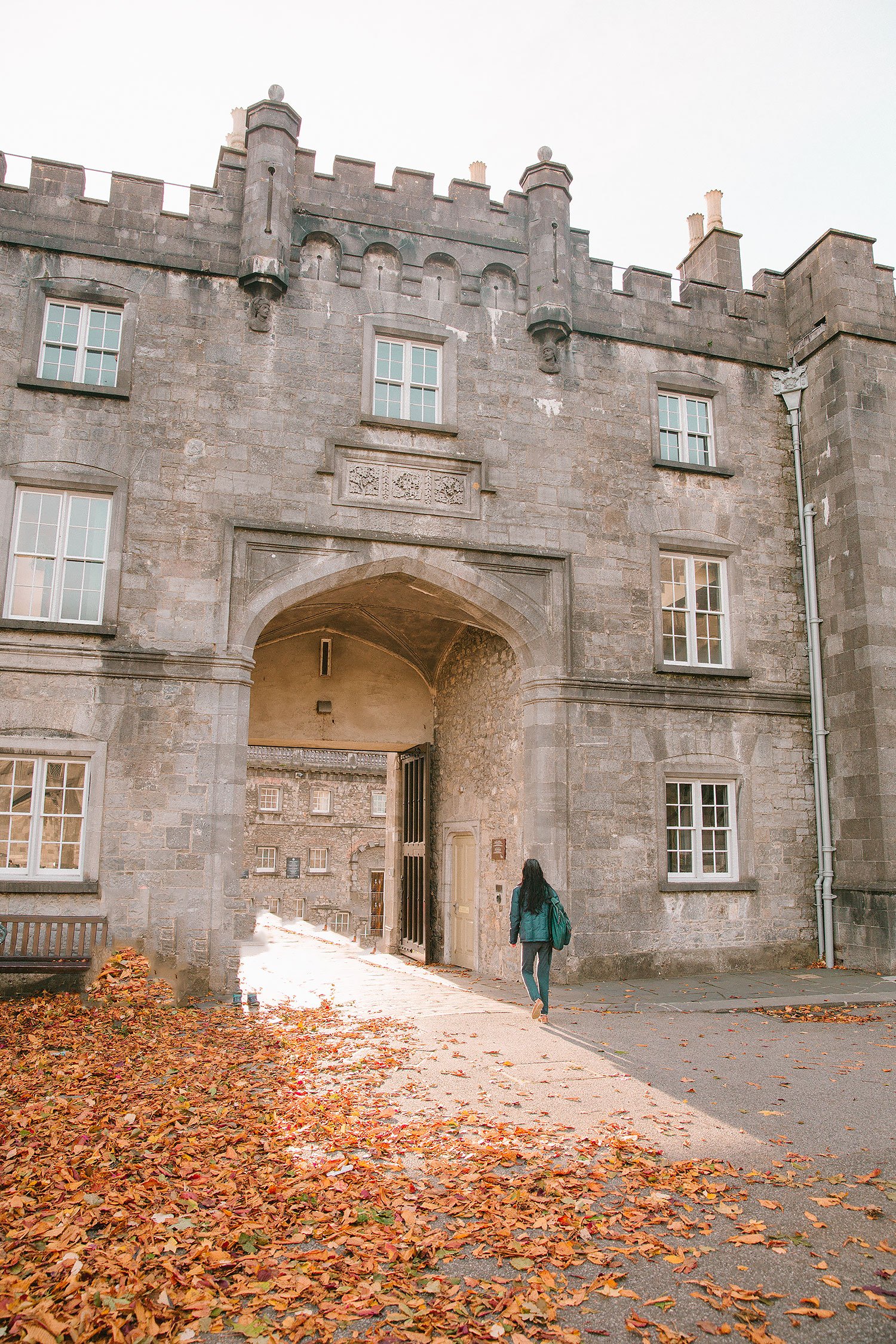 Visiting Kilkenny Castle
We originally had planned to stay in Killarney for an extra night and then drive straight to Dublin Airport to fly out. After driving on Ireland's roads, we realized this plan was way too ambitious, since it meant we would need to get up very early and drive for 4 hours in the dark.
So, instead, we made a last minute decision to explore more of Ireland's Ancient East and stop for 1 night in Kilkenny.
Kilkenny is only an hour away from Dublin so it's also a great day trip from the capital! Apparently lots of Dubliners will have stag parties or weekend getaways in Kilkenny's fun bars.
The highlight of visiting Kilkenny for us, was exploring Kilkenny Castle. I have a huge obsession with castles and was pretty disappointed to find that most castles in Ireland are either ruins or fancy 5 star hotels where you need to be a guest to visit.
Kilkenny is one of the very few castles that have been restored, fully furnished and offer tours to the public!
Keep reading for a quick look at Kilkenny Castle's history along with tons of photos of the interior!
---
---
Where to Stay in Kilkenny
Kilkenny is a charming medieval city in Ireland, just 75 miles southwest of Dublin. Although it's Ireland's smallest city by population, its one of the most popular tourist destinations in the country, loved by both international travelers and local Irish.
The River Nore splits the city in two so if you're a first time visitor to Kilkenny, you'll likely be interested in the sights on the river's west bank. As part of Ireland's Ancient East and the country's 'Medieval Capital', there's lots to see in Kilkenny!
Great nightlife, quaint medieval streets and lots of shopping can easily occupy you for 1 to 3 days.
Here are a couple hotel suggestions for the best hotels in Kilkenny:
1 | Pembroke Hotel Kilkenny – This quaint hotel is made for travelers, with a fantastic location right across Kilkenny Castle. It's on the main street, close to all the sights, and the rooms are very comfortable!
Compare room rates on Booking.com or Hotels.com or Read reviews on Tripadvisor
2 | Langton House Hotel – Langtons is a beautiful hotel with great service and comfortable, warm rooms. Each part is decorated with a slightly different theme and there are multiple bars for great food and better drinks! If you have the time, sit down for a divine afternoon tea experience.
Compare room rates on Booking.com or Read reviews on Tripadvisor
3 | Newpark Hotel – This luxury hotel is about 10 minutes drive outside the city center and offers free wifi and free parking. Rooms are stunning, the staff is friendly and seems to love working there and the breakfast menu is extensive! Great for business travelers and weddings.
Compare room rates on Booking.com or Hotels.com or Read reviews on Tripadvisor
A 12th Century Castle
Richard de Clare, the Norman conqueror of Ireland and arguably the man who dramatically shaped Ireland's present day history, first built a basic wooden tower to overlook the River Nore in 1172. Nicknamed 'Strongbow', Richard and his Norman knights succeeded the Vikings as the new rulers of Ireland.
In 1260, his son-in-law William Marshall replaced the wooden structure with a stone castle. The castle was built on a hill above the river, creating a dramatic entrance to Kilkenny City.
Read more:
7 Stops to Include on Your Irish Road Trip
---
---
The Butlers
In 1391, the distinguished Butler family purchased Kilkenny Castle and the various Earls, Marquesses and Dukes lived in the castle for nearly 600 years. Additions and alterations gradually expanded the palace, so today Kilkenny Castle weaves a number of different architectural styles.
Read more:
A Foodie's Guide to Visiting Ireland: What & Where to Eat!
Kilkenny Castle Today
Eventually the Butler family moved to London and sold Kilkenny Castle's furnishings, leaving it abandoned for over 30 years. Rising taxes, death duties, economic depression and general living costs had made living in Kilkenny Castle uneconomical.
In 1967, Arthur Butler sold the castle to the people of Kilkenny for a ceremonial £50 (about $300 USD at the time). The Butler family hoped to prevent the castle's ruins, as so many other castles in Ireland had crumbled:
"The people of Kilkenny, as well as myself and my family, feel a great pride in the Castle, and we have not liked to see this deterioration. We determined that it should not be allowed to fall into ruins. There are already too many ruins in Ireland."
---
---
Visiting Kilkenny Castle
Parts of the original castle survive but the majority seen today is part of the 19th century reconstruction efforts. Make sure to check out the Long Gallery, a dramatic room with painted ceilings and portraits of the Butler family as well as the Butler Gallery, a room filled with art and rotating exhibitions.
Guided tours of the castle are offered daily and are well worth the time! You can purchase tickets here.
If you like castles and want to visit some of the best castles in Ireland, also make sure to check out
The castle grounds are extensive and open to the public. If you like to run, why not join the free weekly 5k run? It's a timed run against the clock!
---
Enjoy visiting Kilkenny, Ireland! Let me know if there are any restaurants or sights you think I missed in the comments.
Visiting Ireland – Travel Checklist
Aer Lingus, the national Irish airline, offers non-stop flights from select US cities. Weirdly enough, on both departure and return flights we were passed over for meal service at every possible meal. Needless to say, we did not have the most pleasant flight or experience good customer service (then again, flying is never pleasant these days.)
Two reasons to recommend Aer Lingus: low fares, some non stop, from many US cities and their pre-clearance facilities. We found cheap flights to Ireland in October – you can check for flight deals and routes here.
When returning to the U.S., take advantage of the U.S. pre-clearance facilities at Dublin and Shannon airports, where you complete U.S. immigration, customs and agriculture controls before departure so that when you land in the U.S., you can just collect your bags.
I highly recommend staying at an Irish country house or family run hotel during your trip. Irish hospitality is truly something else. Check out Ireland's Blue Book for luxury, boutique accommodation with a focus on family-run properties and excellent food.
Lastly, be sure to visit Ireland with travel insurance. Whether you get injured and need to be hospitalized, or your phone gets stolen, or delayed flight leaves you with nothing but the clothes on your back, travel insurance will help when you need it most. Hurricane Ophelia hit Ireland smack in the middle of our road trip and nearly blew our mini rental car away! Get a quote for your trip here.
You Might Also Enjoy:
Ireland Vacation Planning Articles
Itinerary, Tips & Advice for How to Plan the Perfect Ireland Vacation
For Foodies: All the Best Food We Ate in Ireland
How to Master Driving in Ireland (as a tourist!)
7 Useful Tips for Renting a Car in Ireland
Packing Checklist: What to Wear in Ireland
Irish Sights, Activities & Tours We Especially Enjoyed:
7 Can't Miss Sights in Killarney
8 Reasons You'll Love Waterford, Ireland's Oldest City!
Mingle in Dingle: 5 Things to Do in this Quaint Fishing Village
Visiting the House of Waterford Crystal
Is Mount Congreve Ireland's Best Garden?
Exploring Kilkenny Castle, in photos
Restaurant & Hotel Reviews:
County Clare: Gregans Castle Hotel
County Galway: Rosleague Manor Hotel, Where to Stay in Galway
County Wexford: The Strand Inn
County Waterford: The Cliff House Hotel, The Reg Pub
Follow Sher She Goes on