The Best Things to Do in Waterford, Ireland
Explore Ireland's Oldest City and the Sunny Southeast!
Before visiting Ireland, I had no idea that the country had a checkered past due to a series of Viking and Norman invasions.
Ireland gets so much recognition for the beautiful stretch of coastline called the Wild Atlantic Way, but in my opinion I think Ireland's Ancient East deserves better recognition!
ADVERTISEMENT
We spent a couple days exploring the counties of Waterford and Wexford, learning about Ireland's history, sampling local cuisine and soaking in the sights.
If you like quaint fishing towns, enjoy museums and want to have your fill of incredible Irish seafood, add Waterford to your list!
Keep reading for the best things to do in Waterford, Ireland – once home to Vikings!
ADVERTISEMENT
---
---
Where to Stay in Waterford
For the best location right in the center of town, stay at Dooley's Hotel.
Rooms have great views over the harbor and prices are reasonable. It's conveniently located near lots of shopping and restaurants and about a ~10 minute walk from main sights like the Viking museum, Medieval Treasures museum and Waterford Crystal factory.
Book rooms: Booking.com, Hotels.com | Check prices: TripAdvisor
ADVERTISEMENT
---
---
County Waterford
Vikings from the North frequently launched raids on Ireland's southeastern coast and over time, Viking settlements and defense forts grew to form the town of Waterford. This city is actually the oldest in Ireland, pre-dating Dublin by 74 years!
For a deep dive into Waterford's Viking and Medieval past, you have to check out a trio of award winning museums (more on that below).
Read more:
Exploring Killarney, the Kingdom
ADVERTISEMENT
---
---
Ireland's Sunny South East
I mentioned in my Killarney post that each Irish county has it's own nickname and the southeast is affectionately called Ireland's Sunny Southeast!
Since this was the first town we visited after Killarney, I thought it was a bit of a joke at first, because it was hardly 'sunny'.
ADVERTISEMENT
---
---
It was only after we left and road tripped through Connemara and Galway that I realized the true extent of how dreary weather in Ireland can be. Something topographical about the southeastern coast does give Waterford and Wexford a bit more sunshine and clear days.
In comparison, it rained nonstop buckets in Connemara and had the most dramatic, foggy and gloomy feeling (in the best possible way). Definitely pack a waterproof jacket, umbrella and rain boots for your Ireland trip – you'll be miserable otherwise.
Read more:
A Handy Packing Guide for Ireland
ADVERTISEMENT
---
---
Best Things to Do in Waterford
Waterford developed around its seaport in 914 AD and pieces of the city's original walled defenses remain today.
Have a look at the outer wall guardhouse inside Reg's Pub! From historic city tours to modern day opulence, Waterford has lots to keep you occupied for at least 2 days.
I've listed some of the most popular points of interest below as well as some day trip options trips from the city.
1. Waterford Crystal
Waterford Crystal is known all over the world and their show stopper gallery is located right in downtown Waterford!
We took the museum tour to learn about how Waterford Crystal is made and it was a treat. At the end, you get to see some showstopper crystal pieces, from trophies to statues to accessories.
You can read my in-depth post here or book tickets online here.
ADVERTISEMENT
---
---
2. Waterford Treasures Museum
Waterford has some really unique museums.
First, there's the Waterford Museum of Treasures, dedicated to historical, medieval and religious artifacts associated with the city's history.
You can purchase a bundle pass to also visit the Bishop's Palace and the Viking Museum – all 3 are part of the Viking Triangle and collectively called the Medieval Mile Museums.
The Bishop's Palace is a beautiful period house while the Viking Museum was my favorite. We took a virtual reality experience to learn about Waterford's viking past which was so cool! I've never seen VR used quite so uniquely or effectively.
Book tickets here.
ADVERTISEMENT
---
---
3. Mount Congreve Gardens
County Wicklow is one of the most green sections of Ireland but County Waterford is home to Mount Congreve!
This stunning estate is known as one of the most stunning gardens in the world, with ~30 hectares of woodland, garden and flowers!
If possible, try to visit in Spring when everything is in bloom.
ADVERTISEMENT
---
---
4.
The Copper Coast
This stunning coast on Ireland's east is named after copper mines which dotted the landscape in the 19th century.
Today, there's beautiful beaches, coastal views, cliffs and even locally brewed beer! Stop at Dunmore East to try kayaking and water sports, Bonmahon to surf or Kilmurrin to take breathtaking pictures.
ADVERTISEMENT
---
---
5. Dunmore East
This quaint, pretty fishing village is popular with local Irish in the summertime.
With a harbor designated as one of Ireland's National Fishery Harbours, there are lots of fish caught here and luckily for visitors, great seafood to eat! You can also sail, golf, dive and deep sea fish.
From the best seafood in Ireland to quaint Irish inns and vibrant Bluegrass festivals, there's lots to do in Dunmore East.
ADVERTISEMENT
---
---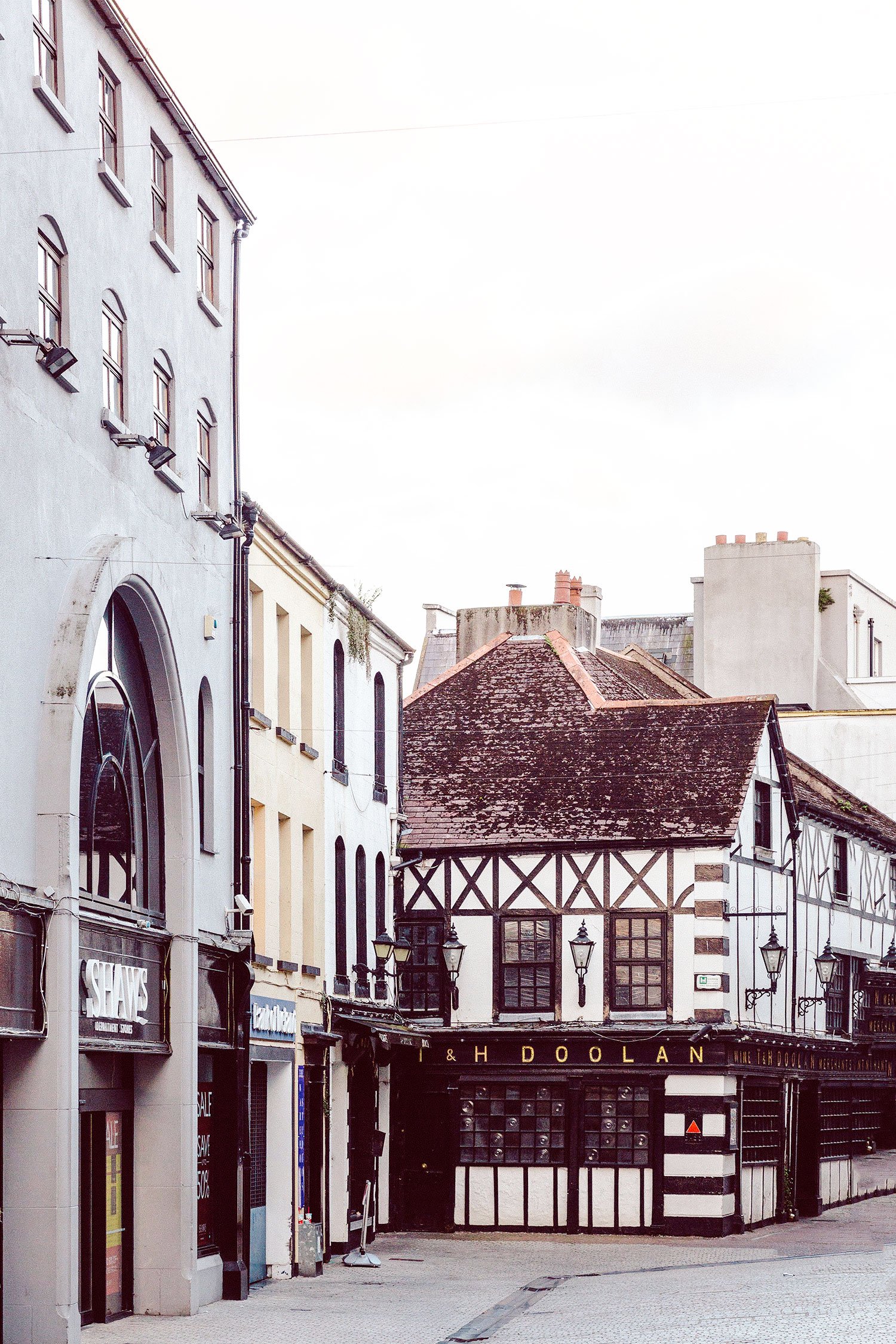 6. Ride a Car Ferry
Counties Waterford and Wexford are two coastal neighbors, both worth visiting. Because the tight Irish roads and curvy cliffs can take quite a while to drive through, try the cary ferry at Passage East Ballyhack!
If you've never taken a car ferry before, pop out and watch the slow, steady commute through the estuary.
ADVERTISEMENT
---
---
7. Waterford Greenway
An old railway line linking Waterford and Dungarvan has been rebuilt into a public greenway. For a classic view of Ireland's rolling hills, mountains and farmland, you can walk the 50km greenway, or rent a bicycle and cycle your way through.
Stop at Kilmeaden Station for a short rest and coffee break. During the holidays, this refurbished old fashion station pulls out all the stops – from spooky carriage rides during Halloween to Santa rides during Christmas.
We've also cycled the first greenway, in County Mayo! That one is also quite scenic and has a parallel Gourmet Greenway where you can sip and taste products from local artisan food makers along the way!
ADVERTISEMENT
---
---
8. The Blaa
Blaa bread may have a funny name but it also has an interesting history!
Although indigenous to Ireland today, this yeast roll is thought to have been brought over to Ireland by French Hugenots.
The actual recipe is protected under EU law (similar to how Champagne can only be called 'champagne' if from the region) so make sure to grab a slice of doughy, pale blaa bread during your time in Waterford!
We liked ours with a heaping pile of butter and a hearty Irish lunch! Or, you can opt for a blaa sandwich, say stuffed with beef and cheese. We tried ours over lunch at The Reg – the food here was so good I wrote a whole post about it!
ADVERTISEMENT
---
---
Enjoy visiting Waterford, Ireland! Let me know if there are any restaurants or sights you think I missed in the comments.
Essential Tips for Visiting Ireland
Getting In | Aer Lingus, the national Irish airline, offers non-stop flights from select US cities. Two reasons to recommend Aer Lingus: low nonstop fares from many US cities and their pre-clearance facilities. We found cheap flights to Ireland in October – you can check for flight deals and routes here.
When returning to the U.S., take advantage of the U.S. pre-clearance facilities at Dublin and Shannon airports, where you complete U.S. immigration, customs and agriculture controls before departure so that when you land in the U.S., you can just collect your bags.
Getting Around | If there's one thing I can recommend, it's to rent a car and drive around Ireland. Not only is the Wild Atlantic Way coastal route one of the world's most scenic drives, transportation in Ireland is a bit difficult without your own vehicle. We were nervous about driving on the left but ultimately renting a car was the best decision! Check car rental prices for your dates here.
Where to Stay | I highly recommend staying at an Irish country house during your trip. Irish hospitality is truly something else. For unique luxury accommodation check out out Ireland's Blue Book. Or, take advantage of Airbnb for a local experience!
Protect | Lastly, be sure to visit Ireland with travel insurance. Whether you get injured and need to be hospitalized, your phone gets stolen, or a flight delay leaves you with nothing but the clothes on your back, travel insurance will help when you need it most. Hurricane Ophelia hit the country smack in the middle of our road trip! Get a quote for your trip here.
You Might Also Enjoy:
Ireland Vacation Planning Articles
Ireland Travel Tips: Know Before You Go
The Most Beautiful Places in Ireland
How to Plan the Perfect Ireland Itinerary
Where to Stay: 10 Enchanting Irish Castle Hotels 
Packing Checklist: What to Wear in Ireland
For Foodies: All the Best Food We Ate in Ireland
Ireland Road Trips
The Best Stops on the Wild Atlantic Way (with map!)
7 Useful Tips for Renting a Car in Ireland
How to Master Driving in Ireland (as a tourist!)
Irish Sights, Activities & Tours We Especially Enjoyed:
Co Galway: Visiting Kylemore Abbey, Ireland's Most Beautiful Castle?
Co Kerry: Can't Miss Sights in Killarney & Dingle
Co Waterford: Waterford, Ireland's Oldest City, the House of Waterford Crystal & Mount Congreve Gardens
Co Wexford: Don't Skip Wexford - Here's Why!
Co Kilkenny: Exploring Kilkenny Castle, in photos
Restaurant & Hotels We Loved:
County Clare: Gregans Castle Hotel
County Galway: Rosleague Manor Hotel, Where to Stay in Galway
County Wexford: The Strand Inn
County Waterford: The Cliff House Hotel, The Reg Pub
Northern Ireland
Travel Guide: Belfast
Where to Stay in Belfast as a First Time Visitor
Follow me @Sher She Goes on