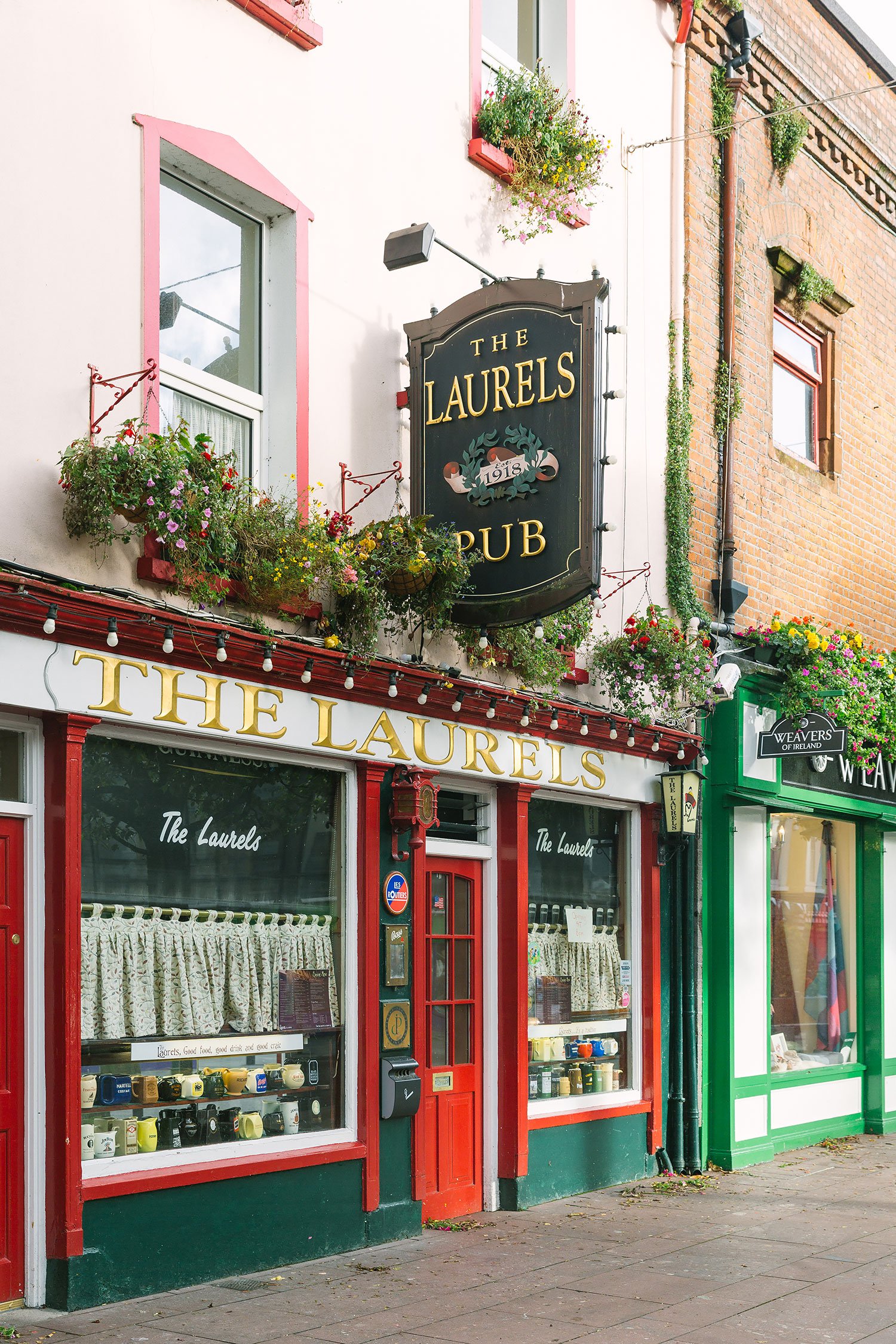 Killarney, Ireland
Ever since I returned from Ireland, I've been a little bit obsessed with all things Irish. You know you've really fallen in love with a place when you suddenly start seeking out everything that reminds you of it!
One of my favorite towns that I visited was Killarney.
ADVERTISEMENT
Killarney is a quaint town located in County Kerry, in the rural south of Ireland. The town is pretty famous on the 'tourist trail' of the Wild Atlantic Way due to its colorful 19th century buildings, beautiful national park and epic shopping.
In total, we spent 5 days in Killarney (although not consecutively).
The town is a great base for driving the Ring of Kerry and has so many scenic outdoor spots and luxurious indoor spots that you could happily cozy up here for a while!
Keep reading for the best things to do in Killarney and maybe you'll find yourself wanting to settle down in Ireland too!
ADVERTISEMENT
---
---
Visiting Killarney
Killarney is no stranger to tourism.
A forward thinking 18th century Lord welcomed travelers and visitors to the town. The addition of a railroad really opened up tourism to the area by providing an easy access route.
As I mentioned in this post, it can be quite difficult to get around Ireland if you're relying solely on public transport, and so despite the Killarney train station you'll still want to rent a car to really take advantage of Killarney's charm.
Read more:
Quick Tips to Master Driving on the Left
ADVERTISEMENT
---
---
Where to Stay in Killarney
Funny enough, Killarney has more hotel beds than number of people! Due to a large convention center and ample bed & breakfasts, this quaint Irish town sees 3x the number of visitors than locals.
Killarney was the first town we visited in Ireland (we flew into Cork and then took the local Eireann bus) and we were so pleasantly surprised by Irish hospitality.
First, there's the fact that most hotels include breakfast in the rate. We were expecting a cold continental breakfast like most American hotels but here, you have the option of both a hot breakfast and the cold buffet.
We were also really amused by the "Irish oatmeal" option which comes with a healthy dousing of Jameson.
Here are a couple hotel suggestions for where to stay in Killarney:
1 | The Killarney Royal – Right in the center of town, the Killarney Royal offers an unbeatable location, 4 star accommodation and friendly staff. We stayed here and loved that the boutique hotel was once a townhouse so every room is slightly different. In particular, the antique furnishings were quaint!
Book: Booking.com, Hotels.com | Check prices: TripAdvisor
2 | Old Weir Lodge – Old Weir Lodge is a family run Irish bed & breakfast with large, recently renovated rooms. The hotel is bright and airy, with charming staff and good sized rooms that can accommodate 3 or 4 (perfect for families).
On a different trip, we stayed here since Old Weir Lodge is located on Muck Ross Road, near the gorgeous Lakes and national park. Old Weir is a short 10 minute walk from Killarney's town center.
Book: Booking.com, Hotels.com | Check prices: TripAdvisor
3 | The Brehon – For pure luxury, stay at the Brehon hotel. Business travelers will appreciate The Brehon's proximity to the INEC Killarney convention center while weary travelers will love the opulence, gourmet dining and heavenly on-site spa. We had dinner here and the food + service are top notch!
Book: Booking.com, Hotels.com | Check prices: TripAdvisor
ADVERTISEMENT
---
---
County Kerry
Ireland is divided into counties, and one of the things I found amusing was how frequently people would refer to where they were from (ie. County Kerry, County Cork, etc.).
People from Counties Kerry and Dublin in particular, seem to have a healthy Gaelic football rivalry and since we used Kerry Coaches for a good portion of our trip to Ireland to guide us around, we heard the merits of both.
Our charming Tralee-based driver let us know Kerry is "the Kingdom" while our Dublin-based guide would retort that the capital was "God's Own Country".
ADVERTISEMENT
---
---
The Kingdom
Why is County Kerry nicknamed the Kingdom?
We heard various reasons – partly in reference to the Kingdom of Ciar, the founder of the O'Connor Kerry clan, and partly because County Kerry exemplifies what everyone imagines Ireland to be: lush, circled by dramatic coastline and dotted with rolling green mountains.
Perhaps also because County Kerry maintained its staunch Irish independence against the English the longest?
In any case, pop into an Irish pub and you'll quickly find friendly locals to ask the question yourself!
ADVERTISEMENT
---
---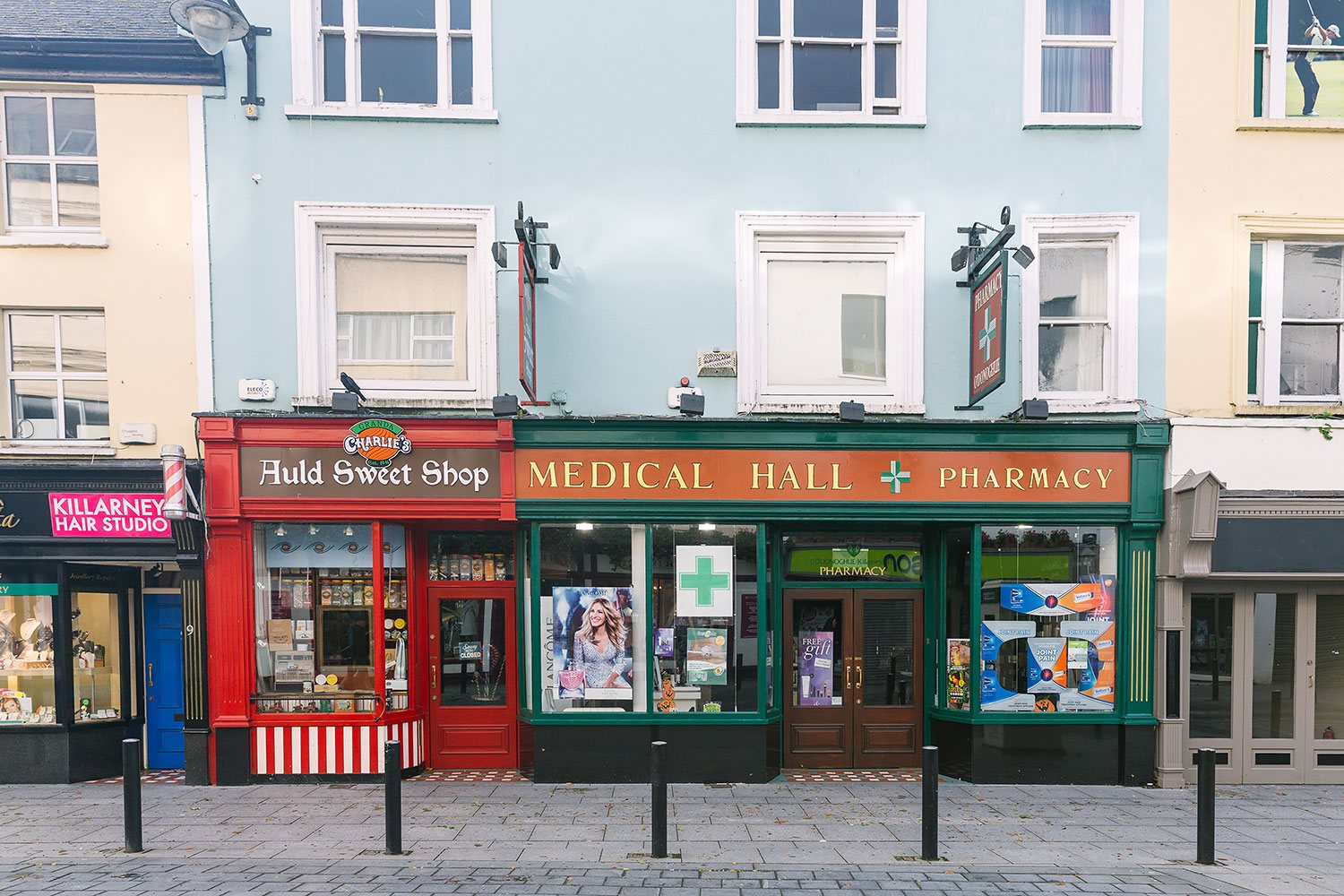 Best Things to Do in Killarney
Killarney is a quaint town within County Kerry with lots of interesting attractions and things to do, mostly of the outdoor variety. It's really one of the most beautiful places in Ireland – just cross your fingers for good weather!
On a clear day, the Killarney lakes are a brilliant blue, the hills are miles of green and its just a magical place to be. I've listed some of the most popular points of interest below as well as some day trip options trips from Killarney.
1. Killarney National Park
Killarney National Park was the first national park in Ireland, created when Muckross House was donated to the Irish Free State. (more on Muckross below).
The park is huge, with over 25,000 acres and I was surprised to find that you can actually drive through out. We spotted red deer, pulled over frequently to check out the lakes and views and also visited the major sights (Ross Castle, Muckross House, Torc Waterfall).
The park is very family friendly. You can rent kayaks and row on the lakes, take a horse and buggy carriage ride for a leisurely view of the sights and see a beautiful waterfall (Torc Waterfall).
Climb Cardiac Hill for an epic view and tough workout, or just take in a more leisurely panoramic view at Ladies View.
---
2. Muckross House
Muckross House was built in 1843 and sits on a small peninsula on Killarney's Lakes.
It's a magnificent Tudor style mansion with beautiful landscaped grounds and 65 rooms. You can take a guided tour of the interior or simply enjoy the magnificent architecture and gardens.
ADVERTISEMENT
---
---
3. The Ring of Kerry
The Ring of Kerry is a popular scenic drive around the Iveragh Peninsula and is the perfect 1/2 day to full day activity for those who have rented a car in Ireland.
You'll see epic views of both the ocean and mountains along the way and it's a circular drive, so it makes for a good day trip. It's also a popular tour, so tour buses will drive counter clockwise.
If you prefer to avoid the crowd you can drive clockwise – I particularly liked seeing the town of Kenmare (very similar to Killarney), the faery sculpture garden at Sneem, the beach at Glenbeigh. Just be prepared to pass the tour buses on narrow roads.
If you like nature and history, check out Skellig Michael, the Beehive Cells, Bog Village and the Dunloe Ogham Stones.
ADVERTISEMENT
---
---
4. Explore Killarney Lakes
The three lakes of Killarney (Lough Leane, Muckross Lake and Upper Lake) sit in a low valley surrounded by mountains and are incredibly beautiful.
Part of what makes them so beautiful are the rugged mountains that surround them.
If you're lucky, you might spot some local fishermen in the lakes fishing. It's fascinating watching them sling the fishing line back and forth like a lasso!
One of the most popular things that locals like to do is take a peaceful weekend getaway to the Killarney countryside. Nestled around the Killarney Lakes are several luxury hotels, known for their beautiful views, great dining and relaxing spa treatments.
Here's a list of the best lakeside hotels in Killarney that our Irish friends recommended to us:
ADVERTISEMENT
---
---
5. Relax in Killarney's Best Spas
After all that activity, there's no better way to relax than with a spa day at the sumptuous Brehon hotel. Their Angsana Spa offers a variety of Oriental massages so if you're like me and you love a deep tissue massage that will really work out the kinks, this is the place for you.
Each therapist is professionally trained at The Banyan Tree Spa in Phuket, Thailand so they really know what they're doing.
I pretty much always have tension in my back, compounded by my terrible office set up at the moment, so I opted for the Signature Angsana 90 minute treatment.
While I certainly don't want a painful massage, I wanted the masseuse to really get into my pressure points and relieve all the muscle tension.
She was great! I felt incredibly relaxed afterwards and enjoyed every minute.
If you prefer a soft treatment, say with warm oil to relax, you can try the Dreams massage. The Angsana Spa at the Brehon has a whole host of great treatments!
ADVERTISEMENT
---
---
6. Day Trip to Derrynane & Caherdaniel
And finally, I highly recommend a day trip to the coast! Check out quintessentially Irish towns like Derrynane and Caherdaniel.
There's a beautiful long stretch of coastline at Derrynane Beach, some fun pubs with live, traditional Irish music (try the Blind Piper) as well as fantastic restaurants.
Adventurous travelers might want to try diving, rock climbing or hiking out here.
We also visited Derrynane House, home to Daniel O'Connell, one of the foremost figures in Irish history dedicated to the Irish Republic cause.
I think out of all the beautiful landscapes in Ireland, Derrynane had the most diverse and scenic views.
ADVERTISEMENT
---
---
7. Food & Shopping in Killarney
There's lots of shops and pubs in Killarney! Whether you want to pick up some classic Irish sweaters, listen to live music or just have a wander among the restaurants and pubs, Killarney is great fun. Here were some local stops that we really enjoyed:
Killarney Brewing Co for local craft brews and excellent oven fire pizzas. Stop by for a brewery tour!
Quinlans for anything seafood! Try the buttery hot crab claws and fish & chips.
J.M. Reidys is a coffee shop by day and Irish pub by night. The cocktails are fab!
Murphys Ice Cream is a Dingle-based dessert shop with fun flavors.
My complete list of Irish food, restaurants and & must eats is here.
ADVERTISEMENT
---
---
Enjoy visiting Killarney! Let me know if there are any restaurants or sights you think I missed in the comments.
Essential Tips for Visiting Ireland
Getting In | Aer Lingus, the national Irish airline, offers non-stop flights from select US cities. Two reasons to recommend Aer Lingus: low nonstop fares from many US cities and their pre-clearance facilities. We found cheap flights to Ireland in October – you can check for flight deals and routes here.
When returning to the U.S., take advantage of the U.S. pre-clearance facilities at Dublin and Shannon airports, where you complete U.S. immigration, customs and agriculture controls before departure so that when you land in the U.S., you can just collect your bags.
Getting Around | If there's one thing I can recommend, it's to rent a car and drive around Ireland. Not only is the Wild Atlantic Way coastal route one of the world's most scenic drives, transportation in Ireland is a bit difficult without your own vehicle. We were nervous about driving on the left but ultimately renting a car was the best decision! Check car rental prices for your dates here.
Where to Stay | I highly recommend staying at an Irish country house during your trip. Irish hospitality is truly something else. For unique luxury accommodation check out out Ireland's Blue Book. Or, take advantage of Airbnb for a local experience!
Protect | Lastly, be sure to visit Ireland with travel insurance. Whether you get injured and need to be hospitalized, your phone gets stolen, or a flight delay leaves you with nothing but the clothes on your back, travel insurance will help when you need it most. Hurricane Ophelia hit the country smack in the middle of our road trip! Get a quote for your trip here.
You Might Also Enjoy:
Ireland Vacation Planning Articles
Ireland Travel Tips: Know Before You Go
The Most Beautiful Places in Ireland
How to Plan the Perfect Ireland Itinerary
Where to Stay: 10 Enchanting Irish Castle Hotels 
Packing Checklist: What to Wear in Ireland
For Foodies: All the Best Food We Ate in Ireland
Ireland Road Trips
The Best Stops on the Wild Atlantic Way (with map!)
7 Useful Tips for Renting a Car in Ireland
How to Master Driving in Ireland (as a tourist!)
Irish Sights, Activities & Tours We Especially Enjoyed:
Co Galway: Visiting Kylemore Abbey, Ireland's Most Beautiful Castle?
Co Kerry: Can't Miss Sights in Killarney & Dingle
Co Waterford: Waterford, Ireland's Oldest City, the House of Waterford Crystal & Mount Congreve Gardens
Co Wexford: Don't Skip Wexford - Here's Why!
Co Kilkenny: Exploring Kilkenny Castle, in photos
Restaurant & Hotels We Loved:
County Clare: Gregans Castle Hotel
County Galway: Rosleague Manor Hotel, Where to Stay in Galway
County Wexford: The Strand Inn
County Waterford: The Cliff House Hotel, The Reg Pub
Northern Ireland
Travel Guide: Belfast
Where to Stay in Belfast as a First Time Visitor
Follow me @Sher She Goes on