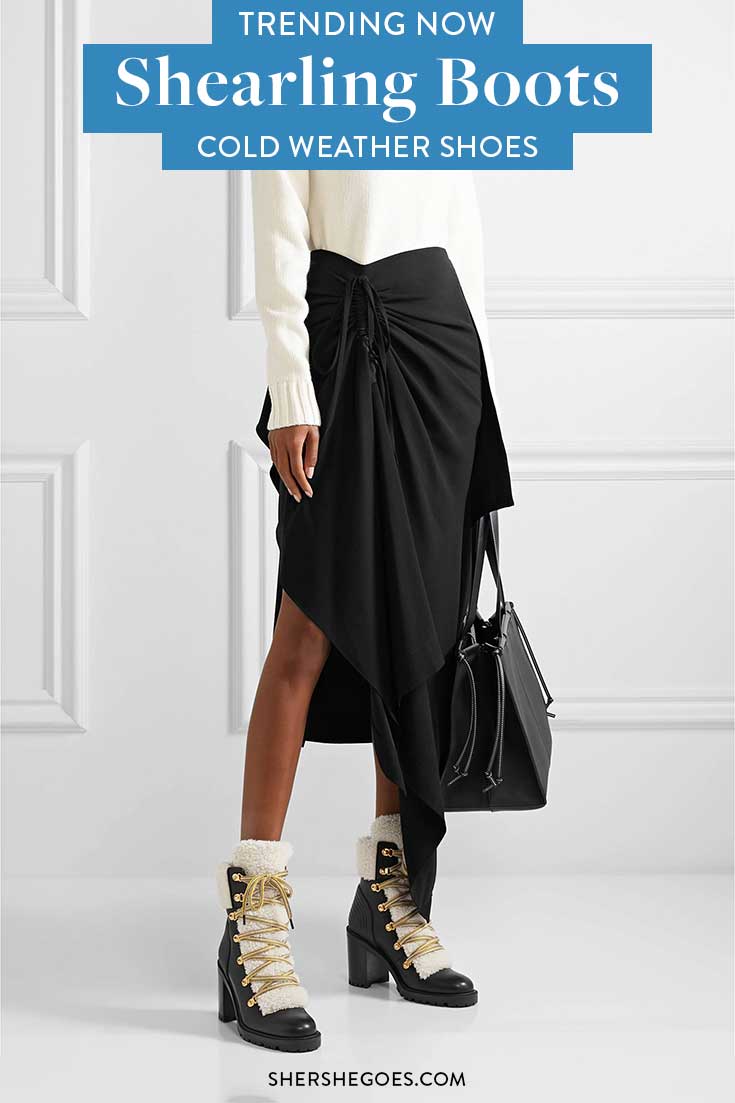 Thank you to Zappos for sponsoring this post.
Best Shearling Boots
Chances are you've probably heard of shearling.
Heck, you probably recognize it the minute you see it. But do you really know what makes shearling, well, shearling?
The detailed processing requirements behind shearling surprised me, and they may surprise you, too!
Basically, shearling is recently shorn sheepskin that is tanned, dyed, and processed with the original wool still attached. This last component is critical, as the attached wool preserves the breathable, durable, and odor-resistant properties of authentic shearling.
Now that we've got the boring definitions out of the way, let's highlight what actually matters, which is that shearling boots are winter wardrobe essentials, no questions asked.
The natural shearling fibers not only keep your feet warm and dry, but its durability means your boots can last for multiple brutal winters! Oh, and shearling boots are also incredibly cute.
If you're still feeling sheepish, keep reading for the best 4 shearling boots to tackle this winter!
ADVERTISEMENT
Keep reading, or pin this article to save it for later ⇟
The Best Shearling Lined Boots
Check out the shearling boots that are so hot they will melt the frigid winter away!
The Best Shearling Boots Brands
ADVERTISEMENT
---
---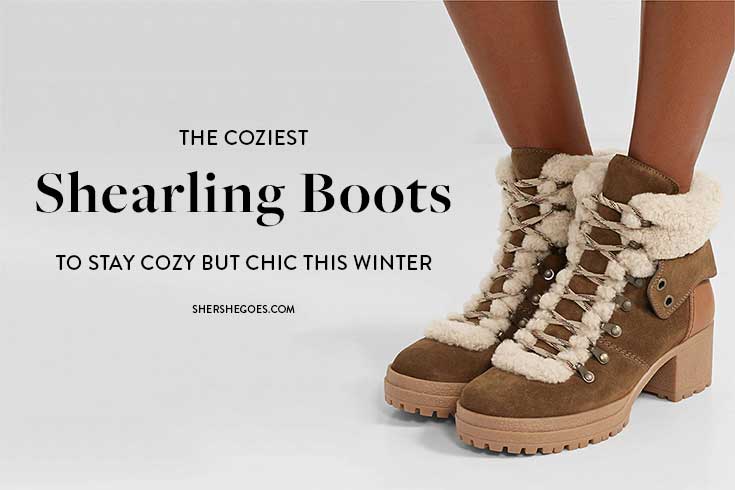 Top Shearling Boots for Women
Most Comfortable Shearling Boots: UGG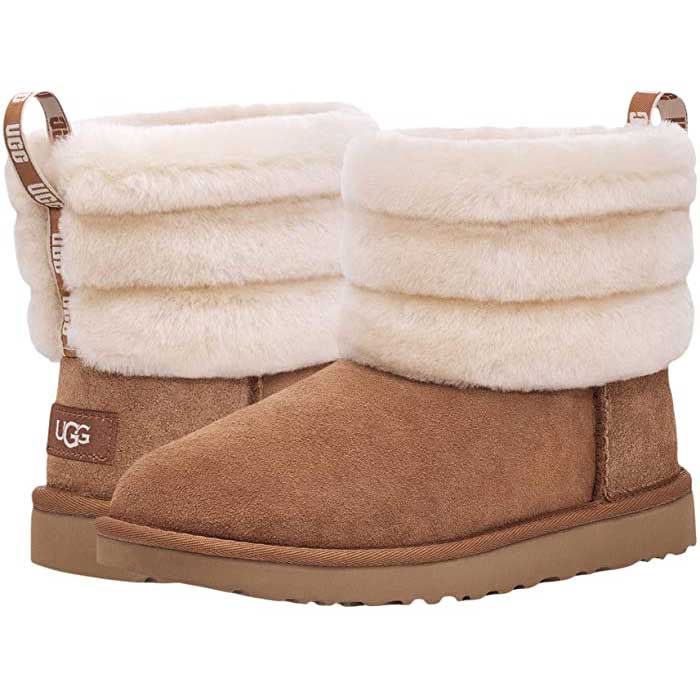 Casual enough for athleisure outfits yet cute enough to wear while braving the cold for weekends out on the town, the UGG shearling boots are a ridiculously plush introduction to shearling's wonders.
What I love most about these UGG boots – besides the brand's quintessential durability and performance – is that they use shearling in multiple ways.
While the exaggerated cuff is clearly shearling-lined for ample warmth and comfort, these boots also include a shearling sock liner that naturally wicks moisture and keeps your feet dry!
ADVERTISEMENT
---
---
Best Luxury Shearling Boots: Marc Fisher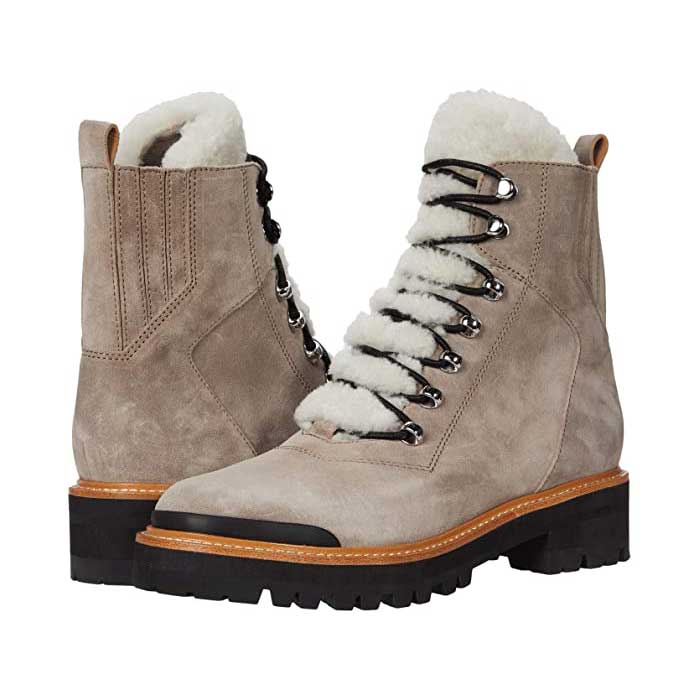 Shearling is merely one luxury component among many found throughout these winter boots from Marc Fisher.
A reinforced rubber round toe and strong metal lace clasps provide rugged durability, while the suede calfskin leather upper and generous shearling lining offer consistent warmth and style!
ADVERTISEMENT
---
---
Best Waterproof Shearling Boots: Sorel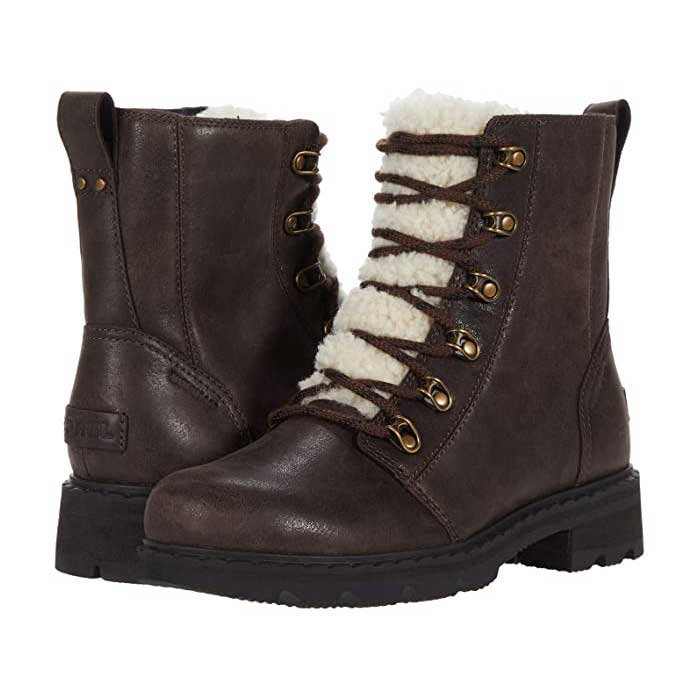 Whether I'm getting dressed for a summer block party or a 3 block walk to the drugstore in a torrential blizzard, I always try my best to look cute.
The harsh reality of winter, however, is that performance and comfort (probably) matters more than style and having a completely coordinated outfit.
These winter boots from Sorel may lack chic accoutrements, but they can definitely withstand even the cruelest winters.
Made with completely waterproof leather and an extremely durable molded rubber outsole, the Sorel boots use shearling throughout the lining and tongue for the extra insulation that will make you incredibly grateful come the darkest days of winter!
ADVERTISEMENT
---
---
Softest Shearling Boots: Minnetonka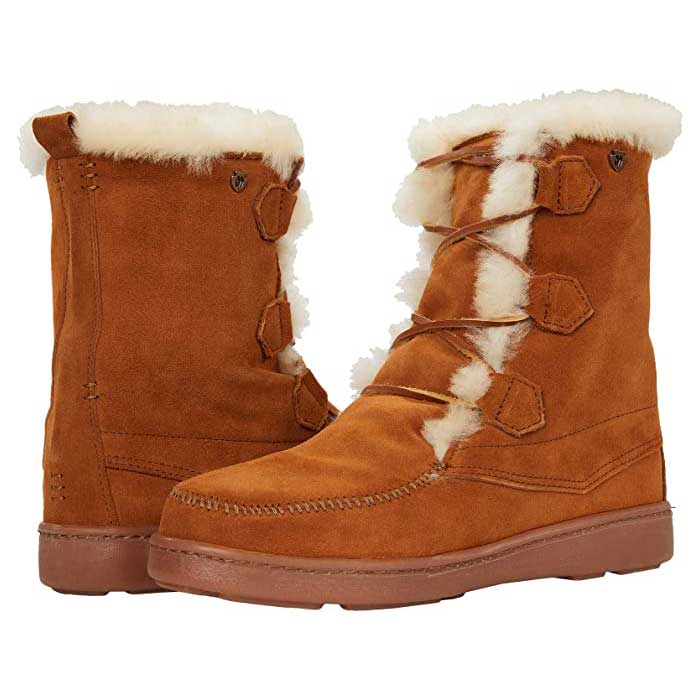 These Minnetonka winter boots deviate from the typical formula by crafting the upper from suede rather than leather.
As with all choices, there are trade-offs to choosing suede over leather with no "right" or "Ideal" fabric. Big picture? Suede is typically softer and more comfortable – but less durable – than leather.
If you like the softer touch, however, the Minnetonka boots feature a cute shearling trim that perfectly complements the naturally soft suede upper!
ADVERTISEMENT
---
---
Shop Shearling Shoes
---

ADVERTISEMENT
---
---
Read More in my favorite Comfy Shoe series:
Most Comfortable Shoes
The Most Comfortable Flats EVER
The Most Comfortable Sandals for Summer
The Most Comfortable Boots for Winter
The Most Comfortable Heels (you can actually walk in)
Best Sneakers
The Best White Sneakers that Go with EVERYTHING
Cute Casual Sneakers to Wear Anywhere
Best Boots
The Best Chelsea Boots to Wear All Year Round
The Best Lace Up Boots for Military Inspired Chic
The Best Over the Knee Boots that Make a Statement!
The Best Shearling Boots to Stay Cozy this Winter
The Best Black Combat Boots That Go with Everything
Cozy At Home Shoes
The Best Mules for Easy Slip on Style
The Best Loafers to Look Polished but Stay Comfy
Shoe Reviews
The Best Travel Shoes in Every Style - Sneakers, Slip Ons, Flats & Sandals
Everlane Flats - These 5 Pairs are Extra Comfortable
OluKai Shoes: Sneaker & Sandal Review
Where to Get Stuart Weitzman Boots on Sale
Designer Inspired
The Best Cap Toe Ballet Flats to Get the Chanel Look, for Less
Classic Chanel Inspired Slingbacks (Two Toned)
The Best Chanel Inspired Espadrilles to Rock All Summer
The Best Manolo Blahnik Lookalikes
The Best Over the Knee Boots that Rival Stuart Weitzman Lowlands!
Follow Sher She Goes on