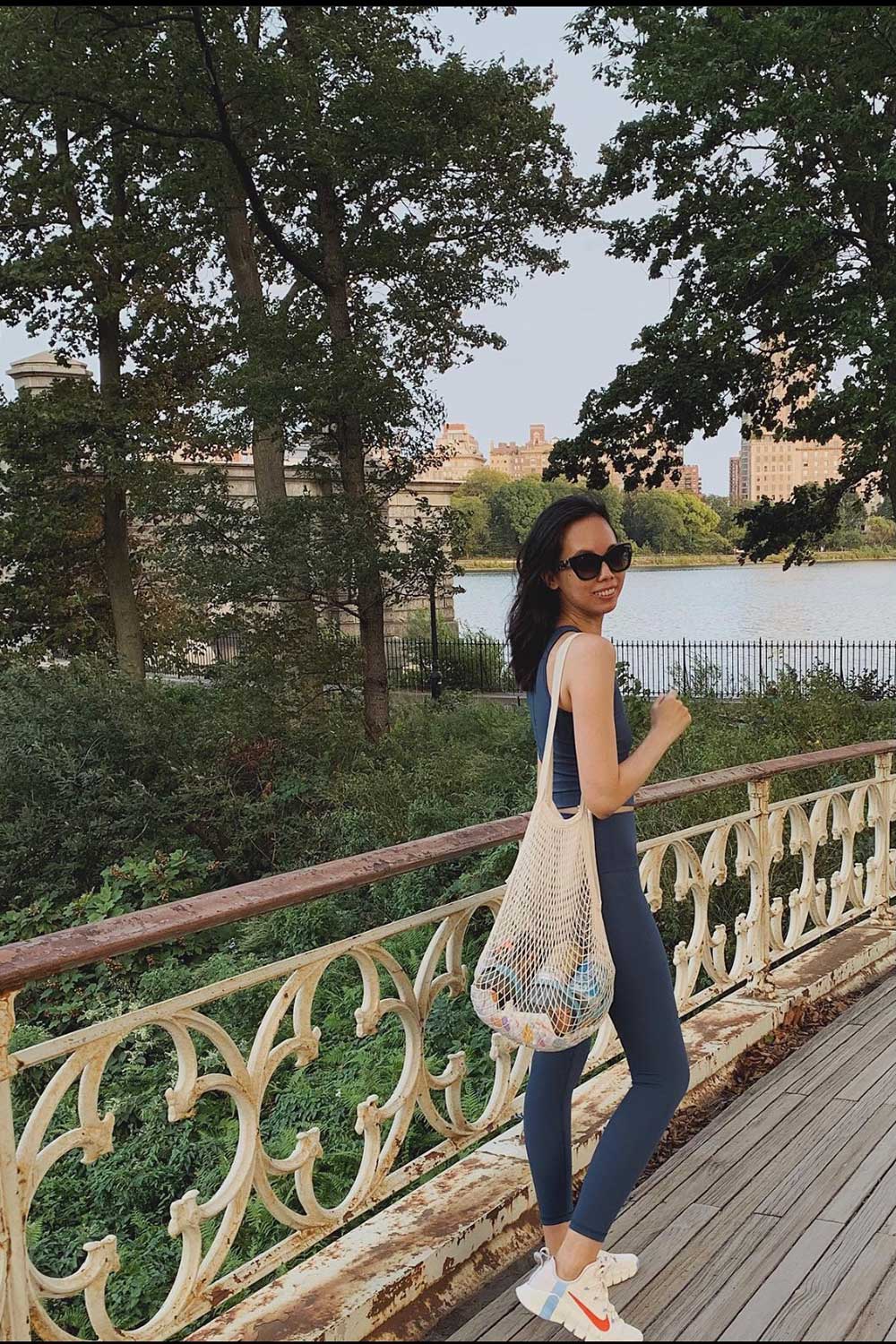 Everlane Leggings
When it comes to fitness I'm an all or nothing kind of person.
I either work out consistently 3-5 times a week… or I go 4 years without raising my heart beat once. With the current quarantine / stay at home situation, I've been channeling all my nervous energy into fitness and somehow managed to work out every day this month.
So I guess I'm back on the bandwagon?
With all that working out comes the need for cute work out clothes. Well, technically I've been working out at home so no one can see me… but I like the extra motivation that comes with buying cute activewear.
My latest find is the Everlane perform legging. Everlane has traditionally focused on basics and classic wardrobe staples so I was curious as to how their new fitness line would compare.
Here's my quick review of the Everlane leggings and how they compare to more traditional + expensive workout brands!
Pin this post to read later ⇟
ADVERTISEMENT
---
---
Everlane Leggings Review
Everlane released its first legging almost exactly a year ago, in early 2020.
In keeping with the brand's sustainable basics angle, the Perform Legging is made from 58% recycled material and features a minimalist design. The leggings are available in a rainbow of muted colors and their newest version has a side pocket.
Plus, you can choose from two inseam lengths (regular or ankle). I went for the black at first, but liked them so much I got a couple others.
Here's how they look on:
Everlane Perform Legging
in Aegean Blue (ankle length)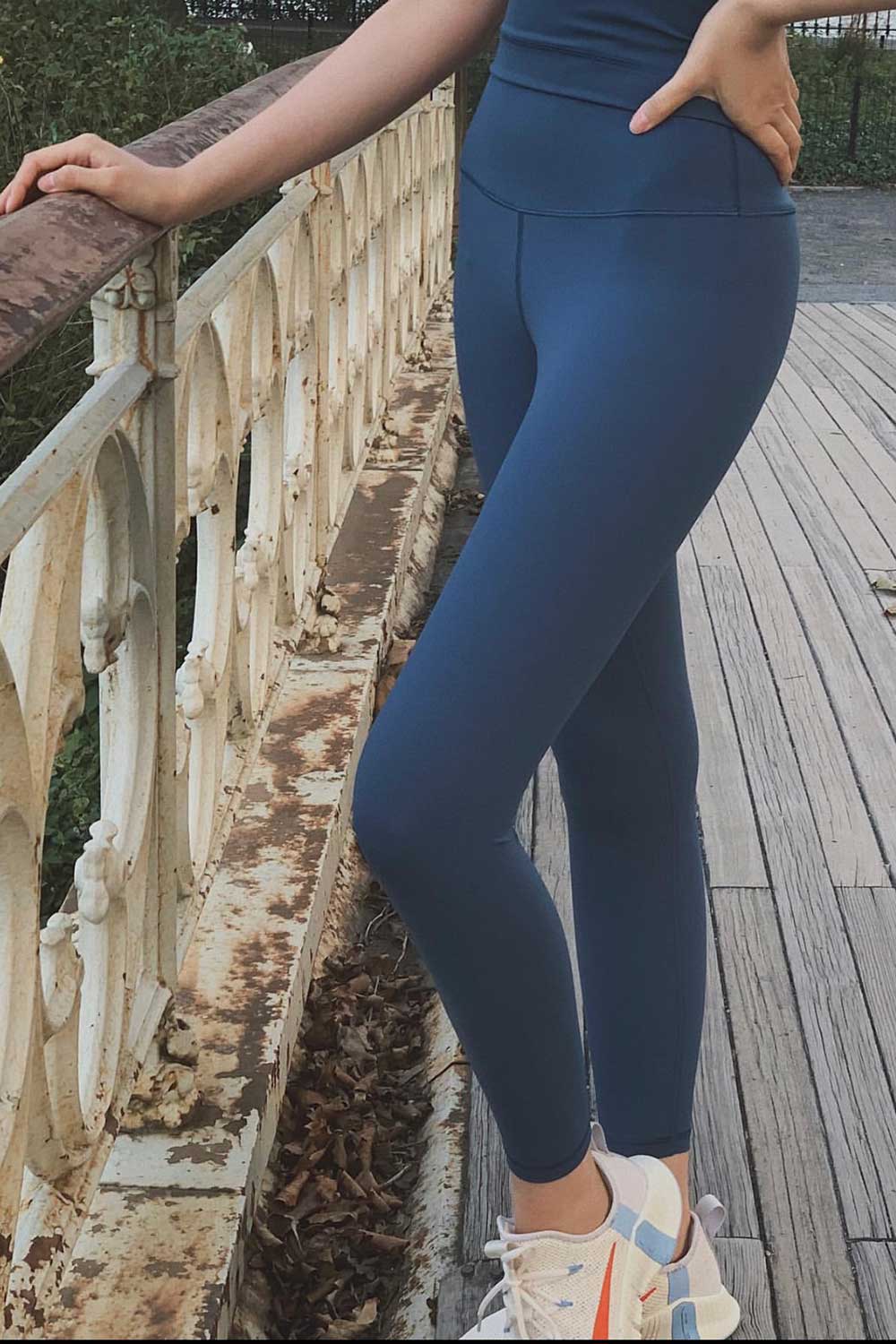 These are high waisted thin leggings in a silky-to-the-touch fabric.
They feel like a second skin and are really comfortable to wear, just around the house or to work out in. I especially like the simple design – there aren't visible seams, logos or mesh that scream 'workout wear'.
Everlane claims these 'do it all' and I'd have to agree. They've become my go to pair and look great with an oversized sweater and knee high boots too!
Shop Perform Leggings (4 colors, 2 lengths)
ADVERTISEMENT
---
---
Everlane Perform Tank
in Aegean Blue, size xs
I love a good matching set, so when Everlane launched the matching Perform tanks, I opted for this pretty blue color.
I should have sized up – Everlane activewear is pretty tight to the body and I prefer a more loose fit. But the together, the matching tank and leggings set is really cute!
I like that the tank is designed with a high neckline and that the sleeves aren't cut too narrow. The length is slightly cropped, but since the Perform leggings are high waisted, you don't end up showing too much of your stomach (unless you want to)
Finally, the tank comes with a shelf bra lining!
Shop Perform Tank (5 colors)
ADVERTISEMENT
---
---
Everlane Perform Bra
in Black, size xs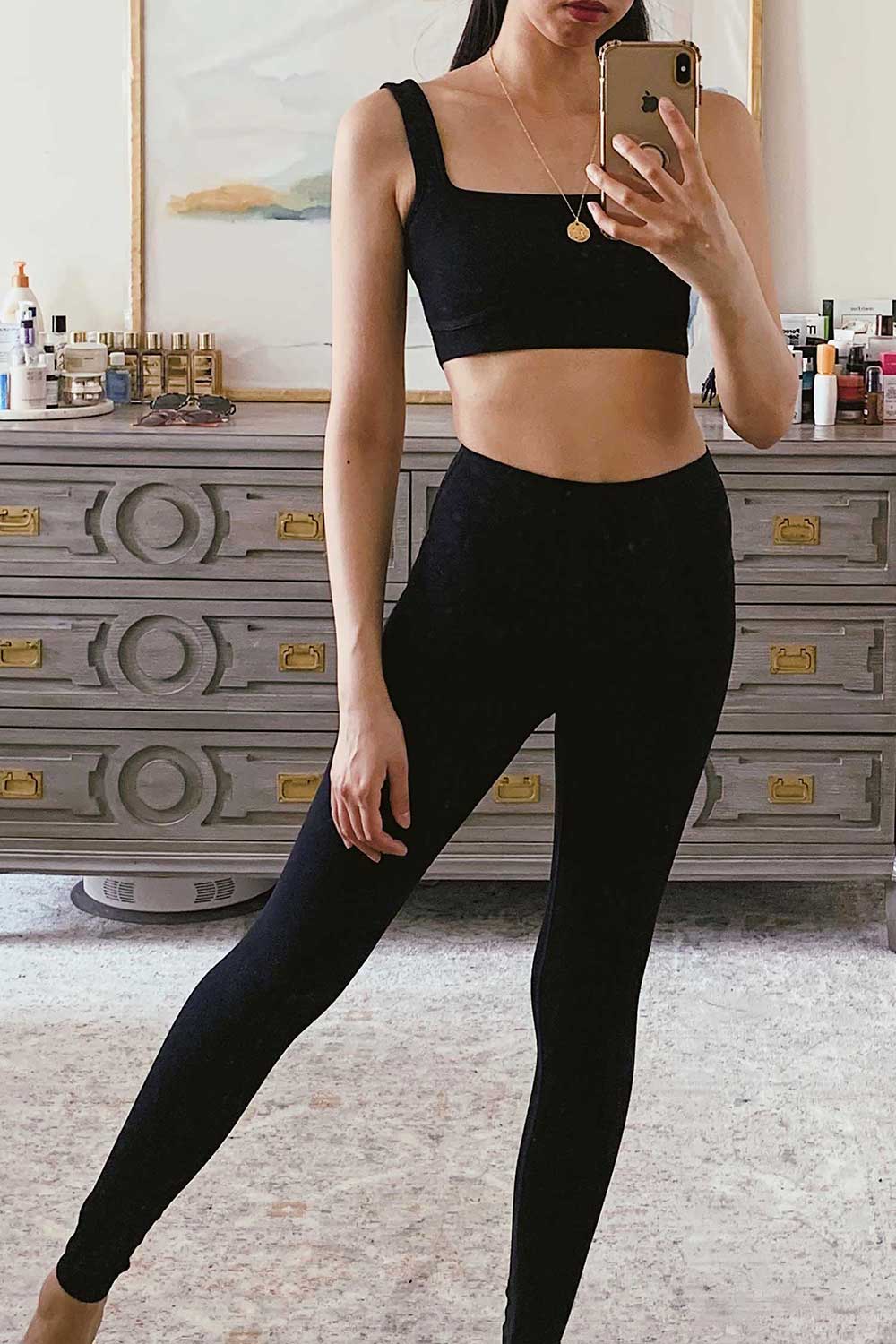 For lounging around or doing at home workouts, I love the Perform Bra. It's made from a sleek nylon performance fabric that's partly recycled and the front is double layered so you dont' show anything through the fabric.
I find the bra very comfortable to wear and for me, it's supportive enough for pilates or even HIIT workouts. But if you have a larger chest and need extra support, it might not be enough for you..
Overall, super comfortable! I especially like how lightweight and comfortable the fabric is.
Shop Perform Bra (4 colors)
ADVERTISEMENT
---
---
Everlane Perform Bike Short
in Black, size xs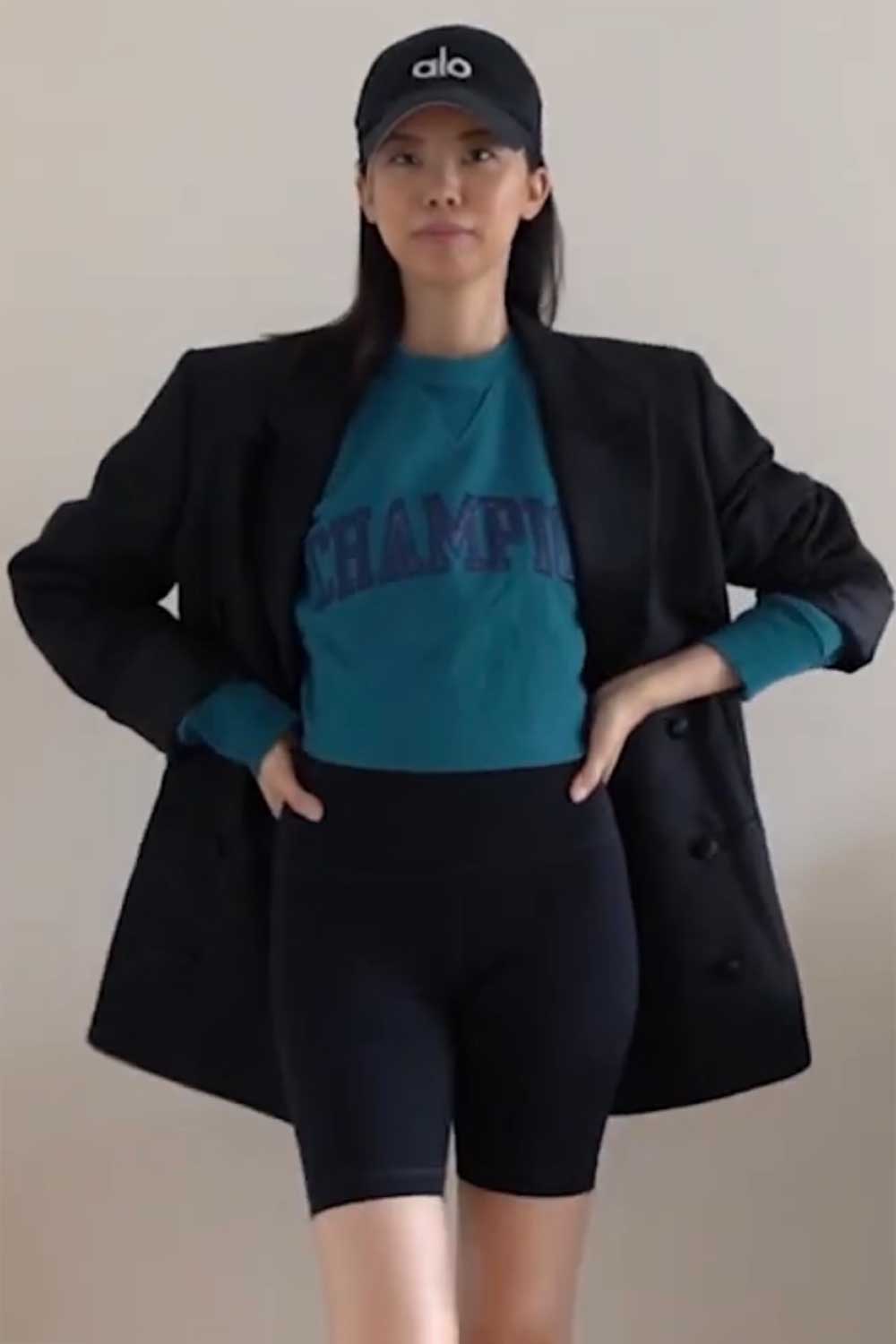 Bike shorts have been all the rage for several years now.
I wasn't sure what to think of the trend… so I picked up the Everlane Bike Shorts to try out.
These are made from the same premium performance fabric as the Everlane Perform Leggings. They're extra high waisted, with minimal seams, so they transition perfectly from workout to casual wear.
These bike shorts also have that lightweight compression to suck you in, in all the right places, as well as that sweat-wicking technical fabric that keeps you nice and dry.
Overall the quality is great! I've had these for a year now and they still look like new after many washings. I'm just not so sure bike shorts are for me..
Shop Perform Bike Short (3 colors)
ADVERTISEMENT
---
---
The Perform Fabric
Everlane's activewear line is all made from the same fabric.
The recycled nylon performance fabric is on the thin side, which personally I prefer. It's especially great for off duty wear and summer workouts.
The technical fabric is buttery smooth and almost slick like silk. What I like is they don't feel like the kind of fabric that will pill on the butt. I've purchased much more expensive black active wear that has quickly pilled in the wash and that's a huge pet peeve of mine.
There's also a slight compression effect to all the Everlane Perform items. It's not enough to dramatically suck you in, but enough to smooth you out and the waistband of the leggings always stays firmly in place.
Overall, the Perform leggings would be perfect for pilates, yoga, dance cardio and LISS workouts.
ADVERTISEMENT
---
---
Sizing
I made the mistake of buying too tight leggings once (they were Lululemon and on sale, haha) and so I always size up when buying workout wear.
I sized up for these Everlane leggings in the regular inseam and found them to fit perfectly – for reference I'm about 5 feet 7 inches.
See Through Test
I have the black color and these definitely pass the see through test. Totally OK squatting in these!
ADVERTISEMENT
---
---
Cons
If there's one thing I'd change, it's the pocket.
On the inside of the waistband there's a horizontal pocket. I find the placement of the opening really odd – it hits near my hip bone and has a vertical opening.
Have you tried Everlane activewear? What do you think?
Shop Everlane Activewear
---

ADVERTISEMENT
---
---
Read More: Everlane reviews:
Everlane Reviews
Everlane Brand Review: Hits, Misses & Favorite Pieces
Everlane Flats - These 5 Pairs are Extra Comfortable
Everlane Denim: Thoughts on 3 of the Brand's Best Selling Jeans
Everlane Cashmere: Is It Worth It? (with Outfit Photos)
How do the Everlane Leggings Perform?
Everlane Underwear Review: Bra & Bralettes
Everlane Bodysuits: Reviewing a Wardrobe Staple
Everlane Outfits
10 Work from Home Outfits, featuring Everlane
Everlane Choose What You Pay Sale - Spring Try On Haul
Everlane Try On Haul Videos
Everlane Summer Basics Try On
Follow me @Sher She Goes on