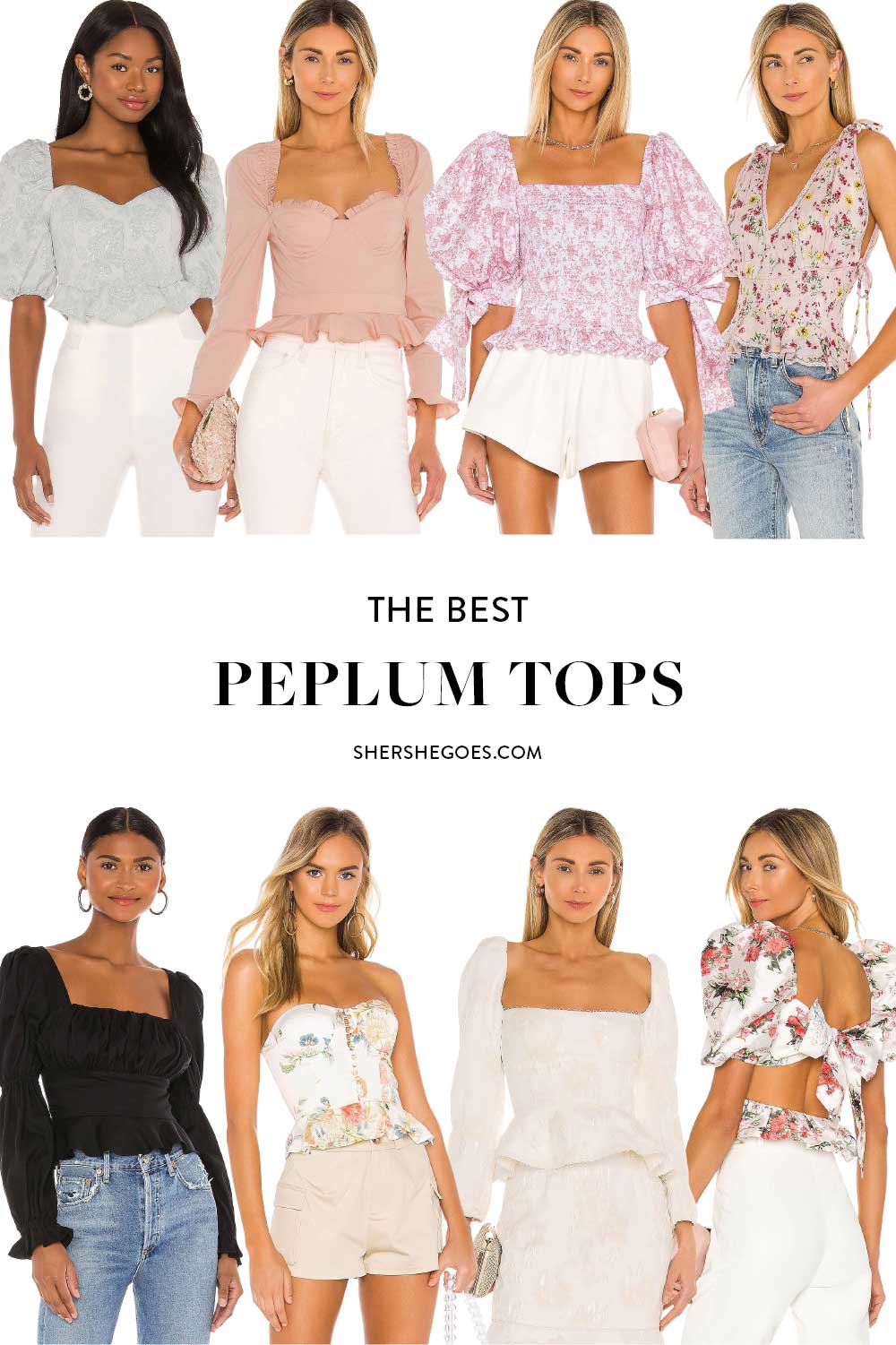 Peplum Tops
I live about as far a lifestyle from the countryside as you can get… but even I'm just a little bit obsessed with Cottagecore.
I mean, let's think about it – would a simple, sustainable existence be so bad?
Actually, don't answer that..
I'll stick to prancing around in romantic blouses and carry a straw basket.. and keep my creature comforts in NYC. Attempting to maintain even a basic sourdough starter was more than I could handle!
For the cute cottage look without the hardship, try pretty feminine florals and peasant-y puff sleeve dresses and tops.
Here are our favorite peplum tops to try the look (if not the lifestyle!)
ADVERTISEMENT
Keep reading, or pin this article to save it for later ⇟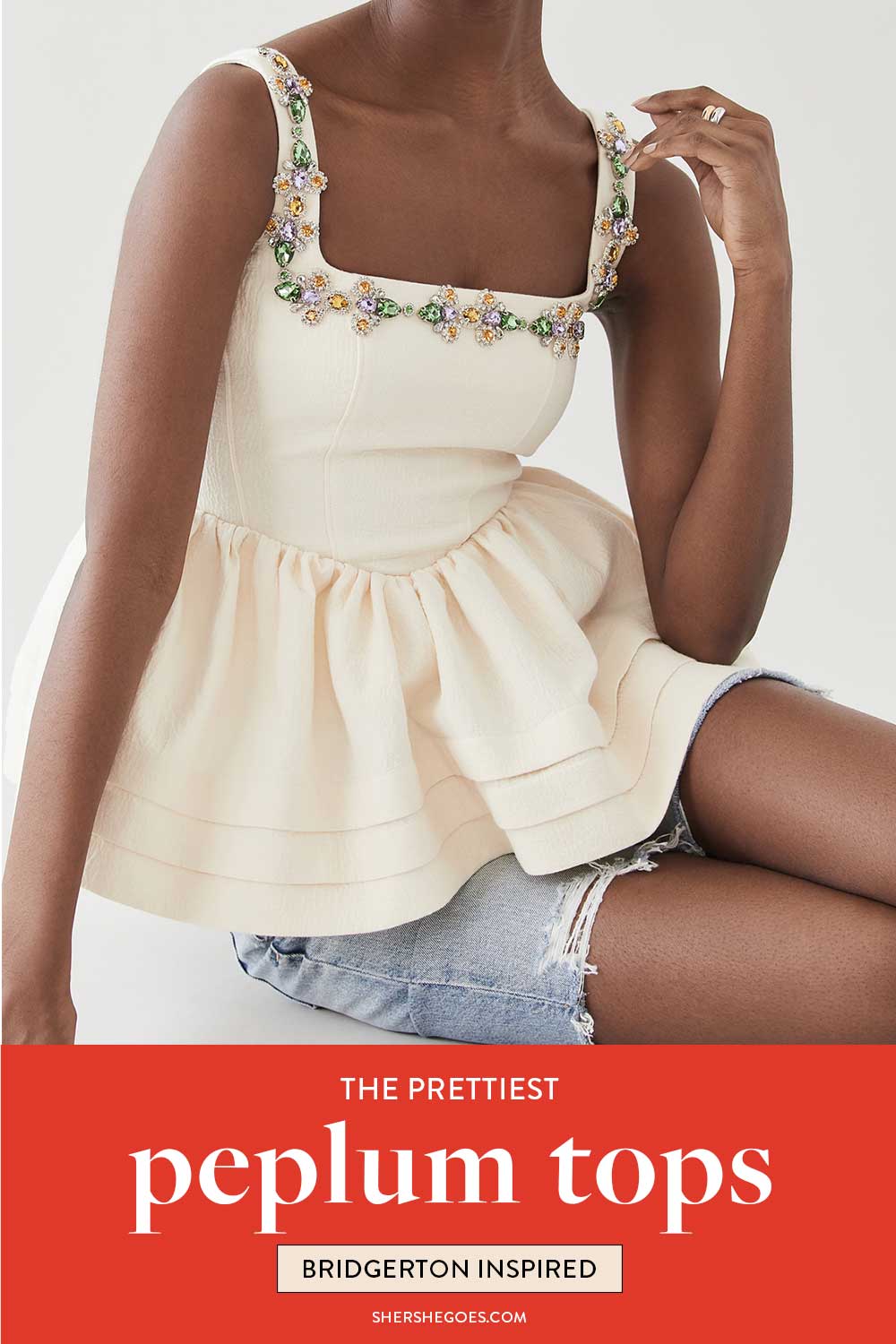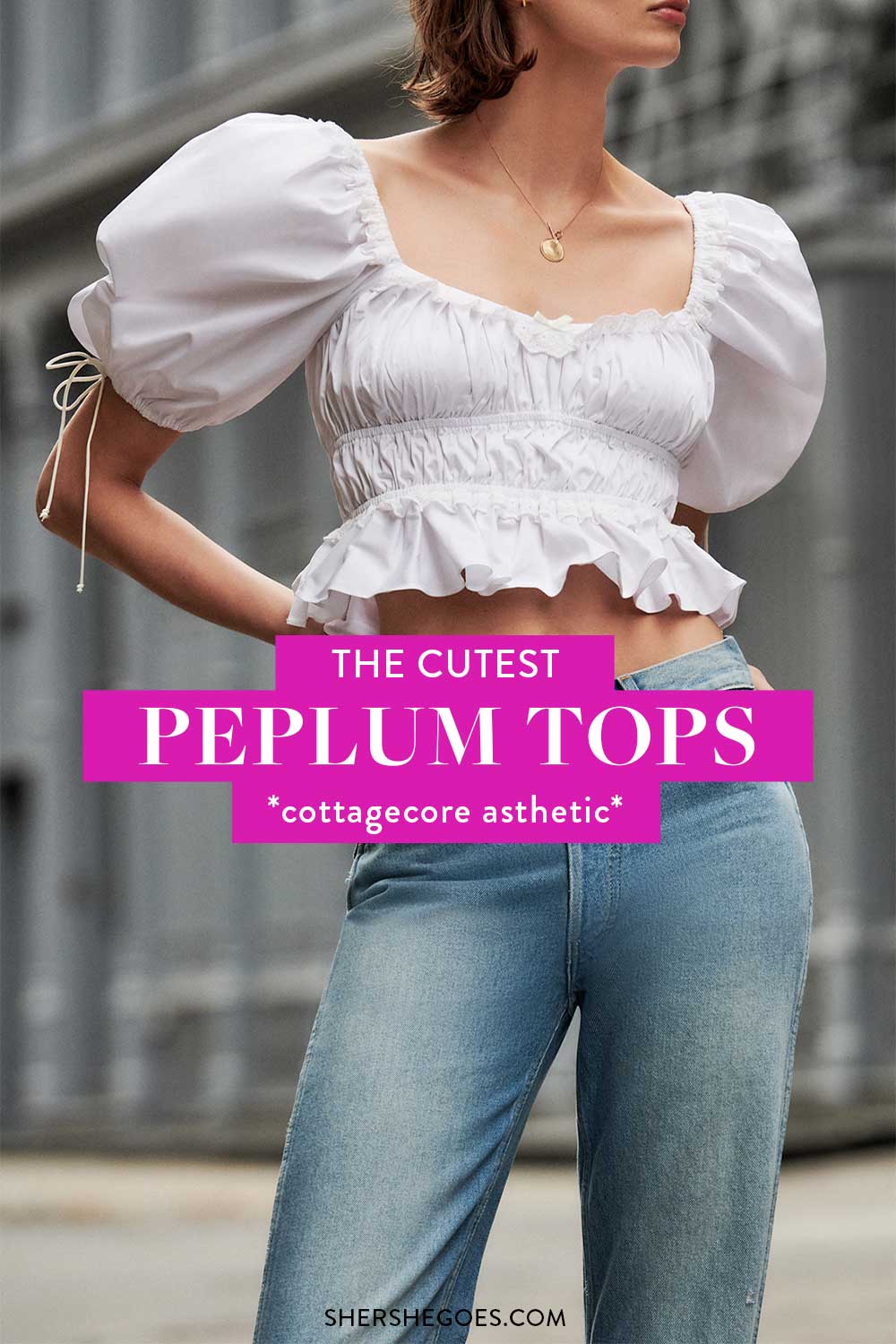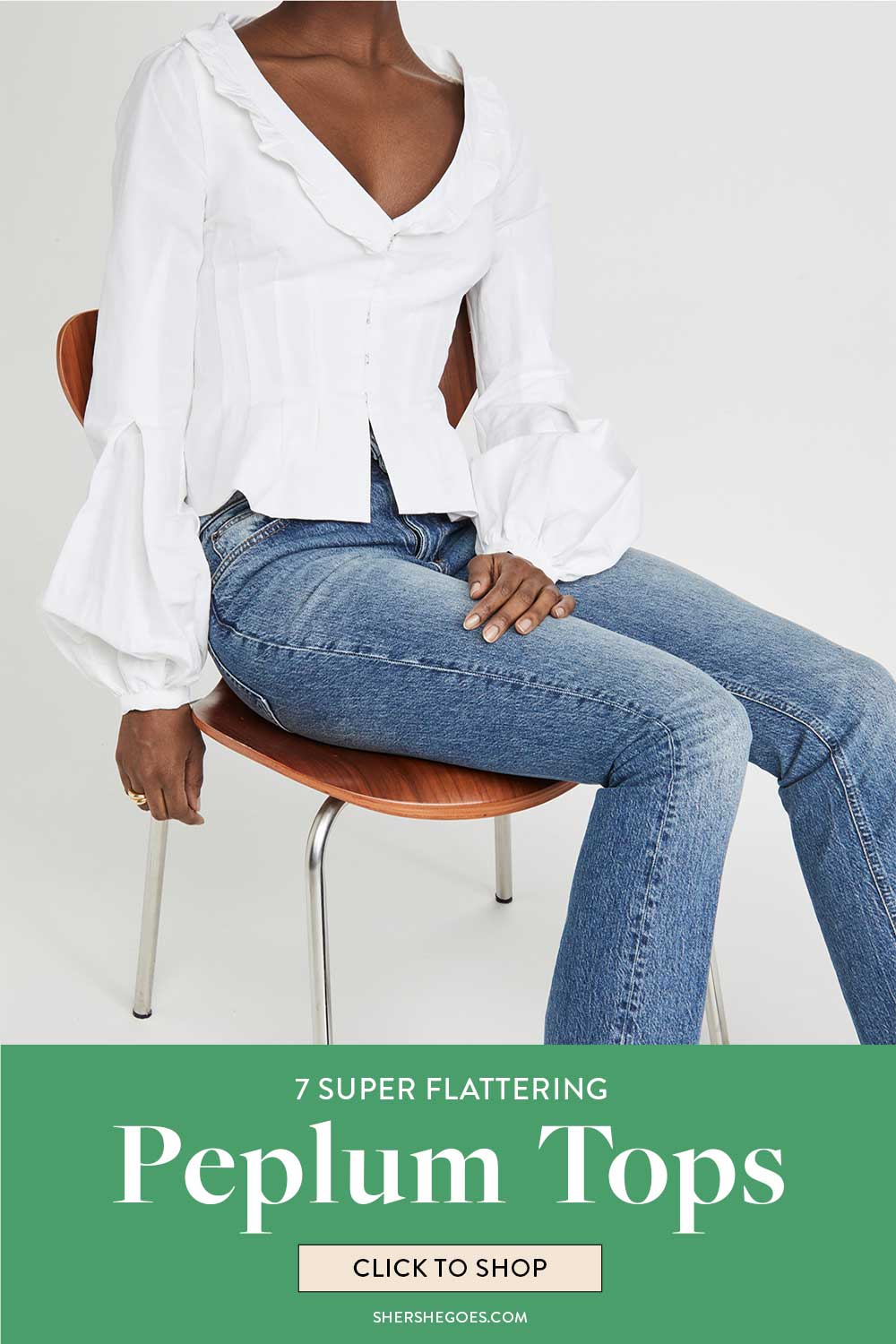 ADVERTISEMENT
---
---
Peplum Tops for Women
Florals, square necklines and poufy sleeves are all on trend this summer. Here are our favorite peplum tops that marry feminine yet classic style!
Where to Find Peplum Tops
ADVERTISEMENT
---
---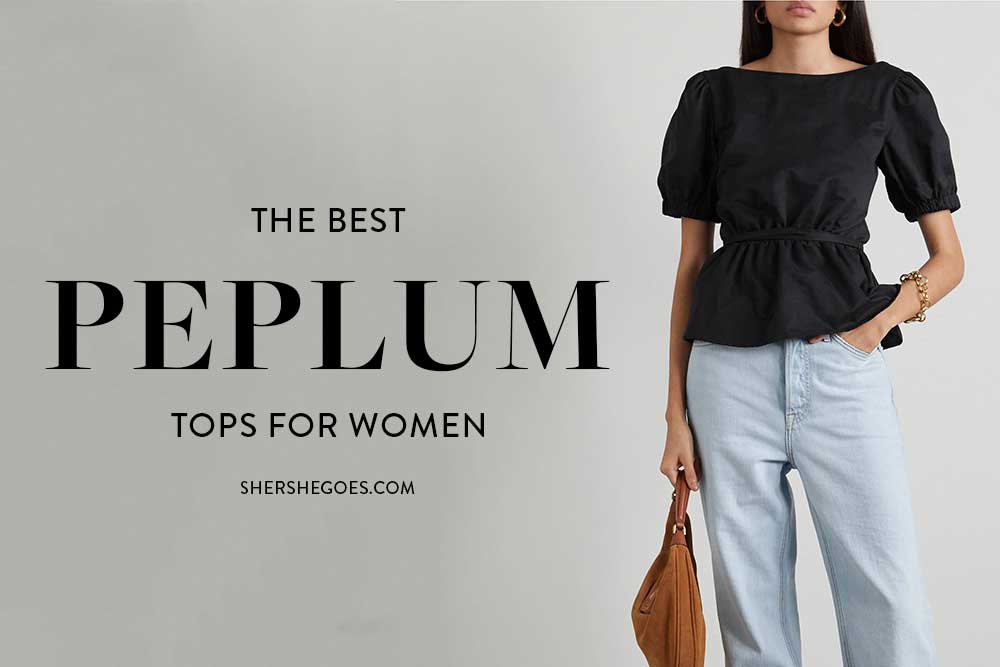 Best Peplum Tops (2021)
Best Hi Low Peplum Top: Trina Turk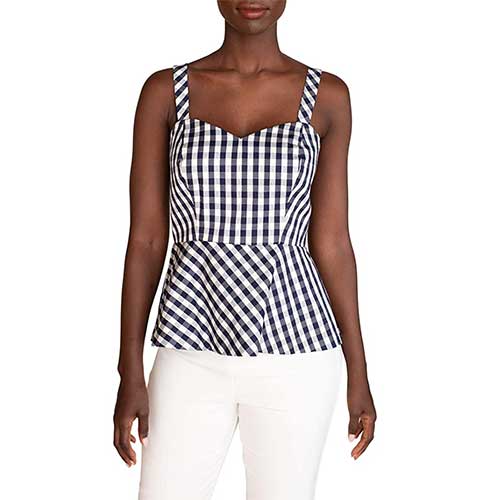 This cute Trina Turk peplum top is made from a summer fabric fave: gingham!
With its sweetheart neckline and nipped in waist, it's the perfect flirty look for summer. Pair it with white pants and a cute straw bag and you're good to go!
ADVERTISEMENT
---
---
Best Purple Peplum Top: 1.State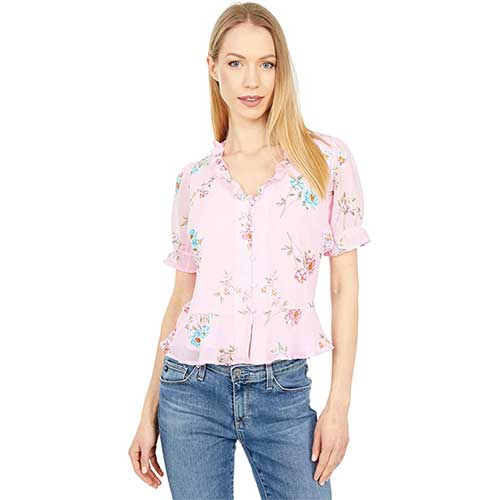 For something even sweeter, check out this pretty purple peplum top from 1.State.
It has cute ruffled cuffs, an allover floral print design and the most adorable v neckline. Throw on some mom jeans and simple sandals for a great date night outfit!
ADVERTISEMENT
---
---
Best Yellow Peplum Top: Susana Monaco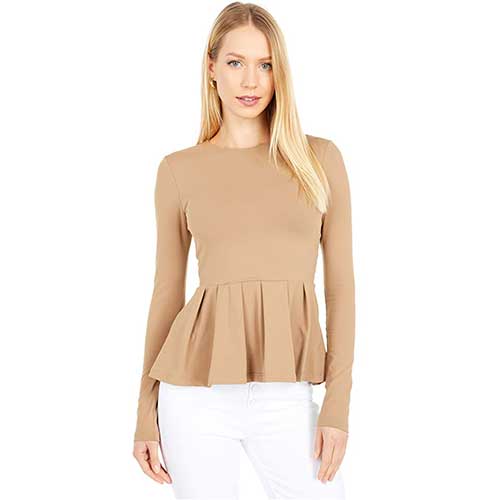 Want to try the peplum trend but have a normal 9 to 5 office job?
Then try this understated top from Susana Monaco, which has the peplum silhouette without the girlishness.
With long sleeves and a solid colorway, it pairs perfectly with black trousers and simple pumps.
The peplum top is made from a stretch nylon fabric that looks super flattering, as it gives you the illusion of height and curves!
ADVERTISEMENT
---
---
Best Peplum Blouse: Sabina Musayev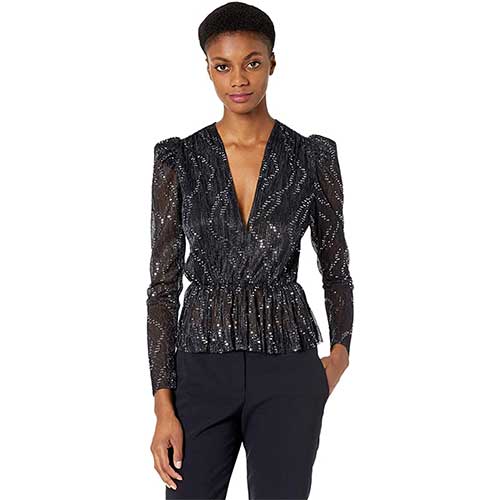 For something glam, you'll love this sparkly peplum option.
It's made from a striking silk-like fabric that has a crinkled sheen to it, ensuring all eyes will be on you. With it's deep v-neck, peplum waist and lightly padded shoulders, this top makes a statement!
ADVERTISEMENT
---
---
–
Best Peplum Shirt: Free People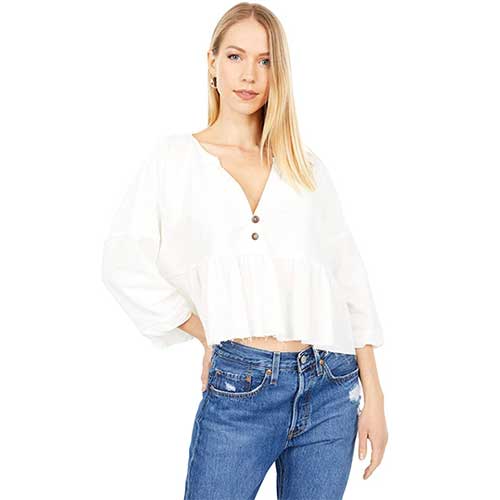 In my idyllic farm dreams, I'd churn butter with flowy boat-y sleeves..
…in something like this Free People peplum top!
It has a cropped silhouette, relaxed v neckline and slight ruffles for that oh-so-casual country lifestyle. And talk about those dolman sleeves!
Just fluttering about to show those off would give you a great workout.
ADVERTISEMENT
---
---
Best White Peplum Top: Bishop + Young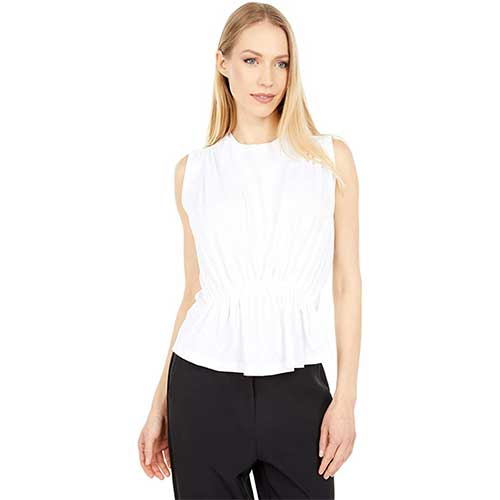 For a sophisticated option, check out this sleeveless peplum top from Bishop + Young.
It's versatile enough to wear to work or on the weekend, with its crew neckline and simple pleating. Plus it's sleeveless so it's great to wear on its own, or with an oversized blazer thrown over it!
ADVERTISEMENT
---
---
Best Plus Size Peplum Top: MM LaFleur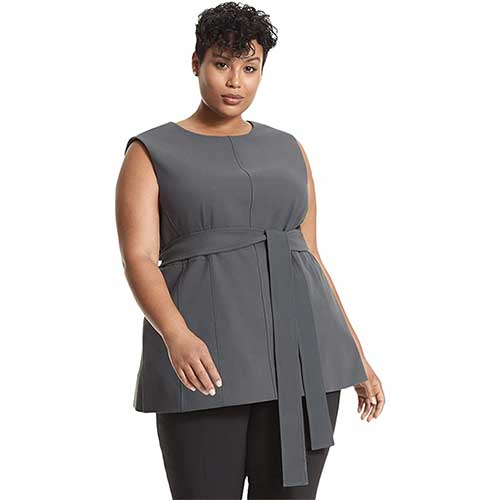 This M.M. LaFleur peplum top just screams sophistication.
It's sleek, it's refined.. and yet somehow sculptural!
With its cinched in peplum waist, longer length and classic crew neckline, this peplum top is a gorgeous (and work friendly) option to wear all year round. It comes in both regular and plus sizing, and a range of beautiful colors!
ADVERTISEMENT
---
---
Shop Peplum Tops
---

ADVERTISEMENT
---
---
Read More: in our summer style series:
Summer Essentials
Everything You Need for a Classic Summer Wardrobe
The Best White T Shirts in Every Style
The Best Classic White Button Down Shirts
Summer Dresses
7 Easy, Comfortable T Shirt Dresses for Summer
The Most Chic Slip Dresses to Dress Up or Down
The Best Fit and Flare Dresses
The Best White Dresses on Amazon
25 Cute & Affordable Amazon Dresses
Summer Shoes
The Most Comfortable Summer Sandals
The Best Minimalist Strappy Sandals
The Best Classic White Sneakers
Review: Olukai Sandals
Review: Everlane Flats
The Best Chanel Espadrille Lookalikes
Summer Accessories
The Best Sun Hats that Offer Full Sun Protection
7 of the Cutest Straw Basket Bags
Summer Linen
The Cutest Linen Dresses for Hot Summer Nights
The Best Men's Linen Pants - Summer Casual
The Best Women's Linen Pants for Coastal Chic Style
The Best Women's White Linen Pants - Simple, Clean & Breathable!
Summer Swim
The Best Online Sites to Shop for Swimwear
The Best Swimwear Brands at Every Price Point
The Best Swimsuits for Small Busts
Amazon Fashion Finds: Modest Swimsuits
The Best High Waisted Bikini Bottoms to Keep Everything Tucked In
Follow me @Sher She Goes on