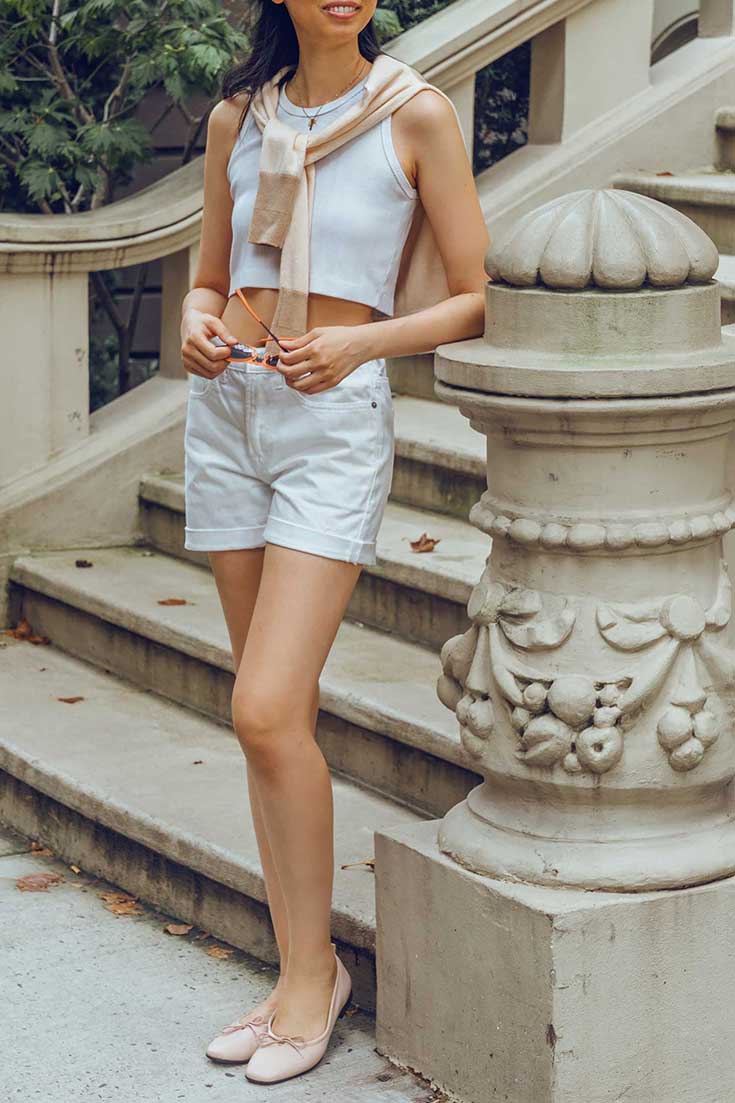 Thank you to Everlane for sponsoring this post.
Everlane Flats
They say you should walk 10,000 steps a day.
Unfortunately for me, that rarely happens. I don't know if it's the combination of the pandemic, working from home or just generally being a very lazy person… but I don't walk nearly as much as I should!
Some days my phone's health app reads just 90 steps. Oops.
So I started to slowly switch out my cute-but-uncomfortable flats for more comfortable, high quality options. Over the last couple years I've jumped on the Everlane bandwagon and wanted to share a few of my favorites!
These are the best Everlane flats I've tried – and I have pretty problematic feet. If these are comfy for me, they should be good for you!
ADVERTISEMENT
Everlane Day Ballet Flat
in Cavern Pink
wearing cashmere sweater & white shorts
Everlane Ballet Flats Review
I love a classic ballet flat. They're simple, work with any outfit (from jeans to dresses) and are appropriate for both the office and the weekend.
I tried out a couple of Everlane's flats but never really fell in love with any… until I tried the Day Ballet Flat.
These run true to size and are made from soft Italian leather. They also have a slightly cushioned sole and discreet side vents for air-ability. The front toe is ever-so-slightly squared, but in a subtle enough way that it doesn't scream "MAN FEET".
I felt like these needed one wear to 'break in' but ever since then, have been extremely comfortable!
Shop on Everlane (5 colors)
ADVERTISEMENT
---
---
Everlane Day Loafer Mule
in Deep Red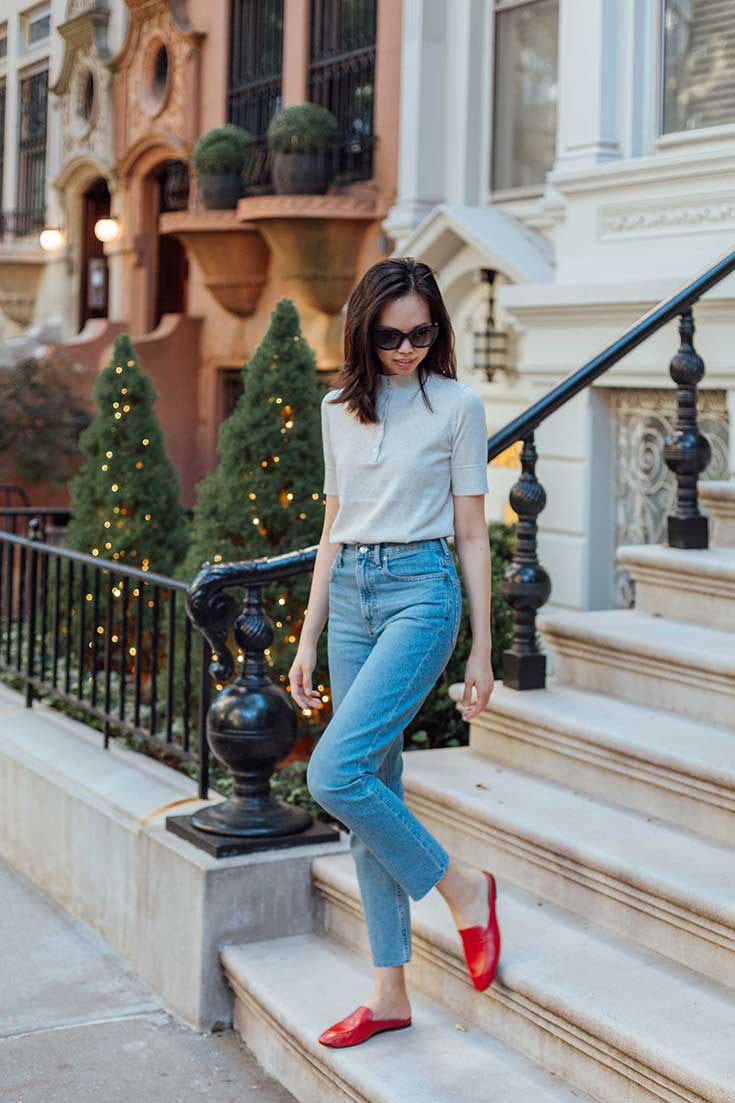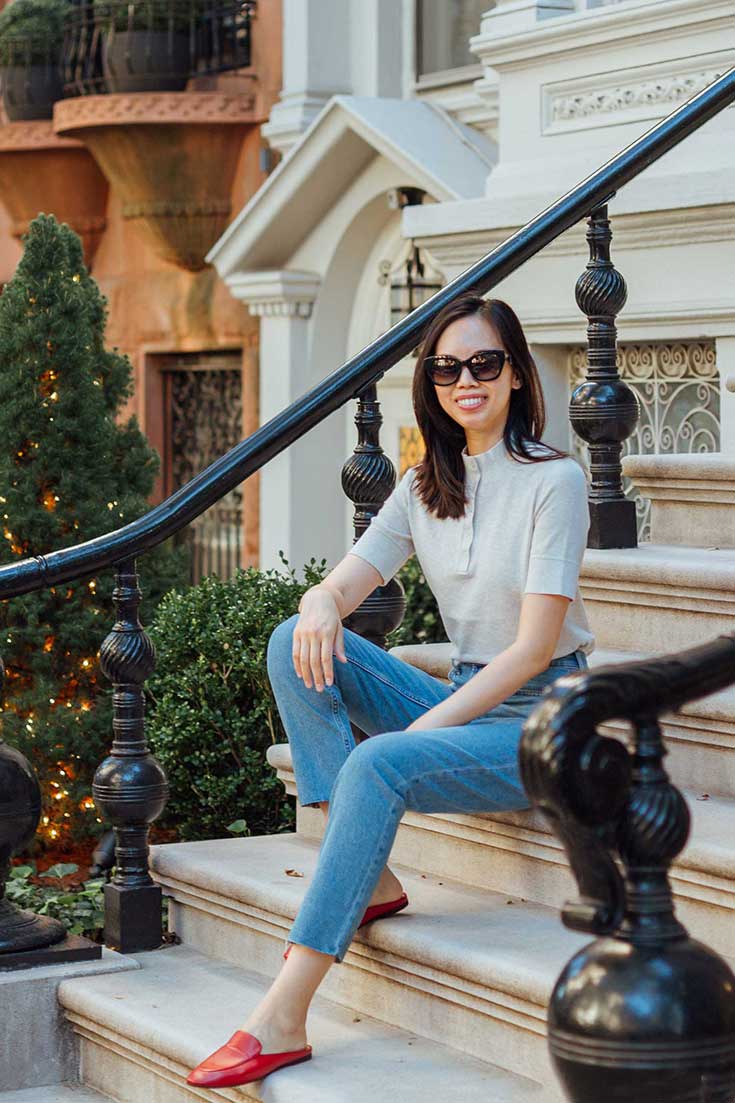 wearing mockneck top & straight jeans
Everlane Day Loafer Review
The Gucci loafers have been popular for a couple years now, but I never quite pulled the trigger.
So when Everlane released their own simple, paired back loafer (at a much more friendly price point), I figured it was time to give the slip on loafer look a try!
Note: these run small – I went up a 1/2 size. They're made from the same high quality, soft Italian leather that Everlane always uses for its shoes and they're extremely comfortable. Because they're backless, I haven't had any trouble with blisters or chafing.
I was worried the day loafer mule would slip off my feet. I tend to walk pretty fast and I've definitely had mules fall off – there is nothing more gross than feeling your feet come in contact with NYC concrete.
But once they arrived, I realized these mules have a cushioned insole that kind of *hugs* the foot. These slip on loafers feel really secure!
I definitely recommend these if you're looking for a good quality loafer/mule, especially because they're on sale!
Shop on Everlane (5 colors)
ADVERTISEMENT
---
---
Everlane D'Orsay Espadrille
in Caramel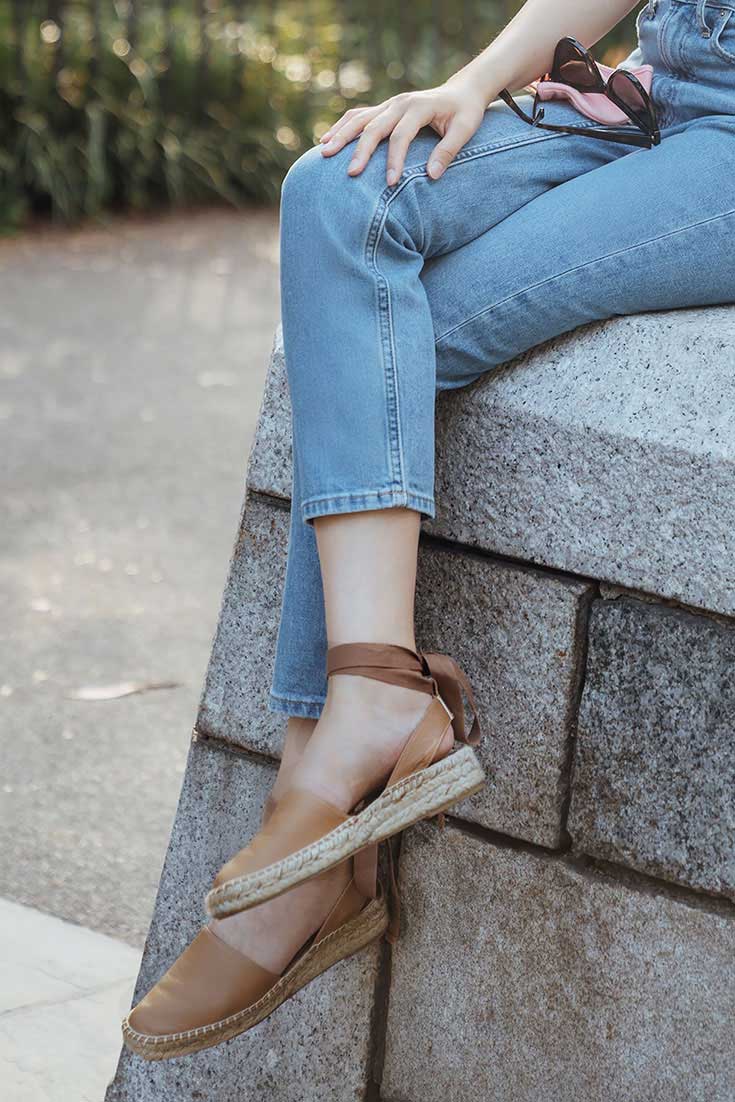 wearing bodysuit & straight jeans
Everlane Espadrilles Review
I've always liked the look of espadrilles on other people.
Everlane released 2 espadrille options this spring, so I took the plunge and tried out the d'Orsay option, which came with ribbons to tie up the ankle.
I kept going back and forth on sizing for these. My feet tend to swell (a lot) in the heat, and I originally ordered these shoes in my normal size in the spring, before the weather got warm. They were way too big when the arrived, so I exchanged them for a 1/2 size smaller and tucked them away to wait for summer.
Then summer hit, and they were too tight haha!
The first time I wore them, I must have walked 50 blocks and they absolutely tore up my feet. I'm talking blisters on every inch of skin. But I kept wearing them and slowly the leather molded to my feet – now they're super comfortable.
These espadrilles are made from 100% Italian leather and handcrafted in Alicante, Spain. I believe espadrilles originated in Spain so it's nice that Everlane found an original manufacturer.
A couple features I like: the simple colors, the slight wedge heel, the rubber outsole. I love that the brown shade really elongate your legs!
I do wish the ribbons were just a little longer, so that I could wrap them around my ankles a little more. I also think they'd be more flattering with a round toe. I know square toes are all the rage this year, but I think pointed toes just look more flattering.
Shop on Everlane (3 colors)
ADVERTISEMENT
---
---
Everlane Day Crossover Sandal
in Cream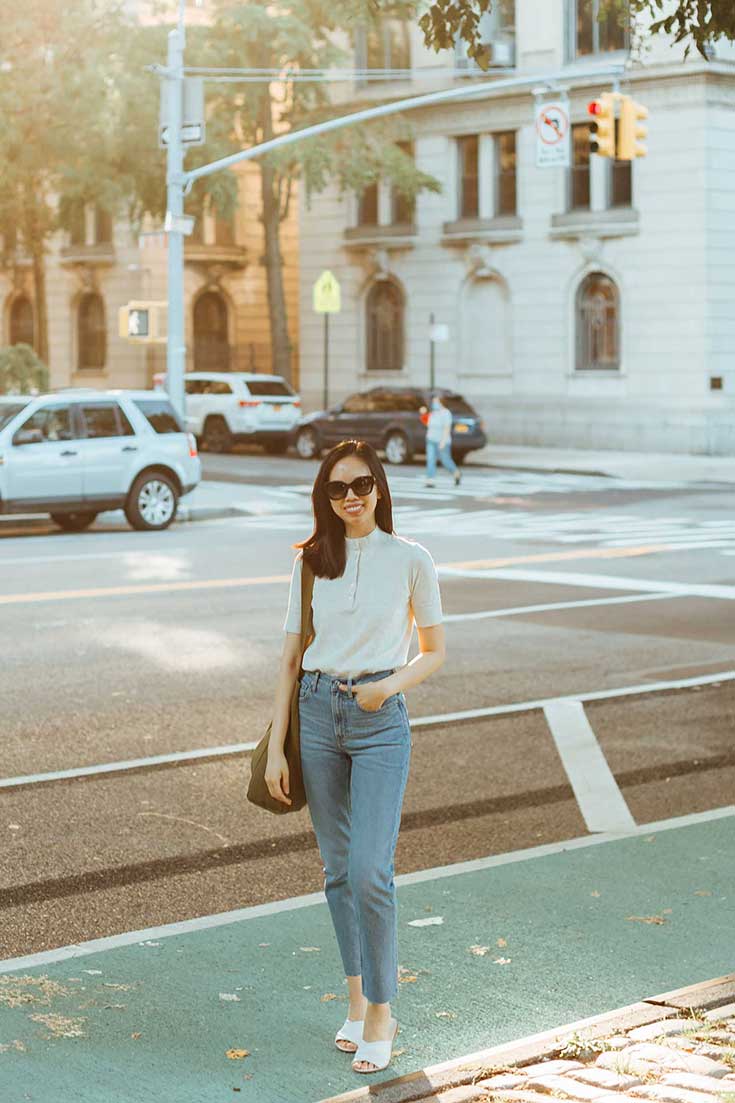 left, wearing cashmere top & face mask; right, wearing mockneck shirt, straight jeans & tote bag
Everlane Sandals Review
We all have that house dress that we wear at home. You know, the one that's loose and comfortable, but just enough put together that you can dash outside to get the mail or run to the grocery store.
The Everlane day sandals are like the equivalent, but for shoes.
They're a simple everyday kind of sandal, with just a criss cross detail on the strap to elevate them from a slide. The Italian leather is buttery soft, making them comfortable straight out of the box.
Anytime I head out the door for a quick errand or walk, I'm usually sliding into these because they're so simple to wear (no fussing with laces or zips) and they match everything!
A quick note though – these aren't for all day, heavy duty walking. The flat foot bed is comfortable, but won't provide long distance arch support.
I originally got these last summer – they still look great considering they're white! Everlane released an updated version this year, with a tapered square toe.
Overall, if you're looking for a go-to day shoe, the Everlane Crossover Sandal is a solid option.
Shop on Everlane (7 colors)
ADVERTISEMENT
---
---
Shop Everlane Flats
---

ADVERTISEMENT
---
---
Read More: Everlane reviews:
Everlane Reviews
Everlane Brand Review: Hits, Misses & Favorite Pieces
Everlane Flats - These 5 Pairs are Extra Comfortable
Everlane Denim: Thoughts on 3 of the Brand's Best Selling Jeans
Everlane Cashmere: Is It Worth It? (with Outfit Photos)
How do the Everlane Leggings Perform?
Everlane Underwear Review: Bra & Bralettes
Everlane Bodysuits: Reviewing a Wardrobe Staple
Everlane Outfits
10 Work from Home Outfits, featuring Everlane
Everlane Choose What You Pay Sale - Spring Try On Haul
Everlane Try On Haul Videos
Everlane Summer Basics Try On
Follow me @Sher She Goes on