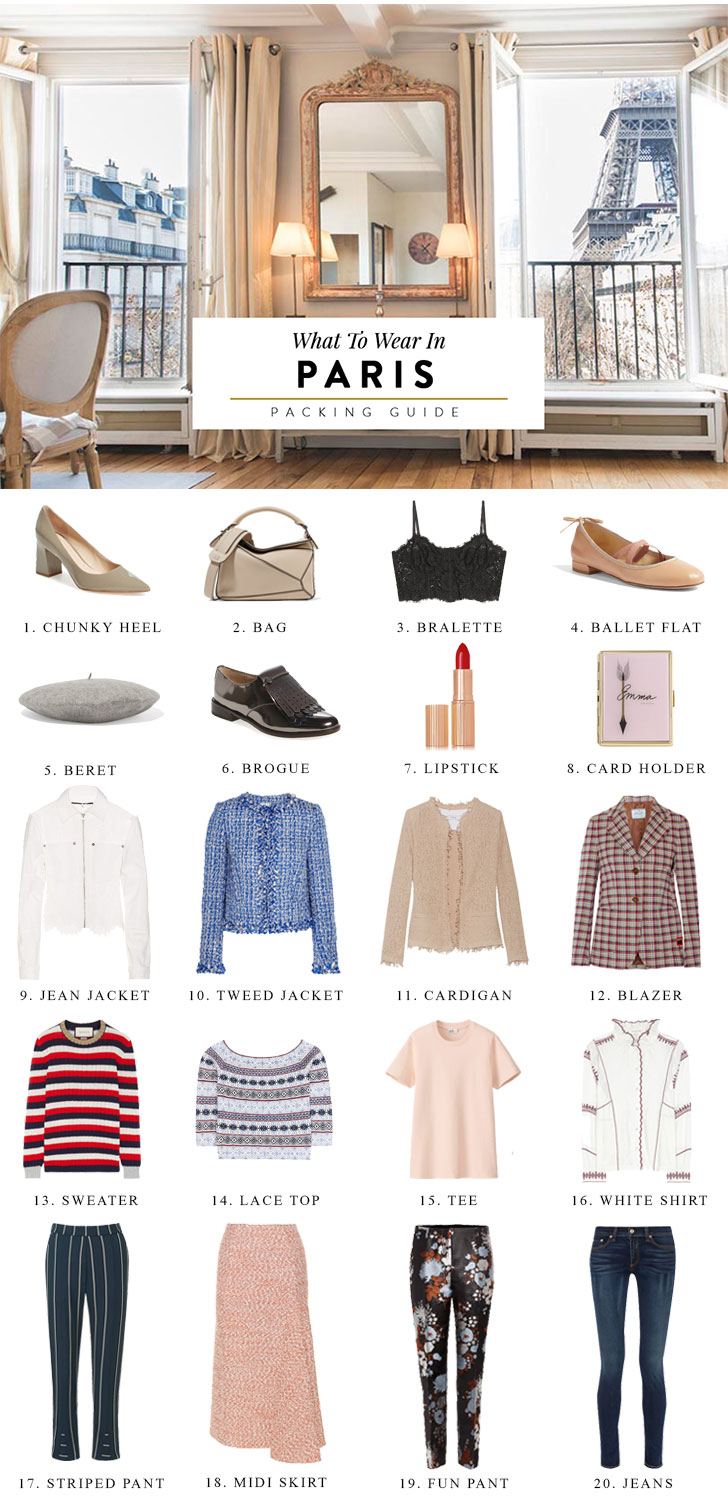 What to Wear in Paris in March (or Spring and Fall)
---
Click the icon next to each image to shop directly on the retailer page or browse via the links below. I've also linked more affordable options throughout the post.
1. Chunky Heel | 2. Lowe Shoulder Bag | 3. Bralette | 4. Ballet Flat | 5. Beret | 6. Louise et Cie Brogue | 7. Charlotte Tilbury Lipstick | 8. ID Holder | 9. White Jean Jacket | 10. Blue Tweed Jacket | 11. Pink Tweed Cardigan | 12. Checkered Blazer | 13. Striped Sweater | 14. Lace Boatneck Crop Top | 15. Pink Tee | 16. White Blouse with Embroidery | 17. Striped Pants | 18. Pink Knit Midi Skirt | 19. Printed Pants | 20. Topshop Jeans
What to Wear in Paris
The first time I moved to Paris was in the summer and so I filled my suitcase with typical American summer fashion – tank tops, short shorts and flip flops. Needless to say, I got lots of cold stares that summer. Although there is truth that Parisians can be a little ruder (I guess you could say the same about New Yorkers), in general Europeans take a more covered up, classic approach to clothing.
Here's my suggestions for ways to blend in with the local crowd. For Paris, think romantic yet functional – blouses, crisp shirts and berets coupled with striped pants, jeans and lots of flat shoes for walking. Paris is a compact, beautiful city that's best seen on foot. After all, a couple stops on the metro is usually just a 5 to 10 minute walk.
Read more:
A First Timer's Guide to Paris
I've included all the essentials for what to pack for Paris in the packing list below!
What to Pack for Paris: Packing list
Clothes | You can't go wrong with trousers and statement jackets in Paris! I would stay away from short shorts and opt instead for skirts, tees and blouses.
Shoes | Paris has tons of cobblestone streets and is a very compact city. For example, a subway stop in NYC is roughly ~10 blocks or so but in Paris metro stops can link very short distances so it's quite walkable! I recommend comfortable shoes like these and perhaps ballet flats, brogues or chunky heels for going out at night.
Accessories | Scarfs are effortlessly Parisian! A beret is a little over the top but hey, why not?
Bag | I recommend a large tote bag and cross-body for sightseeing.
Travel Bags, Necessities and Electronics
Suitcase | I love this super sleek hard case set from Raden luggage which comes with a phone charger and handy app that lets you know where your luggage is via GPS at any moment. It's also quite shock proof, you can jump on it and the hard case actually absorbs impact and still stays sleek and sturdy.
Packing Cubes | I like to group clothing by color or function and pack each group of items snugly in their own packing cube. These are a lifesaver for keeping your suitcase organized in your hotel room and are my number 1 secret to maximize space and function in just a carry on suitcase. I typically reserve one packing cube for all my worn clothes to separate the dirty stuff from my fresh clothes!
Amazon has their own inexpensive 4 piece packing cube set and several travel blogger friends swear by this set from eBags. Personally I use a set from CalPak which I love. They're machine washable for easy cleaning and if you have CalPak luggage – they're perfectly sized for their carry on luggage pieces!
Toiletry Bottles | Optional. I currently like these for shampoo and conditioner.
Portable Charger | Definitely a must! I currently use an iPhone 6S and this Anker portable charger to keep my phone fully charged at all times even though I technically live in the city and am not sight seeing. This charger is small and sleek with enough life to fully charge an iPhone 2x. Also I really love Anker's products since they have great customer service. I once bought a product that ended up dying and they quickly sent me a replacement free of charge, so I highly recommend them!
Electric Converter | If you are international, you'll need a US converter. Also pick up a travel sized power strip so you can charge multiple devices in one go.
Medications | Obviously pack whatever medication you need but don't panic if you forget something. Paris has pharmacies all over the city where you can stock up on medication as well as amazing French drugstore products. Some of my favorite French pharmacy beauty brands include Nuxe, Vichy, Klorane, Bioderm, La Roche Posay, Avene and Embryolisse.
Where to Stay in Paris
Recommended Neighborhoods
Le Marais: the chic neighborhood for shoppers with trendy, high-end boutiques
The Latin Quarter: a lively district, known for its local universities and student life
St. Germain: timeless with galleries, restaurants and an abundance of charm
7th Arrondisement: great for first timers due to its location near tourist hot spots (Eiffel tower, Musee d'Orsay, etc)
Overnight: Prince de Galles Hotel
This is a must-stay for SPG cardmembers. It's gorgeous, it's luxe and it's in prime shopping location. Read my full hotel here.
Best Hotels in Paris:
1 | Hotel Monge – A well decorated hotel in the Latin Quarter within walking distance to many local attractions (Pantheon, Jardin de Luxemberg, etc) and conveniently located near 2 subway stops.
Compare room rates: Booking.com | Agoda | Hotels.com | Read TripAdvisor reviews
2 | Hotel Scarlett – Stay at this gorgeous boutique if you're a repeat visitor to Paris and want to be removed from the tourist jungle. Great location, fabulous breakfast and cozy rooms.
Compare room rates: Booking.com | Agoda | Hotels.com | Read TripAdvisor reviews
3 | Hotel Square Louvois – This hotel has a serene indoor pool (rare for Paris!) and is relatively new, ~9 months old. Rooms are comfortable with bathrobes, coffee makers and mini bars. Near the Louvre and great for museum lovers.
Compare room rates: Booking.com | Agoda | Hotels.com | Read TripAdvisor reviews
4 | Hotel 123 Sebastopol – Colorful, punchy rooms within walking distance of Notre Dame and many must-see sights. Rooms are quite well sized for Paris and the metro stop is on the corner.
Compare room rates: Booking.com | Agoda | Hotels.com | Read TripAdvisor reviews
Photographing Paris: Camera Recommendations
The best lenses for capturing Paris, in my opinion, are something wide like a 35mm and a standard 50mm lens. A 50mm will be great for all your food shots while the wide angle can best capture the Eiffel Tower in all its glory!
Canon 5D Mark III | This is my go-to travel camera and I typically shoot with my trusty 24-70mm when out and about. For portraits, I'll take along my 50mm lens.
Camera Accessories | Along with the camera, I recommend a spare battery, battery charger and extra SD and CF cards. The cold can make your device batteries drain faster so it's helpful to bring along a spare battery on your person.
I shoot primarily with SD cards since you can insert them in your laptop to easily offload, but I keep all my cards in this wallet to keep them organized and easily reachable. This memory card case that I use fits both SD and CF cards and was under $7.
The Best Souvenirs from Paris
For unique finds, you can check out Paris' flea markets (les puces in french). The largest is at St. Ouen, which is so big that you need a map to navigate! You probably won't find a priceless antique but there are some beautiful mirrors, furniture and vintage prints that you might like.
I also love shopping in Paris at the major department stores like Le Bon Marche and the boutique Colette for hip European brands. Americans can take advantage of VAT refunds so I do go a bit overboard on trips! In general, Paris has 2 mandated sale periods a year (les soldes) – if I remember correctly its typically June and January.
Read more: An The Best Desserts in Paris and the A Mansion in Paris: Musee Jacquemart Andre
Save this post by pinning it for later or read the full series: 
---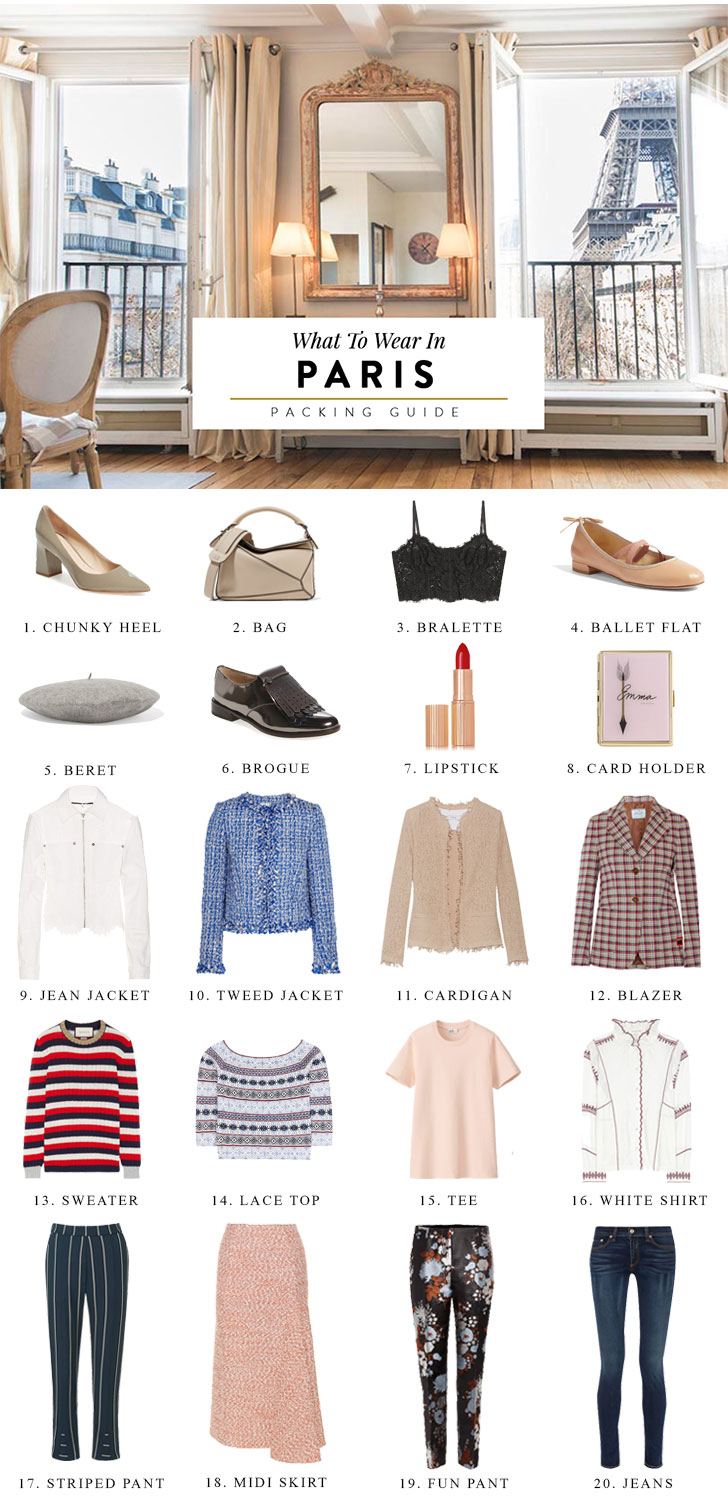 Follow Sher She Goes on
Bloglovin | Facebook | Twitter | Pinterest | Snapchat | Instagram
---