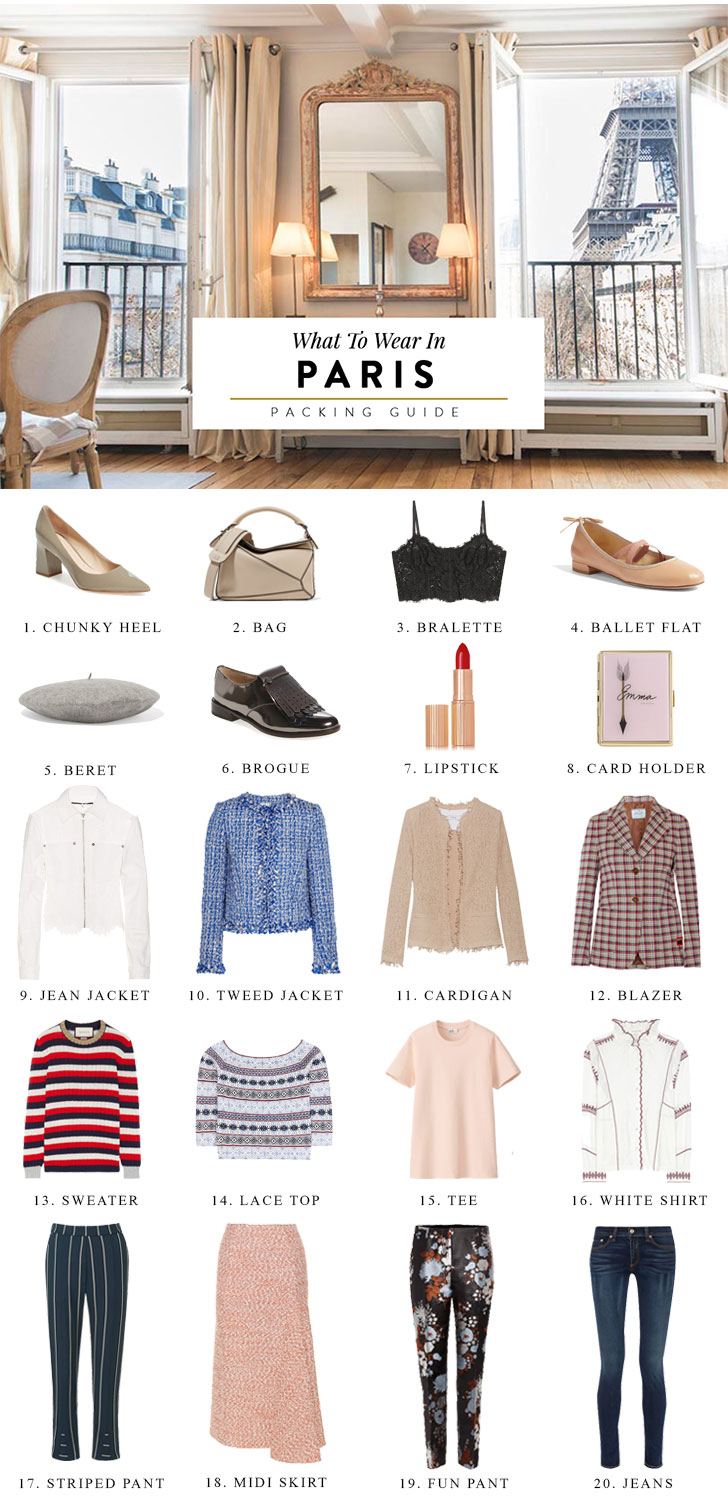 Paris Packing List
The first time I moved to Paris was in the summer and so I filled my suitcase with typical American summer fashion – tank tops, short shorts and flip flops.
Needless to say, I got lots of cold stares that summer.
Although there is truth that Parisians can be a little ruder (I guess you could say the same about New Yorkers), in general Europeans take a more covered up, classic approach to clothing.
ADVERTISEMENT
Here's my suggestions for ways to blend in with the local crowd.
For Paris, think romantic yet functional – tees and blouses coupled with simple black pants or jeans. Paris is a compact, beautiful city that's best seen on foot so definitely pack lots of comfortable shoes. A couple stops on the Paris metro is usually just a 5 to 10 minute walk!
I've included all the essentials for what to pack for a trip to Paris in the packing list below.
ADVERTISEMENT
---
---
What to Pack for Paris
Clothes | You can't go wrong with trousers and statement jackets in Paris! I would stay away from short shorts and opt instead for skirts, tees and blouses.
Shoes | Paris has tons of cobblestone streets and is a very compact city. For example, a subway stop in NYC is roughly ~10 blocks or so but in Paris metro stops can link very short distances so it's quite walkable! I recommend comfortable shoes like these and perhaps ballet flats, brogues or chunky heels for going out at night.
Accessories | Scarfs are effortlessly Parisian! A beret is a little over the top but hey, why not?
Bag | I recommend a large tote bag and cross-body for sightseeing. At the touristy sights, make sure you have a secure bag that's fully zippered.
ADVERTISEMENT
---
---
Suitcase | I love this super sleek hard case set from Delsey luggage, a luxurious French brand known for quality and its generous warranty.
For my carry on, I use my Lipault tote, another French brand, that makes durable shiny canvas luggage products. The black tote I have can slip right over suitcase handles so it's a good one for day trips & travel!
Packing Cubes | I like to group clothing by color or function and pack each group of items snugly in their own packing cube.
These are a lifesaver for keeping your suitcase organized in your hotel room and are my number 1 secret to maximize space and function in just a carry on suitcase.
I typically reserve one packing cube for all my worn clothes to separate the dirty stuff from my fresh clothes!
Amazon has their own inexpensive 4 piece packing cube set and several travel blogger friends swear by this set from eBags.
Personally I use a set from CalPak which I love. They're machine washable for easy cleaning and if you have CalPak luggage – they're perfectly sized for their carry on luggage pieces!
Read more:
A First Timer's Guide to Paris
ADVERTISEMENT
---
---
Travel Accessories
Toiletry Bottles | The water in Paris is hard. really hard.
It was terrible on my fine, pin straight hair until I brought along my own shampoo & conditioner – I like these reusable toiletry bottles. I also recommend putting coconut oil into a small bottle of coconut water to use as a weekly rinse.
Finally, bring along this micellar water to cleanse your skin, instead of washing with tap water. It will help!
Portable Charger | Definitely a must! I currently use an iPhone 6S and this Anker portable charger to keep my phone fully charged at all times even though I technically live in the city and am not sight seeing.
This charger is small and sleek with enough life to fully charge an iPhone 2x.
ADVERTISEMENT
---
---
Also I really love Anker's products since they have great customer service. I once bought a product that ended up dying and they quickly sent me a replacement free of charge, so I highly recommend them!
Electric Converter | If you are international, you'll need a US converter. Also pick up a travel sized power strip so you can charge multiple devices in one go.
Medications | Obviously pack whatever medication you need but don't panic if you forget something.
Paris has pharmacies all over the city where you can stock up on medication as well as amazing French drugstore products.
Some of my favorite French pharmacy beauty brands include Nuxe, Vichy, Klorane, Bioderm, La Roche Posay, Avene and Embryolisse. You can now find some of their items in US drugstores but you'll find more options and better prices in Paris!
ADVERTISEMENT
---
---
Where to Stay in Paris
Recommended Neighborhoods
Le Marais: the chic neighborhood for shoppers with trendy, high-end boutiques
The Latin Quarter: a lively district, known for its local universities and student life
St. Germain: timeless with galleries, restaurants and an abundance of charm
7th Arrondisement: great for first timers due to its location near tourist hot spots (Eiffel tower, Musee d'Orsay, etc)
When I was a student, I stayed in the Latin Quarter in an apartment for the summer. It was close to the Jardin de Luxembourg, great food and lots of sights.
ADVERTISEMENT
---
---
In the years since, I've stayed in more touristy areas near the Champs Elysee and would recommend the Prince de Galles Hotel.
It's a great SPG member hotel with luxurious interiors, comfortable rooms and in walking distance to the Arc de Triomphe. Read my full hotel here.
Best Hotels in Paris:
1 | Hotel Monge – A well decorated hotel in the Latin Quarter within walking distance to many local attractions (Pantheon, Jardin de Luxemberg, etc) and conveniently located near 2 subway stops.
Compare room rates: Booking.com | Hotels.com | Read TripAdvisor reviews
2 | Hotel Scarlett – Stay at this gorgeous boutique if you're a repeat visitor to Paris and want to be removed from the tourist jungle. Great location, fabulous breakfast and cozy rooms.
Compare room rates: Booking.com | Hotels.com | Read TripAdvisor reviews
3 | Hotel Square Louvois – This hotel has a serene indoor pool (rare for Paris!) and is relatively new, ~9 months old. Rooms are comfortable with bathrobes, coffee makers and mini bars. Near the Louvre and great for museum lovers.
Compare room rates: Booking.com | Hotels.com | Read TripAdvisor reviews
4 | Hotel 123 Sebastopol – Colorful, punchy rooms within walking distance of Notre Dame and many must-see sights. Rooms are quite well sized for Paris and the metro stop is on the corner.
Compare room rates: Booking.com | Hotels.com | Read TripAdvisor reviews
Read more:
The Best Airbnbs in Paris
ADVERTISEMENT
---
---
Photographing Paris: Camera Recommendations
I bring a professional DSLR camera and a couple lenses to shoot all the photos you see on this blog. I also bring my spare battery, battery charger and extra SD cards.
To keep everything organized, I use a memory card case and a travel accessories case so the wires, chargers and small things don't get lost.
The best lenses for capturing Paris, in my opinion, are something wide like a 35mm and a standard 50mm lens, or a 24-70mm zoom lens.
A 50mm will be great for all your food shots while the wide angle can best capture the Eiffel Tower in all its glory! For video, I use a stabilizer and my iphone, along with an external battery.
You can find all my gear here.
Read more:
The Best Luxury Hotels in Paris, with Views of the Eiffel Tower
ADVERTISEMENT
---
---
The Best Souvenirs from Paris
For unique finds, you can check out Paris' flea markets (les puces in french).
The largest is at St. Ouen, which is so big that you need a map to navigate! You probably won't find a priceless antique but there are some beautiful mirrors, furniture and vintage prints that you might like.
I also love shopping in Paris at the major department stores like Le Bon Marche, brands like Voltaire and boutiques like Colette.
Americans can take advantage of VAT refunds! Most of the large department stores like Galeries Layafette and Printemps have a basement level where you can apply for your VAT refund right away, instead of waiting in long lines at the airport.
Otherwise, the French have a different type of shopping model than we do in the states. Paris has 2 mandated sale periods a year (les soldes) – if I remember correctly its usually June and January. Typically stores don't discount outside of those periods.
ADVERTISEMENT
---
---
Fun Tours & Day Trips from Paris
ADVERTISEMENT
---
---
Shop Outfits for Paris
---

ADVERTISEMENT
---
---
Visiting Paris – Travel Checklist
We took a red eye to Paris from JFK. You can find cheap Paris flights from low cost carriers almost all year round – check for flight deals here.
Paris has some of the best museums in the world. I spent an entire summer living in the city, visiting different churches, museums and historic homes and still couldn't get enough. If you plan to sight see, look into a Paris Pass – it's a great value! The pass can be purchased for multiple days and allows you to skip the line at 60+ attractions. See the full list of included sights and attractions here.
Lastly, be sure to visit Paris with travel insurance. Whether you get injured and need to be hospitalized, your phone gets stolen, or a flight delay leaves you with nothing but the clothes on your back, travel insurance will help when you need it most. During our recent trip, riots in Paris shut down the city center and forced a closure of all the main sights (the Louvre, Versailles, etc). Get a quote for your trip here.
You Might Also Enjoy:
Paris Vacation Planning Articles
3 Days in Paris: A Travel Guide & Itinerary
What to Wear in France (to Blend in with Chic Parisians!)
Where to Stay in Paris
Luxurious Hotels with Eiffel Tower Views
Cozy Airbnbs with a View of the Eiffel Tower
Popular Paris Sights 
Musee d'Orsay & The D'Orsay Clock
Notre Dame & its Rooftop Gargoyles
Paris Off the Beaten Path
Musee Jacquemart Andre and The Paris Pantheon
Where to Eat in Paris
Delicious Desserts in Paris
Lunch at Paul & a Romantic Dinner at Potager du Pere Thierry
Outside Paris
Day Trip to Giverny, Vernon & Auvers sur Oise
Exploring Normandy
Follow me @Sher She Goes on