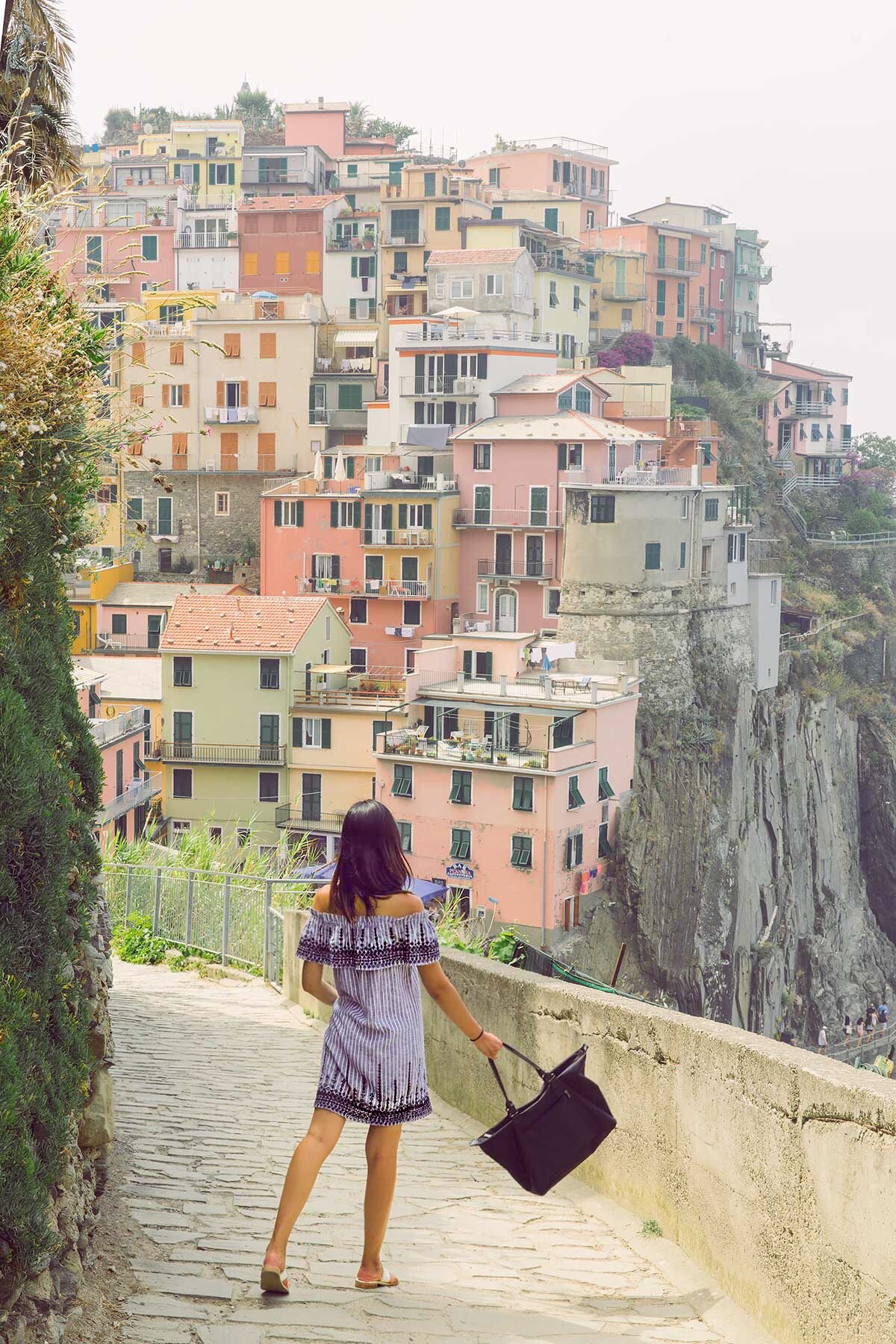 Cinque Terre Travel Guide
On my month-long trip exploring the best of Northern Italy, the one place I was most excited for was Cinque Terre and it did not disappoint!
I actually went to Cinque Terre twice as I first went on a group tour with my family and then doubled back to spend some additional time in these five quaint fishing villages. I took SO many pictures, over 600 in fact… so I hope you enjoy the Cinque Terre photos and get some inspiration for your own Italian vacation.
Since I spent so much time there, I wanted to put together a complete travel guide for the fabulous five villages of Italy's Cinque Terre. This massive post took me ages to put together but covers everything visitors to Cinque Terre will want to know.
Cinque Terre Travel Guide | Table of Contents
Click the links to jump directly to each section
ADVERTISEMENT
Or save this article to read later by pinning it ⇟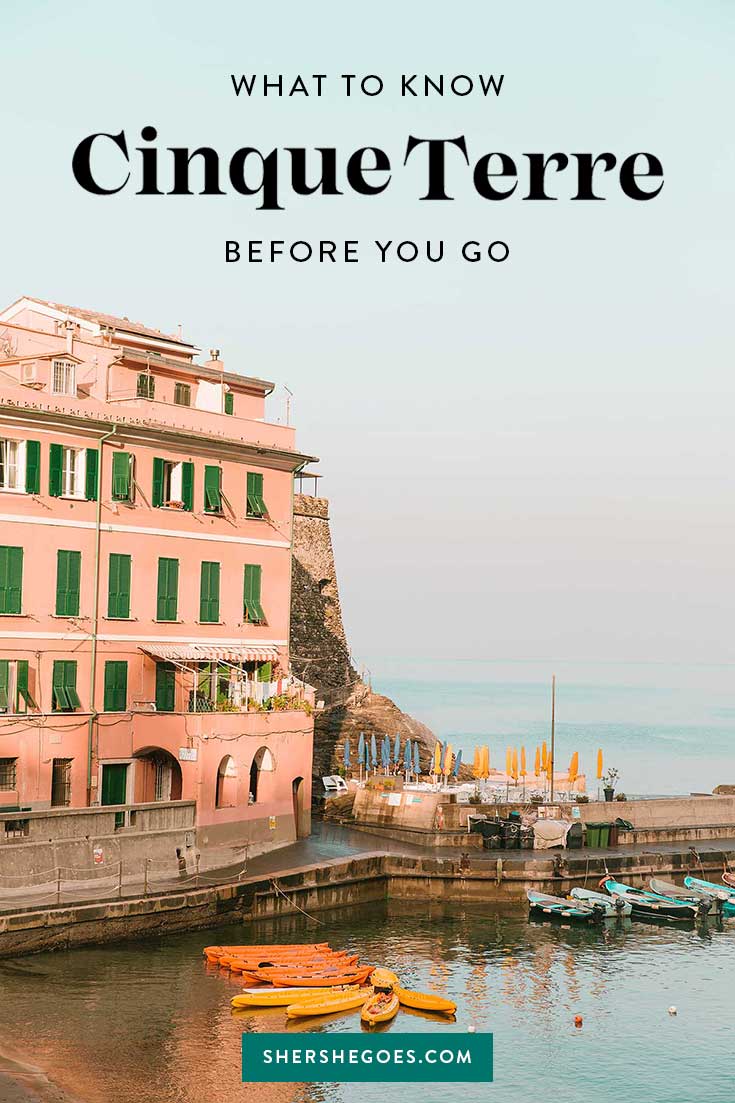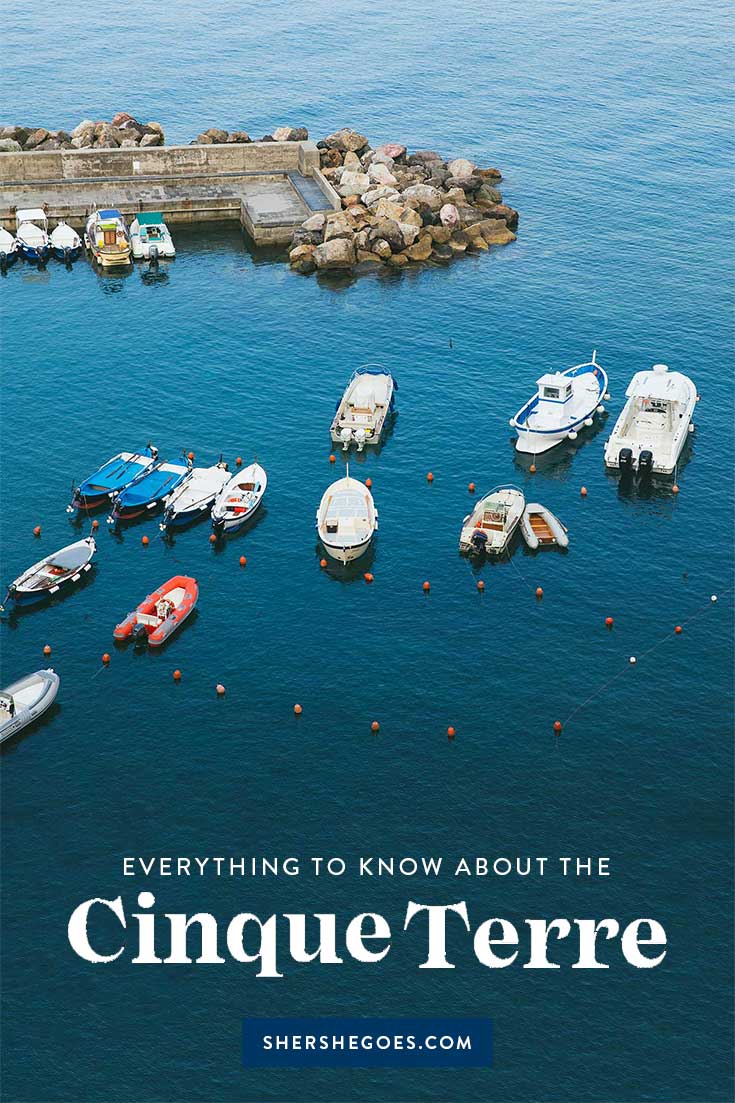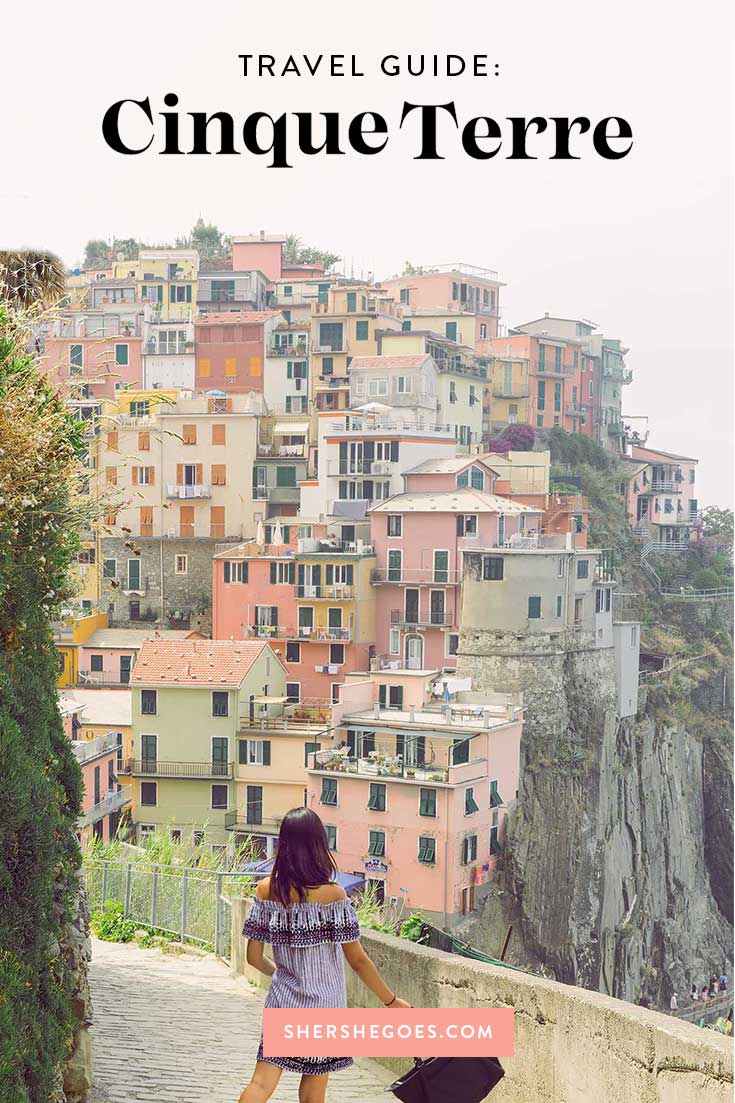 ADVERTISEMENT
---
---
See more photos on my Instagram account @shershegoes
Planning Your Cinque Terre Trip
Pick up a copy of Rick Steve's Italy guidebook to help plan your Italian vacation.
His section on Cinque Terre covers the region quite thoroughly and I relied on both the hard-copy and ebook for pre-planning and during my vacation. If you're unfamiliar with a kindle, you can try out a 30 day free trial here!
My only criticism of Rick Steves' book is that it presents his Italy, so if you want to explore off the (crowded) path you'll have to do your own research. Gorgeous small towns in Northern Italy like Bologna, Bergamo, Parma, Ravenna were some of our favorite places, but they're not in his guidebook.
Of course, Italy is a huge country so it's to be expected that he can't cover it all, but just to let you know!
Books, Shows & Films to Get in the Mood for Your Trip to Italy:
ADVERTISEMENT
---
---
Where in Italy is the Cinque Terre?
The five villages that make up the Cinque Terre, or "five lands" in Italian, are located in the province of Liguria in Northern Italy. Each village is nestled into curves and crevices along a rocky 6 mile stretch of breathtaking ocean coastline.
A visit here is to a simpler Italy, without chain stores and car smog. It's simple fresh pesto pastas and creamy gelato scoops where days are spent sunbathing or eating. Of course… ever since Rick Steves let the secret out to American tourists, it's jam packed!
The summer months are peak season to visit Cinque Terre so you'll likely rub elbows and share a beach towel with hoards of tourists. Despite the crowds, I thought the five villages oozed charm and were well worth a visit.
ADVERTISEMENT
---
---
5 Fishing Villages
There are 5 distinct villages in total that make up the 'five lands'. From north to south, the towns are: Monterrosso al Mare, Vernazza, Corneglia, Manarola and Riomaggiore. Together, they compose the Cinque Terre region, a protected national park and UNESCO World Heritage Site. For images of each town, you can check out my Cinque Terre photo diary.
Monterosso al Mare is the largest town, made up of an Old Town, New Town, rocky beaches and long seaside boardwalk. Monterosso offers the most accommodation and has a resort vibe, so most visitors to Cinque Terre tend to stay here.
Vernazza is my personal favorite. There's one main street leading from the train station to the harbour. Here, the church is built on the water with a gorgeous waterfront piazza perfect for dinner, people watching and sunbathing.
Corniglia is built high above the ocean on steep cliffs. Don't stay here if you have excessive luggage, as the train station arrives at the foot of the town's entrance so you'll need to climb 365 steep steps to reach the town center.
Manarola is a romantic, colorful town with a small harbor popular for swims and a large rock for daredevils to jump off of. For many Europeans, Manarola is the favorite pastel darling of the bunch.
Riomaggiore has one main street, a harbor, a distinctive rocky beach and half a dozen restaurants. It's the southernmost village and closest to the main city of La Spezia. Aside from the dramatic seaside beauty, Riomaggiore maintains a grittier workday vibe.
Read more:
25 Photos That Show the Unique Beauty of Cinque Terre
ADVERTISEMENT
---
---
Where to Stay
Most visitors to the area want to see all 5 coastal towns and the best way to do this is to pick one town as your home base and then make day trips to see the others. The five villages of Cinque Terre are so close together and quite hilly that it just doesn't make sense to schlep your bags from village to village.
I personally stayed in Vernazza at this local hotel, right on the piazza with a gorgeous view of the harbor and thought I made the right choice. It's a quaint, beautiful town and is beautifully peaceful once the day trippers have gone.
Locals rent out rooms or have converted buildings into floors of available apartments for visitors. I've put together a more comprehensive guide to the best places to stay in each town in this Cinque Terre hotels post.
Read more:
Hands Down, This is Where You Should Stay in Cinque Terre
ADVERTISEMENT
---
---
The Best Things to Do
I have to warn you that there's not much to do in terms of seeing specific sights or monuments but there's plenty of scenic views to appreciate and relaxing activities to enjoy. This is a slow paced vacation, meant to filled with sunbathing on the beach, perhaps a sunset hike or two and liberally enjoyed with rounds of fresh seafood and wine.
But if you really want a checklist of things to do in Cinque Terre, here are some suggestions!
1. Walk up to the top of Vernazza's castle for a beautiful view of the town below
2. Have dinner at Al Castello and watch the sun set… or watch it via a private boat tour!
3. Grab a meal to go from Lunch Box and hit the trails for an early morning hike
4. Swim in the ocean, sun tan on the rocks and have a simple but satisfying pizza meal overlooking Riomaggiore's colorful harbor
5. Reserve an umbrella at Monterosso al Mare's rocky beach and grab a gelato
6. Learn how to make seafood pasta, pesto raviolli and walnut ricotta pansotti in a Cinque Terre cooking class
7. Walk through Manarola for the perfect postcard shot of the pastel harbor
8. Hike Corneglia's steps to escape the crowds during mid afternoon and enjoy the town all to yourself
ADVERTISEMENT
---
---
Cinque Terre Beaches
Every Cinque Terre town has its own beach but it's not the powdery soft sand you may be expecting. Here's a quick rundown of each:
Monterosso has 2 beaches, a huge strip in New Town and a small harbor in Old Town. Most of the beach is blocked off in sections with umbrellas for rent, but the open areas without umbrellas are free for public access. They say Monterosso has sandy beaches but it still felt quite rocky to me, so I would recommend bringing water shoes. There are some outdoor hoses and showers to wash off after.
Manarola and Riomaggiore have practically no sand whatsoever and jagged rocks that lead straight to the ocean. It's not to say you can't swim in these towns, I definitely saw lots of people in the ocean, but picture more of an Ariel-washed-up-on-a-rock situation rather than flat space to lay out a towel.
Vernazza has a large, wide harbor where the boats dock. Around the corner there's a small beach where you can jump in and a nice waterfront walkway where you can people watch or get plenty of sun.
And finally, Corneglia doesn't have ocean access at all but the nearby town of Levanto has some really great beaches. It's about a 15 minute train ride north of Monterosso.
ADVERTISEMENT
---
---
What to Bring:
If you'd like to swim, I recommend packing your swim gear and snorkel goggles if you have, as there's lots of small fish to see!
Again, definitely wear covered water shoes. I thought I could cut it with sandals but small pebbles and rocks kept getting in them, which was very annoying. Sea urchins and jellyfish do regularly wash up on shore so covered water shoes are a must.
Most hotels will rent you beach towels as they don't want you to bring the normal white shower towels. Or, bring along a quick-drying turkish towel.
Experienced kayakers can rent kayaks for the day (but waves are a bit choppy for beginners) and lots of companies offer private boat trips for the day. Find kayak rental prices and more info here.
---
---
Hiking in Cinque Terre
A popular way to enjoy Cinque Terre is to hike the walking path connecting each of the five towns. The most popular trail is #2 (the Sentiero Azzurro, or 'Blue Trail') which is composed of 4 individuals paths that follow the coast.
Whether you're a die-hard hiker or simply wanting to take a couple steps up the cliffs for gorgeous views, I have a complete post on the best hiking trails here. Or, you can book a mountain biking tour for some adventure and fun!
Read more:
Hiking Cinque Terre + Best Viewpoints
---
---
What to Eat in Cinque Terre
The food in Cinque Terre is some of the best in Italy! Don't miss the pesto, focaccia, seafood pasta, and whatever lemony things you can get your hands on. I cover all my recommended restaurants and must-do wine tours in Cinque Terre in more depth here.
A local tour company runs fun cooking lessons dedicated to Ligurian pesto and other Italian classics if you want to try your pasta-making skills. Meanwhile, here are some common local specialties you'll spot on menus:
Acciughe (anchovies) – fresh caught and served marinated, salted, butterflied and deep-fried
Muscoli ripieni (stuffed mussels)
Pesto – Italy has 2 main types of pesto. Ligurian pesto, which is basil based, is served on everything from pizza to pastas
Pansotti (ravioli in walnut sauce)
Focaccia – salty, flat bread sold by weight. Try it with pesto, onions or plain!
Sciacchetra, a sweet dessert wine local to Cinque Terre. Try a wine tour while you're in town!
Read more:
6 Cinque Terre Restaurants You Need to Eat At
---
---
How to Get to Cinque Terre
Getting In from Around Italy
The Cinque Terre train line connects the 5 towns together. The closest city from the south is La Spezia (about 15 minutes southeast of Riomaggiore by train) while the closest city to the north is Levanto.
If you're already in Italy, it's easiest to arrive by train. Depending on whether you're coming from north or south you'll connect to the local Cinque Terre train line in either La Spezia or Levanto.
You can check train schedules and book tickets online here. Just plug in your starting and ending points and it will tell you which route (and which trains) to take!
From Milan to Cinque Terre, the ride is about 3 hours direct, otherwise local trains will change in Genoa
From Rome to Cinque Terre, about a 4.5 hour train ride, 1x an hour. You'll change at La Spezia
From La Spezia to Cinque Terre, just 15-30 minutes by train. About 2-3 trains per hour.
ADVERTISEMENT
---
---
Should you buy train tickets in advance?
I bought some tickets for my Italy vacation in advance and some I bought last minute on the go. I have conflicted thoughts on which option is best.
On the one hand, I saved a ton of money buying in advance – last minute train tickets the day of for Bologna to Milan were about €90 (per person for one way) vs. €35 (per person, one way) when I bought them ~1.5 months ahead of time.
Because we bought last minute, we also were split up and sat in completely different train cars. On the other hand, I over estimated the time I wanted to spend in certain towns so it can be a waste to pre-buy train tickets if you're a more spontaneous type of traveler.
In general, I would recommend buying the high speed train tickets in advance – these are more expensive routes and require assigned seating. The Milan > Bologna route in either direction is quite popular (I believe it's used by commuters so that's one reason why it's always busy).
On the other hand, regional trains don't have assigned seating, they just need to be validated before boarding and I noticed these were pretty reasonable prices even an hour or two before boarding.
Book
train tickets here
ADVERTISEMENT
---
---
Cinque Terre Day Trip
Most cruises and group tours offer a day trip option to Cinque Terre, that arrives early in the towns at around 10am and departs by around 3pm. I actually first visited Cinque Terre in exactly this option!
We caught a boat from La Spezia, stopped off in Portovenere to explore the quaint alleyways and cliffside church, and then got on a different boat to see Monterosso. While I thought it was a great day and loved the chance to see Portovenere, it really left me wanting more and I'm so glad I doubled back to spend some more time in the area.
More details about our boat day trip can be found here.
The Cinque Terre Ferry
If only a day trip is an option, I'd recommend taking the local ferry to see each of Cinque Tere's five villages from the sea and then picking one town to explore and have lunch in. Monterosso has the most restaurant choices and in my opinion, the best food…but is also the top choice for every day tripper to stop at.
If you're doing a day trip to Cinque Terre, luggage storage is available at the left luggage offices inside the Riomaggiore, Vernazza and Monterosso train stations.
ADVERTISEMENT
---
---
Getting Around Cinque Terre
You have 3 options for hopping from Cinque Terre village to village: the boat, the train and hoofing it via hike.
By Train
I recommend the train, as it's the fastest and comes most frequently. The local train runs every half an hour in both directions through a series of tunnels dug into the mountains (left photo above).
The platforms are quite short so sometimes it's less crowded to get on from inside the tunnels. One way fares on the train cost €4 each way. You can buy train tickets for your trip here.
Note: Train strikes in Italy aren't uncommon. A strike hit during my visit and all local service was shut down, except for essential services 1x a hour which were quickly booked in advance.
By Boat
Try hopping on Cinque Terre's local ferry at least once to see the towns from the ocean, it's a very pretty view! Just know that in high tide the waves can get quite rocky.
An all day pass for the ferry costs €25 from Monterosso to Riomaggiore, €30 if you want to go farther to Portovenere. Otherwise €5 for a short hop.
Note: The towns don't have much of a dock, just a jut of land and a small plank where the boats disembark. In even the barest of rocky weather, boats may skip or halt service.
On Foot
I covered all the popular hiking options in more depth here!
ADVERTISEMENT
---
---
Cinque Terre Train Pass
If you want the flexibility to hake and take the train, a multi-service train pass can be a good option. An all day pass grants access too all the walking trails in addition to the trains.
Make sure to validate your ticket in the green machines on the train station platform before you get on the train. Conductors inspect cars frequently and don't hesitate to levy fines on unsuspecting tourists (€50 pop per person!)
If you plan to hike, the Cinque Terre combo card can be a good value. More details on the hiking and transportation tourist cards can be found in this post.
ADVERTISEMENT
---
---
Cinque Terre Itinerary
To get the most out of your visit, I highly recommend staying for 2 to 3 days. Perhaps 2 full overnight stays and 1 full day. You can read more about what to do in my 3 day itinerary here.
Read more:
This Cinque Terre Itinerary Will Guide You to the Best of Paradise
ADVERTISEMENT
---
---
Let me know in the comments below if you've been to Cinque Terre and have additional recommendations to add!
Visiting Italy – Trip Planning Checklist
There's so much to see and do in Italy that you can visit again and again and still discover new sights. I recommend concentrating on the big 4 cities (Rome, Venice, Milan & Florence) if it's your first time and then coming back to explore either Northern Italy or Southern Italy in more depth.
Go | Flight prices from the US to Italy are highly seasonal. You can set a fare alert here to be notified of discounts. Every fall & winter, I've seen great deals to Milan. One word of caution: avoid Alitalia at all costs!
Getting Around | A convenient way to explore Italy is via high speed train. You can search train schedules and book online here. Buy your tickets in advance to save on fares. Make sure to validate your ticket on the platform!
It also helps to speak a little Italian. Brush up on your Italian language skills with Rosetta Stone. You can take 10% off with promo code CJBT10.
Stay | Book hotels in advance to save, or check here for last minute deals. Many hotels in Italy are older so don't be surprised if even 5 star accommodation feels slightly dated. Opt for a room with a view instead of breakfast, as Italians don't eat breakfast in the same way Americans do and you'll probably be disappointed with their offering.
Alternatively, groups or budget travelers can check out Airbnb. 
Protect | Lastly, be sure to visit Italy with travel insurance. Whether you get injured and need to be hospitalized, your phone gets stolen, or a flight delay leaves you with nothing but the clothes on your back, travel insurance will help when you need it most.
A rail strike occurred during our trip, unexpectedly shutting down transportation for an entire day. Get a quote for your Italy trip here.
You Might Also Enjoy:
Italy Vacation Planning Articles
The First Timer's Guide to Italy: A Classic Itinerary
THIS is the Best Time to Visit Italy
What to Wear in Italy: A Packing Checklist
Northern Italy
The Most Beautiful Places in Northern Italy (that are still a secret!)
Headed to Northern Italy? Here's the Perfect 7 Day Itinerary
Exploring Bologna: Travel Guide
Quick Guides to: Bologna Day Trips & The Best Bologna Restaurants
Visiting Parma: The Center of Parma Ham & Cheese
7 Reasons to Explore Medieval Bergamo
Visiting Ravenna's Mosaics
Test Driving Fast Cars & Touring Car Museums in Italy's Motor Valley
Cinque Terre
Plan Your Trip: Travel Guide
How to Choose Which Village to Stay
A Blissful 3 Day Cinque Terre Itinerary
The Best Cinque Terre Airbnbs for Large Groups
Quick Guides: The Best Restaurants & Popular Hiking Trails
Inspiration: Photo Diary of the 5 Villages
The Italian Lakes
Exploring Lake Como: Travel Guide & Where to Stay
Quick Guides to: Varenna, Bellagio & Villa del Babianello
Visiting Lake Maggiore
Quick Guides to: Isola Bella & Villa Taranto
Discovering Hidden Lake Orta
Follow me @Sher She Goes on