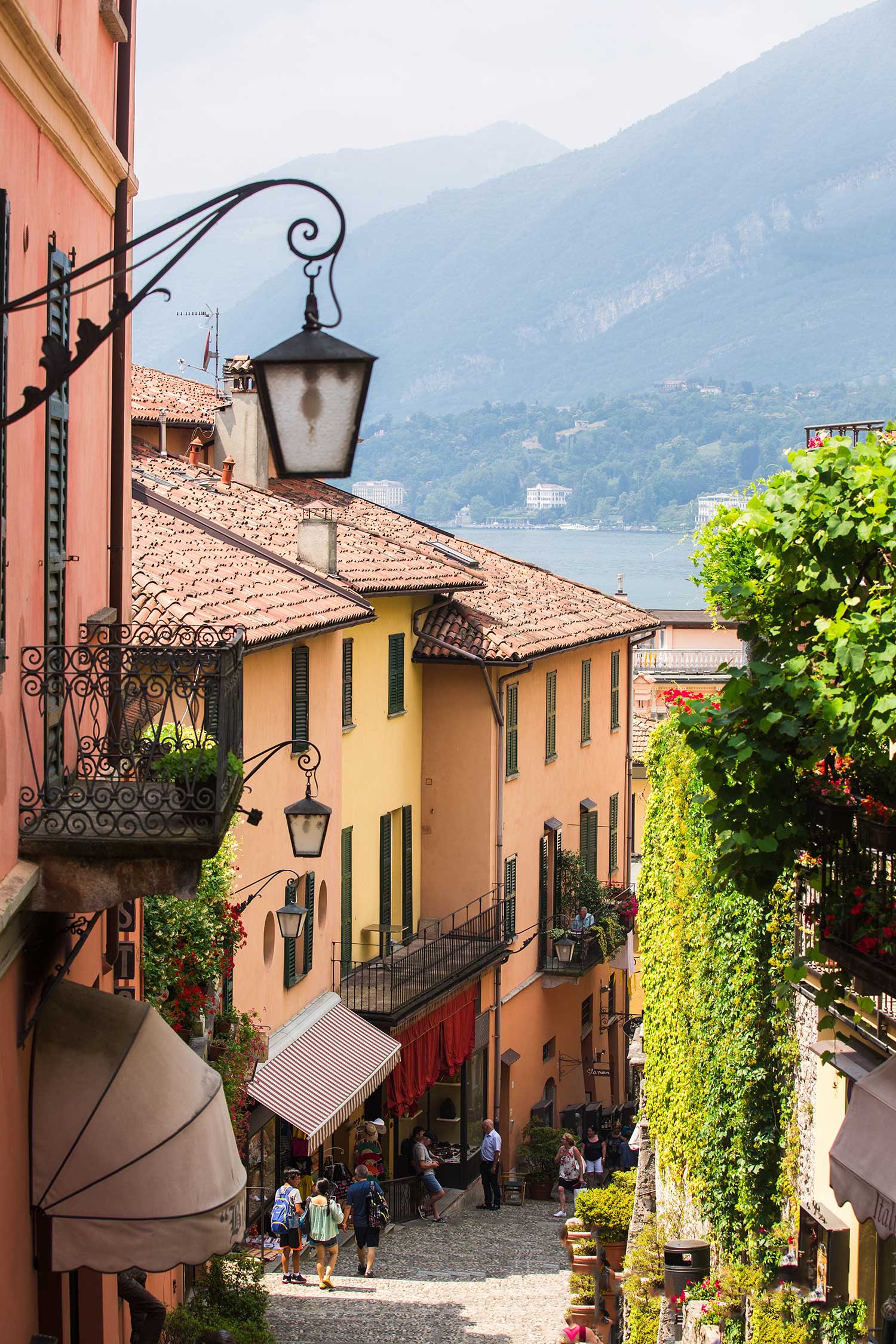 Bellagio, Italy
The Pearl of Lake Como is perhaps the most famous town in Lake Como. When we were planning our visit, I thought it was funny that despite the lake being named after the town of Como, most people skip that stop altogether and head straight for Bellagio or Varenna.
Bellagio is the prefect town in Italy if you're looking to getaway and relax. While there are lots of other tourists, the tiny town retains a really charming atmosphere and I loved how there wasn't any hurry to cross off any big 'to do' list of museums and famous sights. Instead, we spent our time window browsing, watching street performers and carbo loading!
Here's a quick travel guide about what to see and do in Bellagio, Italy – even if you have just 1 day!
Quickly jump to each section:
Or pin an image below to read later ⇟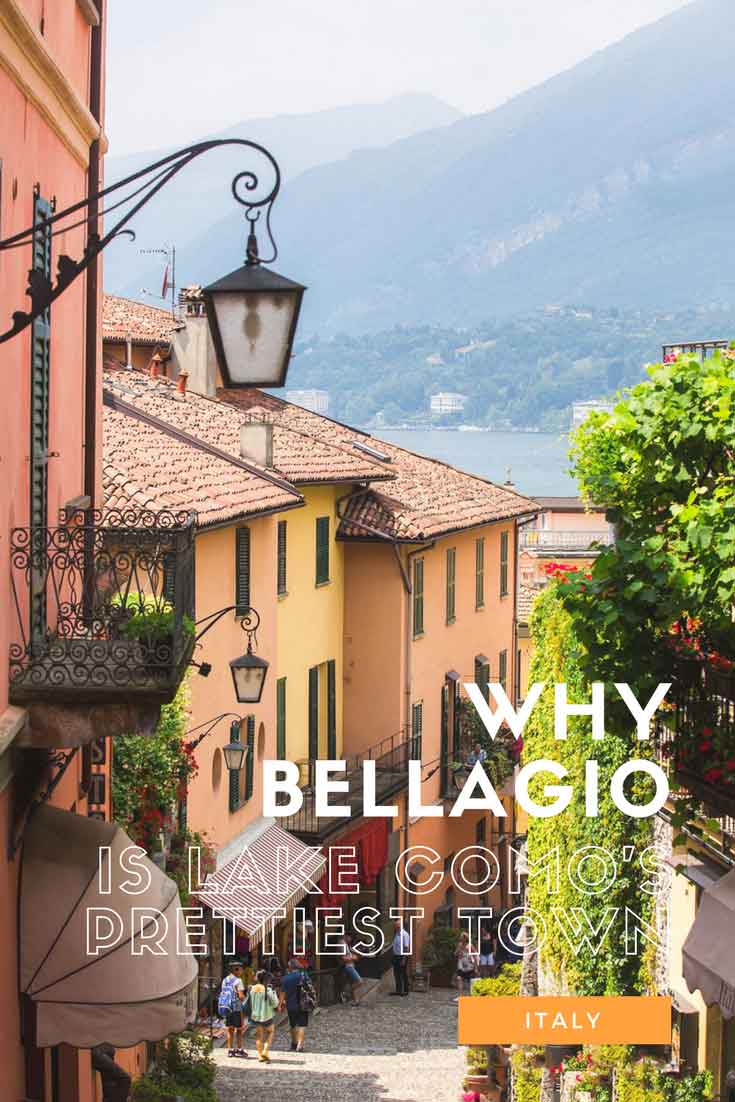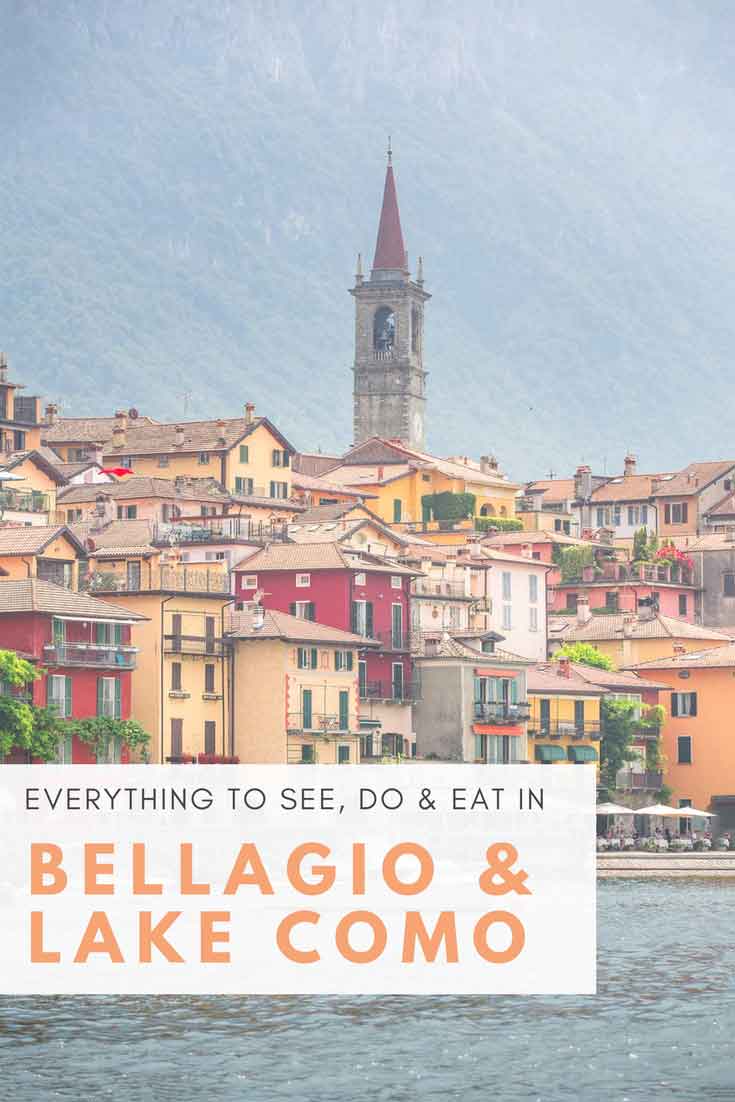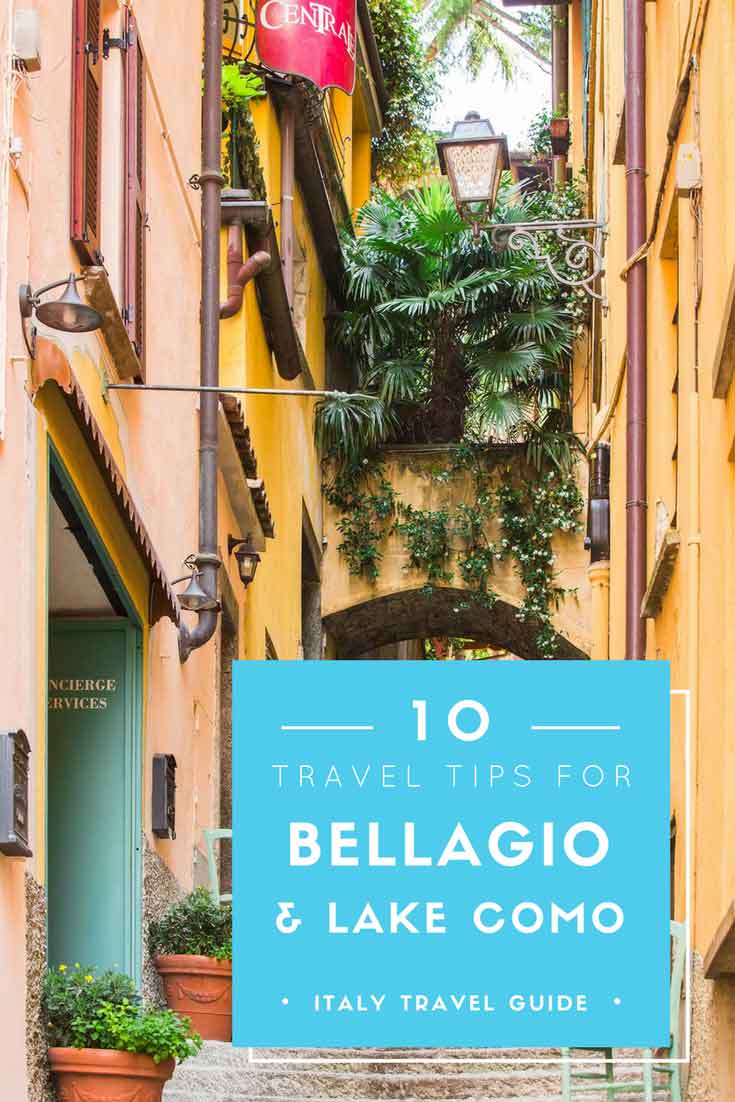 ADVERTISEMENT
---
---
From Milan to Bellagio
It's relatively straight forward to get to Bellagio if you're already in Italy. First, take the train from Milan's Central Station to Varenna.
We purchased our train tickets online before our trip and the process was easy and straightforward. You can browse their website for the Italy train schedule here. Tip: In Italy, train fares increase with time, so book your tickets once you know your travel dates.
Before You Go:
Buy Train Tickets
ADVERTISEMENT
---
---
Taking the Ferry
When you arrive in Varenna, you'll then need to take the ferry. The train station in Varenna is a short walk (maybe 5 to 10 minutes) from the ferry dock.
While there are lots of towns in Lake Como to base yourself in, Bellagio is one of the most convenient since the ferry boats which service Lake Como typically make a brief stop at Bellagio on most routes in either direction. You'll receive a time table when you buy your ferry ticket.
As we rode the ferry over from Varenna, the slow pace only heightened our anticipation. First we spotted a church tower and colorful pastels from far away and as we inched closer and closer, our jaws dropped. Bellagio is one of the larger villages on Lake Como, with tiered hills of pastel buildings.
When you land, there are two docks, each separated by just a couple hundred yards. Right opposite is a large promenade of hotels, restaurants and shops. There's also people everywhere!
Read more:
The Italian Lakes are Italy's Best Kept Secret
ADVERTISEMENT
---
---
Where to Stay in Bellagio, Italy
Bellagio has lots of options for those who want to spend a weekend or relaxing couple days on Lake Como. There's luxury grand hotels right on the waterfront, boutique hotels for those wanting a more family feel with modern accommodation, and of course, Airbnb.
Read more:
Here's Where You Should Stay on Lake Como
Here are some of the best hotels in Bellagio:
1 | Hotel Belvedere Bellagio – Perched high on a hill, Hotel Belvedere is a landmark Bellagio hotel that's famous for its incredible pool, rooftop restaurant and stunning views of greater Lake Como. The rooms are large and airy and you're pretty much guaranteed to never want to leave!
Book a room: Hotels.com, Booking.com, Travelocity
Check prices: TripAdvisor
2 | Hotel du Lac – On the flipside, Hotel du Lac is the perfect place to stay in Bellagio if you want to be in town near all the action. It's right in front of the ferry docks and surrounded by great restaurants, boutique shops so if you love being in the center of action, stay here.
Book a room: Hotels.com, Booking.com, Travelocity
Check prices: TripAdvisor
ADVERTISEMENT
---
---
Things to Do in Bellagio, Italy
1. Shop Till You Drop
We had fun exploring the side streets and walkways. There's everything from jewelry stores and hat stands to luxury designer boutiques. Shopping is the main thing to do in Bellagio so join in on the fun!
2. Eat, Eat & Eat!
Bellagio has lots of great options, whether you're craving pasta, pizza or tiramisu!
We used Rick Steves Italy guide to get a sense of some local hotspots and ended up picking a restaurant with AC to escape the heat! Our lunch was pasta heavy (carbonara and clams) and delicious. Expect slightly higher prices given the town caters to tourists.
Read more:
Follow This 7 Day Northern Italy Itinerary
ADVERTISEMENT
---
---
3. Visit i Giardini di Villa Melzi
Villa Melzi is a fabulous villa that was built… for Napoleon's assistant. Must have been one right hand guy! The manicured growns are gorgeous and as a bonus, have incredible views of the lake! It's only a short walk from the main town but pretty unknown… unless you take the Hidden Bellagio tour.
4. Take a Cooking Class
If you have more time, this 4 hour cooking experience is fantastic. You get to learn all the secrets to making authentic Italian cuisine in a pretty villa. They pick you up from the ferry bank, teach you lots of Italian dishes and appetizers and best of all, it's capped to just 12 people so the cooking class is more intimate and everyone has more than enough to eat at the end!
Learn more here.
5. Go Kayaking
We didn't have time for this but kayaking on Lake Como looked so fun! Starting from Bellagio, you paddle all along Pescallo Pay and learn from a local guide about the region and hidden sites of Lake Como.
If you have a waterproof camera or GoPro, bring it! Kayaking brings you around the hills so you get some amazing views of the landscape and villas (Serbelloni, Marescalchi, etc) from the water.
Read more:
The Prettiest Towns of Northern Italy
ADVERTISEMENT
---
---
What are you most looking forward to about Bellagio? Check out the rest of our Lake Como travel guides below!
Visiting Italy – Trip Planning Checklist
There's so much to see and do in Italy that you can visit again and again and still discover new sights. I recommend concentrating on the big 4 cities (Rome, Venice, Milan & Florence) if it's your first time and then coming back to explore either Northern Italy or Southern Italy in more depth.
Go | Flight prices from the US to Italy are highly seasonal. You can set a fare alert here to be notified of discounts. Every fall & winter, I've seen great deals to Milan. One word of caution: avoid Alitalia at all costs!
Getting Around | A convenient way to explore Italy is via high speed train. You can search train schedules and book online here. Buy your tickets in advance to save on fares. Make sure to validate your ticket on the platform!
It also helps to speak a little Italian. Brush up on your Italian language skills with Rosetta Stone. You can take 10% off with promo code CJBT10.
Stay | Book hotels in advance to save, or check here for last minute deals. Many hotels in Italy are older so don't be surprised if even 5 star accommodation feels slightly dated. Opt for a room with a view instead of breakfast, as Italians don't eat breakfast in the same way Americans do and you'll probably be disappointed with their offering.
Alternatively, groups or budget travelers can check out Airbnb. 
Protect | Lastly, be sure to visit Italy with travel insurance. Whether you get injured and need to be hospitalized, your phone gets stolen, or a flight delay leaves you with nothing but the clothes on your back, travel insurance will help when you need it most.
A rail strike occurred during our trip, unexpectedly shutting down transportation for an entire day. Get a quote for your Italy trip here.
You Might Also Enjoy:
Italy Vacation Planning Articles
The First Timer's Guide to Italy: A Classic Itinerary
THIS is the Best Time to Visit Italy
What to Wear in Italy: A Packing Checklist
Northern Italy
The Most Beautiful Places in Northern Italy (that are still a secret!)
Headed to Northern Italy? Here's the Perfect 7 Day Itinerary
Exploring Bologna: Travel Guide
Quick Guides to: Bologna Day Trips & The Best Bologna Restaurants
Visiting Parma: The Center of Parma Ham & Cheese
7 Reasons to Explore Medieval Bergamo
Visiting Ravenna's Mosaics
Test Driving Fast Cars & Touring Car Museums in Italy's Motor Valley
Cinque Terre
Plan Your Trip: Travel Guide
How to Choose Which Village to Stay
A Blissful 3 Day Cinque Terre Itinerary
The Best Cinque Terre Airbnbs for Large Groups
Quick Guides: The Best Restaurants & Popular Hiking Trails
Inspiration: Photo Diary of the 5 Villages
The Italian Lakes
Exploring Lake Como: Travel Guide & Where to Stay
Quick Guides to: Varenna, Bellagio & Villa del Babianello
Visiting Lake Maggiore
Quick Guides to: Isola Bella & Villa Taranto
Discovering Hidden Lake Orta
Follow me @Sher She Goes on