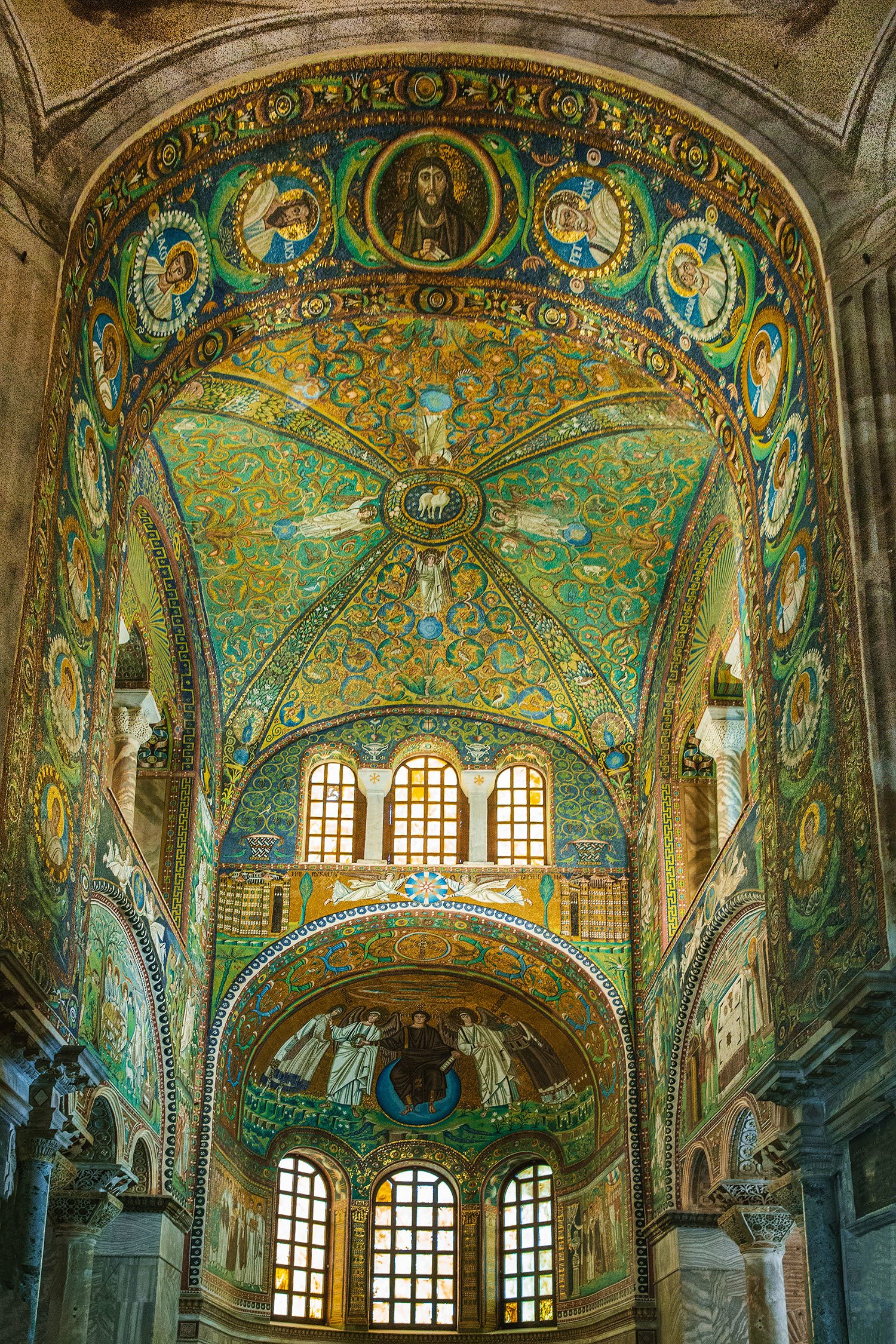 Ravenna, Italy
We based ourselves in Bologna which is a great foodie town, but also wanted to visit other areas in the Emilia-Romagna region. We did some quick research and decided to check out neighboring Ravenna and we're so glad we did.
Ravenna is a small town in Northern Italy, most famous for its dazzling collection of Byzantine mosiacs. Added to UNESCO's World Heritage Sites list in 1996, the quaint town has a pedestrian only center, delicious wine bars and a charmingly slow atmosphere. If you've seen Italy's famous sights and want a quaint town off the beaten path, Ravenna is perfect.
Here's a quick guide to Ravenna must see attractions!
Pin this post to read later ⇟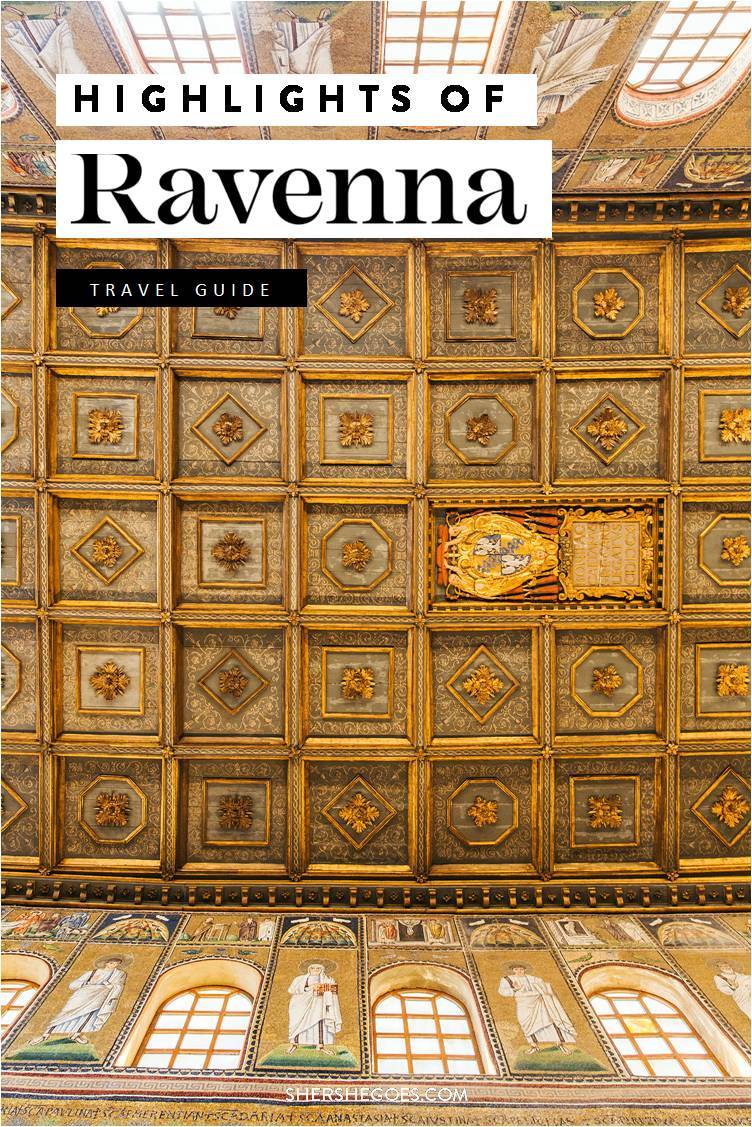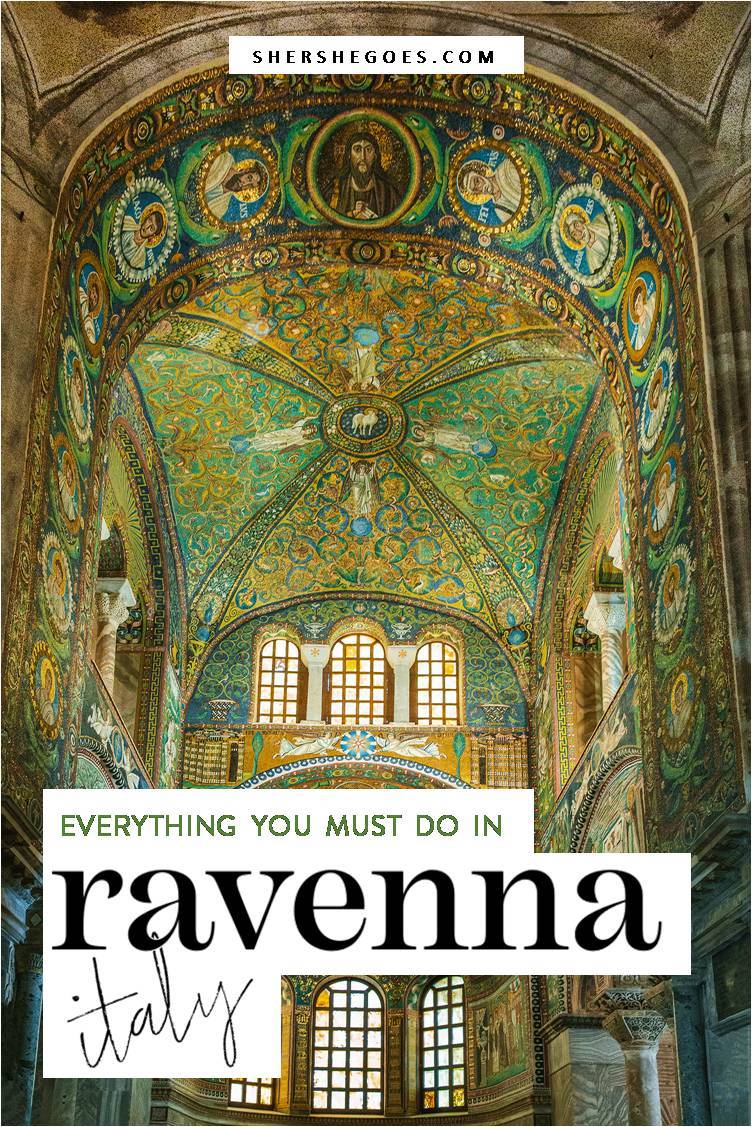 ADVERTISEMENT
Ravenna's Mosaics
Ravenna is on the tourist trail for one reason and one reason only: it's early Christian churches and beautiful Byzantine mosaics.
If you're tired of the crowds and tourist traps common in Italy's more famous cities, Ravenna makes a wonderful escape (and can easily be done in a day trip!)
Because Ravenna was left off the ancient Roman road (the Via Aemilia) and even today is not connected to Italy's large highways, the small town is peacefully quiet, remote and well preserved. The old town center is pedestrian free and one of the best ways to explore is via bike or segway.
ADVERTISEMENT
---
---
Why were the mosaics built?
For a brief moment in history, during the fifth century in 402 AD, Ravenna became the capital of the Western Roman Empire. As a result, craftsmen flocked to the city to create dazzling beautiful mosaics in the town's churches and baptisteries… while the rest of Europe suffered through the Dark Ages.
The mosaics remain intact today and if you head into the local tourism office, you can get a map to guide your way around town.
ADVERTISEMENT
---
---
Best Things to Do in Ravenna
Ravenna is an art history lover's dream.
Visit all seven UNESCO World Heritage sites in a leisurely circuit and then refuel at a wine bar before feasting on Emilia-Romagna's delicious local pastas. The best way to understand the sights' significance is to take a guided tour – that way you can really understand the clash of Roman, Byzantine and Arian motifs in each of the religious sights.
Here are our top reasons to visit Ravenna:
1. Basilica of Sant'Apollinare Nuovo
This was the first church we visited in Ravenna, as it's closest to the train station.
The Basilica of Sant Apollinare Nuovo features 26 mosaic scenes from the New Testament. It was created by King Theodoric the Great in the 6th century, making it the oldest in the world.
It took us a bit to find as it's outside the old historic town but you'll find it from the large bell tower and stone archway entrance. There are stunning gold mosaics on the interior that show Jesus depicting various miracles and more mosaics on the archways.
After you check out the church, swing by the open air courtyard!
ADVERTISEMENT
---
---
2. Basilica of San Vitale
Although the church's exterior is pretty plain – don't be fooled.
Inside you'll find some of the finest examples of Byzantine artwork anywhere in Italy. With Baroque frescoes, an octagonal Roman floor plan glittering mosaics and domes that descend into columns, the church is a bit of a religious and cultural mash up.
The mosaics show portraits of the Holy Roman Emperor Justinian (the one who moved the capital to Ravenna in the first place) as well as his wife Theodora. You'll also find lots of birds, wildlife and other historic religious personas of the time decorated along the ceilings.
The brilliant color, depth and detail of the mosaics is pretty impressive – and the little tiles cover almost every surface of the church, even the arches and walls.
There are some bare spots where the mosaics have dropped over time, but this basilica was my favorite. You could give yourself a neck crick staring up at them all!
The Basilica of San Vitale is said to have been the model for Constantinople's Hagia Sophia, built 10 years later.
ADVERTISEMENT
---
---
3.
Mausoleum of Galla Placidia
Right next door is the Mausoleo di Galla Placidia. We actually visited this first, based on the guided walking route that the town lays out.
The humble mausoleum was dedicated to the daughter of Roman Emperor Theodosius I and the interior artworks are really beautiful (although she wasn't actually buried here).
There's a brilliant blue tiled sky that looks very much like a Hermes scarf and some scenes of San Lorenzo facing the flames. This supposedly inspired Dante's Inferno!
If you study the walls closely, you'll find various allegorical designs that are meant to represent the garden of Eden. As light shines through the dome, the blue tiles really shimmer and it's a very pretty effect.
Most people think Galla Placidia's Mausoleum has the best mosaics in Ravenna! It also holds the distinction of bearing Ravenna's oldest mosaics (they date back to 425 AD). I was surprised to find the colors still look vivid after all that time.
The circular tomb is much smaller than the other famous sights in town, so if you get claustrophobic wait a few minutes for it to empty out before stepping inside.
ADVERTISEMENT
---
---
4. Try Local Emilia Romagna Cuisine
After all those sights, we worked up quite an appetite. Luckily, Ravenna is part of the Emilia-Romagna region of Italy and home to some of the best food in Italy. This small town is famous for piadina, a round flat bread, fresh chewy eggless pasta and creamy cheeses.
The best way to learn about it all is through a cooking class! I love taking food tours and cooking classes whenever I travel, because it helps support local businesses and puts you in contact with true local chefs.
This 4 hour class puts you into the hands of local Chef Alberto, who spills the secret on exactly how to make classic specialties. From stuffed ravioli to pork ribs and sponge cake, you'll make a full menu of tasty Italian food and of course, learn the local tips for making fresh pasta (in just one afternoon)! The best part is, the class comes with wine pairings!
Check availability and rates here.
ADVERTISEMENT
---
---
5. Ravenna Music Festival
The Ravenna Music Festival is one of the most popular reasons people visit the town. Every year, for roughly 2 months from May to June, Ravenna hosts a summer music festival to showcase classical, jazz and even experimental new age music. Artists and opera companies from around the world come to perform so if you're a music lover, why not time your visit to coincide with the festival?
The nice thing is visitors don't have to hole up in an opera house – Ravenna transforms its piazzas, basilicas and cloisters into music venues so you can enjoy the 5th century mosaics, music and summer weather all together.
6. The Tomb of Dante Alighieri
Dante is most famous for his Divine Comedy but few know that he was exiled to Ravenna as a result of his famous work. He is buried here in Ravenna in an elaborate tomb that's worth visiting (but rumor says grave robbers stole his bones to rebury them in his native Florence).
ADVERTISEMENT
---
---
Getting In to Ravenna
The easiest way to visit Ravenna is to take one of the hourly trains from Bologna's Centrale station. Buy train tickets online here if you want to save, as ticket prices on Italy's trains will increase rapidly as the date gets closer (and sometimes sell out for popular routes).
The ride is roughly an hour and a half each way. Fares are pretty cheap, if I remember we paid about 10 euros each way.
I recommend visiting Ravenna in spring or summer, when the weather is best. Ravenna is well off the popular tourist trail so even in the height of summer it's blissfully uncrowded.
Before You Go:
Buy Train Tickets
ADVERTISEMENT
---
---
Where to Stay in Ravenna
You can visit in a day but I think it's nicer to relax and enjoy a truly local Italian town by staying for at least 1 night.
Within the historic center, there are a couple charming hotels and guest houses that will put you near the restaurants, wine bars and main sites. Best of all, because Ravenna is not too popular, rates are very affordable even in peak season.
These are 3 of the best hotels in Ravenna:
1 | Albergo Cappello – This is a traditional 19th Century hotel with just seven rooms. Each bedroom is decorated in its own romantic fashion but if you love high ceilings, ornate chandeliers and gorgeous antiques, this is the hotel to stay in Ravenna. The on site restaurant has fantastic local Italian food and the wine bar gets lively in the evenings.
Book rooms: Booking.com, Hotels.com | Check prices: TripAdvisor
2 | NH Ravenna – NH Hotels is a modern, reliable hotel chain throughout Italy. Their Ravenna accommodation has a fantastic location (with free parking!), comfy rooms with large beds and a decent selection at breakfast time. It's just minutes from the most popular churches in Ravenna.
Book rooms: Booking.com, Hotels.com | Check prices: TripAdvisor
3 | Palazzo Bezzi – This modern hotel is right next door to the Basilica di Sant'Apollinare Nuovo and just a short walk to the town center. Fashionably updated rooms with breakfast start at just 60 euros a night – a steal!
Book rooms: Booking.com, Hotels.com | Check prices: TripAdvisor
ADVERTISEMENT
---
---
What do you think? Would you add Ravenna to your Italy vacation?
Visiting Italy – Trip Planning Checklist
There's so much to see and do in Italy that you can visit again and again and still discover new sights. I recommend concentrating on the big 4 cities (Rome, Venice, Milan & Florence) if it's your first time and then coming back to explore either Northern Italy or Southern Italy in more depth.
Go | Flight prices from the US to Italy are highly seasonal. You can set a fare alert here to be notified of discounts. Every fall & winter, I've seen great deals to Milan. One word of caution: avoid Alitalia at all costs!
Getting Around | A convenient way to explore Italy is via high speed train. You can search train schedules and book online here. Buy your tickets in advance to save on fares. Make sure to validate your ticket on the platform!
It also helps to speak a little Italian. Brush up on your Italian language skills with Rosetta Stone. You can take 10% off with promo code CJBT10.
Stay | Book hotels in advance to save, or check here for last minute deals. Many hotels in Italy are older so don't be surprised if even 5 star accommodation feels slightly dated. Opt for a room with a view instead of breakfast, as Italians don't eat breakfast in the same way Americans do and you'll probably be disappointed with their offering.
Alternatively, groups or budget travelers can check out Airbnb. 
Protect | Lastly, be sure to visit Italy with travel insurance. Whether you get injured and need to be hospitalized, your phone gets stolen, or a flight delay leaves you with nothing but the clothes on your back, travel insurance will help when you need it most.
A rail strike occurred during our trip, unexpectedly shutting down transportation for an entire day. Get a quote for your Italy trip here.
You Might Also Enjoy:
Italy Vacation Planning Articles
The First Timer's Guide to Italy: A Classic Itinerary
THIS is the Best Time to Visit Italy
What to Wear in Italy: A Packing Checklist
Northern Italy
The Most Beautiful Places in Northern Italy (that are still a secret!)
Headed to Northern Italy? Here's the Perfect 7 Day Itinerary
Exploring Bologna: Travel Guide
Quick Guides to: Bologna Day Trips & The Best Bologna Restaurants
Visiting Parma: The Center of Parma Ham & Cheese
7 Reasons to Explore Medieval Bergamo
Visiting Ravenna's Mosaics
Test Driving Fast Cars & Touring Car Museums in Italy's Motor Valley
Cinque Terre
Plan Your Trip: Travel Guide
How to Choose Which Village to Stay
A Blissful 3 Day Cinque Terre Itinerary
The Best Cinque Terre Airbnbs for Large Groups
Quick Guides: The Best Restaurants & Popular Hiking Trails
Inspiration: Photo Diary of the 5 Villages
The Italian Lakes
Exploring Lake Como: Travel Guide & Where to Stay
Quick Guides to: Varenna, Bellagio & Villa del Babianello
Visiting Lake Maggiore
Quick Guides to: Isola Bella & Villa Taranto
Discovering Hidden Lake Orta
Follow me @Sher She Goes on