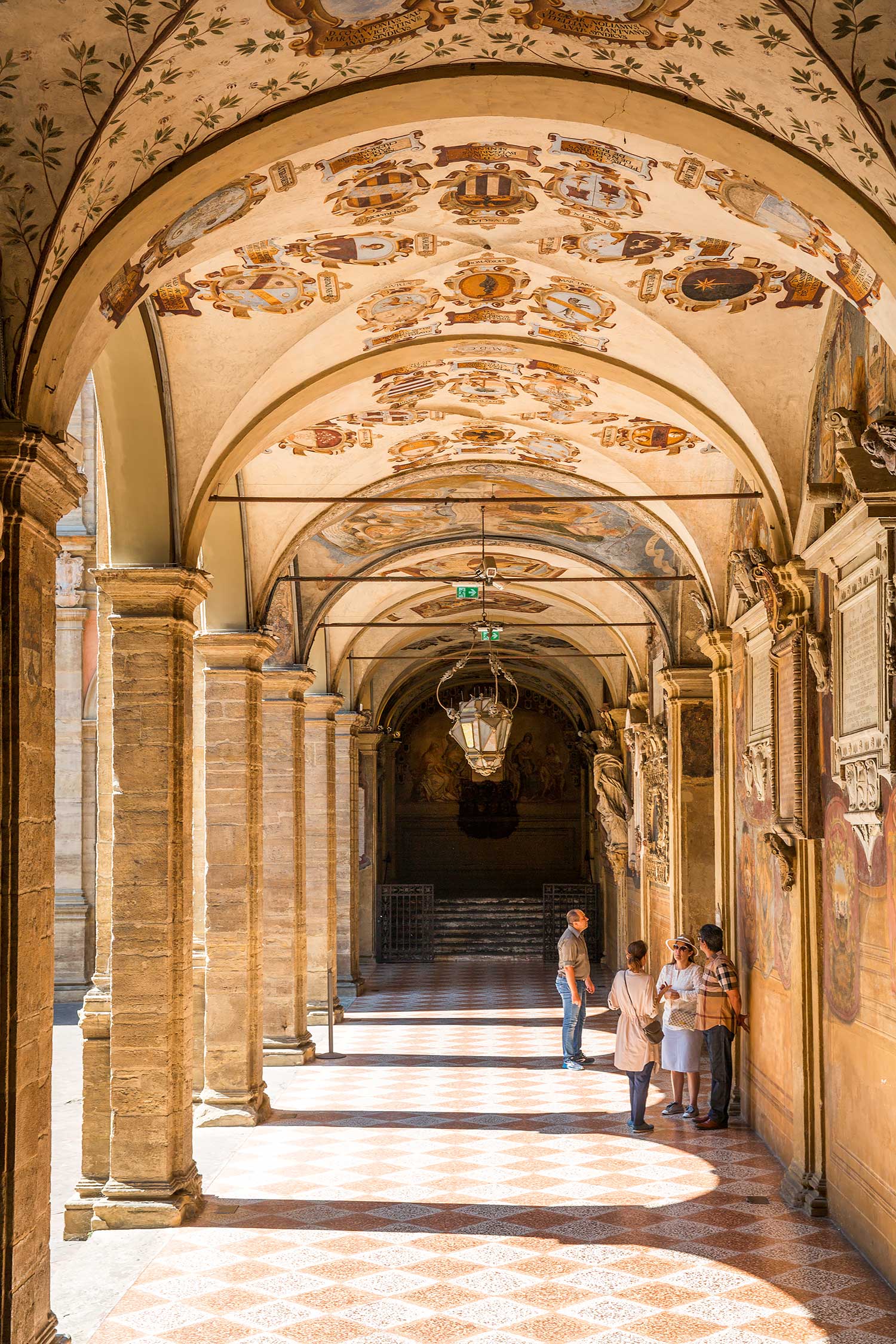 Bolgona, Italy
On our trip to Northern Italy, we opted to stay 4 nights in Bologna, capital of Italy's Emilia-Romagna region. I was really curious about what the city would be like, since it's one of those destinations that people seem to either rave madly about or dismiss entirely. (Rick Steves is of the latter opinion).
Bologna is an Italian university town, with some medieval flair. It makes for a great foodie destination as well as a convenient base to explore Italy's charming small cities.
Here's a recap of what we got up to in Bologna and whether it's really worth a visit.
ADVERTISEMENT
---
---
Getting In
Bologna was added to Italy's high-speed train line in 2007, shortening the one way journey from Milan to Bologna to just one hour. As a result, the city is a popular 'suburb' of Milan and we found frequent connections to Bologna at almost any time of day.
Because Italians use it as a commuter line and because the route operates on the high-speed network, fares are slightly more expensive.
I believe we paid anywhere from 70-100 euro for a round trip. At peak times, groups of seats will sell out so you might have to sit in separate train cars. We booked half our tickets in advance and left half-open for flexibility, and paid substantially more for the latter. You can find train schedules and book tickets on Rail Europe here.
Once you get into Bologna, you'll find the historic center about 20 minutes walk from the train station. There are decent buses that service Bologna but we found ourselves walking pretty much everywhere – it's quite a spread out city!
Before You Go:
Book Train Tickets
ADVERTISEMENT
---
---
The Best Things to Do in Bologna
Food is the number one priority when visiting Bologna, so I hope you like to eat! Below are just some of the famous attractions Bologna has to offer.
1. Take a Food Tour
You'll definitely want to take a food tour to understand Bologna's culinary history from a true local! This gourmet tour takes you through a traditional bakery, pasta maker, mortadella shop, chocolate maker and osteria, guiding you through Bologna's best food shops and open air markets.
The local guide teaches you about local produce and the finer qualities to specialties like parma and balsamic vinegar.
And of course, no Bologna food tour would be complete without pasta. You get to watch how tortellini is made and try shaping your own stuffed pasta. The tour includes a group lunch with some fabulous local sparkling wine, followed by the best course – dessert! Bologna makes some of Italy's best gelato.
Check tour availability and rates here.
ADVERTISEMENT
---
---
2. Walk the Porticoes
One of Bologna's most distinctive features are its porticoes – pretty arches that shield the streets from both the sun and rain. There are 666 archways in total (but I certainly didn't count) built to the height of a man on horseback, and today constitute yet another of Italy's UNESCO World Heritage sights.
Supposedly, the porticoes were created during Bologna's Middle Age, when the city needed extra space for housing. By building over part of the sidewalks, the city avoided narrowing the streets, while creating extra room for living spaces.
If you arrive into Bologna by train, you can take a leisurely 20-30 minute walk from the central station into the old town – all under the covered porticoes.
ADVERTISEMENT
---
---
3. Piazza Maggiore
At Bologna's medieval center, you'll find Piazza Maggiore. The beautiful square has a 16th century fountain as well as the Basilica di San Petronio.
Piazza Maggiore is ringed by medieval buildings which carry out the city's administrative, municipal and religious functions.
If you walked from the train station to here, you'll probably want a drink! Bologna's public library is housed in a beautiful medieval building here and has a great coffee shop inside. Or, grab an aperitivo at any of the bars which line the plaza.
ADVERTISEMENT
---
---
4. San Petronia Basilica
This church, at the southern edge of Piazza Maggiore, was first started in the 1300s but never finished due to politics in Rome.
We went inside for a peak (make sure to cover your shoulders and knees), where you can find the meridian line. At one time, it was the largest astronomical instrument in the world.
ADVERTISEMENT
---
---
5. Towers of Bologna
Pisa may be more famous, but Bologna has its own leaning towers. In fact, old prints show that the city once had more than a hundred towers, as noble families would compete to build the highest structures.
17 towers remain today, the two most famous of which are the Torre Garisenda and the Torre Asinelli. Built in the 12th century, the Torre Garisenda leans even more dramatically than Pisa and is so famous throughout Italy that Dante mentions it in his Divine Comedy. You can find his quote inscribed on a plaque at the base of the tower.
The Torre Asinelli is taller at 90 meters, and is climbable. Pay the entrance fee for a beautiful view over the city – you'll get a first hand look at the red roofs which give Bologna its nickname La Rossa. No elevators though – you have to climb the steps on foot.
It's local legend that students who climb before graduating won't get their degree – so you'll probably find just other tourists with you.
ADVERTISEMENT
---
---
6. See the Dissection Table at Palazzo dell'Archiginnasio
The University of Bologna is Europe's oldest school (founded in 1088) and even today, you'll find young undergraduates in Bologna's cafes, squares and restaurants.
One of the most important buildings belonging to the school is the Archiginnasio. It was once the main building of the university holding the city's library and anatomical theatre: aka the dissection room! Lectures were given here while bodies were carved up in front of the room on the cadaver shaped marble slab.
Stop by for a quick look and admire the frescoes on the courtyard ceilings.
ADVERTISEMENT
---
---
7. Eat Bolognese Pasta
Bolognese is hands down my favorite pasta. In Bologna, you won't exactly find spaghetti bolognese on the local menus – Italians call it tagliatelle al ragu. The "alla bolognese" name probably came about since the pasta was "from Bologna".
Also, in Bologna it will traditionally be served on tagliatelle flat noodles, so that the meat sauce can better cling to the pasta!
For the best bolognese in town, head to Osteria dell'Orsa. It's an unassuming tavern that's quite popular with university students so that prices are inexpensive and the flavor is fantastic! The restaurant can be busy at peak hours so try going on off hours to snag a seat.
Read more:
6 Tasty Bologna Restaurants You Should Try
ADVERTISEMENT
---
---
8. Taste the Best Gelato in Italy
Gelato lovers, you're in luck. Homemade gelato in Bologna is an institution and there are several ice cream shops in town that each make delicious sorbets and ice creams.
My personal favorite was the La Sorbetteria Castiglione, where the dark chocolate is unbelievably creamy and rich. It's a little farther away from the main old town, but well worth the walk.
For those who like to try quirky flavors, we spotted Gorgonzola cheese gelato and even Risotto alla Milanese gelato.
There's even a Gelato University where you can take professional courses to learn the art of making gelato! Or, if you just want to eat, head to the Gelato Museum for some fun workshops and tours. Book it in advance.
ADVERTISEMENT
---
---
9. Go Food Shopping in the Quadrilatero
Bologna's food markets are quite famous and one of the most charming sections is the Quadrilatero. Home to markets and food stalls since the Middle Ages, this grid of narrow streets south of Via Rizzoli is the place to try flaky pastries, aged cheeses, delicious charcuterie and inexpensive but fantastic wine.
Grab a little of this and that to make your own picnic! Or, have lunch at one of the many street side restaurants where you can enjoy a meal on the sidewalk tables.
We had a delicious pasta lunch at one of the tucked in eateries.
ADVERTISEMENT
---
---
10. Santuario della Madonna di San Luca
Saint Luke's sanctuary is one of the most famous churches in Bologna and occupies a secluded place on its own forested hill southwest of the city center.
The best way to visit is to walk along the long roofed arcade where the annual procession marches but it's also the most challenging way! 666 arches line the path (about 3.8 km) and you might find yourself cursing the devil as you near the home stretch.
The church is famous for its black icon of the Virgin Mary, said to have been painted by Saint Luke and brought from the Middle East to Bologna in the 12th century. The church interiors are gorgeous and there are some nice gardens on the grounds that you can visit.
On the way back, take the easier route by riding the red tourist San Luca express bus. It will drop you off back in the main square, Piazza Maggiore.
ADVERTISEMENT
---
---
Where to Stay in Bologna
Bologna is a pretty large town. If you're visiting in summer, it gets disgustingly hot so for accommodation, you'll have to choose between staying near the old town center and near the train station.
If you aren't sure if you'll love Bologna, consider staying halfway in between both (or moving hotels to experience both neighborhoods, as we did)
These are 3 of the best hotels in Bolgona:
1 | Grand Hotel Majestic "già Baglioni" – This is Bologna's grandest hotel, located right in front of the city's cathedral with an excellent location for a walking tour of all the city's major sights. There are just 109 luxurious rooms and suites (some with private terraces!) and the beautiful 18th century building is gorgeously decorated in Venetian style.
Book rooms: Booking.com, Hotels.com | Check prices: TripAdvisor
2 | Hotel Metropolitan – This hotel has a modern, zen-like vibe with its Asian decor and green upstairs courtyard. If you're using Bologna as a base to explore the region, Metroplitan Hotel's location halfway between the town square and halfway to the train station will be quite useful.
Book rooms: Booking.com, Hotels.com | Check prices: TripAdvisor
3 | Sav Hotel – Savhotel is a fully modernized hotel that caters to business travelers – so it offers amenities like air conditioning (a rarity in Italy), free breakfast and large modernized rooms.
The hotel is very budget friendly, due to its location about 30 minutes walking from Bologna's town center (bus service is ~15 minutes). If you're driving around Italy, the hotel has ample on-site parking.
Book rooms: Booking.com, Hotels.com | Check prices: TripAdvisor
ADVERTISEMENT
---
---
Fun Day Trips from Bologna
Bologna is food heaven and if all you want to do is eat in Italy, you'll love it. For us, we booked a hotel for a couple nights and used it as a base to explore neighboring towns. You can read more about the day trips we took here.
Bologna is a key stop on Italy's vast train network so it makes for the perfect base to explore more of the Emilia-Romagna region. From Bologna Centrale station, you can easily access Milan, Venice, Florence, Rome, Parma, Ravenna and other towns in Northern Italy.
We also did a 3 day tour of Italy's Motor Valley region, famous for its luxury car production! From Ducati to Maserati, Lamborghini to Ferrari, there are some incredible car museums in this part of Northern Italy.
Read more:
5 Fun, Easy Day Trips from Bologna
Here are some of fun, easy tour ideas that you can take from Bologna:
ADVERTISEMENT
---
---
Did you like Bologna? Let us know if we missed anything in the comments!
Visiting Italy – Trip Planning Checklist
There's so much to see and do in Italy that you can visit again and again and still discover new sights. I recommend concentrating on the big 4 cities (Rome, Venice, Milan & Florence) if it's your first time and then coming back to explore either Northern Italy or Southern Italy in more depth.
Go | Flight prices from the US to Italy are highly seasonal. You can set a fare alert here to be notified of discounts. Every fall & winter, I've seen great deals to Milan. One word of caution: avoid Alitalia at all costs!
Getting Around | A convenient way to explore Italy is via high speed train. You can search train schedules and book online here. Buy your tickets in advance to save on fares. Make sure to validate your ticket on the platform!
It also helps to speak a little Italian. Brush up on your Italian language skills with Rosetta Stone. You can take 10% off with promo code CJBT10.
Stay | Book hotels in advance to save, or check here for last minute deals. Many hotels in Italy are older so don't be surprised if even 5 star accommodation feels slightly dated. Opt for a room with a view instead of breakfast, as Italians don't eat breakfast in the same way Americans do and you'll probably be disappointed with their offering.
Alternatively, groups or budget travelers can check out Airbnb. 
Protect | Lastly, be sure to visit Italy with travel insurance. Whether you get injured and need to be hospitalized, your phone gets stolen, or a flight delay leaves you with nothing but the clothes on your back, travel insurance will help when you need it most.
A rail strike occurred during our trip, unexpectedly shutting down transportation for an entire day. Get a quote for your Italy trip here.
You Might Also Enjoy:
Italy Vacation Planning Articles
The First Timer's Guide to Italy: A Classic Itinerary
THIS is the Best Time to Visit Italy
What to Wear in Italy: A Packing Checklist
Northern Italy
The Most Beautiful Places in Northern Italy (that are still a secret!)
Headed to Northern Italy? Here's the Perfect 7 Day Itinerary
Exploring Bologna: Travel Guide
Quick Guides to: Bologna Day Trips & The Best Bologna Restaurants
Visiting Parma: The Center of Parma Ham & Cheese
7 Reasons to Explore Medieval Bergamo
Visiting Ravenna's Mosaics
Test Driving Fast Cars & Touring Car Museums in Italy's Motor Valley
Cinque Terre
Plan Your Trip: Travel Guide
How to Choose Which Village to Stay
A Blissful 3 Day Cinque Terre Itinerary
The Best Cinque Terre Airbnbs for Large Groups
Quick Guides: The Best Restaurants & Popular Hiking Trails
Inspiration: Photo Diary of the 5 Villages
The Italian Lakes
Exploring Lake Como: Travel Guide & Where to Stay
Quick Guides to: Varenna, Bellagio & Villa del Babianello
Visiting Lake Maggiore
Quick Guides to: Isola Bella & Villa Taranto
Discovering Hidden Lake Orta
Follow me @Sher She Goes on