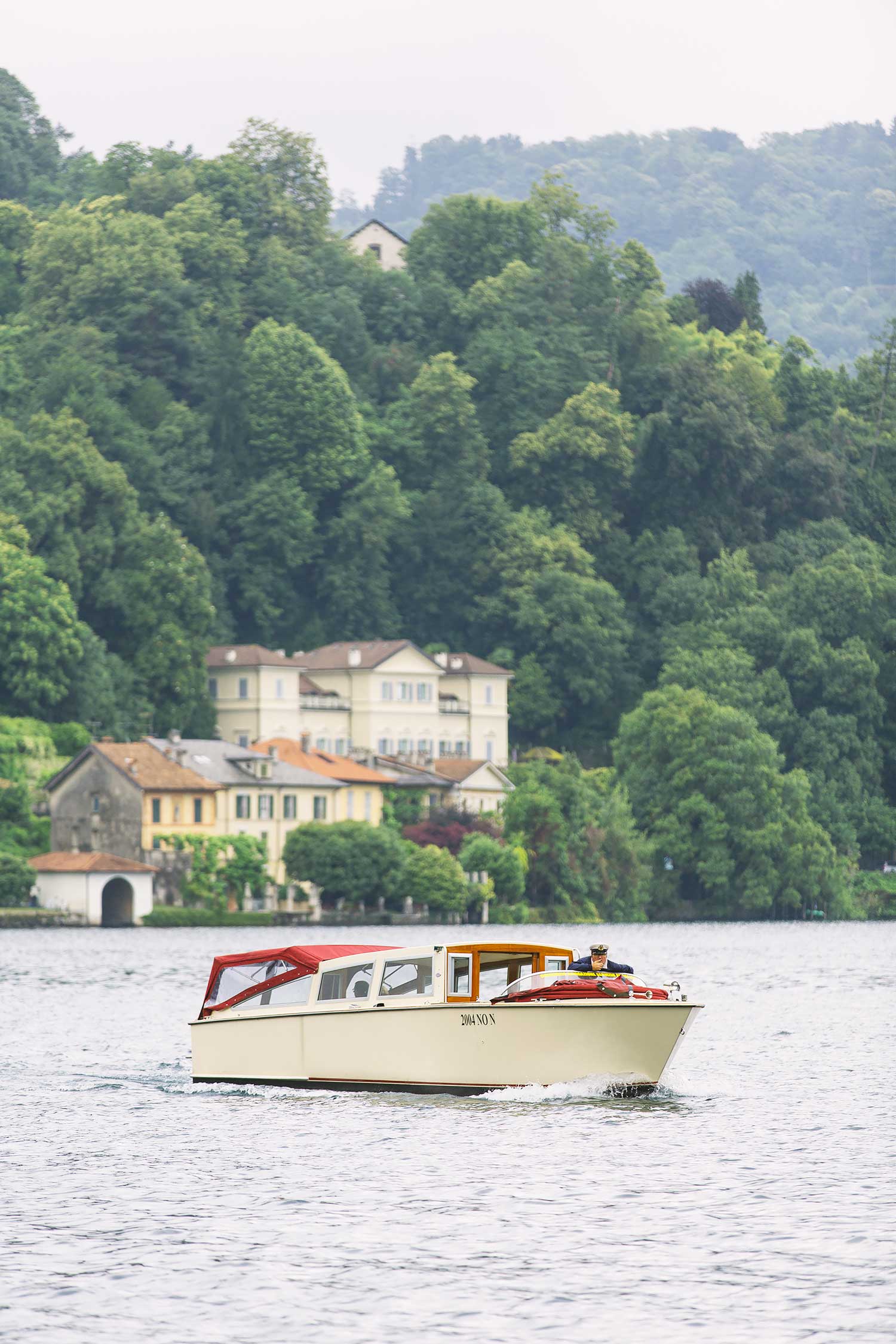 The Best Northern Italy Itinerary
If you've visited Italy before and want to venture off the beaten path, I highly recommend Northern Italy! We recently spent a couple weeks in and around Milan, exploring Italy's northern lake towns, foodie cities and pastel coastal villages.
The best time to visit is in spring or fall, when the scent of magnolia and lemons bloom along the region's quaint cobblestone roads. I've put together a Northern Italy itinerary below featuring some of my favorite small cities and towns that we visited!
Keep reading for advice on planning a Northern tour of Italy!
Pin this post to read later ⇟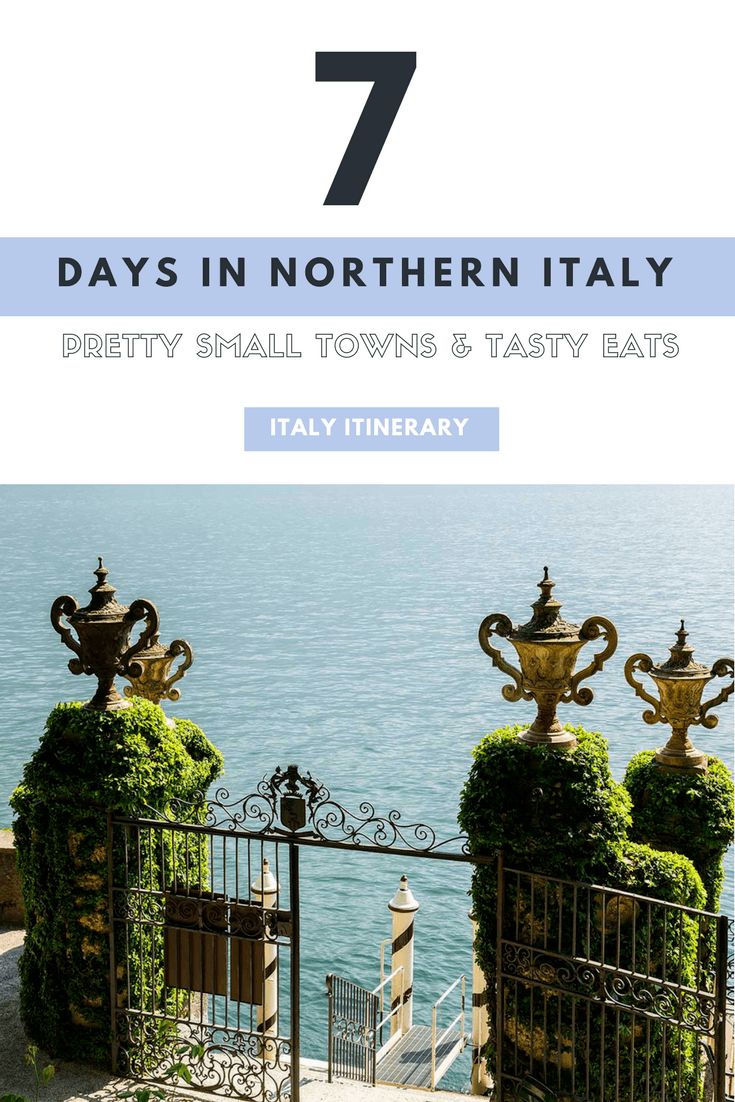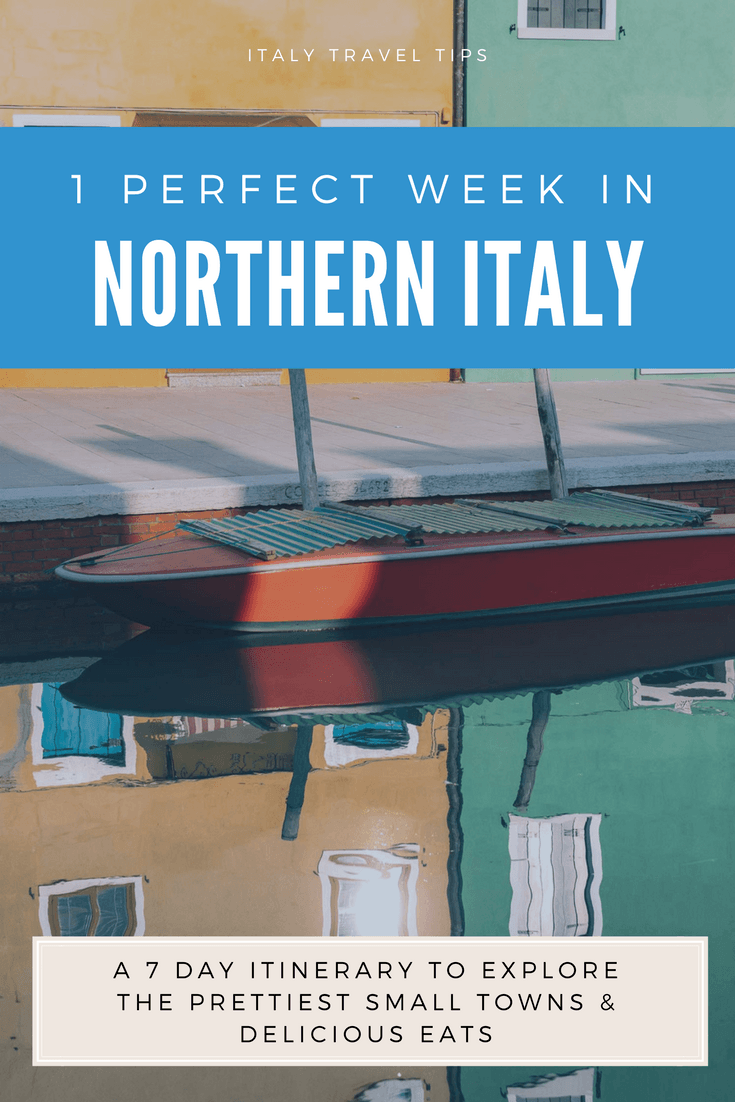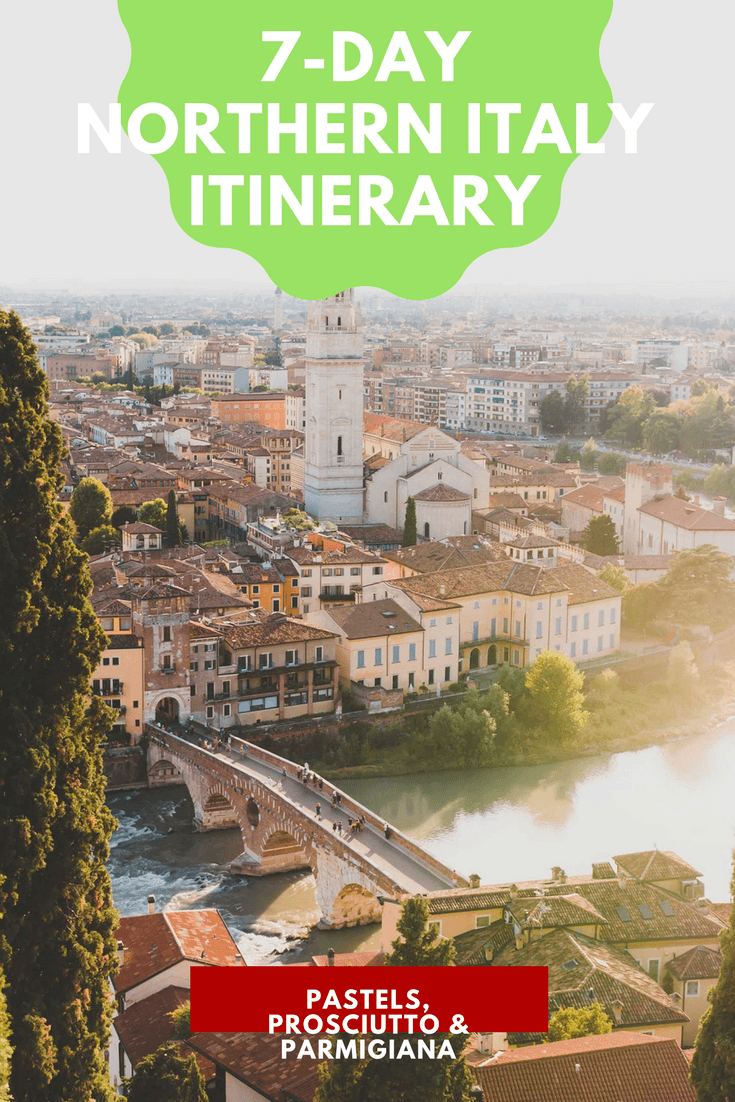 ADVERTISEMENT
1 Week in Northern Italy
When planning my trip to Northern Italy's small towns and charming cities, I relied heavily on Rick Steves' Italy guidebook.
It's a great planning resource with lots of information on popular sights, timetables and transportation info as well as hotel and restaurant recommendations. I definitely recommend grabbing his guidebook before your trip to Italy.
With that being said, Rick Steves has curated his version of what he thinks American visitors to Italy would like. He omits a lot of beautiful places in Northern Italy that deserve a visit! I did additional planning research through family / word of mouth and online forums and blogs to put the below itinerary together.
ADVERTISEMENT
---
---
7 Day Northern Italy Itinerary
Personally, I love quaint towns, charming architecture and good food so that's the theme for my Italy trip.
I also hate crowds so I did a number of day trips that were off the well-beaten Italy tourist path. To find out about quaint day trips in Northern Italy, you can check out this post.
Below is my recommended 7 day itinerary for Northern Italy which covers the highlights and must-see cities.
Days 1-2: Lake Maggiore
---
Piedmont
Located at the foot of the Swiss Alps, there are 5 major lakes in Northern Italy: Maggiore, Orta, Como, Iseo and Garda.
Here you'll find aristocratic, old-world romance, quaint villages and glacial lakes fed from the Swiss Alps. With dramatic limestone peaks, sleek Rivieria sailing boats and incredible local wines and spas, it was easy to fall in love.
I think most Americans overlook the Italian Lakes in favor of the Amalfi Coast, but what they don't realize is that they're seriously missing out! For a base, pick either Stresa or Baveno. All the boats that go to the islands stop at both towns. Stresa is larger, with more hotels and shops, while Baveno is cozier and less touristy.
ADVERTISEMENT
---
---
Things to do in Lake Maggiore
Visit the beautiful botanical gardens of Villa Taranto where over 300 dahlias bloom in spring
Explore the Baroque palace of Isola Bella and its stunning pyramid garden.
Have a fresh seafood dinner on Isola Superior (also called Isola dei Pescatori or Fisherman's Island)
Take the alpine cable car to the top of Mount Mottarone for dramatic panoramic views
Spend the afternoon in Lake Orta with its lakeside piazza and excellent gelato shops!
Visit the Basilica di San Giulio a monumental old seminary that dominates the tiny island
If you like gardens, Isola Madre has a beautiful villa and exotic plants
Where to Stay in Lake Maggiore: Grand Hotel Dino
Baveno was a popular resort town for aristocratic Italian families during the Romantic Age so the best hotels around here have Victorian names, grand staircases and waterfront promenades.
Our corner room was spacious, comfortable and clean with a beautiful balcony overlooking Lake Maggiore. The hotel has been family owned for 150 years so it's dated, but in a charming way. You can wander for hours on the property – it's huge!
There's an excellent on site restaurant Last Hall, that was designed by Paolo Maldotti and has cool, egg shaped wine barrel seating. With fantastic modern Piedmont cuisine, a couple swimming pools, ivy covered walkways and a fantastic location along Lake Maggiore, there are so many reasons to stay at Grand Hotel Dino.
The dock for water taxis and boats is right off the edge of the hotel too!
Book rooms: Hotels.com, Booking.com, Travelocity
Check prices: TripAdvisor
ADVERTISEMENT
---
---
Days 3-4: Lake Como
---
Lombardy
Lake Como is a quick getaway from Milan. From the sleepy village of Varenna to posh Bellagio and dreamy Balbianello, the entire area is lovely!
If you want a relaxing vacation, the lakes of Como are perfect. Hopefully you have time to visit both the sights of Lake Maggiore and the towns of Lake Como. Even though they are both part of the Italian Lakes region, they're quite different and both worth a trip!
Read more:
Where to Stay in Lake Como
ADVERTISEMENT
---
---
Things to do in Lake Como
Relax with an apertivo in Varenna's tiny harbor. Don't forget to wander its narrow lanes until you find its castle, Piazza San Giorgio and church.
Try the local specialties: lavarello, a white lake fish and missoltino, pasta with salted fish
Shop the boutiques in classy Bellagio, a substantial island town with busy streets stuffed full of restaurants and stores
If you're tight on time you can explore the highlights of Lake Como on a day trip from Milan. I would definitely recommend staying overnight though, to properly soak in the charm and avoid the tourist hoards who swarm the towns during the day.
If you can only make a day trip, check all the ferry timetables before hand – they run selectively throughout the day so you'll want to properly time the ferries, islands and train back to Milan to make sure you can fit everything in 1 day.
Where to Stay in Lake Como: Hotel Villa Cipressi
Varenna was my favorite of the towns on Lake Como. It's quieter, with lots of charm. Villa Cipressi is located near the church, a bit higher than the waterfront so the rooms have excellent views of the lake.
It's an older hotel but incredibly beautiful and the staff is great. If the restaurant is open, try it! It's known for its food.
The best part of Villa Cipressi is that guests have access to the private gardens which run along the lake. Really amazing gardens that are terraced into the village!
Book rooms: Hotels.com, Booking.com, Travelocity
Check prices: TripAdvisor
ADVERTISEMENT
---
---
Day 5: Day Trip to Bergamo
---
Lombardy
Bergamo is a medieval city in Northern Italy that was held by the Venetians for many years. It's such a unique town to visit in Italy because the Old Town is built on top of the modern town.
Ride the funicular to the top of the medieval city and explore its grand plazas, impressive churches and romantic art museums. It's well off the tourist trail so the food here is classic Northern Italian cuisine and delicious!
We gorged ourselves on stuffed pastas richly cooked in brown butter sage sauce and then walked it off on the old Venetian walls which once served as the city's defenses.
ADVERTISEMENT
---
---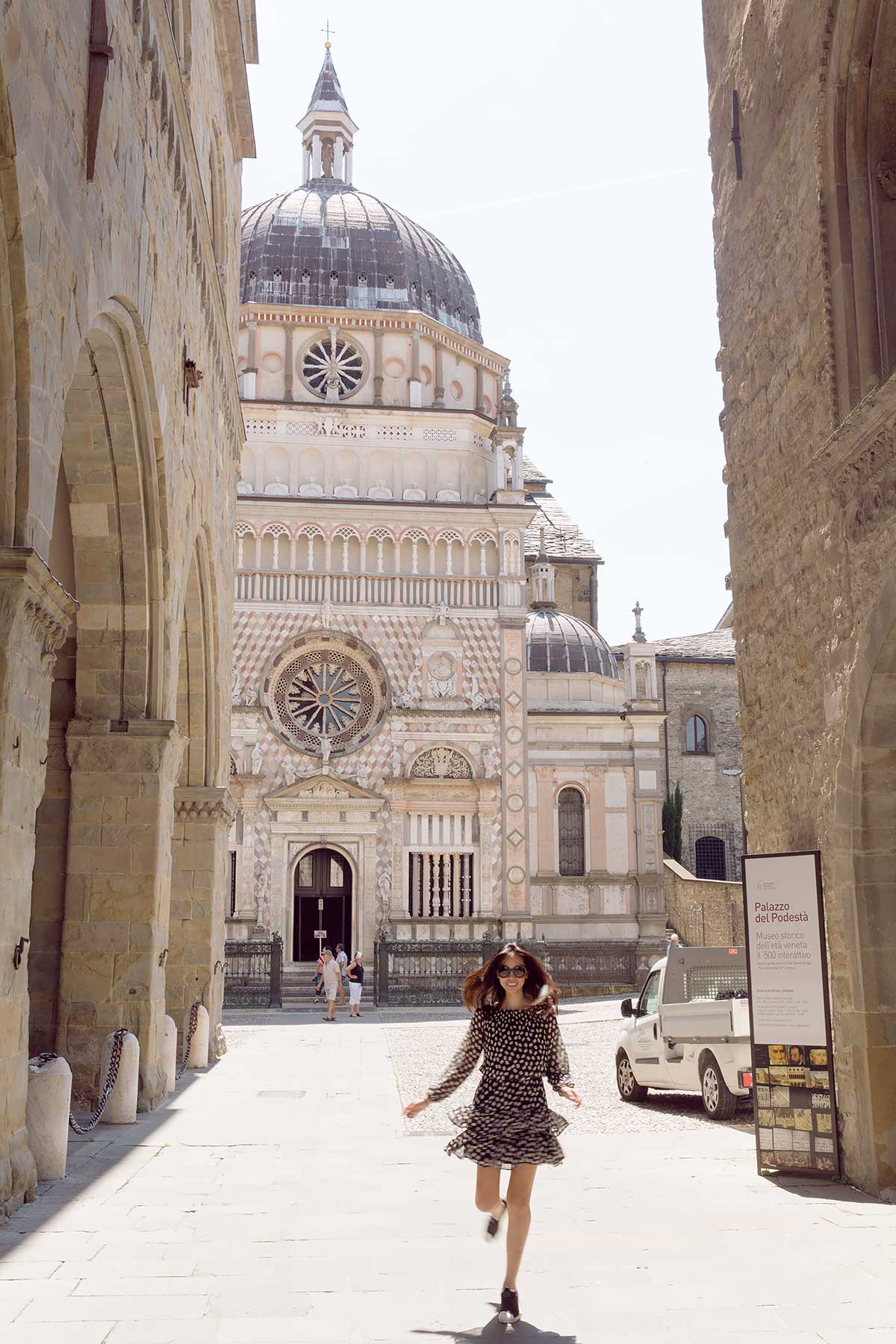 Things to do in Bergamo
Ride the funicular which connects Bergamo's two city centers
See the Cappella Colleoni, a gorgeous red and white marble mausoleum
Climb up to the ancient Rocca di Bergamo fortress for a great view of the Italian hills – all the way to Milan!
Walk the magnificent Venetian walls and catch the sunset!
Try the local pasta, pizzoccheri, a buckwheat pasta with greens, potatoes and lots of cheese!
Where to Stay in Bergamo: Hotel Relais San Lorenzo
This modern 5 star hotel has 30 elegant rooms, an on site restaurant and spa. It's one of the most classic hotel choices in the city and its lounge bar is perfect for cocktails and sunset dinners, as it has a view of the town center and Alps!
Book rooms: Hotels.com, Booking.com, Travelocity
Check prices: TripAdvisor
ADVERTISEMENT
---
---
Day 6: Parma
---
Emilia-Romagna
Now it's time to eat! Head to the foodie city of Parma, famous throughout Italy and the world for its production of prosciutto and Parmigiano-Reggiano. This is the capital of Italy's cured meat production and I highly recommend visiting local prosciutto and parmigiano factories.
Parma was the first city in Italy to be heralded a UNESCO creative city for Gastronomy and there are more than enough restaurants to fill your belly with amazing delicacies.
From Parma ham to Parmesan cheese, Parma is world famous! This is also the city where Barilla pasta originated and where Lambrusco wine is plentiful. Parma, Italy is quite compact so you can easily explore it on foot.
ADVERTISEMENT
---
---
Things to do in Parma
Learn how to make real parmigiano reggiano at an Italian caseificio, or dairy farm
Explore a prosciutto factory… just prepare yourself now for the smell!
Wander through Parma, a lively university town known for its famous 19th century opera house, art museums and Romanesque buildings
Where to Stay in Parma: Starhotels Du Parc
Great location within walking distance of Parma's old city center. There's free parking on site and the rooms are clean, simple and comfortable. If you want an affordable room at a great location, Starhotels is a solid choice.
Book rooms: Hotels.com, Booking.com, Travelocity
Check prices: TripAdvisor
ADVERTISEMENT
---
---
Days 7: Bologna
---
Emilia-Romagna
Bologna is the capital of Italy's Emilia Romagna region and sprawling. It's the 7th most populous city in Italy and after a high speed train was built to connect it to Milan, it's both a convenient city to visit and crowded to boot!
Bologna is famous for its beautiful plazas and arched colonnades which can be found all over town. In medieval times, the town was dominated by two families whose towers can be explored today. Make room in your stomachs – Bologna is a foodie's paradise!
Read more:
6 Fun Day Trips from Bologna
ADVERTISEMENT
---
---
Things to do in Bologna
Bologna is nicknamed La Grassa (the fat) by local Italians for its delicious food. Try both tortellini en brodo and tagliatelle al ragù here.
Explore the world's oldest university, the University of Bologna, famous for its creepy anatomical theater where dissections were once performed
Try several scoops at the Gelato Museum and at gelato shops all over town. La Sorbetteria Castiglione makes some of the best gelato in Italy!
Climb the Two Towers to see aerial views of Bologna's red roofs.
Where to Stay in Bologna: Aemilia Hotel
Bologna is a huge town so visitors can choose to stay either neither the train station in modern day Bologna, or near the historic city center. If you prefer the charm of the latter, Aemilia is a fantastic, modern hotel with affordable rates and clean spacious rooms.
Rates include a pretty extensive complimentary breakfast (this is Italy so most hotels offer a bare bones yogurt / espresso) and there's also a convenient parking garage next door. Overall the hotel is located in a quiet and peaceful part of town.
If you love a good city view, you'll enjoy the roof terrace! It has excellent views over all of Bologna and the famous Assineli tower. If you also want to do any day trips from Bologna, the hotel is about a 10 minute bus ride from the train station!
Book rooms: Hotels.com, Booking.com, Travelocity
Check rates: TripAdvisor
ADVERTISEMENT
---
---
Visiting Northern Italy
There are so many more towns in Northern Italy to explore but I picked my absolute favorite small Italian cities for this itinerary, in order to keep it to 1 week.
Northern Italy in 7 Days
Here's a recap of my recommended 7 day Northern Italy itinerary.
| | | |
| --- | --- | --- |
| Days | Cities | Overnight |
| Days 1-2 | Lake Maggiore's beautiful islands | Stresa |
| Days 3-4 | Lake Como: Varenna & Bellagio | Varenna |
| Day 5 | Day Trip to Bergamo, a medieval tale of two cities | Parma |
| Day 6 | Parma: famous for prosciutto & Parmesan production | Parma |
| Days 7 | Bolgona: nicknamed La Grassa, or "the fat" for its great eats | Bologna |
If you have more time, there's much much more to see, and you can get additional inspiration in my Northern Italy article here and in my Italian Lakes post here. Or, you could take on Switzerland! Happy planning!
ADVERTISEMENT
---
---
What are you most looking forward to in Northern Italy? Let me know any questions in the comments below!
Visiting Italy – Trip Planning Checklist
There's so much to see and do in Italy that you can visit again and again and still discover new sights. I recommend concentrating on the big 4 cities (Rome, Venice, Milan & Florence) if it's your first time and then coming back to explore either Northern Italy or Southern Italy in more depth.
Go | Flight prices from the US to Italy are highly seasonal. You can set a fare alert here to be notified of discounts. Every fall & winter, I've seen great deals to Milan. One word of caution: avoid Alitalia at all costs!
Getting Around | A convenient way to explore Italy is via high speed train. You can search train schedules and book online here. Buy your tickets in advance to save on fares. Make sure to validate your ticket on the platform!
It also helps to speak a little Italian. Brush up on your Italian language skills with Rosetta Stone. You can take 10% off with promo code CJBT10.
Stay | Book hotels in advance to save, or check here for last minute deals. Many hotels in Italy are older so don't be surprised if even 5 star accommodation feels slightly dated. Opt for a room with a view instead of breakfast, as Italians don't eat breakfast in the same way Americans do and you'll probably be disappointed with their offering.
Alternatively, groups or budget travelers can check out Airbnb. 
Protect | Lastly, be sure to visit Italy with travel insurance. Whether you get injured and need to be hospitalized, your phone gets stolen, or a flight delay leaves you with nothing but the clothes on your back, travel insurance will help when you need it most.
A rail strike occurred during our trip, unexpectedly shutting down transportation for an entire day. Get a quote for your Italy trip here.
You Might Also Enjoy:
Italy Vacation Planning Articles
The First Timer's Guide to Italy: A Classic Itinerary
THIS is the Best Time to Visit Italy
What to Wear in Italy: A Packing Checklist
Northern Italy
The Most Beautiful Places in Northern Italy (that are still a secret!)
Headed to Northern Italy? Here's the Perfect 7 Day Itinerary
Exploring Bologna: Travel Guide
Quick Guides to: Bologna Day Trips & The Best Bologna Restaurants
Visiting Parma: The Center of Parma Ham & Cheese
7 Reasons to Explore Medieval Bergamo
Visiting Ravenna's Mosaics
Test Driving Fast Cars & Touring Car Museums in Italy's Motor Valley
Cinque Terre
Plan Your Trip: Travel Guide
How to Choose Which Village to Stay
A Blissful 3 Day Cinque Terre Itinerary
The Best Cinque Terre Airbnbs for Large Groups
Quick Guides: The Best Restaurants & Popular Hiking Trails
Inspiration: Photo Diary of the 5 Villages
The Italian Lakes
Exploring Lake Como: Travel Guide & Where to Stay
Quick Guides to: Varenna, Bellagio & Villa del Babianello
Visiting Lake Maggiore
Quick Guides to: Isola Bella & Villa Taranto
Discovering Hidden Lake Orta
Follow me @Sher She Goes on