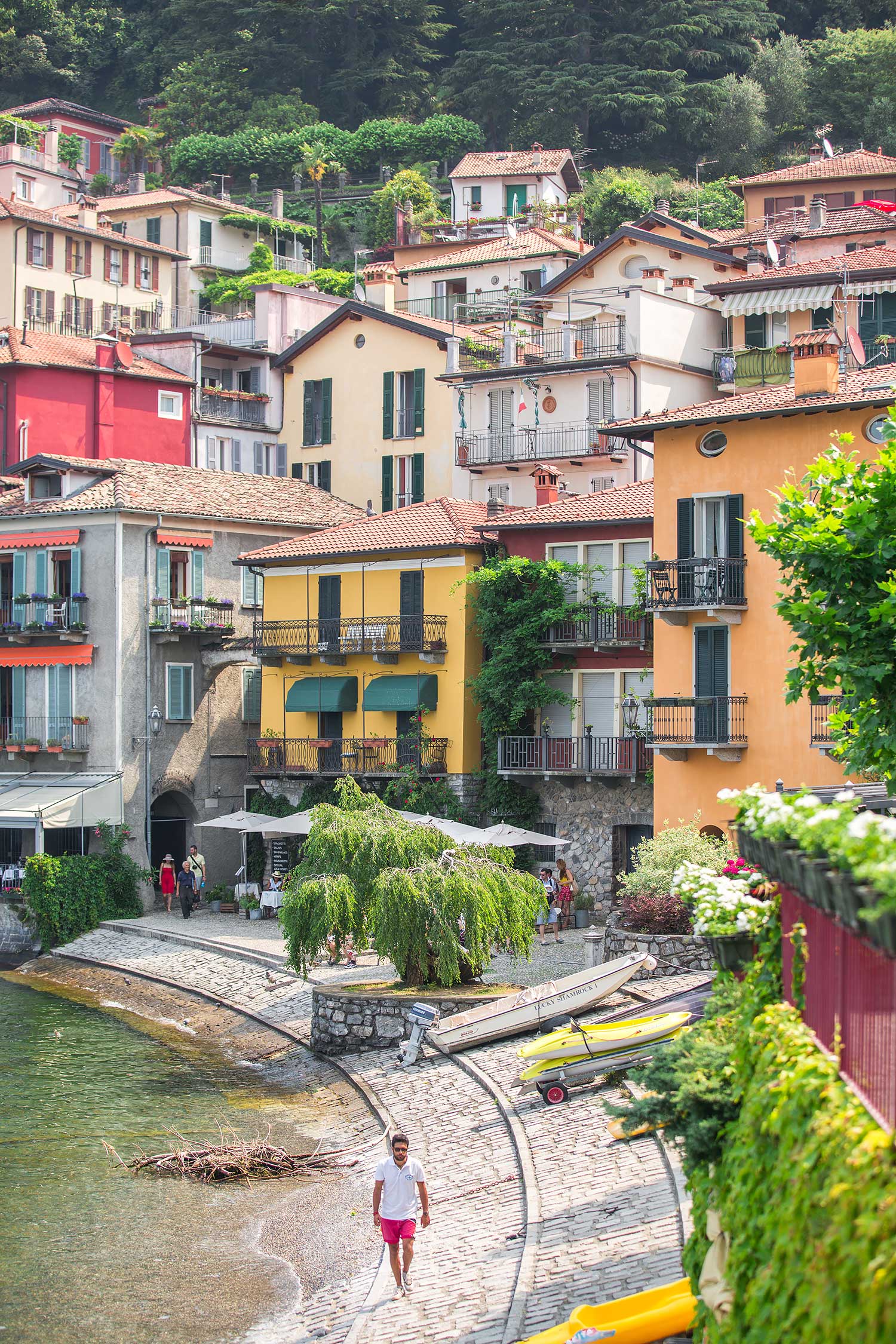 Varenna, Italy
Varenna is like the middle bear of the Goldilocks story. It's just right. The romantic, mid sized town on Italy's Lake Como has a pretty walkway looping throughout town, a pretty harbor flanked by kayaks and restaurants and charming medieval lanes.
If you're wondering where to visit Bellagio or Varenna, I'd say… both! Varenna is a quieter, smaller and more romantic. It comes alive in the spring as tourists start to arrive, and closes by early fall. Here's a quick guide to what to see and do in Varenna!
Quickly jump to each section:
Or save this article to read later by pinning it ⇟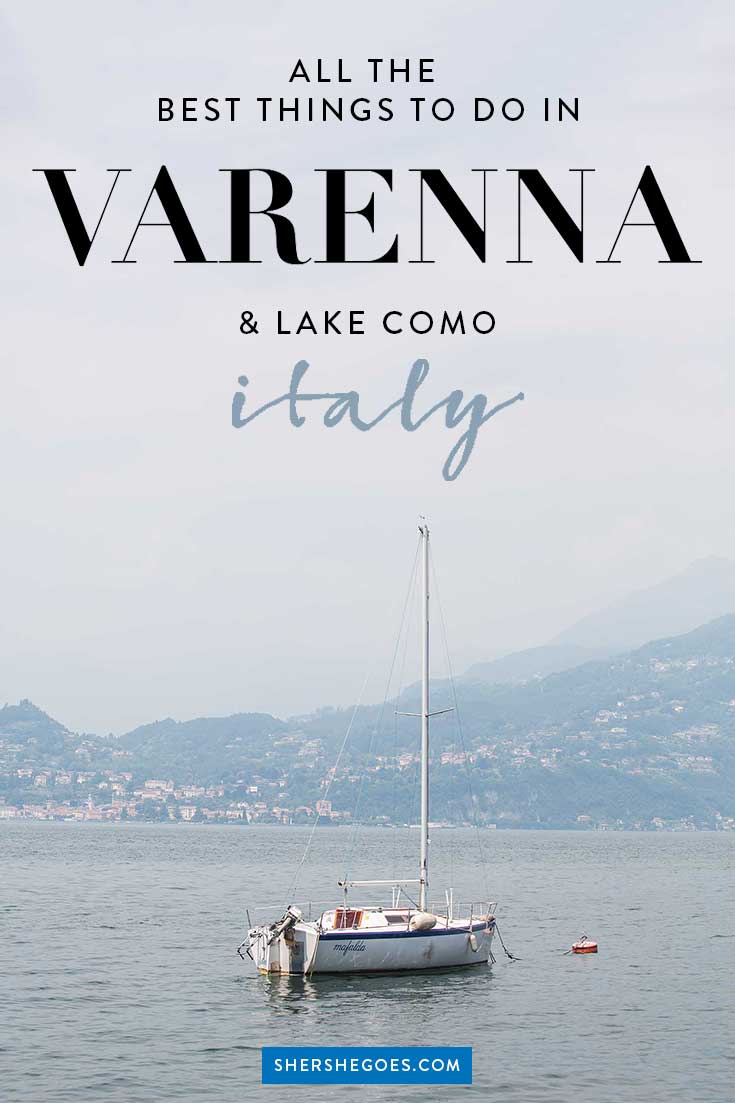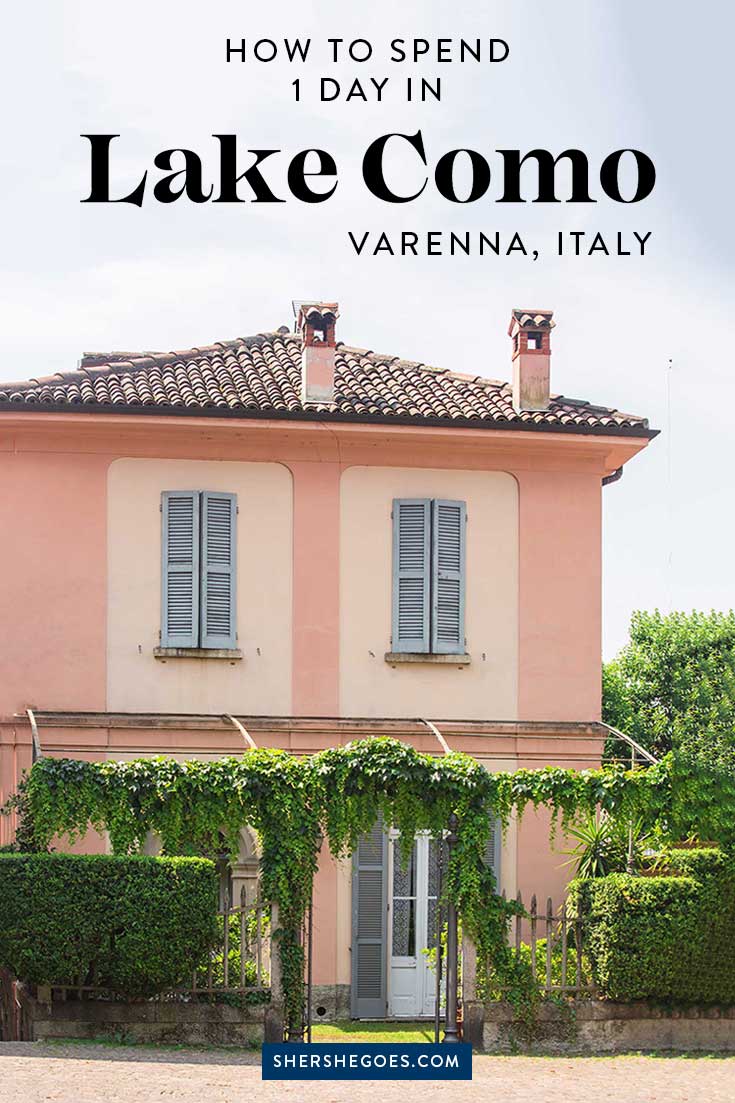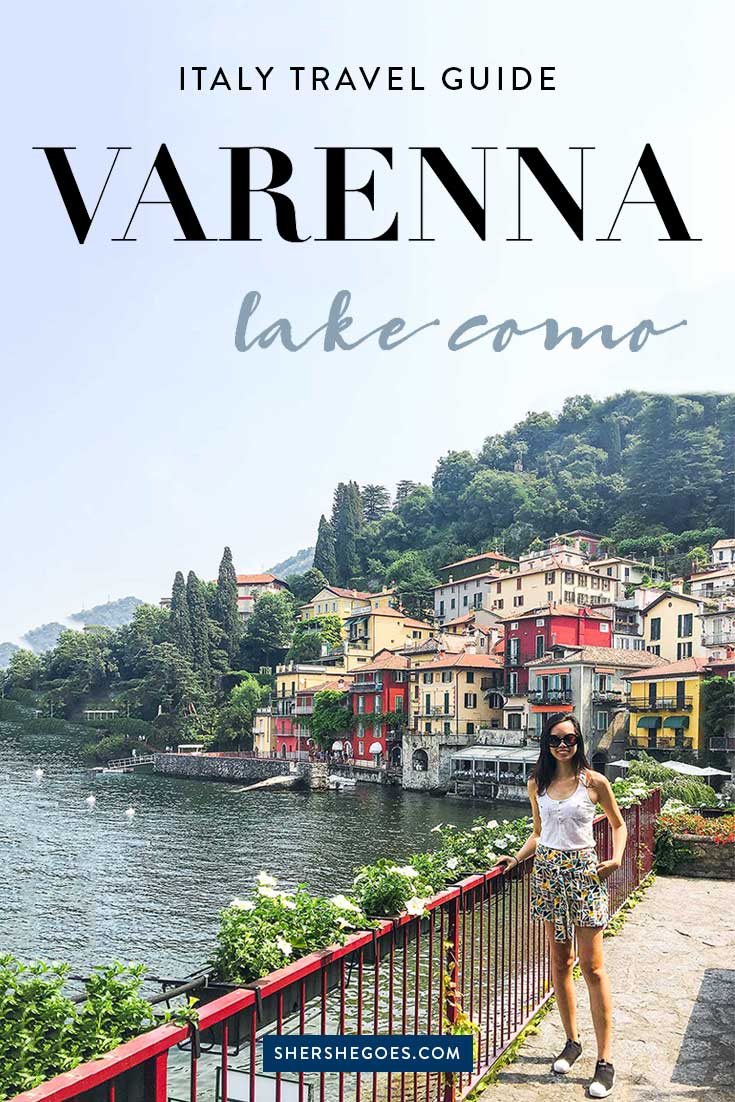 ADVERTISEMENT
---
---
Getting from Milan to Varenna
The easiest way to get to Varenna is from within Northern Italy, in the northern capital of Milan. You can browse the train schedules and buy tickets online here. In Italy, train fares increase with time, so book your tickets once you know your travel dates.
Before You Go:
Buy Train Tickets
ADVERTISEMENT
---
---
Varenna's Train Station
Make sure to validate your train ticket before boarding and then get off promptly at Varenna-Esino-Perledo station.
Varenna's train station is quite small. In fact, it's so tiny that the train is longer than the platform! The train only pauses for a minute or two before exiting Northern Italy to Switzerland, so if you have bags with you, you'll want to stay alert for the exit.
When we visited, we bought just a one way ticket, as we didn't know how long we would spend in town. It was only when it came time to leave that we realized Varenna's small station doesn't have ticket booths!
There is a local travel agency attached to the train station, called I Viaggi del Tivano, where you can buy tickets last minute. If you have a general idea of how long you want to spend, I think it's worth buying round trip tickets online ahead of time as it'll be faster than waiting at the agency.
Varenna's town center is about a 10 minute walk from the train station while the ferry docks right at the pretty harbor.
Read more:
A Travel Guide to the Italian Lakes Region
ADVERTISEMENT
---
---
Where to Stay in Varenna
Personally, I thought Varenna was the most romantic town in Lake Como. If you choose to stay here, these are some of Varenna's most popular hotels:
1 | Villa Cipressi – This elegant, sprawling villa is popular for couples, weddings and those who enjoy a view. The lakeside mansion is located on its own private garden that terraces into the town's steep cliffs.
Rooms here are comfortable and modern – some have air conditioning and direct garden access. Villa Cipressi is also well-known for its food!
Book: Hotels.com, Booking.com, Travelocity
Check prices: TripAdvisor
2 | Hotel Olivedo – This cheery, yellow hotel is right opposite Varenna's ferry terminal and was originally built in the 19th century. It's named after the olive groves high up in Varenna's hills. Rooms are comfy and affordable, with a quieter location about 5-10 minutes from the main harbor front.
Book: Hotels.com, Booking.com, Travelocity
Check prices: TripAdvisor
Read more:
These are the Best Hotels in Lake Como
ADVERTISEMENT
---
---
The Best Things to Do in Varenna, Italy
1. Have an Apertivo by the Waterfront
Varenna was once a fishing community so the local specialty is naturally, pescetarian dishes! Try missoltino, a salted dried sardine. There's also a couple locally owned farms which produce prosciutto and parmesan.
You can take a day trip to tour the family owned businesses, learn how their award-winning cheeses and hams are made, and then have a beautiful lunch after!
Check availability here.
2. Explore the Town
Varenna has one main square, called Piazza San Giorgio. It's flanked by a couple old hotels, including the Royal Victoria, named after Queen Victoria who once visited the town in 1839, as well as the local church, Chiesa di San Giorgio, a quaint stone structure.
We followed the self-guided walking route that Rick Steves outlines in his Italy guidebook. His book was invaluable for our trip! From the main square, you can either: head right to explore the gardens, climb up to see the castle, or back down to swim.
Read more:
A Quick Guide to Exploring Como, Italy
ADVERTISEMENT
---
---
3. Hike to Vezio Castle
If you're up for it, climb the steep trail to the castle ruins which crown Varenna's hill. Up in this tiny hamlet, called Vezio, cars aren't allowed and you can roam the ruined courtyard and drawbridge at your own pace. It's quite a rocky climb up but you'll be rewarded with an amazing panorama of the entire Lake Como region below.
4. Stroll through Villa Monastero
Varenna has two majestic old villas to its name. There's the private gardens of Villa Cipressi and the publicly open Villa Monastero, which has a beautiful mansion filled with late 18th century antiques, that once belonged to the De Marchi family. The villa lines the lake shore and costs just 4 euros to enter.
If you want to see the most impressive villa in Lake Como, you'll need to take a ferry to Villa Balbianello. This incredibly opulent villa was once home to Italian aristocrats and has been used as a set for countless movies, including Star Wars and James Bond. Book a tour here to handle transportation and a guide.
ADVERTISEMENT
---
---
5. Swim in Lake Como
If you want to go for a dip, I recommend the beach area north of the boat dock. It's a safe area to swim (well out-of-the-way of the ferry boats) and fully equipped with showers, bathrooms and restaurants. You can also rent umbrellas and chairs to sunbathe!
Afterwards, watch the sunset and have a gourmet dinner on a cruise around the lake. This tour takes you on a 3 hour lazy circle of Lake Como, includes a 4 course meal, and wine.
Check availability here.
ADVERTISEMENT
---
---
What do you like most about Lake Como?
Visiting Italy – Trip Planning Checklist
There's so much to see and do in Italy that you can visit again and again and still discover new sights. I recommend concentrating on the big 4 cities (Rome, Venice, Milan & Florence) if it's your first time and then coming back to explore either Northern Italy or Southern Italy in more depth.
Go | Flight prices from the US to Italy are highly seasonal. You can set a fare alert here to be notified of discounts. Every fall & winter, I've seen great deals to Milan. One word of caution: avoid Alitalia at all costs!
Getting Around | A convenient way to explore Italy is via high speed train. You can search train schedules and book online here. Buy your tickets in advance to save on fares. Make sure to validate your ticket on the platform!
It also helps to speak a little Italian. Brush up on your Italian language skills with Rosetta Stone. You can take 10% off with promo code CJBT10.
Stay | Book hotels in advance to save, or check here for last minute deals. Many hotels in Italy are older so don't be surprised if even 5 star accommodation feels slightly dated. Opt for a room with a view instead of breakfast, as Italians don't eat breakfast in the same way Americans do and you'll probably be disappointed with their offering.
Alternatively, groups or budget travelers can check out Airbnb. 
Protect | Lastly, be sure to visit Italy with travel insurance. Whether you get injured and need to be hospitalized, your phone gets stolen, or a flight delay leaves you with nothing but the clothes on your back, travel insurance will help when you need it most.
A rail strike occurred during our trip, unexpectedly shutting down transportation for an entire day. Get a quote for your Italy trip here.
You Might Also Enjoy:
Italy Vacation Planning Articles
The First Timer's Guide to Italy: A Classic Itinerary
THIS is the Best Time to Visit Italy
What to Wear in Italy: A Packing Checklist
Northern Italy
The Most Beautiful Places in Northern Italy (that are still a secret!)
Headed to Northern Italy? Here's the Perfect 7 Day Itinerary
Exploring Bologna: Travel Guide
Quick Guides to: Bologna Day Trips & The Best Bologna Restaurants
Visiting Parma: The Center of Parma Ham & Cheese
7 Reasons to Explore Medieval Bergamo
Visiting Ravenna's Mosaics
Test Driving Fast Cars & Touring Car Museums in Italy's Motor Valley
Cinque Terre
Plan Your Trip: Travel Guide
How to Choose Which Village to Stay
A Blissful 3 Day Cinque Terre Itinerary
The Best Cinque Terre Airbnbs for Large Groups
Quick Guides: The Best Restaurants & Popular Hiking Trails
Inspiration: Photo Diary of the 5 Villages
The Italian Lakes
Exploring Lake Como: Travel Guide & Where to Stay
Quick Guides to: Varenna, Bellagio & Villa del Babianello
Visiting Lake Maggiore
Quick Guides to: Isola Bella & Villa Taranto
Discovering Hidden Lake Orta
Follow me @Sher She Goes on