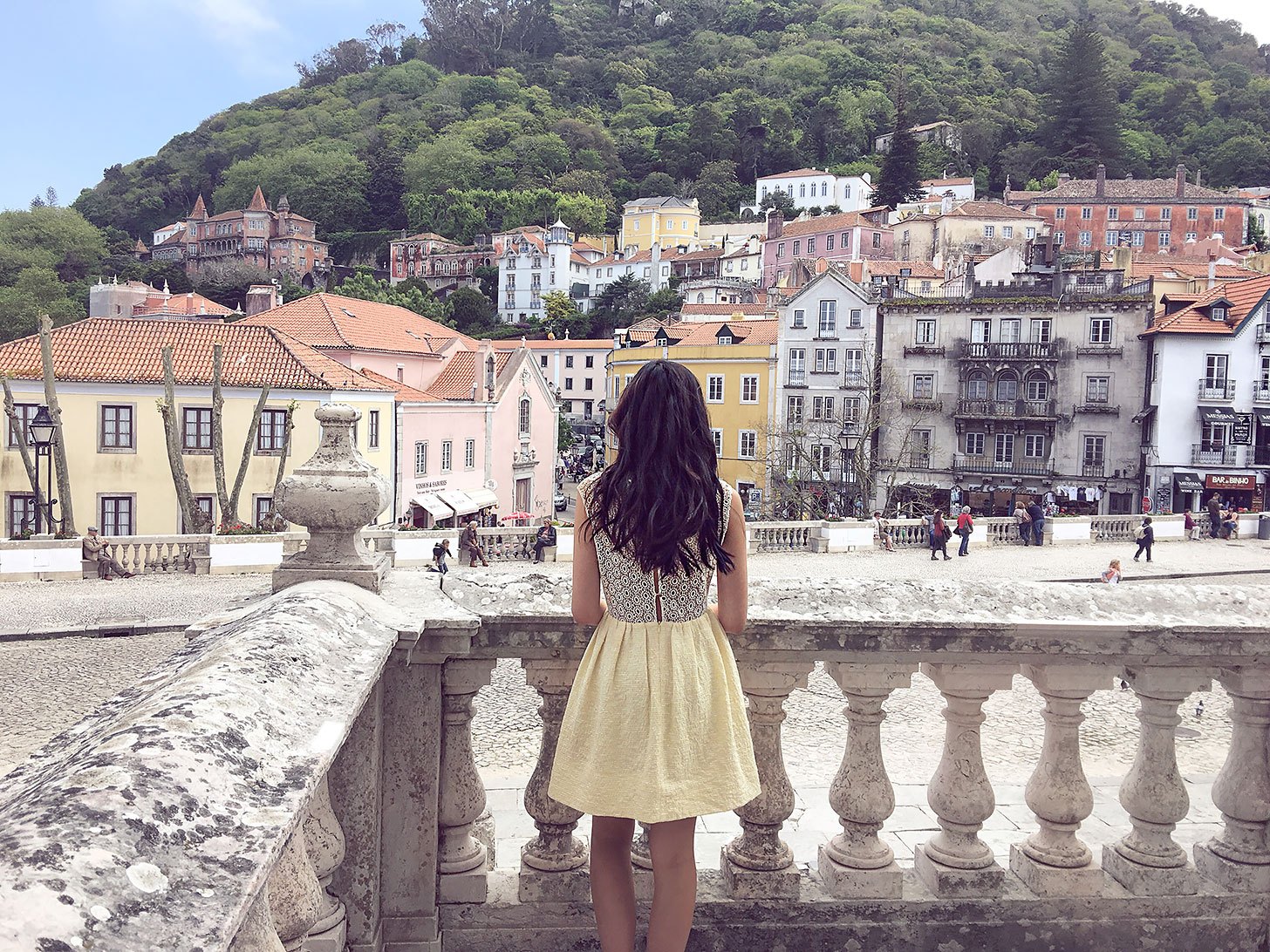 Spain and Portugal
Planning a trip always takes the longest.
Where to go, how long to stay, should I do this city or that one. We decided to do a Spain getaway at the last minute and then added on Portugal at even later minute and found it helpful to read Rick Steves, Lonely Planet, forums and blogs to ultimately decide which cities to linger in and which to skip altogether.
We're now back from our trip to Spain and Portugal so we thought we'd share a summary of our itinerary. We had 2 weeks and visited Spain's 2 main cities, Madrid and Barcelona, then headed south to see the Andalusian cities before heading west for a taste of Portugal.
Below is my day by day itinerary featuring Instagram photos from the trip! You can check out the whole photo series by exploring the hashtag #shershegoes_spain
ADVERTISEMENT
Or save this article to read later by pinning it ⇟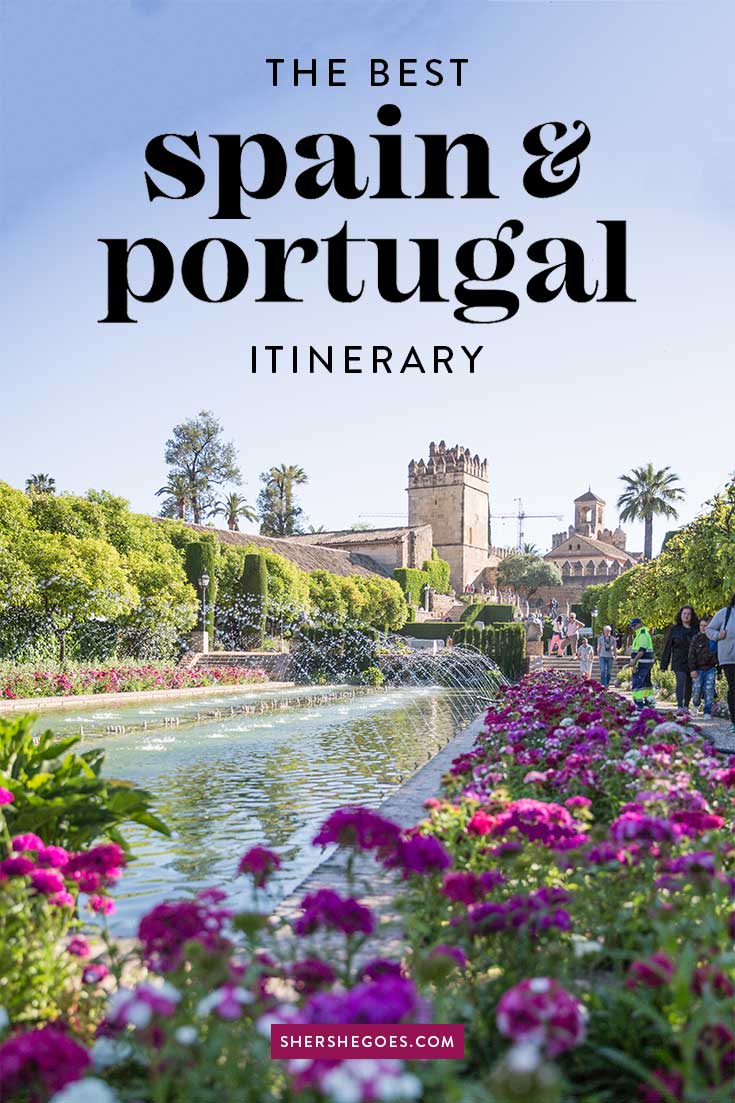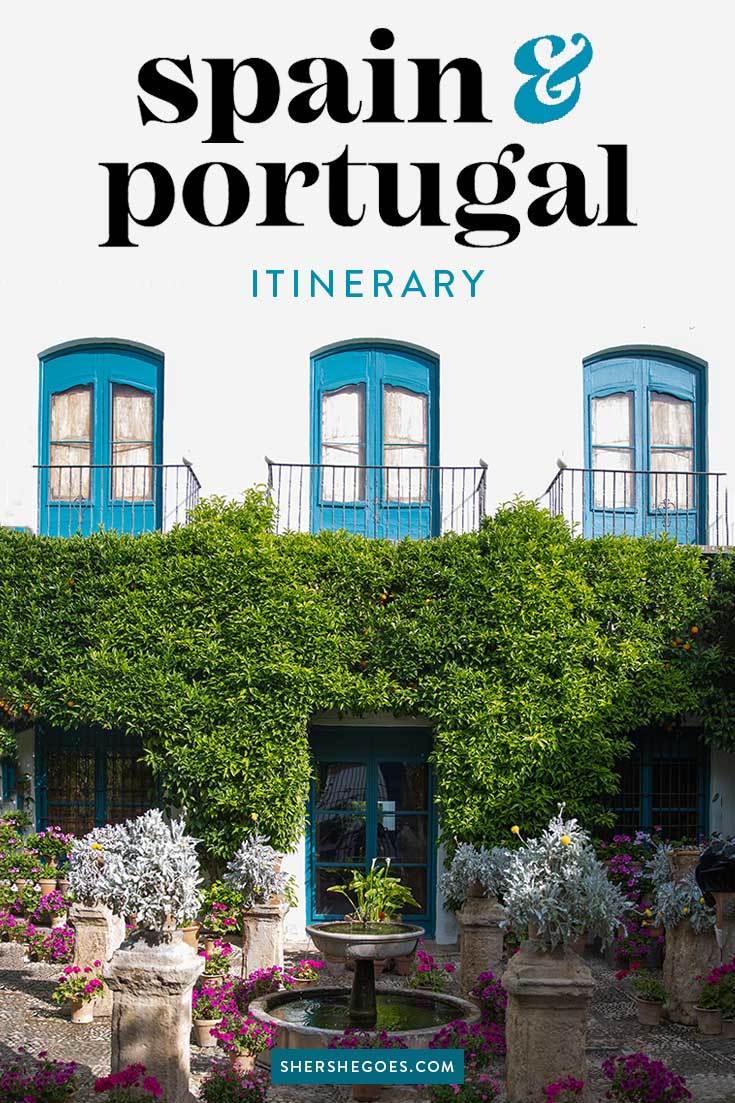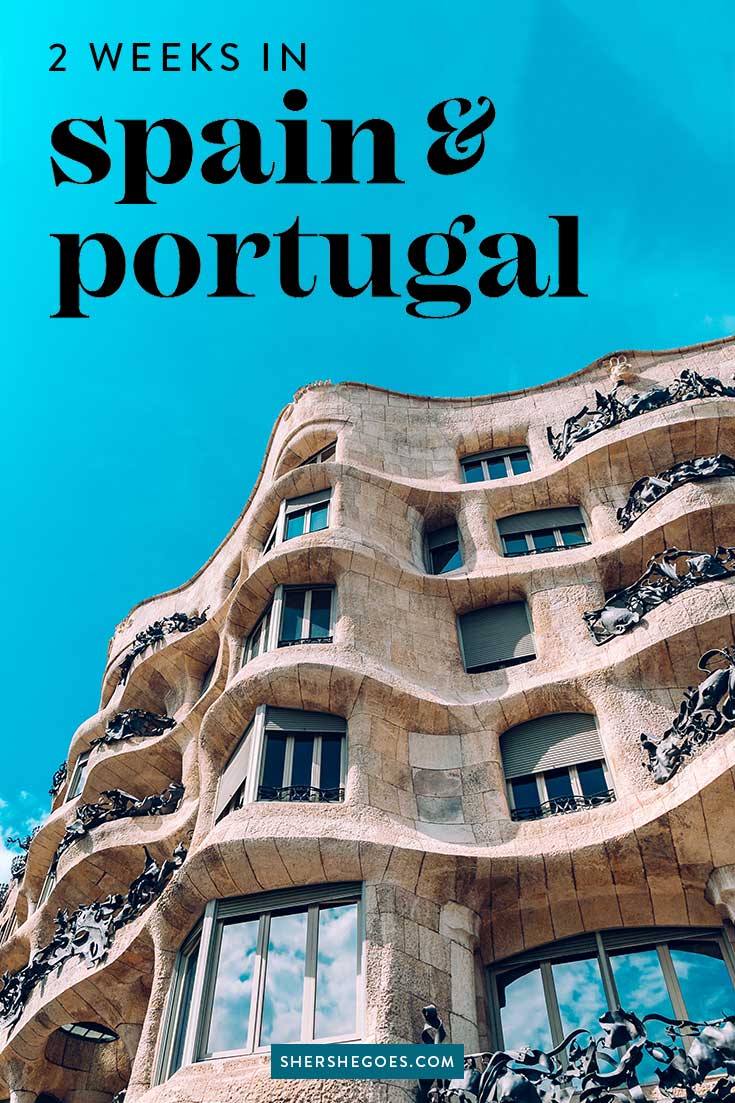 ADVERTISEMENT
---
---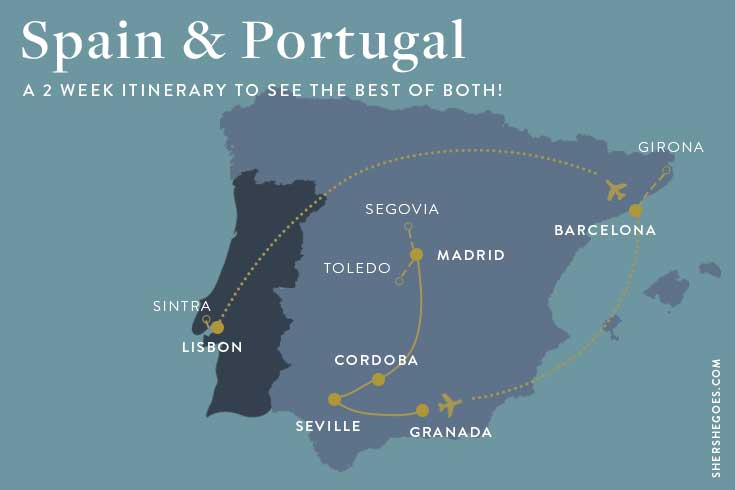 Spain and Portugal Itinerary
Here's a summary of the Spain and Portugal itinerary that we did. We would recommend at least 2 weeks if you want to visit both Spain and Portugal. If you have less time, say 10 days, then concentrate on Madrid and Barcelona in Spain!
2 Weeks in Spain
Keep reading below for a day by day city itinerary of must-see sights, things to eat and where to stay! I've also included day trip suggestions below.
ADVERTISEMENT
---
---
Days 1-2: Madrid
We arrived first in Madrid, Spain's capital city.
The streets are narrow, the apartments all have beautiful shuttered balconies and the charm is everywhere. We settled in for a couple days of sightseeing, healthy doses of tapas, rioja wine and laid back nights that ended with churros con chocolate.
ADVERTISEMENT
---
---
The Best Things to Do in Madrid
Main Attractions: Royal Palace, Museo del Prado, Retiro Park
Don't Miss: a night hopping from bar to bar sampling tapas and pinchos. Recommended dishes:
gambas al ajillo (shrimp in hot garlic and oil)
jamon iberico bellota (fancy coldcuts of iberico pigs fed on acorns)
calamares a la romana (fried squid rings)
my special favorite, patatas bravas (fried potato wedges served with a mayo aioli)!
ADVERTISEMENT
---
---
Where to Stay in Madrid
I recommend 2 days, 3 nights. Perhaps the best neighborhood to stay in Madrid would be the Centro district, to stay centrally located near the main sights and attractions. Other solid neighborhoods: La Latina, Chueca and Barrio de las Letras.
We recommend Catalonia Plaza Mayor, a comfortable hotel that's centrally located in the heart of old Madrid.
Check rates: Booking.com, Hotels.com, Expedia
Read reviews: TripAdvisor
ADVERTISEMENT
---
---
Best Day Trips from Madrid
We stayed in Madrid an extra couple nights in order to do some day trips in Castille La Mancha. I couldn't decide on one, so we visited a couple (images above from left to right).
Here are the best day trips from Madrid that I'd recommend!
Segovia an ancient town famous for its Roman aqueduct ruins
Toledo a medieval city
El Escorial a monastery and entombment for ancient Spanish kings
You can browse more fun day trips from Madrid here.

ADVERTISEMENT
---
---
Day 4: Cordoba
After thoroughly explored Spain's capital, we headed south for a loop through Andalusia. First up, Cordoba!
The small town was once a regional capital for the Roman and Moorish empires so today, it bears characteristics of each. The historic sights are all located within the compact Old Town and easily walk able.
We got lucky and timed our visit for their spring festival, the Patio Festival! Patio means inner courtyard in Spanish, and it's a really pretty time to visit because the entire town comes alive, locals are happy to show off their homes and everywhere you look there are stunning flowers are in bloom.
Read more:
How to Spend a Blissful Visit to Cordoba, Spain
ADVERTISEMENT
---
---
Best Things to Do in Cordoba
Main Attractions: Mezquita-Cathedral, Palacio de los Reyes Cristianos, Roman Bridge
Don't Miss: a visit in Spring, when this beautiful town comes alive with flowers. The Patio Festival is an opportunity for proud locals to exhibit their version of 'Best Lawn' and visitors can see traditional Moorish style patios decorated with a profusion of beautiful pink, red and green blooms.
Read more:
The Cordoba Patio Festival, Spain's Prettiest Celebration!
ADVERTISEMENT
---
---
Where to Stay in Cordoba
The city deserves 1 full day – unless you're in town for the Cordoba Patio Festival when you won't be able to get enough with even two or three days!
For a beautiful hotel, stay at Eurostars Palace Hotel which has a gorgeous inner courtyard and gives a true feel for Cordoba's patios. Inner courtyards are usually hidden to outsiders so this hotel is a treat!
Check rates: Hotels.com, Booking.com, Expedia
Read reviews: TripAdvisor
ADVERTISEMENT
---
---
Days 5-6: Seville
From Cordoba, we hopped back on the high speed train for Seville.
Flamboyant Seville is home to the fiery flamenco, stadium roaring bull fights and the most delicious tapas bars of my entire trip! We did a bit more sightseeing, although by this point I was thoroughly wow'ed by the cathedrals and had pretty much reached my limit.
Read more:
How to See the Best of Seville in 2 Days
ADVERTISEMENT
---
---
Best Things to Do in Seville
Main Attractions: Cathedral, Alcázar, Barrio Santa Cruz
Don't Miss: the gardens in the Alcázar are breathtaking – you might recognize them as 'Dorne' from Game of Thrones!
Seville is a fantastic town for foodies. In Madrid, you have lots of old, historic bars, while in Barcelona you'll find trendy, beautifully decorated restaurants with fantastic fusion food. But in Seville? Expect small, authentic and delicious, with a bit of flair. Essentially, it felt like it offered the best of everything in one compact town.
Read more:
3 Seville Restaurants You Should Try
ADVERTISEMENT
---
---
Where to stay in Seville
The city is worth at least 2 days & 2 nights – so you can eat all the affordable and tasty tapas you can find! Book a room at Hotel Alfonso XIII, a luxurious property featuring gorgeous Moorish architecture and every comfort imaginable. Hotel Alfonso is located in a prime spot next to Seville's Real Alcazar.
Check rates Hotels.com, Booking.com, Expedia
Read reviews TripAdvisor
ADVERTISEMENT
---
---
Days 7-8: Granada
After thoroughly exploring Seville, we hopped on a (10 euro!) bus to explore Granada, once the Moorish stronghold of the west. Today the city retains much of its North African flavor and is an absolute must see on any southern trip through Spain.
The main attraction in Granada is the breathtaking Alhambra, an old fortress and palace with extensive gardens. Tickets sell out quite fast so you'll need to book this in advance. You can read about everything you need to know regarding Alhambra tickets in this post here.
Or, skip the mess entirely and take a guided tour that bypasses the queue altogether here.
I ended up extending our Granada stay for an extra half day so that I could grab the only ticket option remaining during my trip.
Read more:
Read This Before Visiting the Alhambra
ADVERTISEMENT
---
---
Best Things to Do in Granada
Main Attractions: the Alhambra!
Don't Miss: a relaxing retreat at the Arabian baths, or Hammam Al Andalus. The current baths are built over the ancient bath site and gorgeously decorated.
There are a number of different pools at different temperatures as well as some fun massage options. We loved how relaxing this experience was! Budget around 3 hours to fully enjoy the experience.
Read more:
Quick Guide to Visiting Granada, Spain
ADVERTISEMENT
---
---
Where to stay in Granada:
Budget 2 full days in order to fully explore the city, with a full 1/2 day devoted to the Alhambra. We stayed at Anacapri Granada, an affordable, clean hotel within walking distance from the Alhambra.
The Anacapri Granada is located in the heart of Old Town and also conveniently near the local bus stop, should you wish to explore Granada's farther sights.
Check rates: Hotels.com, Booking.com, Expedia
Read reviews: TripAdvisor
ADVERTISEMENT
---
---
Days 9-12: Barcelona
From Granada, there are a couple ways to get to Barcelona including via car, high speed rail or plane. We decided to fly after hearing unimpressed reviews of the overnight train service.
Barcelona was by far one of the highlights of my trip – I enjoyed it a lot more than Madrid! The city is cosmopolitan, proudly Catalan and lively with some of the most impressive and unique sights in Spain.
After almost two weeks of sightseeing, lots of churches and an abundance of small town charm, the genius works of architect Antoni Gaudí were so distinctive and colossal that I couldn't help but be awed.
ADVERTISEMENT
---
---
Best Things to Do in Barcelona
Main Attractions: La Sagrada Familia, Casa Batlló, Casa Milà (aka La Pedrera), Park Güell
Don't Miss: a full day dedicated to Gaudi's works: the modernist mansion Casa Batlló and the still under construction Sagrada Familia church.
Day Trips: Barcelona had some of the most innovative tapas bars that I tried in Spain – don't miss a good evening out trying various Spanish small plates or try a cooking class. Die hard soccer / football fans will want to see FC Barcelona's stadium and see a match or two.
ADVERTISEMENT
---
---
Where to stay in Barcelona:
Royal Ramblas is a great hotel to stay in, as it's located right on the main shopping and pedestrian road, Las Ramblas. There's so much to see in Barcelona (and the city makes a great base for nearby day trips in Catalonia) so budget at least 3 full days!
Check rates: Hotels.com, Booking.com, Expedia
Read reviews: TripAdvisor
ADVERTISEMENT
---
---
Best Day Trips from Barcelona
Near Barcelona are a couple cities worth visiting. Montserrat is a religious pilgrimage site for many Catalans and a breathtaking change of scenery for tourists – the monastery is actually high up in the mountains!
Also within an easy day trip from the city are Girona, a walkable old city famous for its historic Jewish quarter of narrow cobblestone streets, and Figueres, where Salvador Dali built his museum and personal shrine.
Trains connect all three towns within easy access of Barcelona Sants rail station. We decided to do the first two and left Figueres for another trip simply because the train schedules weren't as convenient.
Montserrat: a dramatic mountaintop monastery where the Black Madonna was discovered
Girona: a quaint medieval town very similar to Dubrovnik and currently the set of King's Landing for the Game of Thrones series
ADVERTISEMENT
---
---
Days 13-14: Lisbon
Portugal's capital Lisbon feels a lot like San Francisco.
Both have rolling hills, quaint trolleys and well worn cobblestone streets. Lisbon has some amazing seafood spots and charm, but also a sad air of neglect to the magnificent tiled apartment buildings.
I first visited Lisbon on a fun long weekend trip in college, where we spent the days sipping on Sangria and the nights partying in Chiado and Bairro Alto.. with nightly stops at McDonalds in Rossio Square for CBO sandwiches and McFlurrys.
This time, I focused a bit more on sightseeing and managed to fit in a wonderful day trip to nearby Sintra.
ADVERTISEMENT
---
---
Best Things to Do in Lisbon
Main Attractions: São Jorge Castle, Alfama walk (medieval district) and Baixa walk (downtown with major squares)
Don't Miss: dinner at Cervejaria Ramiro, a local favorite of Anthony Bourdain that completely lived up to my seafood heavy anticipation. Get the garlic shrimp in olive oil and large grilled prawns and wash it all down with beer and buttery garlic bread.
ADVERTISEMENT
---
---
ADVERTISEMENT
---
---
Day Trip from Lisbon to Sintra
A couple friends recommended Sintra as a must do while in Lisbon. After a major earthquake and tsunami hit Lisbon in 1755, Portuguese royalty permanently left the city in favor of this mountain retreat.
On a day trip, you can explore the national palace, Pena palace and a number of extravagant private mansions. It's a unique town and ended up being my favorite day trip of the entire trip!
ADVERTISEMENT
---
---
Best Things to Do in Sintra
Main Attractions: National Palace, Quinta da Regaleira, Palace of Queluz, Arab Walls
Don't Miss: the Pena Palace, which is said to have inspired Walt Disney's vision of Cinderella Castle!
Stay: 1 days, 1 night to see the highlights, a 2nd day if you want to see the exotic mansions like Montserrate Mansion that are farther from the town square.
ADVERTISEMENT
---
---
Getting Around Spain
We took a combination of transportation to get around Spain, including
Spain by Train
Mostly, we used the high speed train service, as it was the most convenient.
To book tickets, use Omio. It's the largest distributor for European train tickets and accepts international credit cards. Spain does have its own train website, but its in Spanish and meant for local Spanish citizens to book.
The Omio site is much more user friendly – you can both browse train schedules and keep track of all your purchased tickets by making an account. They charge a nominal booking fee for the process, I believe around 1-3 euro per transaction, so try to organize your route first then buy all the tickets in one go.
Train routes typically are published 3-6 months out so if you can't find the schedule for your dates, you might be looking to early. Just check back in a couple weeks or so. Ticket prices will get more expensive with time, so book in advance to save.
Check train schedules for Spain here.
ADVERTISEMENT
---
---
Our Route
I got a lot of questions about how we got around. If following my itinerary, here's the breakdown:
We flew into Madrid, and spent a couple days exploring the area. From Madrid, we took the high speed train down to Cordoba and again from Cordoba to Seville.
From Seville, you can take either the train or bus. We found a steal bus fare (~10 euro per person), so we tried the bus. If you can't find a bus deal, just use the train as it's much easier to navigate!
From Granada, we chose to fly up northeast to Barcelona. You can take the train, but it's historically been offered as an overnight train option, and friends who took it said it was very uncomfortable. Granada has been doing construction on its train station, so double check whether a train is available for your dates. Personally, we recommend flying.
In Barcelona, we booked day trips to nearby Montserrat and Girona using the train. After fully exploring the Catalonia region, we flew to neighboring Portugal to visit Lisbon and Sintra.
ADVERTISEMENT
---
---
Best Time to Visit
Spring (April – May) and Fall (September – October) are the best times to visit Spain and Portugal. There'll be less crowds and more comfortable temperatures!
What Not to Miss
Here are some highlights you absolutely shouldn't miss in Spain and Portugal!
Exploring Southern Spain's Moorish history
the Cathedral Mosque in Cordoba, the Alhambra Palace in Granada and the Alcazar in Seville, where scenes from Game of Thrones were filmed
Visiting Spain's political and cultural capitals
Madrid: home to
Barcelona: home to Gaudi's masterpieces: the unfinished Sagrada Familia cathedral, the UNESCO World Heritage Casa Battlo site and colorful Park Guell
Portugal's Legendary Food & Culture
And there you go! My trip report after visiting Spain and Portugal for the first time.
I hope my 2 week itinerary was helpful! If you have less time, say 10 days or 1 week, I would cut out Southern Spain. You could save Andalusia for a separate trip entirely as there's lots to see!
ADVERTISEMENT
---
---
Are you planning a trip to Spain, Portugal or both? Let me know any questions in the comments below!
Visiting Spain – Travel Checklist
To make the most of our time, we booked open jar flights, flying from NY to Madrid and departing from Lisbon. Check flight deals for your dates here.
For getting around within Spain, we recommend the local train system. Both fast and slow options are available, so Spain train travel is easy and effective! The only catch? It's difficult for non Spanish users to book. Instead, book your tickets on Omio, which is much more convenient for English speakers and accepts international credit card holders. Check train schedules for Spain here.
We mixed up our accommodation throughout the trip, alternating between Airbnb and hotels. You can browse last minute Spain hotel deals here. 
Lastly, be sure to visit Spain with travel insurance. Whether you get injured and need to be hospitalized, your phone gets stolen, or a flight delay leaves you with nothing but the clothes on your back, travel insurance will help when you need it most. Get a quote for your trip here.
You Might Also Enjoy:
Spain Vacation Planning Articles
Spain and Portugal: A Perfect Itinerary to Explore Both Countries!
Headed to Andalusia? Check out this 7 day Southern Spain travel guide
Granada
How We Spent 3 Incredible Days in Granada
Insider Tips for Visiting the Alhambra Palace
Seville
The Best Things to Do in Seville
A Spain Food Guide: Important Tapas + Food Names in Spanish!
Cordoba
Spain's Hidden Gem: The Quaint Town of Cordoba
Don't Miss Cordoba's Patio Festival! Here's Why
Follow me @Sher She Goes on