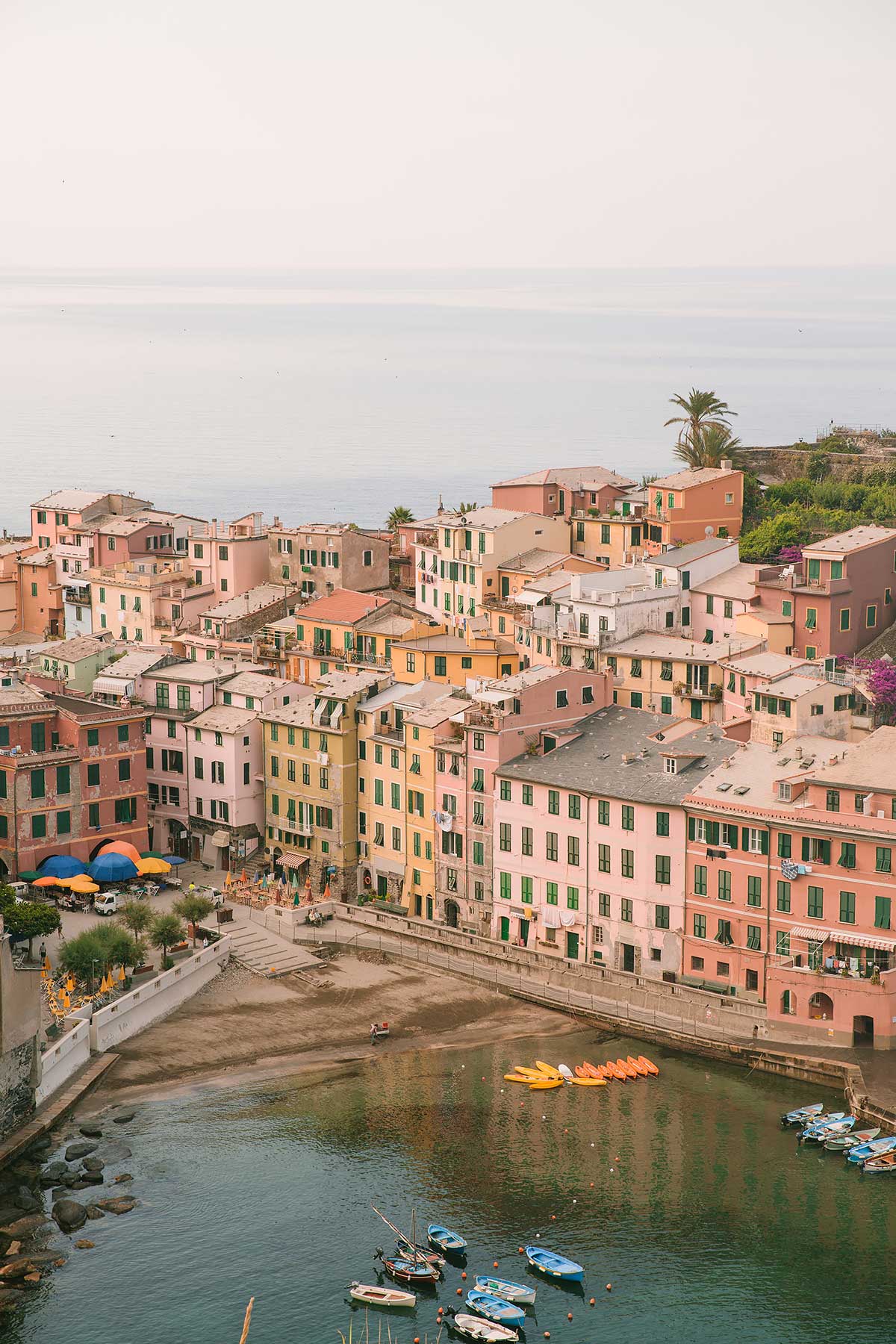 Cinque Terre in Photos
Cinque Terre is one of those places that's talked about so frequently you can't help but question if the hype is deserved.
I first visited the picturesque five villages on a day trip during a family tour of Italy. We only had time for a day stopover and visited Portovenere and Monterosso.
That quick visit was so beautiful and so unique that I knew I had to double back to re-visit! I quickly booked a local hotel for 3 nights and settled in to explore each of Cinque Terre's towns properly.
Here's a photo diary from my visit to Cinque Terre, with photos from each town!
ADVERTISEMENT
---
---
Where to Stay
For picture perfect views, I recommend staying in either Vernazza or Monterosso. Vernazza is smaller and more picturesque, with some great restaurant options on the harbor.
Monterosso is larger and has even more restaurants, with a focus on fresh seafood places as well as lots of lodging options.
1. Santa Marta in Vernazza has recently renovated rooms with air conditioning (a rarity in Cinque Terre!). Private bathrooms, in-room TVs and comfortable, clean rooms make this one of the better new options in Vernazza.
Check current rates and availability here.
2. Hotel Palme is a lush, secluded property on Monterosso's hill with a beautiful view and short walk to the beach. Rooms are clean and light filled, some come with balconies.
Read more:
The Best Hotels in Cinque Terre
ADVERTISEMENT
---
---
Vernazza
Vernazza is where I chose to make my home basis. It's frequently described as the Goldilocks 'just right' town in Cinque Terre, not to big, not to small and perfectly quaint. Due to a delay, I didn't make it into town until quite late in the day around 8pm.
I checked in, dropped off my bags and quickly sat down for dinner before the restaurants closed.
ADVERTISEMENT
---
---
The next morning, I woke up bright and early to hit the trails.
I came prepared with my Rick Steves Italy guide book and he recommended two *amazing* viewpoints in particular. First, I headed southeast towards Corniglia and saw the back-to-front view of Vernazza.
ADVERTISEMENT
---
---
A couple hundred photos later, I turned back into town to hike the path from Vernazza to Monterosso. This is frequently described as a difficult, uphill 2 hour walk and boy, it sure was more challenging than I thought it would be! I passed lots of hikers with walking poles.
After some more picture perfect views, I decided I had had enough and headed back into town for a proper breakfast/lunch.
Read more:
Quick Guide to Hiking Cinque Terre
ADVERTISEMENT
---
---
Dress: Revolve / Sandals: Jack Rogers
I grabbed a healthy, delicious lunch to go and took the train into Riomaggiore for some more sightseeing.
After a couple hours of walking and some beach time, I took a quick siesta, Italian style. I ended up grabbing a delicious pasta dinner and people watching on the waterfront.
Read more:
Where to Eat in Cinque Terre
Dress: Revolve / Sandals: Jack Rogers
ADVERTISEMENT
---
---
Dress: Cynthia Rowley x Macy's / Sandals: Steve Madden
Riomaggiore
Riomaggiore is one of the prettiest towns from the waterfront, because large distinctive buildings dominate the small harbour. I was really excited to explore this town!
When I stepped off the train platform, I followed the crowd through a long tunnel, and emerged into Old Town Riomaggiore. There's a large viewing platform where I lingered for a bit, before heading up to the hills to discover the back streets.
Read more:
The Perfect 3 Day Cinque Terre Itinerary
ADVERTISEMENT
---
---
Riomaggiore has a pretty church that overlooks the town.
If you keep walking, you can walk along the cliff's edges. I actually saw that the pathway was partially blocked but thought it was just debris and kept walking. Nope! They tried to warn people that part of the cliff walk was blown away into the sea.
After a bit of a thrill, I re-traced my steps, found the main path and kept walking back down to the harbor. The entire walking loop took about 2 hours and was quite leisurely.
Tank: Vintage / Shorts: Ann Taylor / Backpack: Moshi
ADVERTISEMENT
---
---
Manarola
On the next day, an Italian train strike shut down the rail system which serves the five Cinque Terre towns. I had set my sights on visiting more towns so after waiting around for the ferry to arrive, I hopped on board and got off at Manarola
Read more:
The Ultimate Cinque Terre Bucket List
ADVERTISEMENT
---
---
Dress: Revolve / Handbag: Lipault Travel Tote / Sandals: Jack Rogers
Manarola is very pastel and very picturesque! There's a wide pathway that loops around the cliffs and is breathtaking – you have to walk here! The nice thing about it is its all paved and completely flat so for non hikers who still want some epic photos, this is the spot!
ADVERTISEMENT
---
---
The path loops around Manarola's new town, with a small playground, cemetery and popular restaurant. Make sure to check back over your shoulder so you don't miss anything! I found that the farther I walked, the view just kept getting better and better.
ADVERTISEMENT
---
---

Monterosso al Mare in Photos
Monterosso is known for its beaches so on my last day, I decided to have a casual day in the sea. The largest stretch of the beach is in New Town, opposite the train station. I grabbed a delicious pesto pasta lunch and set out to find a cabana to call my own.
ADVERTISEMENT
---
---
The colorful striped umbrellas are for rent whereas the open sandy areas are free for public access. The beach was surprisingly rocky! I was expecting soft sand but it's not like that at all. In the end, I skipped a long day at the beach in favor of ice cream and more pasta.
ADVERTISEMENT
---
---
Portovenere
The first time I visited Cinque Terre was as a day trip from Santa Margherita Ligure.
Santa Margherita makes an affordable, convenient base for visiting all the pretty fishing villages on the Ligurian coast, as it's a short 15 minute drive from glitzy Portofino and about a 30 minute train ride from Monterosso.
We caught a boat from La Spezia and stopped first at Portovenere.
ADVERTISEMENT
---
---
The main waterfront sits right on the harbor and each pastel house bleeds prettily into the waves. After disembarking, we headed up the steps into the narrow Old Town.
ADVERTISEMENT
---
---
There's really just one main street through town. After a slow-paced 7 minute walk, we arrived to Portovenere's church, which sits atop a beautiful cliff.
Inside, black and white stone create an interesting tiled floor and exterior. Climb the narrow staircase for a great view of the ocean and boats passing on by!
ADVERTISEMENT
---
---
And that was my trip in a nutshell!
Visiting Italy – Trip Planning Checklist
There's so much to see and do in Italy that you can visit again and again and still discover new sights. I recommend concentrating on the big 4 cities (Rome, Venice, Milan & Florence) if it's your first time and then coming back to explore either Northern Italy or Southern Italy in more depth.
Go | Flight prices from the US to Italy are highly seasonal. You can set a fare alert here to be notified of discounts. Every fall & winter, I've seen great deals to Milan. One word of caution: avoid Alitalia at all costs!
Getting Around | A convenient way to explore Italy is via high speed train. You can search train schedules and book online here. Buy your tickets in advance to save on fares. Make sure to validate your ticket on the platform!
It also helps to speak a little Italian. Brush up on your Italian language skills with Rosetta Stone. You can take 10% off with promo code CJBT10.
Stay | Book hotels in advance to save, or check here for last minute deals. Many hotels in Italy are older so don't be surprised if even 5 star accommodation feels slightly dated. Opt for a room with a view instead of breakfast, as Italians don't eat breakfast in the same way Americans do and you'll probably be disappointed with their offering.
Alternatively, groups or budget travelers can check out Airbnb. 
Protect | Lastly, be sure to visit Italy with travel insurance. Whether you get injured and need to be hospitalized, your phone gets stolen, or a flight delay leaves you with nothing but the clothes on your back, travel insurance will help when you need it most.
A rail strike occurred during our trip, unexpectedly shutting down transportation for an entire day. Get a quote for your Italy trip here.
You Might Also Enjoy:
Italy Vacation Planning Articles
The First Timer's Guide to Italy: A Classic Itinerary
THIS is the Best Time to Visit Italy
What to Wear in Italy: A Packing Checklist
Northern Italy
The Most Beautiful Places in Northern Italy (that are still a secret!)
Headed to Northern Italy? Here's the Perfect 7 Day Itinerary
Exploring Bologna: Travel Guide
Quick Guides to: Bologna Day Trips & The Best Bologna Restaurants
Visiting Parma: The Center of Parma Ham & Cheese
7 Reasons to Explore Medieval Bergamo
Visiting Ravenna's Mosaics
Test Driving Fast Cars & Touring Car Museums in Italy's Motor Valley
Cinque Terre
Plan Your Trip: Travel Guide
How to Choose Which Village to Stay
A Blissful 3 Day Cinque Terre Itinerary
The Best Cinque Terre Airbnbs for Large Groups
Quick Guides: The Best Restaurants & Popular Hiking Trails
Inspiration: Photo Diary of the 5 Villages
The Italian Lakes
Exploring Lake Como: Travel Guide & Where to Stay
Quick Guides to: Varenna, Bellagio & Villa del Babianello
Visiting Lake Maggiore
Quick Guides to: Isola Bella & Villa Taranto
Discovering Hidden Lake Orta
Follow me @Sher She Goes on