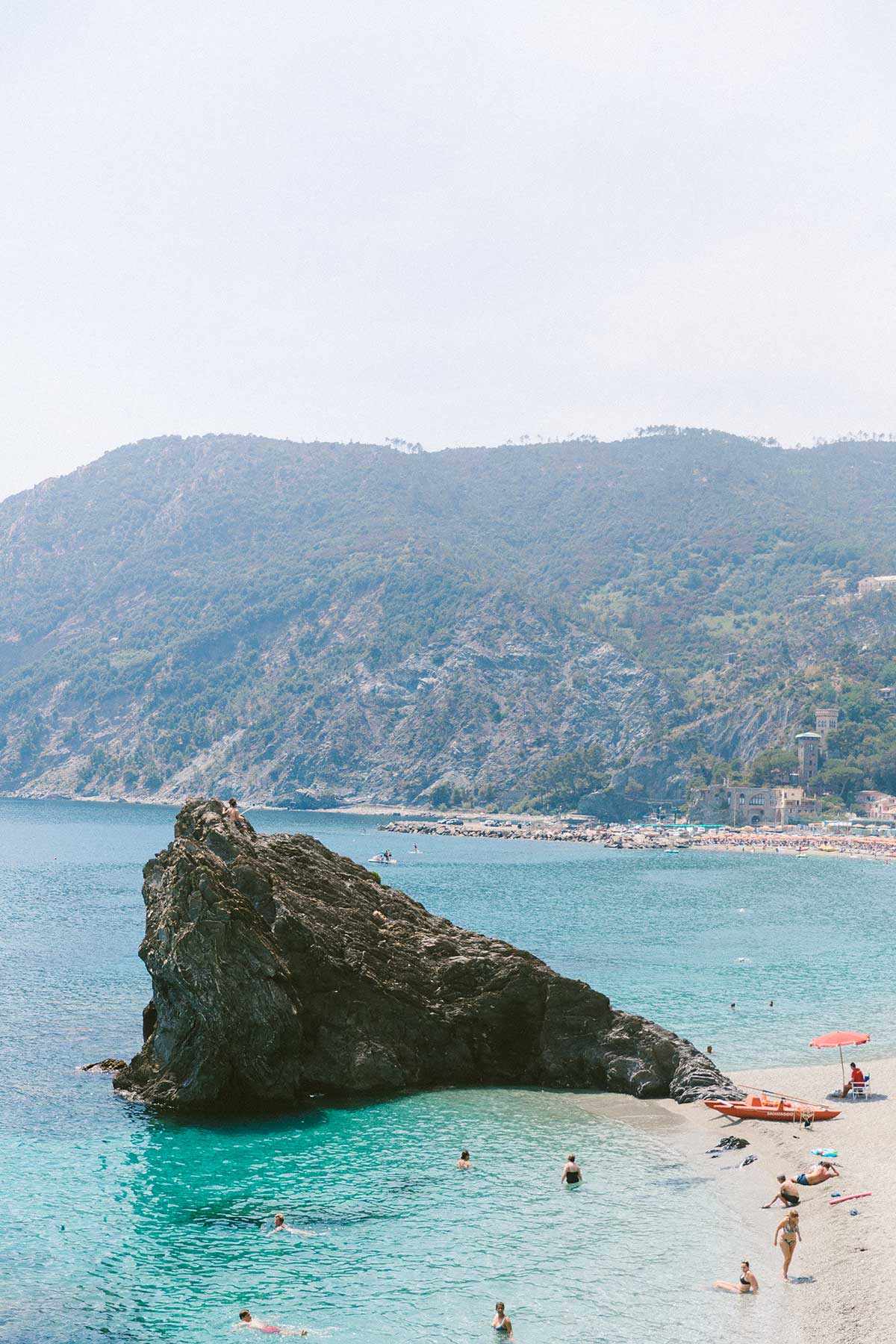 Where to Stay in Cinque Terre
Visiting the cutest five towns in Italy?
The Cinque Terre is composed of 5 coastal towns, but the best way to visit is to pick one town as your home base. Since the towns are so close together (and separated by steep hills!) it doesn't make sense to schlep your bags from village to village!
Instead, you can easily take day trips by hiking, riding the ferry or taking the train to see them all. Now the question is… which Cinque Terre village should you stay in?
Here's our tips and recommendations to help you decide!
Or save this article to read later by pinning it ⇟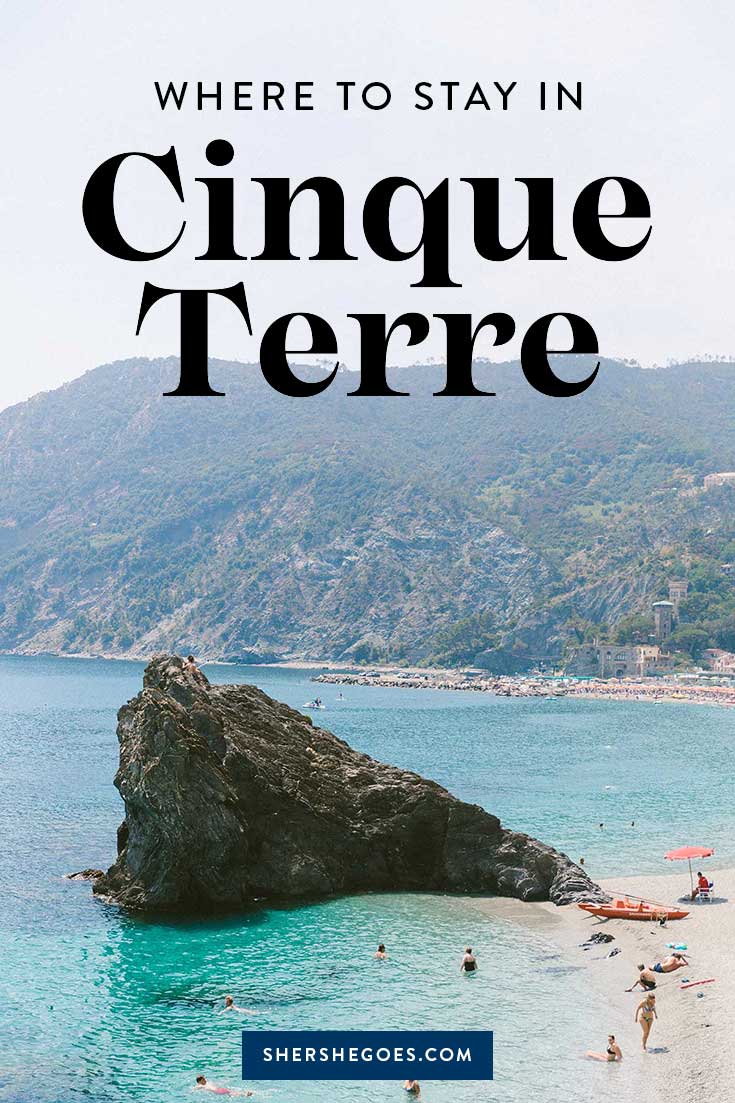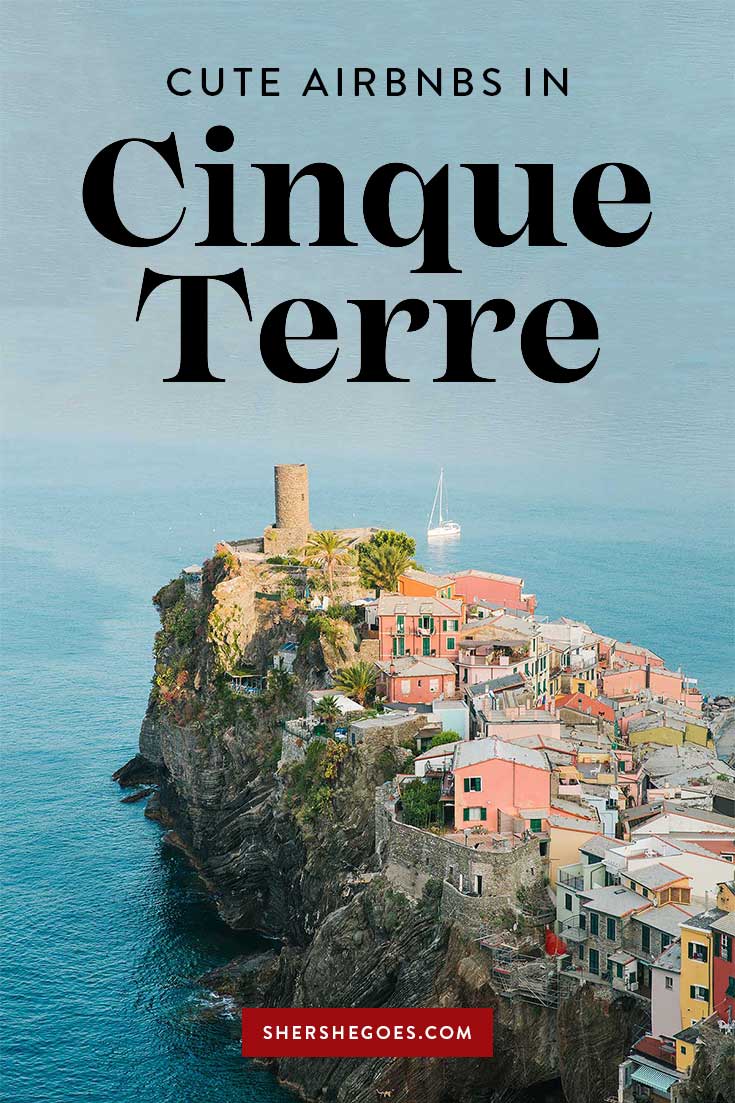 ADVERTISEMENT
What's the Best Place to Stay in Cinque Terre?
It's hotly debated which town is "the best" to stay in, but here's our thoughts:
Stay overnight in Monterosso if a beach is important to you or if you're arriving in high season with a large family or group. Monterosso, as the largest village, offers much more accommodation for visitors and a complete range from luxury hotels to smaller family-run rental rooms.
We stayed in Vernazza, and it's our pick for the best place to stay in Cinque Terre, as most hotels are right on the piazza with a gorgeous view of the harbor. Vernazza is quaint, beautiful and wonderfully compact. There's something special about dinner in the harbor at sunset, once the day trippers have gone!
Manarola is quite pretty as well, and seems to be the favorite of most Europeans. I can see why – this town offers the most stunning postcard views of the village on a easily walkable loop around the Ligurian coast. It's a great choice for those wanting scenic views that don't require a hike.
Below are recommended hotels in each town.
ADVERTISEMENT
---
---
The Best Hotels in Cinque Terre
Locals rent out rooms or have converted buildings into floors of available apartments for visitors. If you arrive into town without a plan, look for the Italian word albergo for hotel or affittacamere for a local-owned bed & breakfast.
But honestly, we don't recommend just showing up, as most accommodation in the busy season will fill up quickly. Any rooms you do find last minute will be much, much more expensive.
Below I've listed some of the best places to stay in each town:
Vernazza Hotels
1 | Santa Marta rooms are recently renovated and feature air conditioning (something I found to be quite rare for hotels in Vernazza). Private bathrooms, in-room TVs and comfortable, clean rooms make this one of the better new options in Vernazza, Italy.
Check current rates and availability here.
2 | Appartamento a Vernazza is a great Vernazza hotel for families. It's a 2 bedroom apartment with kitchenette and laundry, a short walk from the train station. Rates are affordable and the owners are friendly.
Check current rates and availability here.
3 | La Polena overlooks the beach, with clean modern rooms. The apartment has a great location on the harbor, near restaurants and is a short walk from the train station.
Check current rates and availability here.
ADVERTISEMENT
---
---
Monterosso al Mare Hotels
1 | Albergo Degli Amici is a great all-around lodging option in Monterosso. The property is sandwiched between the train station and the sea, offering easy access to both. A gorgeous green garden with sea views, modern amenities and private bathrooms make staying here quite comfortable.
Check current rates and availability here.
2 | Hotel Baia is a conveniently located a short walk from the train station and about a 5 minute walk from the large beach in Monterosso's New Town. Rooms come with private bath, AC, free wifi fridges and a safe.
Check current rates and availability here.
3 | Hotel Palme is a lush, secluded property on Monterosso's hill with a beautiful view and short walk to the beach. Rooms are clean and light filled, some come with balconies.
Check current rates and availability here.
ADVERTISEMENT
---
---
Manarola Hotels
1 | Ca D'Andrea is a great choice for any visitor, with quaint rooms (some with balconies), a lovely garden and friendly staff. Breakfast is included, along with wifi, ensuite bathrooms and in-room TVs.
Check current rates and availability here.
2 | La Toretta Lodge is a unique luxury hotel in Manarola, within a modernized Medieval tower. Stylish contemporary art-filled rooms offer gorgeous views of the ocean and come with Nespresso coffee machines. Breakfast each morning and an aperitif each evening are included! Great for couples.
Check current rates and availability here.
3 | Rio Groppo is a budget-friendly option in Manarola, Italy with single and king bed rooms. Bathrooms on-suite and free wifi make this a solid option for all travelers looking to experience the best of Cinque Terre without blowing the budget.
Check current rates and availability here.
ADVERTISEMENT
---
---
Alternative Accommodation
Another option is to rent an apartment or room on Airbnb. Many of the locals rent out their rooms via the Airbnb website, so it can be helpful to sort by price or island.
ADVERTISEMENT
---
---
The Best Hotels in Cinque Terre, Italy
To summarize, here's a handy chart of our recommended Cinque Terre, Italy hotels. All include free wifi and are known for comfort, good location and great customer service.
ADVERTISEMENT
---
---
Getting Around Cinque Terre
At the end of the day, it's very convenient to get around the different villages of Cinque Terre, so don't let the town you pick stress you out too much!
Italy's train network connects each town together on the local line, which in turn has faster connections to the rest of Italy at La Spezia and Portovenere. We bought our train tickets online before our trip for convenience.
Before You Go:
Buy Train Tickets
ADVERTISEMENT
---
---
Which Cinque Terre town do you plan to base yourself in?
Visiting Italy – Trip Planning Checklist
There's so much to see and do in Italy that you can visit again and again and still discover new sights. I recommend concentrating on the big 4 cities (Rome, Venice, Milan & Florence) if it's your first time and then coming back to explore either Northern Italy or Southern Italy in more depth.
Go | Flight prices from the US to Italy are highly seasonal. You can set a fare alert here to be notified of discounts. Every fall & winter, I've seen great deals to Milan. One word of caution: avoid Alitalia at all costs!
Getting Around | A convenient way to explore Italy is via high speed train. You can search train schedules and book online here. Buy your tickets in advance to save on fares. Make sure to validate your ticket on the platform!
It also helps to speak a little Italian. Brush up on your Italian language skills with Rosetta Stone. You can take 10% off with promo code CJBT10.
Stay | Book hotels in advance to save, or check here for last minute deals. Many hotels in Italy are older so don't be surprised if even 5 star accommodation feels slightly dated. Opt for a room with a view instead of breakfast, as Italians don't eat breakfast in the same way Americans do and you'll probably be disappointed with their offering.
Alternatively, groups or budget travelers can check out Airbnb. 
Protect | Lastly, be sure to visit Italy with travel insurance. Whether you get injured and need to be hospitalized, your phone gets stolen, or a flight delay leaves you with nothing but the clothes on your back, travel insurance will help when you need it most.
A rail strike occurred during our trip, unexpectedly shutting down transportation for an entire day. Get a quote for your Italy trip here.
You Might Also Enjoy:
Italy Vacation Planning Articles
The First Timer's Guide to Italy: A Classic Itinerary
THIS is the Best Time to Visit Italy
What to Wear in Italy: A Packing Checklist
Northern Italy
The Most Beautiful Places in Northern Italy (that are still a secret!)
Headed to Northern Italy? Here's the Perfect 7 Day Itinerary
Exploring Bologna: Travel Guide
Quick Guides to: Bologna Day Trips & The Best Bologna Restaurants
Visiting Parma: The Center of Parma Ham & Cheese
7 Reasons to Explore Medieval Bergamo
Visiting Ravenna's Mosaics
Test Driving Fast Cars & Touring Car Museums in Italy's Motor Valley
Cinque Terre
Plan Your Trip: Travel Guide
How to Choose Which Village to Stay
A Blissful 3 Day Cinque Terre Itinerary
The Best Cinque Terre Airbnbs for Large Groups
Quick Guides: The Best Restaurants & Popular Hiking Trails
Inspiration: Photo Diary of the 5 Villages
The Italian Lakes
Exploring Lake Como: Travel Guide & Where to Stay
Quick Guides to: Varenna, Bellagio & Villa del Babianello
Visiting Lake Maggiore
Quick Guides to: Isola Bella & Villa Taranto
Discovering Hidden Lake Orta
Follow me @Sher She Goes on