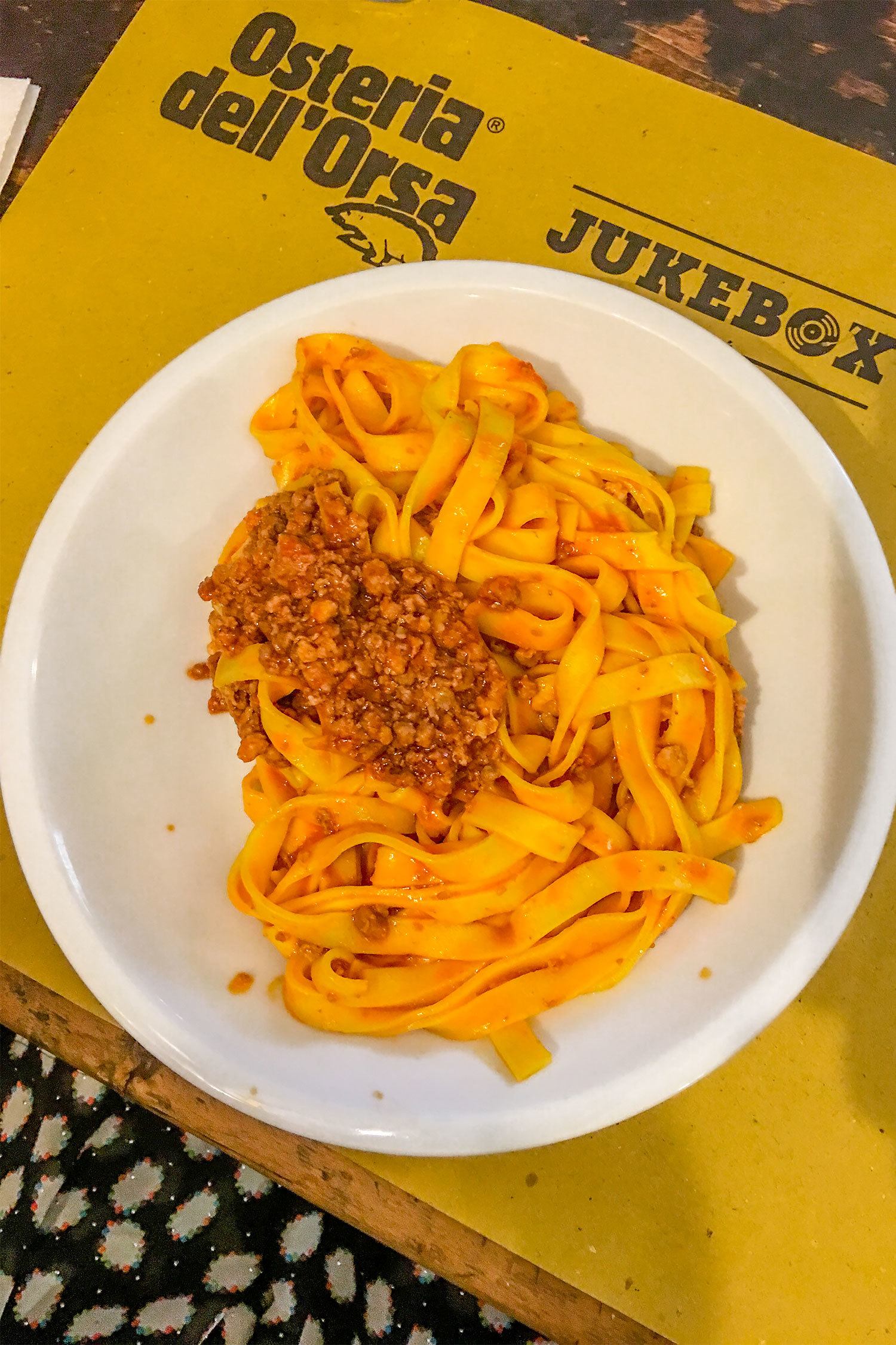 Where to Eat in Bologna
Bologna has earned quite a few nicknames over the years.
Most famously, it's called La Grassa (the fat one) for its rich foodie heritage. This is the Italian town that first created meaty bolognese, grinded mortadella sausage and perfected stuffed tortellini.
A couple other names? La Dotte (the learned one) due to the presence of one of the world's oldest universities and La Rossa (the red one) for its terracotta buildings and left-leaning politics.
If you enjoy meat and carbs, Bologna's dining scene is epic. The nearby Po Valley is responsible for most of Northern Italy's food production so high quality ingredients are within easy reach, while the thriving student population keeps prices affordable at many local trattorias.
Here were some of our favorite restaurants, gelato shops and food tours in Bologna.
Quickly jump to:
Pin this post to save for later ⇟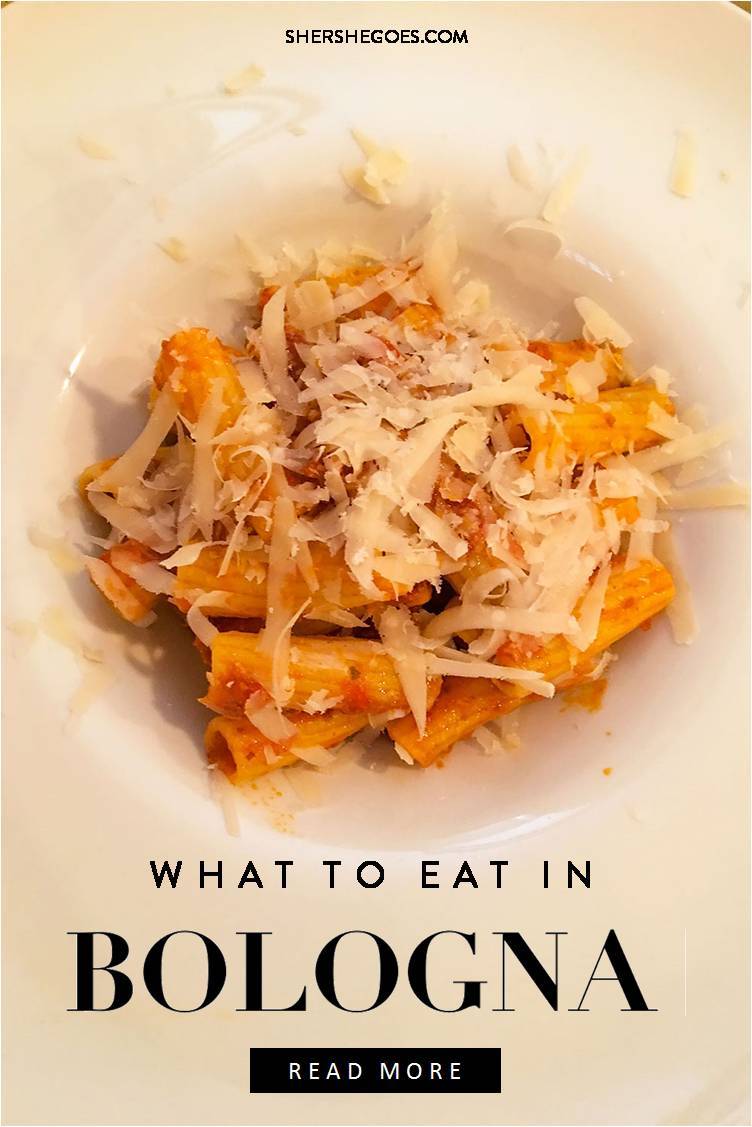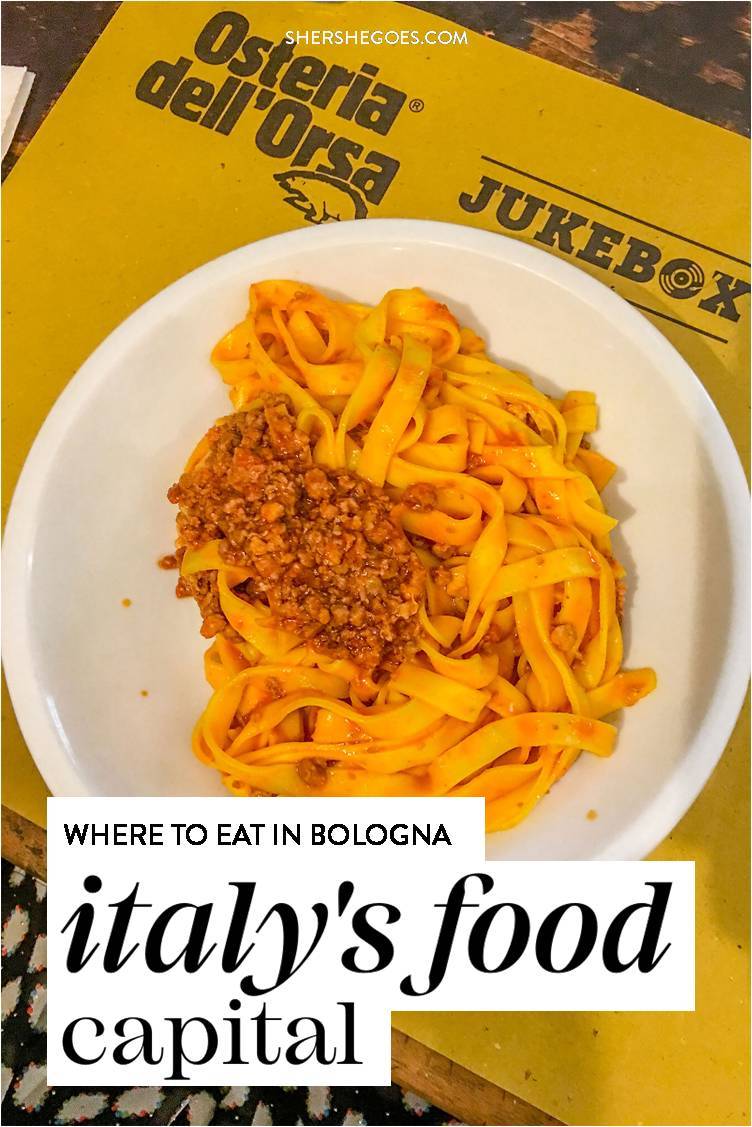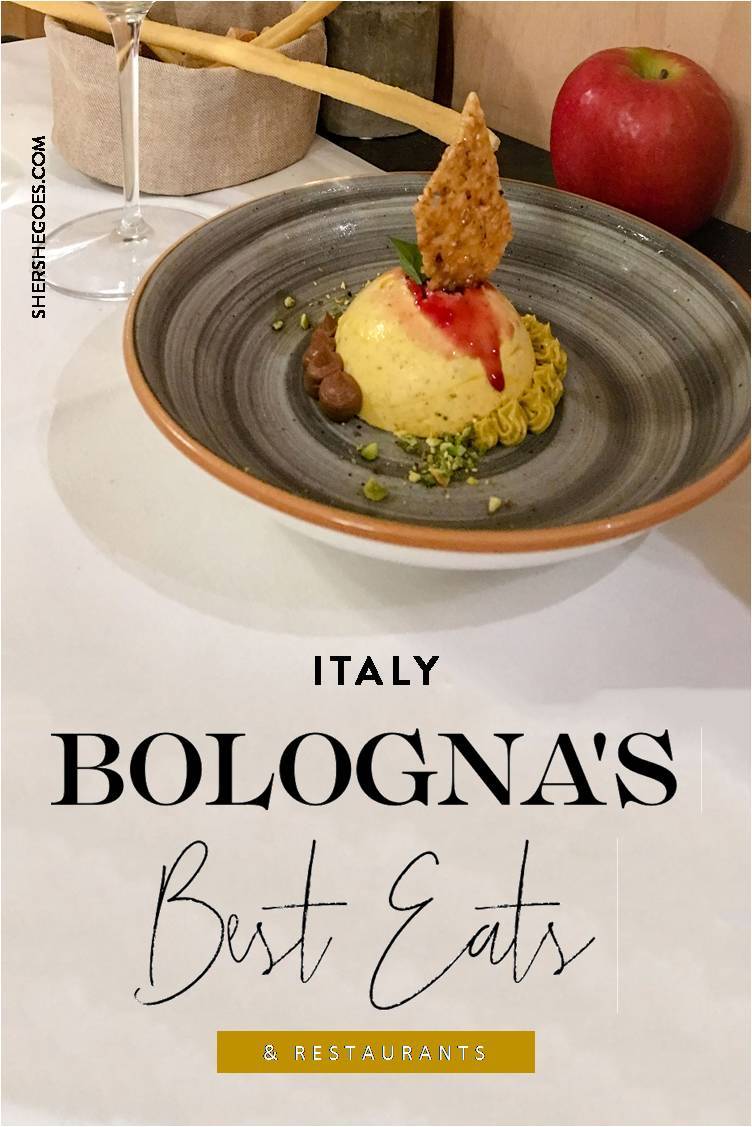 ADVERTISEMENT
---
---
Famous Foods in Bologna
Food is a big deal in Emilia-Romagna and no where more so than the capital Bologna. Here are some can't miss foods to try in Bologna:
Tagliatelle al Ragù – noodles in meat sauce
Tortellini – filled pasta, shaped like the navel of Venus
Tortellini in brodo – stuffed tortellini in broth
Mortadella – cured sausage
Parmigiano Reggiano – parmesan cheese
Balsamic Vinegar – the local Modenese way is to make it thick and syrupy
Amaretti / amarelle – delicious Modense-style almond flavored macaroons
The city also has its own Eataly World (although it's quite different from the New York Eataly), delicious open air markets and some of the top local producers manufacturing cured prosciutto di parma ham, traditional parmigiana-reggiano and aged balsamic vinegar.
Read more:
The Best Things to Do in Bologna
ADVERTISEMENT
---
---
As the undisputed food capital of Italy, Bologna is heaven for travelers who like to eat! Expect fine wine, rich history and a great value for your money. Oh, and lots of carbs. In our opinion, these are the best restaurants in Bologna:
Best Restaurants in Bologna
Osteria del Orsa – a budget friendly, bustling lunch spot. This place is tucked into a quieter neighborhood and super popular with students. Simple, delicious and best of all cheap!
L'Arcimboldo – for something a little fancier, try this spot for dinner. It's located within walking distance of the train station so we came here after our day trip to Ravenna. The semifreddo dessert was heavenly!
Osteria Broccaindosso – a rustic romantic place to share family style plates. Grab a couple pastas and make sure to save room for dessert – they've got profiteroles you can dip in hot chocolate!
Trattoria Anna Maria – this unassuming trattoria is popular with locals, celebrities and tourists. Watch the women make fresh pasta by hand, lightening fast. The classic Bolognese is great, but I really liked the butter & sage pasta!
Mozzabella: this street stand is great for lunch on the go. Lots of square pizzas loaded up with all the gourmet fixings. In Italy, they price pizza by weight so it's budget friendly depending on how much you eat :)
ADVERTISEMENT
---
---
Bologna Food Tours
I love food tours wherever I go, but I have to say out of anywhere in Italy, Bologna and the entire Emilia Romagna region is THE place to learn about local cuisine on a guided tour.
One of the highlights of our entire Northern Italy trip was seeing a prosciutto di parma factory up close (although I smelled it about a mile or two before we arrived) and Parmesan dairy factory.
Italy's Cosorzio monitors standards for all its heritage products so taking a tour was fascinating to hear about the process, standards and aging. It also put us in touch with some locals whose families have run their production for years and the Parmesan man was hilarious.
Unfortunately since it was a tour I don't know their exact names… but hopefully you will have the same great experience!
ADVERTISEMENT
---
---
Best Bologna Food Tours
1. Food & Ferrari Tour
If you do only one tour in Bologna, make it this one. This food tour takes you straight to the source: local producers of Parmesan cheese, Prosciutto di Parma ham and Balsamic Vinegar.
You get to learn from the Italians exactly what goes into making these foods and of course, taste them over a 4 course lunch with wine! End the day at the Ferrari Museum.
Check availability here.
2. Traditional Cooking Class
If you've ever wanted to prepare handmade pasta and tortellini, the Bolognese way, then this is the tour for you! Choose lunch or dinner (plus there's wine!)
Check availability here.
3. Bologna Food Walking Tour
Show up on an empty stomach! This amazing tour is led by fantastic local guides who tell you about the local history and preparation methods of Bologna's vibrant food city.
The tasting portions were great and had lots of variety – cheese, prosciutto, chocolate, pasta, bread + gelato.
Check availability here.
4. FICO Eataly World
Over a kilometer of shops, brands and farm animals dedicated to Italian gastronomy. There's humble street carts and a Michelin star restaurant with daily sessions on food production and pop ups.
This guided tour handles roundtrip transportation to the center where you can learn everything there is to know about Italian food and wine!
Check availability here.
Or, browse more popular foodie tours below:
ADVERTISEMENT
---
---
Best Bars in Bologna
Of course, like the rest of Italy, Bologna's got a fantastic habit of the afternoon aperitivo. The city also has a great wine and beer scene for after hours.
Make sure to try sparkling red wine, called Lambrusco, which is local to Emilia Romagna. At first I wasn't sure what to make of it, but it's a nice dry fruity wine that pairs well with heavy pastas and cheeses!
Enoteca Faccioli – for a classy wine bar with the girlfriends, come here. Naturally, they have tons of local wines from Emilia-Romagna plus also fantastic charcuterie plates.
Casa Minghetti – I'm not a big drinker but I'll never say no to a great cocktail. The mixologists here know how to make the best drinks, whether you need something pre or post meal!
Baladin Bologna – if beer is more to your taste, head to the famous Quadrilatero market to the basement of Mercato di Mezzo for this excellent craft brewery. They've got a great selection on tap and in bottles.
Le Stanze – want to join the locals? This bar is known for their epic apertivo spreads. Not only do they have mouthwatering finger foods (roasted veggies, little pizzas, etc) but the decor is something else! Apparently it once belonged to a local weathly family, hence the 18th century frescoes.
Read more:
Easy Day Trips You Can Take from Bologna
ADVERTISEMENT
---
---
Best Gelato in Bologna
In addition to the world's oldest university, Bologna has a gelato university. Yup, you can actually take classes to learn how to make world-class gelato! Or, you can try your hand at being an unofficial gelato critic by hitting all these spots:
Sorbetteria Castiglione: my favorite gelato shop in town. Come here if you love extra rich dark chocolate and classic flavors
Cremeria Funivia: one of the top 3 gelato places in Bologna, there's always a line out the door here.
Majori Gelati: stop here for pretty cake desserts and unique flavors like milanese risotto and gorgonzola
Cremeria Cavour: gelato is of course good here but the specialty is granita, flavored ice!
ADVERTISEMENT
---
---
What are you most looking forward to eating in Emilia-Romagna?
Visiting Italy – Trip Planning Checklist
There's so much to see and do in Italy that you can visit again and again and still discover new sights. I recommend concentrating on the big 4 cities (Rome, Venice, Milan & Florence) if it's your first time and then coming back to explore either Northern Italy or Southern Italy in more depth.
Go | Flight prices from the US to Italy are highly seasonal. You can set a fare alert here to be notified of discounts. Every fall & winter, I've seen great deals to Milan. One word of caution: avoid Alitalia at all costs!
Getting Around | A convenient way to explore Italy is via high speed train. You can search train schedules and book online here. Buy your tickets in advance to save on fares. Make sure to validate your ticket on the platform!
It also helps to speak a little Italian. Brush up on your Italian language skills with Rosetta Stone. You can take 10% off with promo code CJBT10.
Stay | Book hotels in advance to save, or check here for last minute deals. Many hotels in Italy are older so don't be surprised if even 5 star accommodation feels slightly dated. Opt for a room with a view instead of breakfast, as Italians don't eat breakfast in the same way Americans do and you'll probably be disappointed with their offering.
Alternatively, groups or budget travelers can check out Airbnb. 
Protect | Lastly, be sure to visit Italy with travel insurance. Whether you get injured and need to be hospitalized, your phone gets stolen, or a flight delay leaves you with nothing but the clothes on your back, travel insurance will help when you need it most.
A rail strike occurred during our trip, unexpectedly shutting down transportation for an entire day. Get a quote for your Italy trip here.
You Might Also Enjoy:
Italy Vacation Planning Articles
The First Timer's Guide to Italy: A Classic Itinerary
THIS is the Best Time to Visit Italy
What to Wear in Italy: A Packing Checklist
Northern Italy
The Most Beautiful Places in Northern Italy (that are still a secret!)
Headed to Northern Italy? Here's the Perfect 7 Day Itinerary
Exploring Bologna: Travel Guide
Quick Guides to: Bologna Day Trips & The Best Bologna Restaurants
Visiting Parma: The Center of Parma Ham & Cheese
7 Reasons to Explore Medieval Bergamo
Visiting Ravenna's Mosaics
Test Driving Fast Cars & Touring Car Museums in Italy's Motor Valley
Cinque Terre
Plan Your Trip: Travel Guide
How to Choose Which Village to Stay
A Blissful 3 Day Cinque Terre Itinerary
The Best Cinque Terre Airbnbs for Large Groups
Quick Guides: The Best Restaurants & Popular Hiking Trails
Inspiration: Photo Diary of the 5 Villages
The Italian Lakes
Exploring Lake Como: Travel Guide & Where to Stay
Quick Guides to: Varenna, Bellagio & Villa del Babianello
Visiting Lake Maggiore
Quick Guides to: Isola Bella & Villa Taranto
Discovering Hidden Lake Orta
Follow me @Sher She Goes on